Last year I was so, so excited to hear that there was a group from my club hoping to run the Round Norfolk Relay.  A bit of bad timing on my part, to be 37 weeks pregnant and therefore resigned to a member of crew for the event, rather than being able to run though.
This year – not pregnant – my name was going on the running list!
I grew up in North Norfolk, although would not have classed myself as a runner whilst living there, so still have lots of running routes which I need to explore out that way.  Most specifically those around the North Norfolk coastline, where I grew up.
The Round Norfolk Relay is a 198 mile route run around the border of the county, starting at Kings Lynn in the West.  The 198 miles are split into 17 unequal stages so each team entered is made up of 17 runners, as well as a whole host of crew and timekeepers to help man them out on the route.
As one of the slower runners showing initial interest, I expected to be allocated a short road stage, so was rather surprised to learn that I would be running the 11 off-road miles between Cley and Cromer, within a few minutes driving distance from my parents' house.
I knew the stage would be tough, starting on a deep shingle beach.  I had fully intended on recceing the route over the Summer but with the route being unbuggy friendly and my Summer flashing by before my eyes – especially towards the end, I never got the opportunity to test out the route before the day.
This year, our club had gone from entering one team to two.  Somehow we had found 34 runners to agree to run a stage of the race, as well as a handful of members to act as timekeeper, assist with support vehicles and generally help out where needed on the day.
The guidelines we had been given from the organiser within our club were to arrange transport with the club runner in the other team running the same stage as you.  i.e. you would both drive to the finish of your stage, leave one car there before hopping in the other to drive back to the start of the stage.  When you had both run the leg, you would be able to jump into the car left at the finish to go and collect the person's car at the start again.
Sounds complicated, but in theory, should work well.
In practice, things were a little close at times.  I was due to meet Zac, the other runner who was running Stage 5 at Cromer by 11:30am.  At 12:45 when he said he was just leaving Wells (22 coastal miles away) to drive over and meet me, I told him I would find alternative arrangements and that he should head straight to the start…Zac was due to start his leg in just under half an hour, so would never have made it back to the start in time otherwise!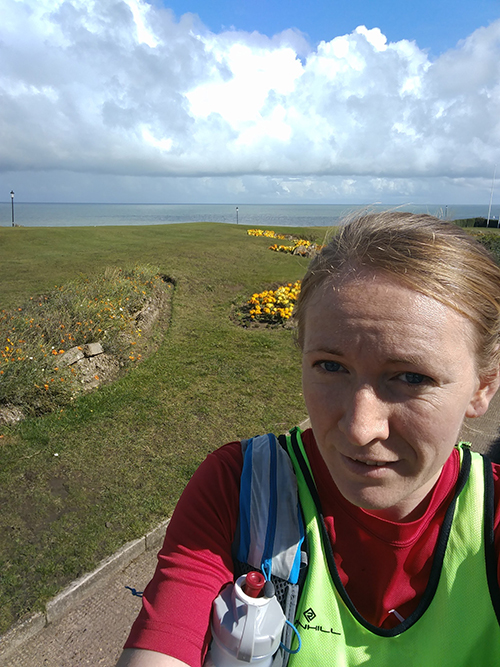 Good job it was really sunny in Cromer whilst I waited for my lift!)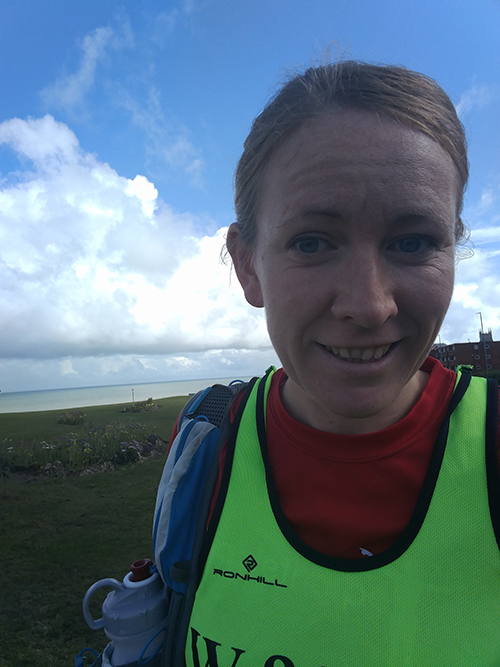 I can see the sea!
Luckily, my brother was at home and free, so managed to collect me from Cromer and drop me off to my start in time.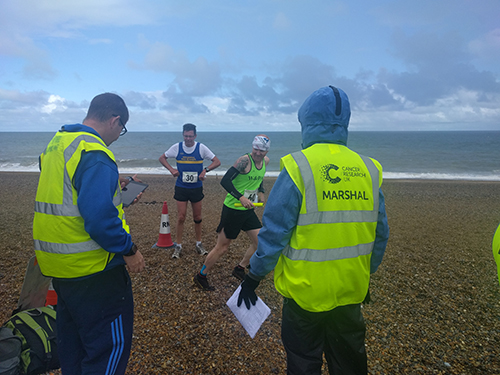 Zac set off on his leg not long after I arrived in Cley.  It was raining by this point, with a cold wind, and I had wrapped myself up in a coat pulled high up around my neck.  I sat huddled in our timekeeper's car until it neared my estimated start time.  When we had first signed up as a team, we each had to give a rough minute mile pace for how long we expected to complete our stages, based on distance and terrain which was then converted into an overall running time.  I had estimated 9:30mm pace for an offroad section of just short of 11 miles.  My running had been going really well over the Summer and I had been fairly confident I would be able to hit that pacing.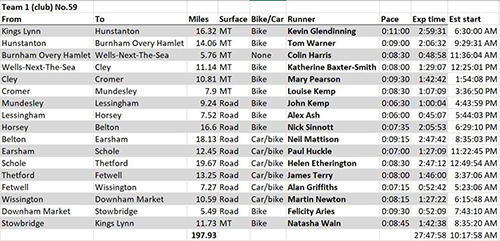 That is, until my back had 'gone' earlier in the week.  I had managed an easy 6 miles of trail with a friend on the Wednesday evening.  My back had seemed to loosen up after the first mile, but by the Friday before the race, I was in agony walking around school.  I spent most of my time between lessons sat with the school nurse whilst he swapped a heated pack for a cool one, or the other way around.  Ibuprofen got me through each day, and every morning I hoped that the pain would have started to fade.  I've had bad back pain in the past, but it has never lasted more than a few days before.  The day before the race I could not even stand upright. I remembered that I heard CBD oil could ease the pain, so I checked out www.cbdforsure.com to learn about its medical use. I decided to give it a try and was surpriced to get well shortly.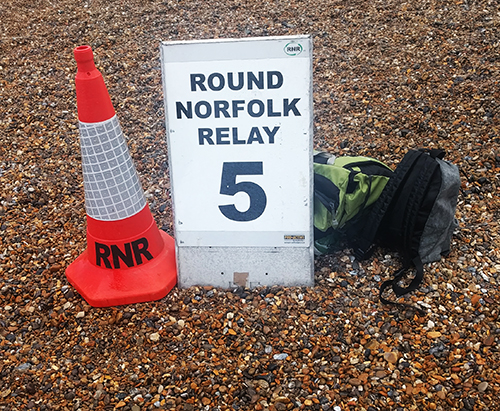 Resigned to abandoning my target pace, but not abandoning my teammates, I drove over to Norfolk on the morning of the race.  My Dad pressed a pack of double-strength Ibuprofen into my hand, and I made sure to take them at the optimum time to let them do their job before the run begun.  I had no idea how the run would go.  I hadn't tried running again since the Wednesday evening, but my back had felt better for getting out for a run then.  I knew I needed to see a physio the following week, and planned on playing it sensible out on the course – stopping and pulling from the race if my back didn't loosen up the same way it had done on the trail run on Wednesday.  I wasn't sure of the rules on stage DNFs, but found out after the race that each team may have up to three DNFs, each one being given a forfeit time of the slowest time for that stage from the previous year plus five minutes.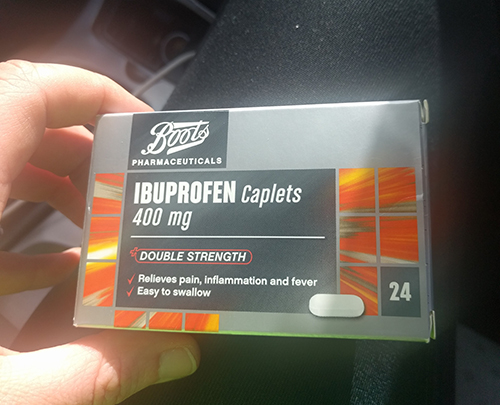 I headed out of the car a few minutes before my estimated start time, and could just see the bright green club vest of Kat, the runner before me gradually bobbing closer – giving me enough time to clip together my UD bag and take my place at the handover marker.
Kat arrived pretty much dead on target time and I shot off across the shingle as she thrust the baton at me, wishing me luck for my stage.  Although the pace on my watch initially showed 9:xx, it gradually slowed until it beeped at 10:27 for the first mile.  I convinced myself that it didn't matter – this was the toughest section on the shingle and I would easily be able to pull my time back later on in the race.
In actual fact, that was my fastest mile.
Within the first two miles I'd dropped my race instructions and then had to chase them across the beach.  They were written across four pages as they were fairly detailed.  I also almost got the baton stuck inside my vest as I pulled my hand through the top of my jacket.  It wasn't going well!
On the plus side though, either the Ibuprofen had really kicked in or the running was doing wonders for my back.  I couldn't feel a thing!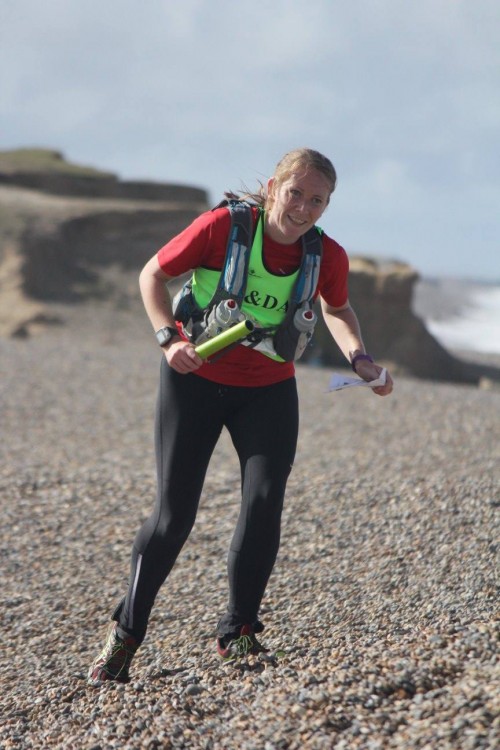 My face and lack of uprightness in this photo gives you a little idea how tough stage 5 actually was.  I had already run four miles of shingle beach by this point, and was about to try climbing a shingle bank.  I'd referred to my instructions numerous times and already stopped to remove my jacket, for it was far too hot to run in two layers as well as a waterproof by the time my stint began.
When I left the shingle beach, my climb began and the steep hill that had always looked so pretty on the outskirts of Sheringham loomed ahead of me.  I'm not ashamed to say that I walked large portions of my stage – all of the steep hills I ended up walking, although I ran all of the flats and downhills as fast as I was able to try and make up for it.
Several runners passed me – all much faster than I was.  It was clear that most teams had chosen a faster runner for this stage!
A runner passed me along the slipway at Sheringham beach.  She shouted out that she had been following me as she had no idea where to go.  I then went on to stop her twice from going wrong before we even left Sheringham!
Beeston Bump is another place I have driven past so many times during my time living in Norfolk.  I worked just a few miles away in West Runton for many years.  I've always wanted to climb the Bump and look out from the top.  I didn't get much chance to enjoy the view as I puffed and panted my way to the top on this day though!
The runner who had passed me at Sheringham appeared again.  She kept speeding off but then at every junction spent ages working out which way to go by studying the instructions.  She was definitely somebody who would have benefitted from a recce of the course beforehand!  I shouted out ahead to her several times which way to turn and she held up her hand in thanks.
As we approached East Runton I could see Dawn, my support cyclist in the distance.  I've never been happier to see a familiar face!  That had been some incredibly tough running!  I managed to puff out between breaths that this race had been even harder than running the 70 mile race the other year.  Between us Dawn and I shouted several times to the lady just ahead as 5 or 6 times she turned down wrong tracks.  The lady's bike escort hadn't materialised and so Dawn asked if I minded if she cycled on up ahead to make sure she didn't go wrong again.  Of course I didn't.  Each runner should have been accompanied by a cyclist when running alongside a road during the day.  At night, the cyclist would be replaced by a car escort for safety.  Dawn came back alongside me after putting the lady right, but I was too knackered to be able to chat much by this point!
I turned into the final field at Cromer to see the club chairman cheering me in.  His wife was running the stage following mine, so he nipped across the field to let her know I was on my way.  I thrust the baton into her hand and apologised profusely for my slower-than-planned time.  She was lovely and told me not to worry in the slightest, before setting off for stage 6 of the relay.
In looking at the results following the event, it was reassuring to see that somehow I wasn't the slowest runner on my stage!  The fastest runner ran the stage in 1h 9m 09s.  I was nearly an hour slower than that time in 2h 1m 43s – which worked out as nearly 20 minutes slower than my predicted time.
Despite my poor time estimation, our team had actually done quite well at guessing how long we would take.  We had declared 27h 47m 58s before starting the race, and finished in 27h 48m 59s – just 1minute and 1second away from our prediction, winning us the Carrot Shield for best time prediction!
Overall our team finished in 48th position out of 61 teams, with our B team coming in 54th.  We had a proper mix of abilities within our runners so it was nice that even though we had been so inclusive we weren't right at the bottom of the finishing table.  Our B team had hit a few problems during the race; one runner hadn't made it to the start of his stage, so had to DNS, another dropped out as a DNF and one runner had to hold back starting their stage because the bike escort for that section hadn't arrived in time to accompany them along their road stint.
All of us thoroughly enjoyed the event though, even those of us with tough stages(!)
All runners from both teams met at the pub the following week to be given our medals and for us to present a card and gift to Zac as a thank-you for organising our entry into the event.  No easy task!
The medals are beautiful.  Larger than my VLM medal from 2014 and with a lovely design incorporating several Norfolk elements on the front, and a list of all clubs taking part on the back, with the placenames of all of the stages around the outside.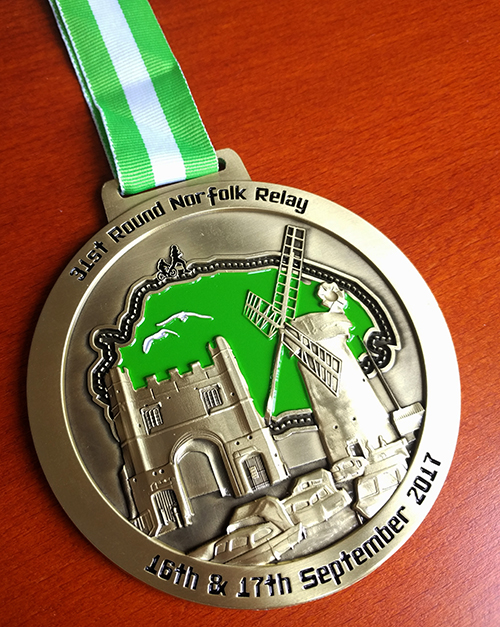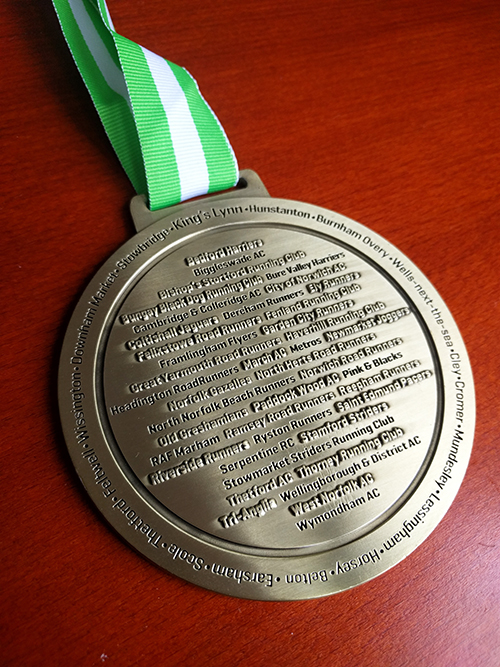 I'm hoping to get some training in over the Winter along this route on days that my Dad agrees to watch Oscar for me.  It will definitely be some good strength training going into marathon/ultra season next Spring.
And then I will be back at the Round Norfolk Relay again next year.  Although, I'm not so sure I'll go for the same stage this time!  Stage five requires someone with a little more speed and strength behind them on the team! 😉
Also read more on how San Diego lawyer who helps car accident victims, pedestrians, motorists, and bicycle riders win their insurance rights over road accidents in California. Fresno auto accident lawyer can be contacted for false  auto accident charges against you.
Have you ever taken part in a team race before?
What is the most difficult terrain you have run across?