It was the first Bank holiday in May when I drove the 271 miles to Pembrokeshire for the EnduranceLife Coastal trail marathon, my eleventh marathon event.
Every year our club heads to Gower for a weekend in November to take part in the EnduranceLife coastal events (10k/half/marathon/ultra).  I was unable to attend last year as Oscar was only a few weeks old, so when there was talk of another race weekend away being organised I signed myself up without too much hesitation.
Oscar was actually only a few weeks old when I put my name down on the Pembrokeshire cottage list.  I was fairly confident that I would be back running marathon distances again by the time he was seven months old.  With EnduranceLife events, they allow you to adjust distances on the day of the event, so there would be the opportunity to drop down to the half marathon if necessary, especially as I knew by this point that I would have run the South Downs Way 50 just three weeks earlier and my legs might well be feeling the miles by then!
I almost backed out of the run at the start of the week itself though.  In fact, had Milton Keynes still been taking entries for the Marathon on the Monday (Pembrokeshire was on the Saturday of the Bank Holiday weekend), I would have swapped events, and just forfeited my £50 for the accommodation and £50 for the Pembrokeshire marathon and run MK instead.  At the time I just didn't fancy the hassle of driving all that way when there was a marathon pretty much on my doorstep!
It wasn't until he was eight months old that breastfeeding started to become less of an issue as Oscar ate more and more real food, but back in May I still had to spend the week beforehand expressing every morning and evening in order to leave Oscar enough milk for my time away, and then I had to express several times a day whilst I was away in order just to feel comfortable.  It was also a ridiculously long drive to Pembrokeshire!  Why do I never check the distance to these events before I sign up?!  The sat-nav said it would take nearly five hours to get there, but in reality I left my house at 4pm on the Friday night, picked up another lady from my running club in the next town, dropped Oscar off at Dan's work, had one brief stop for the loo and dinner and we didn't arrive until 11:15pm that night.  It was a very tiring journey!  Apparently Gower is a similar length trip, but I've always gotten lifts with others so having to drive myself this time made the journey feel much, much longer.  I was glad that I had company for the ride at least.
The cottages were lovely.  We had two, which faced each other across a courtyard.  Most of the other club members had traveled up earlier in the day on Friday and were already in bed by the time Margaret and I arrived.  There were ten runners in our cottage, and a similar number in cottage number two across the courtyard.  Our cottage was the central meeting point though and we had all put £10 into a pot towards house supplies – toilet roll, coffee, tea, wine, cider, and all the foods for the cupboard you could think of.  We never went hungry!
It was a fairly early start for all on the Saturday morning.  I was sharing a room with two other club members running the marathon distance and we took it in turns to jump into the attached bathroom before changing into our race kit and heading downstairs for breakfast.
The different distance events begin at different times.  This year there was nobody from our club running the ultra – so as marathon runners, we were the first to be bused the couple of miles to the start by our non-running partners.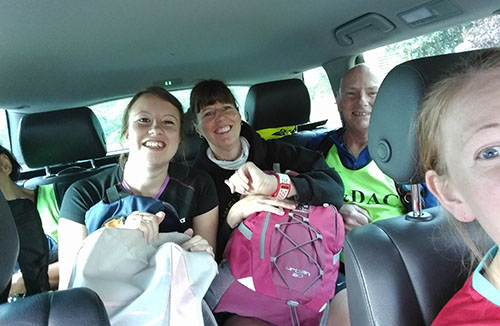 There were ten of us running the marathon, which caused a bit of a headache getting down to the start in just two cars.  We ended up piling six runners into our car alongside the driver!  It was very tricky getting back out of the doors again when we arrived at race HQ!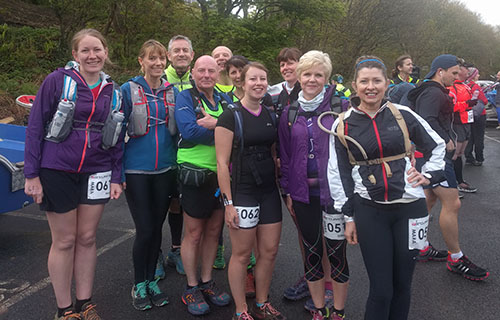 The start of EnduranceLife events are very organised.  They remind me a little of the way you walk round IKEA stores – you follow the tape and have to visit each section of the race HQ.  You sign to say you've read the rules, you collect your number and your chip, you pick up a t-shirt and are given a Clif bar.  I would run these events just for the Clif bar.  And the Builder's bar at the finish.  Best bars ever!  I wouldn't normally buy either on a regular basis as my weekly shopping budget doesn't stretch that far, but in the future I think I might enter a few more EL events purely for the bars! 😉
The race briefings are always long, and we milled around outside the start for what felt like ages waiting for the ultra runners to set off before it was our turn to be called over and talked through our course.  It was a bit drizzly by this point and so I put on my new waterproof.  I had bought it for the South Downs Way 50 but it had been boiling sunshine on raceday a few weeks earlier and the waterproof really hadn't been required, despite being on the kit list.  It was probably the most money I've ever spent on a jacket though, so I was determined to get some use out of it!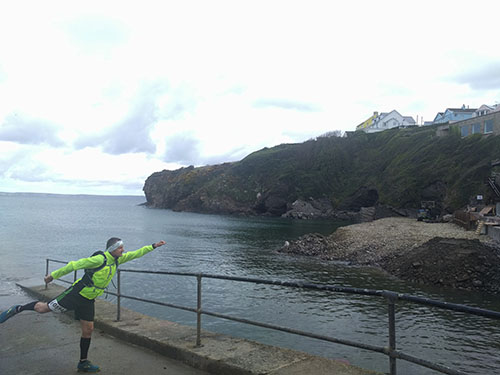 The start was right down at the bottom of a boat entrance into the sea.  There were quite a few dogs in the marathon who were all rather excited by this point and barking madly away, ready to get going.  I placed myself just in front of the dogs at the back, and as we were waiting for the gun to go a large wave swooshed up the ramp and covered the poor dog and some of the runners right at the very back!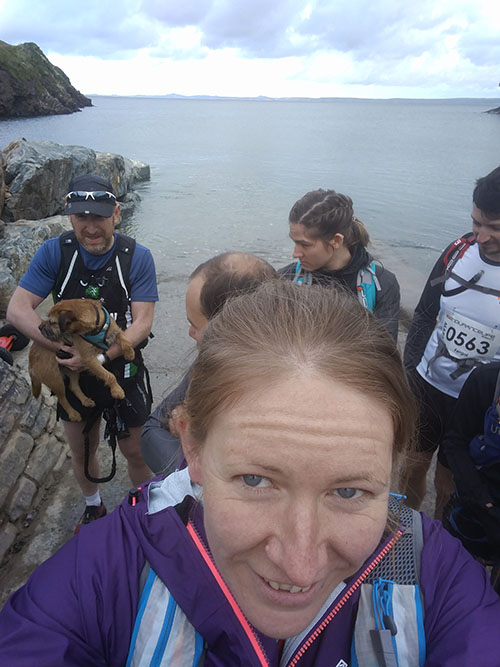 The race began on a rather steep uphill.  I think I was probably the first person to walk, but I ended up overtaking a number of runners who insisted on running whilst still so early on into the race.  There was a bottleneck as we headed through a narrow kissing gate a mile in and then we were out onto the coastal path.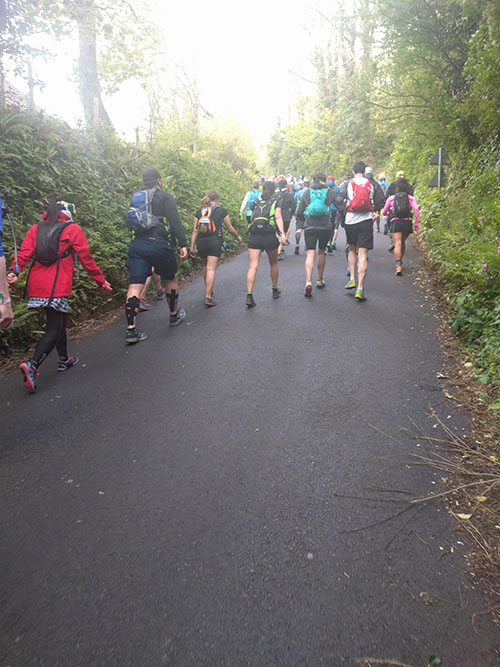 The scenery on the EnduranceLife events is absolutely stunning.  This event was only graded as a 2/5 for difficulty.  (As a comparison, Gower is a 3/5 and South Devon which I ran a few years ago is a 4/5.)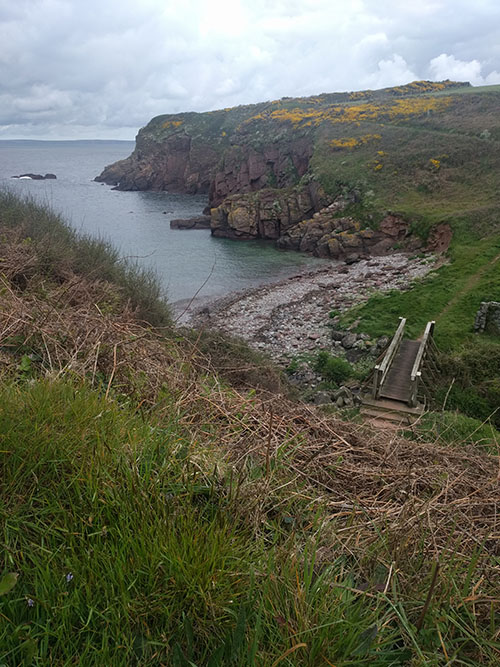 I found this one the least enjoyable of the three and the hardest for me though.  The coastal tracks along the cliff path were all incredibly narrow and with feet as wide as mine it was incredibly difficult for me to get into any sort of running rhythm when all I was doing was swinging my feet round in front of each other onto the same line all the time.  It also made looking up at the scenery very difficult, as I was forever having to watch my footing.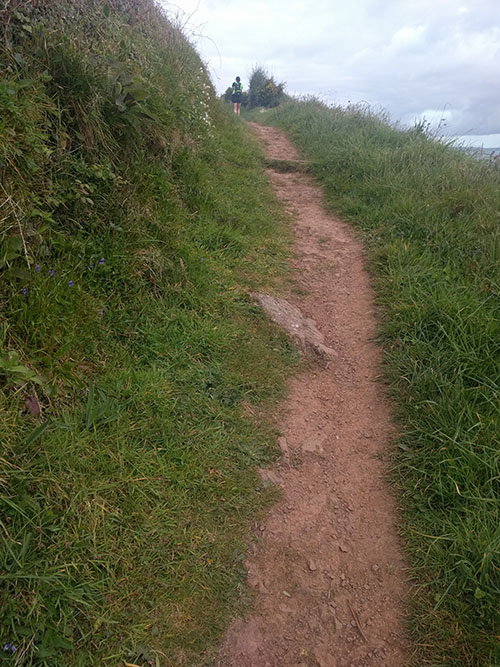 (It doesn't look too bad in this photo, as there is grass either side of the track, but there were large sections where the track was actually a narrow gully between rocks, which wasn't quite so nice to run on.)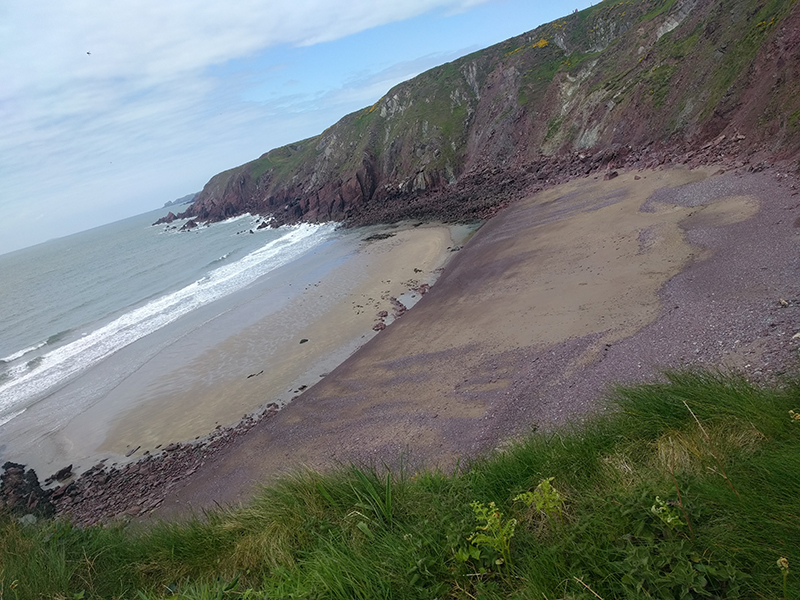 There were four checkpoints on the course.  The first checkpoint was also the fourth, when on the return journey to the town of St Brides.  I ran past the first checkpoint, not bothering to dip off the track and top up any food or water supplies as I didn't need them that early into the event.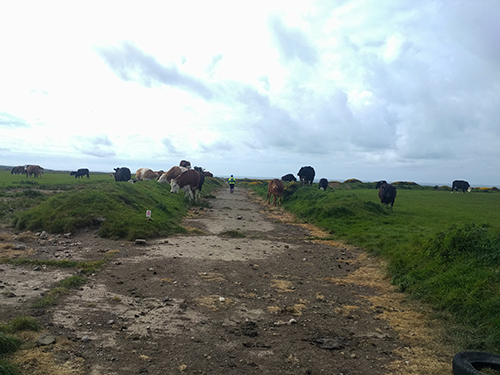 There were cows blocking the path at one point, and I nervously slowed down to a walk, making my way as calmly as possible through the herd which were stood grazing alongside the race signage.
I ran for a little way chatting with a lady who had spent some time running with two others from my club further back in the race.  She was much faster than me and dragged me along for a couple of miles before I insisted that she push on.  I ran those couple of miles much faster than I otherwise would have done, and ended up feeling rather rubbish because of it.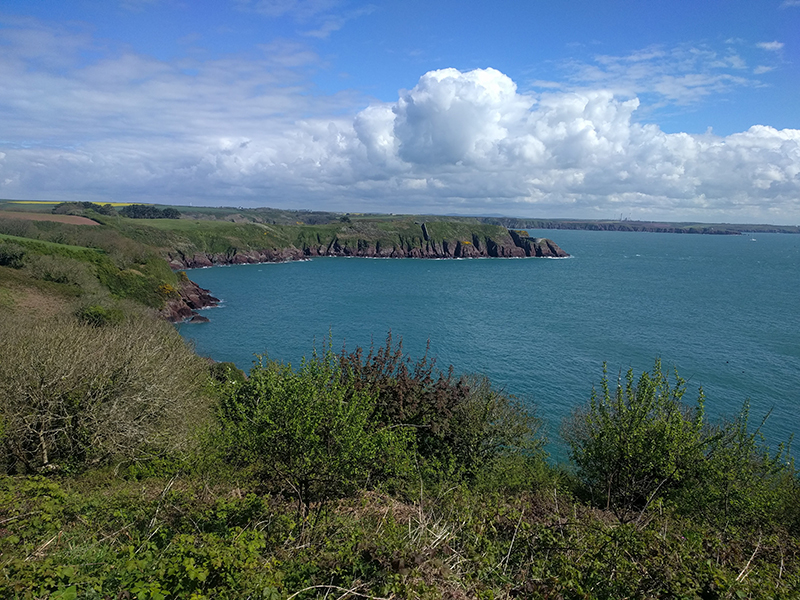 From about 16 miles in to the race I hated the event.  I think it was somewhere around this point that ultra runners began coming past me.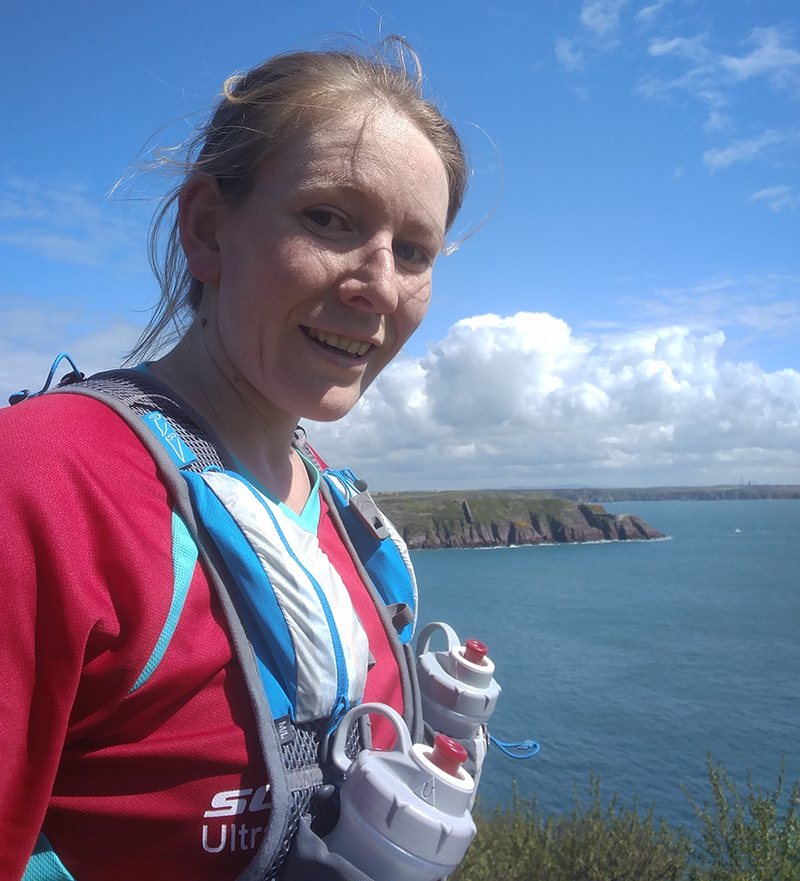 I've never hated a race before but three hours in and I was ready to have finished this marathon and be back in Northamptonshire with Oscar and Dan for the remainder of the bank holiday weekend.  I really was not enjoying the race and the times that I was able to run on the stupid narrow track were only run because it meant I would be done sooner.
I made a point of taking lots of pictures and chatting to everybody I saw to try and make things more enjoyable.  Part of my hating the race was due to spending my first weekend away from my new little family, part was getting dragged along by the woman I'd run with for a while, and I think a big part of me was also really missing all of the weekend chatty trail miles with friends I had missed out on in the run up to the event.
As I power walked up a super steep slope just before mile 19 a jolly guy walking in the other direction joked that there was an icecream van at the top.  I laughed at his comment, but then desperately hoped that he had been telling the truth, because all I really wanted right then was an ice lolly!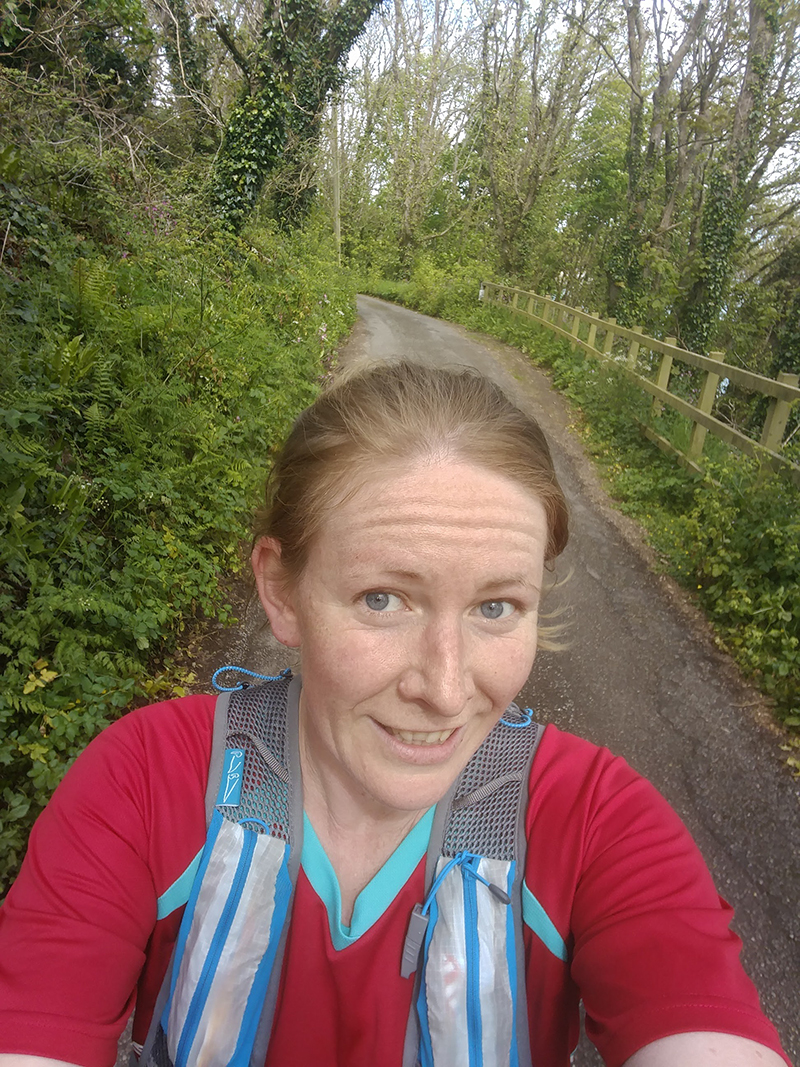 Luckily, he was telling the truth, and as I neared the top of the slope I could see in the distance a little white van.  I worried briefly that the old five pound note I handed over in exchange for my lolly wouldn't be accepted as legal currency, but it turns out that they were still legal for a few more days yet.  I think the desperation on my face for an ice lolly at mile 19 of a marathon would have been enough for the icecream van man to offer me icecream, money or not though!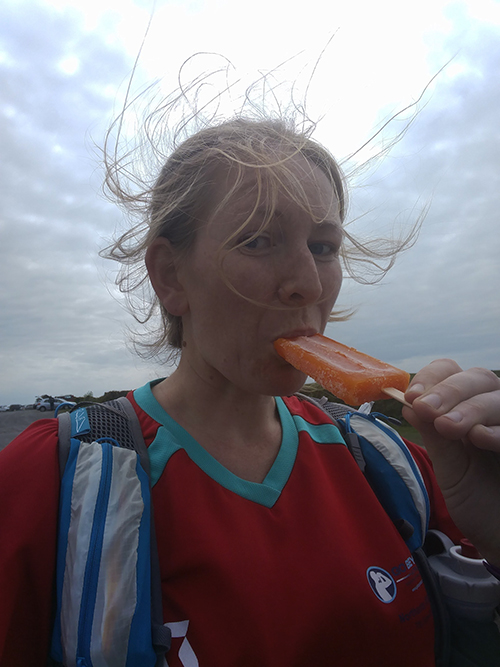 I enjoyed that lolly for a good half mile or so, much to the amusement of a couple of passing ultra runners!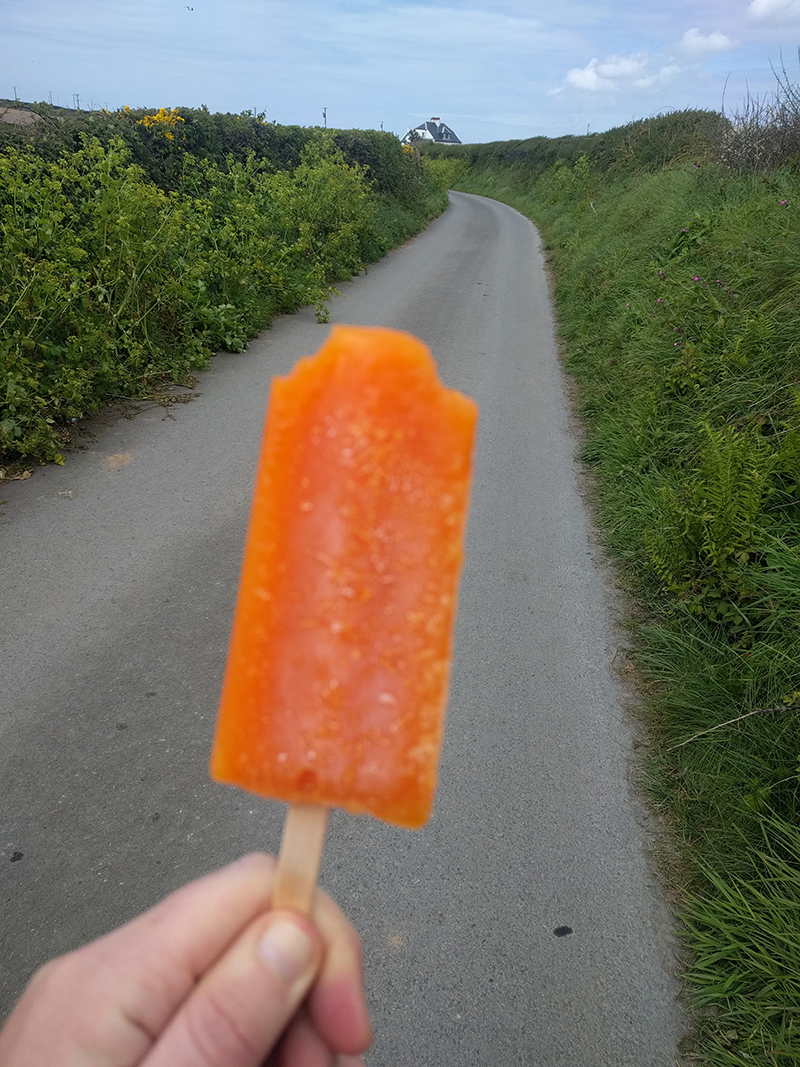 Despite knowing that the distance would be a fair way over a marathon, I was waiting to spot the finish gantry every metre after my watch beeped to signify 26 miles.  I was ready to be DONE.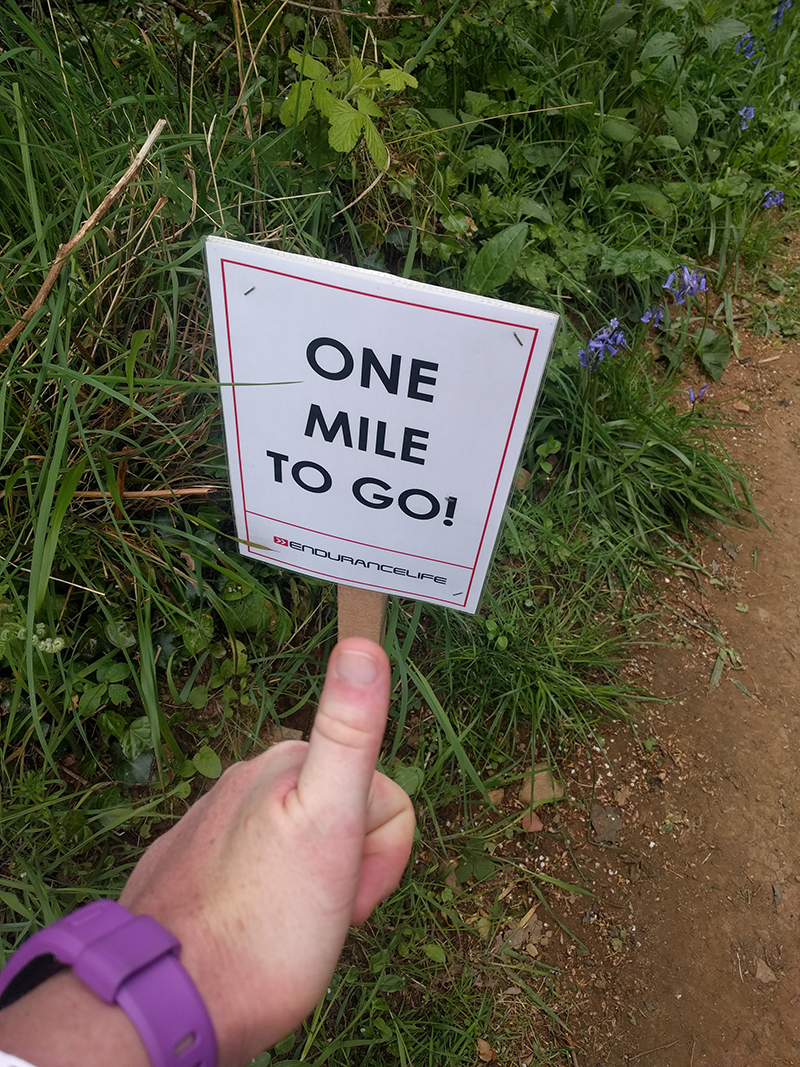 My watch showed 27.9 miles when I finally crossed the line.
Official time: 6:38:51
Position: 114/124
I crossed the finish line to see nobody I knew stood around the finish gantry.  I suddenly realised that with no signal on my phone and having not made plans earlier for how we were to all return to the cottage again, I had no idea what to do next.  I wasn't even sure of the nameof our cottage or the village it was in and it had been pitch black when I'd arrived the previous evening so I had no idea of it's surroundings at all!
I did remember that at least two other members of our club were still behind me, so decided to make my way out of the wind and down the hundreds of steps back towards the race HQ.  (Who puts so many steps directly following the end of a marathon?!)
As it turns out one of the half marathon runners drove past as I was perched outside the HQ.  She had been heading back to the cottages with a couple of other runners inside her car, so I squeezed in and joined them for the ride back, catching up on how everybody had gotten on.  Everybody had had a fairly successful day.  Just one DNF and one fall onto the rocks out on the course.
We were all ready for our post-race curry that night!
Have you been on a weekend away with other runners before?
Which of your races has had the prettiest scenery?