Oh Chelmsford…you were to be my target race of 2017.  Things just didn't fall the way they were meant to.
I can't complain too much though.  I mean, my body did let me run a 50 mile ultra earlier this year six months after having a baby, and I did get to PB in several shorter distance events during the Summer.  I just didn't do quite enough to help support my body to make it through to the end of the season.
It was less than three weeks out from race day when I was told by my physio that I would be able to run the marathon, although I knew by this point that I would need to seriously adjust my goals.  Despite having hit all paces for a 4:15 marathon early on in the training cycle, my long runs towards the end of training had been non-existent and I'd taken three weeks off completely due to my back injury and flu which seemed to last forever.  I'd lost in total two stone – a mixture of stress and illness – which I'm yet to regain, along with full strength for long distances.
I didn't have high hopes for the race.
On skimming through the Chelmsford race pack a couple of days out from the event I realised that there would be pacers across the distance.  Something which hadn't been offered at Chelmsford marathon when I ran it in 2015.
Sensibly/stupidly I decided to try and sit with the 5 hour pacer (if there was one) for as long as possible so that I didn't have to think about pacing or constantly checking my watch to ensure I remained consistent over the distance.
It turns out that there were actually pacers for every 15 minutes right the way through from speedy times to times much slower than me and I spotted the 5 hour pacer as I walked from the race village to the start line…running in to the pub!
There were marshals helpfully holding up rough finishing time markers in the starting pens and I positioned myself alongside the 5 hour finish board.  I doubted that I would finish in 5 hours, and had given Dan a rough guide of somewhere between 5 hours 15 minutes and 5 hours 30 minutes so that he knew when to come and watch me finish.  This had escalated drastically, as the previous week I had estimated 6-6.5 hours for a finish!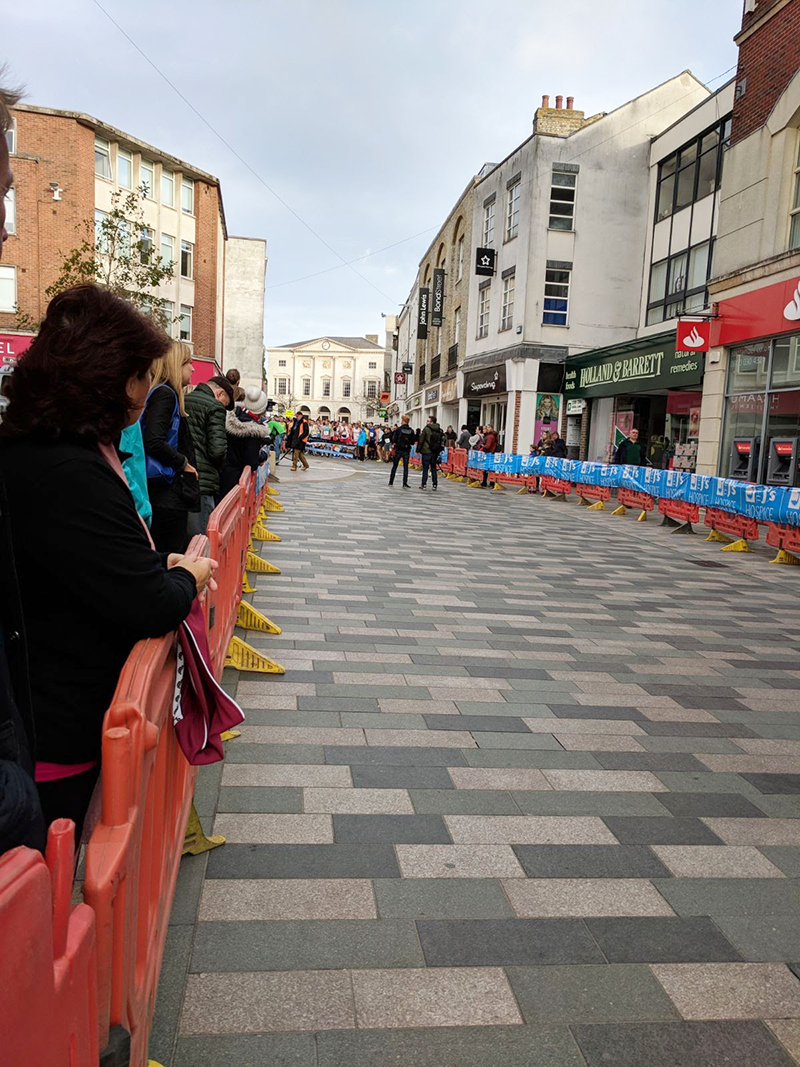 We started on time (I think in waves although it was hard to tell from my position near to the back) and I ran easily past Dan and Oscar (who was enjoying clapping at all of the passing runners!) and along the streets into the town.  It wasn't until about a half mile into the route that I caught up with the 5 hour pacer – I hadn't seen him come past me, but then saw his bright bib up ahead and so picked up my pace a little so that I could place myself alongside him.
The first 5k of the course is a mini loop through the streets in town before heading back past the race village.  I ran past the point where my hip had gone in 2015 and realised how lucky I had been to get the time I did that day.  It seems I don't often have much luck on marathon day!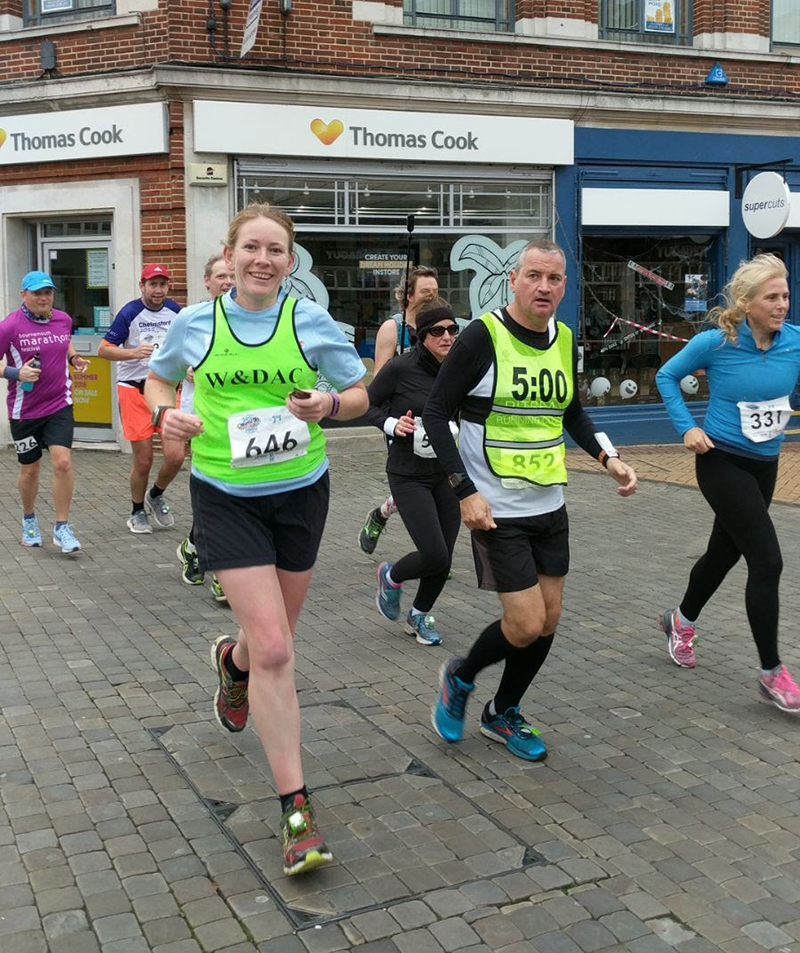 Dan had positioned himself with Oscar on his shoulder in the town and I ran as close as I could to Oscar to wave at him, although he was busy madly clapping at everybody who passed and I don't think he spotted me.  He's started doing this when a show we are watching on TV has a live audience at the moment as well.  As soon as he has realised that somebody else is clapping he thinks 'I know how to do that!' and madly claps away!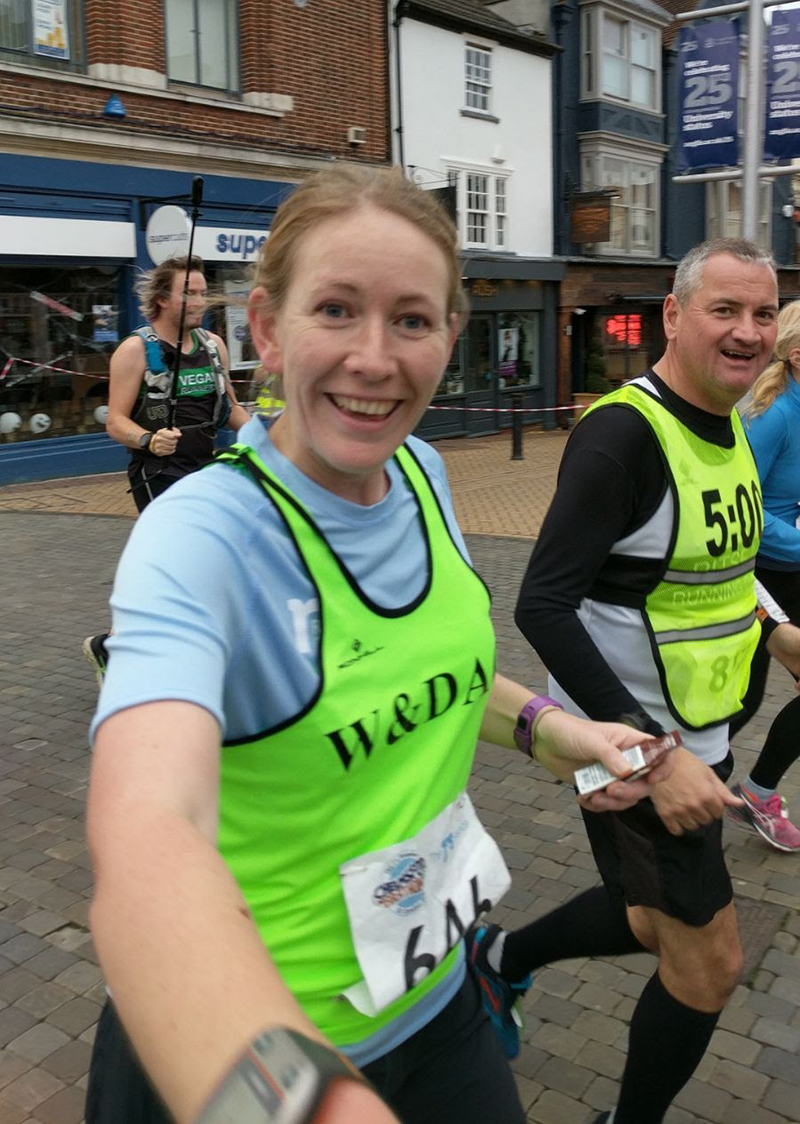 Nigel, the pacer, admitted that this was the first time he had ever paced a marathon and was hoping his watch stood up to the challenge.  He thought we were probably running a bit too quickly and when asked I pointed out that although I hadn't crossed the line at the same time as him, my watch was showing an average of 10:40mm pacing.  (Much faster than required for a 5 hour marathon!)  The pace felt very, very easy to me, although I wasn't tempted to rush off as I knew the wheels would come off later in the race due to my lack of recent training.
As we turned away from the town the little group of six that we had become introduced ourselves.  It was just one runner's first marathon, with everyone else having already achieved a sub 5 time previously and we spent some time discussing different marathons that people had run, which I always find really interesting.  I would like to branch out and try some different marathons once I've ticked the South Downs Way 100 off from my list next Spring.  Like me, Nigel was also running his twelfth marathon that day and had run all of his marathons in different capital cities around Europe.  (Apparently many, many years ago Chelmsford was briefly the capital of England, – as backed up on Wikipedia, so he was OK to add Chelmsford to his marathon list!)
The pace slowed slightly, although we were a fair way ahead of the required pace for a sub 5 marathon and I was still finding the pace very easy and able to chat to those running around me.
By mile 9 though the pace of the group seemed to have slowed quite considerably and I found that whilst maintaining the rhythm I had fallen into, I naturally began drifting away from the others.  We had come onto a road here, so the small group of us were running in single file – me at the front.  A lady at the back of our little posse was beginning to struggle and I could see her starting to fall behind.  The voices of the other members of our group behind me got gradually more and more faint until by mile 10 when I turned around I could no longer see the rest of the little group.  I was sure that I would crash and burn at some point in the race and that they would storm past me though, and in fact was really surprised that I hadn't done so already.
The first ten mile times went as follows: 10:40, 10:41, 11:00, 10:55, 10:58, 11:21, 11:08, 11:18, 11:11, 11:08.
I'd grabbed a selection of Gu gels, stuffing two into the back pocket of my shorts and carrying a further two to consume early on in the race.  As last time I intended on taking half a gel at every water station, although with the first water stop at the 5k marker, I missed this one out.
Miles 11 and 12 are a gradual long climb, although I only know this from checking my Strava, and being reflected in my times for those miles.  Still running well, and because the next couple of miles were flat/slightly downhill I had to make a real effort to keep slowing my pace back down again.
I briefly thought at this point "If I continue running the way that I am now, I will definitely achieve another sub 5!'  Somehow, my brain ignored the fact that I still had a half marathon to run on very minimal training and convinced me that I was Superwoman!
The 16th mile is a tough, steep one and this was the first point I had walked when I ran the event in 2015.  I was determined to carry on running – aware that if I stopped to walk it would be the beginning of the end of my race.
That is, I was determined to carry on running until I reached the hill and remembered how horrible it was.  I quickly convinced myself that actually I should probably walk and conserve energy for later on in the race.
That was the beginning of the end!
Two weeks on and I still believe that if I had carried on running at this point I would have had at least a few more miles at a steady pace before resigning to the run-walk marathon method.
Miles 11-20 as follows: 11:32, 11:12, 10:49, 10:58, 10:52, 11:08, 11:39, 12:12, 12:51, 11:53.
I anxiously looked out for Dan at mile 19.  I was ready to see a friendly face.  This is where he had driven out to see me when I had run the race the last time.  He had only just arrived in time then as I had been running ahead of schedule that year so just caught him hurrying out of his car to hand me some Vaseline which I had asked for.  This year there he had promised no guarantees that he would be able to see me out on the course.  With Oscar in tow Dan had intended on getting out on the route if he was able, but also aware that he needed to entertain Oscar at the park, with a walk in the buggy and to fit in a meal time for him at some point.  I half expected to see Dan here but when I didn't, although disappointed, it wasn't like I had fully banked on seeing him.
I started to feel hungry, really hungry not long after this point.  Late the night before every race of at least marathon distance I have always had a large vegetable pizza for my tea.  I have never had any problems with it keeping me stocked up nicely with energy for the following day.  If something works, why change it?
I hadn't intended on traveling to Norfolk the day before Chelmsford marathon, but my Dad rang early that Saturday morning.  I'd not long woken, and Dan was still in bed.  My Dad asked if I could go back to Norfolk for the day and so at 6:30am I found myself loading Oscar into the car and bundling a bag of toys together to make the two (which became three) hour journey back for the day.
One of my Dad's neighbours very kindly brought round a chicken casserole for myself, my Dad, my brother and Oscar.  A lovely gesture, although a small portion of chicken casserole at 5pm was not what I had intended or needed as fuel for race day the following day.
Upon reaching the next checkpoint I could hear the familiar voices of the five hour pacing group just behind me and although I kept them at bay for a further mile, they glided past when they did come by.  Nigel had a quick chat with me to say they were still ahead of pace if I could hang on with them for a while, but I firmly said that I had been injured going into the race with no idea what my body would be capable of running so would just be happy with a sub 5:15 that day.
I rang Dan to give him an updated report on my time.  Dan hurriedly asked where I was on the course and when I told him I was at mile 21 his voice dropped.  He had not long arrived at mile 19 where I had been looking for him!  Although I had been running pretty much spot on for 11 minute mile pacing, which I had told him to work his time predictions on, Dan had miscalculated and thought he had arrived in plenty of time!  I told him not to worry and that I would see him at the finish.  I also told him just how hungry I now was.  And I was.  By this point my stomach was aching and all I could think about was food, which is very unlike me during a run.  Five and a bit miles to go.  I knew they would be tough, but I knew that I would get round.  I was rather annoyed at myself for not stashing any money in my belt though, as it meant that I wasn't able to nip into a passing pub and buy a packet of Ready Salted!
Just before mile 23 a familiar car came past and I heard Dan shouting out of the window.  He parked on the side of the road, nipped into the boot of the car and reached inside the pouch on the side of the running buggy, hurriedly pulling out a Bakewell Tart nakd bar.  I have never been so happy to see a nakd bar in my life, and that nakd bar definitely picked up my energy levels for the remaining miles!
I continued on my way and Dan wished me well for my remaining miles before zooming off up the road, Oscar still snoring away in the back!
I had resigned myself to a run-walk strategy by this point, although with the nakd bar starting to kick in, it was now a much stronger run-walk than it would otherwise have been.  My head was back to it's usual strength and I confidently picked landmarks to run towards before taking a brief power walk and starting to run again.
With two miles to go a solo slightly faster than required 5:15 pacer ran past, a few minutes later followed by a lady who in the starting pen had loudly exclaimed "5 hours!  As if it would take anyone 5 hours to run a marathon.  I'd like to think that I'd be home and fed by then!"  I had a little smile inside to myself.  Not in a mean way, but in a running-a-marathon-is-actually-a-lot-harder-than-Mo-Farah-makes-it-look kinda way.  I don't think she'll make a similar comment at her next marathon, if she signs up for another.
Somehow I managed to still look fairly strong in my mile 25 photos.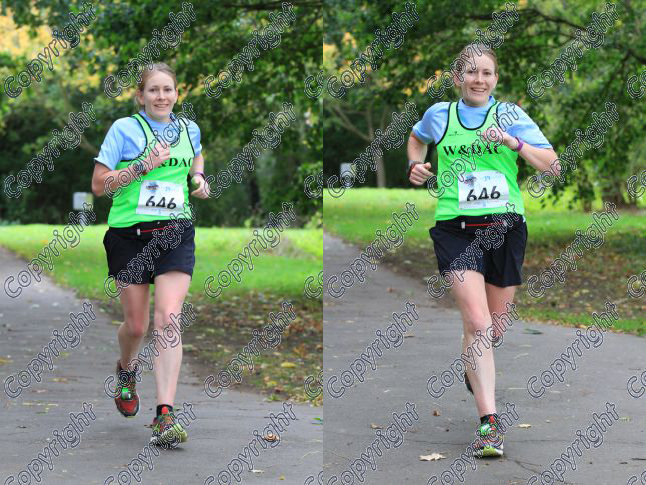 I couldn't stop myself from smiling as I weaved along the final path heading to the finish.  I do really love the Chelmsford marathon course and I knew by this point last time that I would be coming away with a brand new PB.  I can remember feeling absolutely ecstatic along this path!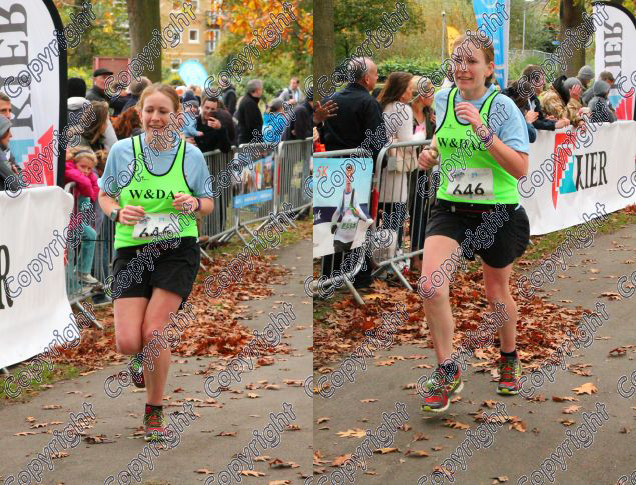 Oscar and Dan were there cheering me along the finishing straight.  I heard them long before I saw them and my tired legs made the final few hundred metres as fast as they could (although upon watching the video back it's clear that wasn't very fast at all!)
Final miles 21-26.4: 14:06, 13:32, 13:46, 12:51, 13:00, 12:46, 11:13 pace.
I was so happy with my performance.  Despite everything I finished in 5:10:07 (chip time), which is actually not too far away from several of my previous marathon times.  Imagine what I could achieve if training had gone right all the way through my training cycle!  I was happy with how consistently and strong I had run for those first 16 miles and know that I can improve on this time in Milton Keynes next Spring.
Official stats as follows:
Chip time: 5:10:07
Position: 496/573
Gender position: 105/150
Category position (Senior female): 26/36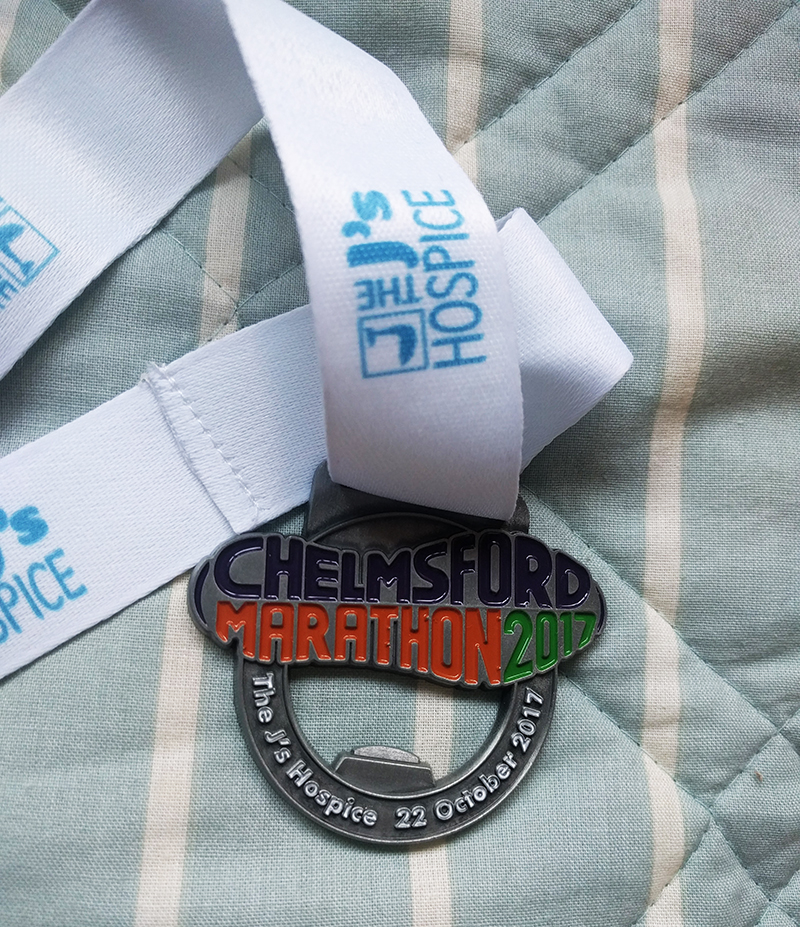 I crossed the line and found my way over to Dan with my goodie bag where I lay on the floor whilst he rummaged around in my bag to find something which would give me some energy, coming across some gummy sweets.  Within minutes though I was feeling very weak and knew I needed food soon.  Keeping moving was better than when I stopped completely and so we made the decision to head back to the car.  I'd seen several KFC wrappers on the floor as I ran back towards the finish so knew there must have been one not too far away.  I really fancied a KFC Krushem and for ease, a KFC burger would be something warm and substantial as a temporary fix for my lack of energy alongside the drink.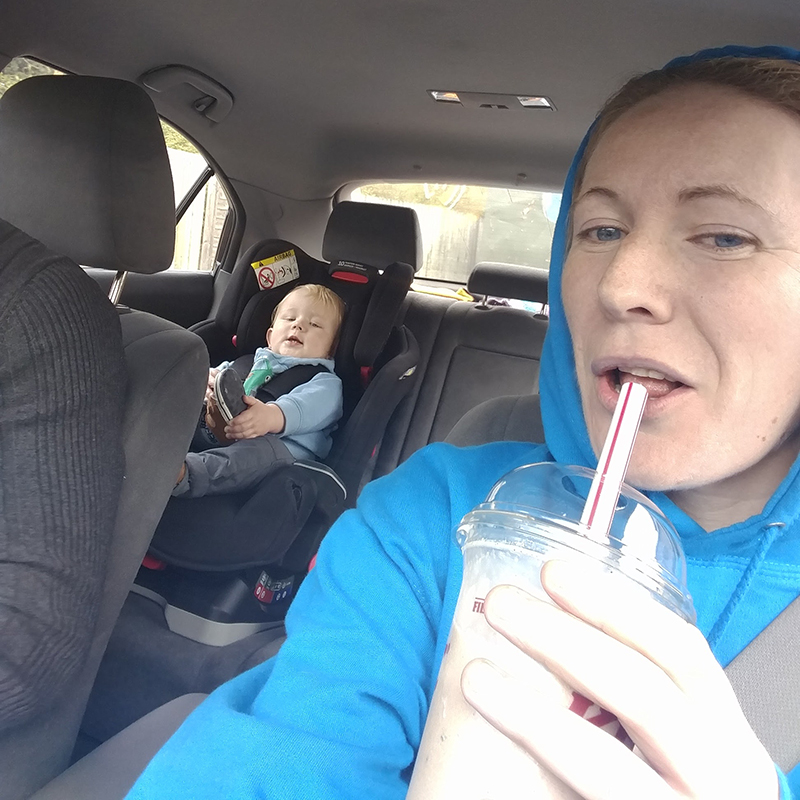 Feeling much better!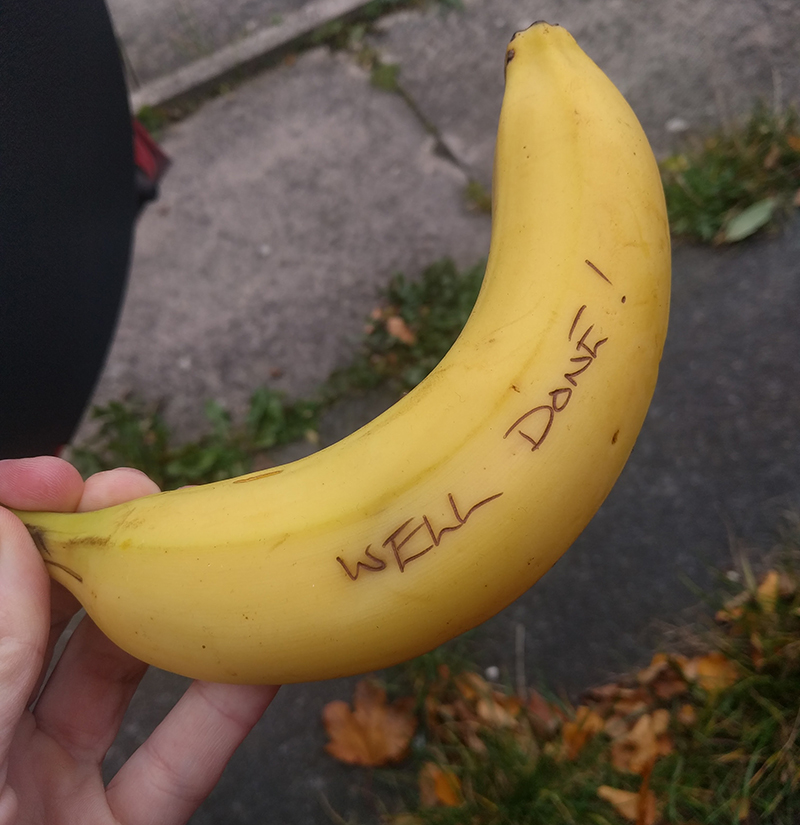 On having a chance to check the banana in my goodie bag, I love that it contained a hand written message.  From checking Instagram the following day it seems that the messages on bananas were all different which was a lovely touch!  I don't like bananas, but Oscar enjoyed this one the next day!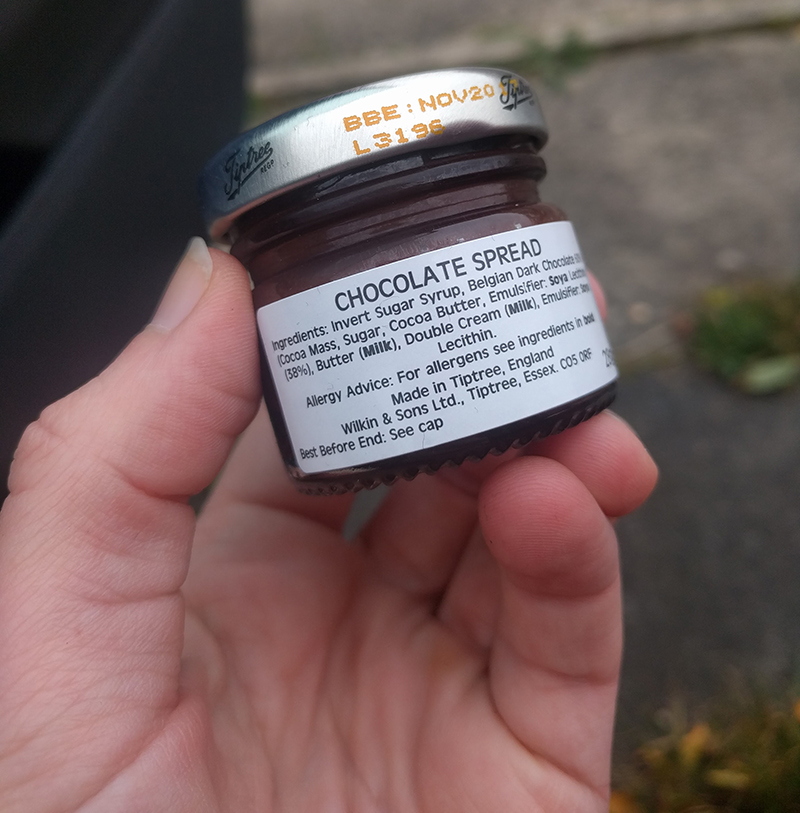 I do like chocolate spread though, and this was a great pick-me-up the following morning on the remainder of the half-eaten bagel I'd left the morning before.  Fab addition to the goodie bag guys!
Official photos from here.
Chelmsford was my twelfth marathon.  All my previous marathon recaps can be found on my race recap page.
Have you ever had to adjust your time goal for a race?
Ever have serious hunger during a run?!