When people say they are put off joining a running club I find it such a shame.  Joining my running club was definitely one of the very best things I ever did, and it helped me to fall in love with running.
My running club are so supportive, helpful and friendly…and they hold a huge amount of social events and weekends away too!
I first went on the November Gower weekend away in 2014, although the yearly trip had already been running for a few years before I first joined in.  I ran my sixth marathon that weekend, – my first one on trail.
I headed back to run the marathon in 2015, although poor weather (horrific hill fog, hail and wind) meant that a large number of us were pulled from the course when it was deemed too unsafe to run along the edge of the cliffs for the final few miles of the race.
Last year Oscar was only a few weeks old, and although I obviously loved spending time as part of our new little family unit, I still really missed the yearly getaway with other runners from my club.
My name was one of the first on the list for Gower this year and, no longer tied down to term time hours through school, I was able to go for the full weekend this year for the first time.  Traveling down on the Friday morning, and returning at lunchtime on the Monday.  Oscar usually attends nursery on a Friday and I just added a one-off extra nursery day to his routine on the Monday for this week as well.
Once again, this year I entered the marathon distance.  In total for the weekend, there were two others from our club running the marathon, one running the ultra, thirteen running the half marathon, two running the 10k distance, two injured runners who had decided to support as they were no longer able to run and one runner's Mum.
We had quite the crowd in our three large cottages for the weekend!
Oscar's nursery had messaged me earlier in the week to say that for Children in Need they were going to host a breakfast for parents along with their children on the Friday morning, so I loaded up my car that morning with running gear as my tummy rumbled away.  Not having to feed either Oscar or myself was a big timesaver as I had spent all morning finishing off my packing, but I was HUNGRY by the time I arrived outside the nursery doors at 7:30am.  I passed several parents walking back out in the other direction as I arrived but thought nothing of it, assuming they had been unable to get an hour off from work for the charity event.  It wasn't until I arrived inside and realised that there were no other parents in sight that I must have gotten the week wrong!  I hurriedly made an excuse about having not been able to give Oscar any breakfast that morning, so he still needed to be fed and rushed out to Tesco to pick something up for me!  Turns out the breakfast event is this Friday instead!
It did mean that I arrived at my friend Steph's house (who I was giving a lift to) in plenty of time and we had set away long before 9:30am though.  When usually, I would most likely have been late!  😉
We had a fairly easy journey, and even passed a car containing three of our runners along the way (although they still managed to arrive before us!)
When we arrived at the cottages there was enough time to all hang out for a bit and grab a quick drink before walking the mile down to Rhossili for dinner at the pub.  Those who couldn't take the day off work on the Friday joined us at the pub for food and drinks as soon as they arrived.
Alarms were set before bed and I woke feeling rather refreshed on Saturday morning at 6:30am, having slept right through the night.
I walked the mile to the Race HQ along with one of the other marathon runners, the ultra runner, and our support crew of two.  We made our way down the road with a slight wind behind us, occasionally glancing up at the steep hills around which we knew were part of the marathon route, arriving to a long queue of runners snaking out of the registration tent.  Spots of rain had begun and all we wanted to do was to huddle up in the tent until our race was due to begin!  Tom, our ultra runner was fast tracked through the queue, as the briefing for the ultra race was now imminent. When it was my turn to pass through the registration desk process it became apparent that the marshals were unable to locate my chip, so ended up changing my race number – crossing the number off my hand, and giving me a brand new race number with my details written on in marker pen.
Having declared how much I love the Clif bars to several others before the race, I managed to acquire three in total from friends which I then tucked away into my bag for the race!

  Winning!
The ultra runners were late setting off meaning that us marathon runners were very late starting our race briefing.  The briefing then seemed to last forever.  I, along with a few others were getting rather agitated by the time the briefing had finished and the race director told us to congregate at the start line in about 5 minutes time.  (Why not head straight to the start now?  We were already 20 minutes past our start time!)
One of the marathon runners from our club was concerned about the cut off times on the course so, as we now had a further 5 minutes to wait for the start, she headed over to look at the course map to see if it would be possible to turn off at the half marathon marker point instead, and if so, at what point that fell on the course.  As we headed over, I heard another female runner in discussion with the RD over what time the cut off was. He was reminding her that we needed to arrive by 2:15pm – 5 hours 15 minutes – at mile 19.9 on the course.  I butted in and asked if the 2:15pm cut off would actually be extended to reflect the fact that we were now so late starting the race and was told that no, it wouldn't.  That there would be plenty of time to cover the ground if we were to run all the flats and downhills on the course.  Knowing the course, and knowing how technical the downhills on the route are, I knew that having 4 hours and 45 minutes to get to 20 miles would actually be a tough ask for plenty more runners than just me.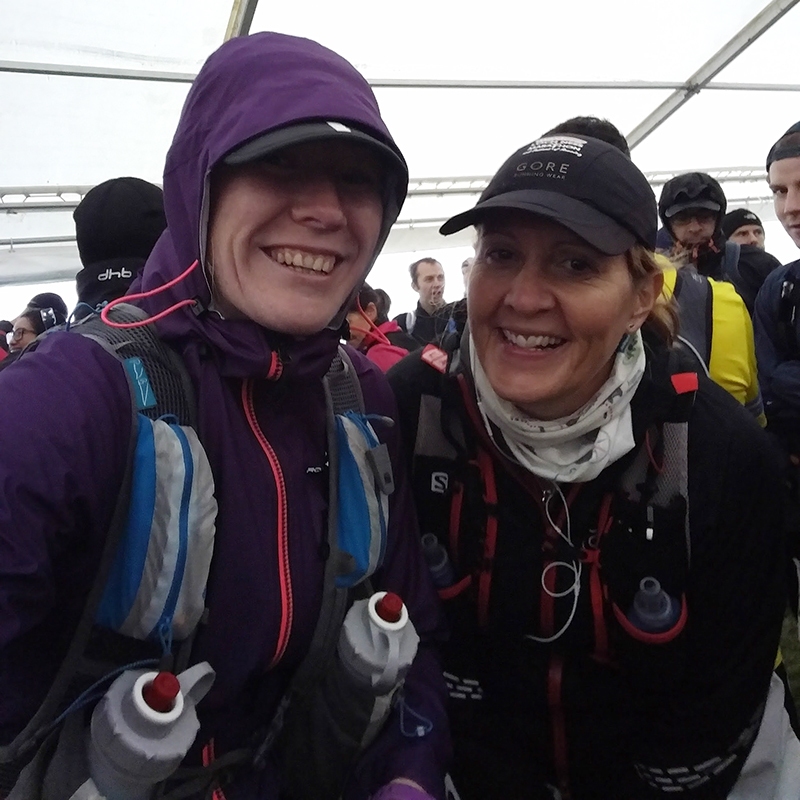 I was a little antsy as I stood on the start line waiting for the start of the race, knowing that half an hour of my time to get to the one and only cut off point at mile 20 had already been taken up by the briefing.  To add to things, when I had turned my Garmin on during briefing, it had flashed 'Low battery' at me repeatedly, before turning off.  I decided to try and use the Strava app on my phone to record my run – something which I hadn't done before.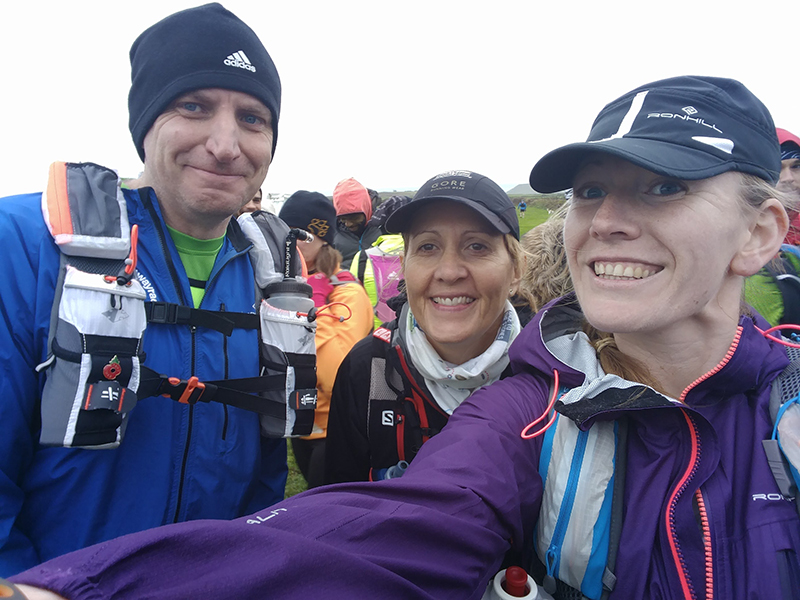 We bottlenecked as we all left the field before heading down a little farm track.
The first year I had run the marathon course the start line had actually been located at Middleton, the village we stay in.  (The start was literally right opposite our cottages.  We rolled out of bed and headed over for our numbers still in our pyjamas that year!)  But since 2015 the course has started further up the road, meaning that the first sharp hill is now very early on in the course.  One of my strengths is uphills.  I have long legs and can use them to my advantage to power up past those runners around me.  Much harder when you are still surrounded by all the other runners though, and it was difficult to get into any real stride here.
It didn't last forever though and we did space out a little after this.  With so few of us from my running club running the marathon this year, this would be the first year where I was running the course completely on my own (something which I usually prefer), and I was surprised that at no point during the 28 miles of the marathon was I ever not in sight of another runner.
Coming back down the other side of that first hill is rather tough.  The descent is steep, with rocks sticking out in random places and a stream usually pours out of the side of this hill, although I didn't see any evidence of that this year.  I saw one woman whose dog was attached to her waist actually leave the ground and go slamming into the hillside as the dog took off at a faster pace than her legs could keep up.  She got up and released the dog before continuing.
It must be an amazing sight to see the serious front runners agilely run down this first hill.  Most of the runners around (me included) were cautiously picking their way down the less slippy parts and looking less than impressive!
You hit the first beach of three around mile 3.5.  I passed the other female marathon runner from our club just before arriving at the sand.  I hate running along the beach.  These beaches are wide enough that you have plenty of space to pick your running line – along the grassland at the top or down by the shore.  The sand was actually fairly firm mid-way along and so I stuck to this line, along with the majority of other runners.  The beaches on this course are my nemesis and the point at which I lost my running mates last time I ran the event.
The beach stretches out far into the distance.  My pace always begins to pick up automatically as it sees the longest flat piece of ground it has done for a while and I really struggle to either hold myself back, or be able to maintain the pace my body wants me to run at.
This year I decided that I wasn't going to let the beaches defeat me, and I was actually going to maintain a steady pace across all three, which I did manage to do, passing several runners who had chosen to walk sections of the sand along the way.  Running events like these it becomes all about the mind games, and I won on this occasion!
After the beach there was another short climb and then we were out onto grassland again.
We ran for a little way along a boardwalk made up of short planks to act as a path for pedestrians cut into the sandy track.  We had been warned that it would be slippy here.  The track was fairly narrow and there were still lots of runners around at this point.  The wooden slats were pretty uneven and jutted up in several places.  I figured that as they were so uneven I wouldn't be able to slip on them.
That was a mistake.  I slipped and went down hard onto my knee.  (My knee is sporting a fantastic dark-coloured bruise now.)  Both the guy in front of me and the one behind checked that I was OK before continuing after I went down.  I got up quickly and could feel the stiffness in my leg immediately, limping briefing for a few strides before it loosened up.
(I'll get the rest of the race recap up later this week)
Have you fallen during a race before?
Do you prefer up or downhill running?