(If you missed the first part of my recap of the 2017 Gower Marathon, you can find it here.)
Although it had been fairly windy at the start of the race, I had been able to take my jacket off a few miles in.  It wasn't really cold, and we never had any rain actually during the race at all, although from talking to friends afterwards, both the ultra runners and the half marathoners got some light rain during their run.
I had wrapped my jacket up into a little ball, encasing my phone, and then jammed it into my bag, hoping that despite all the padding my phone would still track the miles I ran using the Strava app, although I wasn't too worried if it didn't.  Annoyingly, this meant that I couldn't really take any photos out on the course during the day though, and I also never really knew at what mileage point I was on the course.  From the position of aid stations and the pace I knew I was roughly running at I could kind of work out how many miles I had run, but it's not quite the same as having a Garmin beep to tell you each time you've ticked off another mile!  The EnduranceLife aid stations are also quite good in that they display a large board showing what mile the aid station is situated at and how many miles you have until you reach the next checkpoint.  I guess the marshals get these two questions a lot!  Perhaps this is an idea we could nab to add to the ultra checkpoints for Go Beyond events too?  I've just put my name down to marshal at Country to Capital again next year.
I had been debating whether or not to wear my new pair of trails for the run.  I say 'new pair', – they must have run about 100 miles or so by now – but as my feet are quite wide, I find it takes several runs in a pair of trainers before I don't feel the pressure across the top of my foot from when my feet expand during a long run.  I paused not long after my fall to loosen the laces over the arch of my foot and tighten the laces higher up instead and this seemed to ease the pressure.
I didn't stop at the first checkpoint.  There were a large number of people already spread out around the table and I didn't want to waste any time getting to the cut off point at mile 19.9.  I just dibbed in, grabbed some jelly babies and left again.  I kept trying to work out at what point I was on the course by landmarks and the time of day, as I was still rather concerned about making the shortened cut off time.  We came down a very steep and muddy hill onto a blind bend section of road.  I think perhaps it was at about mile 8.  There was a marshal here – ensuring runners could stop their legs in time before hitting the road.  We turned sharply to the left, took the next right hand road turn and then climbed a stile into a field and were away again.  As I ran down the hill I asked the marshal at what mile point we were at currently.  She told me mile 12.5, with a half mile to go until the next checkpoint.  This confused me a lot.  I know that I definitely had not run 12.5 miles of a course with hills like that in under two hours!  And it then took a further hour for me to reach the next checkpoint which definitely hadn't been only half a mile away!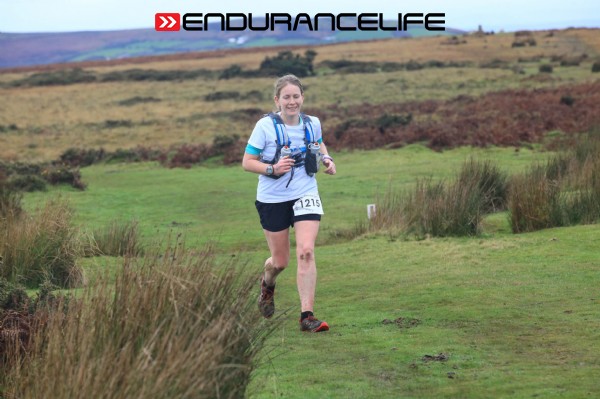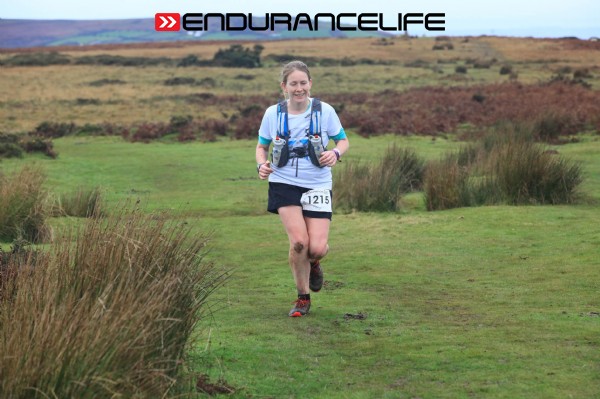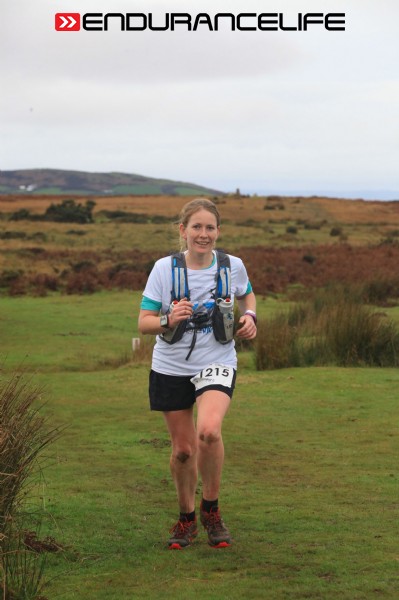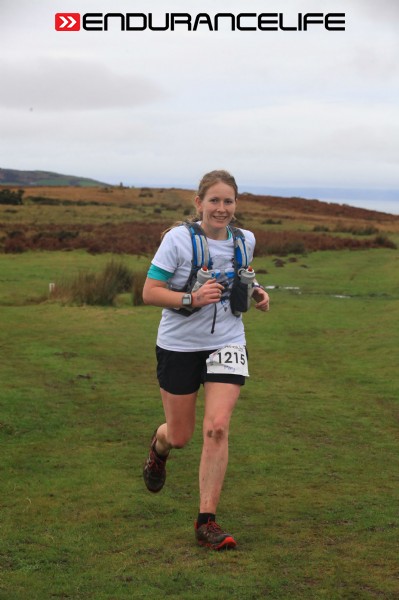 I paused briefly at the second checkpoint to get my water bottle topped up and to grab a couple of custard creams.  I never buy custard creams but after EnduranceLife events I always think I should probably run with them at my next race.
The second beach was much easier and shorter than I remembered and once again I managed to run steadily across the whole distance.  As you come off of the second beach you are greeted by hundreds and hundreds of uneven steps heading uphill through the woods.  They are really tough going and I had completely forgotten just how much they take it out of you at this point on the marathon.  I had not long told another runner that they worst part of this event was over now, with all of the major hills early on in the course!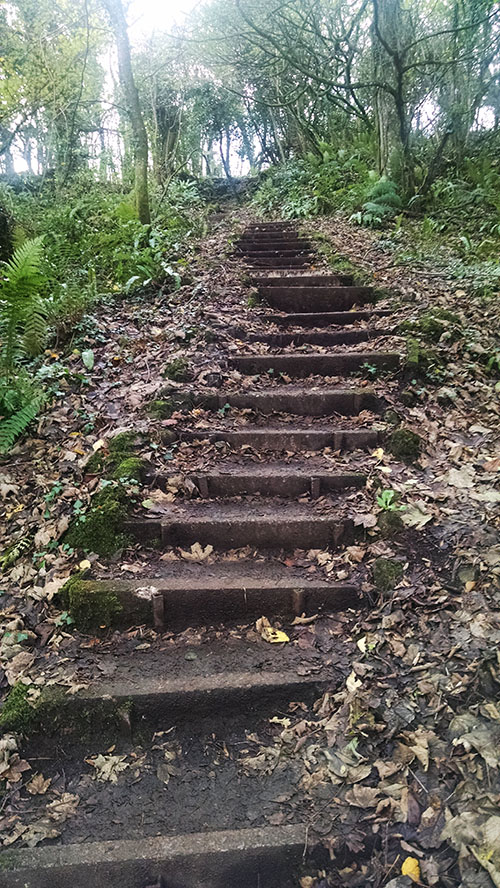 (Picture taken part way up the steps back in 2015.)
I ran up behind a family along the steps and heard them say "Move aside, there's a runner coming up", to which I responded in between rather heavy breaths… "I'm not doing much running I'm afraid!"
The journey back down is not much better as you can't really find your stride with all of the steps being at different heights and lengths.  I was glad for that section to be over!
Soon I had made it to the third and final beach.  You need to run along a rather loose, sandy section before crossing a bridge and making it over onto the full beach.  This section seemed to go on forever.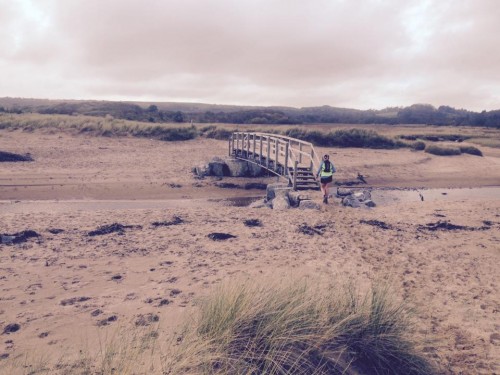 (Photo from the 2014 event.)
I crossed the bridge at 2:05pm, knowing that the 19.9 mile checkpoint was at the far end of the beach and that official cut off for the race was at 2:15pm.  I wanted my legs to hurry, but at the same time I didn't want to hurry them so much that they burnt out and I had to keep stop-starting across the sand.  As I saw the time on my Vivofit get ever closer to 2:15pm I figured I could probably blag my way by 5 minutes or so.  Perhaps 10?  My watch changed to 2:16pm just as I pulled off the beach and turned towards the checkpoint.  I had made it!
I paused to top up both bottles here, and having made the one and only cut off in time I rewarded myself with a long walk and a chance to pull my pretzels from the bag on my back.  I'd devoured two Clif bars early into the race, and eaten the custard creams at the last checkpoint, but I'd been craving salty pretzels for the last few miles and daren't waste the time stopping to rearrange my bag.  The pressure was now off though!  I could walk the rest of the way and would still be ticking off my thirteenth marathon before the day was out.  Having pushed it (although comfortably) I knew I would be in with a good chance of beating my previous time on the course as well, even if I did end up deciding to walk the rest of the way!
After quarter of a mile I was ready to run again, and so held onto my bag of pretzels and set off.  I had passed several people at the final checkpoint, – I'm guessing people who were also rewarding themselves for making the cut off in time!  We then went on to play leap frog a few times for several miles as we took it in turns to pass each other.  Although I don't have any pictures of the course on the day, we did walk the final 7 miles of the course on the Sunday on our trip over to the pub (and back again!) so I took some pictures then, which I'll share in a separate post.
The final checkpoint was the point at which I (along with several others due to the poor weather) was pulled last time I ran the event in 2015, and I was surprised how much of the course I remembered having not run this section since 2014.  There are several steep, slippery climbs where you need to use hands to help yourself up, but also a few longer sections of grassy trail where you can make up a little bit of time.
Annoyingly, my phone died at mile 25.3, so I couldn't take my traditional photo of the 'One mile to go' sign.

(The grey is the elevation, and blue line my pace.)
A mile before the finish I saw a familiar shape hobbling towards me.  Kev, the guy who had persuaded me to run my first ultra back in 2013 and who has been super supportive of my running journey ever since made his way back along to track to give me a hug and fill me in on how the others had gotten on in their races.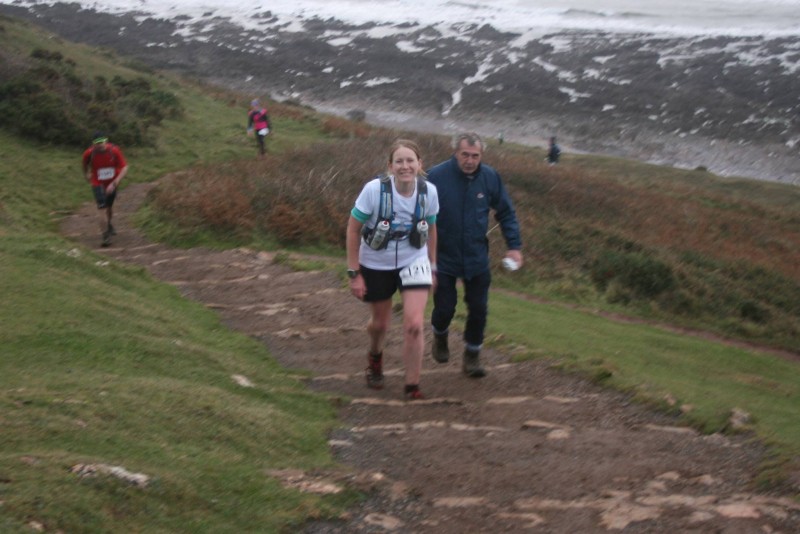 Kev and another injured runner, Sandra, had been stood on the final mile post for hours, seeing everybody through to the finish.  The other runners from our club had all had a fairly good day, with just Tracey dropping down from the marathon to the half on route as planned, and Tom dropping from the ultra down to the marathon due to an existing injury.
Official time: 7h 03m 53s
Position: 125/129
I had beaten my previous time by more than half an hour.
It absolutely tipped it down just as I crossed the finish line where I bumped into James, the other marathon finisher from our club who had been back for 25 minutes or so.  We waited the worst of it out under the comfort of the marquee before making our way back to the cottages to a cheer from the runners who had already returned back, showered and eaten!  We were the last to return, so once showers were had it was time to really start our weekend away!
Do you like to take pictures during your races?
Have you used the Strava app on your phone to record your runs?