Bedford half was my first half marathon back in 2011.
[Side note: HOW have I been running for six whole years now?!]
I had joined WDAC in the Summer and went on to run Bedford half along with my friend Hayley at the end of the year.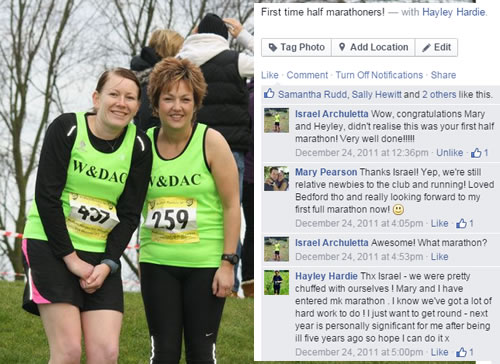 I had roughly set myself the time goal of 2h 15m for the race and came in at 2h 13m 10s so was super happy with that (and very achy the following day!)  I went on to cut a further two minutes from my time at the same event the following year, but since 2012 I haven't really run a huge amount of half marathons.  Ultras are where my heart lies, and where most of my focus has been over the past few years – ticking off the longer distances.
My times don't really seem to line up for the mid-distance events…half marathons and marathons.  I just haven't been able to get everything to align over that distance (yet!).  I planned on attempting to run a sub two hour half by the end of this year and when I won a place at Ealing half marathon to have help achieving a sub two hour race through Marcus' Instagram earlier in the year, I thought that this would be my year!
Then injury struck due to lack of core work and all the extra driving I was doing and I spent a lot of my time back in Norfolk not getting as many runs in as I had wanted.  My Dad was even incorrectly told on the morning of Ealing half that my Mum had died and so I headed back to Norfolk for the day instead of to London for the race.
Entering Bedford was never going to be part of the sub two hour quest.  My Mum did die the week before Bedford half and following a week of making arrangements for the funeral and no sleep from sharing my teenage bedroom back in Norfolk with a teething baby, my body was exhausted by the time race day rolled around.  Coupled with the fact that I hadn't had the time to run anything over 7 or 8 miles in a very long while (other than the two marathons the previous month!) it wouldn't have been a great recipe for a good race.
But nonetheless I really wanted to run the race.  I love the Bedford course and it's a favourite with many from our club.  Fairly large in size (for a local running club event), runners are bussed in to Wootton Upper School from the local Argos Distribution warehouses.  Busses full of runners all talking tactics and races – the best start to a day!
I had no idea what to expect from the race and just hoped to run at my best for as long as I could and hope I got round in a semi-acceptable time for the distance.  I knew my PB (2h 9m 16s) was very outdated and should be fairly easy for me to beat on a regular day, but wasn't really sure that this was like a regular day.
As I was queuing to get through to bag drop at the start of the race I spotted one of the girls who had been in my form at the start of the school year, who waved shyly at me from the sidelines.  Whenever I race Bedfordshire/Cambridgeshire way I always seem to bump into students who are out supporting their parents at races!  This particular student regularly runs for county, so she is involved in the sport herself, although at 11 years old, wasn't running the half that day!
I randomly remembered skim-reading through the race instructions on the bus that time would be gun to chip rather than chip to chip and so I made the decision to start my watch as soon as the gun went, despite it taking me a long while to cross the start line.  Stupidly I clearly wasn't thinking very straight, as it obviously meant that the prizes would be given out by gun-chip time.  We would still receive a chip-chip time at the finish for our official time!  Starting my watch a couple of minutes early meant that I really messed up my strategy – unable to see the pace I was running at.  My watch display shows distance, total time and overall average pace.  The fact that I'd done little more than shuffle for the first minute was taken into account and although by the end of the first mile my watch beeped to show 9:46, a lot of the running was in the 8:xxs to achieve that!  Not the best of starts!
Along the first road we ran past the ultimate Christmas house – so many decorations, and fake snow was falling down from the house all around the runners that came past!  It was about here that I bumped into Katie (and Flo!), who were out supporting Katie's husband – spotted just in time to give them a quick wave on my way past!
The first few miles were very easy, despite the way too fast start.  I had to really pull myself back, especially when my watch beeped to indicate that I had run the second mile in just over 9 minutes.  There are several hills in the Bedford half, but they all fall fairly early into the race and the end the course is plain sailing downhill for a couple of miles (before a slight climb up to the finish, although by that point all of the other runners who have already completed the race are walking back along the road towards the busses, so you have no option to slow if you want to save face!)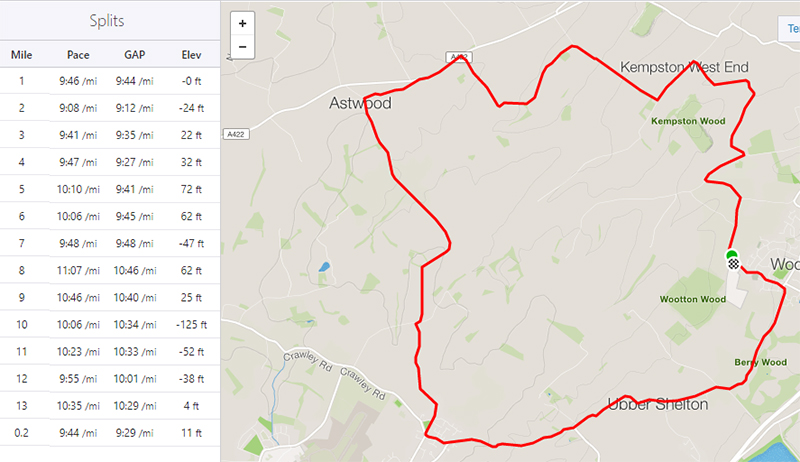 Looking at my mile splits after the race there doesn't appear to be anything too shocking, but the second half of my race was very run-walky, which it shouldn't really have been.
I got to mile 7 thinking 'Oh wow, I'm running much better than I thought I would, perhaps I am in with a chance of a decent time' but not long afterwards I decided that I didn't want to push it, and that I just wanted to go out and enjoy the run and headspace so dialled things down and just jogged along instead.

My heart just wasn't in it on the day.  You can see all my little walking breaks by the dips on the blue line in the chart above!
I took a Gu gel which I split into half at two of the waterstations.  It was the salted watermelon one (salted caramel still ranks as my favourite) and I ended up chucking the last little bit as I ran through a third water station as I didn't fancy it any more.
Apparently at the pub at mile 11 there were free shots of prosecco and beer being given out to runners but somehow I missed this!
Although not a PB, I finished in a respectable 2:12:53, despite the poor consistency of my race.
The t-shirt at the end is a lovely long sleeved top which has quickly become my new favourite.  If any other Bedford half runners have their t-shirt and don't plan on wearing it, I'll happily take it off your hands!  It's so comfy and fits really nicely for a change.  I love it when races give out long-sleeved technical tops at the finish.
As it was such a local race we had several supporters out on the course, which is always lovely to see!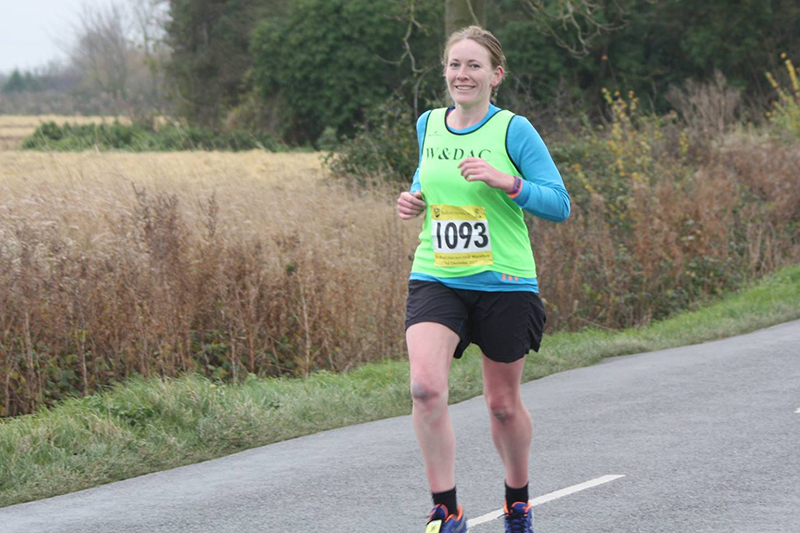 (Mile 3)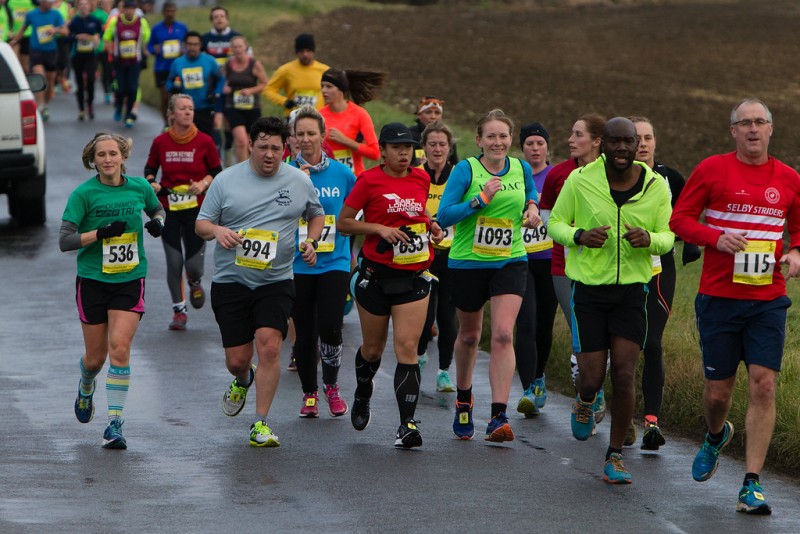 (Must be fairly early on into the race, as there are still so many people around – taken from the Forge Photography page – donation given!)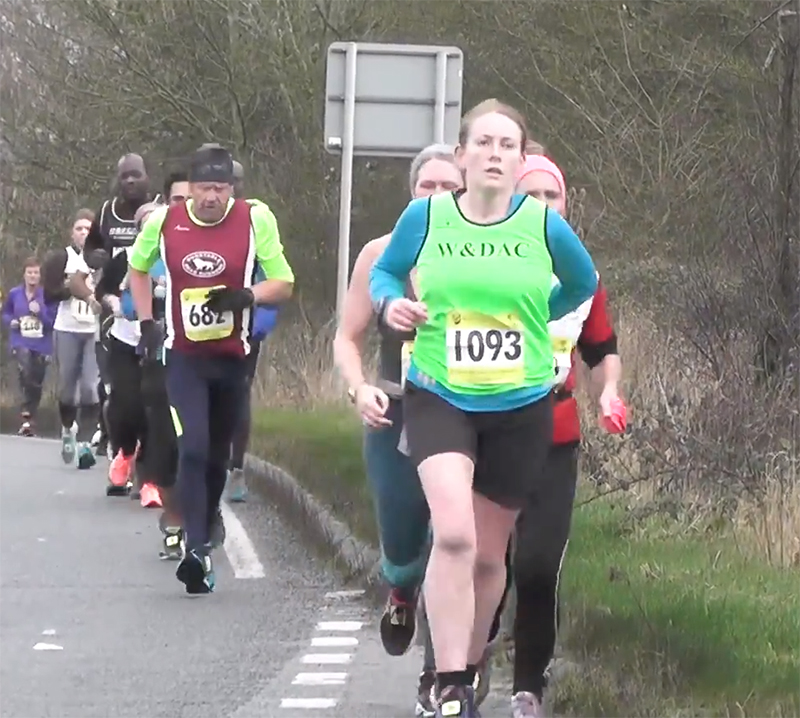 (Mile 6 – taken from the Bedford Harriers video)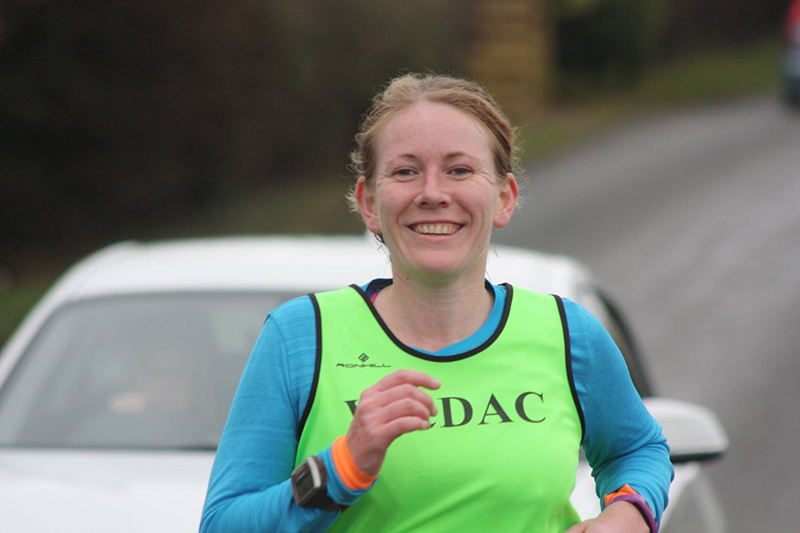 (Mile 11)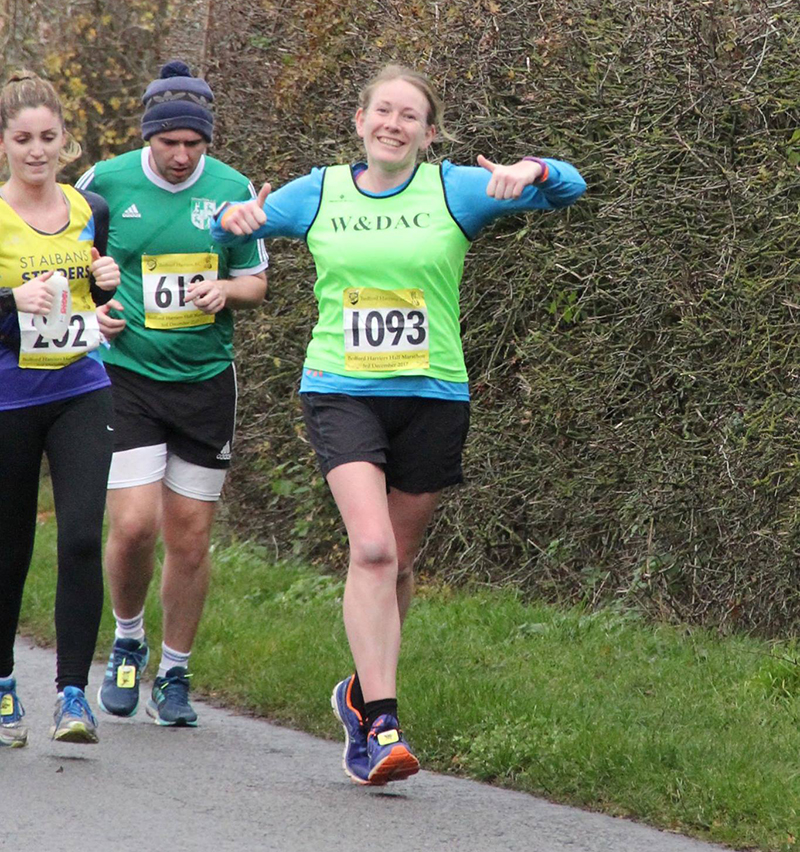 (Mile 12)
Chip time: 2h 12m 53s
Gun time: 2h 14m 06s
Position: 818/955
The first half of my 2018 will be focused around training for the South Downs Way 100 in June but I will run Bedford half again in December next year, and next year it will be a crack at a sub 2!
Do you wear the t-shirts you get at races?
Have you ever decided to just jog round and enjoy a race before?