One of my favourite things about Christmas is how each family has their own rituals and traditions for the holiday.  I loved the familiarity of growing up knowing that the Christmas tree was a group effort and went up on Christmas Eve, that all aunts and uncles would come to our house for Christmas lunch and that we would always open our presents (other than our stockings) after the Queen's Speech.
As the years have gone on and my brother and I have grown up, things have changed slightly and several of the traditions have altered.
I am so excited to start a new set of traditions with Oscar as he grows up incorporating parts of both Dan and my childhood.
Dan and I had gotten our first real tree as a couple last year, although we had just picked one up from the racks in B&Q.  This year a couple of weeks before Christmas we made it over to a nearby Christmas tree farm to choose our own tree and hope to make the visit a yearly tradition with Oscar, (although next year we need to visit early enough so that I can have a tree which I can pot!)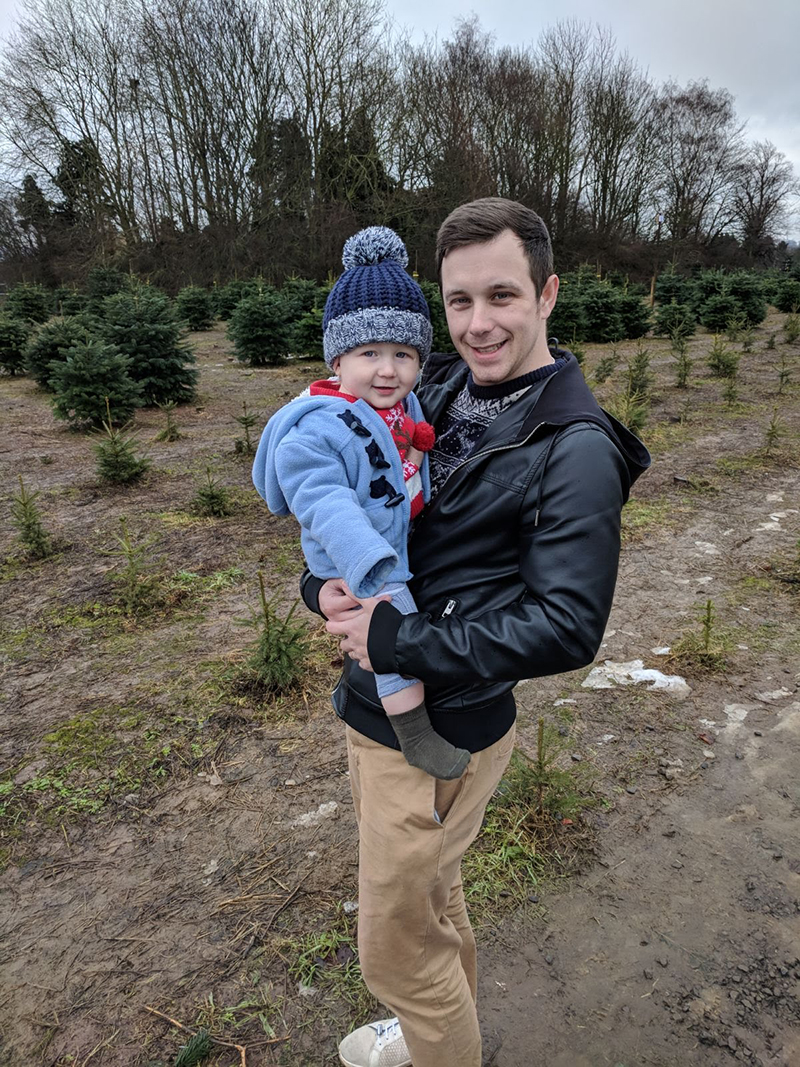 They had several animals there for petting too, which Oscar loved.
Heading to all the parkruns during Christmas week has definitely become one of my Christmas traditions and I hope it's one that Oscar will want to join in with as he gets older.
On Saturday, following a crazy shift at work (We could barely move due to the amount of goods on the delivery and customers were seen madly rushing around the store with their trolleys until midnight when the shop shut) I headed over to Northampton parkrun to tick off my 99th parkrun.  I arrived a little after 7:20am and it was pitch black outside.  Luckily this made it a little easier when it came to getting changed in the car and I was able to wriggle around in the driver seat and escape my work clothes, swapping them for a set of running clothes instead.  To my knowledge, nobody captured any photographs which are now circulating the internet!
I headed out for a couple of warm up miles but bumped into our oldest club member, Alan, who had decided to power walk the course before the event, so slowed down to jog alongside him for my final two miles of three.
Laura joined me in a chatty run for the parkrun itself.  We both had to rush off afterwards, so it was nice to catch up during the run.
As there were several new members of our club attempting the 5k distance for the first time, Alan stuck around to take a few photos at the start of the event.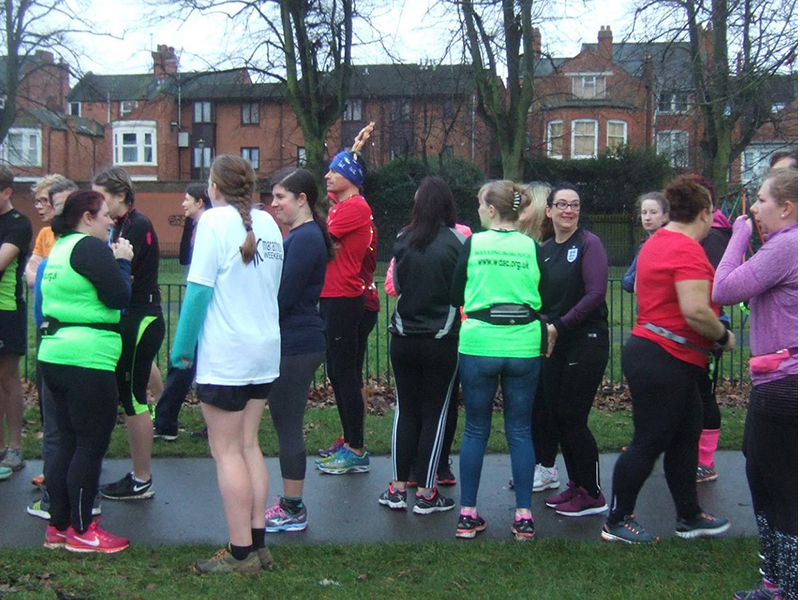 And then popped out to the first mile on the course to snap everyone on their way by as well.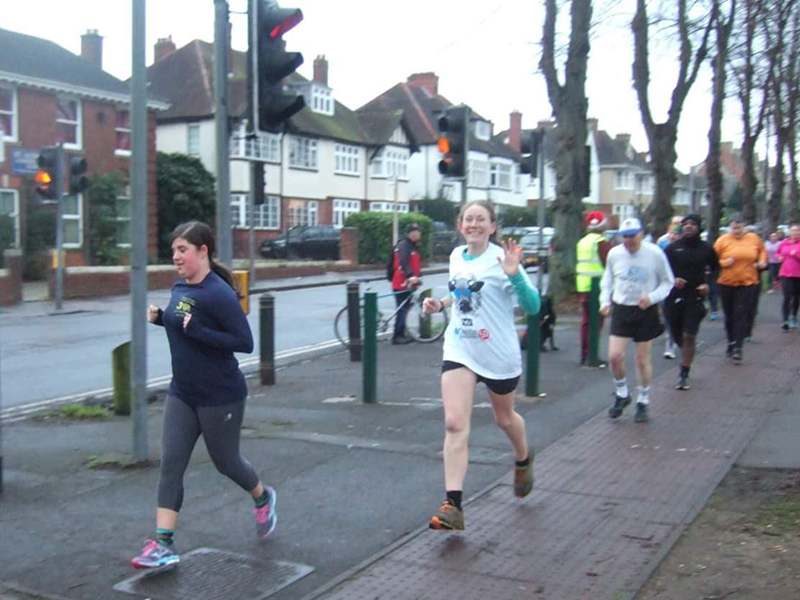 Official time: 31:12
Position: 329/501
Gender position: 89/197
Age category position: 11/27
I headed home after the parkrun to snatch a quick 30 minutes of sleep before Dan woke me to hand over Oscar before he headed back to Wolverhampton for the football.
I finally managed to get the Christmas tree decorations up whilst he was out.  I needed something to focus on to stay awake!  Dan and I had taken Oscar to the Christmas tree farm the weekend before, but our tree had been sat bare ever since!
I'm sure we'll eventually get round to decorating our tree…
It's only been up and decorationless since Saturday after all!#6Sleeps pic.twitter.com/m1KlzK837p

— Mary P (@ahealthiermoo) December 19, 2017
I managed to slot in another 45 minute nap when Dan returned from the football that night and then it was back into work for another shift.  Strangely, the supermarkets weren't as busy on Saturday as they had been during the week, so the shift was much less stressful and rushed!
Once again I had packed my running clothes in the car ready for an early morning run (and now Christmas tradition) the next day.  Every year at my running club they hold a Christmas Eve run.  It's held at the local Irchester Country Park and involves informal groups of runners heading out for laps of the park before making their way back to the small cafe in the car park for a complimentary bacon/sausage bap and hot drink on the club.  Some of the informal groups stick to the paths, some of the informal groups make their own paths, and the group I head out with each year is the latter!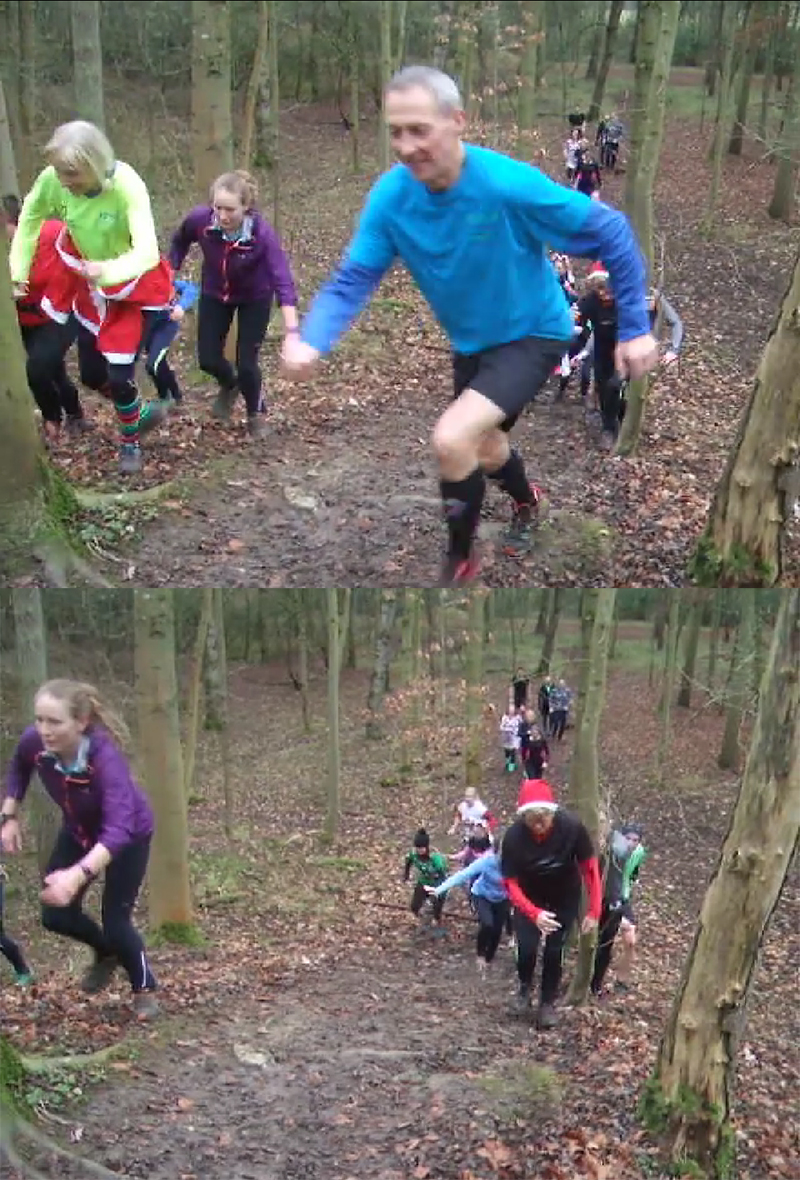 I had hoped to get several miles in before the official Christmas Eve club run, but a quick nap in the car was too appealing, and I only ended up with one extra mile before the run began.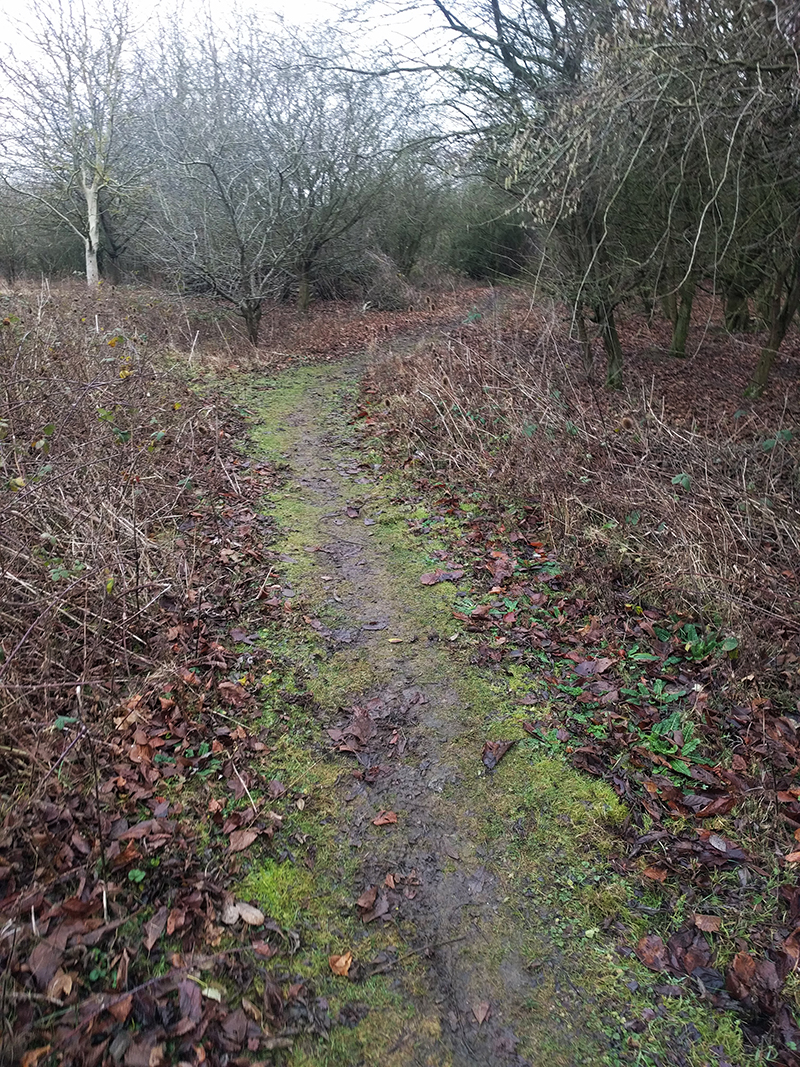 The woods were the least muddy I have seen them in a long while.  There was mud there, but it was pretty tacky and there were barely any puddles at all.  I thought I'd gotten away with my annual coverage of mud from running out with the guys, but along the last piece of track I got pelted with mudballs and had to leg it back to the cafe and safety!  No opportunities to retaliate at all, – I'll have to keep my revenge for another day!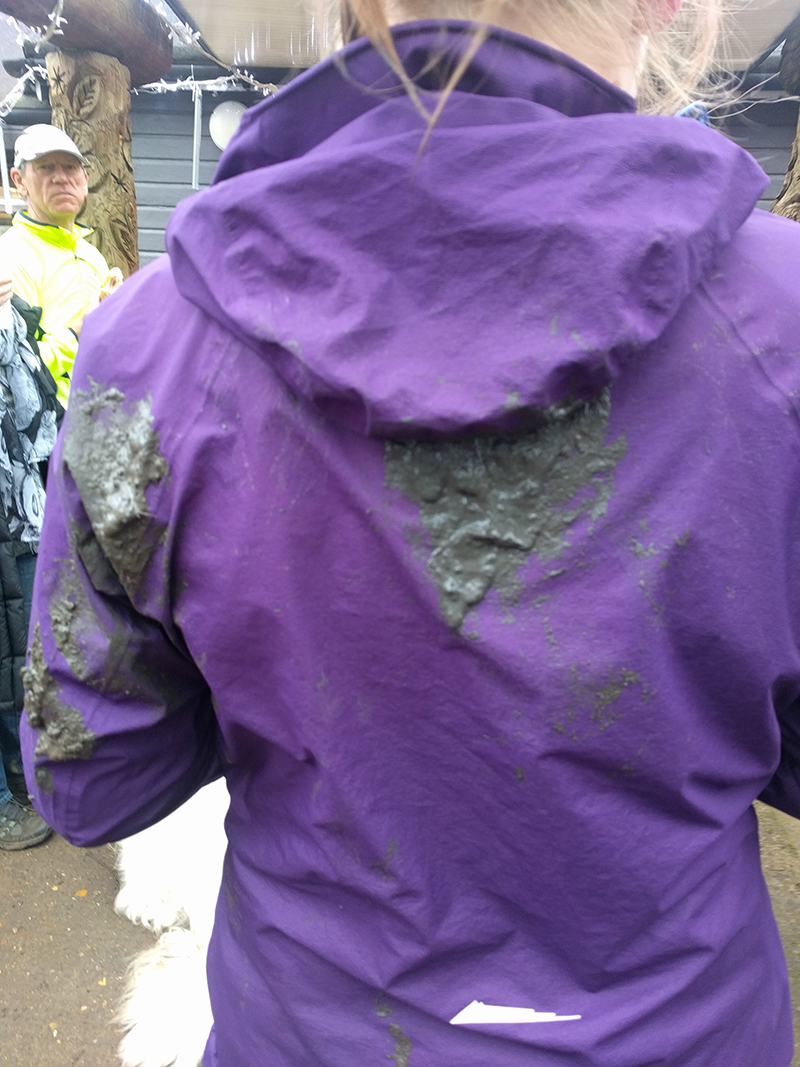 Although we had originally planned to have Christmas at home this year, because my Mum had only recently died, my Dad didn't feel like leaving home for Christmas to join us and so Dan and I packed up our car with piles of presents loaded around Oscar and travelled the 90 miles back to stay with my Dad on Christmas Eve.  He hadn't really felt like decorating the house and so when we had finished tea, I whizzed round the lounge with a box of ageing Christmas decorations whilst Dan encouraged Oscar to walk around the room.
Oscar has been walking on his own for the past three months or so now, but only on his terms, and never more than half a room in length.  He just hasn't built up enough confidence to tear around the house like so many of my friend's children seem to have done.  Following Oscar's end of term report from nursery last week it's something Dan and I hope to work on with him whilst Dan has some time off over Christmas.
On Christmas morning, after a quick breakfast with Oscar I zoomed off to Sheringham parkrun for my 100th event.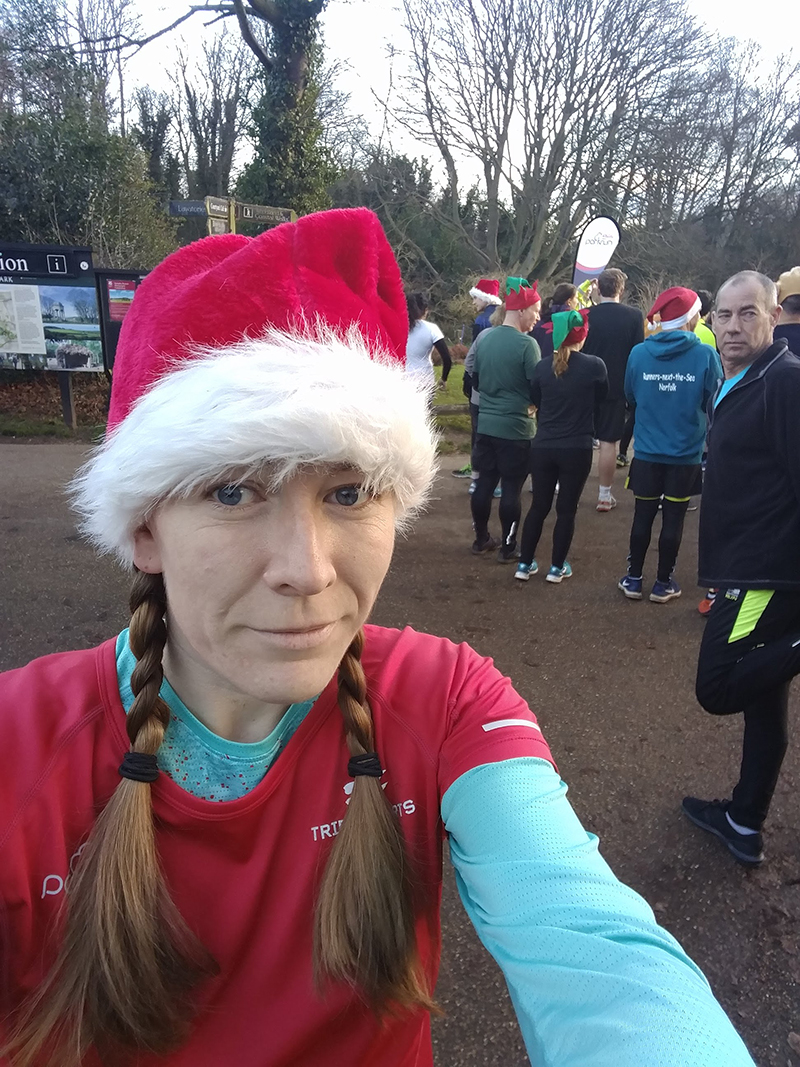 Loads of runners were wearing Christmas hats and full on elf/Santa outfits and there was the jingle of bells in the air!  (Sorry to anyone running near to me – I didn't realise my hat had a bell inside until I started running!)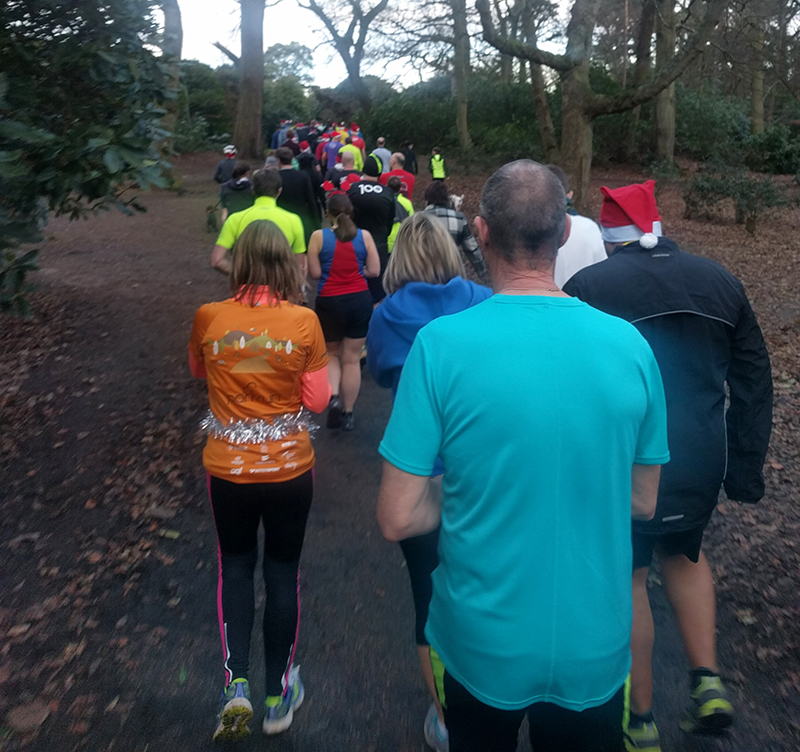 I felt strong on the day and decided to try and pace myself fairly well for a decent time.  Sheringham parkrun, for anyone who isn't familiar with the course, gets progressively hillier throughout the course and contains 'Heartbreak Hill' in the final half mile of the event – not what you want to see when you're waiting for the finish line to come into sight!
I ran my first mile in 9:05, second in 9:29 (wishing Merry Christmas to as many as I could between breaths) and then my final mile in 10:06, giving me a course PB by nearly 30 seconds!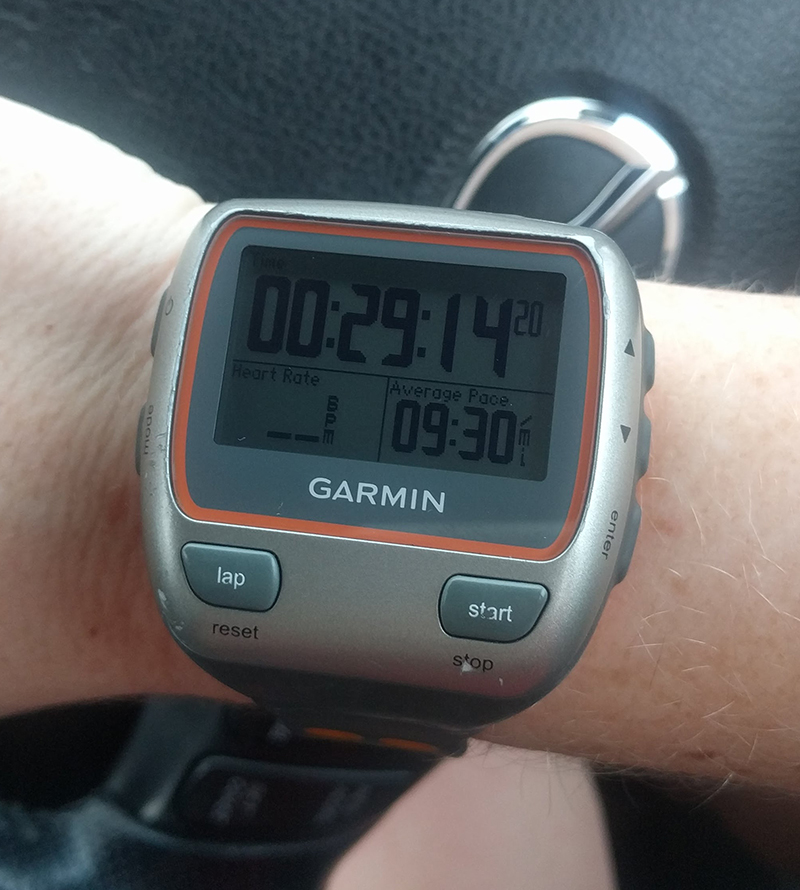 Official time: 29:14
Position: 82/158
Gender position: 16/60
Age category position: 3/7
Made even better by receiving the parkrun 100 club notification in my inbox an hour later.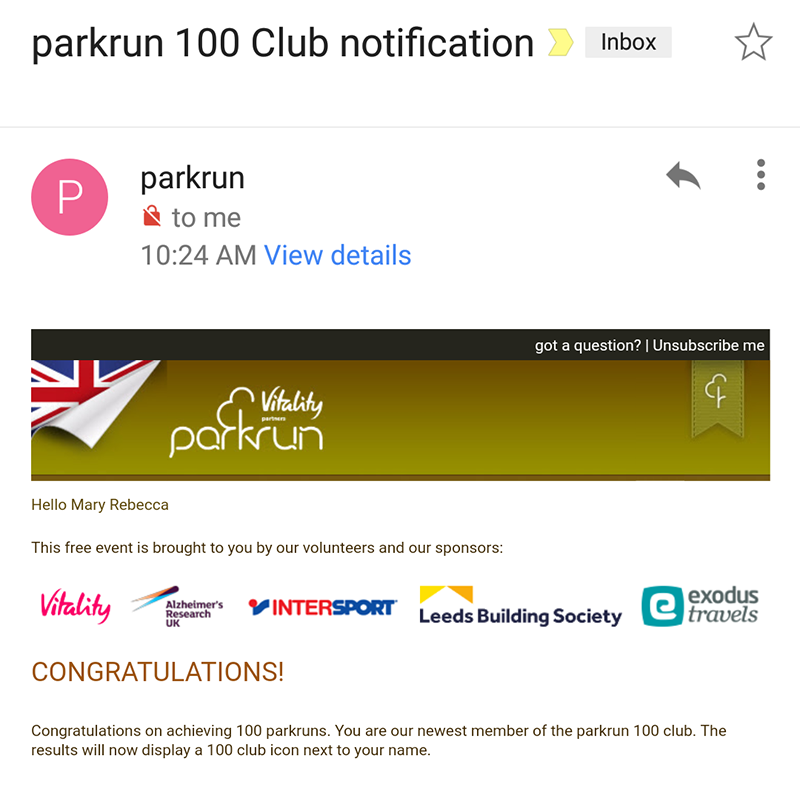 The rest of Christmas was very similar to those of my childhood.  I returned home to shower, change and help dish up the dinner to my Dad, Dan, Oscar, brother Mark, and Great Aunt Mary.  After dinner Dad, Dan, Oscar, Blue the dog and I took the short walk over to the village graveyard to neaten up the flowers on my Mum's grave and then returned home to begin opening our presents.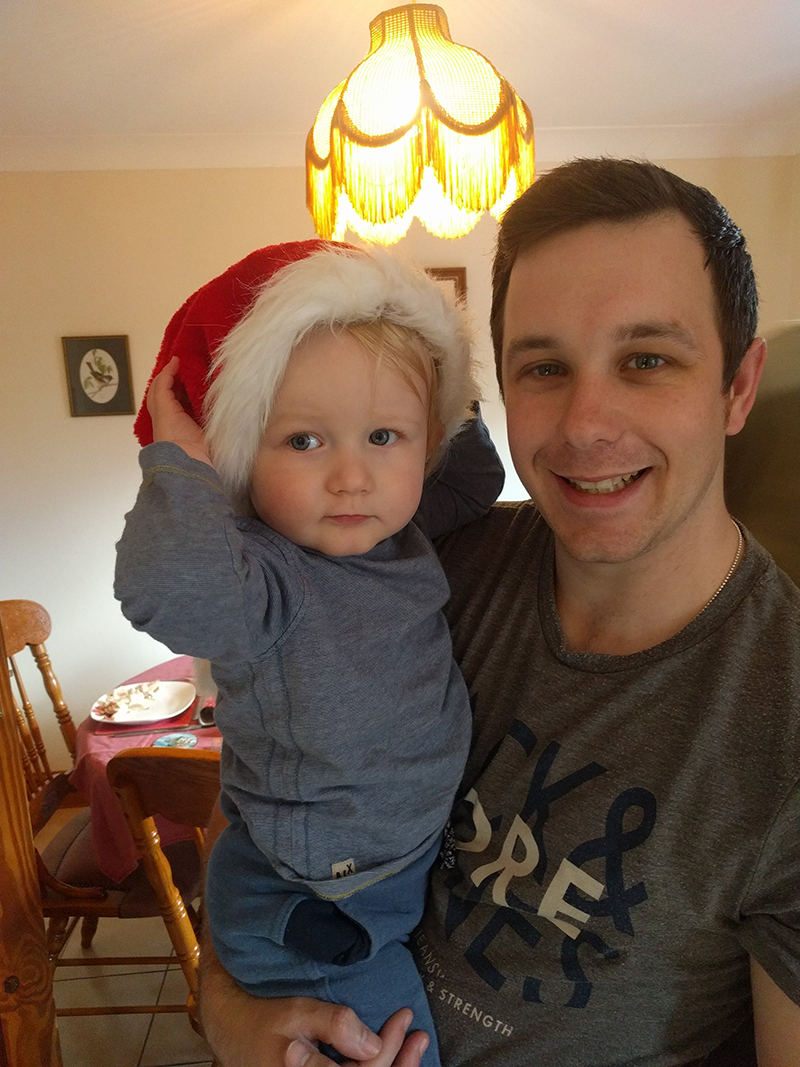 People always tell you that Christmas is more exciting with a child, and we certainly found that to be true this year.  Oscar thoroughly enjoyed his first Christmas dinner and had great fun madly throwing tissue and wrapping paper around the room, loading empty cardboard boxes with presents and playing with his new toys.  It didn't take him very long at all to fall asleep on our journey home that night!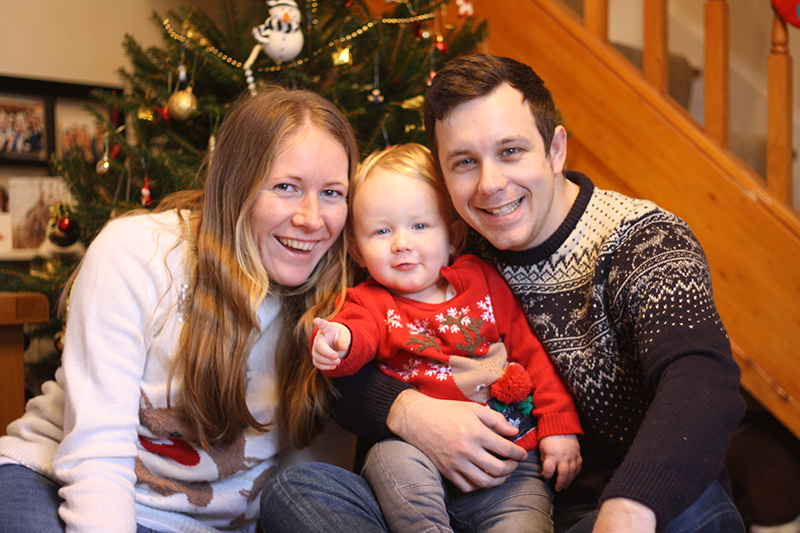 I hope everybody had a lovely Christmas.  I can't believe we are almost in to 2018!  This year has truly gone by so very quickly.
How do you spend your Christmas?
Who do you spend your Christmas with?
Do you manage to get many runs in over the festive period?