The weekend before last was the first National Running Show – something I had been looking forward to for quite a while.  I hadn't bought anything running related in what felt like ages, so I was ready to see what gizmos and gadgets shouted out at me at the NEC last week, taking along the remainder of my Christmas money.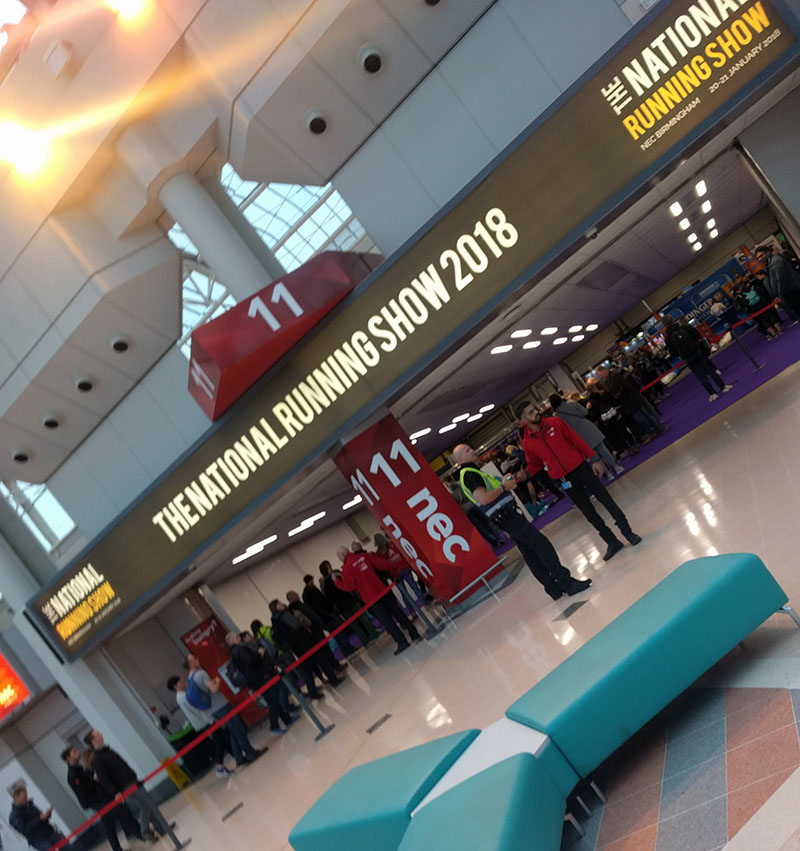 The show ran for both days of the weekend and originally I had planned on heading down on the Sunday with my friend Laura.  I knew things would be a little touch and go when it came to staying awake on the Sunday, as I was originally due to work Friday, Saturday and Sunday night of that weekend (all 10pm-7am).  I would have Oscar on my own all day Saturday, making more sense for me to head down childfree the following day.  A few days before the event I was told that I no longer needed to work on the Friday night though, then making much more sense to head down to Birmingham on the Saturday.  I hoped that Dan's Mum would be able to take Oscar for the few hours I visited, but she was unfortunately busy so Oscar joined me for the show instead and Dan dropped us off that morning on the way through to watch the footy at Wolverhampton.
Most of the people I knew who were headed over to the show were heading down the following day, but I did get to have a lovely catch up with Anna, who had ticked 'K' off her parkrun alphabet challenge list that morning and was buzzing about her upcoming marathon in Dubai later in the week.
I also spoke to Faisal, who I hadn't met or talked to before, but who is also a member of the UK Fitness Bloggers community and had recognised me from my profile picture on there.  He is working towards 12 marathons in 12 months for charity during 2018.  Definitely making me feel like I need to up my marathon game this year!
Another part of my decision to head to the show on the Saturday rather than the Sunday had been due to the speakers on the program that day.  I really wanted to listen to Jo Pavey and also Susie Chan.  And I ended up listening to several others throughout the day as well.  The exhibition was much smaller than I was expecting it to be and I had seen pretty much everything to the extent I wanted to look at it by the time I settled down to catch Jo Pavey just after 10am which was rather disappointing.
I had hoped that the show would be at least a similar size to the expo at London Marathon, but this wasn't the case.  I also found that several of the exhibitors I wanted to question directed me to email them via their website to find out the information I was after, which wasn't really ideal, as I thought I was asking fairly basic, common questions that someone representing the product should have been able to answer.
I had taken Oscar along in his running buggy, as I find it much more lightweight than his original buggy.  We tend to use his running buggy for day to day use now and have done since he turned six months old pretty much.  Several people stopped to ask me about it, and the lady on the Thule stand even used my turning technique as a demo to a number of couples on the few occasions I drove it past!  I'm writing a post about Oscar's running buggy at the moment, – it has definitely been a game changer when it comes to fitting runs in around everything else this year.  So check back hopefully later this week if you are interested in hearing more about that.
I quite fancied getting myself some nice headphones at the show as mine are forever falling out of my ears.  I have been using my mp3 player regularly since Dan bought it for me for my birthday last October but it's just so frustrating when my earphones go flying out all the time!  The guys on the Aftershokz stand didn't seem to want to know though and on coming home I've found I can order them for much cheaper online, so that's probably what I'll do at some point in the next couple of weeks.
My best find of the day were these fabulous Pace Pockets pace bands, which I picked up in 4h 30m and 4h 15m timings as I hope to fall somewhere between the two at Milton Keynes in May.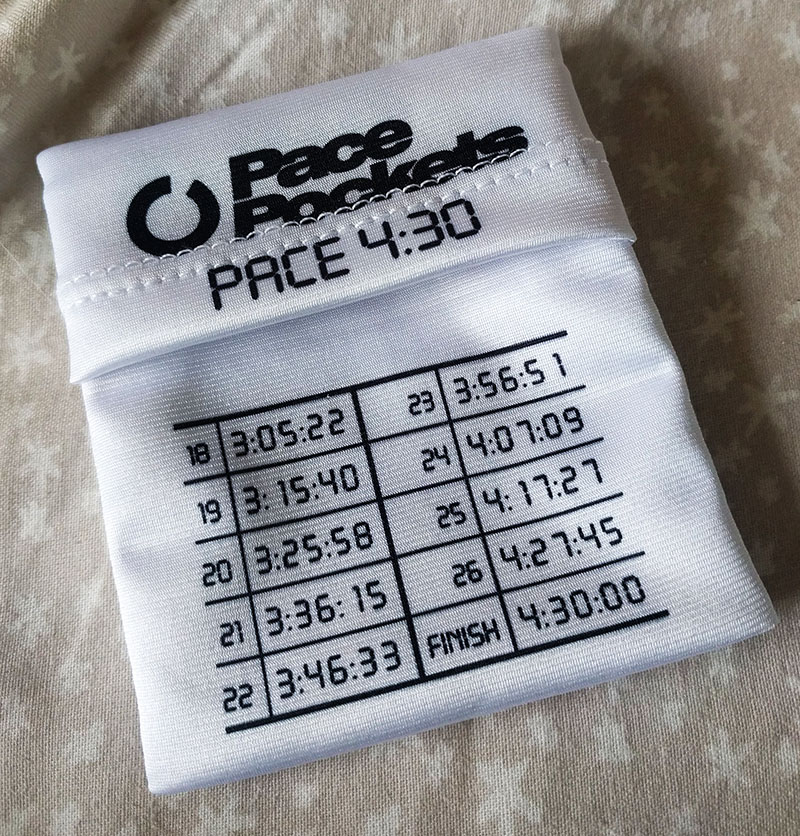 The fabric folds over at the top to enable you to hold a key safely inside and they're completely washable, so it will no longer be sweat-soaked paper pacing bands which I've printed from the internet and wrapped in sellotape strapped to my wrist!  They were £5 each – a real bargain!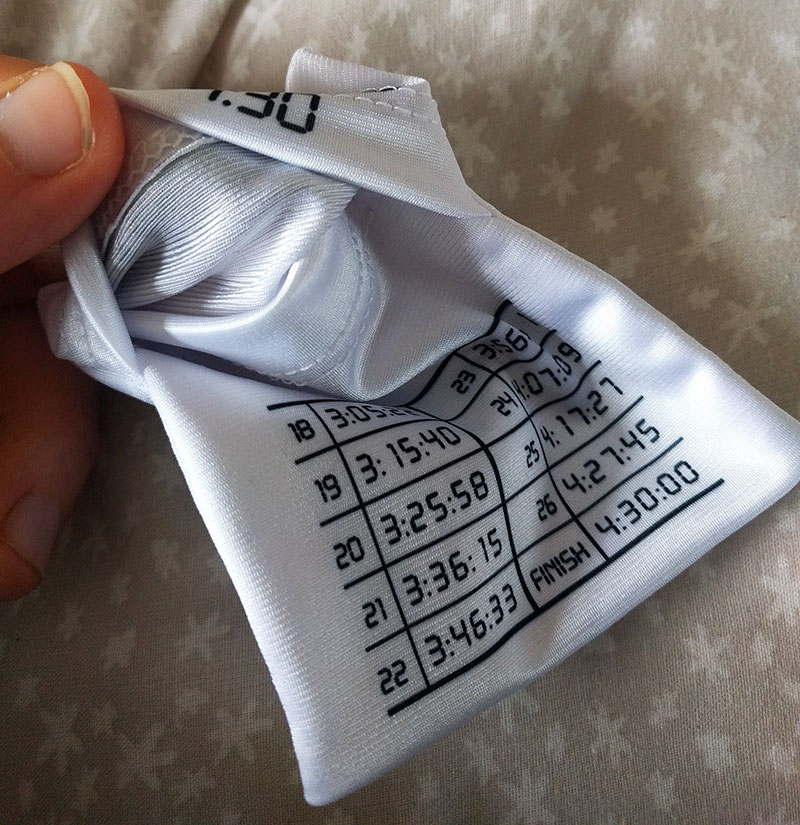 I also picked up a marathon card for a friend who is running her first marathon this year, but I won't share that on here, as she often drops by my blog.
I had put together a pack up for the day including lots of snacks for Oscar, and loaded a selection of books and toy cars into the bottom of the buggy.  He was in a lovely mood for the whole morning, and when I let him out to explore along the right of the main stage area he bum shuffled over to those sat around us, desperate for a new friend to play cars with or to read him a book that he carried over!  He was very good, and never strayed too many shuffles away – always coming back for another piece of his snack!  I did manage to listen to the whole Jo Pavey talk, which was very inspiring, and when the lady who had been sat next to me on the floor got up at the end to leave she crouched down next to me and said "You may not think it, but he has been really good!"  (Talking about Oscar.)  "My son would never have let me listen to all of that!"  (Her partner had headed off with their baby in his buggy near the very beginning of the talk.  It was a lovely thing for her to say and I felt very proud of Oscar for being so good.
It was a little after this that Anna stopped by for a chat and Oscar was beginning to get restless as he was so tired by now.  I gave him an apple and loaded him into the buggy but he only managed a few bites before freezing mid-mouthful as he fell asleep still gripping tightly onto his apple!  I managed to get round a few stalls with him like this before deciding to park the buggy up again ready for the afternoon speakers.
I managed to catch Steve Edwards who had some great stories to share.  Steve has run over 800 marathons with an average finishing time of 3h 18m and I really enjoyed listening to his tales of mad rushes around the world to fit in extra marathons!  His talk felt a little wooden in places, as he was reading it from cards, but he needn't have worried, as he had such a passion for the sport that I know he would have captivated the audience had he not been reading his notes.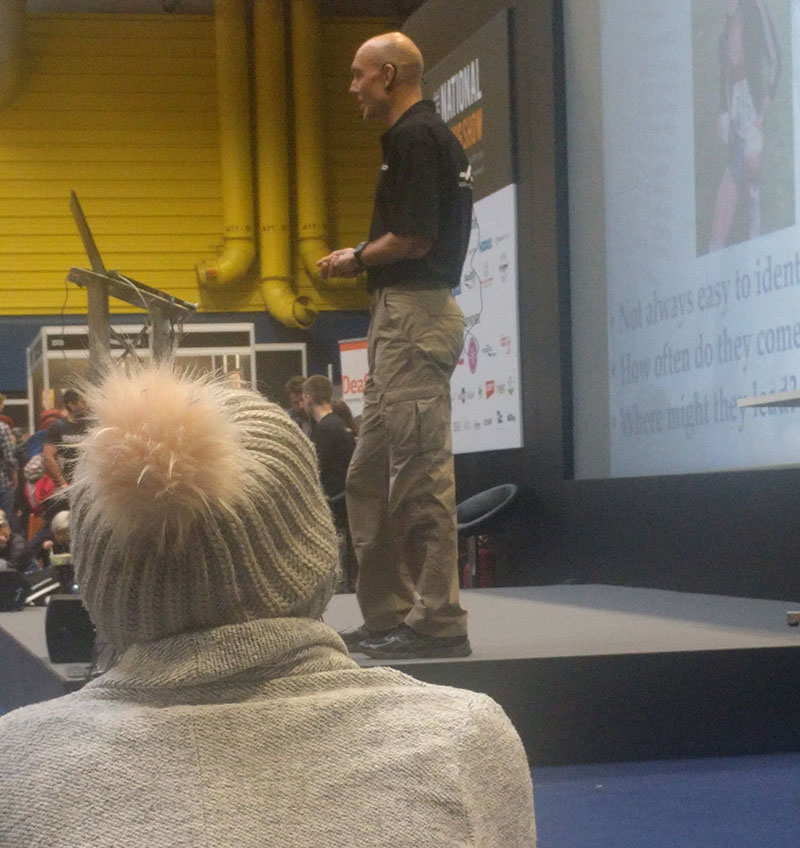 After quickly nipping out to change Oscar, Susie Chan – ultramarathoner extraordinaire – was next and I wasn't disappointed.  Her talk was filled with tales of jungles, long distance races and her story of how she just fell into running in the first place.  I found it quite amusing that the nutritionist who had been talking on stage earlier that morning settled down into position near me at the front just as Susie went on to talk about her feasts of pizza on runs!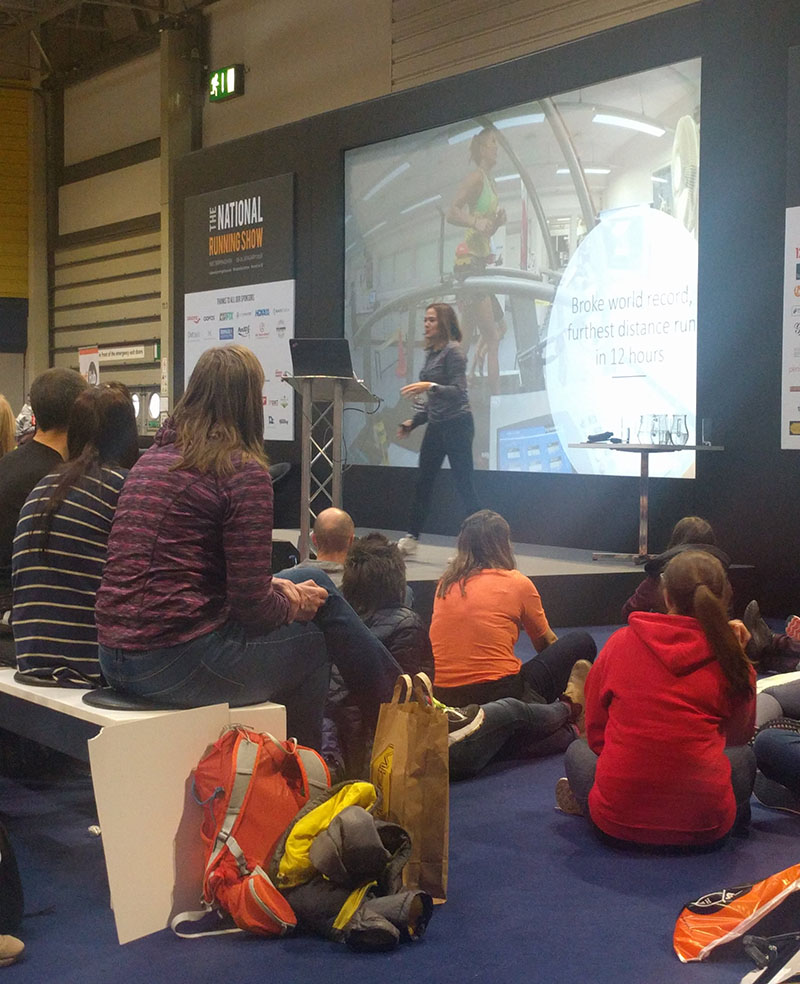 I wandered round some more stands to kill a little time, although a lot of stands had now sold out and were looking slightly bedraggled by this point.  A friend messaged to say that she was coming over to the NEC for an event later that evening, so Oscar and I went and grabbed dinner with her and her boyfriend over at Las Iguanas before Dan arrived to pick us up and head for home where I fitted in a quick nap before work.
Verdict: I'm really glad I went – there were some fantastic speakers with really inspiring stories.  If I hadn't had Oscar with me I could have sat and listened to the talks all day.  Twice I headed up to ask questions – Jo Pavey and Susie Chan – and both times Oscar became fidgety with waiting and I had to leave again, so no celebrity selfies for me. 

  I heard on the grapevine that next year The Running Show has signed up Paula Radcliffe, who I'm sure will be a fantastic head for the event.  She's definitely somebody who I have always admired.  The event will also be moving to larger premises, so hopefully more exhibitors will be able to get on board to help provide more of a day out.
Did you go to The Running Show?
Who would you like to see provide a talk at a running event?