This wasn't the post I had planned to write tonight.  I had planned on sharing my goals and aims for 2018.  To set myself some targets for the year ahead.  I had wanted to write about the 100 miles I'm so excited to run at the South Downs Way in June and my new training plan that began yesterday in order to make sure I see the finish line come race day.
But, I also want to write a post on cancer, and my Mum and to get everything that's been swirling around in my head for the past few months written down somewhere before I forget how things have been.
If you don't want to read this post, I won't be offended.  Just skip over this one and come back to check out my next running post instead.  I don't want anybody to feel uncomfortable about what I've written – that isn't my aim at all.
The last week seems to have been filled with stories of cancer all around me and on the way home from Dan's Nan's funeral today it's all I could think about.  (Of four funerals that I am attending in the space of a month, this is the only non-cancer death.)
Everyone knows all about cancer.  Or at least they think they do.  They hear the word cancer and immediately think 'incurable, chemo, ill, terminal'.  Even when you are told that the cancer is terminal, as in my Mum's case, then it's automatically assumed weeks or months before the end when in actual fact you can suffer with terminal cancer for many years.  My Mum was first diagnosed in 2013.  That's a whole lot of suffering and unknown she has been through for the past four years.
There are so many different types of cancer and it almost seems to have become a generic word for an illness which varies in so many ways.
Cancer is a horrible, horrible illness and I cannot even imagine how hearing the type you have inside you is incurable.  In actual fact the worst part is often yet to come though.
The last picture I have of my Mum is from two weeks before she died.  It's a picture of my Mum and my Dad in the lounge at their house.  I thought about sharing it on the blog, but I don't think that it would be very appropriate for me to do so, so I am going to describe it instead…
Mum is lying asleep in the hospital bed that was provided for her when she was allowed home for her remaining days.  She has no hair left on her head due to the repeated batches of chemotherapy that she underwent during the year and she has a drip in her arm which administers the drugs the carers give.  She is several stone lighter than I ever remember her being before and dressed only in a nightgown under the thick duvet that covers her.  The nightgown has been cut from top to bottom vertically to allow the carers to easily clean her when they come in each morning because it has been eight weeks now since she has been able to stand.  To the left of my Mum is a hospital table.  The sort that is on wheels and comes across the bed, only Mum has not been strong enough to wheel or move it.  On top of the table sits a carton of orange juice, a beaker of water and some tissues, along with Mum's driver medicine box, medical notes, a signed DNR form and a large platform which, when tapped, rings the doorbell at the other end of the bungalow in case Dad has popped out of the room for a few minutes and Mum needs assistance.
Hanging from the end of the bed is a large thick blue binbag – one of several which is filled every day with medicines and swabs and rubbish from cleaning up Mum.  She is losing a lot of blood all of the time by this point.
You can't quite see it in the photo, but tucked underneath the bed is the bed of my parents' dog, Blue.  He doesn't venture far from her side and has often been spotted up on his hind legs with his paws resting by her arm so that she might give him some fuss.
My Dad sits upright in the armchair next to the bed.  Fast asleep, his head has tilted back and his mouth has fallen open.  His left hand limply clasps my Mum's right, both hands resting lightly on the edge of the bed.  He too is several stone lighter than he once was and both my parents have an exhausted, almost haunted look on their face.
Because it's not just my Mum who had a tough time, but my Dad also sacrificed a huge amount during the past year.  From the repeated visits to hospital to support Mum during consultant check ups, whilst she was receiving chemo, and the numerous trips up to the city in the back of an ambulance, later arranging just how he would return home again.  The hospital is an hour's drive from their bungalow but I'm sure he could probably drive it in his sleep now.  In fact, there were several days when I worried that he would fall asleep at the wheel.  When my Mum was admitted to hospital for the final time in mid-September, my Dad visited her at least once a day, often for more than 8 hours at a time.  He spent hundreds of pounds parking in the hospital car park and experienced most of the cafeteria food during the hours he spent there.
When I got the phone call to say that 48 hours would be my Mum's limit I rushed from work to be there with my family in the Norfolk & Norwich hospital, along with my brother.  My Dad was already there.  My Mum was there, only it wasn't my Mum, – it didn't seem like my Mum.  She was on so much medication that her words were erratic.  She kept insisting that we had to hide things from the nurses and that someone was 'out to get her'.  It was scary, and left me rather shaken and upset.  It wasn't the final memories I wanted of my Mum and I didn't know what to say to her.
She doesn't remember anything from that visit.
She remained in hospital for two weeks before my Dad convinced the hospital doctors to let my Mum go home to die.  I visited several times during the two weeks, sometimes with Oscar, and sometimes I made the two hour journey straight from work on my own.  On talking to her about it a few weeks later she vaguely remembers Oscar playing on the hospital room floor during one time, but doesn't remember any further visits.
My Dad fought to get my Mum home.  The hospital wouldn't release her without being able to schedule four care visits with two people every day.  In the end Dad told the hospital that he would act as an additional carer and got Mum home.  She wanted to come home to see Blue and to sort out her funeral arrangements with the vicar.
It was a lifestyle change for all involved.  A carer would arrive at 8pm each night to sit with Mum in the lounge.  Along with my Dad, they would then turn Mum over and clean and change her.  My Dad could snatch a couple of hours sleep at this point, as Mum would be exhausted from the cleaning and fall asleep herself.  He would then return to the lounge, to hold Mum's hand, to pass her the straw from her drink and to help the carer if they needed to do anything further.
The carer remained there until 8am, changing Mum a further few times during the night along with Dad.  Before the carer then left, Dad would quickly go and get ready for the day himself as it wouldn't be long before the nurses would arrive to administer the drugs to Mum's driver.  A little later the doctor would arrive, and then another nurse to help change Mum again.  By lunchtime things would quieten down, but Mum would be worn out from the morning of visitors and often sleep through.  She couldn't be left though, and on the two or three days of the week when I didn't visit, my Dad would remain housebound – loungebound, looking after Mum.
Mum ate less than Oscar at every meal.  When she craved jelly, my Dad headed out and stocked up on jelly.  When she decided she'd like some melon, Dad made another trip out to buy some, after having waited for me to arrive to take over from him first.
The first time I visited Mum in the hospital bed at her home she was in an immense amount of pain, begging that the cancer took her that night.  She told me that I wasn't to worry – she'd seen everything she had wanted to and that she no longer wanted to be in pain.  The tumour in her stomach now made her appear heavily pregnant, whilst also severely emaciated at the same time.  She went on for another eight weeks of existence at home.  It wasn't living.  It was purely existing and waiting for the end.  It was very horrible a lot of the time, knowing that we could do nothing to help her when she was in so much pain.
Mum didn't think she'd see my wedding to Dan in 2014, but she was there.  She absolutely never thought that she'd see Grandchildren, and not only did she get to meet Oscar, but she was able to see his funny, cheeky and affectionate personality begin to develop during the first 14 months of his life.
The last time I went to visit my Mum when she was still conscious was the Wednesday before she died.  Just like every other visit, when it was time for us to leave Oscar climbed up into the armchair next to Mum, madly waving at her and trying to play peek-a-boo between the bars of the bed, whilst supported by me so that he didn't fall.  This time though, he finished his visit by leaning down and giving Mum a kiss on her cheek.  We both melted…he was very cute.  As I picked him up I told Mum that I would be back again in a couple of days, the same as I always did.
When I arrived on the Saturday her eyes were shut and she was breathing heavily.
On Sunday my Dad rang Dan to tell him that my Mum had died.
I was racing at the time, but headed back to Norfolk for the week as soon as I received the news.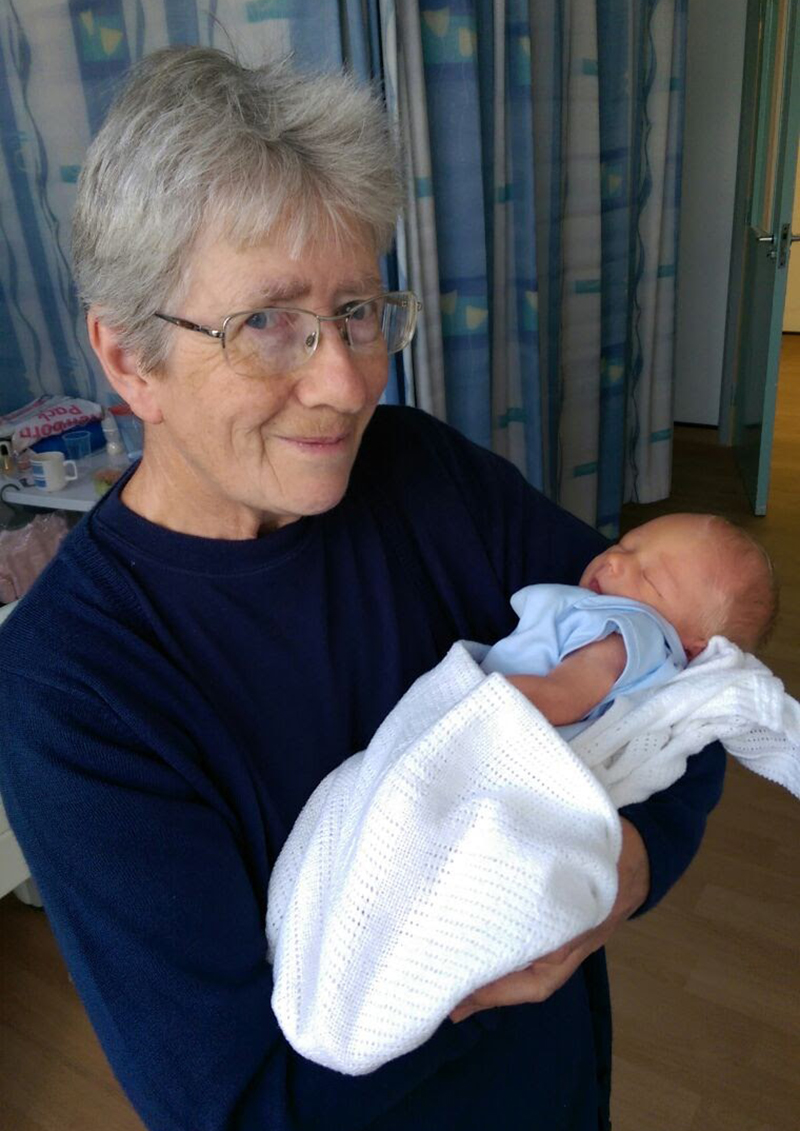 My Dad was a rockstar.  I hope I made that clear in the eulogy I gave at my Mum's funeral.  Their neighbours and friends, – also amazing.  On a number of occasions we would go out to the porch to let the dog out only to discover that somebody had made us a home-cooked casserole or a selection of sausage rolls.  Several times we would go to the door to find flowers.  Neighbours would drop by, sometimes only for five minutes just to share a funny story or stop in with a tale they thought my Mum would enjoy.
There were an overwhelming number of cards and letters my Dad received the week of her death, and I too received flowers, chocolate, such lovely words of kindness in a number of cards from friends.
My Mum – She loved our family, her dog, gardening, playing the organ, spending time out on the marshes, being a Nanny and helping others.
I spoke to her daily throughout my adult life and there have been numerous times since November 26th where I've gone to text her or picked up the phone to call her, only to realise that I can't any more.  That she is no longer here.  That cancer did it's thing.
I'm hoping to do some fundraising for cancer charities this year, but I'll mention it on the blog when I have more details.
For 24-hour home care assistance in Australia, contact Home Caring – Sydney Office.