This year I'm going to have to be rather careful about the races I choose, looking closely at which days races fall on and ensure that I check out my work shifts in advance of that week.
Currently, I'm contracted to work just Saturday nights in the supermarket where I work (10pm-7am).  If I manage to get a fair amount of sleep on the Saturday (often not possible if Dan is away at a Wolves' game) then I can power straight through on the Sunday and complete a shorter race before falling into bed and catching up on my sleep.
However, the supermarket I work at operates using 'flexi-hours', meaning alongside my one shift a week, I also have to be available for two others if required – potentially being added on to the rota for Friday and/or Sunday nights if staff numbers are looking short when the rota is drawn up the previous month.
Although I can 'power through' for a little while following one night at work, I struggle with two or three in a row, especially if Dan is not around during the daytime to have Oscar so that I am able to have some much needed sleep.  I found myself arriving a little early to Oscar's 9:30am swimming lesson this Monday morning.  I had worked all three nights over the weekend so I pulled Oscar's spare blanket over my legs and set my alarm for three minutes.  I enjoyed every one of those three minutes of nap time.  They were very much required!
My work schedule has also meant that I've had to change my marathon/ultra training plans around slightly, and the majority of my longer runs during this training cycle will probably take place on a Friday morning when Oscar is in nursery.  If I've only worked a couple of shifts over the weekend then I might be able to fit in a mid-length run late on a Sunday afternoon, but once I've had a nap first!
Therefore the races I currently have pencilled into the calendar for the first half of 2018 are as follows:
Biggleswade XC – this weekend.
I really hope that I can make this race.  I will have only worked the Saturday and Sunday nights of this week in the supermarket, but I am also working all day down in Wendover, marshaling at Checkpoint 3 of the Country to Capital ultra on Saturday, which always leaves me exhausted as it usually ends up being rather a full on day!
I love cross-country and this is the final race of the season for our club.  I missed the last event before Christmas as it coincided with my first three-night weekend of work and I just didn't have the energy to make it to the start line.  I'll be sensible, and if my body tells me I need to go home rather than to the race then I will.  But, if you see a green vest poking out from underneath a child's blanket in the front seat of a red Ibiza on race morning, please just knock on the window and make sure I'm up in time for the race warm up!
MK half marathon – March 11th
I really want to run a half marathon at this point in my marathon training cycle to see where my fitness level is at.  Fingers crossed by that point I will be looking somewhere around a sub 2h 5m half time.  By typing numbers into calculators online, everything points towards a 2h 1m half marathon, but I have my doubts I will be running quite that quickly by March.  We shall see…
Oakley 20 – March 18th
I don't intend on 'racing' this event, but I will use it as part of my long run training.  A long run alongside hundreds of other runners where I don't have to carry my water bottles and can pick up a nice cozy hoodie at the finish!  I've run the event several times before and it's a lovely course – two laps; one of twelve miles and then a lap of eight.  A few rolling hills, but I much prefer this type of elevation to the flat.
South Downs Way 50 – April 7th
I am loosely following Hanson's Marathon Method for my marathon training again this training cycle as I started to see such success with it last time (and can already see success in the paces I am using from the book during this cycle).  However, Hanson's long runs top out at 16 miles.  My training cycle will not only include Oakley 20 along with a couple of other 20s, but also the Centurion 50 miles at the South Downs Way.  Not quite what the plan reads with one month before marathon race day(!) but with my main goal race for the year being almost four times the distance of a marathon, a couple of longer runs needed to be slotted in.
I ran the South Downs Way 50 six months after Oscar was born and was so happy with my achievement.  I really want to go back and see what I can do when I don't have to stop and express mid-way round though and when I have been able to slot in a few more training runs during the months leading up to the event.
I am a little nervous that there are seven runners from my club all running the event, all from the same running group as me.  I don't want to feel pressured to run with anybody or to find myself 'competing' to place where I feel I should around others from my club as I very much need to run my own race over an event as far as 50 miles.
As the final 50 miles of my goal race, it will hopefully help me when it comes to running the 100 mile event, as I will be more likely to remember the path if it is fresh in my memory.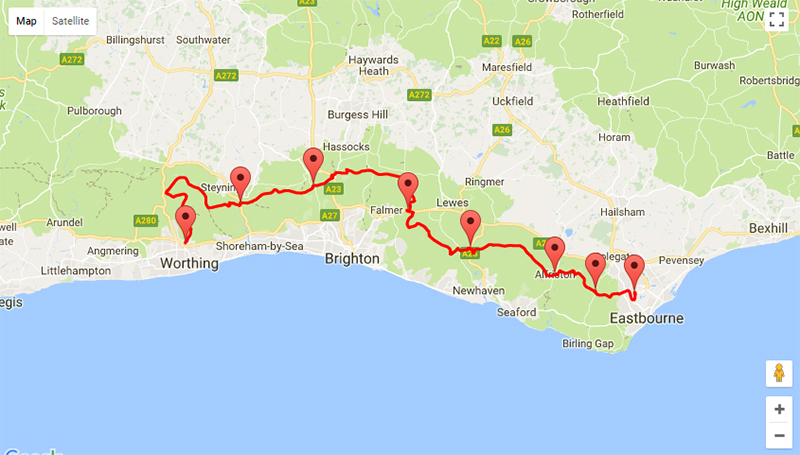 Milton Keynes Marathon – May 7th
It will be my fourth time running the MK marathon this year and I am determined for a sub 5 at the event this time round.  Hopefully achieving a sub 4:30 on race day if I'm honest.
Fingers crossed it's not too hot on the day, as that is when I struggle most.  As a fairly local marathon, there is usually a great turn out of support from our running club and the end of the race is a lap of the MK Dons stadium.  Always a great finish!
Shires and Spires 35 – May 20th
Much like Oakley, I don't intend on racing this event either, but instead simply using it as part of my long run training.  Held slightly earlier in the year than usual (it's usually a June race), Shires and Spires falls just three weeks before my main goal race so should fit in nicely before starting to taper for race day.
I'm thinking about offering to navigate a beginner ultra runner round on race day, so they don't have to worry about the self-navigating element of the event alongside the fuelling and running of 35 miles.  I've run the event four times now, and headed out to recce the course as part of training runs numerous times.  There are usually quite a few from our club who tackle this as their first ultra event, so I thought it might be nice to give something back and offer to run with them if they were interested, and it would also help me by getting the miles in without seeing me push myself too hard on the day.
South Downs Way 100 – June 9th
The main event!
There are two guys from my club also running the SDW100 this year, both experienced in ultra running, and much faster runners than me, but like me, not having run a 100 mile race before.
I'd like to think I can make it.  100 miles scarily doesn't sound as far as it used to a few years back.  I'm feeling positive about achieving the distance at the moment and I've received such lovely comments from friends and other runners since announcing my (rather ambitious!) goal for the year.  I had offers of a pacer and crew immediately and so many people had wonderful things to say about my determination.  It was so nice to know people had faith in my ability to complete the event.
I will do it.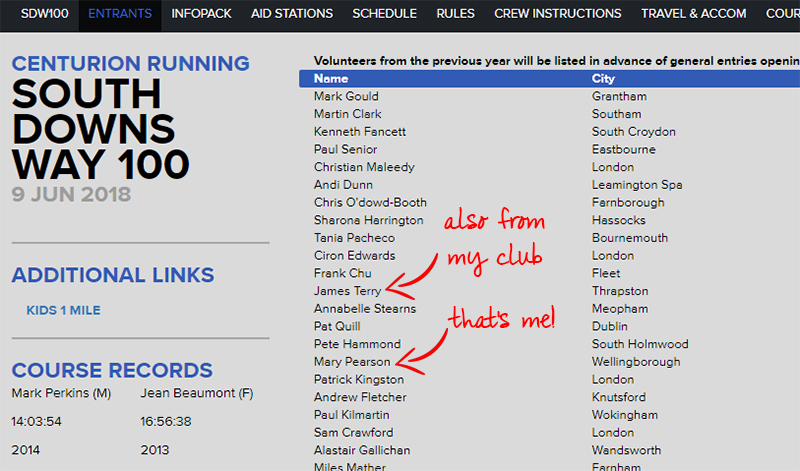 I will wait until after the 100 to see what races I want to schedule in for the second half of the year, but I hope to focus on some new-to-me races.  All of the races above I've already run in the past (with the exception of SDW100) and whilst it's great that I loved them so much that I want to return and run them again, I really want to add some different events to my list.
What races do you have lined up for 2018?
Any race suggestions for the second half of the year?