I realised the other day that I never got round to posting the videos I made for my club's 'Runner's Runner of the Year' award for 2017 on the blog.
Every year since I first joined my running club committee, it has been one of my roles to produce videos detailing the achievements of runners nominated for the award at the end of the year.
Our club awards evening is held at the start of December every year, and in the weeks leading up to the awards evening members are asked to nominate a male and female runner who they feel have been inspiring, encouraging, supportive, hard working, have improved a great deal or have just been a fantastic runner across the year!  It's an opportunity for an award to go to somebody who isn't necessarily the fastest runner at the club and is an award viewed very highly by all club members.
Once nominations are closed, I usually have about a week to put together the videos, choosing one or two reasons given for each person nominated to display on the video alongside images of them in action throughout the year.  The videos take me probably about 20 or so hours to create in total – with the picture finding the most time consuming part!
I love, love, love making the videos each year though and am reluctant to give up my role on the committee purely so that I don't have to stop making these!
It sounds rather sappy, but whenever I'm feeling a bit low with my running or things become rather routine, I whack on the videos from previous years and my love for running returns again.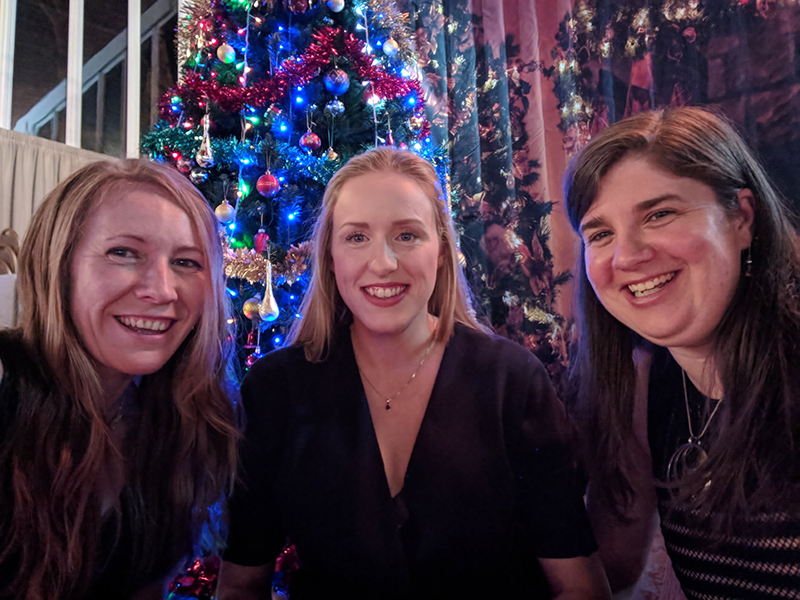 (Me, Steph and Laura at this year's awards do)
Male video for 2017:
(Winner: Michael Quinn)
Although I really hadn't expected to, I also received a few nominations again this year:
* She quietly gets on with racing trail marathons and ultras and does really well; this area of running often goes unnoticed.
* Mary has quietly tallied up an impressive number of runs this year. She's on track for her 100 parkruns and ran a 50 mile Ultra 6 months after giving birth. She's amazing and an inspiration to all those of us who complain there isn't enough time in the day to run! 🏃🏽‍♀️
* A fantastic year of running since coming back after the birth of Oscar with many PBs and great races.
Female video for 2017:
(Winner: Helen Etherington)
We have some very inspiring runners at our club and over the past couple of years I have really struggled to narrow it down to just one person from each gender to nominate.  There are definitely some very worthy winners of this award.
Does your club have an awards evening?
What do you find motivates you when you start to lose your focus and drive?