*Touch wood* but the start of my marathon/ultra training has been going really well.
I was never a big fan of speed sessions when I used to run them with my running club.  That's no criticism.  I know it must be difficult to try and arrange a session each week to suit 10 or more runners, all training for different events.  But, I am finding it so, so satisfying ticking off speedwork sessions on my own.  I find that I can really focus on each mile whilst I am running it and am buzzing by the time I arrive back home, eager to share my consistent split times with Dan.  (Who couldn't care less!)
Last week I had a set of 400s on my marathon race plan.  A one mile warm up followed by 400 metres at 8:20-8:40mm pace, with a 400m recovery as part of each set (repeat 12 times) and then a one mile cool down.  I was chuffed with my splits, and the session felt very manageable. (Strava workout link)

My splits read as 8:30, 8:34, 8:28, 8:30, 8:22, 8:37, 8:29, 8:28, 8:35, 8:35, 8:32, 8:30.  All within the range they should have been, and leaving me feeling me so excited about my training – I struggled to get to sleep that night.
Wednesday night was the club trail run and I ran out on a slightly soggy but enjoyable 10k run with friends.
The rough pattern my training is going to fall into over the coming weeks is as follows:
Monday – rest day (off the back of 2, possibly 3 nights of work a rest day is required!)
Tuesday – speedwork (session will vary each week).
Wednesday – buggy run during the day (To get Oscar to sleep.  O goes to an afternoon group I'd like him to stay awake for when he would normally nap, and he falls asleep during a buggy run!) and trail run in the evening.
Thursday – tempo run (hopefully at running club as often as I can manage).
Friday – long run (Oscar is in nursery all day).
Saturday – parkrun/easy run.
Sunday – mid-length run (10 miles +).
This should fit nicely into my schedule, the only times I might have to change things around being when Dan works away from home during the week, resulting in me being unable to get a speed session or tempo run in as I will have no break from Oscar.
I also intend to keep up with my core work and physio sessions during as many days of the week as I can manage/remember/make time for.
Last week my training was a little out of sync as we ended up in A&E with Oscar in the early hours of Wednesday morning.  Both Dan and Oscar had been rather poorly since the weekend and Dan and I woke to Oscar having convulsions in the middle of the night which was incredibly scary, for both us, and him.  We spoke to 111 who advised us to give Calpol, a drink and to strip O down to cool him off.  The convulsions did stop after half an hour and we were able to put him back to bed, but when they began again an hour later we made the decision to rush him into A&E for a check over.  The doctor who saw him put the seizures down to Oscar having picked up a virus and then no longer being able to regulate his temperature – severely overheating and causing his body to go into shock.  He prescribed a mix of Ibuprofen and Calpol throughout the following day to help keep his temperature low and for us to keep an eye on him over the next couple of days.
It did take a couple of days, but luckily Oscar is fully back to his usual cheeky self again now.
So last week I moved my planned buggy run from the Wednesday to the Thursday and ran Oscar down for a little play in the park to cheer him up.  He loved it and was desperate to climb up and slide down the slide over and over again.  He started to kick up a bit of a fuss when I went to put him back in the buggy for the return journey until he saw that we would be passing dogs along the way.  (Oscar is obsessed with dogs, ducks and cows at the moment!)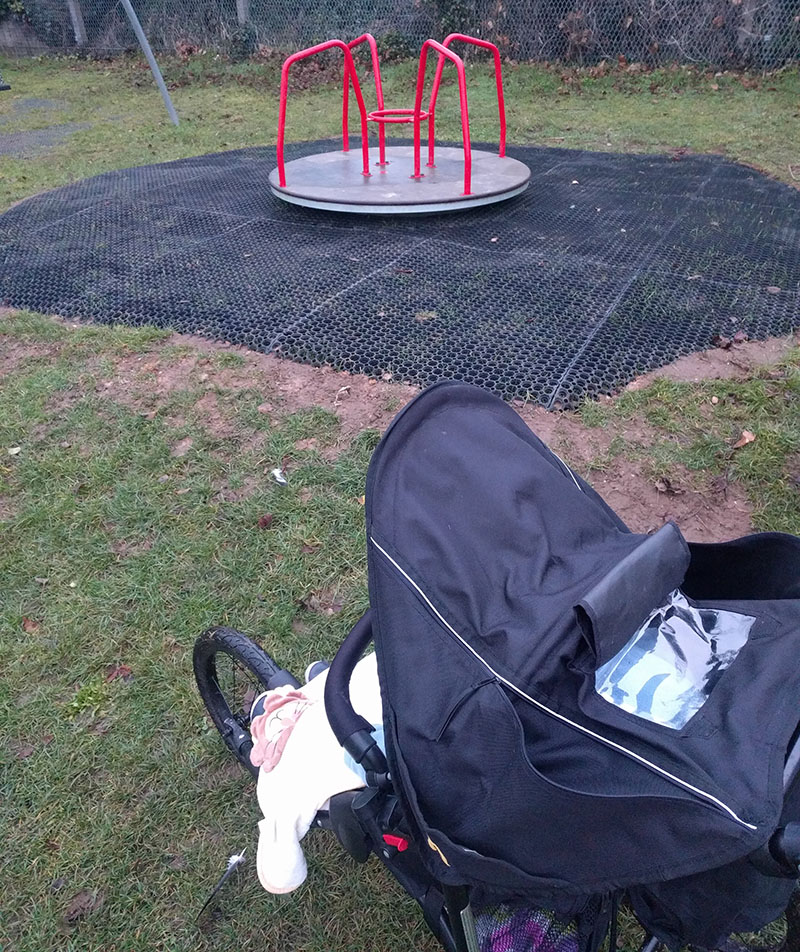 When I woke on Friday I knew that I had whatever it was that the boys had had earlier in the week.  My throat hurt and I couldn't stop coughing.  I had a 13 mile run on the plan for the day, and with Fridays being my only child-free day I was desperate to get out and run those miles.  I should have stayed home and written off the run for the day but I didn't.  I was too stubborn and went out anyway.
It was a horrible run.  Despite barely being able to touch my lunch, (leaving most of it plated up in the fridge for another day) I felt nauseous and needed the toilet from the end of mile one.  The route I had planned ran past a toilet at mile 3 so I continued, but I knew a fair while before I got there that I would only be running as far as the Visitor Centre at the local lakes and back that day.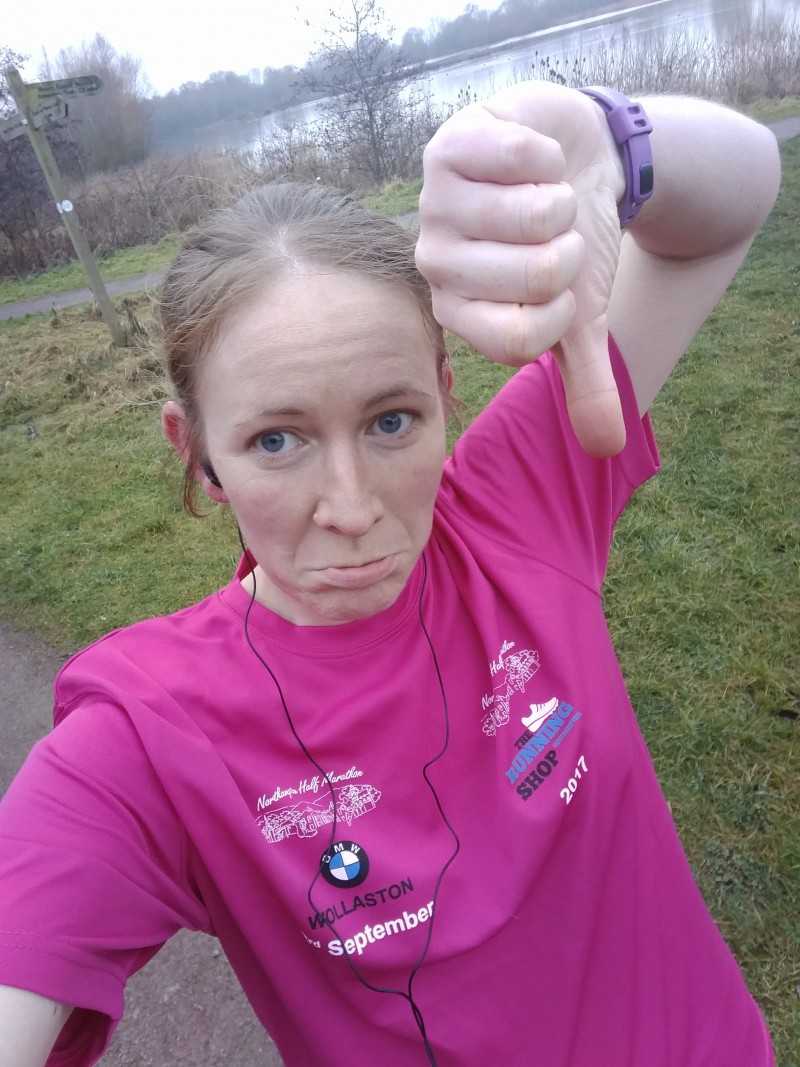 An awful, awful run, but I did actually feel better for getting out at least and added 6 miles to my total for the week.
I headed to bed early on Friday night, as Saturday was going to be a busy one for me.
At 6:40am on Saturday morning another runner from my club – James, arrived to pick me up for the drive down to Uxbridge where we were due to marshal at the Country to Capital ultra for Go Beyond, along with two other runners from our club who we collected along the way.
James has also signed up for the South Downs Way 100 this year, so there was lots of training talk going on during the drive down!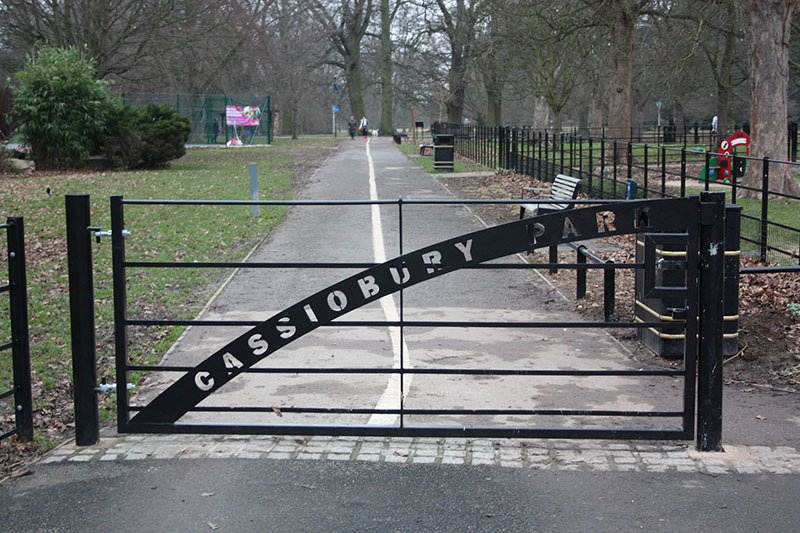 (Picture from the Cassiobury parkrun facebook page)
A week earlier James had suggested that we set off for our checkpoint a little earlier so that we may take in a parkrun on the way down.  Both Sally and I jumped at the chance to add to our parkrun tourism total, even though Sally currently has her arm in a sling!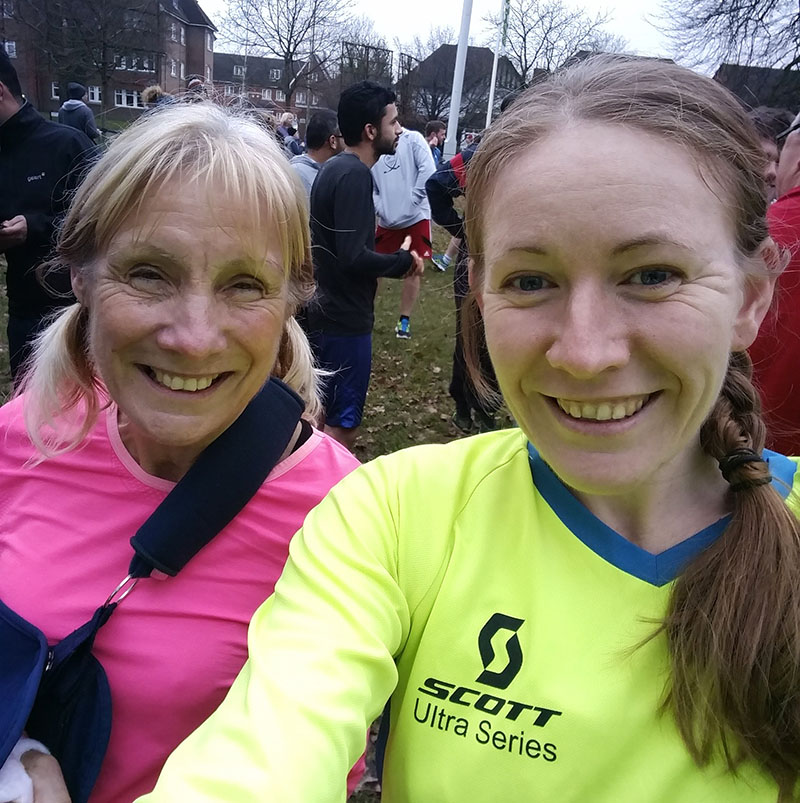 The course at Cassiobury parkrun was lovely and flat.  It consisted of two and a half laps around the park.  Marshals were super vigilant about keeping runners out of the cycle lane, as the park was a busy one and there had been reports of runners/cyclists getting knocked during the event in the past.  Even so, there were several runners who insisted on staying in the cycle lane, despite being shouted at, which was a shame.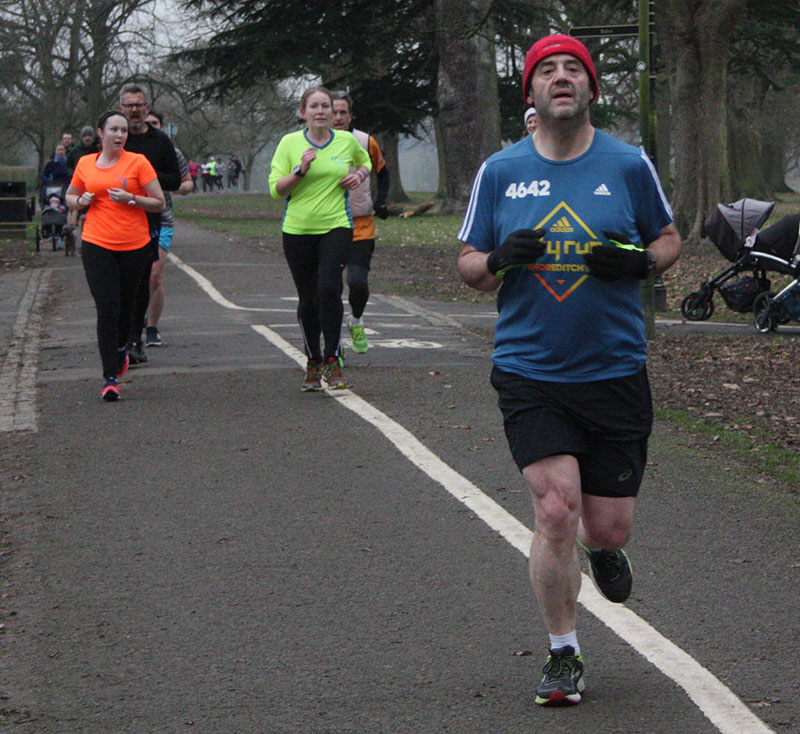 (Picture from the Cassiobury parkrun facebook page)
I felt a fair bit better than I had done the previous afternoon but still hadn't dared to eat anything before leaving that morning, just in case it made me a) sick b) need to rush to the loo or c) both of the above.  I decided to just jog my way around the parkrun and enjoy a new course.  In actual fact I was fine with food again by Saturday though.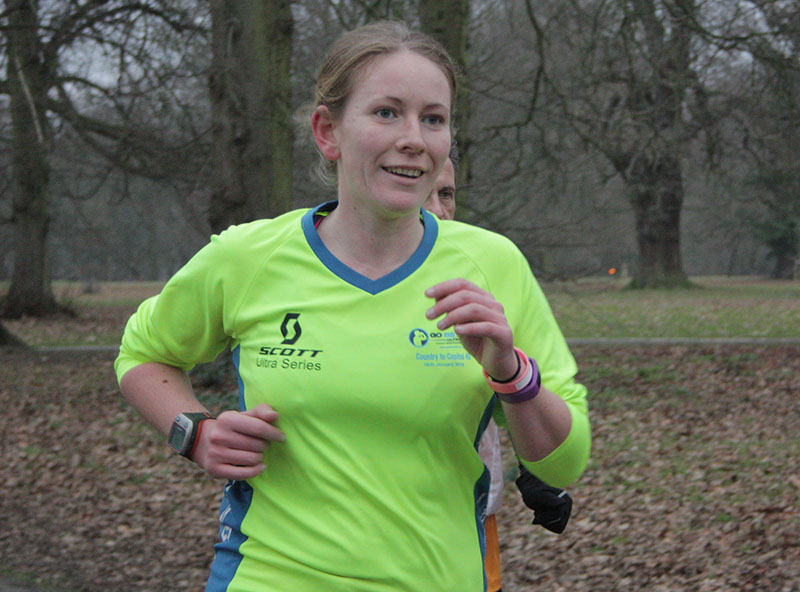 (Picture from the Cassiobury parkrun facebook page)
Official time: 28:26
Position: 192/421
Gender position: 38/177
Age category position: 8/17
I had decided to wear my Country to Capital top from 2016 seeing as I would be marshaling the event later on that morning and ended up running the parkrun just behind a man pushing a double buggy who was wearing a Country to Capital top from 2017!  After getting my barcode scanned, I made my way over for a chat about C2C and future races we both had planned for this year.  He told me of the 'Last Man Standing' race he had entered.  An event of laps where you must complete each lap within an hour, or be timed out from the race.  The laps continue until you are the 'last man standing', with all other entrants timed out.  It sounded good!
Cassiobury parkrun was the 20th different parkrun event I have run (Bedford, Blickling, Corby, Daventry, Huntingdon, Kettering, Kings Lynn, Linford Wood, Ludlow, March, Market Harborough, Milton Keynes, Northampton, Peterborough, Rugby, Rushmere, Sheringham, Wimpole Estate and Wolverhampton being the other 19!)  This means that I am now officially on the parkrun tourism table of fame*! 


* not it's official title!!!
Finally made it onto the parkrun tourism results page! I ran my 20th different event at @cassioparkrun on Saturday. Whoop whoop! 😁 #loveparkrun @parkrunUK https://t.co/Mp3Kr1rL6L pic.twitter.com/BNRcX4fpXt

— Mary P (@ahealthiermoo) January 16, 2018
Once James, myself and Sally had all finished the parkrun we collected Paul from the sidelines (who had decided to sit this one out) and drove over to checkpoint three of the Country to Capital.  Country to Capital is a 45 mile race run along trails and the canal path from Wendover to Little Venice.  Checkpoint three is the 'feeding station' and at about mile 25 on the course.
There were six runners from our running club out on the course, and plenty of names we all recognised on the start list this year.
With delays to the crew van, we were rather concerned that it was going to be a bit hit and miss when it came to setting up our checkpoint station in time, but luckily the crew van arrived armed with the famous Go Beyond cake and lots of other goodies with just enough time for us to set up our feeding station.  We were soon joined by the partner of the guy sat in first place through checkpoint two, who then kindly kept us informed with his location using her phone tracker.  I always enjoy chatting with the crew of fast ultra runners and usually come away having learnt something.  It's always handy to know how different runners like the stations to be presented too.
Two of our runners came through within the first fifteen runners (eventually finishing in 7th and 8th position), and I also recognised Cat Simpson – who went on to place as second female in the race.
One of our female runners, Helen, came through as fifth lady – a position she remained in until the end.
As checkpoint lead, being that I still wasn't feeling 100%, I decided to place myself away from the food and instead by the chip timing base, jotting down runner numbers along with clock times as they came through.  I had another member of our club alongside me helpfully shouting out runner numbers as they passed, and the other three crew that I had travelled down that morning with helped runners to fill their drinks bottles, unpacked food as necessary and generally kept the place fairly clear during the event.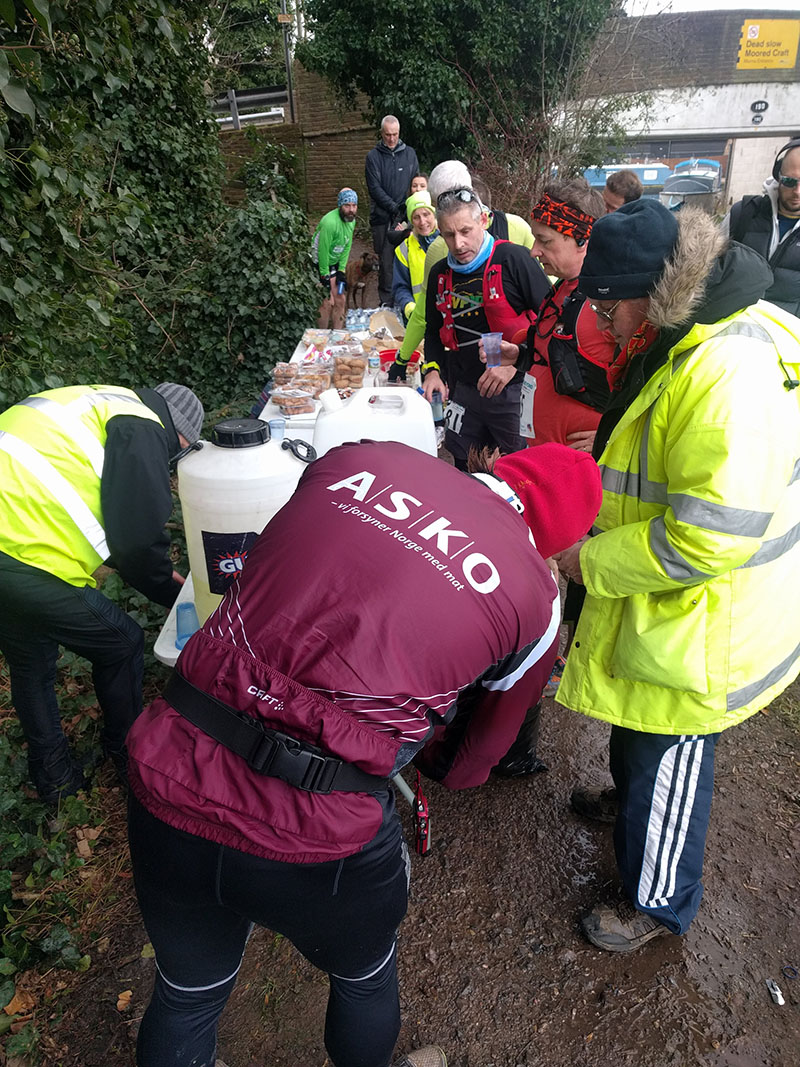 Even though we were at a point more than halfway into the race, there never really seemed to be much of a lull and the day went by really quickly.  Four runners withdrew at our checkpoint and a handful of runners just scraped through before cut-off.
We spent thirty minutes or so desperately trying to hunt down a lost runner, but it turns out they had already headed back to the finish, having pulled from the event at the previous checkpoint.  Please runners, – if you run a race, let a marshal have your chip back and tell them you are pulling.  Preferably pull at an actual checkpoint as well, rather than between marshal points.  It makes our job much easier and we can usually provide a nice warm car, food and blankets to keep you comfy until transport arrives to ferry you to the finish.
Luckily, I hadn't been working on the Friday night, but was due to work Saturday night, so on my return home after wolfing down the chicken tea I had instructed Dan to make over the phone I made my way to bed where I managed to grab a couple of hours sleep before heading in for the night shift.
All good practice at no sleep ready for the 100 in June!  😀
Do you chat to spectators at events?
What food do you like to see on a checkpoint?
Do you enjoy running speed sessions on your own?