Last Saturday was the 300th parkrun held at the Northampton Racecourse.  I've run 45 of my parkruns at the Northampton event and it's the place I would still consider my 'home' course.
Training hadn't gone to plan during the week and I'd ended up missing a few of my planned runs.  I was back in Norfolk for the Tuesday-Thursday as I had another family funeral to attend on the Thursday.  The first night I was back I managed 15 lengths of the road my Dad lives on before my Garmin beeped to show 6 miles.  A very boring, dark and windy run.  But miles done, nonetheless.
The next two days I was quite poorly, and even had to return to bed for several hours on Wednesday afternoon as I really just did not feel well at all.
My Dad did make me and Oscar a lovely salad to share on the Wednesday to try and make me feel better.  I do love a big salad with lots of different elements to it!
Friday – back in Northamptonshire once more and I was all geared up for my long run.  Oscar attends a full day at nursery on a Friday and it has become my getting-things-done day.  I usually spend a fair bit of time catching up on life admin – essentially computer life and typed work – as getting onto the computer whilst watching a toddler is becoming rather an impossible task!
Because I'd been away for three days though, and Dan had been working away in Basingstoke from Monday to Wednesday so had also been away, I spent the first three hours of the day desperately trying to get our house back in check.  Washing done, post sorted, bins out, all the usual stuff that gets forgotten about when you factor in time spent away from home.  I had just changed into my running clothes with the intention of heading out for a long run, catching up on a few blogs over lunch and then getting tea in the slow cooker before sorting the life admin out when nursery called to ask me if I would collect Oscar and book a doctor's appointment for him as he had very gunky eyes and they felt he needed to have drops prescribed.  I still had so much I needed to get done that day, and having been poorly myself that week, and attending another funeral the day before I ended up bursting into tears.  I just wanted to feel as though I'd caught up a little!  Is that even possible?  I don't think I ever sit down and relax, and am so jealous of those who can.
I had already rung the doctors that morning to try and get a set of my test results back, but been 'in the queue' to speak to a receptionist for 45 minutes before giving up.  Thank goodness for the speakerphone option on a phone because I would not have sat still with the phone to my ear for that length of time!  As the doctor surgery is on the way to nursery I stopped by to book an appointment on the way to collect Oscar.  After his (less than three minute long) appointment that afternoon we then had an hour's wait for the prescription and so spent some time at the nearby park, which Oscar loved and really did not want to leave!
As Wednesday-Friday had all ended up as non-running days for me that week I decided to turn Saturday into my long run day for a change.  I had already volunteered as 30 minute pacer at Northampton parkrun that morning, and I would be finishing my nightshift at 7am just a few miles up the road.  Therefore it made sense for me to get some extra miles in before the parkrun rather than just hang around in the car for that extra time.  There was no football match on Saturday afternoon so Dan would be around to have Oscar so that I could catch up on a little sleep on my return before I had another shift that evening.
In the end, Laura mentioned that she was planning on running from her home to the parkrun that morning as she was also volunteering that day and so I invited myself along.  We ended up running four miles before our volunteer brief, then 5k at parkrun, followed by a further two miles back again, totalling just over 9 miles for the morning which I was happy with.
A little after we arrived at the briefing location, Rachael, one of the other Milton Keynes Marathon ambassadors, turned up with her boyfriend.  He was down to volunteer as photographer that day.  We had a chat as we'd not met before and as it had been a little while since Rachael had run the course Laura and I filled her in on the course changes.
Tim managed to capture my face perfectly when I was told that I would have to climb up a step ladder to wave at the 700+ parkrunners whilst it was announced I was the pacemaker for 30 minutes!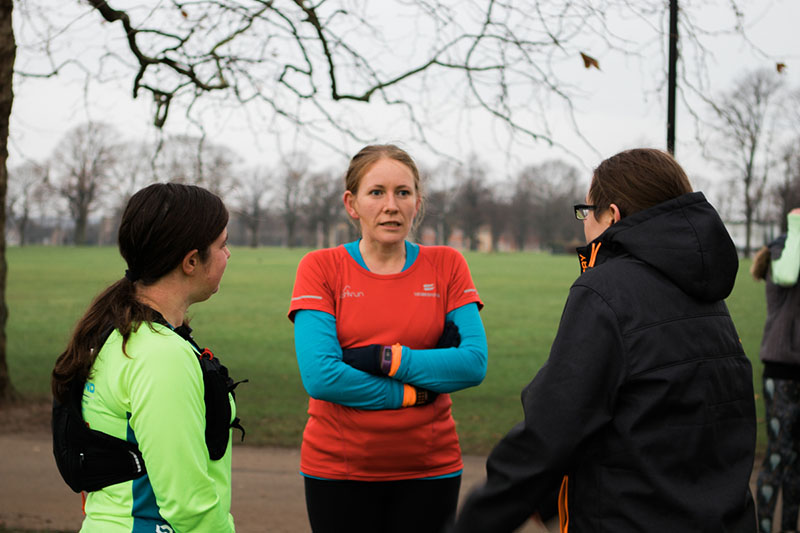 Picture credit: Tim Bullard
The thought of climbing up those steps was probably more nerve-wracking than having other runners rely on me to pace a time!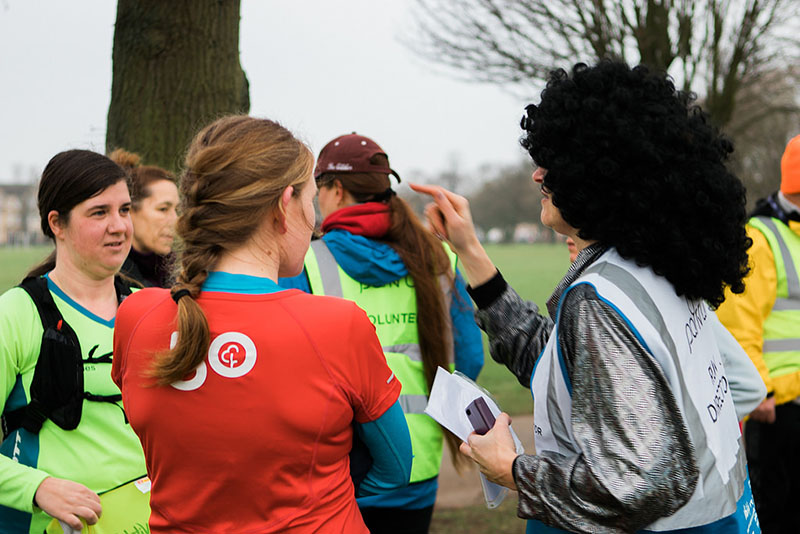 Picture credit: Tim Bullard
A quick briefing for parkrun volunteers acting in new roles for the day and then to our places ready for the start!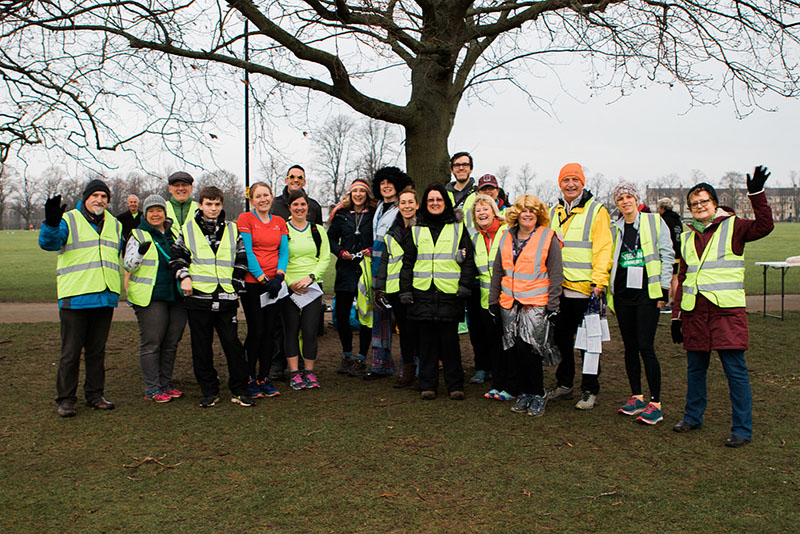 Picture credit: Tim Bullard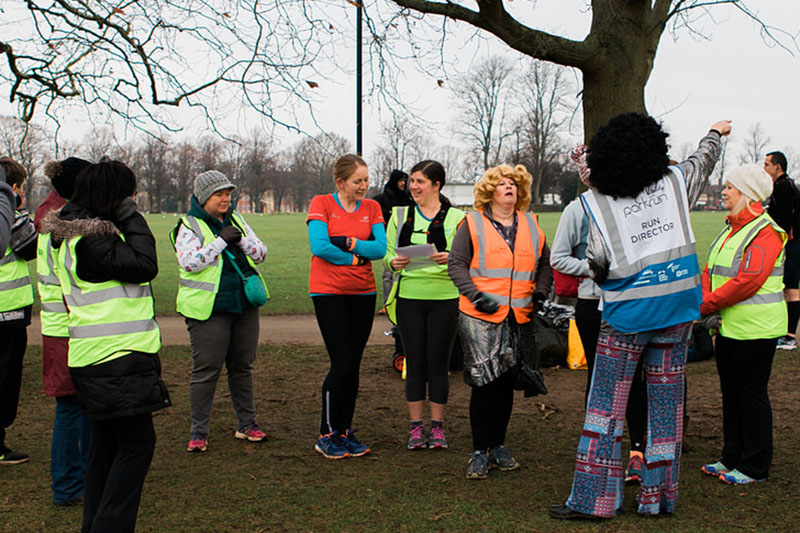 Picture credit: Tim Bullard
I knew that to run a 30 minute 5k, I needed to be running at 9:39mm pace – a pace I can run at fairly comfortably.  I aimed to run at around 9:30s to allow for weaving or over-distance.
After giving the New Runner Briefing, Laura had offered to run with me with the intention that between us we should hopefully be able to keep on target to run the time required.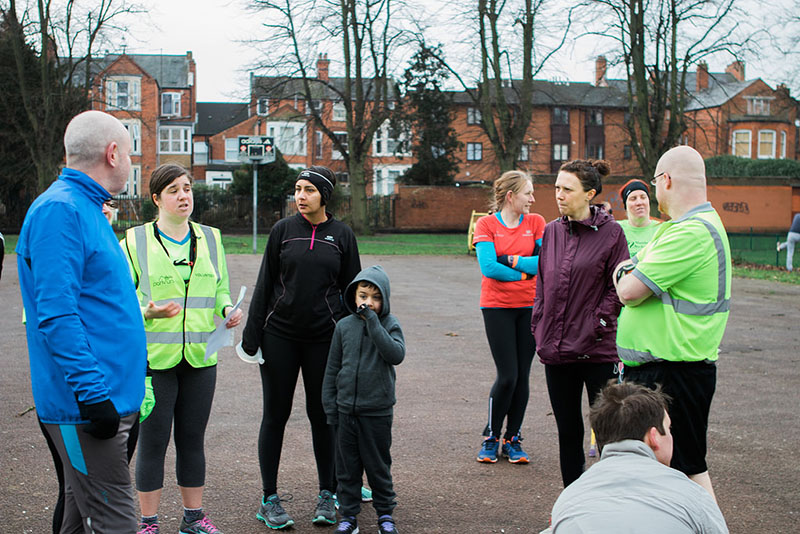 Picture credit: Tim Bullard
The first mile is always a little slow at Northampton – it's such a mad rush from a wide start onto narrow paths.  We still managed to run the mile in 9:39 though.  Worried that I perhaps needed to pick up the pace by a few seconds to allow for the weaving I inevitably had to do I pulled forward a little and ran the second mile in 9:20.  As I had printed out and worn '30 mins' on my back, we had several comments as we passed other runners.  Some I could hear were using me as an incentive to pick up the pace and stay at that speed and others just using it as a guide to what time they would achieve.  One guy had a chat to me about how I managed to stay so consistent throughout and I told him it was due to the constant checking of my watch!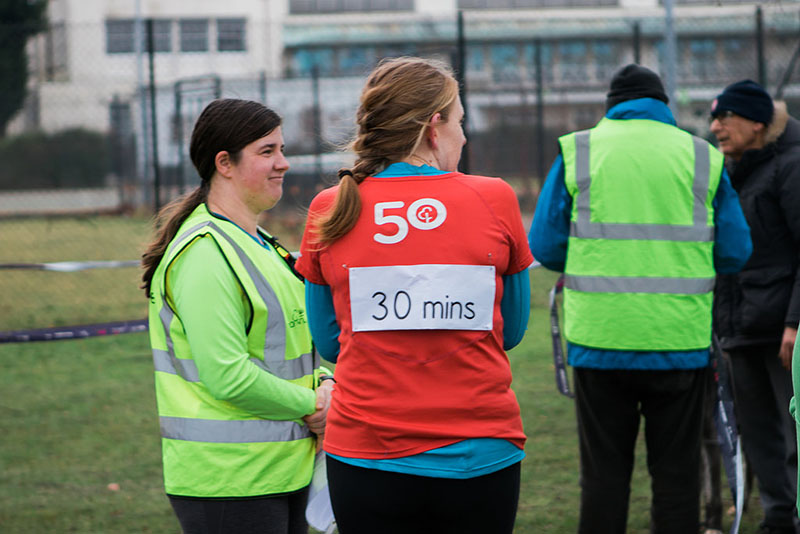 Picture credit: Tim Bullard
As we began the final mile I could feel Laura picking up the pace a little and so called out that I needed to stay steady to not beat the 30 minute mark by a huge amount.  A man running past told me that we were running way too fast and that he was on for 29 minutes, which I found rather frustrating, as he definitely didn't finish in 29 minutes that day and I knew we would be fairly close to the 30 minutes I had set out to run.  Final mile: 9:37.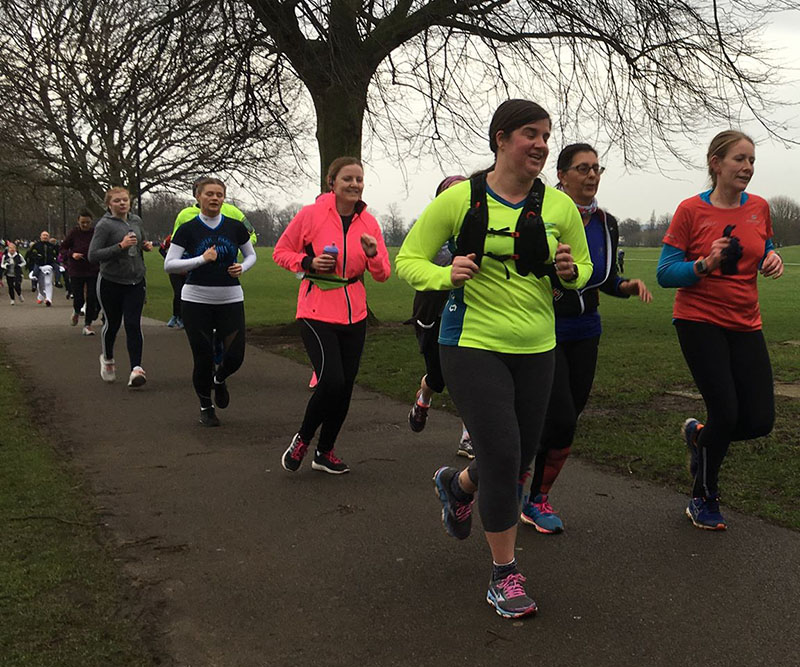 Picture credit: Northampton parkrun Facebook
We could see the funnel in the distance wasn't holding everybody and runners had begun to spill out back onto the track – queuing to get through the finish line.  When I reached the final stretch I had planned on shouting out to those nearby to stick with me if they were aiming for a sub 30 minute parkrun, but I lost my confidence a little when I could see the finish line was backlogged, unsure of what time I would officially record so remained quiet and instead just hoped that those who had wanted a 30 minute time had been following me as they saw the sign I was wearing go by.
My last little nubbin was run at 9:38 pace, although it was then several seconds before the volunteer with the clicker walked back along the line to click us through as finishers.  It took me a few seconds to remember to stop my watch afterwards as well so I wasn't sure what my official time would be when the results came out.  I was really happy to see how close I got to 30 minutes in the end though!
Official time: 29:58
Position: 410/703
Gender position: 99/292
Age category position: 18/49
There was plenty of cake laid out on a nearby table as Northampton parkrun were celebrating their 300th run that day.  It was my 45 run on the course, which sounds like so many when I think back to last year and how I was really looking forward to achieving my 50th parkrun goal.
After refuelling with a slice of cake each, we were starting to get chilly and I was starting to feel very tired.  Laura and I set off for a final two miles back to hers where I jumped in the car to head home for a post-work/parkrun nap.  I was so ready for that nap!
Have you paced an event before?
Or used a pacer yourself?