Over the past few months there have been times where I think I'm starting to fall out of love with running.  In the early days, running was such an easy thing to do…throw on some running clothes, lace up my trainers, strap my watch to my wrist and just get out there.  I really never appreciated just how easy running was back then.  Now getting out on a run can become a military operation, planned weeks in advance for a run which might end up being cut short due to lack of sleep (Me) or the spotting of a park on route (Oscar) !
This Saturday, running the South Downs Way 50 reminded me of everything I love about running though, and everything I love about running ultra distances in particular.
I was always going to sign up for the SDW50 this year.  The event had been my main running goal for 2017 – my comeback race from having a baby, booking the race was incentive to return to running and to hopefully feel more like 'Me' again once the baby had arrived, rather than just a 'Mum'.  It worked.  I had a great race last year and, despite having to stop for 25 minutes on route to express(!) I continued to book races into my calendar, including the South Downs Way 100 for this year.
Knowing that the SDW100 was firmly booked in for June, it only made sense to enter the SDW50 again.  Those 50 miles (give or take a couple) are the last 50 miles of the 100 mile race – and miles which I'll likely be running in darkness next time round.  Having refreshed my memory of the route this weekend I feel confident that I can navigate the miles again in nine weeks time in the dark along with the help of a strong headtorch!
I haven't really been focusing on the SDW50 this year to be honest.  I've actually been a little blase about it all, with my main focus as the 100, closely followed by Milton Keynes Marathon at the start of May where I hope to PB.  I've run the 50 before, and know that I can complete the distance.  However, I was a little on edge going in to this event as so many runners from my club of a similar speed to me would also be running the race, with six of them going for the Grand Slam of four Centurion 50 mile events across the year.  Last year I didn't feel pressured to run at anybody's pace or to perform a certain way, but this year I worried that I would end up running with one of the other runners from my club or would stress myself into trying to keep up with them.  I'm much slower over road races than all of the others who were there.  Don't get me wrong – I love chatting to other runners when out on the course, but I hate feeling like I need to keep up with somebody's pace, or hang back with them when actually that section suits me really well and I can run easily along it.  I race much better when I'm running on my own, even though I always find other runners to chat to along the way.
Friends Kev and Gary were crewing us all and so Kev arrived in his van outside my house to collect me a little before 4:30am on Saturday morning.  I'd set my alarm for 3:30am that morning but definitely hit the snooze button after Oscar decided to wake for a (very unlike him) two hour party at 12:30am.  Tip number one if you're thinking about running an ultra…don't live with a toddler!
After picking up another three runners along the way we arrived with the perfect amount of time before the start.  Kit check, numbers on, loo trip, drink, snack, bags on and a walk to the start.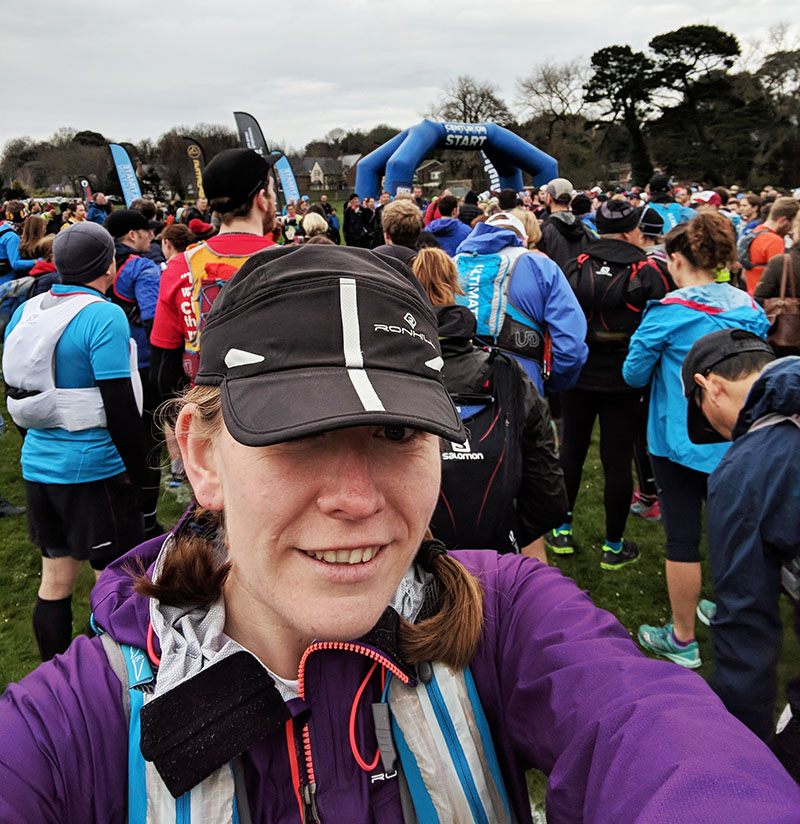 It was lovely to finally meet Lauren properly after having cheering her on at Milton Keynes Marathon a few years back and also to bump into Ally as well, who I also saw at the finish for a chat.  Both ran amazing races in super fast times.  Lauren is also running the 100 later on this year like me and Ally is running the next Centurion 50 mile event in a few week's time – the North Downs Way.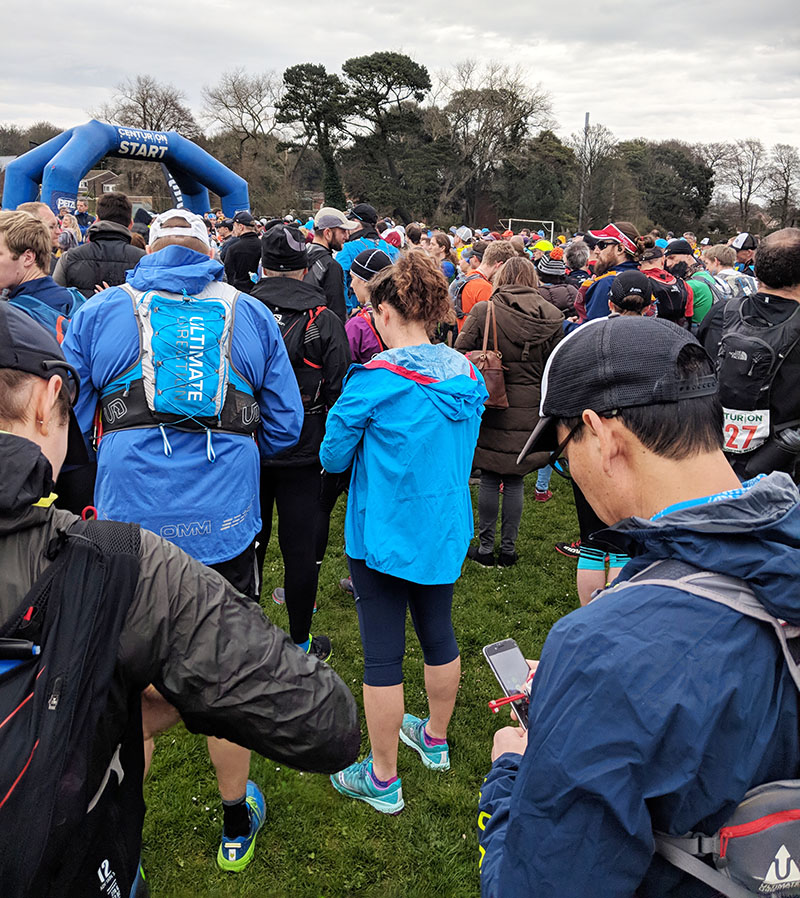 There was time for a quick photo of our club runners before the off and then followed a gentle jog to the gap in the field, with a bottleneck!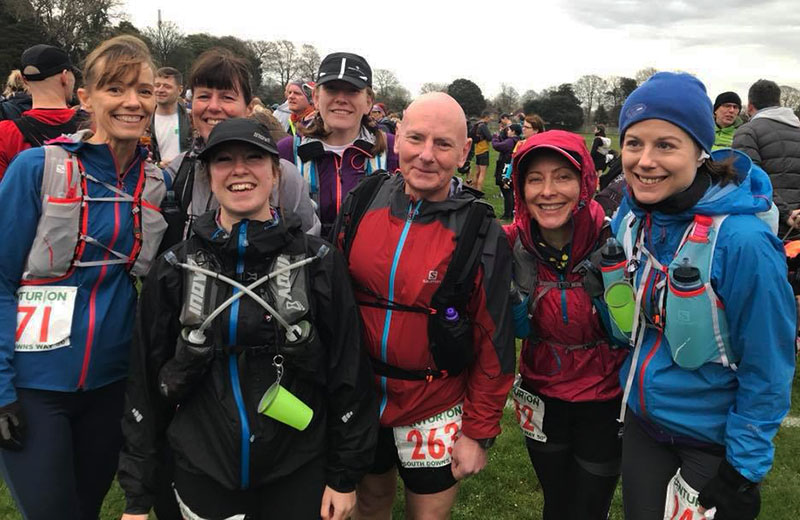 I felt good from the get go and having started right at the back, the pace was easy.  I didn't rush to get past anyone, although I saw plenty of others jostling for positions.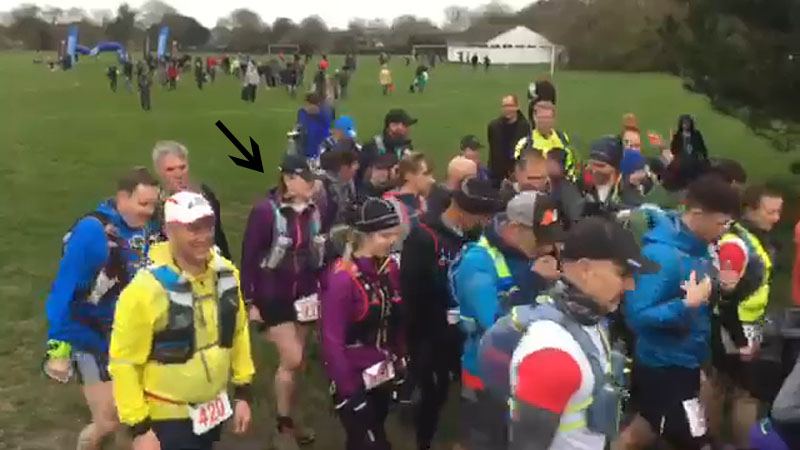 (Screenshot of the bottleneck taken from a video shared on the Centurion Facebook group)
About a mile in I started to regret having a peanut butter smothered bagel as a snack less than an hour before the race start.  I had eaten a bowl of porridge with blueberries when I first woke but knew I would need a top-up snack before the run, as I had already been up for so long that morning.  Turns out, a bagel was not the snack I required and I needed a loo stop from early on, on a course when I knew there was barely any course coverage!
Other than the first couple of miles (when everyone was stuck behind other runners along narrow sections anyway), it is fairly easy going until the first checkpoint at mile 11.  My strategy at checkpoints is to grab what food I need, have the lid of my water bottle unscrewed ready for topping up if needed and get in and out as quickly as possible.  Why hang around when you could be moving?!  It wastes time and means you end up getting stiff.  At this first checkpoint I grabbed a couple of grapes and some cheese sandwiches before moving on.  Fruit and cheese sandwiches are always winners for me during an event!  I'd already eaten half of a cocoa orange nakd bar on the way to this checkpoint, and grabbed a carton of chocolate milk out of my bag as I made my way up the hill along the other side of the road.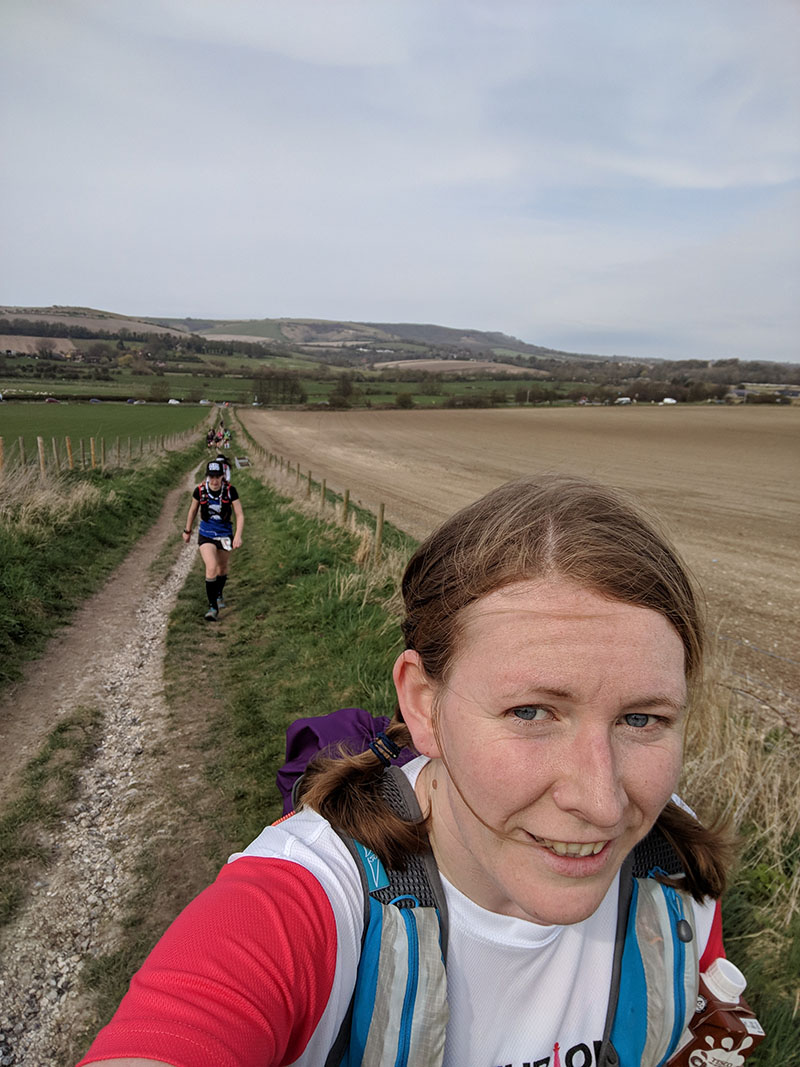 I'm aware that these pictures don't make the hill look too 'hilly', but trust me, it was!  And, just like last year, the photographer was perched up at the top taking photographs!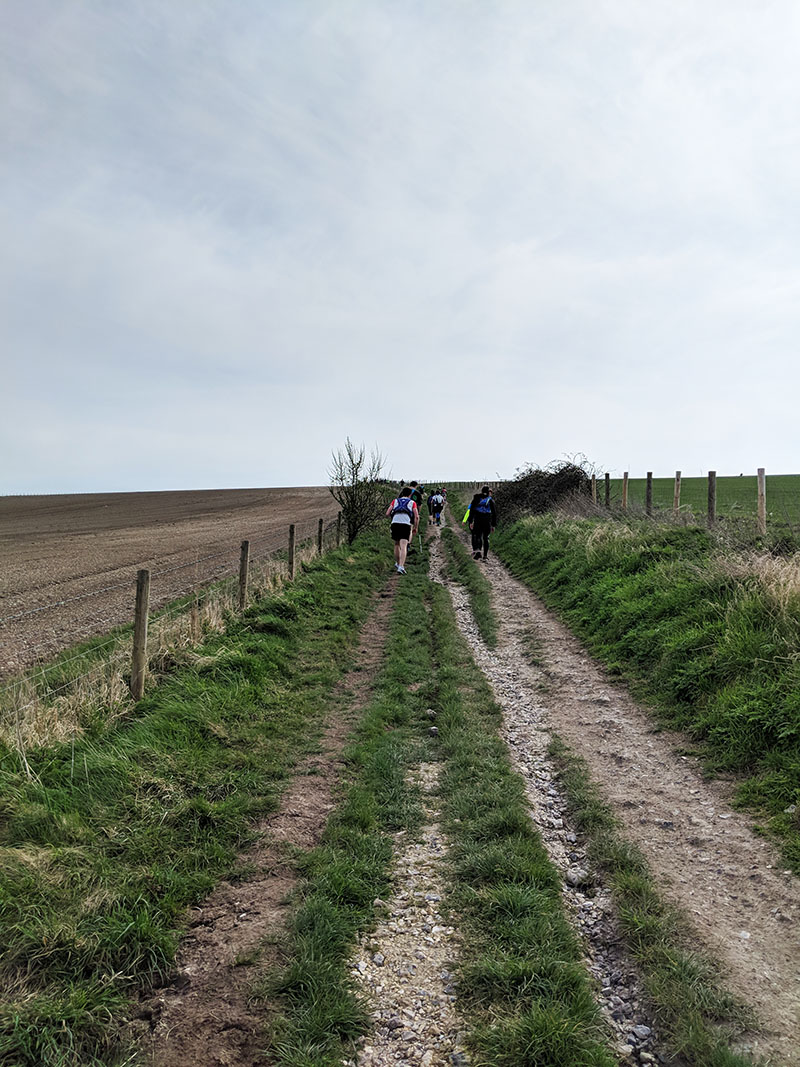 Another runner struck up conversation when he spotted I was wearing the event t-shirt from last year and I ran with him for a few miles until he told me he needed to slow down.
Mile 15 was our first crew 'checkpoint' and I felt slightly guilty for not stopping as I waved at Kev and Gary as they stood cheering me by.  I passed two of the runners from my club here as they had stopped to top up on supplies from our crew.  There was just one from my club ahead now, which really surprised me and I knew wouldn't last.  (Although I later surprised myself by coming in as 3rd runner of our 7).
Not long after this we headed slightly downhill through a small wooded section and I almost ran into the back of another runner who had squatted down on the path to pee!
Checkpoint two at mile 16 was in a slightly different location this year and I walked in, got some Tailwind, watermelon, more cheese sandwiches and made my way back out again in less than 30 seconds.  Smooth going!  I still felt good.
There were a couple of rather steep hills between checkpoints two and three at 26 miles.  There were also several runnable sections too which I made sure to take advantage of.  The course really suits me as it has rolling hills – dictating which sections to walk.  I usually really struggle mentally and also with my consistency over long flat sections, but had no problems with these this time round, which I'm putting down to the large number of miles logged on my treadmill this Winter!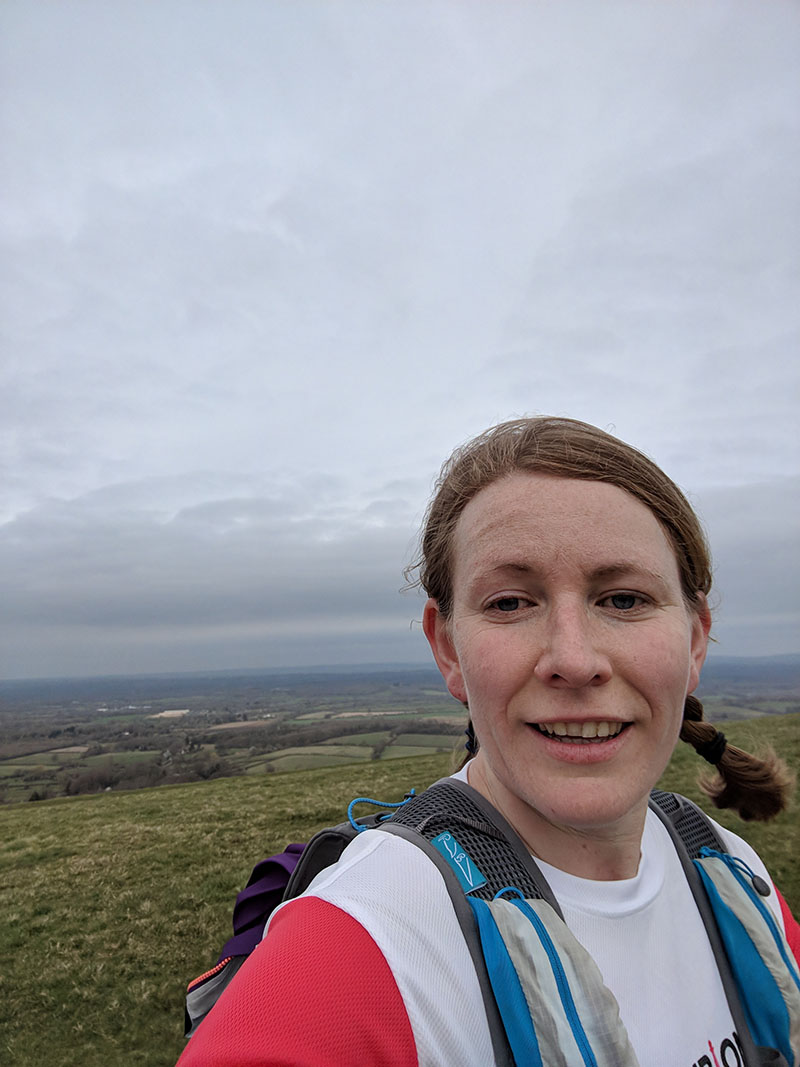 The third checkpoint was where I had stopped to express last year and this year, where I finally spotted a portaloo to use!  I grabbed some chocolate chip cookies, MORE cheese sandwiches and watermelon, Tailwind and topped up my water.  All in all I think I stopped for about 5 minutes here, but it was 5 minutes well spent.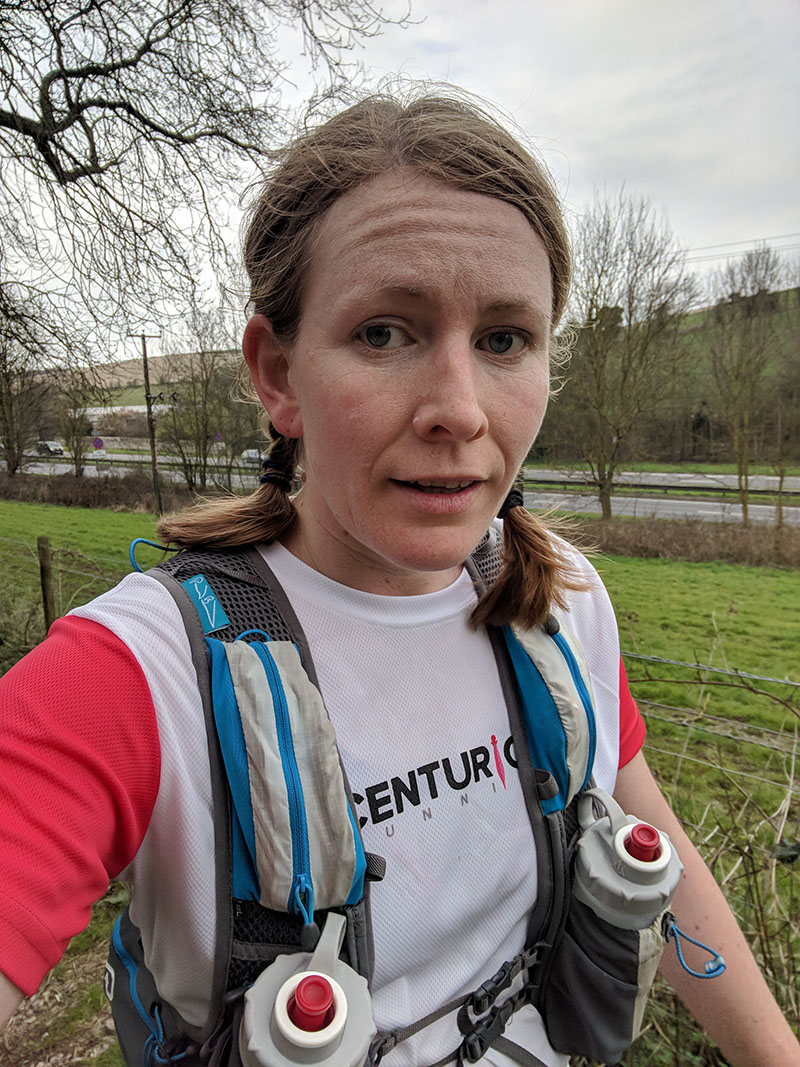 I knew I was having a good race and used the climb following this aid station to check in with Dan.  He hadn't realised that he could track me online and so I let him know how to do this.  He also let me know that 'Oscar' had sent me a good luck video earlier that morning.  I had turned my internet off in order to save battery but after hanging up with Dan I quickly checked WhatsApp to find a lovely little video where Oscar waved madly at me, said "Sit down Mumma!" and then gave the camera a kiss!  It definitely made me smile.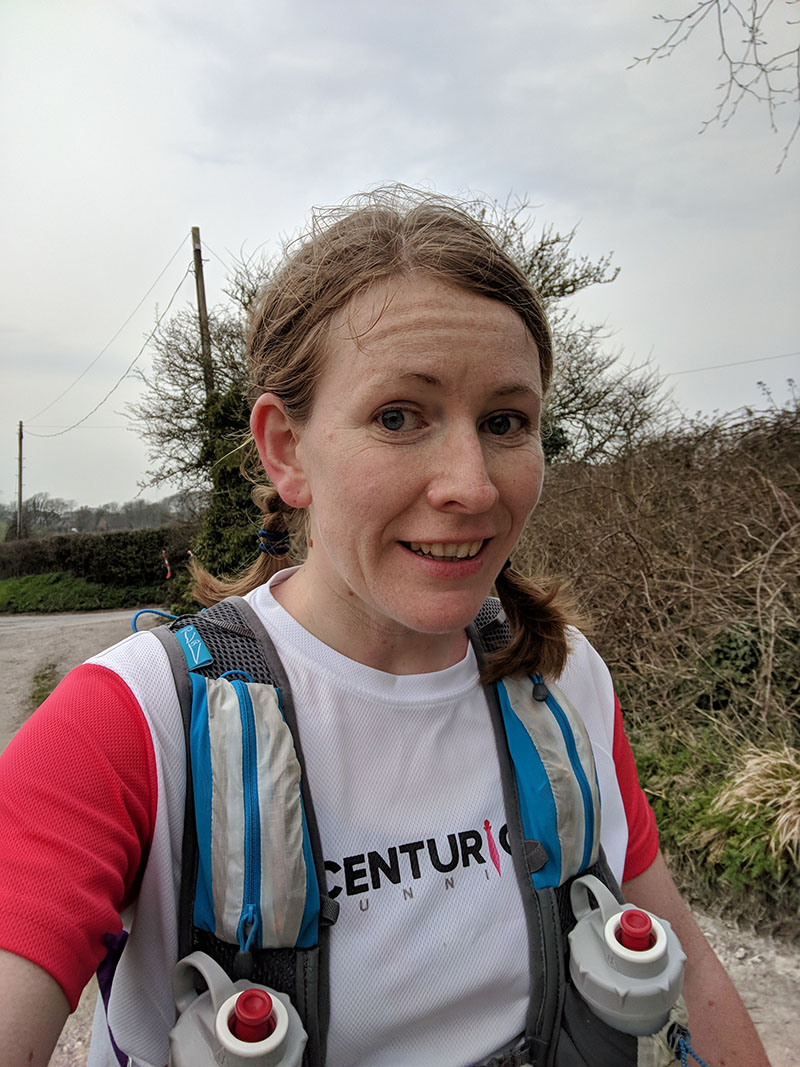 For the next aid station you have to cross over a set of railway tracks.  Oh how I'm going to love all those steps at mile 84 of the 100 mile version of the race(!)  I knew I needed more Tailwind here but couldn't see any on display so asked one of the volunteers for some.  She told me that I was lucky, and they had just a little left.  Taking a few gulps from my bottle after being topped up I spluttered out that she could definitely make it go further by watering it down more…it was super strong!
I nicknamed the next section 'Australia' last year as the views, with the sun disappearing behind the hills reminded me of scenes I've only seen in programs about Australia.  This year though, the sun was still high in the sky (albeit hidden behind clouds!)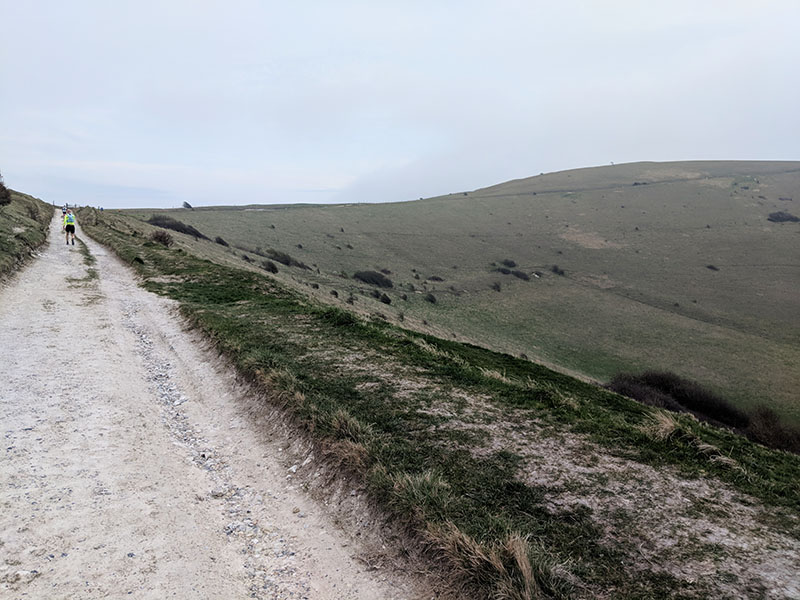 It also definitely looked less Australia-like this year!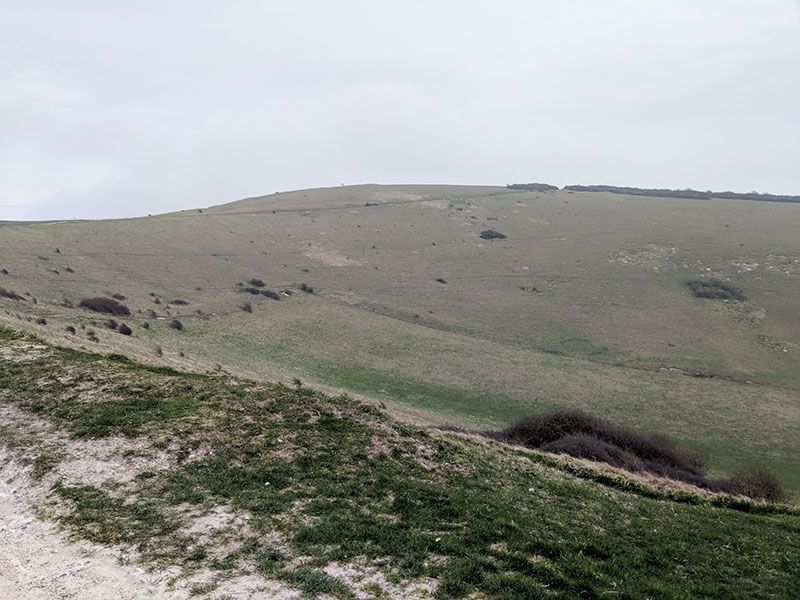 The last two checkpoints follow in quick succession; starting with a lovely little pitstop in Alfriston at 41.6 miles with indoor seats to perch on for a few minutes.  This checkpoint is quickly followed by the final checkpoint at Jevington just four miles later.  It's perched high up some steps alongside the road and I felt rather bad that I just called up the hill to thank the volunteers, continuing on my way rather than stopping in, but I didn't need anything with only four miles to go and thought it better to keep moving at this point.
I strongly made the final climb up to the Trig point and started to make my way along the narrow, slippy path back down towards Eastbourne.  The clouds were threatening to rain at this point, and we'd been very lucky with the weather until now.  I had twice put on my jacket for the odd spitting shower but the temperature was fairly warm, and the rain never really stuck around.  It had made the rocks on this section rather slippery though.  This being the most technical section on the whole course.  My hamstrings had a few spasms along this section and out loud I told my legs they needed to co-operate for just a little longer…pretty please!
In my head I had secretly hoped to run 25 minutes faster than my time last year (12h 06m).  25 minutes was the amount of time I had stopped to express so I thought it was probably fairly achievable for me to gain back those minutes in my finishing time this year.  As I reached the bottom of the hill though and broke into a faster run I realised I would most likely go sub 11h 30m.
Running and maths never work and despite being just two miles from the finish now and having been out on the course for 10h 40m I was convinced I would have to run really fast to go sub 11h 30m.  Mile 48 ticked by starting with a 12:xx and I realised that actually, I should probably be targeting 11:15 instead.
I still felt really good.  No pains, no aches, I'd fuelled well, I was still running!  In fact, other than road crossings and twice when I walked a handful of steps, I ran pretty much the whole of the last two miles, passing several other runners along the way and changing my target at the last minute to 11:10 – coming into the stadium to the most glorious sunset.  It was honestly the most beautiful sunset I have ever seen and I really regret not asking somebody to take a photo of me in front of it after crossing the finish line.  Unfortunately my official finisher photo, despite showing colour, definitely does not do the sky justice as the photographer was using a flash so that I was the focus of the photo.
I could not stop beaming as I ran around the track!  I'd picked the pace up for the track finish, although definitely not enough to be considered a sprint finish!
As I turned the corner at the bottom of the stadium I noticed that opposite the gorgeous sunset, was a gigantic rainbow.  What a lovely finish arch!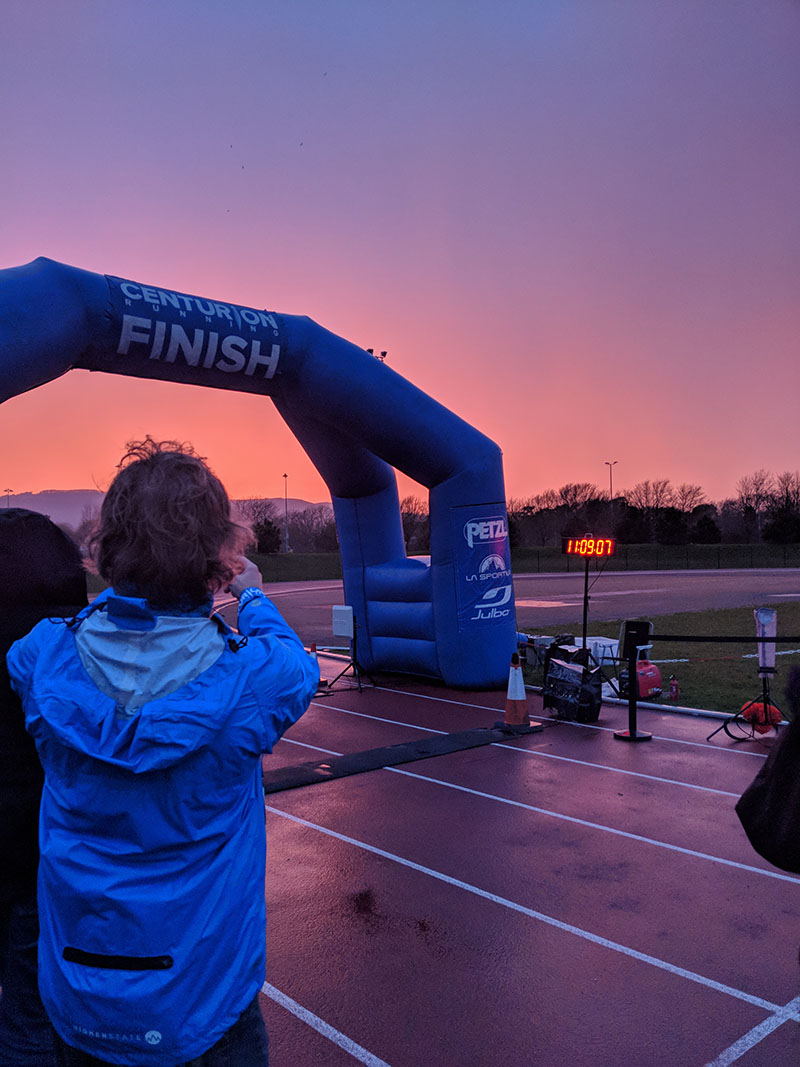 I took this shot a few minutes after I finished but I wish I had taken more pictures, and actually of something, rather than just randomly pointing in the direction of the sun!
Looking on the Centurion Running Community Facebook page yesterday, I found these two images which another runner had taken which give a much better impression of the view we finished to…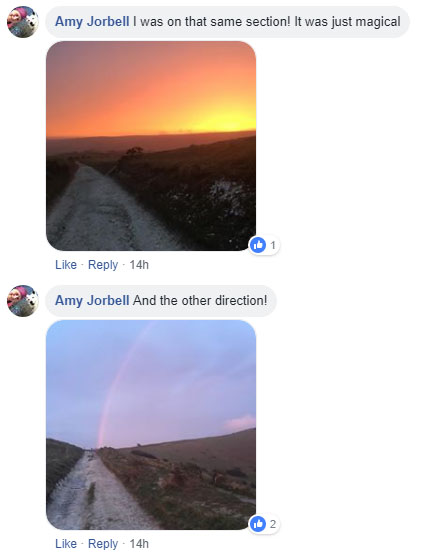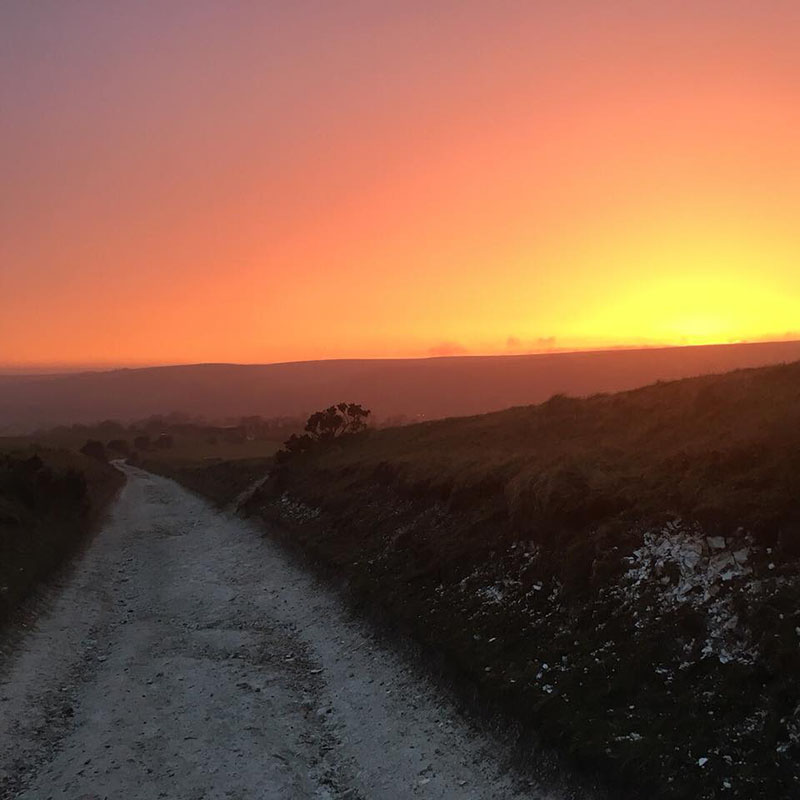 It tipped it down not long after I finished and I was glad to bump into Nic, who had finished about ten minutes ahead of me and who had the keys to Kev's van so that I could grab some warm clothes.  I took a quick picture with my medal in the fading light and queued up for my free sausage bap and hot drink, unsure of how long the other 4 runners from my club would take to come in.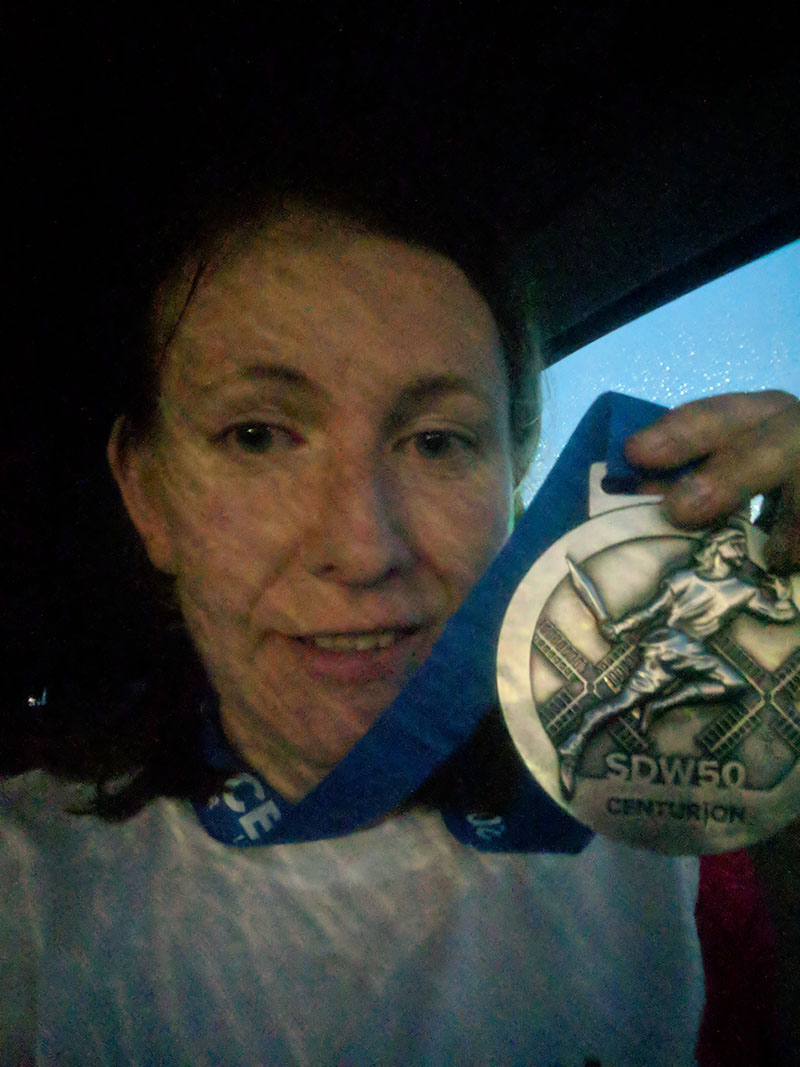 Official time: 11h 7m 22s
Position: 277/353
Gender position: 52/81
Category (senior female) position: 21/35
Turns out I took quite a lot of steps that day(!)