I have serious marathon envy at the moment.  April is the month of the year in terms of marathon running.  It's the when London hosts one of the six World Marathon Majors and everybody in the country becomes interested in running and marathons, whether they run themselves or not!
I've had so much fun tracking everybody's marathon adventures online over the weekend at Brighton and Boston.  So many amazing times being achieved!  I'm not sure I can wait until May when my marathon rolls round!
Obviously there are so many other great marathon events to be enjoyed.  It's not all about London, despite what some people might think!  I have heard the phrase "I'd run a marathon one day if I can run London." so many times from non runners.  I was lucky enough to gain a place in my running club VLM ballot and take part in the race in 2014 and really enjoyed my experience, much more than I ever expected to.  I'm really glad I did get the opportunity to run London that year as I'm not sure if I will have another chance now that there have been so many changes made to the way runners gain a place for the event.
The most popular form of entry for seasoned runners is via Good For Age entry.
New times have been released today which runners must achieve in order to gain a 'Good for Age' (GFA) entry to the Virgin Money London Marathon in 2019.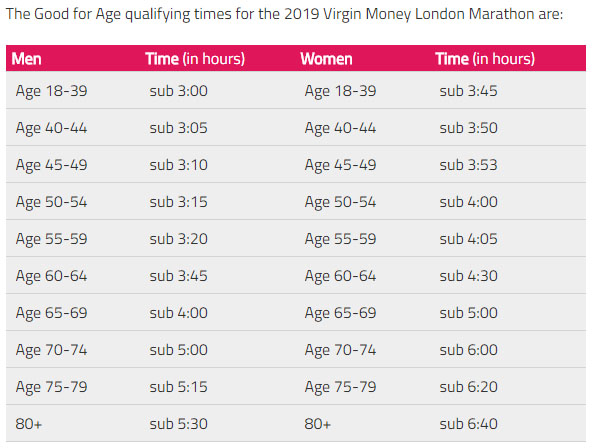 (Image taken from the VMLM website)
The main changes appear to affect men wishing to qualify.  As a senior male you would now need to run a marathon starting with a 2:xx:xx in order to take up a spot using this entry system.  As a runner at a large running club, just six of our members ever have run a sub 3 hour marathon.  Several of the age categories have also been split down further than in previous years.  For example, a female falling into the Women Age 40-49 category would have had to achieve a sub 3:50 time in order to receive a guaranteed GFA place at London next weekend.  This category has now been split between 40-44 (sub 3:50) and 45-49 (sub 3:53).
Another big change, probably even more noteworthy than the actual qualifying times is that achieving these times no longer guarantees you a spot at the London Marathon the following year.  There are a maximum of 3,000 female GFA spots and 3,000 male GFA spots available for the 2019 event.  If more than 6,000 runners apply for a GFA position, then 'the qualifying time will be reduced evenly across the age group categories listed above until 3,000 runners of that gender are accepted'.  Meaning that you may have worked super hard to achieve a 3:44 qualifying marathon time as a senior female runner, only for the goalposts to be moved after you have submitted your entry, due to high numbers of other runners also applying for a place and you may not actually end up with a race place at all.
Another change is that although as in previous years you will still be able to defer your GFA place by a year if unable to take your place up for the year you originally entered, you will most likely have to prove you are still capable of running a GFA time.  The qualifying period moves to the January of the year before you run the race.  So, for example – You run a marathon in a GFA time in December 2017, granting you a GFA place in April 2019.  You wind up injured so defer your place, but the race you qualified at is no longer in the qualifying time period before London 2020, as this will become 1st January 2018 – 12th August 2019.  You can keep your guaranteed deferred position, but only if you run another qualifying marathon time before August 2019.
I can see this rule hitting women much harder than men.  I know several female runners who have qualified for a GFA position, but then deferred their place when they have fallen pregnant.  It might then be potentially much harder for these women to bounce back quickly enough to prove still worthy of a GFA place.
Like last time changes were made to the entry requirements it seems these changes have come at the wrong time for many.  Right in the thick of marathon season, when runners have set target times at races in order to achieve a GFA entry to London Marathon for 2019.  Running 5-10 minutes faster than planned when you are talking about marathon times of just 3 hours is actually a huge difference and I imagine plenty of runners will blow up trying to achieve times they haven't trained for, or hit their original targets which now fall short of gaining a guaranteed place in next year's event.
Several runners may have already run their target Spring Marathon by this point and achieved what they thought to be a qualifying time, but now no longer is.
The VMLM website advises that due to the new changes, all hopeful runners of the event also make sure to enter into the general ballot when it opens at the end of the month, as unless they have run a marathon a large chunk under the qualifying time for their age category they will not be guaranteed a place for 2019.
It has been incredibly difficult to enter London Marathon via the general ballot in recent years.  In 2015, the ballot system for the 2016 event changed.  In previous years, the ballot for the following year opened a week after that year's marathon had finished and remained open until 125,000 wannabe runners had entered their names into the metaphorical hat.  In 2015 though, the lottery system changed and the ballot entry system remained open for five whole days, meaning that in total, twice as many (247,069) wannabes were in the hat ready for the draw to take place months later for even less places in the race.  The VMLM website stated that this change was made to reflect the large number of people previously unable to enter due to 'religious holidays, shift work, family commitments and other reasons'.
In total, there are 50,000 places issued for the race each year.  (Apparently just 35,000 of this number make it to the start line on race day for one reason or another.)
This number accounts for ballot entries, the high number of charity entries, elites and the list of Good For Age (GFA) and Championship start runners.  Basically, your chances of getting in through the ballot are very small indeed.  Allegedly the quality of runners we have in the UK has increased substantially over recent years and so a few years back, the GFA guidelines were tightened and have now been tightened once more.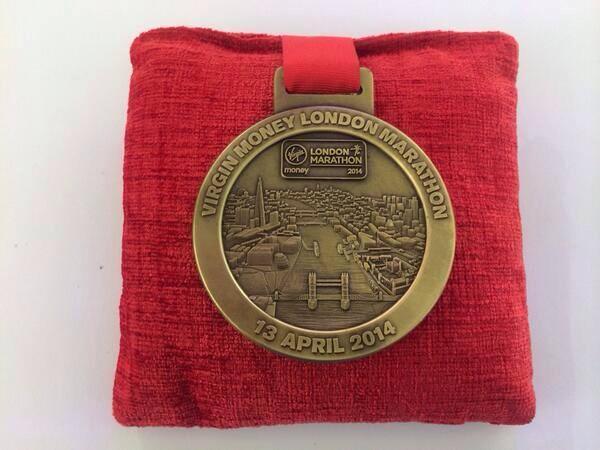 I won my 2014 place through my running club ballot.  Every affiliated running club in the UK is issued a number of ballot places dependent upon the number of runners in their club.  In the past, our club had always been allocated four places, but in 2015, despite membership numbers increasing, we were offered just three and this year we were down to 2 places.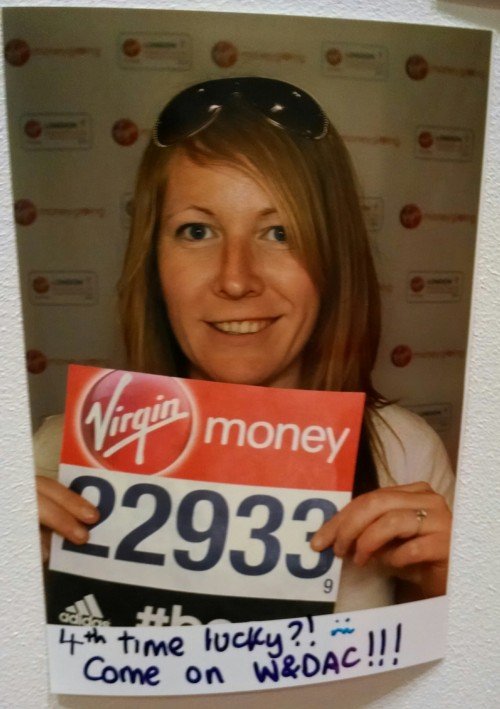 The most common way to gain a place in the London Marathon has become via a charity place.  I hope to run for a cancer charity in 2019 – a decision I made last year, long before all of these recent changes had been announced.  Running for charity isn't something that is accessible to all though.  As a regular runner with a couple of jobs and a young family I know that I would struggle to find the additional time to fundraise alongside training on back-to-back years.  I will need to be creative in my fundraising.  Having run several ultramarathons (hopefully including also a 100 mile event by next year) people aren't going to be so willing to dig into their pockets just to sponsor me to run the race.
So, there we have it.  I've rambled on a lot about the Good For Age changes, but in all honesty they don't really affect me a huge amount.  The only hope I ever have of running a GFA place is if I am accidentally entered as a 65 year old.  I might stand a chance then!
As it's a long while until I turn 65 I'll be checking out some other UK marathons to add to my bucket list for the next couple of years.  Chester is currently sounding really appealing for the Autumn…
Have you run the London Marathon before?
What do you make of the new changes to entry for 2019?
If you have run a marathon before, which was your favourite?