This year has been a bit of a weird one when it comes to running and racing.  Since starting weekend nightshifts last December I've had to turn all of my usual plans on their head.
It's hard enough getting round for parkrun on a Saturday morning when you have a toddler, but when it comes on the back of a nine hour shift finishing at 7am…all I want to do is sleep!
Two weeks ago I wasn't needed in work on the Friday night, as there were enough staff in already.  So I headed over to the fairly new parkrun in Northampton – Sixfields Upton.  The event started up just after Christmas and several of us have been holding back from going along too soon, so that the volunteer team weren't rushed off their feet with large numbers of runners when the event was still in it's early days.
The extra parkrun in town hasn't seemed to affect numbers of runners at the Northampton Racecourse event though which still regularly hosts more than 500 runners on a Saturday morning.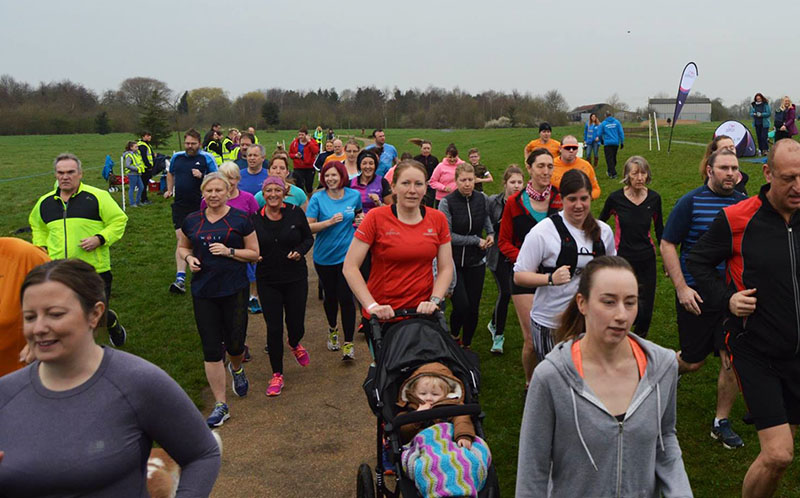 Dan decided that he would also like to parkrun at Sixfields Upton as he wasn't traveling back for a Wolves game that morning.  We took Oscar along in his buggy and walked over for the start of the event where we met Laura.  I'd worn road shoes as the parkrun website said that the event was held entirely on tracks and paths, but in actual fact it was incredibly boggy and muddy out there and I was a little upset that my super clean road shoes ended up covered in so much mud by the end of the event!  It also caused a few problems when runners refusing to go through puddles stopped dead in front of Oscar's buggy.  It wasn't just the occasional runner who stopped to daintily pick their way round the puddles so I had to really be on my toes.  A handful of runners even leaped back almost into us as water splashed up towards them.  I have no idea how I managed to not clip anybody with the front wheel of the buggy!!!
This was the state of my trainers and legs post run…(!)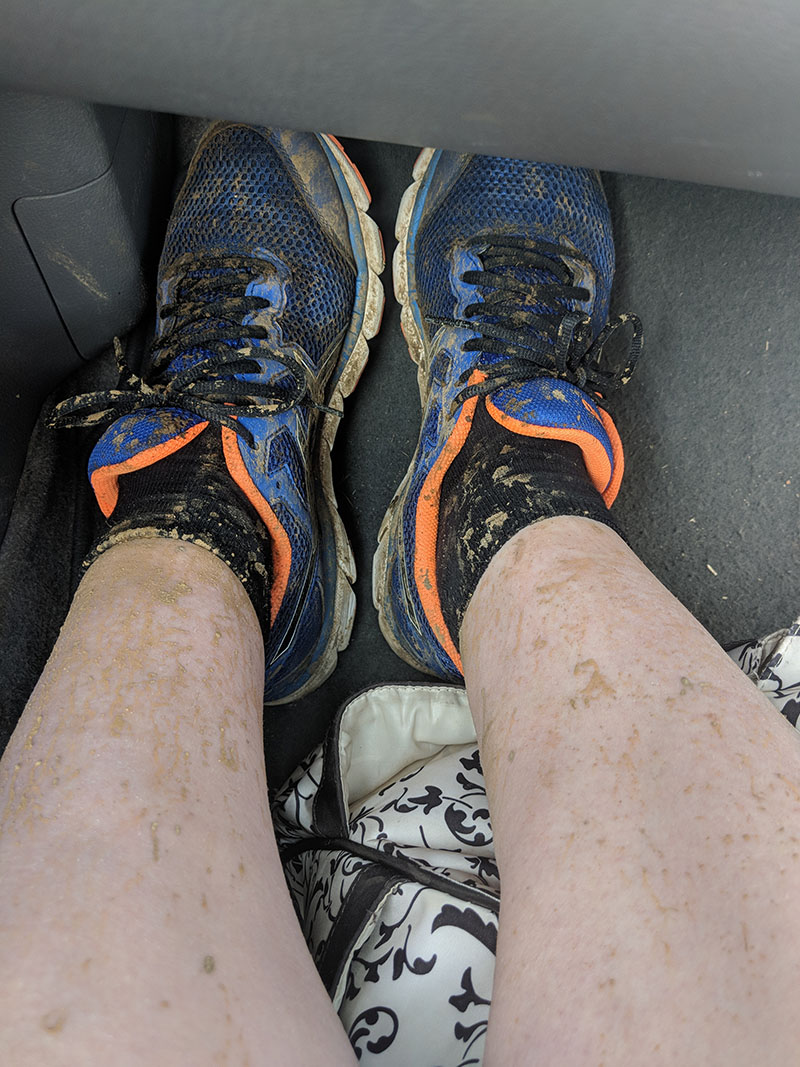 It's a very different event to the Northampton one, which is perfect.  Nobody wants two very similar events right next to each other!
I think I'll probably stick to the original Northampton parkrun course on weekends when I run with Oscar though, as it was a little nerve-wracking trying not to bump into anybody on route with the buggy.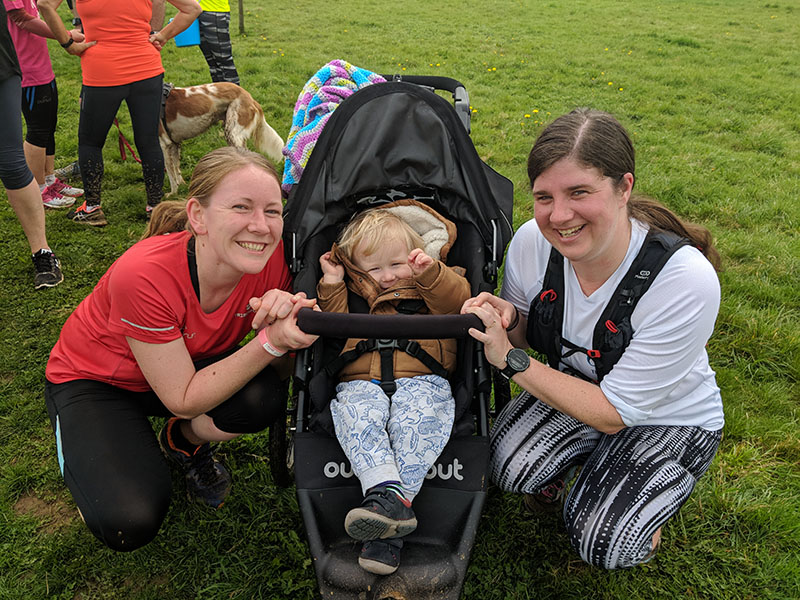 Despite starting from the back of the pack we glided past Dan with nearly a mile to go.  Oscar spotted Dan from way back and began shouting "Dadda!" in his direction.  Although this changed to baa-ing at sheep as we passed them instead.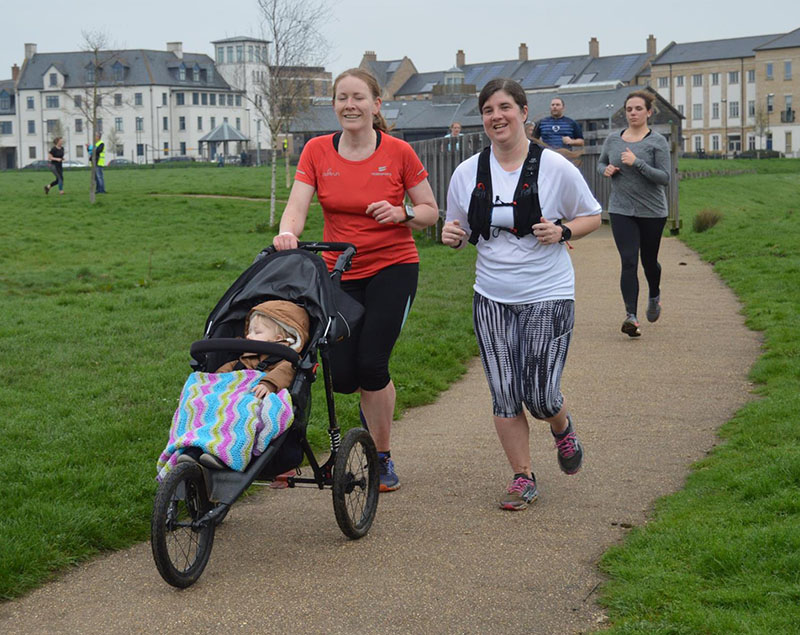 Sneakily, Dan saved just enough for a sprint finish and pipped the three of us on the finishing straight.  We'll beat him next time though!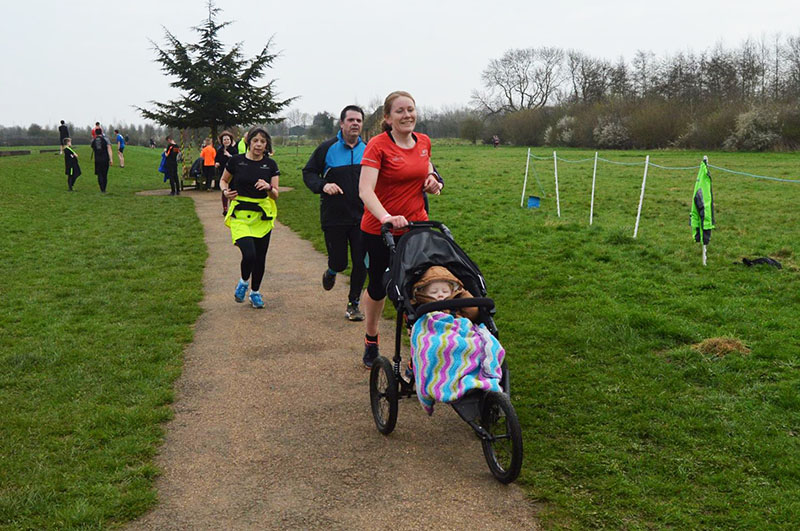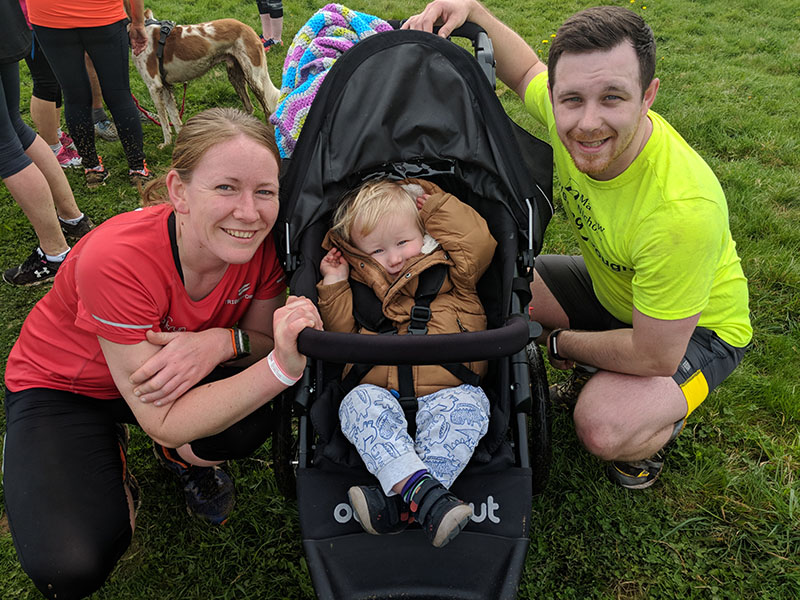 Official time: 31:34
Position: 147/238
Gender position: 44/106
Age category position: 11/17
Oscar then enjoyed a good forty minutes of kicking a football around the car park before we headed home to enjoy the rest of the day.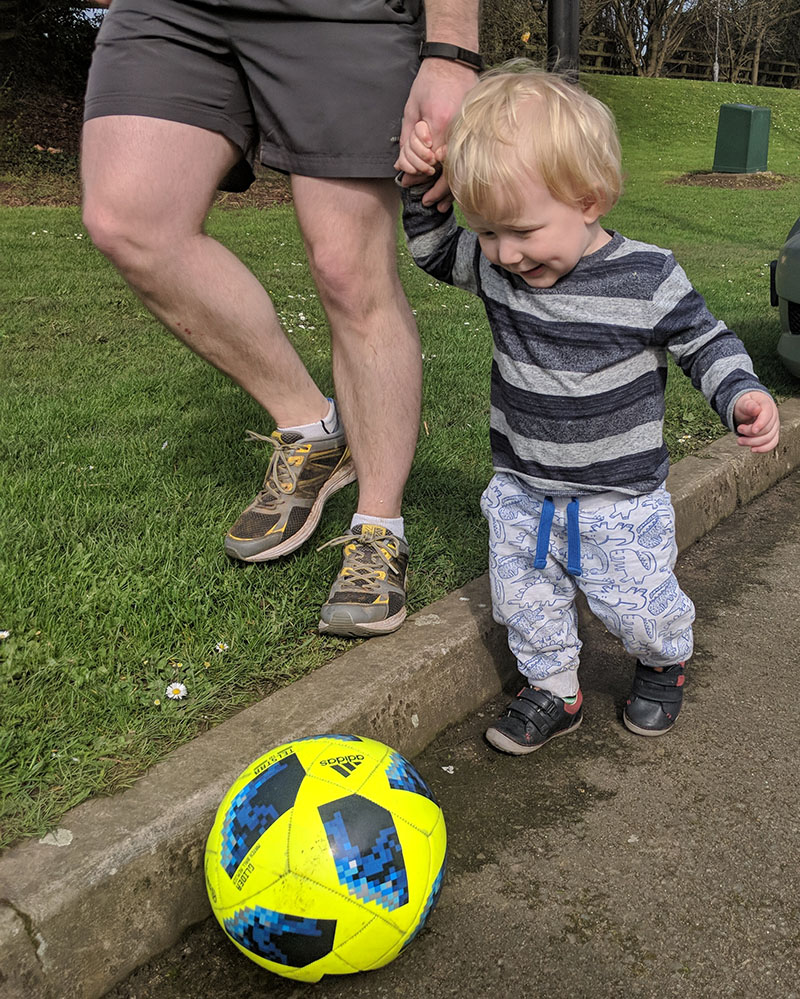 I had booked off this last weekend from my nightshift job.  Over the next few months I am also working as a coursework moderator for a GCSE exam board.  (Who needs one part time job when you can fit three in alongside life as a full time Mum?!)  As it will be my first year working as a moderator I was advised to attend a day-long course in Coventry before scripts for the 20 schools I've been assigned to start to come in for checking.
I was so excited to see that my course didn't start until 10am on Saturday morning, and that the course location was less than 4 miles away from a parkrun I'd not run before!  I WILL tick off some more parkrun tourism this year, despite having run all parkruns within an hour radius of my house now!
It was super hot on the morning and even though I'd brought along a towel and packet of wet wipes I decided (already sweltering by 8:15am!) that I was going to just jog around the parkrun at at a 10mm pace so as not to get too sweaty for my meeting which followed.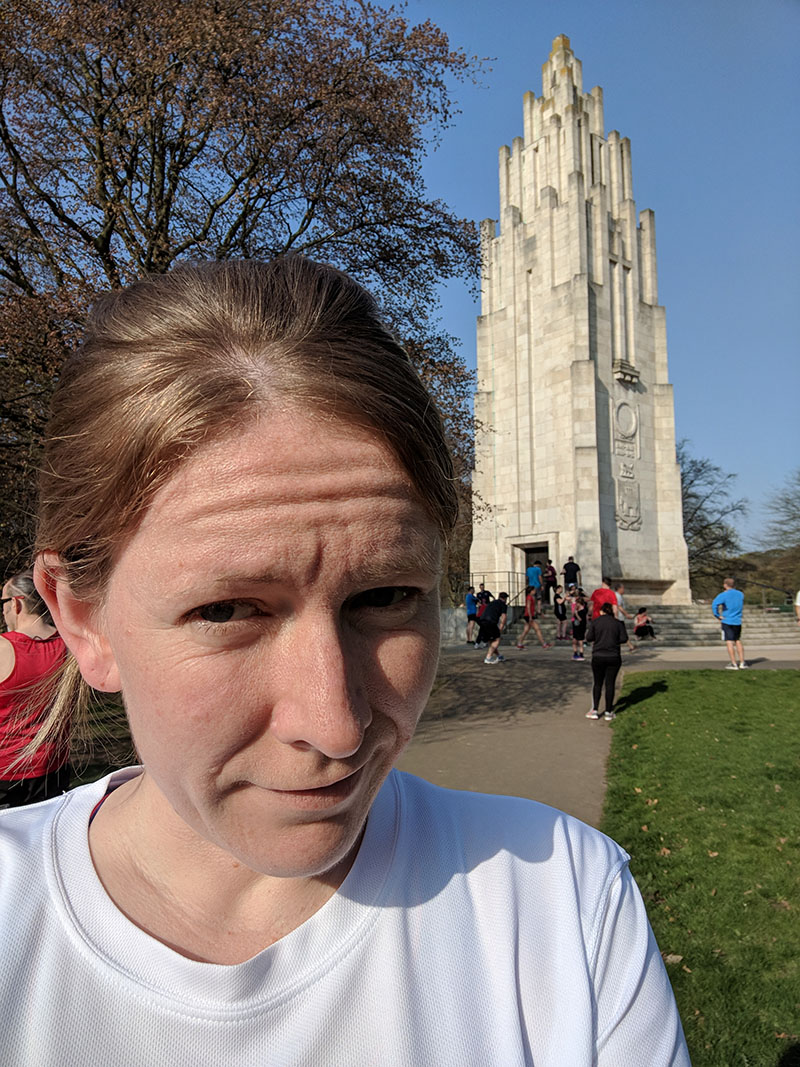 I ended up arriving super early (This really makes a change for me!) and so went for a lovely wander/explore of the park and off to find the toilets, which didn't appear to be open.  I wasn't desperate, so figured I'd be fine for another hour until I arrived at my course location.
Coventry parkrun is fairly similar in size to my local event, Northampton, although set in a much larger park.  Volunteers helpfully set out signs along the start lineup indicating where to stand in relation to the time you expected to finish in.  As the briefing had overrun slightly, we ended up heading down to the start a little late and so I decided to run at 9mm pace instead, figuring that I was going to get sweaty no matter what…better to be on time to my training course if I could be!  I ended up standing just behind the 28 minute board, although frustratingly heard two separate groups of runners declare that they would never run a 28 minute parkrun that day but at least they wouldn't spend so much time weaving near the start if they started from that position.  In actual fact, I spent the first mile overtaking other runners, despite running at the correct pace for a 28 minute time.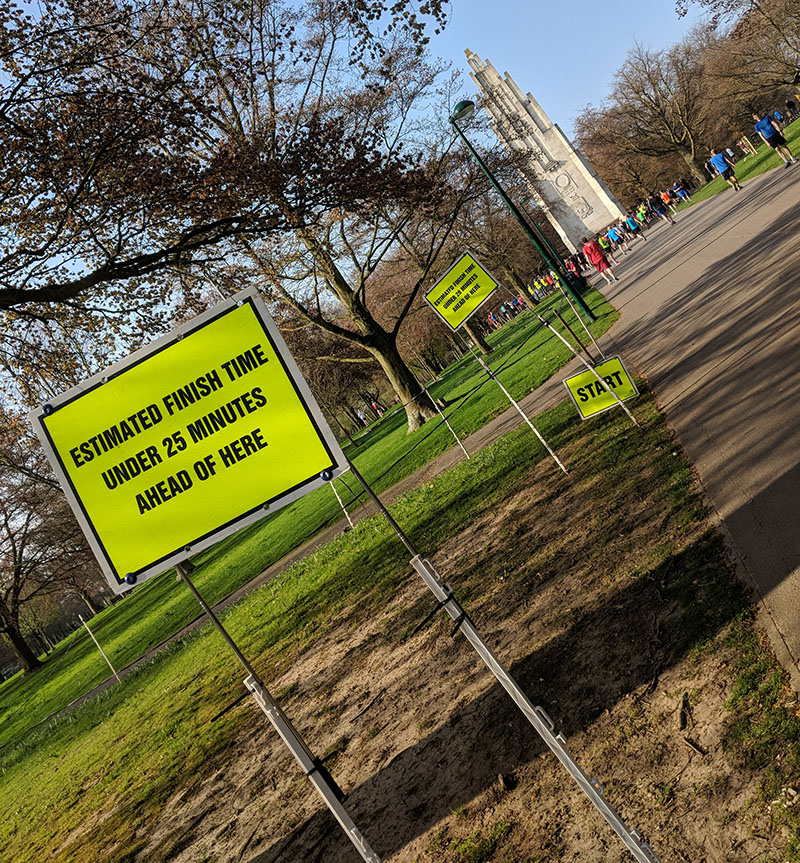 Interestingly I read somewhere that this year runners declared their goal time for Brighton Marathon during the expo, rather than when they initially signed up for the race, which was potentially a year earlier.  This a great idea as it reduces the number of people overoptimistic (or underoptimistic) about their finishing times, already knowing how their training has gone for the race before finalising their goal.
The Coventry course is a really flat one with a tiny hill at the far end of the park, and a long, very gradual downhill which follows.  It's easy to get into a rhythm and the course never felt too busy, despite the overtaking at the start.
By the last mile I really needed a wee, and on scanning my barcode had to race off to the now-open toilets before rushing back to my car.
Official time: 28:40
Position: 331/675
Gender position: 62/273
Age category position: 30/83
Typically I then took a wrong turn when driving to the training course and then as I burst through the doors with two minutes to spare I was met by a rather unhelpful receptionist who not only couldn't find me on the list because I'd stated 'Computing' instead of 'ICT', but proceeded to send me to the wrong room after I'd changed out of my running gear and having hurriedly wet wiped the sweat from my face!  The course lecturer found me wandering the corridors ten minutes later looking for the correct room, blaming the receptionist for telling me the wrong location!
I had a very enjoyable day learning about how the coursework moderation system works.  I do love learning and miss being in a classroom environment so often since finishing my last teaching position.
I'm working again this weekend and Dan is away on the Saturday but I'm already eyeing up my next spot of parkrun tourism for the following week.  The parkrun Chrome Extension isn't helping my addiction…!
I plan on writing about the Chrome extension in more detail at some point (I'm on the computer at my Dad's house tonight) but it is just so addictive!
I am loving the @parkrunUK Chrome extension! pic.twitter.com/Ysl9FnR8FM

— Mary P (@ahealthiermoo) April 6, 2018
How many different parkrun events have you run?
Do you ever run before work/meetings?