I love the parkrun Chrome extension so much I thought it deserved it's own post(!)
I first heard saw people mentioning the extension on the UK parkrun tourists Facebook page about a month ago.  I refrained from downloading the extension for all of about 3 days before giving in and adding it to the desktop computer in our office.
I would strongly advise downloading it if you love challenges, data, stats and all things geeky from a running perspective, as I enjoy spending ages looking at how to tick off the next part of a challenge now!  It has definitely helped respark my enthusiasm for getting back out there on a Saturday morning again.
After you have downloaded the extension and first click through to your personal page, you are greeted with your name along with the number of events you have run and a whole host of badges underneath this information.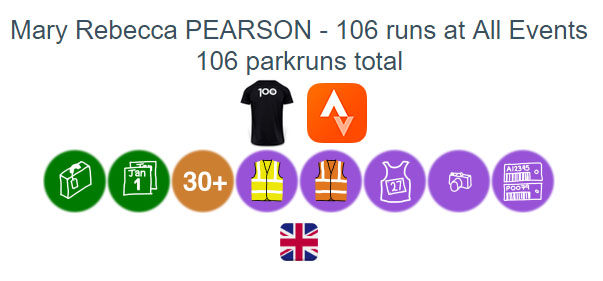 Working from top-bottom, left-right my badges are as follows; 100+ events run, Strava user, tourist, New Year's Day Double event, Bronze Level Obsessive (having run more than 30 parkruns during one year), Marshal, Tail Walker, Pacer, Photographer, Barcode scanner, UK event.
Underneath the badges a general overview of event times are given across all courses.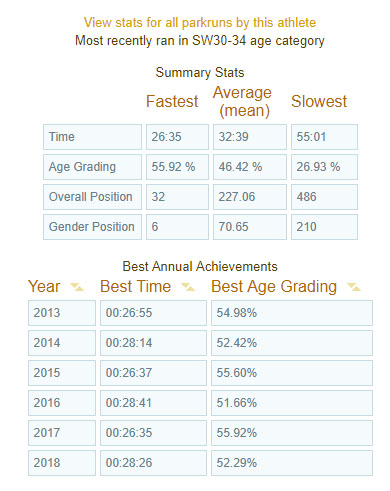 I quite like that my best times between 2013-2018 have alternated between 26:xx and 28:xx each year!  It almost makes me not want to put any effort in at the remaining 2018 parkruns just to keep the pattern going!
After this comes the challenges, – the fun part!
First up, is the tourist challenge – one taken on by so many parkrunners already.  Once you reach 20 different events (I achieved this right at the start of the year), you can claim your Cow Cowl so that other parkrun tourists can spot you as you are out running different events, which I think makes for a great conversation starter.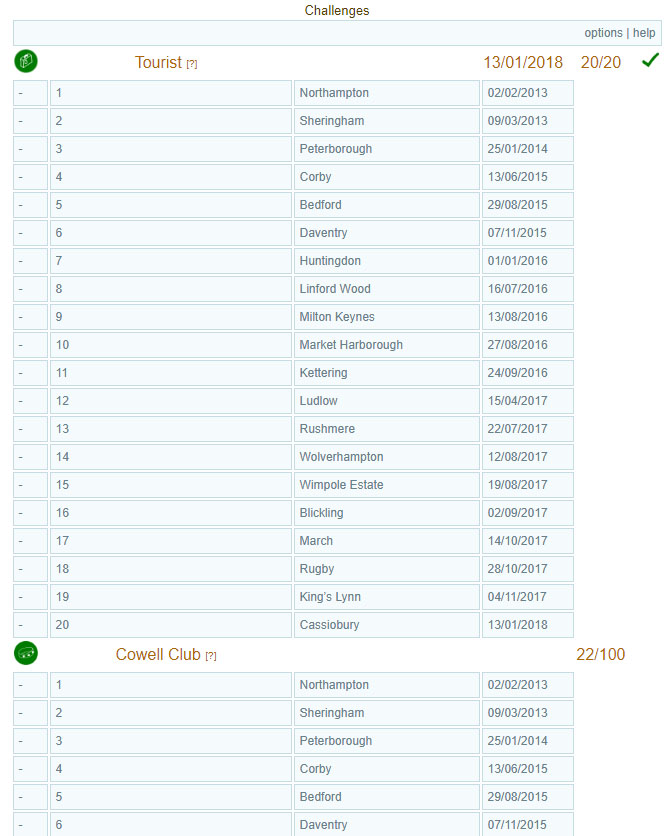 The Cowell Club underneath is similar, but for the hardcore tourist – traveling to 100 different events or more.
The Alphabeteer Challenge is one that I've heard a few people take on recently, including Anna, who only has a couple more letters to tick off.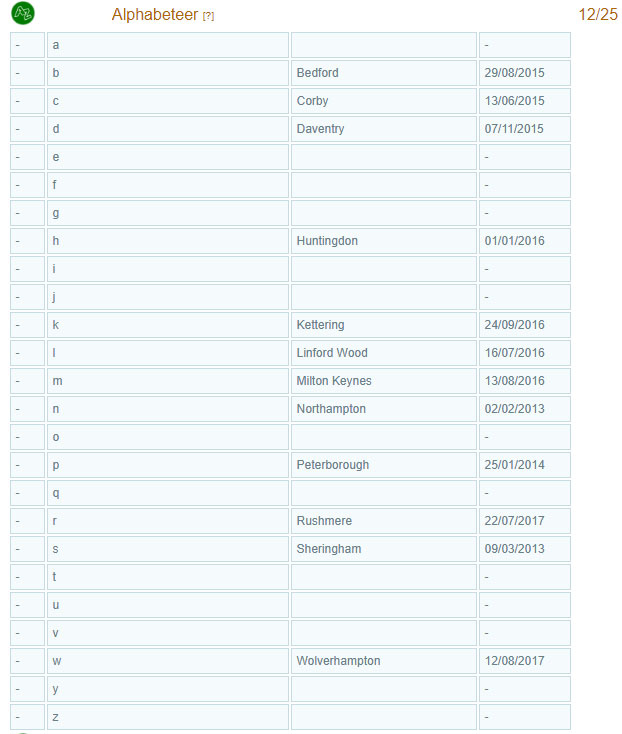 There isn't currently a parkrun starting with the letter 'X' so there are only 25 events to run to tick off this challenge.  Annoyingly, quite a lot of the events I've run have the same letter, so I'm not even halfway through this challenge yet.  (Kettering/Kings Lynn, March/Milton Keynes/Market Harborough, Wimpole Estate/Wolverhampton…)
The Single-Ton and Double-Ton challenges are all about completing 100/200+ events all at just the one course.

I was surprised that I had completed 45 events at Northampton to be honest.  It felt like it took me forever to hit that magic 50 total events milestone a couple of years ago, and now I've run nearly that many just in Northampton!
Stopwatch Bingo is one of my favourite of the challenges.  The idea is to collect finishing times with all of the seconds between 00-59.

I'm only 11 away from completing this one but really annoyingly it's not a challenge you can plan to complete, as there is no guarantee my Garmin time will match that precisely of the parkrun stopwatch!
The Pirates! and Stayin' Alive challenges are just for a bit of fun.
Seven Cs and an R for the Pirates! challenge, and three Bs and three Gs for Stayin' Alive.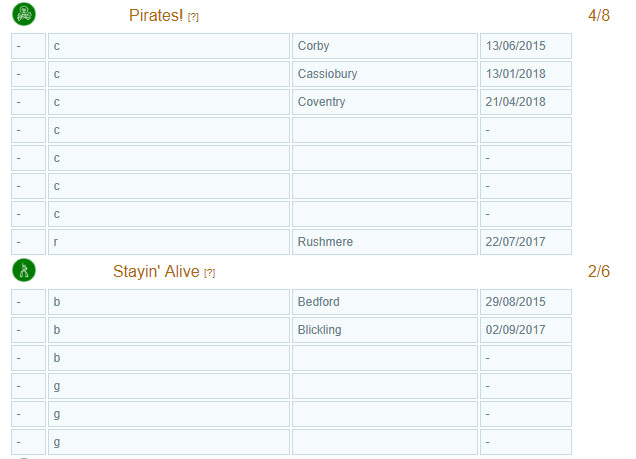 I'm slowly working my way through the Cs, but we have no Gs anywhere near where we live.  I think I might have to base our next holiday break around a G parkrun!
Compass Club is fairly self explanatory…running events which start with each each of the four compass points; North, South, East and West.

Obviously I've already ticked off Northampton, I guess South could be Southampton, East…Eastleigh?  West…Westmill?
The Full Ponty is about completing the three 'Ponty*' events, and Bushy Pilgimage is about heading down to complete the event where parkrun first began.

I'm not sure I'll get to complete The Full Ponty, as all the Ponty runs are far away from me.  Bushy is also a fair distance to travel, but I would love to complete this event one day.  I know that it's one of the largest (the largest?) of the parkrun events, with more than one finishing funnel there are that many runners.
The NYD Double – on New Year's Day numerous parkruns across the country pair up to stagger the start times of their events, meaning that on that one day of the year you are able to run more than one event.
Groundhog Day – this award is given to someone who finishes a parkrun event in the same time for two back-to-back weeks in the same location!

Running the NYD Double has become a bit of a tradition for me over the past few years.  I first heard about the double back in 2015 on New Year's Eve after having already consumed a little too much drink and having already stayed up a little too late, but I've made it for the challenge the last three years.
I'm not sure Groundhog Day is even possible?!
Underneath this is displayed the Regionnaire Challenge; where every parkrun in the world is listed under different Region headings.
Some of the regions are quite large, and where I live is right in the middle of a couple of the regions, so I'm still a long way from completing any of these.  For example, I have only completed 9/65 events in the East of England region.
Next up, the Bronze, Silver and Gold Level Obsessive badges are for regular parkrunners who can commit to completing more than 30 (Bronze level), 40 (Silver) or 50 (Gold) events within a year.

I think the Bronze Level is a fairly achievable challenge for me most years.  40 would be doable at a push, but I'm not sure I would be able to commit to 50 Saturday mornings in a year.  It's too stressful parkrunning before rushing off to a wedding or Christening!
Just before displaying all of your personal event runs at the bottom of the page, your volunteer roles are shown.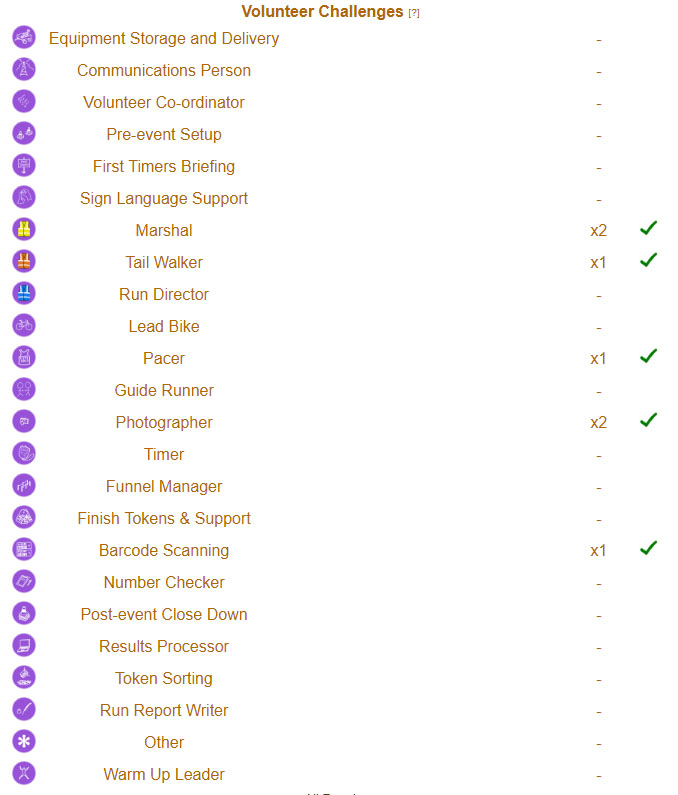 One of my targets for this year was to volunteer more at parkrun and give something back to the lovely community.  I've already volunteered as pacer (30 minutes) and barcode scanner in 2018 and I'm looking forward to trying a few more of these roles out over the coming months.
Have you downloaded the Chrome extension?
Which is your favourite of the challenges?
Do you know anybody who has actually completed the Groundhog Day challenge?!