I had initially planned for Milton Keynes Marathon to be my target race for the 2018 Spring running season before I signed up to the South Downs Way 100.  When the weather forecasters predicted the hottest May Bank Holiday on record though, I was glad that this marathon wasn't my sole goal for the Spring and I changed my plans for the race.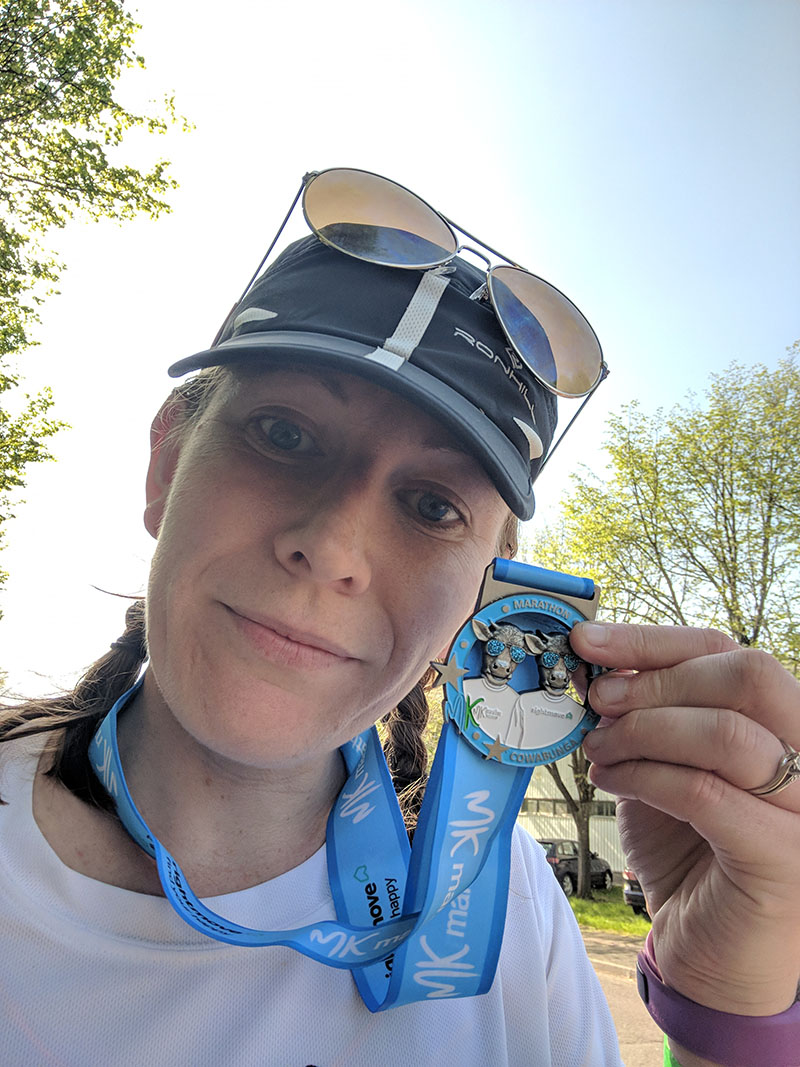 I say I changed my plans, but I really wasn't sure what to change them to!
I'd had a great run a week before race day.  I'd set out to run eight miles at tempo pace with a mile warm up and a mile cool down.  I found the run easy and could have quite happily turned this run into 10 or 12 miles at tempo pace, had I not needed to come home and get ready for work that evening.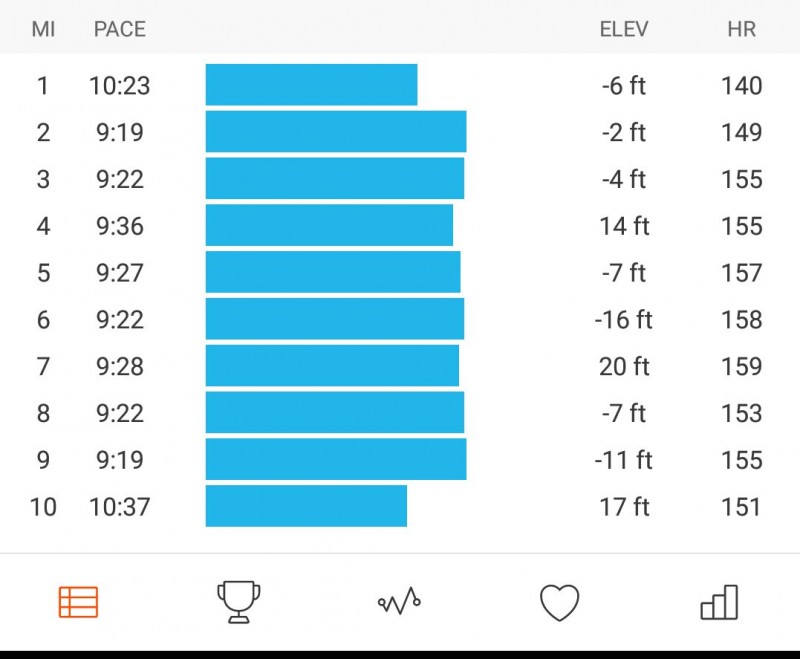 It gave me a real confidence boost going into marathon week, although Oscar then became ill at the start of the week and very clingy.  He passed whatever it was onto me and we both ended up feeling rather rubbish for the rest of the week, resulting in Oscar missing two of the groups he usually attends and me missing a large batch of my training runs.
Added onto this I would be working nightshifts the weekend of the marathon.  I had decided that I am best off saving my holiday allowance for target long distance races over the year, and as Milton Keynes Marathon was no longer a target race and wasn't one of the longer events planned for this year I ended up not booking the weekend off.  As luck would have it though, my manager messed up my shifts the previous weekend, calling me in on a day when I was not needed, so I managed to convince him to let me have the Sunday night before the marathon off in exchange.
It did mean though that I worked through the night until 7am on Friday (with no pre-work nap as Oscar was poorly) and then through the night again on Saturday with a two hour nap in the morning before traveling over to Norfolk for a friend's baby's Christening.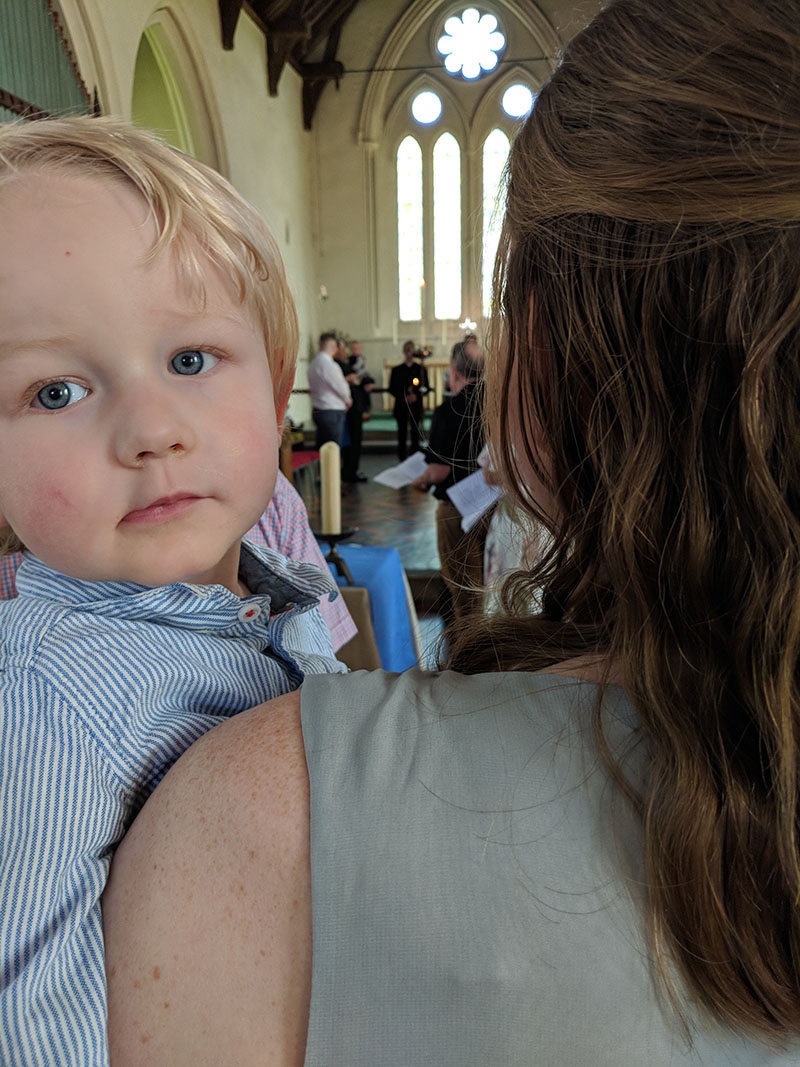 Back home by 6pm to pack my bag and get an early night, only Oscar (who was still feeling poorly, teething and was definitely feeling the heat from the day) had other ideas.  I might as well have gone to work and earnt some money for all the sleep I got that night!
Despite poor sleep and having felt poorly that week, I did still manage to get an amazing night-before-the-race pizza in.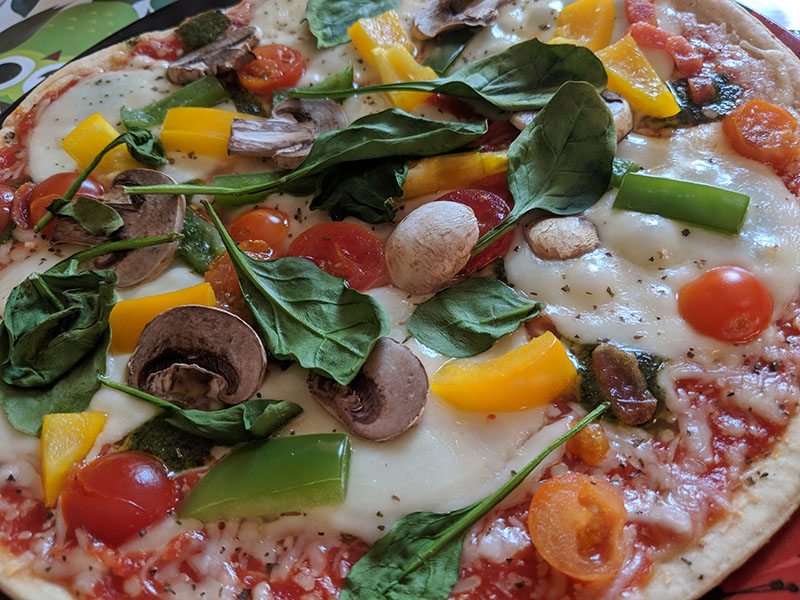 So, no sleep, on the back of being poorly and on a day which turned out to be 28 degree heat…very glad I'd struck Milton Keynes Marathon as my goal race!  I was sweating before I even got into my car that morning!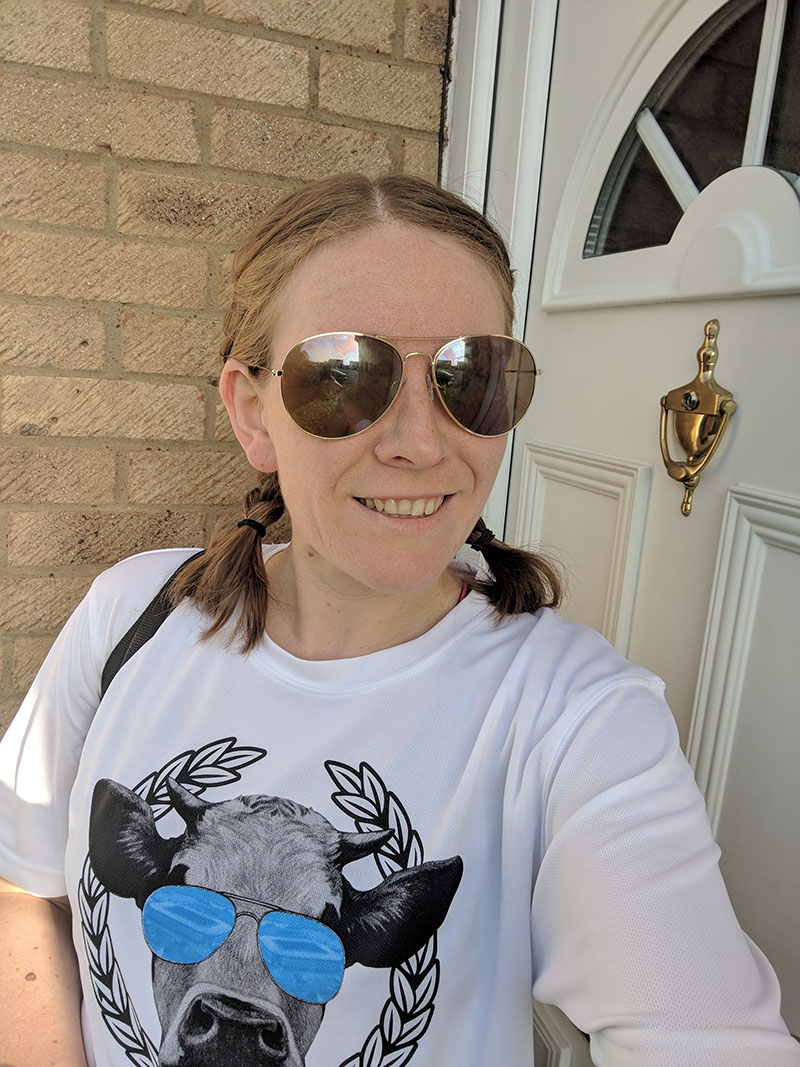 As an ambassador for this year's marathon I was given a priority parking pass and invite to the VIP room where there was cake, drinks and nibbles laid on.  Best of all though, – no queues for the toilet as we had our own(!)  I nervously stood by a table in the room having only met one of the other ambassadors before the weekend.  I needn't have worried though and I was soon busy chatting away to the other runners about training, race plans and shoe choices.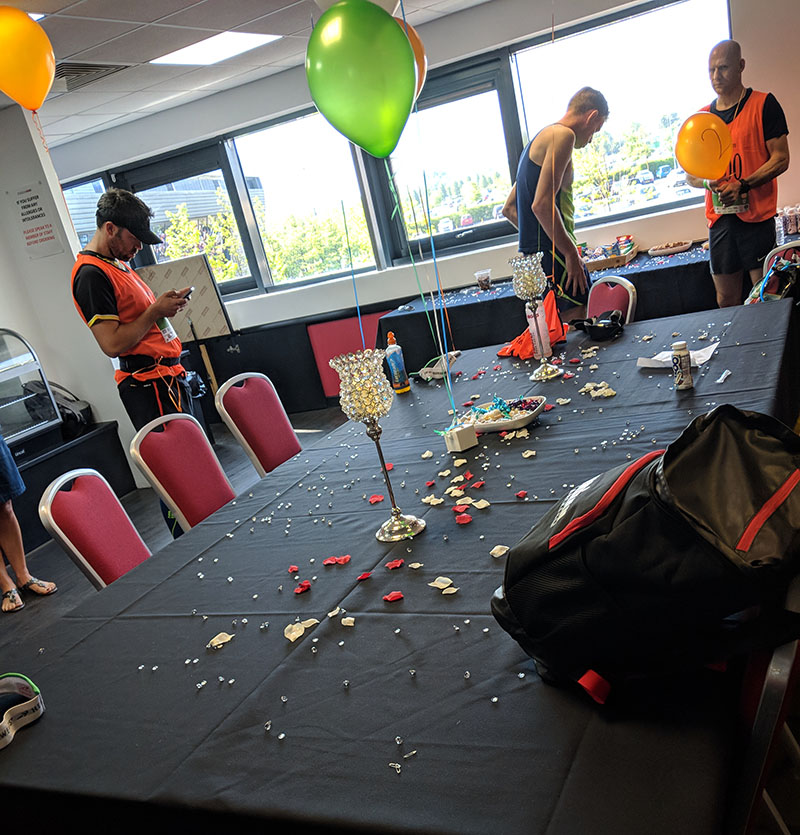 A little after 9am we headed downstairs along with the pacers for the race to have our photograph taken on the pitch.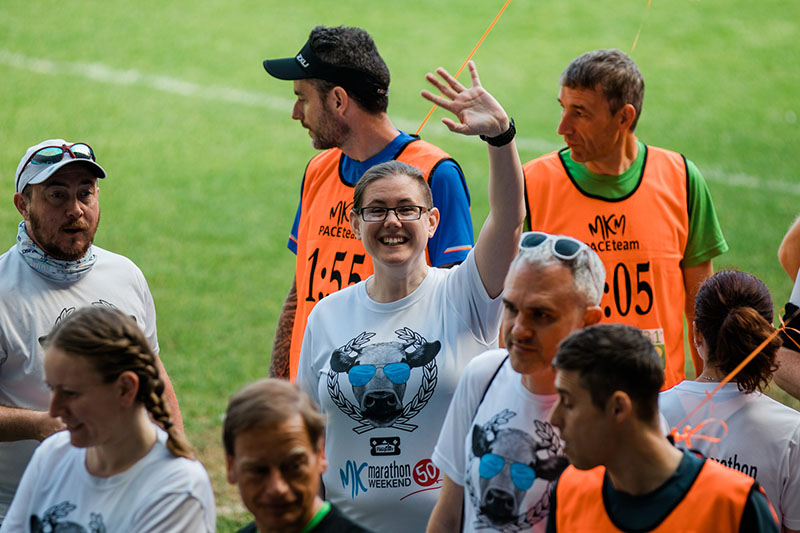 (I'm in the bottom left of the shot.  Picture by Tim Bullard)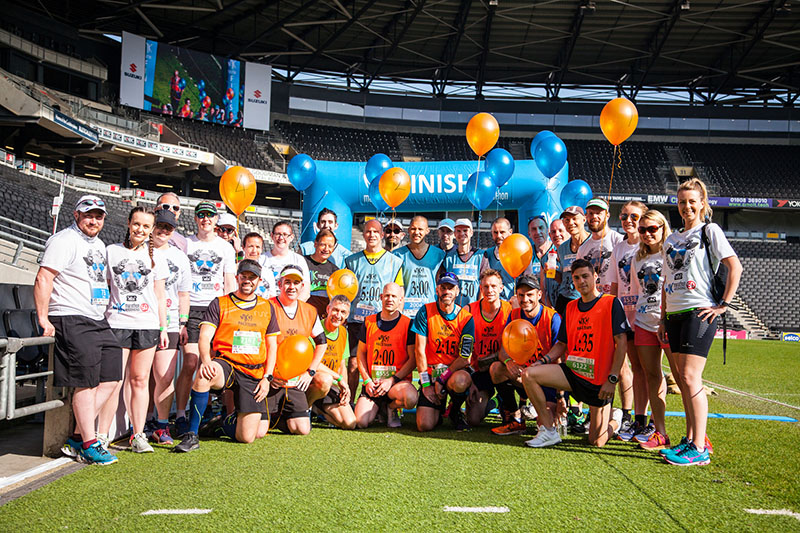 (I'm third from the right, wearing sunglasses.  Picture by Walker McCabe Photography)
It probably wasn't the best idea to have the pacers knelt down in front of everyone as their balloons kept bobbing up everywhere!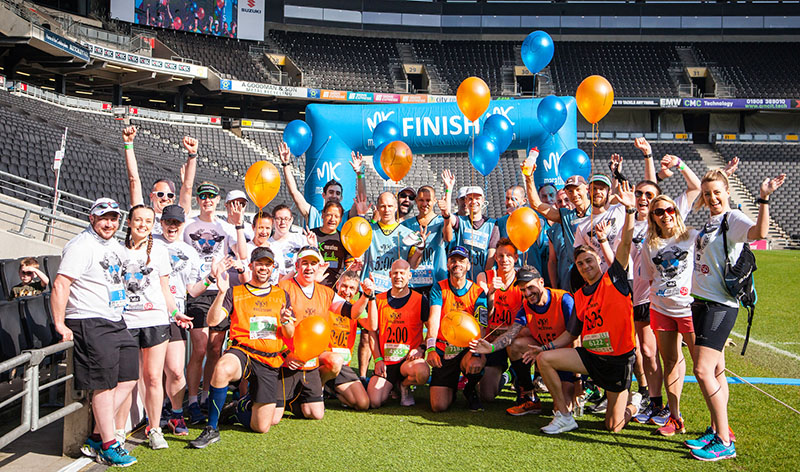 (I'm third from the right.  Picture by Walker McCabe Photography)
When we returned back to the VIP suite 'good lucks' were said as we all dispersed to find friends and family before the race and to carry out any pre-race rituals.  I made my way back over to the spot by the entrance where WDAC runners always seem to congregate before the start of the MK event each year.  There were several of our runners there and I happily chatted away sizing up who was running which distance and who would be in my start pen for the event.
I nipped back to add some more vaseline to my arms before the start.  I knew that I would be pouring a lot of water over my head in order to keep cool and didn't want the top of my arms to rub as a result.  Luckily, we were allowed to leave our bags in the VIP area during the day, which meant that I didn't have to worry about the bag drop and could check my phone/make changes to my kit until the last minute.
The start was just outside.  Slightly different to previous years when I have run it, – this time the snake of runners waiting to start curved back onto themselves.  I was in the blue start, the one before the last pen and so found where I needed to go and located the 4:45 pacer I had decided to start alongside.
Although I didn't enter the pen until 9:50am (with a 10am start time) it took a fair while before we crossed the line.  I began to feel a little queasy and 'penned in' despite not really being packed into the pens and so located a van parked to the side which several runners had already made a bee-line for and were leaning against in the shade.  I felt much better after a few minutes of time out in the cool and then made my way back to the starting pen where I bumped into Kev from my club.  He had been out crewing another club member at the Thames Path 100 that weekend and is coming down to crew a different member when I run the SDW100 next month, so we spent 20 minutes catching up and talking tactics before we crossed the startline ourselves.  It was nice to take my mind off how hot things were and how poorly I had felt whilst stood still in the heat that morning.
I ran with Kev for the first couple of miles before he disappeared behind a bush.  Kev never wears a watch but had planned to run somewhere around 5 hours that day (5h 00m 19s!) as it was his longest run in quite a while following injury.  Just before two miles he asked me what pacer had the balloon bobbing away just in front of us.  I told him that it was the 4:45 pacer, but that I thought he was probably going a bit quickly.  (My first two miles were 10:20 and 10:30 and the 4:45 pacer was a fair way ahead of us, despite crossing the start line alongside me.)  Someone turned around to say that he was just catching up with the runners he was pacing as she had just seen him nip into the hedge, but even so, he was going too quickly.  I had heard him mention that he intended on running the flatter bits faster so that the group may slow down on the uphills.  It's a tactic used by lots, but I personally prefer to run fairly evenly if possible.
I made the decision to run my own race, without pacer and aim for 10:30mm – up hills, along the flat and also on the downhills (were there any of those?!) keeping an eye on my heart rate as I went.  I have really enjoyed my tempo runs lately working towards a set pace for each mile and find that it gives me a mini focus all the way through a session, breaking a run up into manageable chunks.  Dan was planning to bring Oscar out to come and watch the race and would be at mile 12.5 and mile 15.5, both shaded areas and fairly close together so that Oscar wouldn't be out for too long in the heat.  The plan was to hold onto 10:30mm pace for as long as I was able, but to reassess at mile 11, just before seeing Dan and Oscar.
It felt easy.  Really easy.  I had to keep slowing myself down.
As a race ambassador (and also due to not wanting to rub in the heat!) I had decided not to wear my club vest for the race, but instead wore my MK t-shirt and found it super comfy and cooling with it's light colour.  One of my favourite things about the switch backs at the start of the MK marathon/half route is that you can easily see other club vests coming back in the other direction and cheer other runners from our club.  I knew that I wouldn't be spotted by any club runners this year though without my club vest on and almost felt a little like I was secretly spying on them all running by!
Miles 1-6: 10:20, 10:30, 10:30, 10:24, 10:22, 10:21.
I had been told that a group from WDAC were biking over to the six mile point to cheer the runners on so kept a good look out for them from the 6 mile marker but saw no signs of anyone.  There was a lot going on at this section as we ran through a little park, passed the section for the first relay runners to handover to their teammates and crossed the first block of timing mats, so there were lots of people around and I hoped I hadn't missed our cyclists.
Heading towards mile 7 though I remembered there was a pub on the side of the road and knew they would be fairly close.  Sure enough I spotted them cheering directly opposite and madly waved to get their attention, almost running into them before they spotted me out of club uniform!
It had started to heat up now.  I'd been passing occasional walkers from about 3 miles in, but now many had adopted a run-walk technique, especially up the small 'hills' that cropped up.  I was still feeling good, my heart rate was still fine (160ish) but I was feeling rather hot.
Miles 7-11:  10:23, 10:29, 10:26, 10:27, 11:01.
I dropped my gel at the start of the 11th mile and loudly swore twice as it had interrupted my stride whilst running an uphill which I then decided to walk.  I shouldn't have walked as the sweat then poured out of me and I could feel myself heat up further.  It was at this point, looking around me and seeing not another single person running up that hill that I decided to just enjoy the rest of the race and make the most of the day.  SDW100 is my main aim for this season, not MK Marathon and I wanted to be able to continue running the rest of the week, not have to take a week off after running a hard road race where I might shave a few minutes from my time.  There would be time for that later in the year instead.
So, from that point I did not care about my time at all and thoroughly enjoyed the race experience in a way I feel you only can if time does not remain a factor.
I sat down with Oscar on the floor for a minute at 12.5 miles who was busy munching on his picnic and excitedly shouting at me "Law Law – run, run, run!" as he had just seen Laura run past.  Dan told me that Laura was only a little way ahead of me, despite initially aiming for a sub 4 marathon that day.  She had unfortunately fallen early into the race and had ripped open her knee.  Dan had loaded her with wet wipes to try and help stop the bleeding when he saw her, but her run had changed to walk now as her knee began to stiffen.
I ran on.  The people of Milton Keynes were AMAZING on Monday.  They came out in their hoards to support the runners.  I ran under more sprinklers than I could count.  Dipped my hat in at least four buckets of water to cool my head down, enjoyed jelly babies, orange segments, watermelon and a couple of slices of frozen melon.  <<  This was the best thing ever.  I'm already putting a request in for frozen melon on the SDW100!  There were so many kids (and adults!) out with water guns on the course and it was so refreshing even when the squirts came to the face!  I took water from every water station, high fived hundreds of kids, thanked all the volunteers and even had a little dance to the band on route.  I passed local residents kindly letting runners sit down on their garden chairs and one even nip in for the loo!  I always thought London Marathon had a great atmosphere, but London was NOTHING on the buzz that was Milton Keynes on Monday.
I plucked up the courage to start a conversation with a runner wearing a Run Mummy Run top, chatted to several runners about how we had been training in ice and snow for a marathon in 28 degree heat and let one woman know that her belt had ridden up her back, potentially causing nasty sores for her later on.
One of my favourite photos from the race is one which Dan took as I was running towards Oscar at mile 15.5.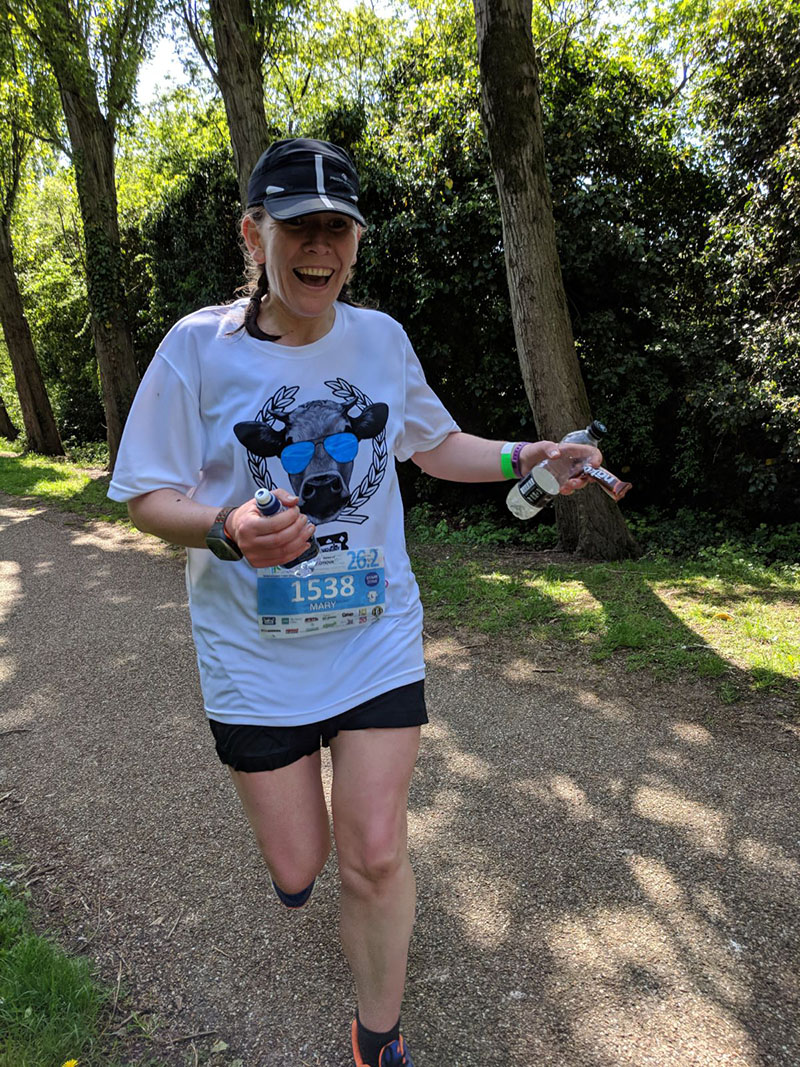 I stopped for a little while here to reapply some suncream, hand back the nakd bar I knew I wouldn't eat and collect some 'Free hugs' from Oscar.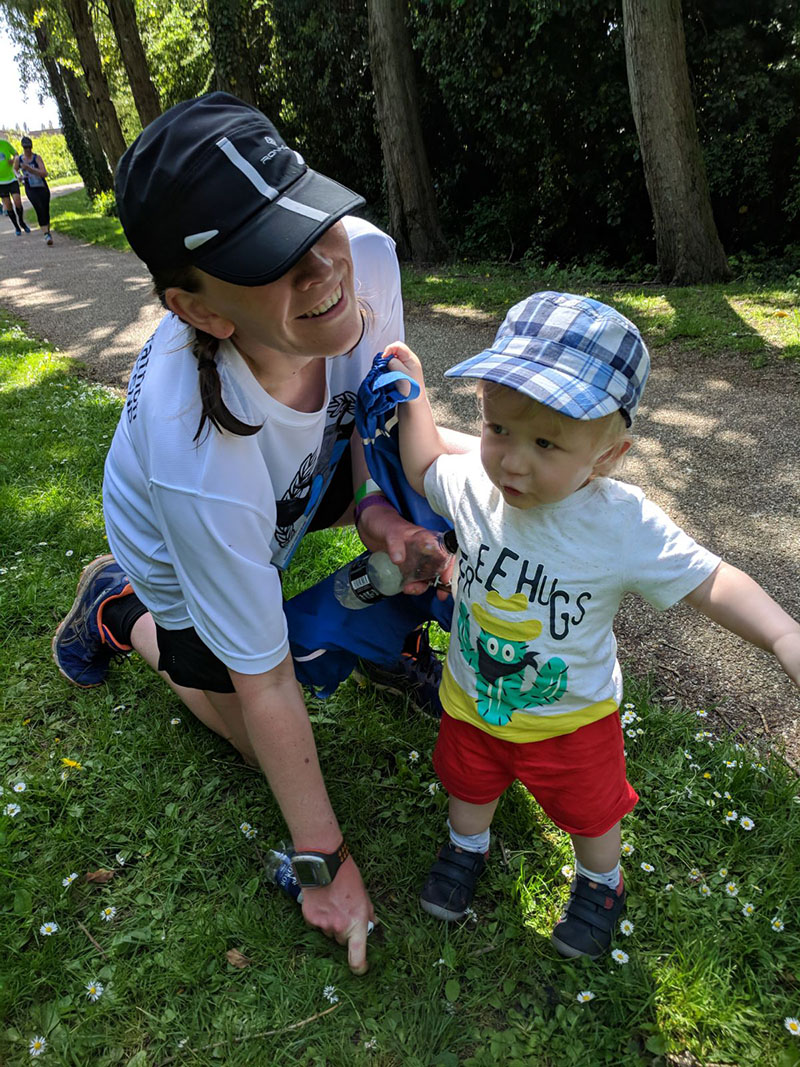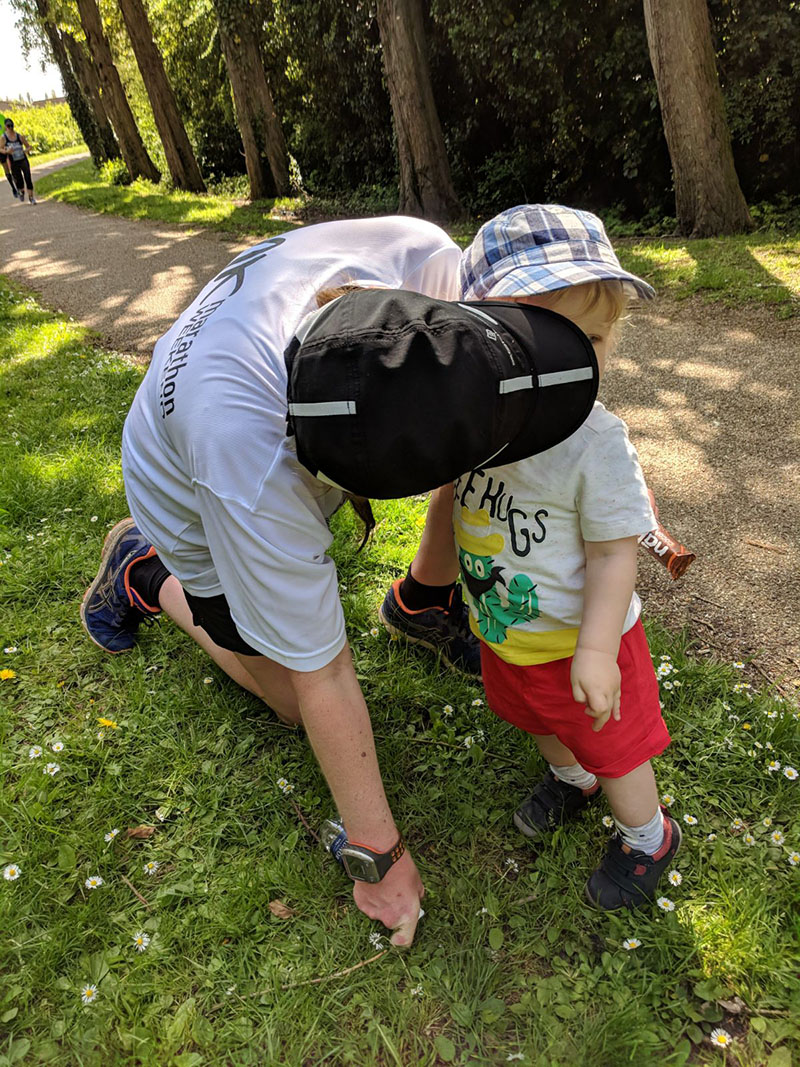 Dan said that Oscar had been enjoying cheering runners on that morning and had been busy clapping away and shouting "Run, run, run!" at everyone that passed.  (He'll make a great coach!)
My one year old was out supporting on the #MKMarathon course yesterday lunchtime in the shade. He thoroughly enjoyed cheering everyone as they ran by! pic.twitter.com/qRHLVBV8V4

— Mary P (@ahealthiermoo) May 8, 2018
I bumped into Laura just after 18 miles and walked with her for the following mile before jogging off so that my legs didn't stiffen up.  We saw a couple of members from our club here where I nabbed some watermelon slices and another bottle of water.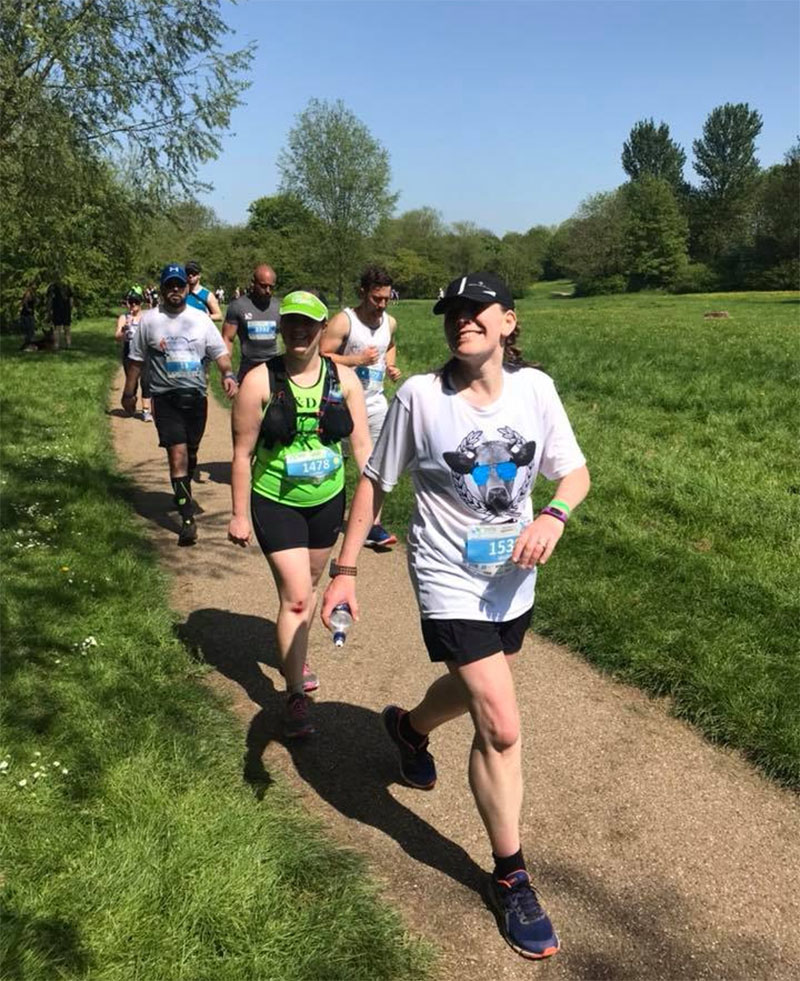 I was a little confused that I hadn't seen any other pacers pass me, but it turns out many had struggled on the day, despite running times often an hour slower than their own PB and pulled from pacing duties.  I have never seen so many people walk during a marathon before and there were a couple of miles where I could probably have counted on my hands how many runners I saw!
I had taken a bottle of nuun water from Dan when I had seen him at mile 12.5 but to be honest my body was telling me that I had probably drunk too much water and not enough electrolytes/other stuff.  I was struggling a little with my right ear, which sounds ridiculous, but it's usually the first telltale sign for me that I need to slow down on the water intake. I walked a little way with two other ladies for a couple of miles from mile 22, deciding to lay down on the verge to cheer some runners past by mile 25 for a little while.  I had salted up a fair bit by this point and felt like I was beginning to get heat stroke, so decided to take it fairly easy and took maybe five minutes to myself in the shade on the side of the path before continuing on.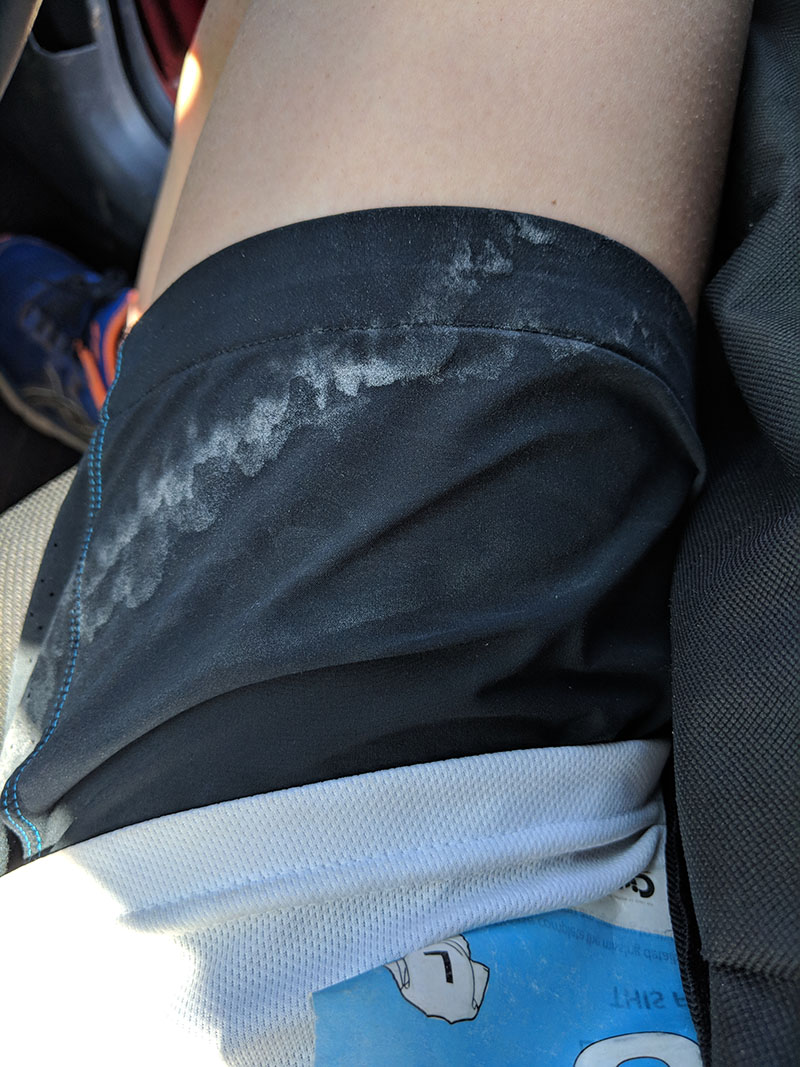 I obviously had to run the finish though.  Milton Keynes Marathon has a fabulous finish – running down into the stadium and then 3/4s of a lap round the pitch before heading under the finish gantry.  I looked up to hear cheers from other runners in my club shouting me round, and then also saw a runner in a giant rhino costume not far behind.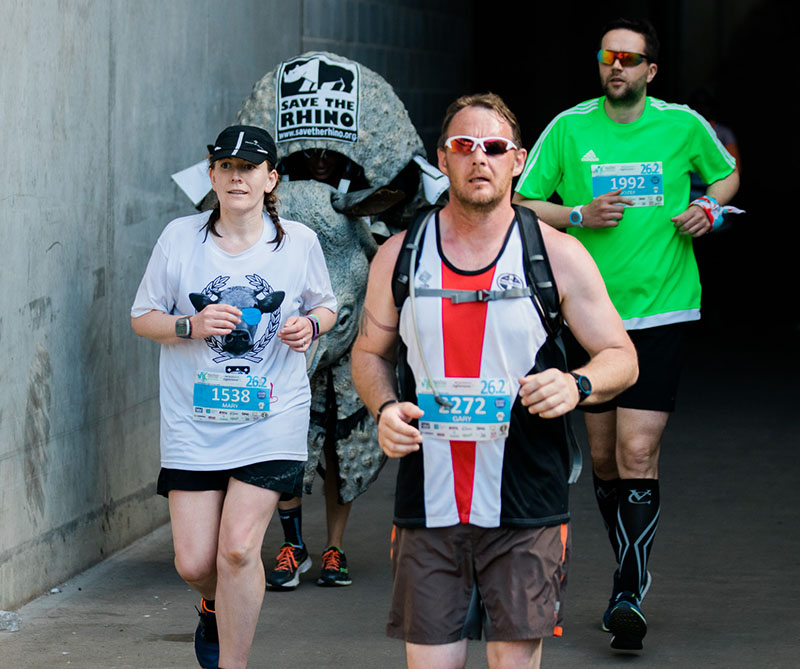 (Picture by Tim Bullard)
Erm wow.  Just take a moment to think about how incredibly impressive that woman was.  She ran a Rhino PB that day – a little under 5h 30m in that insane heat whilst wearing a ridiculously hot costume.  Legend!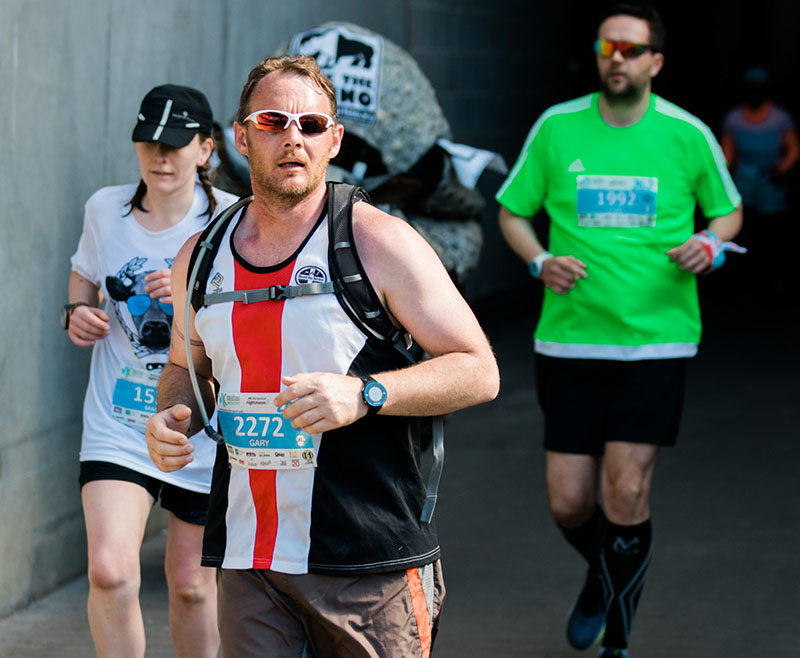 (Picture by Tim Bullard)
I crossed the finish line and immediately turned to congratulate her.
To everyone who struggled with the heat at yesterday's #MKMarathon , this legend ran IN A RHINO COSTUME! 😲 https://t.co/jmlID2C2rB

— Mary P (@ahealthiermoo) May 8, 2018
My slowest road marathon by far…
Official time: 5:32:01
Position: 1625/2028
Gender position: 375/557
Category position: 100/150
…but for the first time I genuinely didn't care.  I had thoroughly enjoyed myself that day.
The layout following the finish was slightly different this year.  Normally runners head back out through the underpass and down into the underground section to collect medals and goody bags.  This year though, runners had to walk up the steps inside the stadium collecting their medals and goodies as they went.  I heard a few people moaning about this, but one of the benefits to taking the race easy was that I could jog up the steps at the finish and by Tuesday my legs even seemed to have forgotten that they had covered 26.2 miles the day before!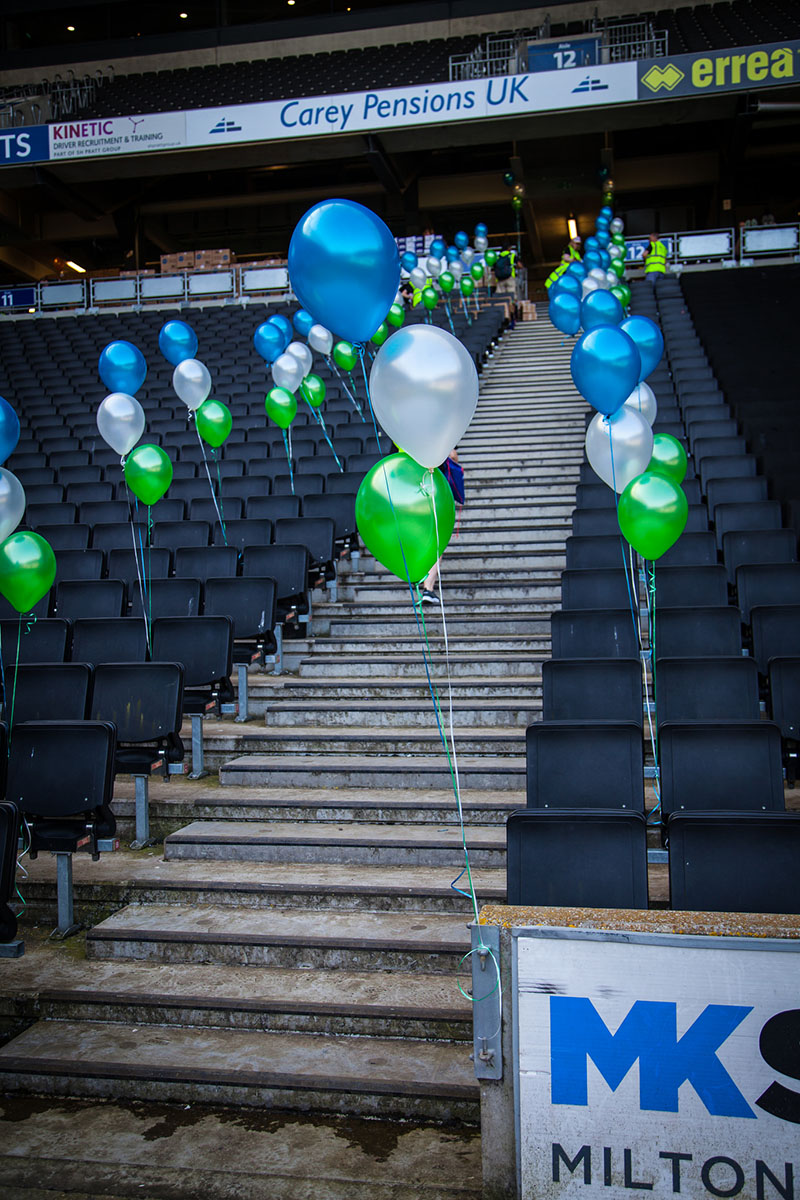 Another benefit was that my official photographs look great!  This almost never happens to me in a race.  I'm usually the beetroot-red, top-ridden-up runner with her eyes closed!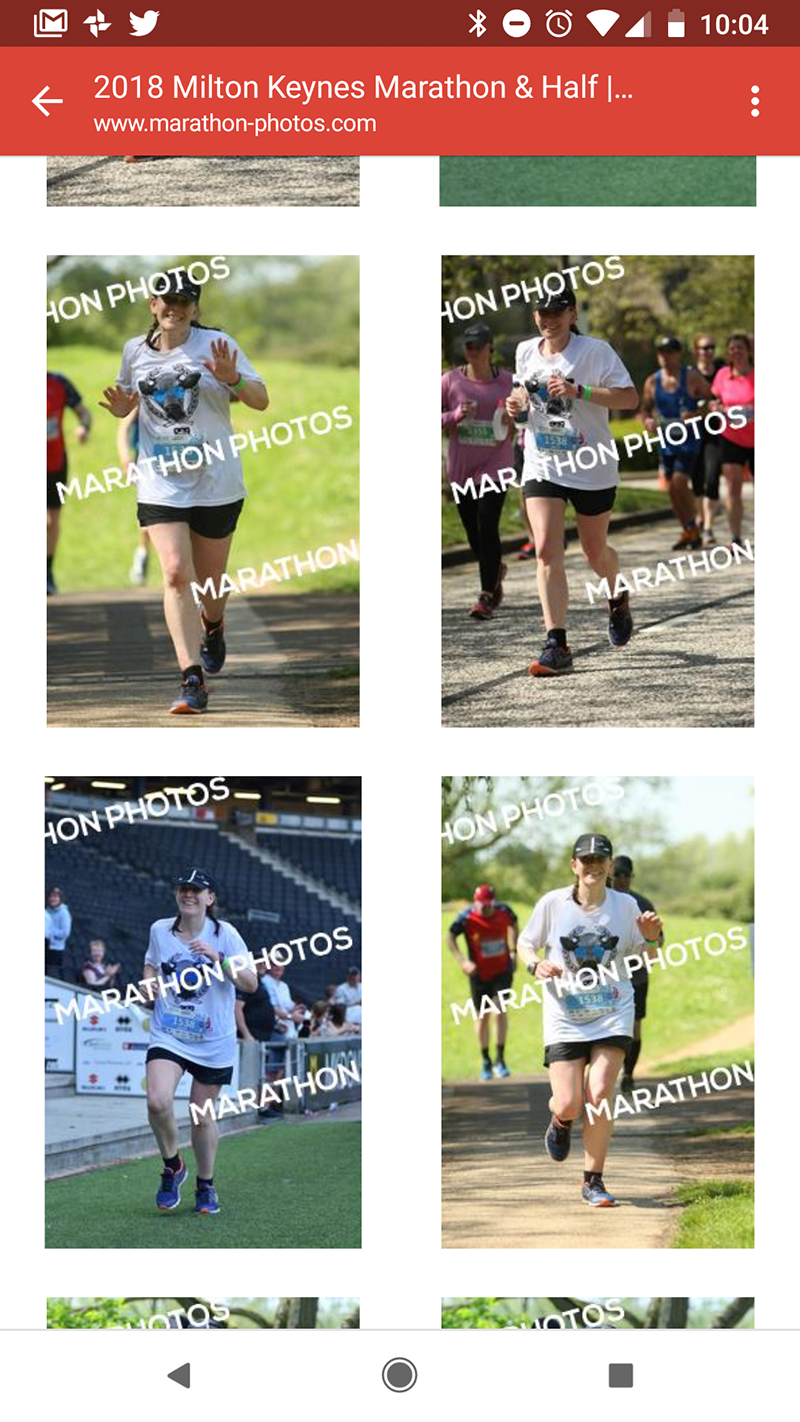 I'm very tempted to buy them, despite the result of the race being so poor.
A post-race family trip to the pub for dinner was definitely in order on Monday night!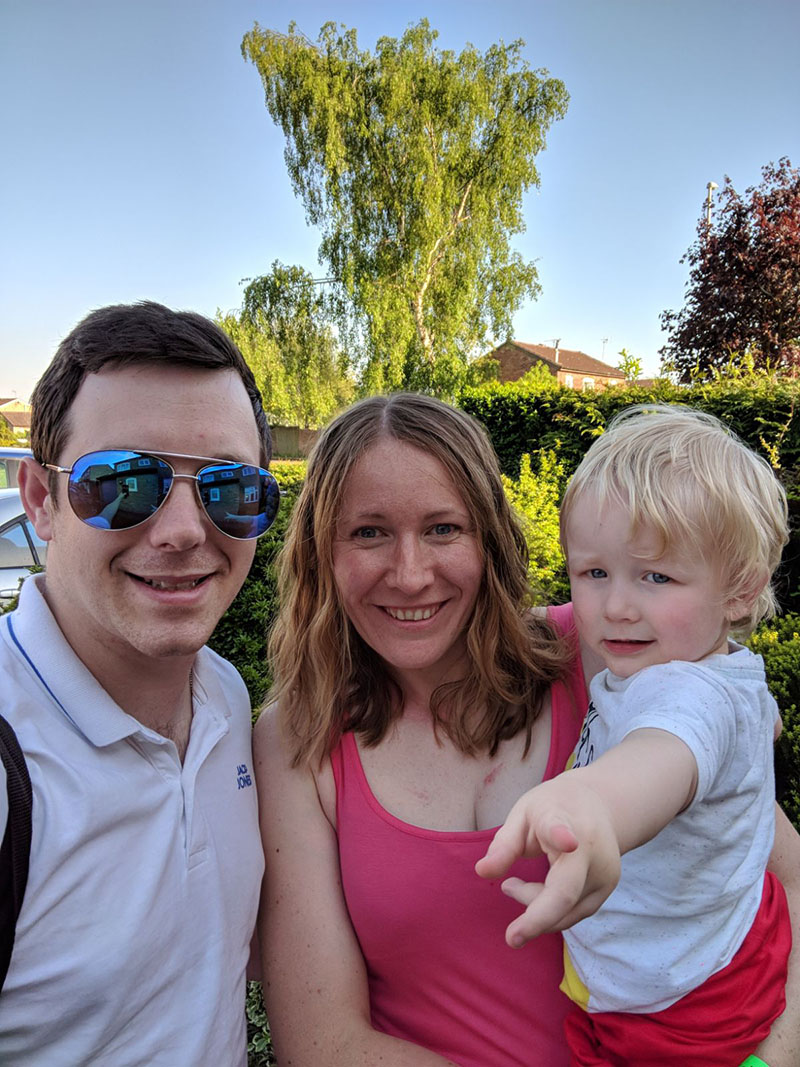 I'm just waiting for the date for a Decathlon brand trip in September before booking an Autumn marathon to target this year, but after the 100 I'm looking forward to running a few marathon distances again, so will be booking up more soon!
Did you run out in the heat on Monday?
Do you suffer from running in the heat?
Have you run a marathon 'just for fun' before?
Photos: to buy or not to buy?