This might be a bit of a shorter race recap to my usual double posts(!) but I want to finally get something down on the blog about the Shires and Spires 35 mile race from the 20th May (six weeks ago!) before I forget all the details of the day.
The last few months have been absolutely insane when it comes to work and sleep and at times I have felt like I'm just existing and getting through the days, rather than actually living them.  Picking up 15 schools to mark coursework for an exam board and working extra night shifts unfortunately both fell at the same time that Oscar dropped his two hour daytime naps and began to kick up a fuss about going to bed.  This meant that some of his bed times dragged on for more than three hours before he was asleep and I could finally head downstairs to tidy up after the day before heading out for a nightshift/collapsing into bed myself.
We had it so easy for so long that it made it feel all the more difficult.  I wrote about Oscar's eighteen month routine here – he used to be fast asleep by 7:45pm back then and it already seems like a lifetime ago, not just the three months that it actually is!  We've switched him out of his cot into a toddler bed now and this seems to have helped somewhat thankfully.
I've also handed my notice in at Tesco to finish at the end of the current rota (three more weeks), which is a relief (in some ways, but also a worry over the lack of guaranteed regular money coming in).  But it will allow for more family time, more me time, more running time, more relaxation time, less stress and upset and other opportunities to provide an income.  All in all, I know it's for the best, but that extra guaranteed £1000 a month is going to be hard to do without until we settle into a new routine.
Tesco was never going to be forever though.  When Mum was very sick last year Oscar and I drove the 200 mile round trip to visit 3-4 days each week.  This is obviously something I do not regret, but our savings took a massive hit and after Mum died and I began visiting less I had to take action to try and replenish our savings again, which I have now been able to do.
Anyway, enough of the life update, more of the running…I've run a parkrun, 35 mile race and ran 78 miles of my first 100 mile attempt since I last blogged, so I'm hoping to have a bit of a catch-up blogging day today before my brain becomes mush and I forget all the details from the past six weeks!
The Shires & Spires 35 mile race fell the day before I returned to work following my maternity leave last year and so I never got a chance to write a proper recap of the race and still regret that now.
I love the Shires and Spires event.  35 miles of Northamptonshire countryside with lots of rolling hills and beautiful scenery.  It's a Go Beyond event and with the start just a few miles from my running club base, checkpoints are often well stocked with W&DAC runners so it's lovely to see so many friendly faces not only out running the event on the day, but also manning the checkpoints on route.
Shires and Spires was my first ultramarathon in 2013 and I have run it every year since apart from 2016 when I was 6 months pregnant with Oscar.  (2014 * 2015 recaps) With this being my fifth year running the event, and having run numerous training runs out on the course I know the route better than I know the back of my hand.  With my goal race (South Downs Way 100) just three weeks later, I knew I didn't want to run Shires hard this year, and so instead offered to pace anyone who would like to complete the 35 miles in about 8 hours, as this was a time I knew I should easily be able to achieve without pushing myself too hard on the day.
One person took me up on my offer.  Somebody who regularly walks long distance events (of 100+ miles!) but who until recently has not really been doing a huge amount of running.  She had run the event the previous year with a group of runners who had just intended on getting round within the 9 hour cut-off, but knew she was capable of completing the race in a faster time than this, although not yet confident enough to navigate the race on her own.
It was a hot day (it seems like we haven't had anything else for the last few months now!) and so I thoroughly applied a thick layer of suncream before setting off for Lamport Hall.  Although, in typical Mary fashion I rocked up just ten minutes before the pre-race briefing having still to pack my bag, collect my number and having to forfeit my pre-race trip to the loo!  After dropping my t-shirt from registration back at the car I even had to jog back to the start line in order to make it on time for the starting horn!  I was fairly relaxed with no pressure on this race – knowing the course so well and without any time expectations for the day.  Probably a little too relaxed in the morning to be honest!
The first few miles of Shires are all trail and easy running.  The first checkpoint falling about 4.5 miles in to the race.  This year for the first time alongside gels and cake, Go Beyond were also offering fruit and the cold watermelon slices went down incredibly well at each of the checkpoints in the heat of the day.
I took some nuun tablets with me.  I tend to have one bottle with just water and one with electrolytes when I run an ultra and so popped a tablet into the bottle on my right at the first checkpoint and off we ran again.  100 metres or so along the road I heard what I thought was someone making 'shhhhh' noises right behind me, so spun round to see nothing, only for the pressure inside my water bottle from the still-fizzing nuun tab to become too much and for liquid to shoot out of the top all over Vikki!  Haha!  It definitely made us jump!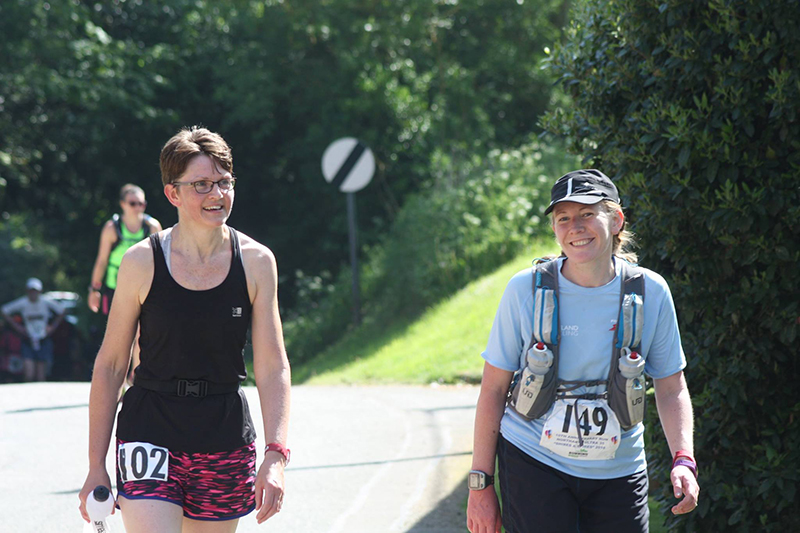 The next checkpoint at 9 miles came round just as quickly and we were soon heading off on our way again.  There is a long section of road in the middle of the Shires course, and although the road is good going it is still super hilly.  I was told Northamptonshire was flat when I moved here!
Truth be told I expected Vikki to break into power-walk quite often.  She comes from a long-distance walking background and so I know she can cover the ground when she walks.  Turns out though, she can also cover the ground when she runs, and I am sure she would have quite happily have run much more of the course if it wasn't for me walking the hills and through checkpoints, etc as per my usual game plan.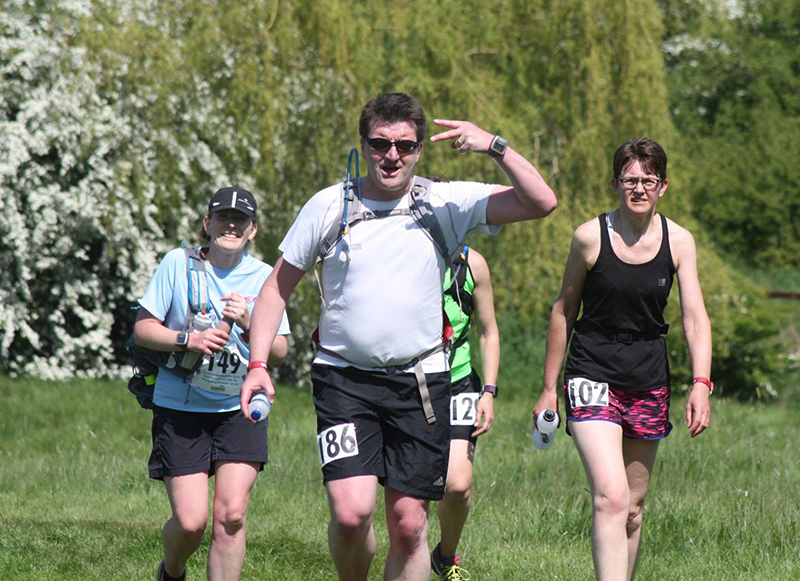 The heat began to get to me after the third checkpoint and although I was still going strong I then needed to include more walk breaks in the open sections than I would have done had it been an overcast day.  We were moving at a pace much faster than the 8 hours I had intended to run which I knew I needed to rein back in anyway.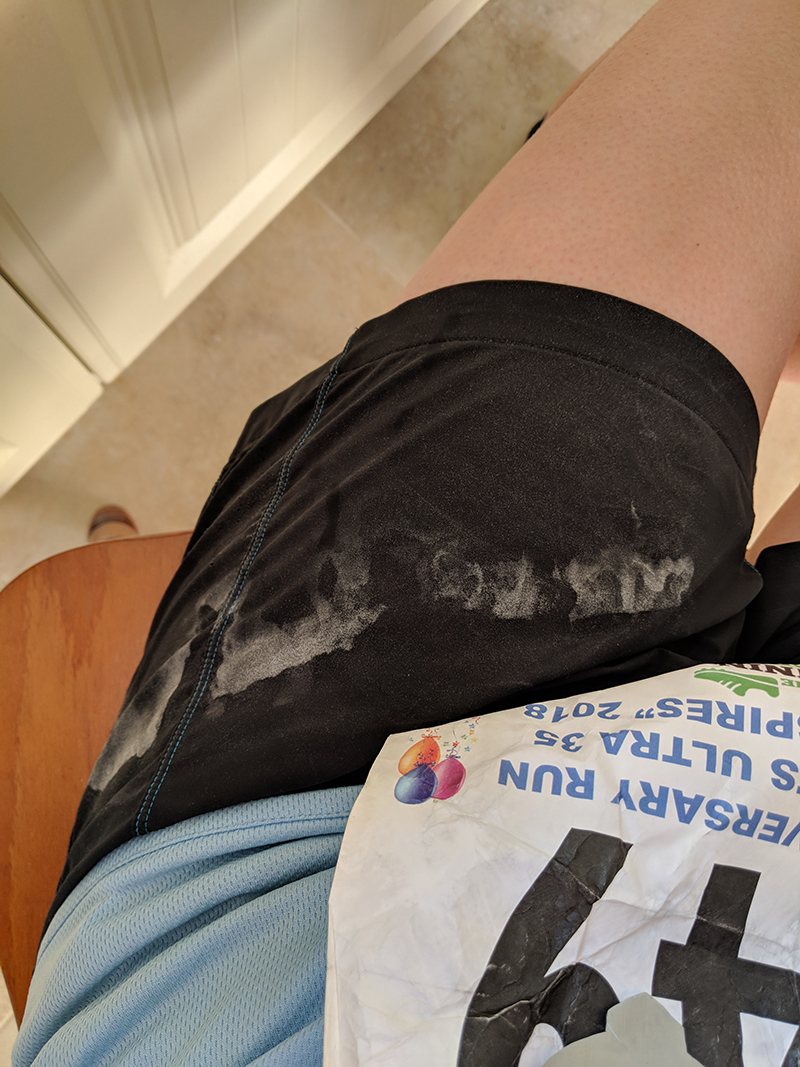 I was replacing the salts I lost with the food I was eating and my nuun tabs but it always concerns me when I lose so much.  This is a photo of my shorts at the end of the event!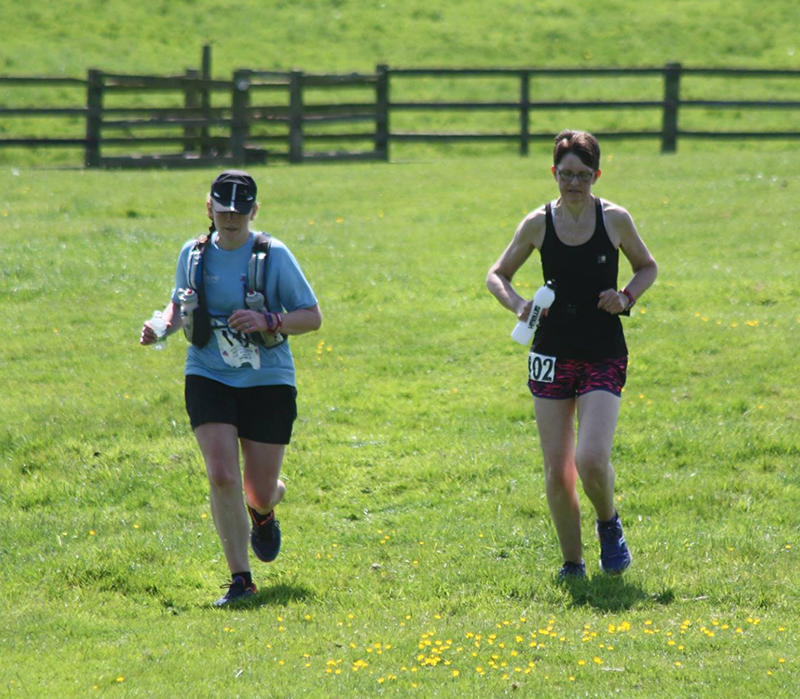 My legs were beginning to turn red, despite the coating of suncream I'd applied that morning and so I nicked suncream from a friend at the final checkpoint before we began the last long uphill slog to the finish and the final 10k.
By mile 31 I could tell that Vikki was capable of running much faster and more than I wanted to at that point and so I encouraged her to go ahead.  It had been a long while since we weren't surrounded by other runners and I quickly reminded her of the directions to the finish, reassuring her that she would probably pass plenty of other runners along the way so never be far from others.  Her main concern for the day had been navigational issues.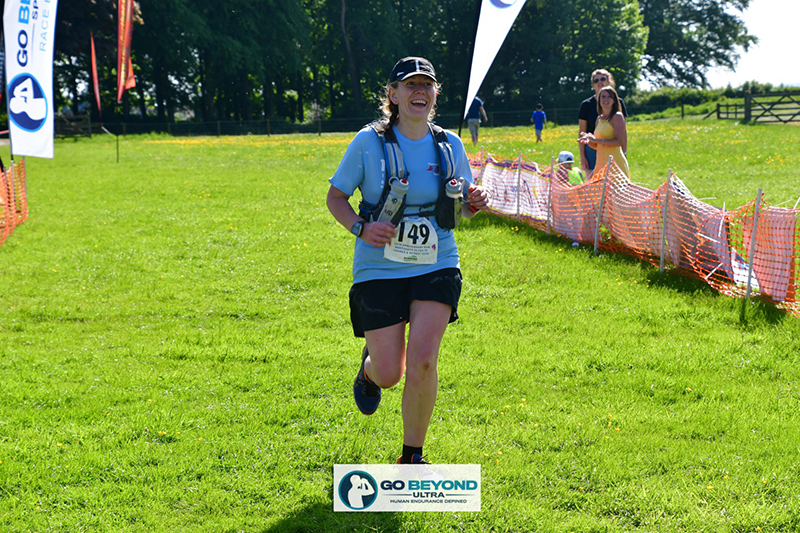 (My official finish photo from Adrian Howes)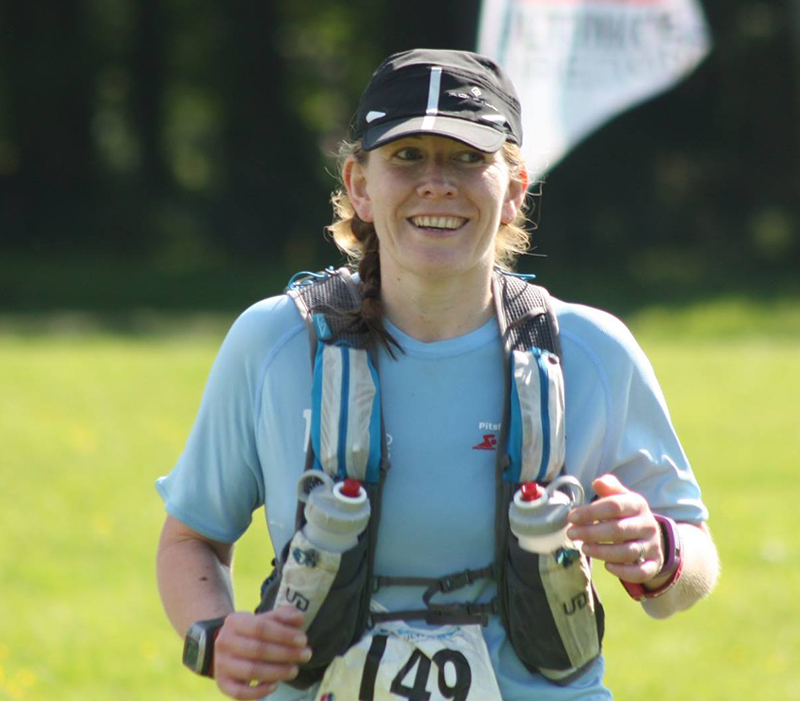 Four miles later and I found myself running through the finish funnel.  Go Beyond had an announcer for the finish who was doing a fantastic job of announcing runners as they crossed the line.  Many club runners were still stood on the sidelines cheering us in, along with many others from our club who had just come to cheer at the end.  Always a lovely touch.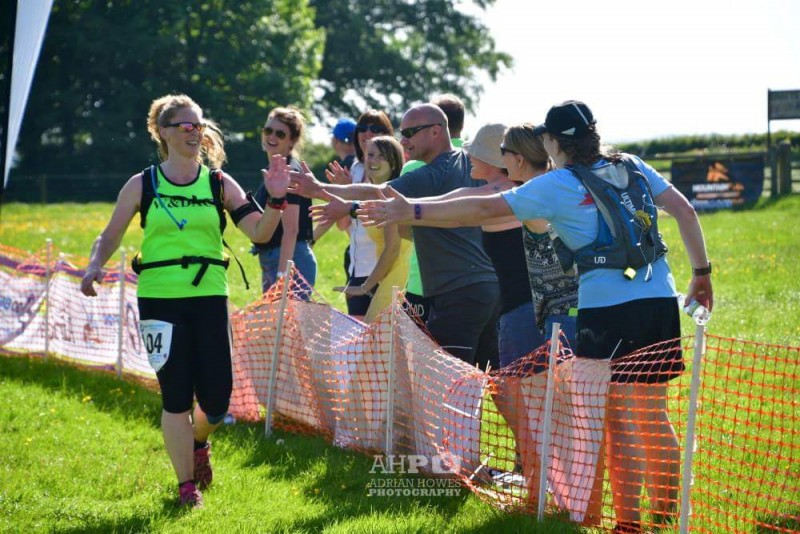 (Photo by Adrian Howes)
I made sure to join our club members on the sidelines to see everyone else through the finish line.
Vikki rushed over to tell me that she had come in as third V45 female, so even received a trophy for her run, which was fantastic news to finish to!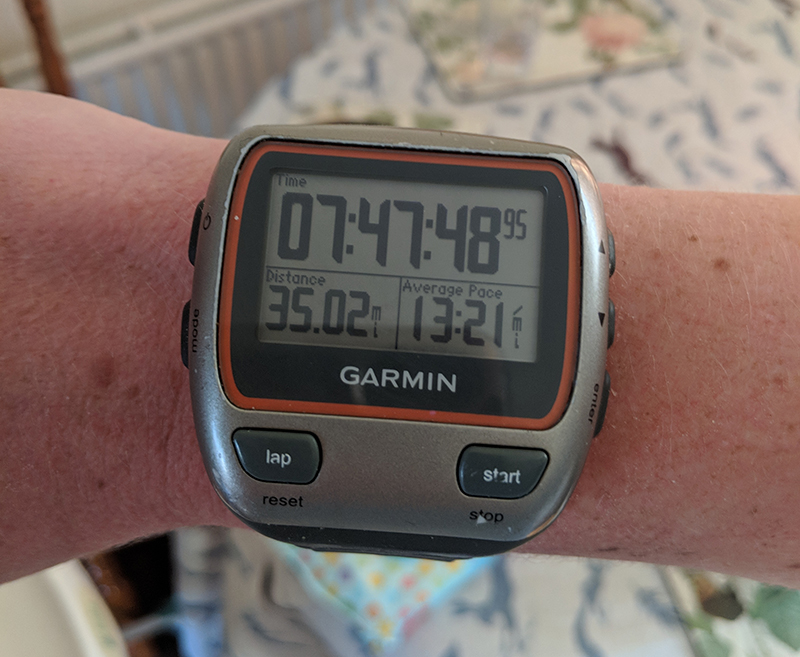 I can't believe how close my Garmin read to the 35 miles!
Official time: 7:47:47
Position: 131/164
Gender position: 28/41
Age category position: 14/17
It actually ended up being my second best Shires time, despite pulling myself back a fair bit, chatting to lots of people and not racing the event.  I'm sure I'll be back in 2019 to see what I'm actually capable of!  😉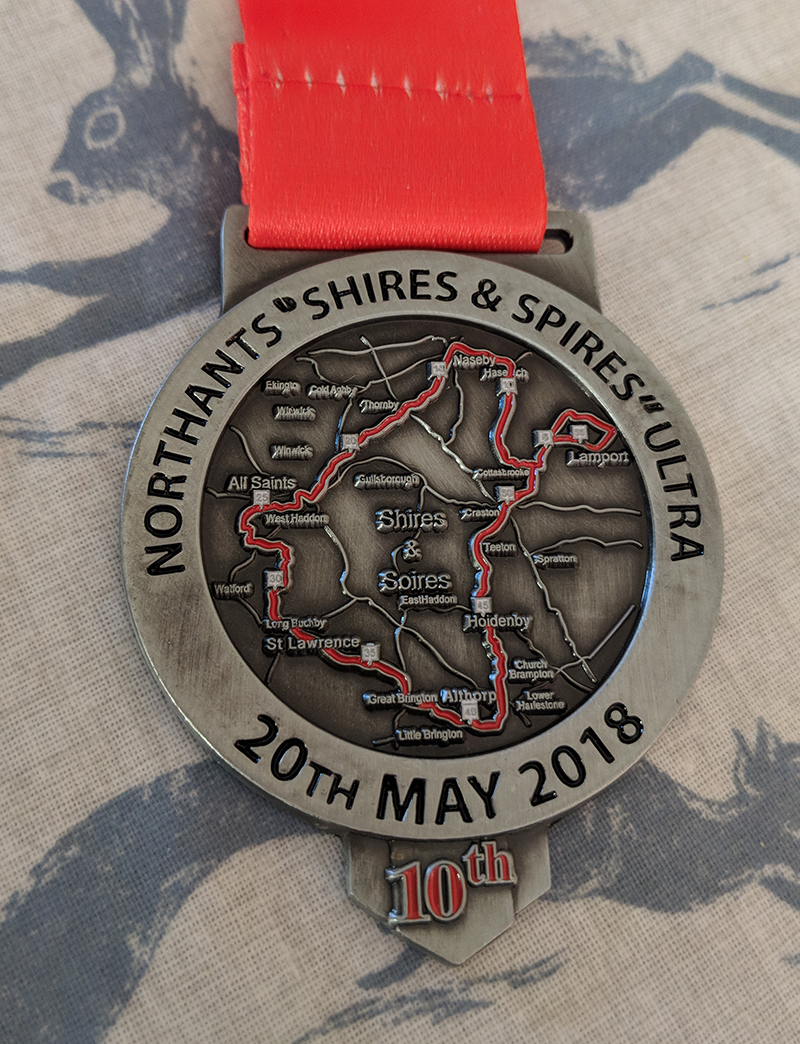 The medal was another lovely one detailing the route of the course through the Northamptonshire villages…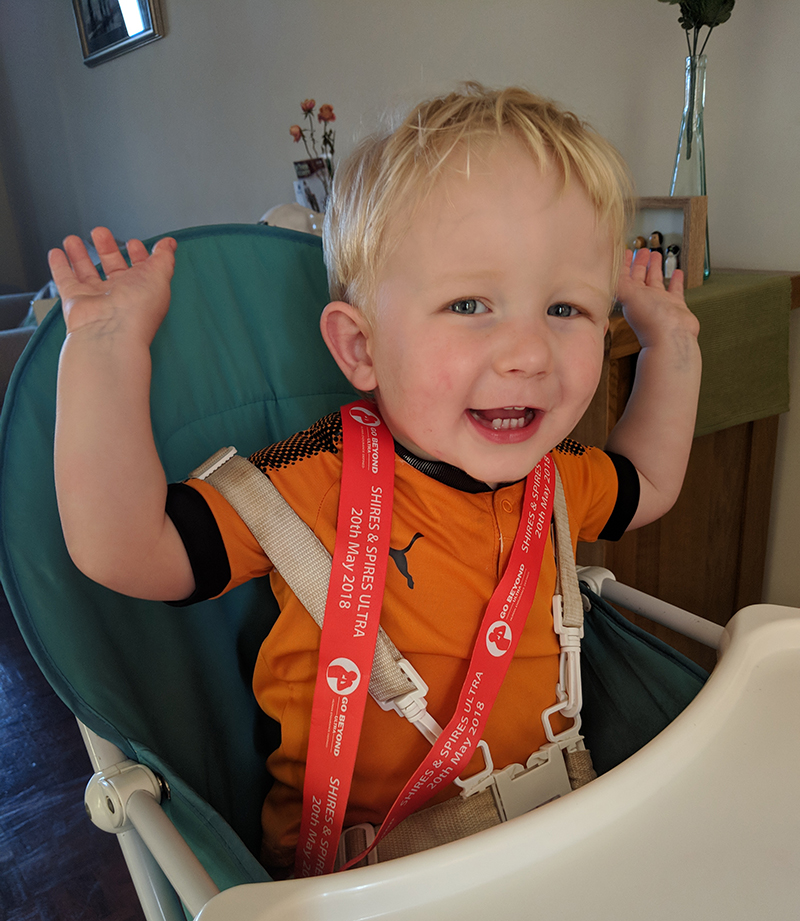 …although it was soon stolen by my child on returning home!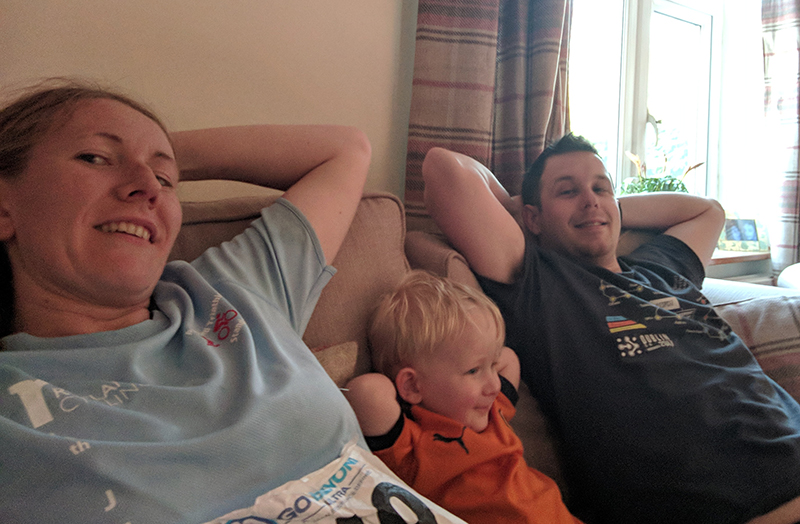 I managed to sit and chill with Dan and Oscar for a little while before heading up for a shower and pre-work hour-long nap.  Unfortunately I couldn't book the night off, so still headed off to work that evening for a 10pm-7am night shift following running the 35 miles in the day.  All good training for the 100 mile event, right?!

Do you salt up when running in the sun?
Have you ever paced someone during a race before?
How early do you like to turn up before the start of a race?