Obviously I've left this recap much longer than intended.  A month has already passed since I found myself on the start line for the South Downs Way 100 at the start of June.
I felt so ready and positive on race day, despite the poor sleep leading up to the event.
Oscar decided a fortnight before race day that evenings are for playing and not sleeping.  The week before race day saw me laying on his bedroom floor for hours on end reading book after book and pretending to go to sleep myself countless times in the hope it would encourage him to do the same.  Much later I would often be woken by Dan shaking my shoulder to let me know that Oscar was now finally asleep only for me to then head downstairs to tidy up after the day/slot in my run/collapse on a sofa somewhere.  It was a rather wearing time and didn't come at the best time for me at all (if there ever is a good time for a toddler not sleeping!)
Nevertheless, I packed (at the last minute, a few hours before setting off on the Friday) and made my way down to Winchester in the passenger seat of Laura's car vowing to get an early night after a takeaway pizza that evening.
That plan all went to pot when we realised that Kev and Amanda from our club (who were crewing and pacing for the other two Wellingborough runners) were not far behind us on the road and were heading out to Pizza Express for dinner that evening.  Of course we then hung on for them to arrive and park up at Chilcomb Sports Ground and of course we then agreed to amble into town following Kev's cries of "It's only a mile away!" (despite a race volunteer telling us town was four miles away and currently gridlocked due to a bomb threat.)
By the time we'd hiked into the town and our pizzas had arrived it was 10pm.  I'd wanted to be in bed by 10pm at the absolute latest, having had a particularly bad night with Oscar the night before, but here I was at 10pm hurriedly chowing down my pizza as fast as possible, knowing that we still needed to hike back to the race startline where we'd left our cars, and drive the 11 miles to check in at our hotel.  It was going to be a long night without a lot of sleep, as we needed to be back at Winchester for the race briefing by 5:30am.
In actual fact, a stupid bird woke me at 4am, half an hour before my alarm was due to go off.  Even then we ended up rushing around and barely making the race briefing, leaving only enough time for me to fill my water bottles before the start, and not enough time to fit in a pre-race wee.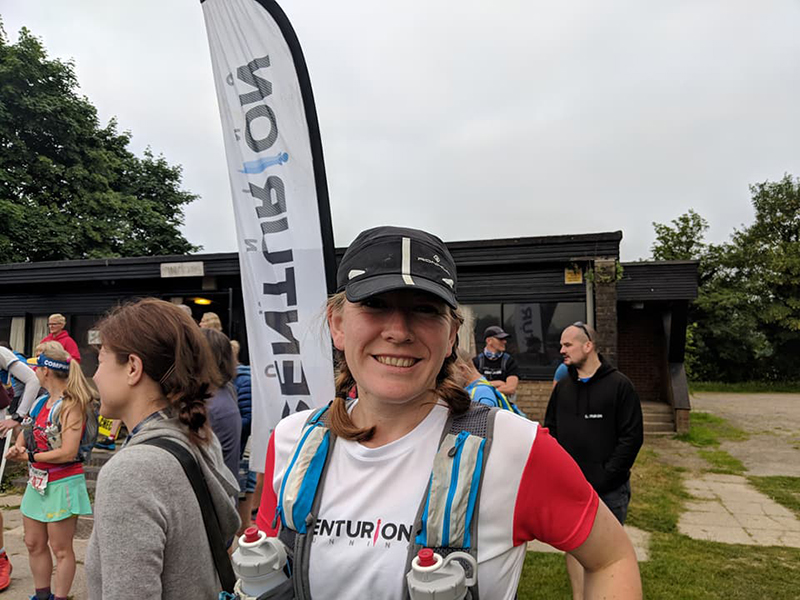 The 6am start of the race was like any other.  I don't think it ever really hit me that I was on the start line for a 100 mile race, which is insane when I type it now.  I said to a friend the other week that I don't have a gauge for what is 'normal' anymore.  I'm so used to talking about ultramarathon events with other runners.  When I come to talk to non-runners about races it's hard to judge whether or not the distances I talk about seem realistic or not!
The start of the SDW100 sees the competitors run around the outskirts of the Sports Ground field with a tight spot about halfway round and then another gridlock as runners all file out of the field through a narrow opening and onto the footpath that leads the race alongside farmers' fields.  I jogged round this first field with another runner from our club, Mike.  Mike is a fantastic runner, incredibly modest despite looking at a potential sub 20 hour time that day.  As we hit the footpath we wished each other luck and off Mike sped into the distance.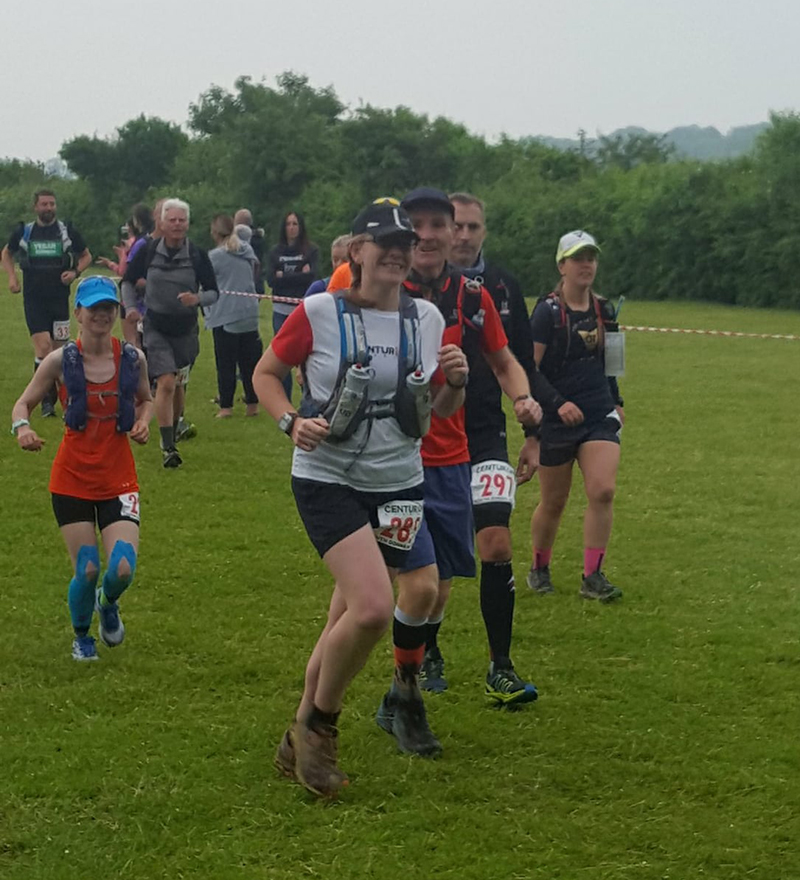 I was concerned about having to wear glasses on the event, – I can never see quite so well as with contacts – but I knew wearing contacts for so long would damage my eyes and make them very sore, especially as I got tired as the race went on, so glasses it was.
The checkpoints are superbly stocked on the Centurion events.  So much so, that all I had packed food-wise in my bag was a couple of nakd bars and some gels.  Neither of which I fancied so early on into my race.  Despite that I managed to push a warm nakd bar down about 5 miles in.  I also stopped to call Laura and update her on my pace.  I was lucky enough to have three volunteer crew members with me for the event.  Laura came down with me, was planning to crew through the day and then help pace me from mile 70 that evening.  Guy and Alan (who was my first running coach) were both going to meet me at mile 22 and then subsequent crew points throughout the race.  I didn't think I would really need or use a crew, but I have to admit it was lovely to break the race up into the distances between crew points, knowing that I would see my supporters at the next spot once more and they came to my assistance on several occasions when I craved fruit I didn't have, brought me bottles of chocolate milk and undid the top of my Vaseline pot when I couldn't!
Anyway, I had produced a little chart showing the times I would arrive at each crewpoint if I ran a 25/26/27/28/29/30 hour race.  (The cut-off time for the finish is 30 hours.)  Both sets of my crew appreciated my little chart and agreed it would be helpful to follow along the times to roughly predict when to arrive at each point to see me.  However, by the 6 mile point when I rang Laura I was much closer to a sub 23 hour pace.  I wasn't too concerned about running too fast at this point, as I was taking plenty of walk breaks and could still easily maintain a very chatty conversation with other runners as they came past/I ran past them.  However, I was concerned that my crew wouldn't arrive in time to see me at the first crew point at mile 22!  I knew I would need suncream and chocolate milk by then but didn't want to hang around!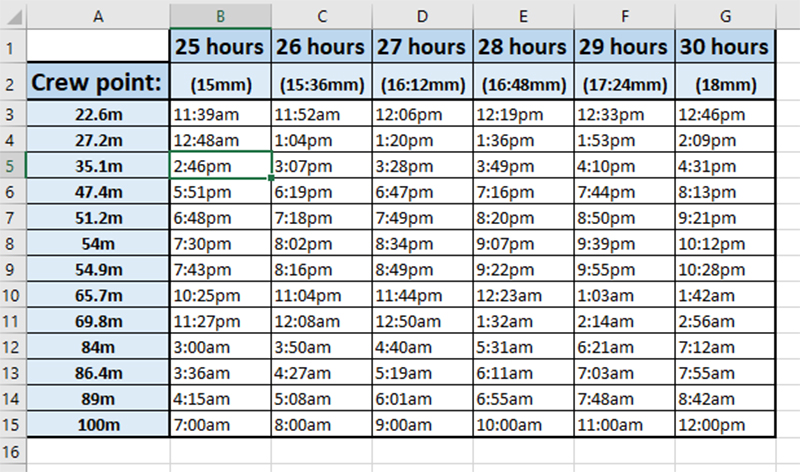 The first checkpoint was just before 10 miles and I made sure to top up with water and nuun, grabbing some cheese sandwiches and watermelon before continuing on my way.  Many had stopped here for longer than I intended to.  There was another 90 miles to go and I wanted to get going!
At mile 11 we ran down through a long field with cows in.  I'm pretty certain that one of the guys ahead of me slid through a very large cowpat here.  I just spotted him in the distance on the floor and there was a massive skidmark when I reached that point.  I did wonder briefly if he had realised that a spare set of clothes might come in handy for more than just a change when he felt sweaty!
Not long after this I bumped into a guy who I then went on to run several miles with.  I've said it before but I absolutely love meeting and chatting to other ultra runners during events.  It always makes the miles pass quicker when you can chat about your previous running experiences and hopes for the race.  It was his first 100 mile race too and he went on to run it in a great time.
Luckily, despite arriving at the first crewpoint (and second checkpoint) after just 4 hours and 47 minutes my crew had already arrived and had suncream and chocolate milk out and waiting for me.  The earliest I had told them I would arrive was 11:39am – nearly an hour later than I did!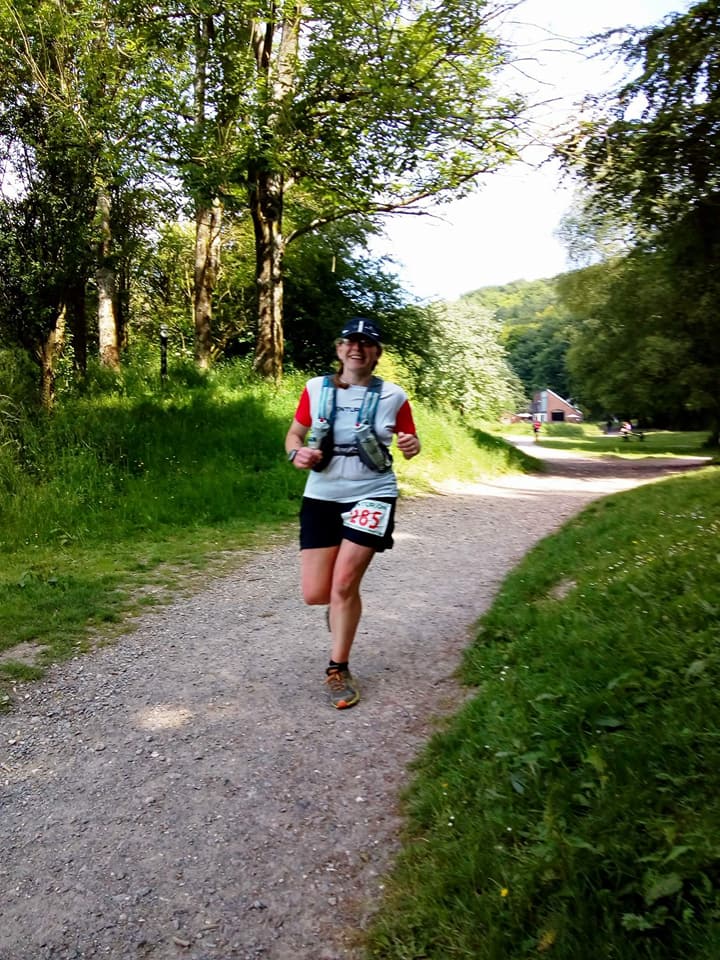 The first 22 miles was such easy running though – it included nothing like the hills that I knew were to come in the second half of the race.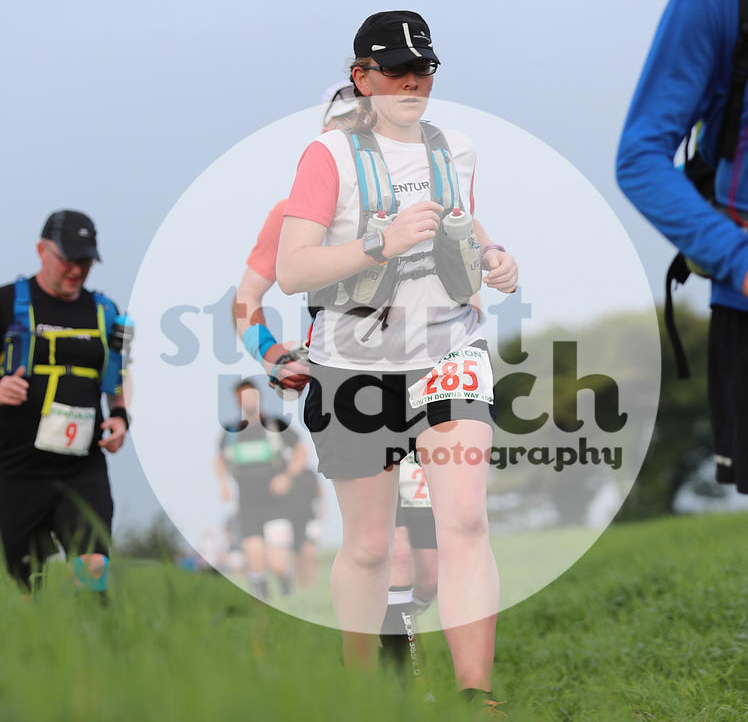 I didn't stop for long at the first crew point, just taking on what I knew I needed and heading off again.  I'd run past the toilet, but couldn't be bothered to go back for it, sure that there would be more loos out on the course as I went along.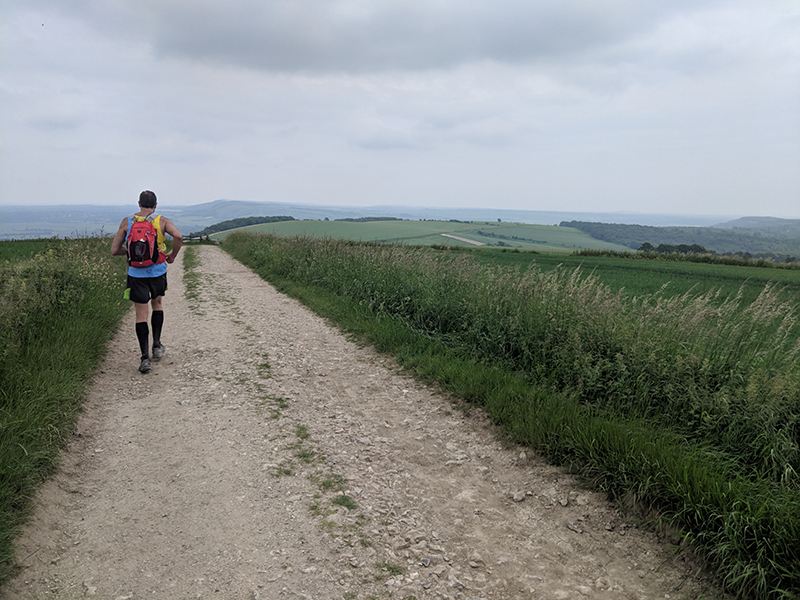 Mile 35 was the next point I would meet up with my crew and again, and there were some lovely runnable sections along this part.  I came in to meet my crew after 8h 15m, still a long way off the chart I had produced.  Sorry about that guys!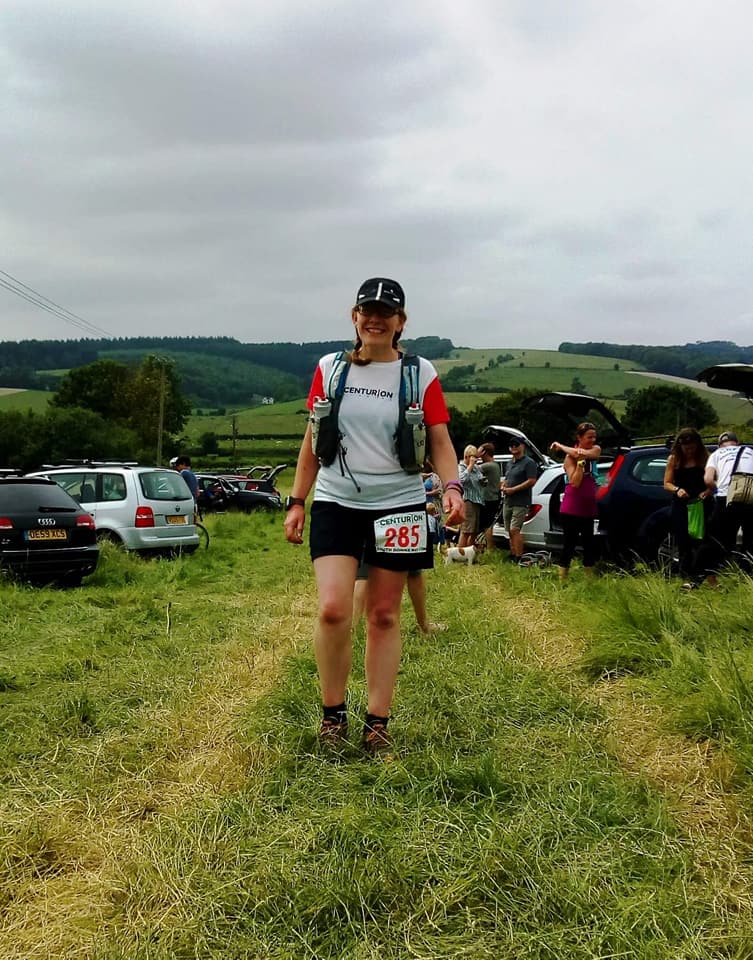 More suncream, some vaseline on my back where my bag had begun to rub, some chocolate milk and a quick sit down in the deckchair before heading onto the aid station further up the track.  I  learnt here that Mike had taken a bad fall on the downhill just before reaching the crewpoint and really smashed his face up.  He had sat for an hour with the ambulance crew before deciding to continue on, although Kev rang me a few minutes after I left this checkpoint to tell me that Mike had also done some damage to his ribs so had decided to pull from the event.  It was such a shame as he had been running so well.  I was really gutted for him.
At mile 45 I was following a guy wearing a SDW100 t-shirt from 2017 who turned and asked me which way to turn when we reached a crossroads.  I pointed out that wearing a t-shirt from the previous year really meant that he was much more qualified to hazard a guess!  We decided to follow a track over a stubble field which luckily brought us down a steep hill where we could see markers in the distance again.  He told me that I was still well on for a sub 24 hour race (which really wasn't my target at all) to which I replied that I doubted that very much, but he pointed out that I should reach mile 50 before 12 hours was up and I was surprised to see that he was right.  I knew that I wouldn't tick off a sub 24 hour race though.  I'd run faster in the first half than I knew I would be able to achieve in the second, knowing the hills in that half of the course which were still to come.  In my head before race day I had seen 30 hours as a very achievable time, thinking I would potentially come in somewhere around 28 hours, although factoring everything into an event as long as 100 miles is something that's incredibly difficult to do, so I knew that I could be very off with my calculations.  Basically, I only ever want to run one 100 mile event (at least whilst Oscar is young) and I just wanted to make sure I got to the finish line on the day.  Kev had given me confidence earlier in the week when he had announced that my 50 mile time from the SDW50 in April had been faster than any of his previous 50 mile times over that terrain and his best 100 mile time was 25h 12m (also at the SDW100 in 2015).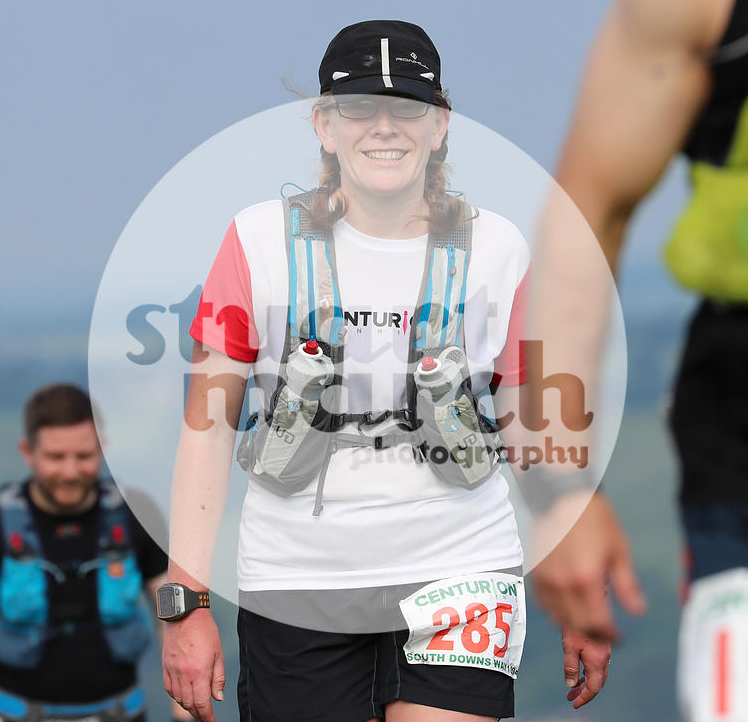 It was 47 miles before I met with my crew again.  This time it was just past a station.  I really needed to see my crew here.  The heat was beginning to get to me.  I was losing my hearing in one ear a little – a sign I usually find is due to lack of electrolyte intake.  I sat down for quite a while – very unlike me, but I felt that it was needed.  There wasn't an aid station here, and I really craved some fruit, so Guy found me some in his car.  I hope I didn't steal his lunch!  Another runner from our club, Helen, had met the crew for Mike/James here after catching a train over that day.  She had intended on pacing Mike for the final 50 miles of the race, although this was now obviously no longer the plan.  Instead she was now going to step in with James for some miles instead.  Whilst she waited for Kev to collect her, she sat talking to a guy on the side of the road who was in the middle of trying to work out whether taxi or train would be the best way of getting home as he had decided to call it a day at his 100 mile attempt.  He had removed his socks and shoes – definitely done for the race, but by the end of their conversation he had put these back on again and was seen heading off up the road to carry on!  We later saw him running around the track at the finish!
The halfway point was a big milestone for me.  The halfway point fell at 54 miles (I realise that's over halfway!) and I knew that I would soon begin recognising the route from this point, as the second half of the event is run over the route of the South Downs Way 50, an event I had completed earlier in the year.
As I arrived to check in at Washington Village Hall I spotted Ally heading up the track who came rushing over to say Hi.  I've followed Ally for a while on social media and met her for the first time at the start of the SDW50 earlier in the year.  It was lovely to see another friendly face and she told me that Lauren was still inside, and also struggling with the heat, as so many others also had been that day.
I knew I needed to lay down once I got inside.  Sitting still is really not my thing and I knew I would feel weak if not moving but still sitting upright.  I really craved some hot food – anything but picnic food by this point and was glad to smell the hot tomato pasta on offer at the far end of the hall.  One of my crew went to get me a bowl, I can't remember who – whilst I lay on the floor had a quick catch up with Lauren.  I struggled to eat much of the pasta.  By this point I had eaten so much fruit and so many cheese sandwiches that I was fed up of all food and nothing really appealed.  It was a real struggle to get the few forkfuls that I did down, but I knew I would appreciate them later on.
I finally got to use an actual toilet at this checkpoint which was much appreciated although navigating removal of my bag and layers to get to the toilet to begin with was a bit of a mission.  After my trip to the loo it was time to go again.  I have no idea how long I spent at this checkpoint.  I think somewhere in the region of 30 minutes or so, but I very much needed the time out, so it was time well spent.  I arrived at 7:41pm according to the official results, although in my head it felt so much earlier than that, despite the now dusky sky as I left.
Botolphs was the next checkpoint at mile 62.  "That's 100k you've run!" exclaimed the marshals as I arrived alongside a couple of other guys.  In some ways that statement was satisfying, but the other guys I had arrived with were both pulling out here and once again I needed to sit for a while.  I had begun having a few heart palpitations and was feeling much more short of breath by this point.  I half thought in my head I might need to pull from the race, and everyone around me deciding the same only backed up my decision for me.  I had almost succumbed to doing the same when I decided to phone Kev for a chat.  I knew he would help me decide either way what would be best to do.
Turns out he was only 10k up the road waiting for James to come through.  Helen was currently running with James, but trading places as pacer with Amanda at the point where Kev was at.  Chatting to Kev was just what I needed and he offered to drive down to meet me so that Amanda could run the next section of the course with me.  I told him that I was not planning on putting him or anyone else out and that he wasn't to do that at all.  He told me that of course I wouldn't be putting him out.  That he was there to help whoever on the day, having initially been planning to crew for Mike who had dropped out hours earlier.  I told him that I thought I needed to pull and that would be it.  He understood although was disappointed for me.  I hung up, and told the marshal that I probably also intended to pull at this point.  The marshal asked if there was anything I would like to eat.  Having not fancied anything when I arrived, I now craved orange segments and sandwiches, and he obliged, grabbing me a handful of each.  Another runner arrived at the checkpoint, also planning to pull.  The deckchairs were full of runners now, all waiting for a lift to the finish.
62 miles.  100k.  Would I really be happy if I only ran 62 miles?  No, I decided that I wouldn't.  I'd run further than that before.  I had come out to run 100 miles that day and even if I didn't make it to the finish line I was definitely planning on making it past the 70 mile mark which I'd already run twice in the past.  All in a rush I stood up, announced I was going on, took the second handful of orange segments and cheese sandwiches that were thrust in my direction and jogged off into the night over the road on a high!  I rang Kev when I reached the other side of the road announcing that I was continuing, hearing whoops in the background from both Kev and Amanda who was hurriedly changing into her running clothes to run back and meet me.  I was back in the race again.  I was going to do this!
…And then I remembered the massive hill that follows the checkpoint at Botolphs.  Ugh!  It was bad enough 11 miles into the 50 mile event in the boiling sun, but 63 miles into a 100 mile event in the pitch black of night?…I made it up somehow.
I still felt pretty perky, constantly checking flashlights in the distance to see if I could spot Amanda heading back towards me.  Three miles along and a bouncy headtorch light bobbed speedily in my direction.  It was too speedy for someone to be dropping out but it didn't match Amanda's usual style either.  A rather jolly Helen yelled out a greeting and filled me in.  She and James had arrived at the next crewpoint a little early so Amanda had headed off as initially planned with James for the remainder of his race.  Helen had decided to run back to find and help me.  Having never run with Helen before other than in large club trail groups I was initially rather nervous about keeping up/having conversation, etc.  But she was fantastic.  She moved at my pace with no prompting, no pushing, just what I needed.
My watch had died just before Helen arrived which was rather frustrating.  I knew it probably would die at some point but had expected it to get to at least 70 miles before beeping it's final beep.
Chatting to Helen I began to pick up mentally again.  My walking had never become slow but my running had been non-existent for a little while.  But now, I was running sections again and my walk was at a much faster pace.  Helen had been talking about when I completed the race and each time I had corrected her with 'if I completed', but I had stopped doing that now, thinking really positively once more.  She commented on how quickly I was still moving forward despite being in the middle of a 'mental down' section of the race.
We arrived at Saddlescombe Farm (67 miles) and a lady gave me a nice warm cup of tea.  I don't usually drink tea but this one was so good I requested a second.  Helen also grabbed me a handful of the vegan peanut butter fudge which was on offer.  Amazing!  We stopped for maybe 5 minutes at the most and one of the marshals pressed a lolly into my hand as we left for the rest of our journey.
At mile 70 I could hear Kev in the distance and it wasn't long before I saw Alan, Guy and Laura also.  Helen quickly filled them in on my last five miles whilst Laura prepared to run the next section with me.  Everyone else wished me luck and then we were off.  It was maybe only a couple of miles before I started having more palpitations again.  I was feeling weak by now and hadn't eaten anything really substantial in a while.  Something I need to work on at my next attempt.  The light in my headtorch had gone and I knew I needed to swap headtorches, as I was carrying a spare in my bag but couldn't co-ordinate myself to get one out and then I needed more batteries.  All effort at this point.
My palpitations were getting more and more regular now and I decided to have a little lay down on the side of the track.  It felt good.  I was exhausted.  Laying down felt so, so good right then.  After a few minutes on the floor I got up and with renewed energy ran a bit faster for a little while before I needed another lie down around the 76 mile point.  Here I actually fell asleep for 5 minutes or so until Laura pointed out that there was a moth buzzing around my headtorch lamp which kept batting me in the face without my noticing.
I knew I needed to pull from the race at the next checkpoint and told Laura so.  I felt strangely relieved that I had come to the decision despite it not really being what I wanted.  I knew I had made the right decision to continue at mile 62, but by mile 78 I was done.  The long hill down towards the checkpoint where I pulled; Housedean Farm felt like it went on forever and I was so grateful to see that there was a spare deckchair out for me to perch on when I arrived.  I was told I needed to hand my number in, but I wanted to keep it so just removed it and placed it in my bag.
Official stats when I pulled:
Finishing time: 22:22:50
Position: 235
Gender position: 40
Category position: 13
There were 223 finishers in total, with 82 drop-outs on the course.
Upon removing my number I fell asleep.  Waking only to transfer into Guy's car as he arrived to collect me a little later.  He then drove to the next checkpoint at 84 miles (must have slept through that journey too) where I got into Laura's car, received hugs from Kev and Helen and then I must have promptly fallen asleep once more, waking a couple of hours later in a boiling hot car parked at the finish point in Eastbourne.  Laura was still asleep on the back seat but it was insanely hot in the car and so I pulled myself out and lay down on the path alongside the car under a foil blanket.  I had intended on having a little more sleep but several runners' families came over to check I was OK, and it wasn't long before Nici from Centurion came over to check on me and to move me along.
I actually felt better after a walk and thought that I could probably stomach a sausage in a roll and hot chocolate by that point so made my way to a bench by the BBQ where I had a good view of the finishers running around the track.  With all that sleep deprivation I did have to stop myself tearing up a couple of times as I saw runners moving along the final 400 metres.  I had messaged Laura to let her know that I was watching others finish and so she soon joined us and Kev also arrived, along with James' girlfriend and then Helen ran in.  Despite no longer having anyone to pace she had decided to run the remainder of the course, no doubt prompting lots of swear words as she bounded past those struggling to finish the 100 miles!   We set up chairs alongside the track to wait for James to come in, who finished just minutes behind Lauren a little after 29 hours.
We headed for home not long after that.  Laura had managed to grab chunks of sleep between checkpoints and a long section of sleep when parked up at the finish, so she was good to drive home again and I arranged for Dan to pick me up from Laura's house in Northampton on our return.
Initially I had hoped to stay awake until 6pm or so that evening, before having a super long sleep that night and hopefully getting back fairly quickly into a normal routine.  However, I was not prepared for quite how exhausted I was.  It was minutes before I fell asleep in the car on the way back.  Every so often I would wake, buzzing with a story to tell Laura about the race.  I would finish my story and then fall straight back asleep again, barely awake enough to listen to Laura's responses.
Other than the lack of sleep though I felt surprisingly fine.  My legs would have been good to go for a run the following day I think – although I didn't test this thought out and took a full week to recover.  More about that in another post though.  This has been my longest post yet!
I'll just finish with the lovely medal that Dan made and Oscar coloured in for me and brought when they came to collect me.