I recapped my South Downs Way 100 mile attempt in my last post.  Frustratingly I didn't complete the distance but I have already entered another 100 mile race in order to have another shot at it.  I will complete 100 miles!
Interestingly I posted a poll on Twitter at the end of last week.  Results below:
How many attempts did it take for you to complete your first 100m?

— Mary P (@ahealthiermoo) July 6, 2018
So I'm not alone in not completing 100 miles the first time round.
I recently read a quote from Cat Simpson on the Centurion Running website where she spoke about having the confidence to run the Grand Union Canal Race after knowing her body could continue moving past the length of a day, having completed her first 100 mile event in 25 hours.  (She has since gone on to complete 100 milers in a mere 17 hours.  Insane!)
A couple of points:
1 – I can only ever dream of running that fast
2 – I never want to run the GUCR!
3 – Whilst on the Centurion website just now I spotted Robbie Britton's 100 mile winning time of 15h 47m at the SDW in 2013.  The pro ultra runners don't have to deal with sleep deprivation at all!
I have bit the bullet and entered the Robin Hood 100 mile race in September.  (64 days away.)  It has very similar rules to SDW in terms of pacing/crew, the same time limit (30 hours) and is a much flatter course on more runnable terrain.  Dan and I have friends living nearby who have agreed to put Dan and Oscar up for the weekend so that they can come out to support me.  (Although I do fear for their two rabbits who Oscar is currently obsessed with.  Not sure the pair of them could put up with a very excitable toddler in love with 'hop hop bunnies' for a whole weekend!)
There will be live tracking at the event and I'll share the link closer to race day.
I also have an amazing team of friends who have offered their services to pace and crew for the day.  I really would not be able to even think about completing this kind of distance without the help I have been offered and it really means so much to me that friends have such high faith in my abilities.  I promise to do my best not to let anyone down.
It would be silly for me to have run 78 miles of the South Downs Way, decide to pull from the event and then rock up to the next one having not taken anything away from the day, so below I've tried to pull everything I could from my first experience and commented realistically as to if it worked or if I could have improved things in that area.
Sleep:
This has to come first on my list because I feel like it was my biggest downfall in the build up to the race.  So often sleep or diet are the forgotten ingredients when training and this has very much been the case with me this year.  My sleep has been shocking and I genuinely do not know how I have existed most weeks.  In the build up to race day I was working three night shifts a week – 10pm-7am, followed by one hour of sleep before acting as sole parent in charge of an active and needy toddler the following day.  The only exception to this has been on Sundays when I would usually manage three hours of sleep followed by shared parental responsibility for the day.  Some evenings I would also manage to cram an extra hour of sleep in before my night shift began and towards the end I discovered that I could also fit in a 35 minute nap in the back of my car during my 1am 'lunchbreak' on a shift.  But it's been far from ideal.
Going forward I have since handed my notice in at my night shift job (although have also now retracted it to work just one night a week when Dan and I weighed up the benefits.  One night a week should hopefully be sustainable going forward whilst also providing us some extra money to add to our savings pot.
The night before my first attempt at the distance I had planned on getting a solid 7-8 hours of sleep, but a late meal out and early bird call resulted in not getting to bed until 11am and waking by 4am the day of the race.  Again, far from ideal.
Food:
I didn't take enough food with me in my bag for the start of the race so, other than a nakd bar after a couple of miles, and a couple of grabbed sandwiches at the 10 mile checkpoint I had no other food with me until I met with my crew at mile 22.  I need to sit down and properly study the crewpoints for the next race and work out how much food I need to be taking on board between each checkpoint and ensure my bag always remains topped up.
When I first started working nightshifts I struggled with my appetite and eating.  Most of the other people I work with have a cooked meal during our lunchbreak (1am).  I decided against this as I love breakfast too much, and I like Oscar to have somebody to eat his lunch and dinner with each day, rather than have him eat on his own when he is still so young.  However, it would often result in me grabbing a large bar of chocolate/slice of cake midshift to perk me up and get me through when I was feeling exhausted.  I realised that I wasn't doing myself any favours and having toyed with the idea for a while I switched to a more vegetarian/vegan lifestyle which is suiting me much better.  I'll write more about my choices and decisions in another post at some point, but basically I'm not strictly vegan, I never choose meat dishes and have substituted a lot of dairy products with alternatives in recent months.  I don't like the idea of consuming so much processed food.  If I wouldn't be happy with Oscar consuming it, then I shouldn't be either.  I'm much happier with my results since the change and have discovered so many great alternative meals as a result.
However, on race day, I knew that chocolate milk works for me and so kept this in as part of my plan.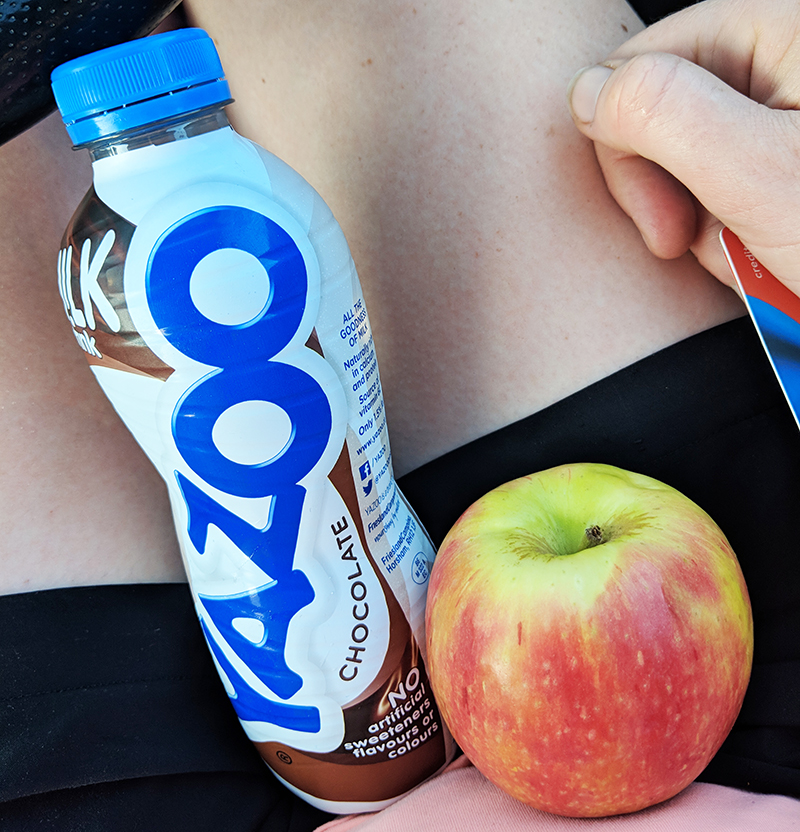 Pacing:
I actually think that I paced SDW fairly well.  The going was much easier in the first half than I knew it would be in the second half, and in terms of when to run/walk, this is very much dictated for you with the hills and rough terrain.  I think I will have more problems when it comes to pacing when it comes to the Robin Hood event as it is a much, much flatter course.  I think I may need to stick to some kind of regular run/walk method in order to prevent running too hard too early on in the race.  When I ran the Grim 70m a few years ago I tried to stick to running no faster than 12 minute miles and no walking slower than 15 minute miles and that worked well for me, but it was a very different event – 10 mile loops.  The Robin Hood is three loops.  Two of 30 miles and one of 40 miles.
Darkness:
I have no concerns about running in the dark as I've always run trail through the night during the Winter months and so this wasn't an issue on the SDW.  However, there were only 7 hours and 31 minutes of darkness in June compared to the 11 hours and 11 minutes I will have in September.  Although again, this could help prevent me from travelling too fast during the later miles and burning out before the end.
Core:
I worked religiously on my core at the start of the year but as life took over it was something that I neglected.  However, my core was still fairly strong due to the manual nature of my part time job.  Lugging full supermarket cages around a massive store is not for the faint-hearted and for several weeks I was placed on the juice aisle – one of the heaviest sets of cages of all and often working 8-10 cages in a night.  I ensure I walk a minimum of 10,000 steps each day, including a daily walk with Oscar, who I carry when he gets too tired.  We weighed him the other week and he's two stone now!  I vividly remember my arms aching from carrying him at just a few weeks old when he was less than 7lbs!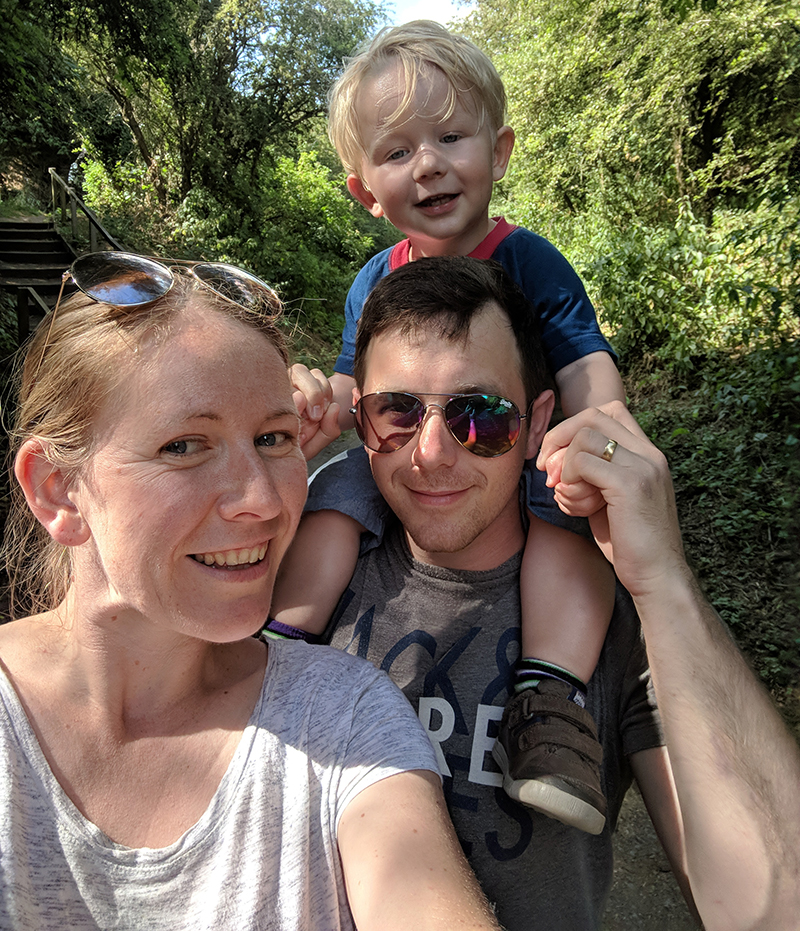 (When Dan carries him, he takes the easy option of carrying him on his shoulders!)
Training:
I ran around 50ish miles a week in the months leading up to SDW100, although often didn't record all of my treadmill runs on Strava.  I'm planning to run all of my runs outside in the build up to Robin Hood so as to remain accountable and analyse my pace/training a little better.  I took a full week off from training after SDW, and had a couple of easy training weeks before jumping back in with training again but I'm hoping to get back on it again now.  I've been out running with others a fair bit over the last couple of weeks and that always makes me feel more enthusiastic about getting out there for extra miles.
I have to be very organised with when I'm planning on running as I have Oscar at home all week.  I have to get up at 5:15am or run late at night around bedtime/Dan's work or other activities.  I'll be honest, on the days when I was super exhausted and struggled to get out of bed in the morning I did roll over and go back to sleep.  It's something I rarely do as I'm such a morning person, but with so little opportunity to sleep this year I've really had to grab any chance I could get.  I need to ensure I slot any missed miles back in later in the day/week though as I want to ensure I give myself the absolute best chance of making it round on race day.
I didn't complete as many speedwork sessions as I would have liked this year, and feel that I could increase my speed further, therefore completing the race sooner and helping to prevent tiredness setting in too early into the race.
My weakness will definitely be my tiredness on race day.  I thought that I would sail through on no sleep with all the experience I have of sleepless nights, but even though my work is very manual it is NOT the same as covering 100 miles on no sleep at all.
What are your stumbling blocks when it comes to training?
Do you analyse events after you have run them?