If you don't follow me on Strava, Instagram, Twitter or Facebook, then you might not yet know that I completed my big A goal for the year…I completed the Robin Hood 100 mile race last weekend.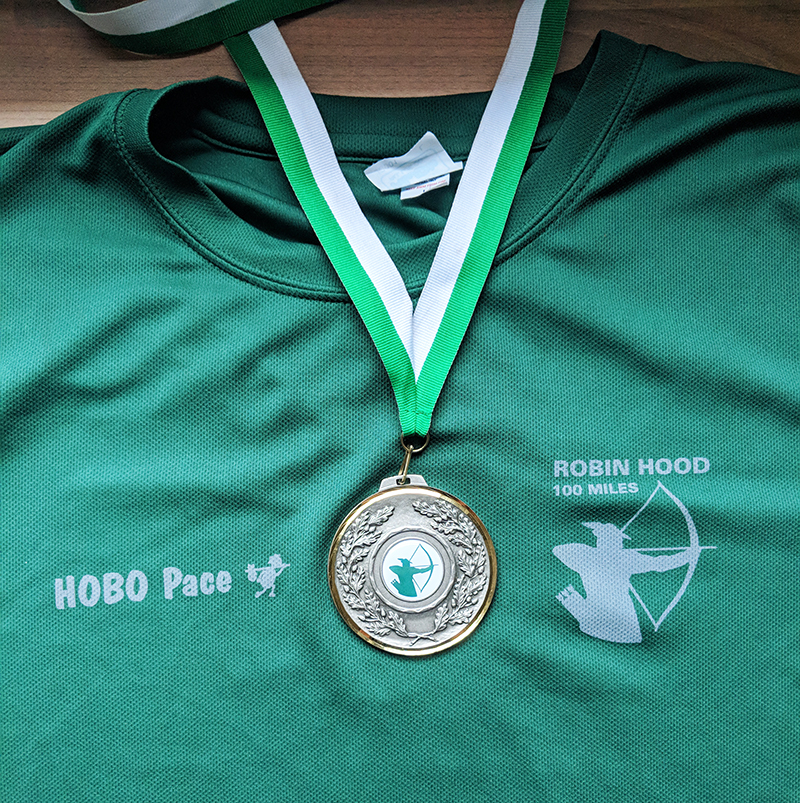 I wasn't as confident going into this event as I was at my first attempt of 100 miles back in June.  My training hadn't been as regular or of as high quality as at the start of the year, I hadn't completed as many long runs in the build up to race day and I was still struggling to stay on top of everything at home.  (Nothing new!)
But I wanted it.  I really wanted to complete it.  By the time race week rolled around I was just itching for it to be race day so that I could just get started and have an idea of how the race was going to go.  So much can happen on race day but I had a lot of people going out of their way to help and support me at this event.  I had no intentions on letting anybody down if I could help it.
Two weeks before race day I had signed up for a last minute place at Dunstable marathon so that I may run my final long run before race day with company, receive a medal at the end of the day and tick off another marathon towards my 100.  Only, the day before the marathon I didn't feel 100%, and by mile two of the marathon I had grown a really bad stitch and was having to walk flat sections of the course.  I knew I wasn't 100% and so ended up pulling after 12 miles of the marathon, initially rather disappointed in myself.  But when I struggled to drive home after my race attempt without falling asleep and then didn't even have the energy to get up from the sofa for a glass of drink later that afternoon I absolutely knew that I'd made the right decision in choosing to withdraw from the race.
Following my failed marathon attempt I tapered sharply until the 100.  I didn't run at all the week of the 100 in fact, which is very unlike me.  I usually like to get a couple of leg stretcher miles in a few days before a big event, but this time it felt right resting up completely in the days before.  My brother had his first baby on the Tuesday morning and so I spent a few days in Norfolk with my family and it was quite relaxing not struggling to fit running in around Oscar and traveling for a change.
Robin Hood 100 was the event I had chosen for my second attempt at 100 miles.  When I found myself pulling after 78 miles at the South Downs Way back in June I already knew that I would be continuing my training and looking for another suitable 100 mile race that I could work towards sooner rather than later in order to capitalise on all of the training I had completed that year.  Somebody who had helped to crew me at SDW dropped me a message the day after suggesting that Robin Hood would be a good race to have a second shot at the distance.  After chatting to several people, checking my calendar and weighing a few things up, it wasn't long before I found myself filling in the registration form.  Before I even realised what was happening my one week of recovery was up and I was 13 weeks away from giving 100 miles another go!
In the build up to South Downs I had completed a marathon, a 35 mile race and a 50 mile race as well as a large number of long training runs.  In the build up to Robin Hood I had lost my drive to run long.  I'd had enough of training by then.  I was happy heading out for 6 runs a week, but apart from the runs where James (who had agreed to pace a section of the RH100 with me) came out on an early morning run with me, I didn't get a huge amount of longer runs in.  Perhaps I lost my drive because so much of my time is already spent on my own during the week.  I'm with Oscar, but otherwise alone and when Dan comes home to take over in the evening I am either training (also usually alone) or tidying away in the areas Oscar last was!  Then when I'm working at the weekend it's also on my own, accompanied by a podcast (definitely in need of some new material at the moment.  I've back-listened to all of the series I listen to and have a minimum of a nine hour shift to fill with podcasts each week!)
Having less long runs under my belt meant that I was less confident going in to the race, although I know that when it comes to ultras, often having previous experience and a strong head accounts for a lot and I very much have a strong head during long distance events.
Dan, Oscar and I had arranged to stay at a friends' house for the weekend.  John and Lynn are two of Oscar's Godparents and all week he had eagerly been telling everybody how he was going to stay with Mabel and Martha (Lynn's rabbits) for the weekend!  Dan arranged to work from home on the Friday the day before the race and as Oscar is in nursery all day on a Friday I was able to pack up a suitcase for the three of us for the weekend and then also load up my kit and crew bags for the race.  Once I had collected Oscar from nursery and Dan had finished work at 5:30pm we made the drive over to Nottingham where John and Lynn had put on a ginormous spread of pizza and garlic bread for us to tuck into.  Oscar had already eaten at nursery but he also enjoyed a second tea for the evening!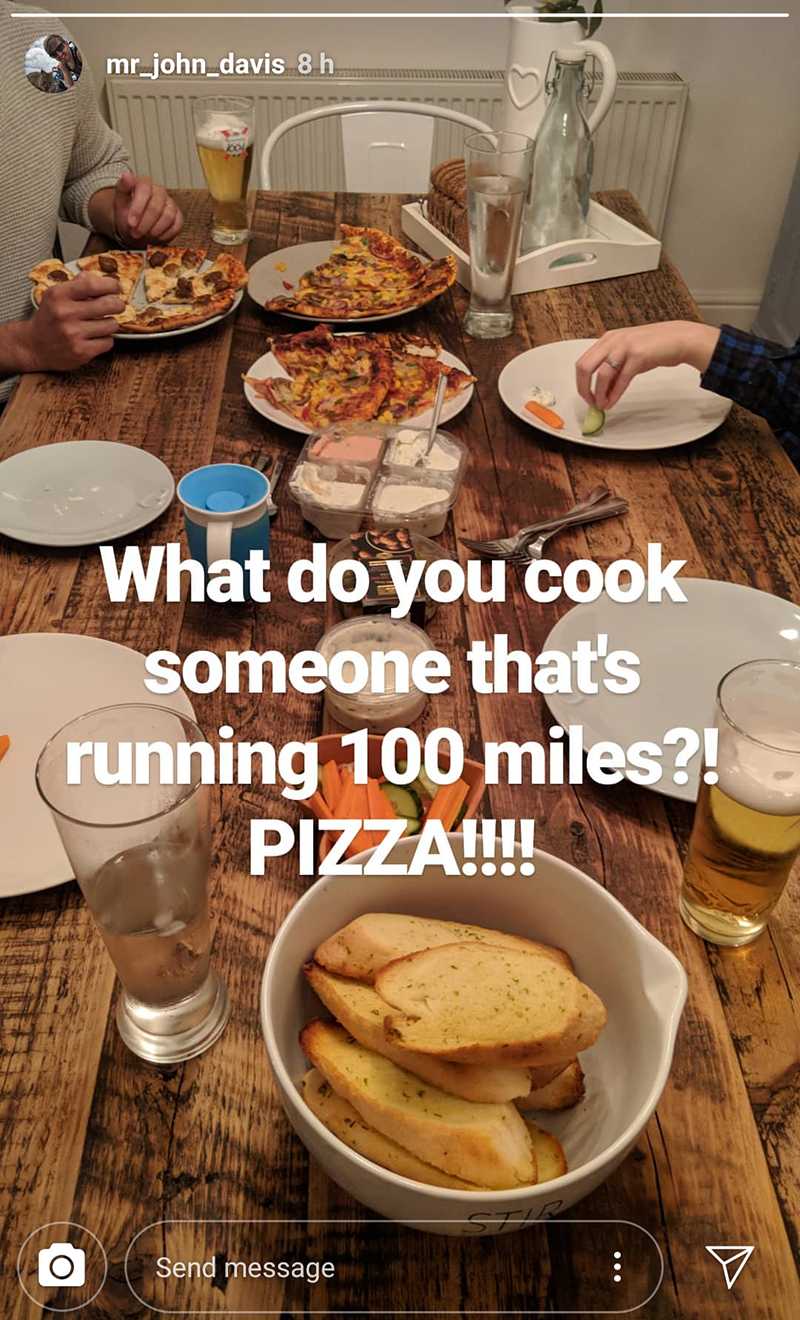 The aim was to be in bed asleep by 9pm but that didn't happen as we got chatting and instead I headed up to bed with Oscar about 9:30ish who luckily fell asleep fairly quickly in my arms.  Dan and I were sharing a bed with Oscar for the night but he wasn't too wriggly, so it worked out alright!  He woke once, – around 4am when he announced he was going for a walk, scrambled down to the bottom of the bed onto the floor, then clambered back up and promptly fell asleep on the pillow again.  It wasn't too disruptive!
My alarm went at 5:30am, as we aimed to be out of the house and on the road by 6am for the hour long journey to registration.  The race started at 8.
I nibbled on a bagel dipped in peanut butter during the journey and when we arrived I hopped out and headed straight over to registration whilst Dan fed Oscar his breakfast.  We had parked just in front of the hall where registration took place which was handy as I still had to tweak the contents of my kit and crew bags.  Registration didn't take long at all and I was surprised not to have to participate in a kit check.  Although I guess the course isn't one of the tougher ones and you are never that far from an aid or crew station.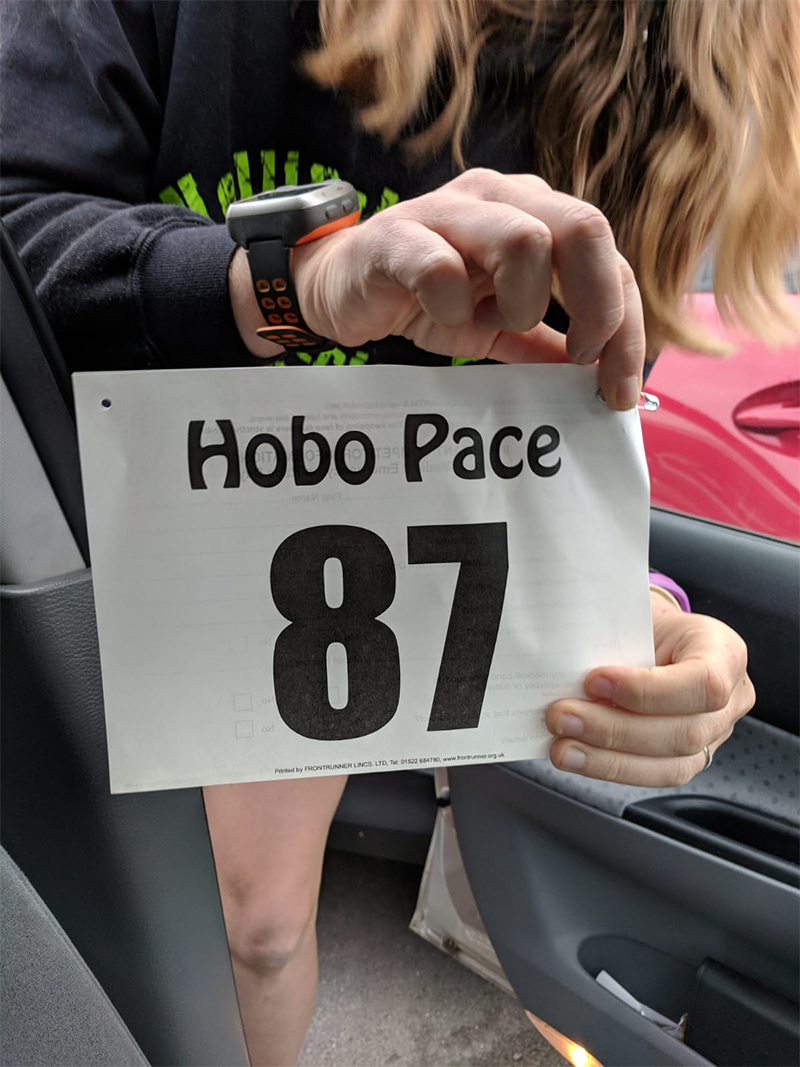 Another runner from my club, Mike, had already registered by the time I arrived.  He had also been at the South Downs in June but had taken a bad fall out on the course and damaged his ribs.  He was back to give the distance a second shot, like me.  Laura arrived not long before the briefing started, having driven over to help crew for the day.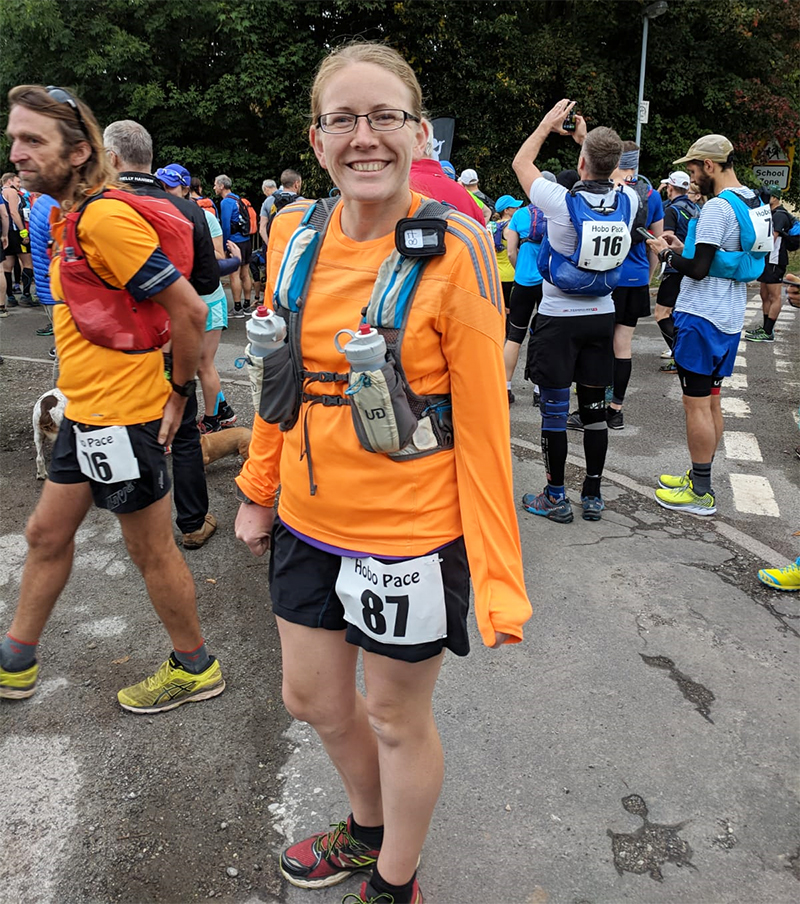 I hate wearing glasses to run in but knowing that the race would take me somewhere in the region of 28+ hours contact lenses wouldn't be an option for the day.
Dan was under instruction to transfer my crew bag and a large box of cakes I'd had made for my crew into the back of another crew member's car once the race began, and then together we all made our way along a short walk down the road to the start line for the race.
The start of the race was like any other and after waving at Dan, Laura and Oscar on my way past I found myself following everyone else along the road, up a short hill and into the fields in the direction of Nottingham.  Knowing that the elevation was going to be fairly flat I walked all of the hills on the course, no matter how small and even ended up overtaking some people jogging in some sections!
The plan was to slow things down from the very beginning and to make sure that I forced myself to eat much more than I ever had done in a race before.  I know how hard it can be in the later stages of a race to get food down, especially when working with a body that hasn't taken enough on board along the way.  I was not about to lose my hearing, feel weak and dizzy or be able to resort only to chocolate milk for nutrition by halfway.
There were a couple of small bottlenecks early on as we had a couple of stiles to cross and kissing gates to manoeuvre, but on the whole the start was fairly seamless.  I had forgotten my cap, but luckily the sun didn't really appear on the Saturday and I knew things would be fairly sheltered once we reached Clumber Park anyway later on in the day.  There was a horrible ploughed field at mile 5 that I chose to walk across.  The ground wasn't hard enough to be rutted, but it made for uneven going and I didn't want to risk going down on my ankle so early into the race.  Everybody running around me made the same decision it seemed, but it was nice to be back out onto the harder off-road track again after that field.  There was a bit of a hill after this and we saw a marshal at the top who told us we weren't far from the first aid station.  It was all downhill to the aid station which was quite nice, although I ended up working up a bit of a sweat by the time I got there.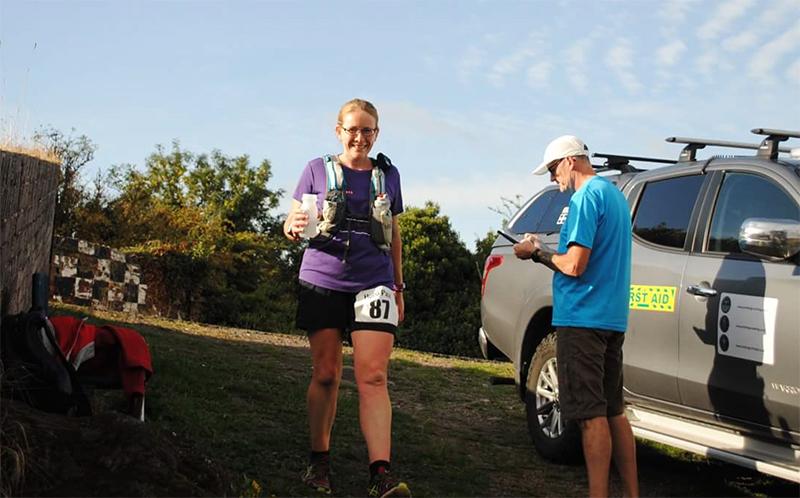 (Picture shared on the Hobo Facebook page)
I'd already eaten a nakd bar whilst crossing the ploughed field and grabbed a couple of sandwich bits and biscuits at this first aid station before heading off along the section of towpath out from the aid station.
The first part of the towpath wasn't too bad, but it did get rather monotonous after a while.  Around mile 7 or 8 a woman sacrificed her Hobnob biscuits so that a small group of us could get past a hissing swan stood near to her grown up cygnets on the narrow track.  I'm not sure how we would have gotten past otherwise…she was pretty angry!  Perhaps the Race Director needs to add 'Swan bribes' to the essential kit list for 2019?!
Mile 10 was the first time I saw some of the WDAC crew out on the course.  Mike's partner Val, Helen (who had paced some of SDW with me earlier in the year) and Grant (who was pacing another runner) all cheered as they saw me approaching and it was lovely to have a burst as I ran past, not needing anything at this crew section.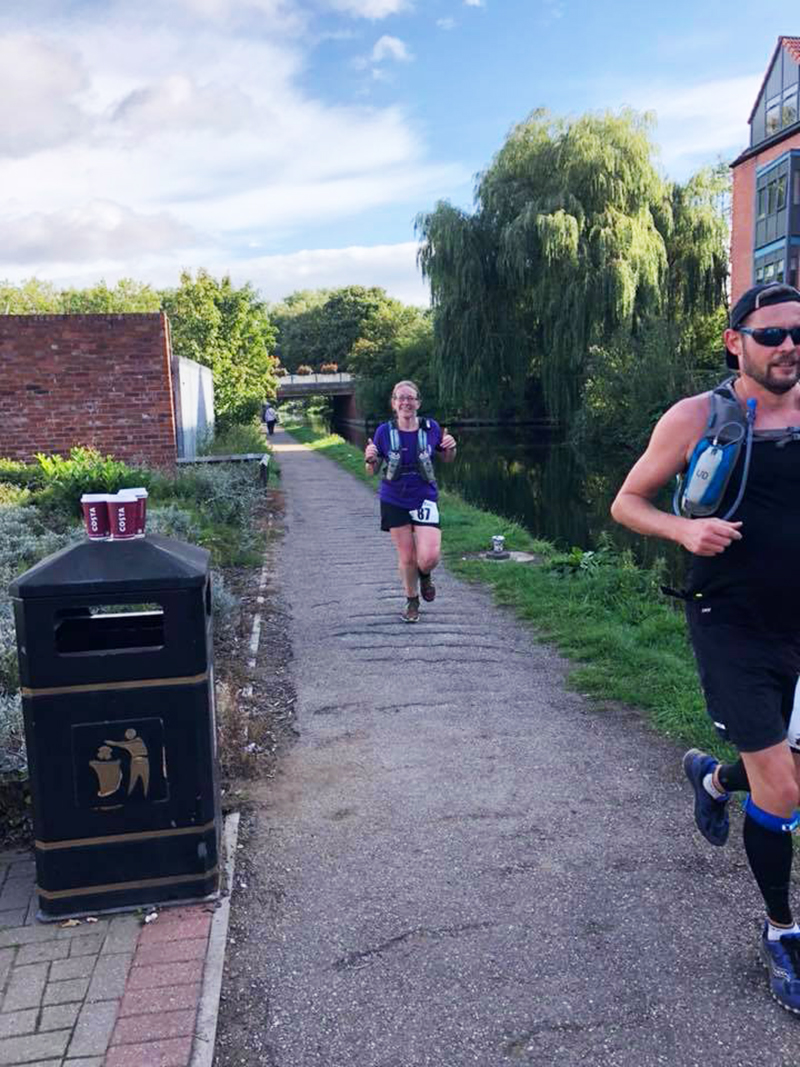 Not only did the towpath get rather monotonous after a while, but it also became narrow and 'tufty' with clumps of uneven grass sticking up on the sections without tarmac.  I ran where I could but remained sensible, knowing that I still had plenty of time to get round the course as long as I didn't break anything!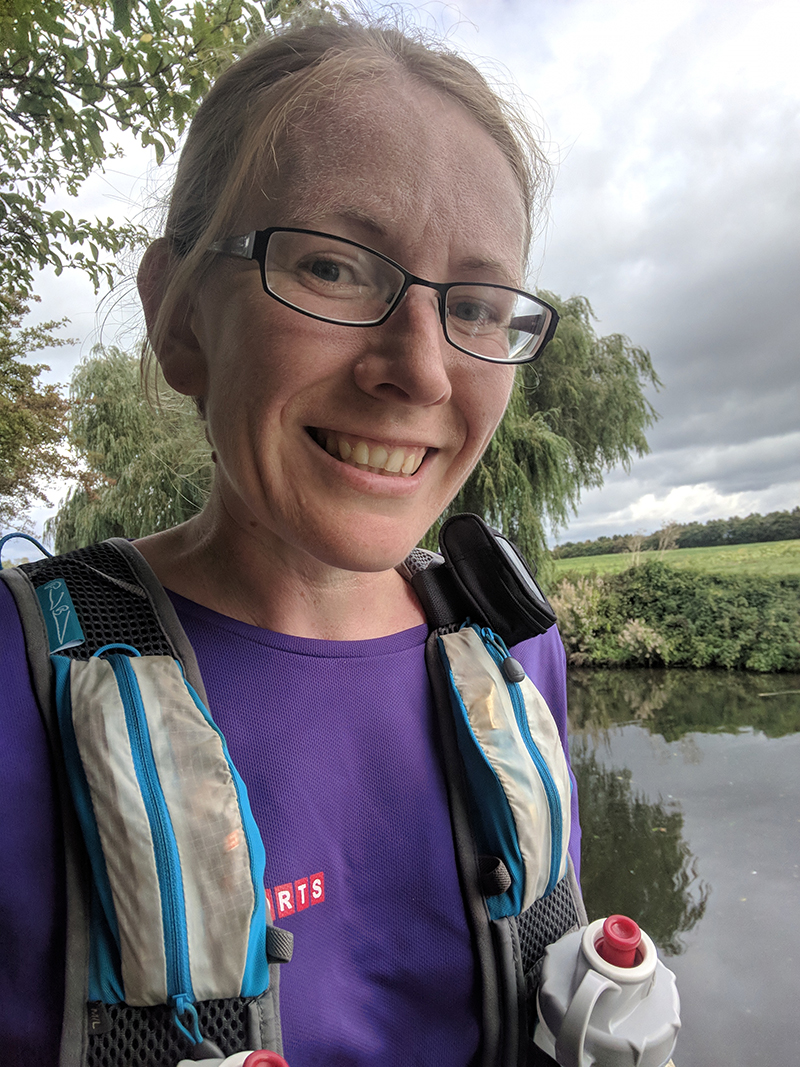 It was a relief to finally come off the towpath just before 19 miles and along a short section of road to reach the third aid station and to see the WDAC crew for the second time.  I stopped for less than a minute here to pick up some chocolate milk, add a nuun tab to my water and grab a bag of salt and vinegar crisps.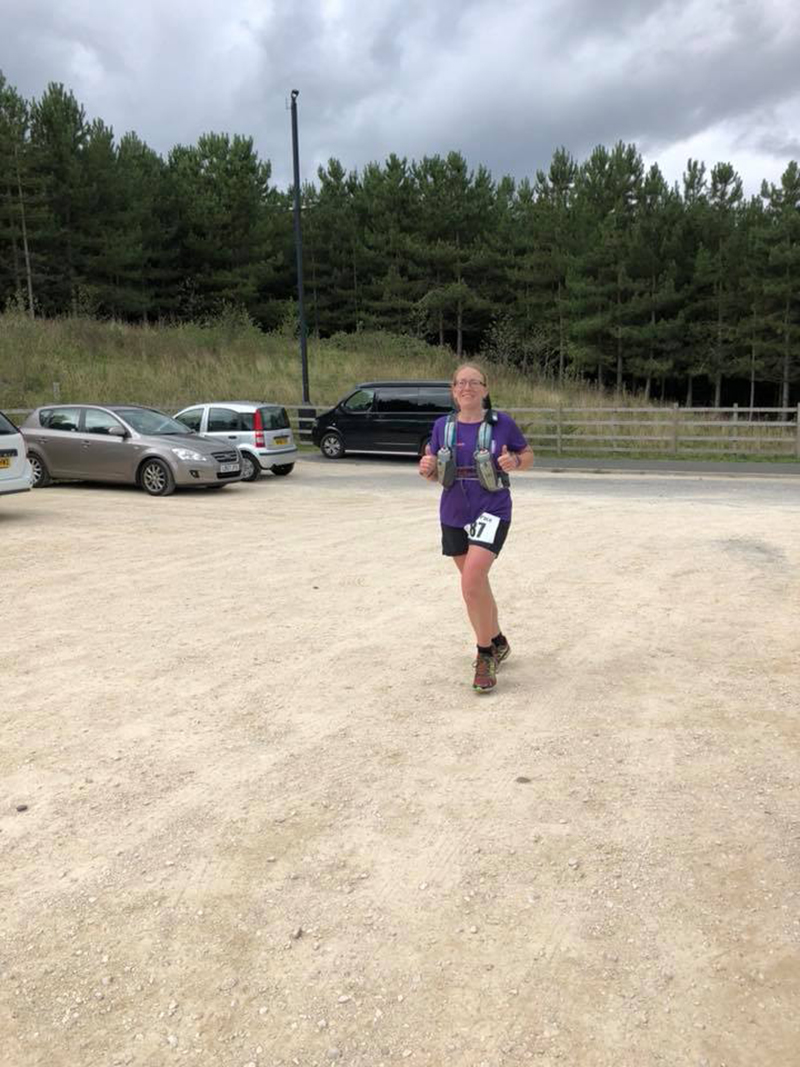 There was a slight climb after this aid station so I used it to drink my milk and munch on my crisps.  I knew that Dan would be making his way to the next aid station/crew point at mile 22.  He was hoping to meet me here along with Oscar, John, Lynn and Laura, who had all run the Clumber Park parkrun that morning.  I stopped for a few minutes to chat, but was soon eager to get moving again so chivied the gang along in the direction I needed to go, walking several hundred metres with them before jogging off into the distance once more.
I took a picture at 25 miles, and it was satisfying knowing that I had completed a quarter of the race already.  I never really pictured the event as a full 100 miles on the day though, as I was only ever a few miles away from either an aid station or crew point and this really helped to mentally break the miles up as I went along.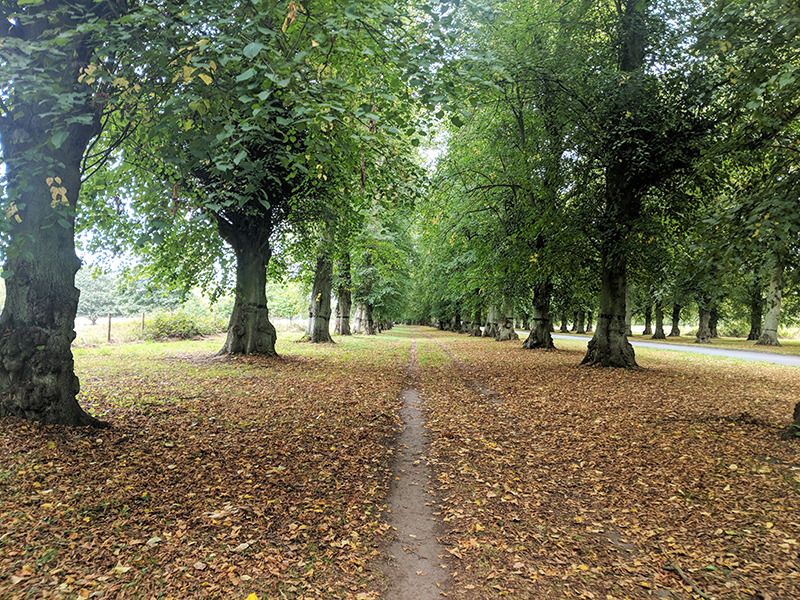 There were a couple of fields where we needed to push our way through past massive sunflowers.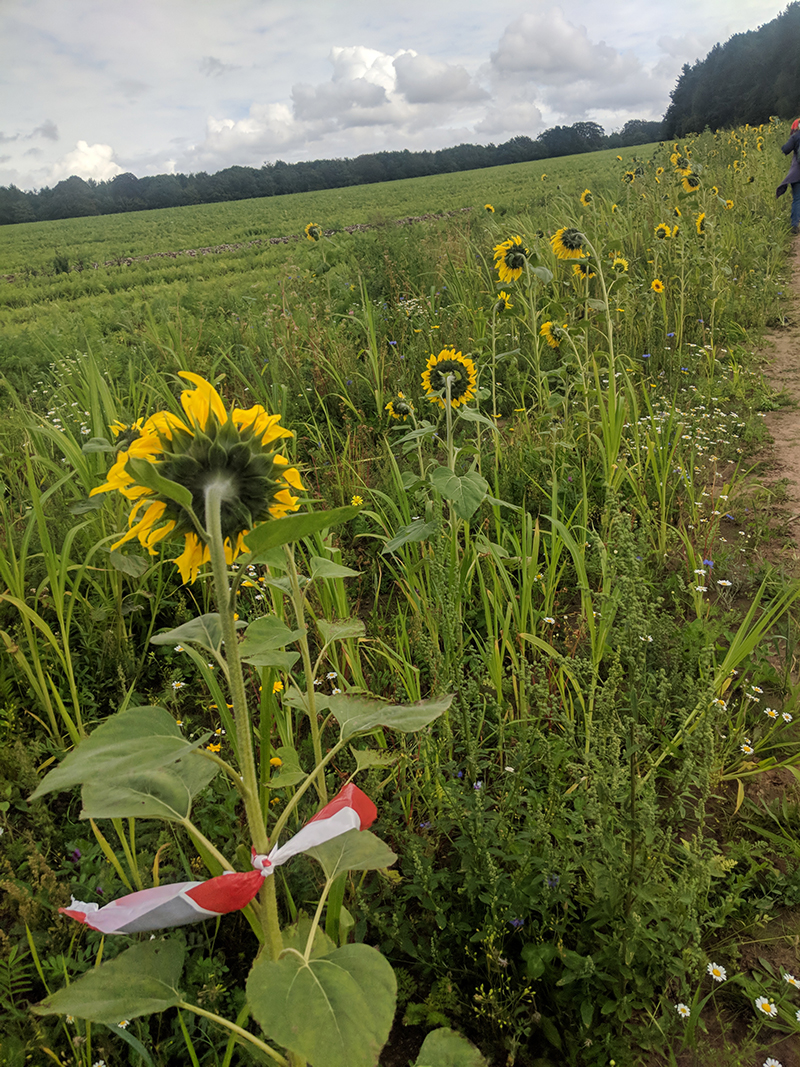 I never grew sunflowers as a child and so had no idea of the real enormity of the flowers and just how heavy their fully grown heads were.  On the sections that I ran of the sunflower-edged fields I still have bruises on my legs from where the sunflower heads bashed into the tops of my legs!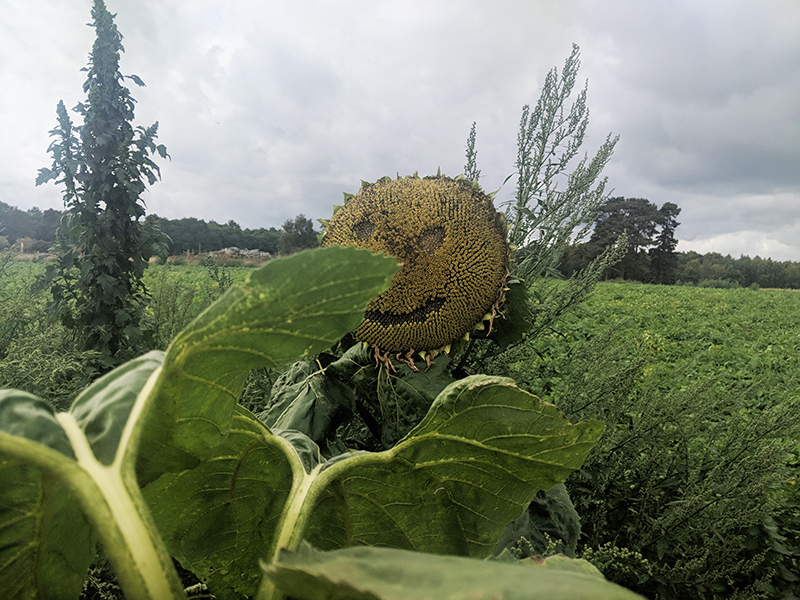 Just Laura saw me at the next crew point at 27 miles.  Despite several people having tried to wake him when I had run in to mile 22, Oscar had slept through my arrival and Dan had been struggling with a grumpy toddler ever since.  Oscar had refused to get in the car, had a melt down over a teacake which had been cut into two and was just generally being hard work, so Dan made the decision to skip out this aid station in favour of the next instead.  There were quite a few aid/crew stations within quick succession and at the next point when I did see Dan and Oscar (somewhere around 30ish miles, it was just me and them with no-one else from my crew party.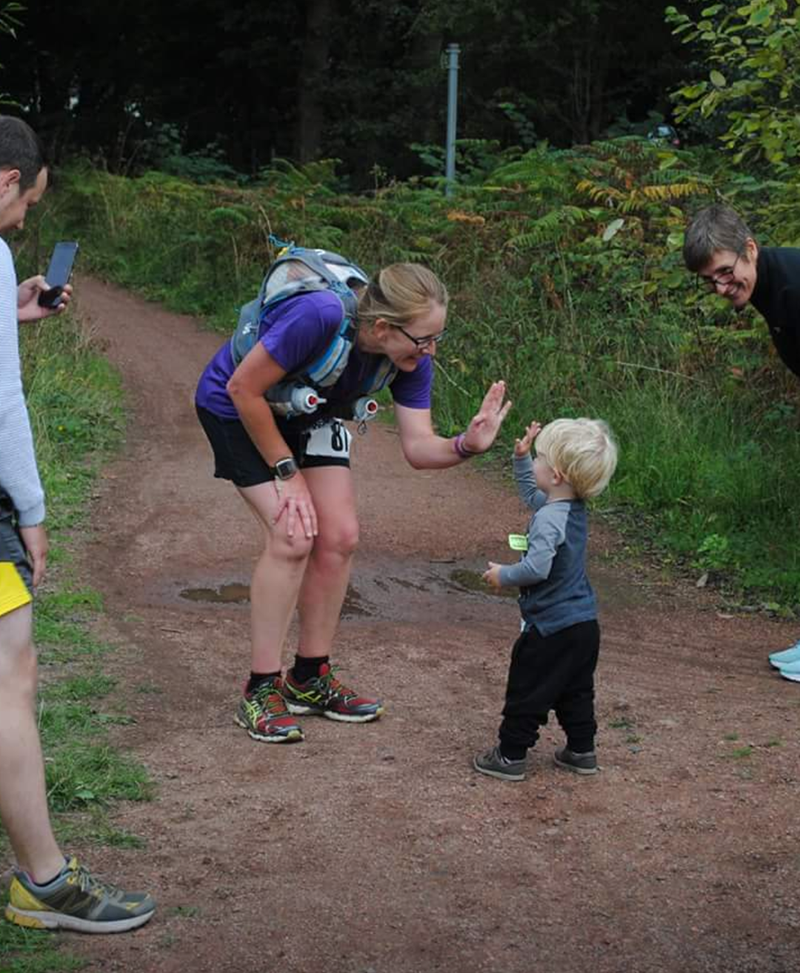 (Picture shared on the Hobo Facebook page)
Oscar had apparently been cheering everyone through the aid station for a while.  He kept peering down the path and going "AND another runner!" every time he saw someone come running along.  He accompanied this with lots of clapping of course!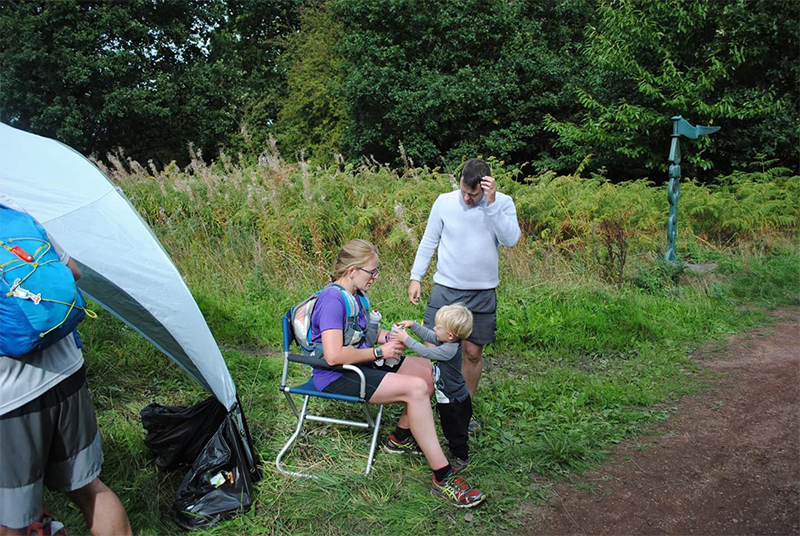 (Picture shared on the Hobo Facebook page)
Once at the aid station I took a few minutes to sit down and chat with Dan and Oscar (who really only wanted to play with my water bottles!)  From this station onwards I made a point of sitting for a few minutes to refuel and rest my legs before getting up and moving on again.  It seemed to work well and I could trick my legs into getting going again fairly easily.
Part two of my recap to follow over the weekend…