(You can find part one of my Robin Hood 100 mile recap here.)
As I left the aid station at mile 30 Dan told me that he planned on heading back to John and Lynn's house and would be back out in the morning with Oscar to find me on the course.  The trackers during the event were superb I'm told.  All the runners had been given small pager-sized devices on a strong velcro strap and told to attach them to our bags in a place that we could easily reach.  On the front of the device was a small button which, when held for several seconds would alert the Race Director that I was in danger.  Vital I imagine for those runners running on their own, especially those that made it to the canal path whilst it was still dark.  The tracking was real time, and friends and family (as well as those involved in the race organisation) could check that you were still following the correct path or that your tracking dot hadn't remained still for too long, signalling that perhaps you had had an accident somewhere.  I was told that if either of those cases were to happen I would receive a phone call to check that I was in fact still alright, which was rather reassuring.  The tracker must have been fairly straight forward to use, as even my Dad followed my progress during the race.  Afterwards he told me how he had been concerned that my dot had stopped for too long at the final checkpoint and that I might not make it in time!
At mile 32 I arrived to a crew of Gary and Guy along with Laura.  I stopped for a few minutes here to take some food on and it was nice to have a chat with everyone.  One of the guys noticed that my shoulder looked a little sore from where my bag had been rubbing so pulled out some Glide to rub on.  It didn't feel sore, but I did still have another 68 miles to go, so best be on the safe side!
The guys told me that Mike (the other runner from our club) was having a great race and currently sitting in 6th position which was lovely news to hear.
The next section was a bit of a low point for me.  It was 7 miles between the crew station at mile 32 and the next one at mile 39, with no aid stations in between.  I didn't really see many runners during this section for several miles as everyone had started to spread themselves out a bit by this point.  I needed the toilet just as I came across a sign for public toilets and so ducked off the road to find them, although then had to queue along with the public.  One of the few negatives about this event was that these were the only actual toilets on route and the second time I passed them they had been locked up, so all other wees were wild ones – which always becomes progressively more of a challenge as the race goes on!
Gary, Guy and Laura had walked the half mile through the woodland to meet me at mile 39 where I sat with them on the floor for a few minutes and knocked back a chocolate milk.  I really fancied a little sit down when I met them, but I did feel a little stiff as I got going again.
All through the race I never thought of it being 100 miles.  The first big milestone for me to reach was mile 52, when I knew that James would be joining me on my run to pace me for 30 miles to mile 82.
I got a little confused as I left the aid station at mile 41.  This was an aid station at four points on the course due to the way the course was laid out.  (Miles 31, 41, 60 and 70.)  So there were people coming in and leaving in all directions and I started to follow somebody heading out on the loop I had already completed!  Luckily the marshals were on the ball and quickly called me back, sending me off in the correct direction.  That could have been a painful mistake to make!
I came across a horse and rider heading in my direction along the next tarmacked section.  They approached rather quickly but were walking as I passed.  The rider smiled at me and then without any sudden movements, the horse bolted off towards the next runner a way back behind me along the road.
Mile 47 was the next aid station and crew spot.  There was a steep descent on the way into the checkpoint which included climbing over a stile on a rocky step.  When I arrived at Gary's car I asked if I could have one of the pasta pots I had brought along made up ready for me to have when I reached the next crew stop a little later on.  They told me that James had arrived at the crew point where he would be pacing me from and was just going to grab a quick nap before I arrived.  It was almost dusk as I went to leave the aid station and so I pulled out my headtorch ready for the next section.  It was less than a mile before I needed to turn the light on.  It seemed to turn from day to night really quickly and once again I found myself running on my own with nobody else around.  This section was a really eerie one.  I found myself running alone through thick woodland in the dark, guided only by flashes of reflective tape blowing in the wind as my headtorch caught the edges with it's beam.  There were a lot of noises in the woods.  I could hear owls and rustling and I did feel rather vulnerable – very grateful of the fact that James would soon be running alongside me from the next aid station.  I had really freaked myself out by mile 50 and the last two miles before the aid station were run at pace just to shorten the time I would be spending running alone!  My Garmin tells me that I was running at 8:40mm pace for a little while there!
I had estimated that it would take me somewhere around 12 hours – 12 hours 30 mins to reach mile 50 and I glanced at my watch to see that it had taken about 12 hours and 15 minutes, although somehow it felt like I had only been out running for a couple of hours.
I sped into the aid station at mile 52 to see Laura and James waiting for me to arrive.  A volunteer told me that chips had just arrived at the aid station and so I sent Laura to grab me a handful.  Up until this point I had just been knocking back picnic type foods, so I was very grateful for the piping hot chips and was glad that I had requested my pasta pot to be ready by the time I reached the next crew station so that I could have a real meal.
I said goodbye to Laura who was returning home from here to continue tracking me on the website.  I grabbed a cup of sugary tea here too and I definitely noticed the boost it gave me.  I left still carrying my tea and James and I walked half a mile or so whilst I finished my drink.  I explained to James that I was still running large sections but that I was also now speed walking parts of every mile, – taking each section as it came.  The only real pressure in the back of my mind being that I needed to cover the ground at 18 minute mile pace on average (including all stops).  Up until this point I had only had one mile which had come over this pace, which had included a stop to see my crew at mile 41.  My walking pace is naturally fairly fast at 15-16 minute miles so it would be the need to stop at aid stations and lack of sleep which would let me down if anything.  I wasn't too concerned with timings at this point.  I had been a long way off from cut-offs at the South Downs Way 100 in June, and although I had purposefully slowed myself down significantly at this race I still felt in control and like I would be able to speed up if needed.
Running with James was great.  It was lovely to have company after the last 52 miles of solo running.  James had taken part in running an 11 mile leg at the Round Norfolk Relay race for our club team in Norfolk that morning and then driven over to Clumber Park to pace me round 30 miles in the dark.  He filled me in on how our club team had been getting on before he left and we discussed different races we'd run or wanted to run later in the year.
Before running SDW in June I really underestimated just how much help a pacer could be in an event like this.  In future any other races over 50 miles in distance I will absolutely be planning to incorporate pacers and a crew as the people filling these two key roles made such a massive difference to my spirits and desire to achieve at the Robin Hood 100 last weekend.
I felt a little weak by the time we arrived at mile 62 so had a little lay down in the back of Gary's car whilst Gary and Guy got my pasta pot ready.  Initially I felt like I would struggle to get the pasta down, although knew I would have to force it if that was the case.  I got no more than 7-8 pasta shells down me at mile 54 of SDW and I suffered because of it.  After a few minutes of laying in the back of the car and after eating a couple of shells I started to feel a bit better though and surprised myself by managing to finish the whole pot.  I reminded myself of a character on an old-style video game where they would eat and their health would instantly increase.  When I had arrived at the crew station I was worn down and not very perky but by the time I left I was buzzing again and back into a jog as soon as we got round the corner.  I made sure to put in an order for the second pasta pot later on that morning.
I had a dark patch at 1am on Sunday morning.  All night I tried to calculate times in my head as I ran.  For some reason I counted 1am – 2pm as 11 hours remaining instead of the 13 hours that it actually was.  I can't remember how many miles I had left by this point, but by selling myself two hours short I knew that I would be fighting the clock the whole way.  I was so confused as I knew I had been so far ahead of the cut-offs for the first half of the race.  I didn't understand how I could now be cutting it so fine that I might not make it.  I voiced my concerns to James (who didn't spot my mistake either) and then grew quiet, filled with worry that something which I had not originally been concerned with at all may now pose a threat to the success of my race.  I can't have been much fun to run with along this section!  It must have been 20-30 minutes before I finally worked out my mistake and felt instantly relieved.  Two hours is a lot of time to lose!
When James and I arrived at the aid station at mile 69 one of the marshals overheard me talking about my mix-up in sums.  He reassured me that the unofficial cut-off time at that aid station was 5:30am, and it wasn't quite 3:10am when we arrived.  We still had plenty of time!
I stopped for quite a while at mile 76 with my crew, sat in the back of Gary's car.  I had had what felt like a small stone rubbing in the bottom of my right trainer for the last 8-9 miles, but on removal of my sock and shoe Gary confirmed that this was now where the ridge of my sock was rubbing on the base of my foot.  It didn't hurt, it was just irritating at this point so I got him to put my trainer back on and decided to deal with the repercussions after the race.  I enjoyed my second pasta pot – I had needed it perhaps two miles sooner than we had arrived annoyingly so once again I felt rather weak on arrival but perked up as more of the pasta disappeared.
It wasn't long after leaving this checkpoint that my words began to slur into each other as I spoke.  I felt completely drained and knew that a five minute nap would pick me back up again.  I begged James to let me lie down on the floor and take a quick nap but instead he tried to convince me to make it to the next aid station where I would be able to sleep in the back of a car rather than the cold, hard floor.  I knew that with nearly five miles still to go before we hit the next aid station I would never make it though and eventually, as my speech got more and more indistinguishable he decided to pull out his space blanket for me to curl up on for a five minute nap.  I tried to wait patiently by the side of the path as he pulled his blanket out but he seemed to take forever and the blanket kept sticking back on itself, getting more and more tangled up.  Finally it was on the floor and then I didn't waste any time in laying down on it for a sleep.  I can remember being amazed that I didn't feel stiff at all getting down to the floor.  My muscles were doing really well!  I must have fallen asleep instantly and awoke what I was told was 12 minutes later to James clapping loudly next to my head to wake me up.  Dawn was starting to break by the time I woke and it was nice to be able to tuck my headtorch back away into my bag.
I was buzzing after that nap and could run long sections of the next track again.  Initially I had been concerned for taking so long out of the race to sleep, but the pay off was definitely worth those few minutes of no movement along the course.
On the approach of the next crew point I snuck off for a wild wee and James jogged ahead to meet up with Gary, Guy and also Helen who had now joined my crew again for this checkpoint following crewing Mike.  I was eager to find out how Mike was doing and was instantly concerned when the guys reluctantly told me that he was still out on the course, – that he hadn't finished the race yet.  For someone who had planned on running 11 minute miling for the race and who had been holding 6th place when I checked at the halfway point I really hoped that something hadn't happened to him, but I couldn't get any more information out of my crew, who stuck to their story that he 'hadn't had a good time of it'.
This was the checkpoint where James left and Guy joined me for the remaining twenty miles.  I thanked James, (who was then driving back to Northamptonshire to run a half marathon later that morning!) and then filled Guy in on how my running had gone since I had seen him last.
It was only a couple of miles until the next aid station and as I ran down the hill I could see Oscar and Dan waiting for us at the bottom!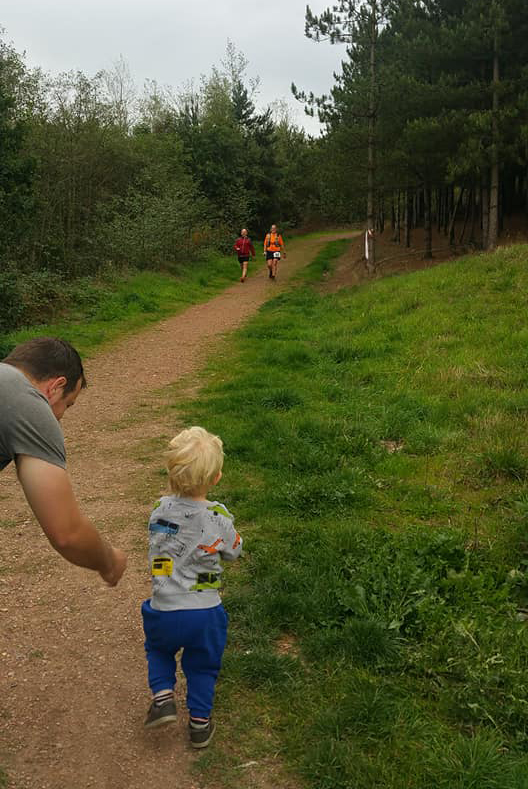 (Picture shared on the Hobo Facebook page)
Oscar was really excited to see me and chatted away to me about his morning.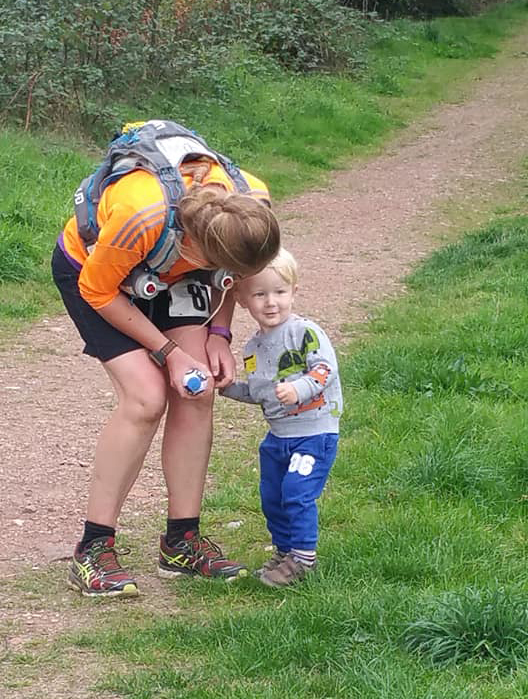 (Picture shared on the Hobo Facebook page)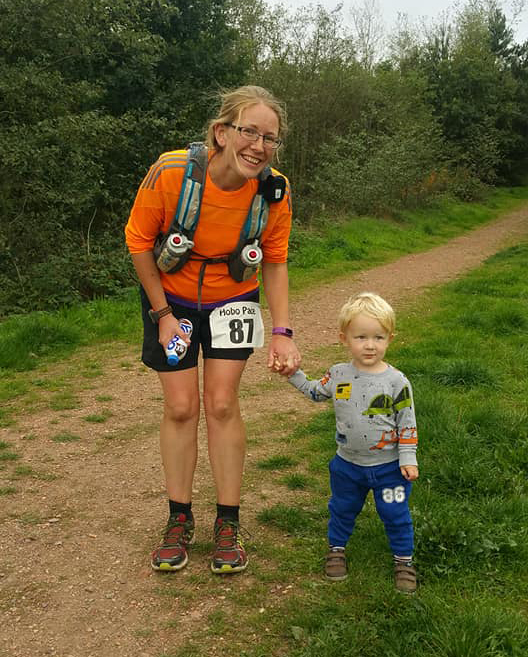 (Picture shared on the Hobo Facebook page)
I sat for a few minutes in a chair at the aid station with Dan and Oscar.  The marshals were great with Oscar and he was offered all the watermelon and sweets he could ever eat whilst I spent a few minutes getting myself together ready for the last sixteen miles.
****
I thought I might get all of my recap written in two posts this time, but it's late now and I still have so much to write.  Part three to follow over the next couple of days…