(You can find the first two parts of my Robin Hood 100 mile recap here… Part one * Part two)
Knowing that I had arrived at mile 84.28 (every point 2-8 counted after 24 hours of running!) was a nice boost.
Seeing Dan and Oscar and knowing that they would be following me round the course until the end now was nice to know, and by now I had heard word that Kev and Amanda who had run 50 miles at the Centurion Chiltern Wonderland race (160 miles South!) on Saturday were at the finish line, grabbing a quick sleep before coming out on the course to see me finish.
Hitting the canal path on the return leg of the route was hard going.  I'd forgotten how rough the terrain had been.  Tufts of grass sticking up everywhere and really uneven ground underneath on such a narrow path at times.  I was glad that I wasn't one of the faster runners who would have had to complete this section at nighttime in the dark.  Although it was bad enough running it after 12 minutes sleep in the past 26 hours or so.  I felt rather bad for Guy here as so much of this section I had to walk.  My feet were in tatters by now.  The small stones I had accumulated in my trainers earlier on had rubbed slightly and the bottoms of my feet were very tender.  Every footfall that wasn't on flat ground was agony and at times I couldn't stop a whimper from sneaking out of my mouth.
We had a brief panic as we headed up over a bridge that crossed the road and could no longer see reflective tape marking the way back down and along the canal the other side.  I knew that I had come following the canal, and was sure that the route followed the path in reverse until we nearly reached the finish, but I doubted myself on such little sleep.  Guy jogged up the road to see if he could see any tape in either direction but there was none, so nervously we agreed to follow the canal path in reverse of the way I had run out.  I texted Gary to see if he could check on the tracker that we were still on course and after a few minutes, he confirmed that we were.  A kilometre or so up the track we came across some reflective tape and I could relax again!
When I had last seen Gary and Dan they had both told me that they would be at the next checkpoint.  They both misspoke.  For a good two miles before the aid station I was eagerly coming round every turn expecting to see Gary with pasta pot in hand and Oscar running up to me.  What felt like hours later Guy and I turned the corner to come across the checkpoint, only for nobody to be there waiting for us.  I slumped down into a deckchair shouting really dejectedly "Gary! Gary! Where are you?!"  Apparently one of the marshals at the checkpoint was called Gary, but he wasn't the Gary I was after!  Another volunteer told me that he hadn't seen my toddler at this checkpoint…my crew weren't here.  I spent a good minute or so feeling sorry for myself before shovelling in some ready salted crisps and announcing to Guy that we had to get going again.  I needed to find where Gary and my pasta were…I wasn't stopping!  Afterwards we worked out my crew had meant to say that they would be at the next CREW station, not checkpoint.  This checkpoint was one of two where crews could not attend due to the lack of parking in the surrounding area.
We traipsed on and a brief glimmer of hope began to grow as I remembered that I had seen Helen, Grant and Val somewhere near to this point on the way out at the start of the race.  Perhaps everybody would be at this point on the return instead?  The race course is twenty miles out, two thirty mile loops and then twenty miles back again to the start/finish, so each section of the course is run twice which is reassuring as you cover the same paths twice.  Although, on that towpath I swear every turn looked the same!
Eventually, at 93 miles I heard shouts of my name and I looked to see Kev and Dan with Oscar all shouting at me in the distance.  That got me to pick up my pace and as I got closer I also spotted Amanda.  Kev hurriedly rushed off to heat up a Pot Noodle for me, which I demolished, absolutely starving by now!  Gary had set off for home, as his son had a football match later that afternoon, but he had passed over my bag to Kev and Amanda who were going to crew me for the final ten miles of the race.
The Pot Noodle went down easily, although I decided I needed to get moving again so took the remainder with me as I headed off in the direction of the finish along the towpath.  Seeing everybody here had given me the big boost I needed to get going and after dropping my empty Pot Noodle cup in a nearby bin and passing my fork to Guy I managed to get some more running in again in short bursts.
The last aid station and crew point was at 97 miles and those four miles went on for what felt like forever.  The sun had really picked up by now and I was regretting not packing my running cap – feeling the sun burning down on the top of my head.  With nearly a mile still to go to the aid station, Amanda came walking along back along the path declaring that there were only three bridges left for me to walk under before coming across the checkpoint.  I really needed to get another sleep by now.  All I could think about was sleeping.  Although Amanda was carrying a plastic pint cup and when she mentioned that her and Kev had been waiting in the pub for me to arrive, my thoughts changed to what lovely beer garden weather it was that day and how much I would like a nice cool cider…why hadn't they brought me a cider?!
Turns out Amanda lied (although she swears she just miscounted!) but there were actually four bridges.  I may have had a minor melt down when I realised that the third bridge I counted wasn't in fact where the aid station was!  Finally though we did arrive and I ran over to Kev to say I really needed to sleep in his van for just 10 minutes.  Kev took me by the shoulders and very matter-of-fact told me that I could sleep for five minutes – no longer – on the floor of the aid station.  Then they would be moving me on.  I agreed and quickly clambered down onto the floor for a brief sleep.  The last thing I remember was the heat of the sun on my bare legs sticking out from under the aid tent and worrying that I had no suncream on them!
I don't remember anybody waking me, but I do remember leaving the checkpoint and checking repeatedly with the marshal that it was no more than three miles now until the finish.  (Another lie which I was told!)
We had a steepish climb up from this checkpoint but I knew the finish would soon be in sight now.  With just over an hour to go I knew all I had to do was to keep moving until the end and I would finish it.  In the bag!
My watch battery had grown low around mile 60 the night before.  Following the battery death of my watch at the South Downs Way in June I had been told that I could continue to run whilst charging my watch from a battery pack, so had come prepared this time.  On leaving the aid station at mile 62 I had attached the battery pack to my watch and hooked this into my bag.  I realised after about a mile that the display on my watch was now blank though.  Had the battery died completely?  James had suggested turning it on again and my watch flashed something on the display and beeped.  I realised later though, that by pressing the on/off button I had actually been turning my watch OFF and stopping the recording annoyingly!  I removed the battery pack at mile 77 and turned the now fully-charged watch back on to record the final section of my race, but have no watch data from those middle miles unfortunately.
As my watch now showed mileage that was really out with how many miles I had actually run I made a mental note of the mileage it showed as I left the final checkpoint the moment the marshal confirmed with me for the second time that it was no further than three miles until the end.  Perfect.  Three miles.  I can cover three miles in that time.  Easy!
Guy and I passed two runners sat on the floor at mile 98.  Guy had a few words and reported back to me that they had decided to pull at mile 98 of the race.  How gutted would you be?!  Things must be bad though if there isn't enough in you to walk the final two miles of a 100 mile race.
We crossed back over the horrible, horrible ploughed field.  It thought it was bad at mile 5…it was a million times worse at mile 98.  I couldn't stop the whimpers of pain escaping with almost every footfall now.  My feet were so sore and every time they fell on the really uneven ground I was in agony!
Finally we made it out on the other side though and it wasn't long before in the far, far distance I could see the building which I was sure we had come from!  The end was in sight!  Only, my watch said that there was only a mile to go.  That building was still much further than a mile away.  I suddenly began to panic.  Time was ticking down to the finish and I realised that the 'three miles to the finish' had been incorrect.  It was clearly further.  I started to pick the pace up again, panic creeping into my voice as I told Guy 'We have to make it to the finish.  I can't finish in over 30 hours.  I can't run the distance and not be given a time because I didn't make cut-off!'  I began to jog.  I could see Kev and Amanda again.  They had run back along the course to meet me.  Were they running to me because I was going to miss the cut-off?  My jog turned into a run, momentarily forgetting about the pain in my feet and allowing me to pass a number of other runners who had all been reduced to a walk for the final few miles.  Kev told me that I needed to run.  Not to panic, but to carry on running.  They wouldn't let me miss the cut-off.  I would get there in time.  It was so hard not to look at my watch, although I knew it wouldn't do any good.  The numbers made no sense anymore anyway.  I had no idea how many miles I'd run now or how far there was to go.  Kev's declaration that it wasn't far meant nothing and to tell the truth I didn't trust anyone by this point now anyway!
I ran and ran and ran.  A few cries came from my mouth when I hit particularly hard stones with my now very-blistered feet but I was getting to that finish!  As I ran down into the village hall car park I couldn't spot a finisher gantry and realised that I had no idea where I needed to go!  I shouted to Kev who told me that I needed to run inside the building.  I threw a wave to Dan who was getting Oscar out of the car, and to John and Lynn who stood near the entrance to the building and pushed on through the doorway.  Now where?!  It wasn't obvious!  Somebody shouted that I needed to run through the door to the right and so I continued, bursting into a small room to instant applause.  I could see rows of chairs around the room where those who had finished before me now sat, drinking hot drinks and relaxing with family.  Somebody appeared from nowhere to hand me my finisher t-shirt, engraved medal (such a nice touch!) and to pass Dan a bottle of beer.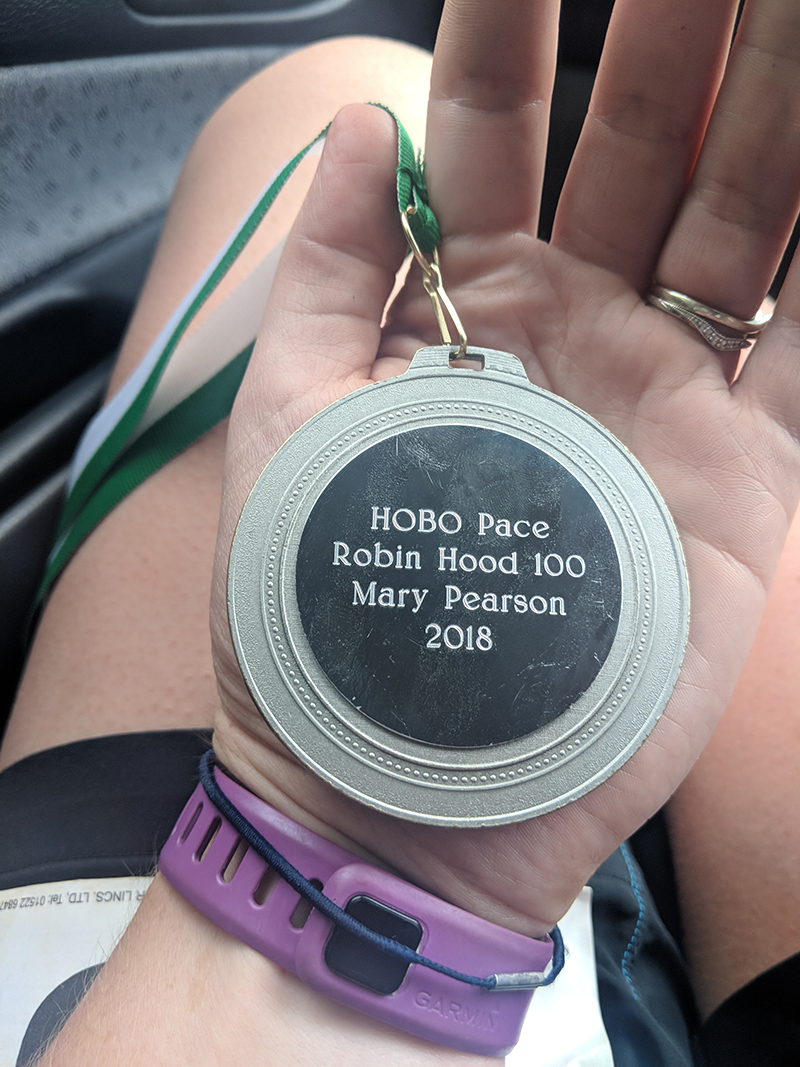 They asked if I would like a hot drink and I started to make my way to a seat, although for some reason I no longer had the urge to sit down.  More runners burst into the room and I joined everyone in clapping.  It was several minutes later before a woman came up and asked if I had handed in my timing chip and given my name to a guy with a board.  I hadn't and hadn't realised I needed to do so, so I think my official time is probably a few minutes out.  The provisional results show that I finished at the same time as two other runners (which I didn't) in 77th place with 29:48:11 for my time.  I would imagine that my time was actually closer to 29:45, but what is three minutes when I know that I made it before cut-off?!  And besides, it will just make it easier to beat my time when it comes to running my next 100 mile race, right?!  😉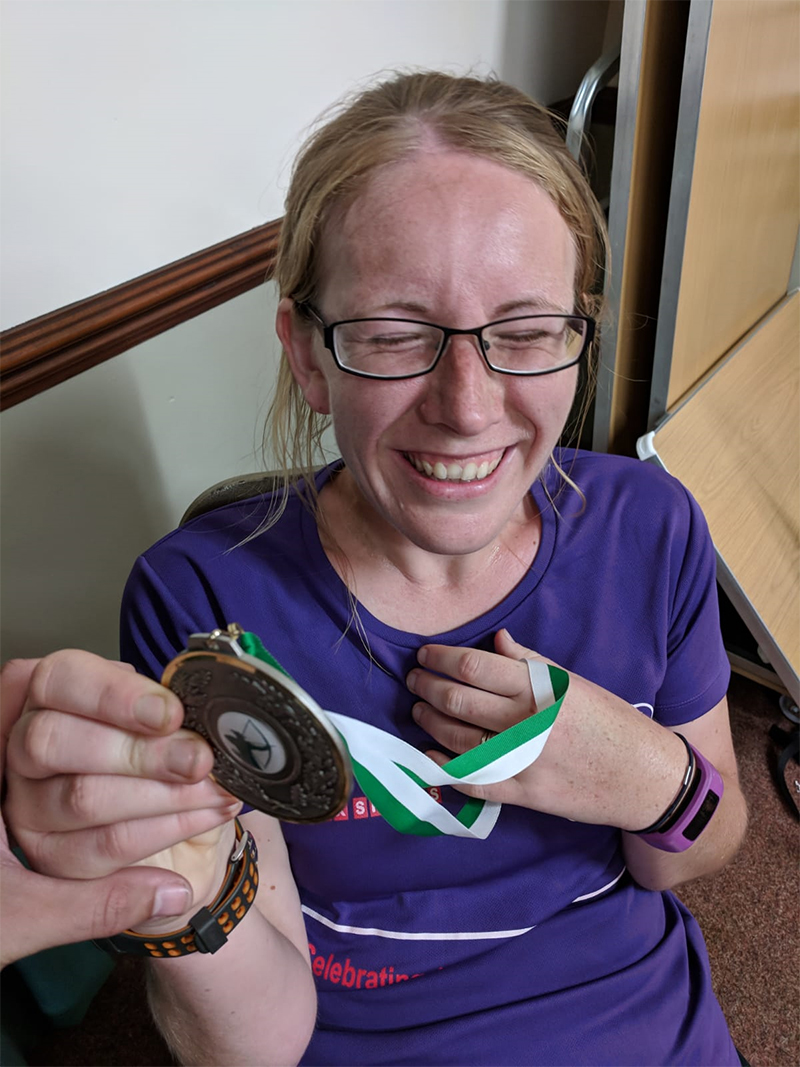 113 runners started the race, and 79 runners made the finish within cut-off, with a further two runners completing the distance 52 minutes past the 30 allowed hours.
My race absolutely wouldn't have been the success that it was if it wasn't for the following people though…
* John and Lynn for agreeing to house Oscar and Dan for the weekend and for filling my belly with pizza the night before the race and cider at the end!
* James for coming out on early morning training runs with me during the few months leading up to the race and then running the dark scary miles from 52-82 with me during the race.  For putting up with my panicking when I totally miscalculated the amount of time I had left at 1am on Sunday morning and for letting me have a little kip on his space blanket when I got tired.
* Guy for crewing me up to mile 82 where he took over from James as pacer and put up with all my shrieks as the stones destroyed the blisters on my feet!
* Helen for organising a superb team of support and for popping up at several of the crew points along the way.
* Grant for his support out on the course.
* Gary for crewing the majority of my race, taking my sock and shoe off to shake the stones out and heading out to buy a much needed Pot Noodle for me mid race. Hopefully I didn't make too much of a mess in his car!
* Laura for helping crew a large section of the race and for sharing the buggy pushing with Dan at Clumber Park parkrun!
* Kevin and Amanda for running me into the finish despite having run their own 50 mile race on the Saturday, then driving 160 miles up to Nottingham on Saturday night to see me run mine!  For putting up with me when I sobbed that I just wanted to nap and when I had a melt down because Amanda had miscounted the number of bridges to the next checkpoint!
* Dan for putting up with months and months of 5am alarms and numerous evenings when I was out running instead of staying home.  Also for chasing me round the course with Oscar over the weekend.
* Everybody that wished me good luck or gave me advice in the build up to race day. I felt so supported and honoured to have such lovely friends and family who were willing to do so much to help me achieve my goal.  I still cannot get over the fact that so many people went out of their way on so many levels to help ensure I completed my 100 miles.  I am so grateful to all of my friends for their support.
I took nine days off completely after the Robin Hood 100, and did feel a little lost with what to aim for next, although I have started to construct a plan for 2019 this week.  More to follow soon…!