This week the ballot results for the 2019 Virgin Money London Marathon (VMLM) have been announced.  Unlucky ballot entrants receive either a rejection magazine…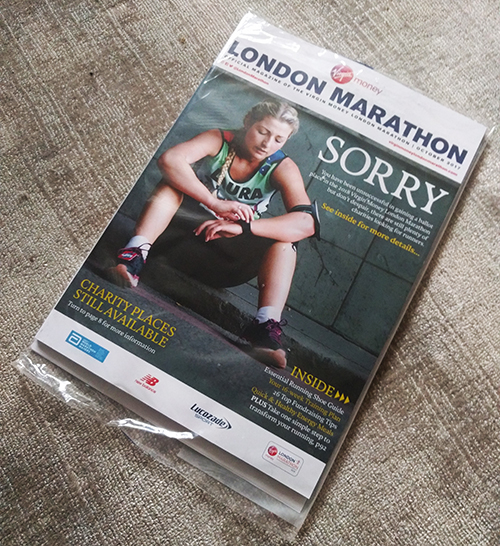 (Here's mine from last year)
…or a rejection email.  (Becoming more and more likely with the higher numbers of hopeful people applying for a place each year.)
Personally, I received my eighth marathon rejection earlier today, which wasn't too much of a shock.  Apparently 414,168 people applied for the ballot this year.  The race only has approximately 35,000ish finishers, and that includes elites, championship/GFA entries and those running for charity.  That's a whole lot of people that are going to end up disappointed this week!
Whilst I know so, so many people will have been disappointed over the past couple of days when they received their rejection message, it is rather frustrating to see many turn to social media to complain about the ballot being an unfair system.
In fact, surely the opposite is true?
Everybody that enters for a place in the London Marathon through the public ballot has an equal shot at being selected for one of the places on offer.
Yeah it might be rather sucky that this is your ninth rejection (No more than nine rejections are possible!), but it's also probably pretty sucky that you haven't won the lottery in the past nine years either!
If you don't win the lottery but are still desperate to become a millionaire, then there is the option to go out and work hard to make it happen.  The same applies when it comes to wanting to run the London Marathon.  If you are desperate to run the event, there are other ways to gain a place.
Applying for a charity place
London Marathon is known for the hoards of charity runners who line the street on race day.  In fact, the official VMLM website states that accounting for everything that was fundraised using their online Virgin Money Giving system for the 2018 race, £24,593,020.00 has been raised to date!
Often, charity places open for applications not long after the main ballot opens.  Some of the more well known charities will not be able to guarantee you a place though and will be asking questions such as how much money you are hoping to raise for them and reasons why you want to run for their charity.  If you are not too choosy about the charity you want to run for though, you will usually still be able to secure a charity marathon place a couple of months out from race day.
Charities tend to ask that you raise a minimum of £1500, with most asking for £2000 or more.  Although this can sound like a lot of money, the charity themselves has to fork out £300 for your entry and as long as you begin fundraising early on and don't leave it all to the last minute raising the money is probably more of an achievable target than you initially thought.  In fact, if by now, you already know that you are running for a charity, you still have a good couple of months before the main bulk of marathon training needs to begin and you should be able to hopefully put most of your focus into fundraising, and then later on into the training, rather than having to try and juggle everything all at once in the weeks leading up to race day.
Good For Age (GFA)/Championship qualified
The Good For Age requirements have changed from the 2019 race, which you can read about in my blog post here.  If you have run a time deemed as 'good' for your age at a previous marathon event as listed by the team at VMLM then you will be offered a place in the race the following year.  Although this used to be a guaranteed way to gain entry to the marathon, this is no longer the case.  There are now a maximum of 3,000 female GFA spots and 3,000 male GFA spots available for the 2019 event.  If more than 6,000 runners applied for a GFA position, then 'the qualifying time will be reduced evenly across the age group categories listed above until 3,000 runners of that gender are accepted'.  Meaning that you may have worked super hard to achieve a 3:44 qualifying marathon time as a senior female runner, only for the goalposts to be moved after you have submitted your entry, due to high numbers of other runners also applying for a place and you may not actually end up with a race place at all.
It's too late to enter the 2019 event using this method as places needed to be applied for at the start of the Summer, but it could be something to work towards ready for the 2020 race.  For many people though, it may be necessary to put a lot more time, hard work and dedication into their training in order to achieve the stated times.
Club places
All England Athletic clubs offer a number of VMLM places to their members (dependent upon the size of the club.  The majority of clubs then host their own ballot to determine who runs to represent their club at the marathon the following April.  Clubs may have their own prerequisites when it comes to entering.  For example, to enter the VMLM club ballot for one of two places as held by my running club you have to provide your rejection email/magazine from the main ballot.  You can then gain further entries into the club ballot if you marshaled the club race that Summer or ran a certain number of club-targeted races throughout the year.  I have only run the London marathon once before, in 2014 and this was the way in which I gained my place.
Competitions
This option requires the least work but the most luck!  There are always lots of competitions offering marathon places in the weeks and months following the ballot results.  Keep an eye on the official London Marathon social media accounts and also any of their official sponsors, as they often post about last minute marathon places up for grabs!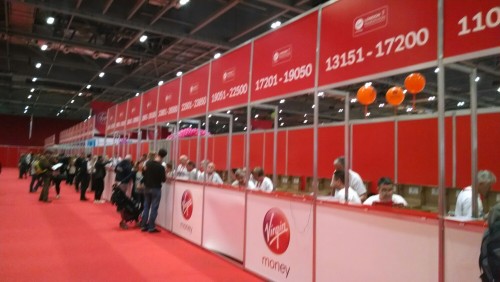 It hasn't been very nice to read some nasty comments today on social media about runners who 'shouldn't get a place' as they've already run the race or 'aren't fast enough to be classed as a runner'.  I've seen lots of comments about people criticising current non-runners for entering the ballot and then gaining a place, even though once upon a time they themselves would have been non-runners and potentially in the same situation.  Everybody who enters the ballot knows how incredibly slim the chances of getting a place are.  Don't make others scared to announce their good fortune because of your jealousy!
London Marathon is what it is.  It's an incredibly iconic and well supported event, but it's not a fast course due to the sheer volume of runners out there and it can actually be rather stressful feeling so boxed in along many areas of the course.  I've run the race before and I did really enjoy it, but there are so many fantastic other marathons to try out as well!
I wanted to raise money for Cancer Research this year following the death of my Mum , Aunts, Godmother and cousins of my Dad.  We've had a lot of cancer related death in our family since the end of last November and I want to help work towards preventing cancer in the future, albeit in a very small way through raising much needed funds.  I applied for a London Marathon place through Cancer Research several months ago now and after initially hearing that I hadn't been successful, I received an email a fortnight ago offering me a place.
I'm really excited to say that I will be running at London in 2019 and more importantly, raising money for a cause that means a lot to me and my family right now.  I'm really looking forward to being part of the Cancer Research team on the day and in the build up to the day.  There are a couple of large events which I have in mind to hopefully make up the bulk of my fundraising.  (I'm hoping to raise a minimum of £3000) and I'll share them on the blog when I have more details.
Good luck to all runners preparing for the 2019 event, first timers and 6-time-lucky-ballot-enterers alike!
Do you have a place for London 2019?  Did you enter the ballot this year?
Have you run the race before?
Any successful fundraising suggestions you can share with me?