I have a charity place in the London Marathon next year. (I'm running for Cancer Research UK)
The fundraising target I have set for myself is to raise £3000+ by the time I run London on the 28th April.  The charity asked for a minimum pledge of £2000 but I hope to raise more.  I will post details on the blog as I have them in the New Year, but the two main events I will be holding are:
1) An evening presentation led by a race director.
2) A pub quiz based entirely around running questions.
I'm really looking forward to finalising arrangements and for these fundraisers to unfold.
I read a BBC news article online the other evening entitled Fraudulent charity runners condemned.  I was horrified to read that 'following a BBC investigation, 1278 people who accepted places paid for by charities in 2017 were recorded as raising nothing.'  It goes on to mention that in regards to the 2017 Great North Run 'The highest proportion [of people raising no money] was reported by Cancer Research UK which also had the largest number of runners.  Of the 758 people who took its charity places, 318 (42%) raised nothing.'
That's awful, really.  I know that I have been asked to raise a minimum of £2000 in order to run London next year.  If each of those 758 runners raised even half that amount, £758,000 would make such a huge difference for the charity.  The article goes on to say that although some runners just simply do not show for race day, often a large number of runners still go on to complete the event.
Not only do I want to raise at least £3000 as part of my fundraising, but I want to train for a time that I will personally feel proud of achieving.
I want to aim for at least a sub 4:30 marathon.
This would mean taking more than 20 minutes off from my current marathon PB (4:54 – achieved at Chelmsford marathon in 2015, pre-Oscar).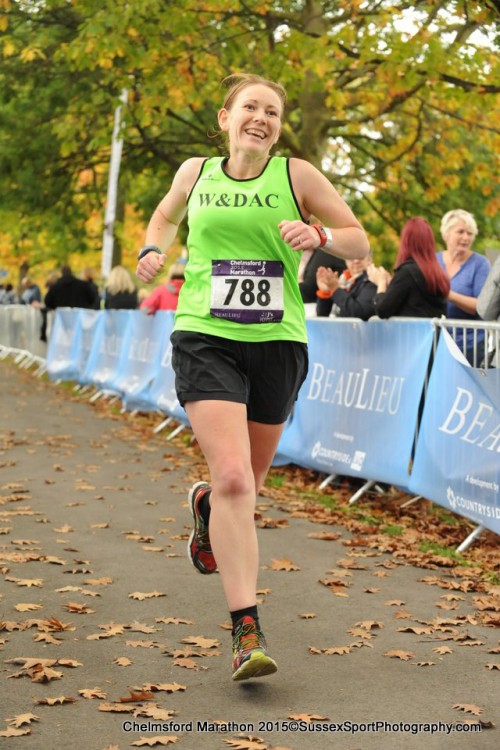 I have never completed a full training cycle successfully.  I always get sidetracked by interesting ultras, or trail marathons or long runs with friends along the way.  This time though, I am determined to remain on task and focused, with no other races booked in until at least May 2019!  (Although I have two cross country races within the next couple of weeks, but both under 6miles in distance).  I even successfully resisted entering the Country to Capital 45m and the brand new Rose of the Shires 50m ultra in April – agreeing instead, to marshal at both events.
I've read a lot about the Hanson's Marathon Method over the past few years and noticed the difference to my times and endurance as I began to adopt some of the key principles of the plan into my training week.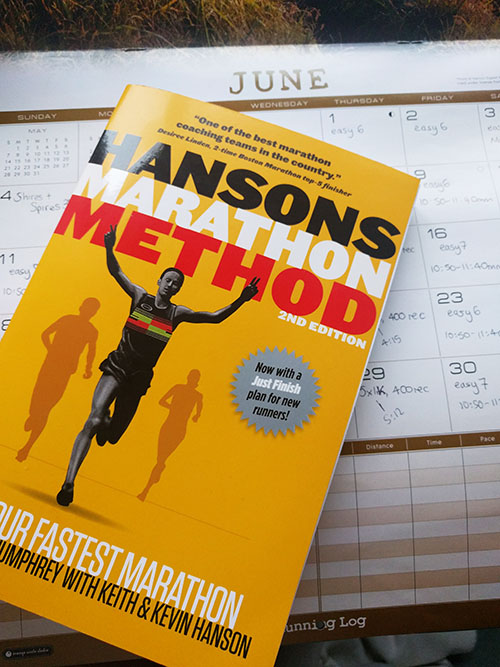 I had particular success following the tempo sessions.  They allowed me to have belief in my ability to run continuously at a tempo pace over longer distances.
Just back from the best quality training run I've had in a while. 🏃‍♀️ 1m warmup, 8m tempo, 1m cooldown. 😁 pic.twitter.com/WDFqrp3wku

— Mary P (@ahealthiermoo) April 29, 2018
The speedwork sessions were also so useful, as I am unable to attend speedwork sessions on a running club night (Dan doesn't return home from work in time for me to get there) and I never really know how to structure the sessions myself.
Running 5-6 days a week does really work for me and I definitely notice the gains to be had from more frequent running.  Having organised set workouts on a plan encourages me to get out and run on those days.
My main concern with the plan that my rest day has to fall on a Monday.  (I work through the night on a Sunday until 6am Monday morning.  I then only get a maximum of an hour of sleep before Dan leaves for work and I have Oscar on my own until Dan returns at 9pm.  By that point I'm absolutely exhausted having had just one hour of sleep from the previous night and it would be an impossible ask to head out for a run on Dan's return.)  This then means that I can't really be very flexible if something crops up later in the week where I would normally be able to swap my rest day around.
I've written out the plan in full as written in the book, but there will be tweaks on the days I run.  Mainly Monday and Wednesday runs will be swapped (as mentioned above) and Friday and Sunday runs (as Sunday has become our family day at home and I work Sunday evenings).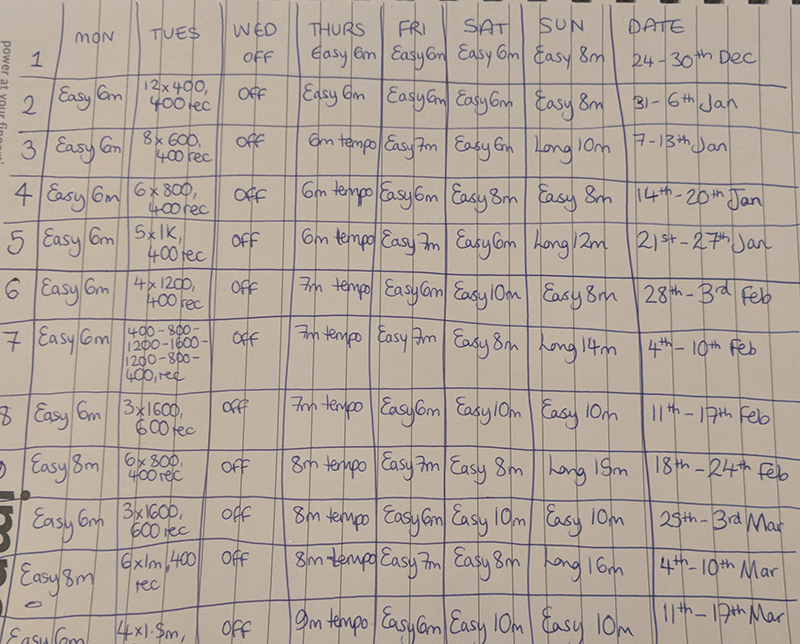 So, first run on the plan starts tomorrow (although the first week is filled with easy runs)…wish me luck!
Which training plans do you use for your marathons?
How many times per week do you prefer to run?