Our club competes in the Three Counties Cross Country series each season and it's one of the groups of races I absolutely love.  Cross-country, being off-road and running over challenging terrain is very much my thing.
The first two events have been tough ones though, in more ways than one.
I ran the Dunstable race last year, but never posted a recap.  I had travelled back from Norfolk to Northamptonshire for the race the night before, receiving a phone call on the return journey from Dan to say that his Nan had just died back in Wolverhampton.  Dan had spent the day visiting his Nan who had suffered from a heart attack a few days earlier.  I had been unable to head to Wolverhampton along with Oscar as my Mum had been gradually getting weaker and weaker all week, having not spoken since several days before.  Her eyes had been closed all day on that Saturday, but I stayed alongside her, watching Oscar coasting around the hospital bed that had been placed in my parents' lounge for her to rest in.
The next morning Dan took care of Oscar while I got myself ready to head to the cross-country event.  It's the event in the Three Counties Cross-Country league that is the furthest away and so I travelled down with a friend to the start.  The race was a tough one.  A bottle-neck start and a tough climb in the final mile.  But, I enjoyed the race.  We finished, headed back for rolls and cake, talked race tactics and tried to work out who would score for our club that season.
On arriving back at the car I checked my phone to find a missed call from my Dad and also one from Dan.
My Mum had died as I stood on the start line to that race waiting for the gun to go and I hadn't even known.  Not that there was anything I could have done of course.  I rang Dan first.  My Dad had already told him the news and Dan had begun to pack a bag for both Oscar and I.  I don't think I even showered when I arrived back home from the muddy race.  Just checked Dan's packing, threw in a few more bits, tucked Oscar into his car seat with a blanket and cup and set off for Norfolk.  When I arrived my Dad asked me if I would make those horrible phone calls.  We'd already prepared for this day and made a list a few weeks earlier so that we were sure not to miss anybody out when it happened.  Most people kept the phone conversation short and sweet, perhaps aware that it wasn't the time to offer small talk or keep me on the phone for long.  There were a few who made the task unknowingly harder; breaking down on the phone or keeping me on the phone without any pause for conversation back.  It wasn't the nicest job I've had to do as an adult.
Because I'd not written about the race last year I think I had almost pushed the full memories of that day out of my mind until I typed the postcode into my phone the other week and watched the map scan across to the race HQ, ready to give directions for the drive.  I felt anxious for the whole journey.  More so when on my arrival I was directed to the very same parking spot we had been in last year.
That's where the similarities ended though and I quickly made my way to the start to surround myself with other club runners, not that there were many out for the first event of the series which was a shame.
Due to the large volume of runners expected at the first race, the organisers had made the decision to reverse the course this year, meaning that Heartbreak Hill would come very early on into the race.  It was a tough hill to climb, but at least I didn't succumb to a walk this time round!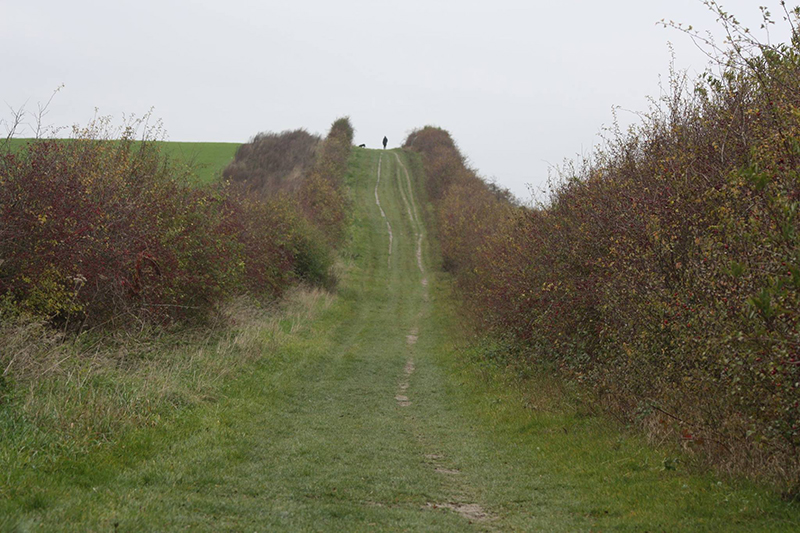 (This photo gives you a little idea how tough Heartbreak Hill was!)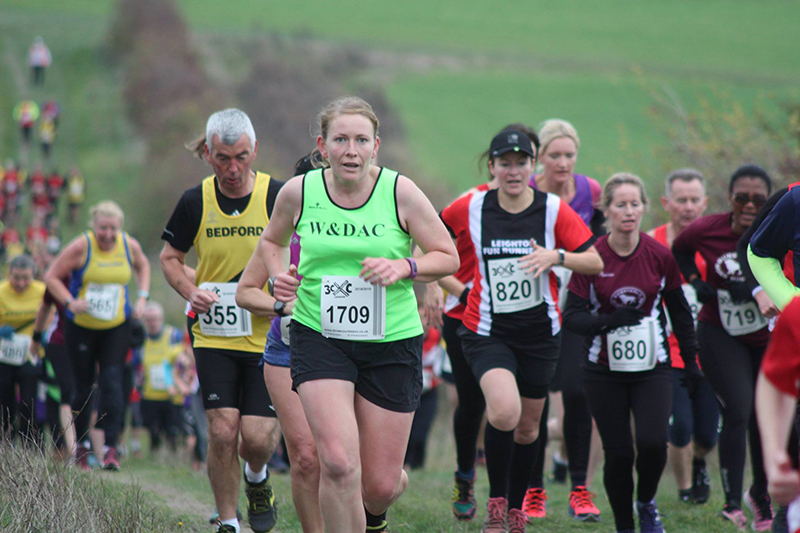 It was tough going to start with – very crowded along the narrow track heading away from the start line and it was impossible to find your place in the race.  Eventually though, the path widened and the pack started to thin out as everyone fell into their own running rhythm.
Somehow, the reverse course was so much harder than it had been the previous year.  I didn't walk Heartbreak Hill, but there was an incredibly long, drawn-out hill in the final mile that from talking to faster friends after the race, I found out even they walked parts of!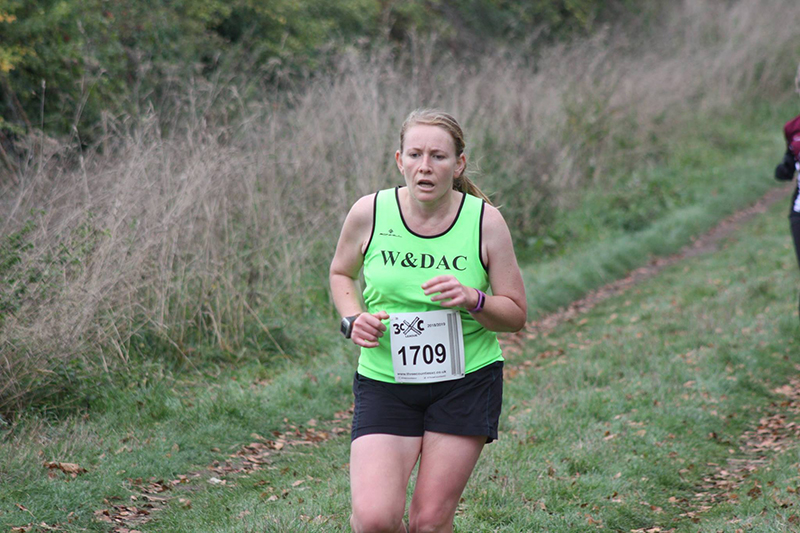 Ugh.  I hate this photo of me.  I look like I have lost all tone that I gained from training for the 100.  If anything is an incentive to up my fitness game, this is it.  So, I'm keeping it real and will leave this picture up on here.  Just let it be known, it's not my favourite!
It was a tough course.
Position: 403/483 (Fairly happy with this.  I'm usually much nearer to the back!)
Gender position: 402/481
Age category position: 13/17
I had thought that the Dunstable event was tough, but that did not prepare me for running our home cross country event!  I haven't had a chance to run it since 2015, when I was at my fittest, and boy did it show how much fitness I'd lost running the course again this year! The day before the event, our club heard the devastating news that we had lost one of our members.  He had suffered a cardiac arrest whilst out on the Wednesday night trail run and despite the best efforts of other runners, ambulance crew and hospital staff, that Saturday morning he died.  I wrote a little bit about it on Instagram last week.
The night before our home race I laid out pins, scissors and ribbon on our kitchen table, and along with two other club members we folded together 120 black ribbons for runners, marshals and club supporters to wear the following day, wherever our club members may be racing.
I had offered to help hand out race numbers to members before the cross-country race and so now also handed out black ribbons for them to wear.  I handed them out to previous club members, those from other clubs who had run with Guy in the past and made themselves known to me, and friends.  It was really hard.
The minute's silence at the start of the race was fitting.  We'd published information that it would take place on our club social media the day before in the hope that it would be heard over the pre-race chat.
The race started and we shot off across Croyland Park towards the first set of hills.  The far side of the park has loads of small up and down sections.  Great, I would imagine if you were ten years old and out on your bike, but pretty energy sapping when you were running the whole section twice during a cross-country race.
I had my first little walk at mile 2.  I felt like a total failure!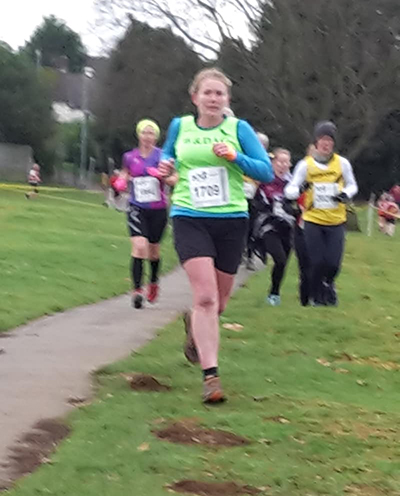 The best part about running a home course is all of the fantastic support on offer.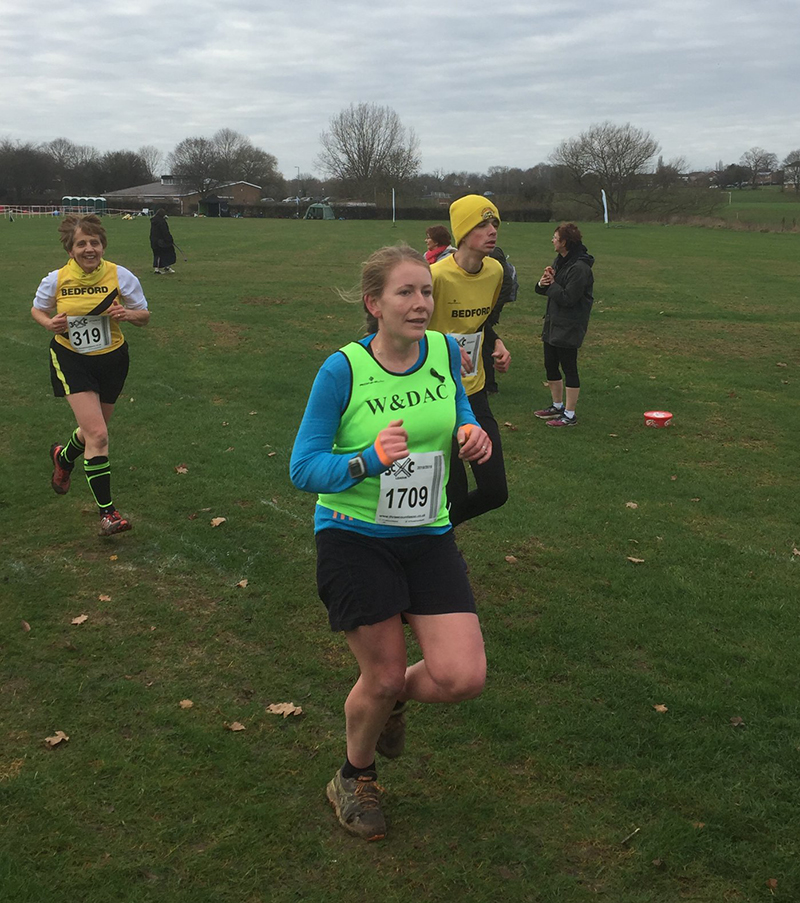 The number of brook crossings had reduced from four to two since the last time I ran the course.  I'd been told by my friend who was Race Director for the day that the race inspector had not been happy with the size of the crossing, but I wasn't sure if it had changed or not.  The day before apparently they had been out to widen the crossing point and had added a dam in order to ensure the water was deep!
In actual fact, the crossings weren't that bad.  It wasn't too slippy getting into or out of them.  The crossing was too wide to jump all the way across, instead, a gradual slope down the bank to a ridge, enabling you to jump into the water below.  Much less daunting than when I ran it previously.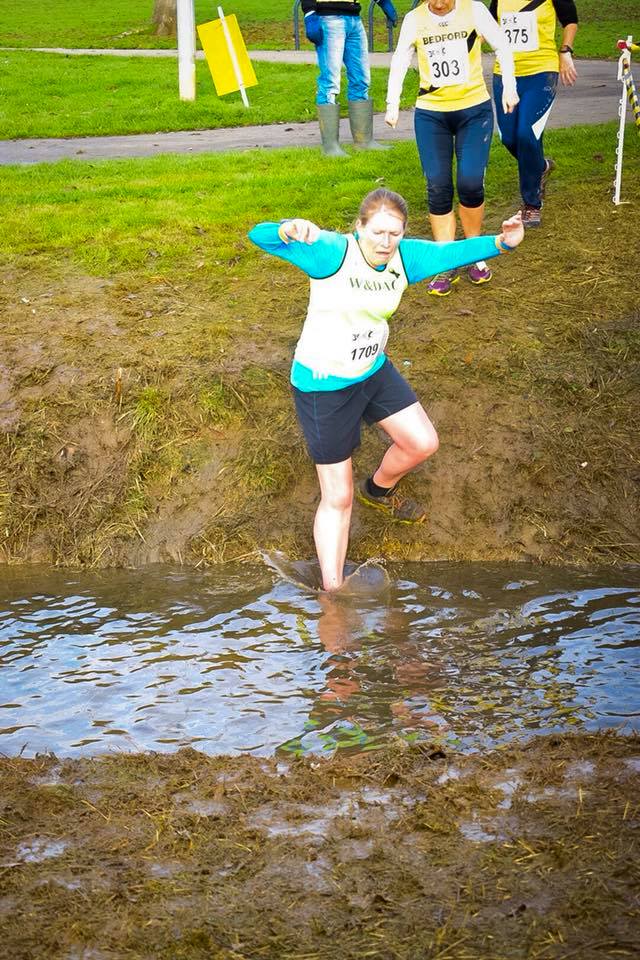 It wasn't as cold as I was expecting either.  At it's deepest the water came up to about my knee.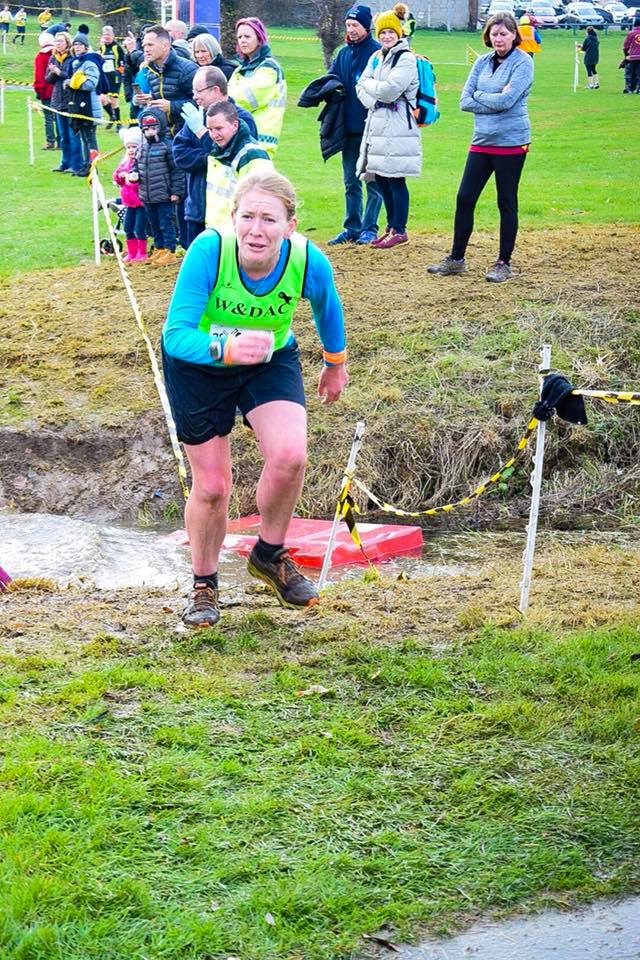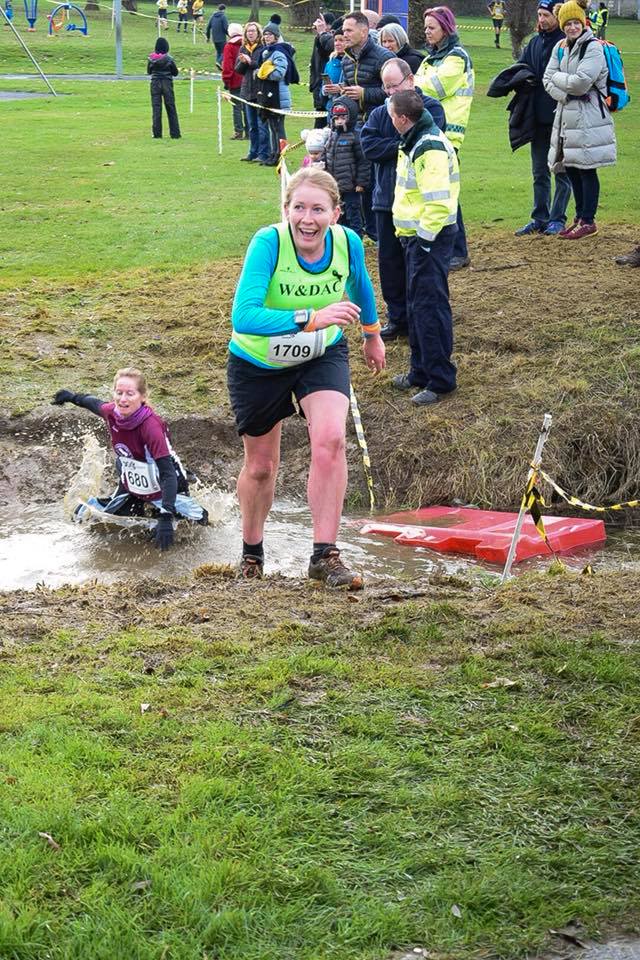 Not everybody managed to stay upright during the crossing…!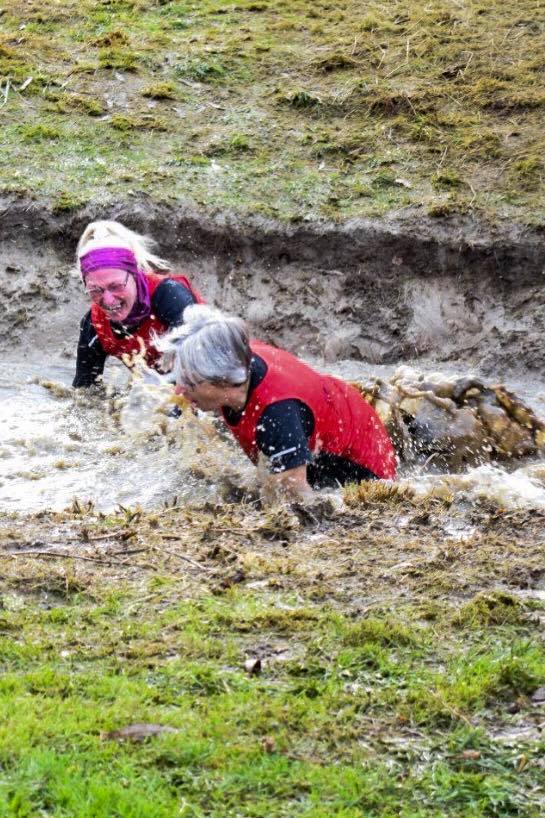 There were a couple more sneaky walks as I entered the other side of the park.  I was feeling proper fed up with my body by now and vowed to take some trips over to Croyland park in the near future to train on the hilly ground.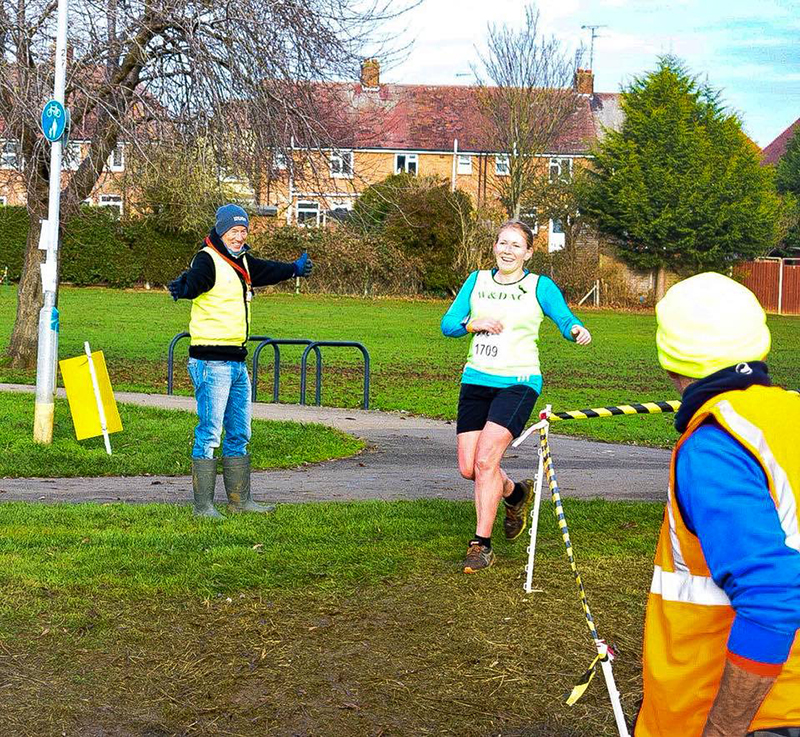 The far side of the field was very open (with very little chance for unseen walking breaks…I got spotted and shouted at once!)  I was glad to see the brook crossing in my sights once more, knowing that there wouldn't be too much longer before we reached the finish now.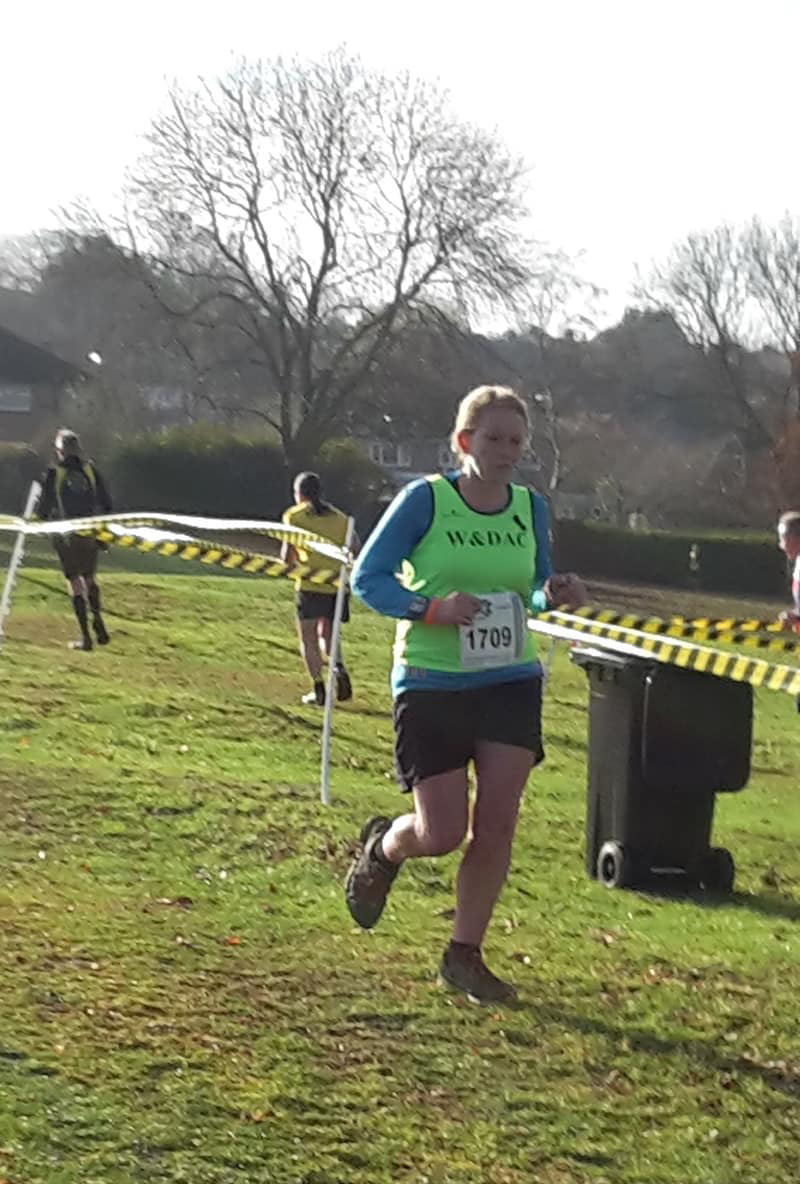 I really powered down the final hill, not letting anybody come past on my way to the finish.  Strava says my last bit of mile was run at 7:30mm pace.  I just wanted to be done!
I was the last runner to finish for our club, but did still manage to push the scores down for some of the other teams, so at least my run still counted for something.
Position: 341/404
Gender position: 108/158
Age category position: 17/23
Although I had a shocking race, my positions at our home event weren't too far off those from the first event, so I would assume that most others found the course as challenging as I did which was some sort of comfort.
Three more races to go!  One more before Christmas and two in the New Year.  Here's hoping I'm a little stronger by the time they roll around!
Have you seen race photos and just thought 'Ugh!'
Are you taking part in cross-country this year?