I always said that I would never run the London Marathon for charity. That putting so much time and effort into marathon training is tough enough without also having to raise thousands of pounds.
Once, when I was about 7-8 I decided that I was going to raise money for Children in Need by getting up early and biking into school. My primary school was only about 4 miles away by car, but along a very busy A-road that my Mum wouldn't let me bike along.  Instead she allowed me to bike along the backroads to reach my destination, adding a further few miles to the journey.  In the weeks leading up to the day I made sure to head out on lots of bike rides and thought hard about what to wear to keep warm during the cold morning and (the all important) snack choice for my journey.
The day arrived, and I jumped up to the sound of alarm, throwing on my school bag and eagerly jumping on my bike out of the shed.  My Mum followed behind me the whole way in the car and then took my bike back home again once we arrived at school, letting me know how proud she was of me.  I felt super invigorated and alive to have gotten out of bed so early in the morning and to have made my own way to school that day.  I made my way to my assembly with a big smile on my face.  It was only as I returned to my classroom after assembly when the school receptionist pulled me aside and told me that my Mum had slipped a tenner into the charity pot on the front desk for me biking into school that morning that I realised I had been so busy concentrating on the logistics of biking into school that I realised I had never stopped to think just how I would raise money from doing so!
Luckily, my fundraising skills seem to have improved somewhat since those days!
I really wanted to spend some time this year raising funds for Cancer Research UK.  I know most blog readers already know my back story, but for those who don't, my Mum was diagnosed with Terminal Cancer a few years ago.  She was tough.  She fought hard and made sure she was around for my wedding day the following year.  She battled through several batches of chemo, and even helped me fundraise for MacMillan by selling cakes in Holt town centre.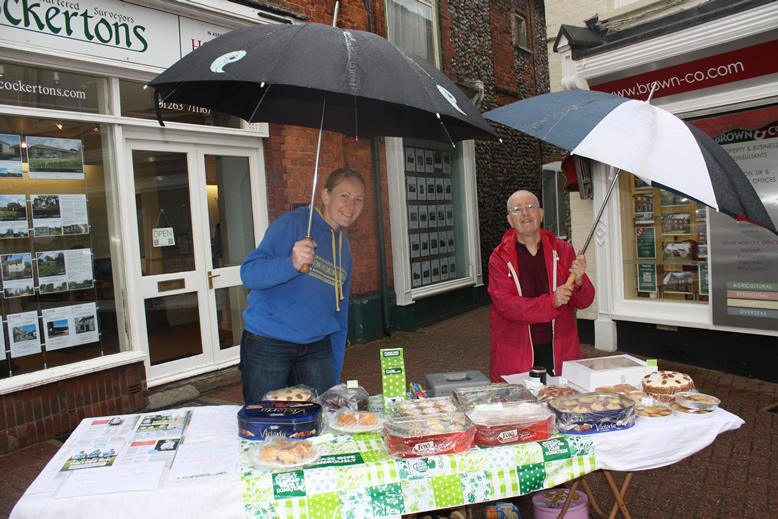 Then, in 2014 and 2016 we ran the Cancer Research UK Race for Life 5k event at Holkham Hall together to raise more funds.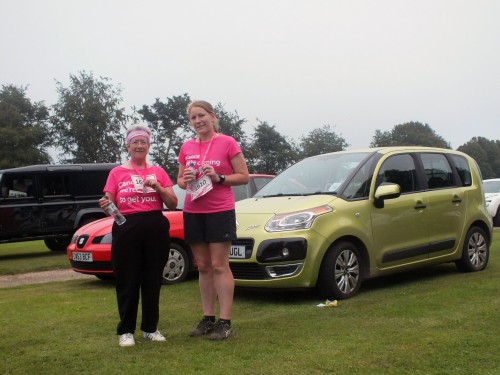 My Mum lost her Cancer battle at the end of 2017, and then in the following year we lost a further four members of our family to cancer.  Cancer has not been kind to us the past few years at all.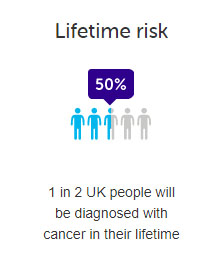 I decided to apply for a Cancer Research place for London 2019 and when I was offered my place I threw myself into training and fundraising.  Juggling everything (alongside five part time jobs and a toddler) has been incredibly challenging over the past few months, but I wouldn't change a thing.  If I was going to be running the marathon in memory of my Mum, I was going to do the absolute best job I could on the day and I wanted to raise as much money as possible in the process.
I am obviously no stranger to running long distances.  London Marathon was my 17th marathon, and I've run much further in the past.  This meant that I didn't feel comfortable asking people to sponsor me to run 26.2 miles.  I knew I had to either a) host some events to give people something in return for their money, b) put in some long hours myself in return for the money or c) both of the above.
I had been asked to raise a minimum of £2000 for Cancer Research UK, although I really wanted to raise £3000+.
I got in touch with Ronnie Staton to see if he would be interested in speaking to help me raise funds for the charity.  Luckily for me and the runners who came along, he was!
What an inspiration and all-round legend!
Ronnie
 provided a dynamic and inspiring talk to a room full of runners eager to hear all about his previous adventures.  When you hear 
Ronnie
, it is obvious not only how incredibly passionate about running he really is, but also just how much he wants others to reach their full potential and to find events and challenges that excite them!
We repeatedly laughed out loud as 
Ronnie
 shared his tales in an entertaining manner.
Despite all his accomplishments, 
Ronnie
 was very genuine and down-to-earth, happy to answer all questions thrown at him by the audience, as well as on a one-to-one basis.  A large number of guests came to thank me for organising the evening at the end, – all inspired, and many of them already beginning to reconsider their Acceptable Reasons of Failure for future challenges!
Ronnie
's commitment to help me raise money was fantastic despite suffering a stroke between the point of organising the talk and the evening the talk took place. In 
Ronnie
's words "As long as I'm still breathing I will 100% still be there!"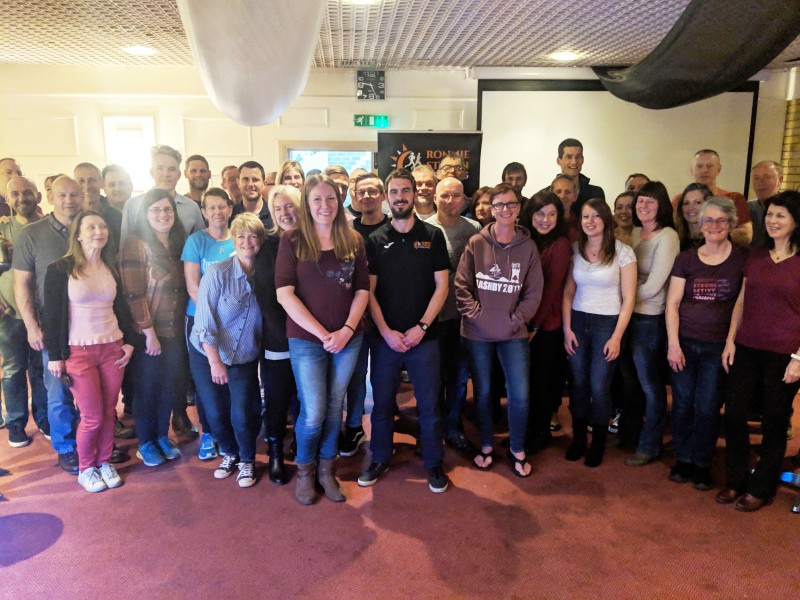 I charged £10 per ticket, using Ticket Source for ticket purchases and there was a great turn out on the night.  I was also so touched and thankful for all those who donated raffle prizes for the evening, especially those who couldn't make the event themselves.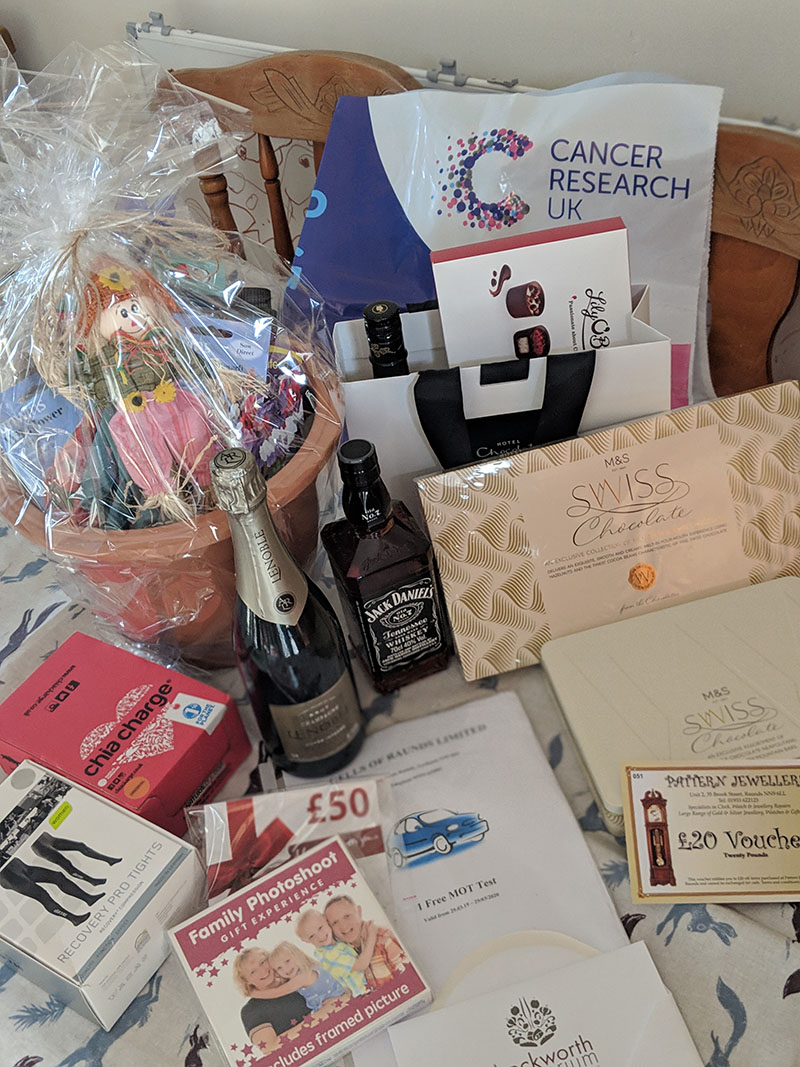 One of the items we raffled off was this amazing Cancer Research cake by Emma's Sweet Treats.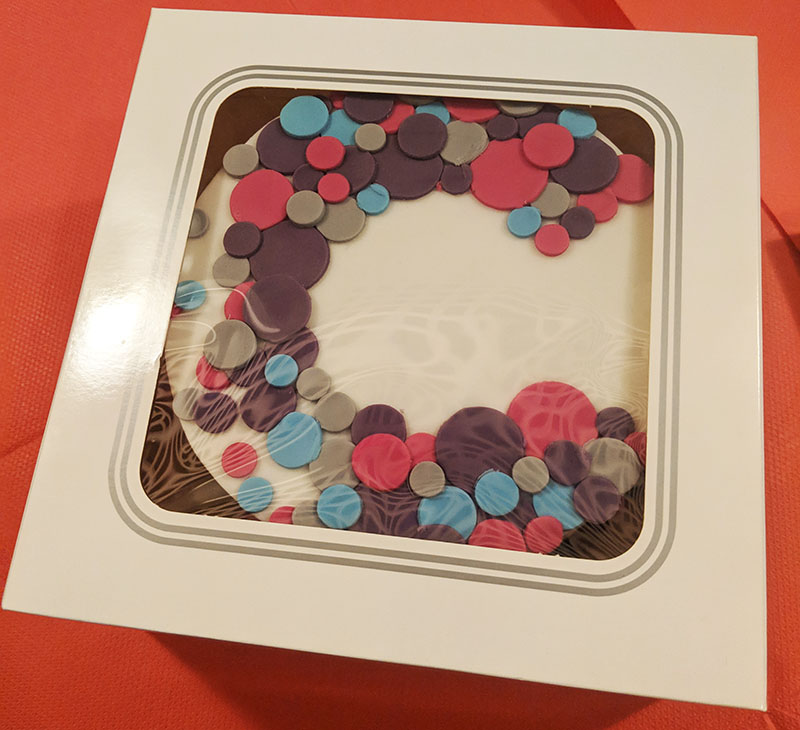 Wish I'd taken a better photograph of it.  I'm not even sure who won it on the night.  It looked amazing though!
In total we raised £842.73 from the ticket sales and raffle and it was by far the best money maker of my fundraising attempts.
As well as the evening with Ronnie Staton I also sat in three different supermarket entrances in the months leading up to the London Marathon with my charity fundraising bucket.
These were long days (usually starting by 7am) and staying sat in the same spot until late.  I found them hard.  I was fundraising on my own, although at two of the stores I had friends pop in to stay with me for a couple of hours during my stint which was really appreciated.  The first store I visited in my hometown placed me in the foyer opposite the Mother's Day flowers and Mother's Day card stand.  Mother's Day was only two days away so that was hard going and a little emotional.  Having groups of people writing in cards about how great their Mum was on the table next to me was tough.  I was very thankful when a friend arrived to help out and provide conversation to fill the quiet times in my mind.  This was the store where I raised the most money though, at nearly £300.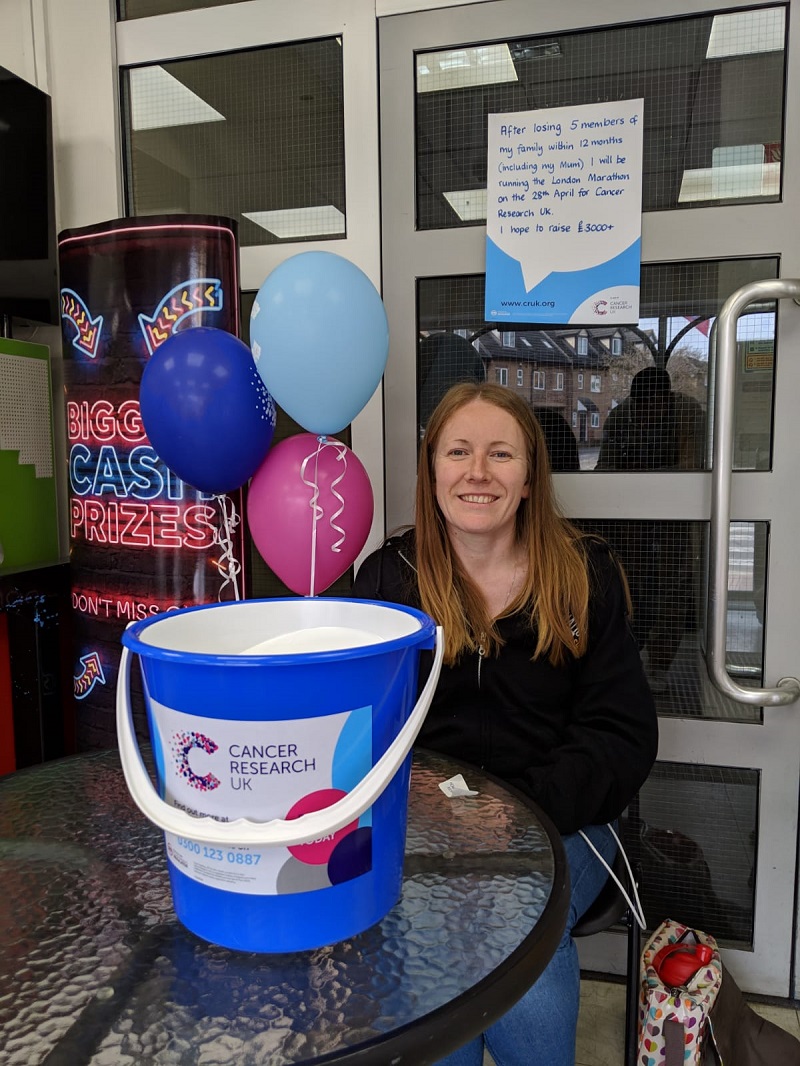 I found the second store the easiest.  I had decided to travel back to North Norfolk and visit the supermarket in Holt I had worked in during my college days.  Mum had also worked there during the years my brother and I still lived at home.  Despite there being many new faces in store, there were still plenty of faces I recognised (both staff and customers!) even though I had moved out of my parents' home back in 2004.  My table was placed by the checkouts and customers and staff kept coming over for a chat and a catch-up which was nice.  I was so saddened to hear that a 24 year old employee of the store had died from cancer a few months earlier though.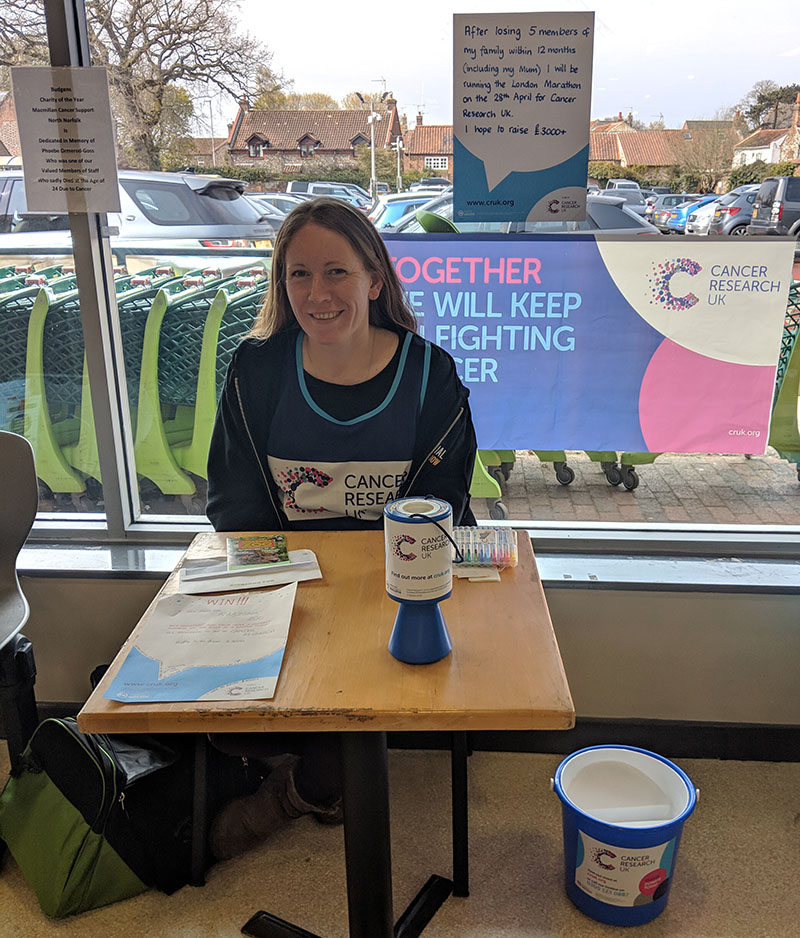 My final store was fairly local to where I currently live.  This was the hardest.  It was the Friday before the marathon and so friends weren't around to pop in and keep me company.  I arrived and was told I would have to wait an hour and a half until receiving a table or chair, as the staff on the shop floor didn't have a set of keys to access the offices upstairs.  I ended up laying out my items on a stack of compost bags.  The first lady that came to visit me to donate change in her purse made me cry.  I'd had an early start that morning and the lack of sleep had made me feel particularly emotional that day.  If somebody says nice words to me it can often turn me into a blubbering wreck and this was no different.  I was set off again a few hours later when I guy about my age pushed a twenty pound note into my bucket and said that his younger brother had died from cancer as a toddler many years earlier.
So many people stopped to talk and share their stories of misfortune with me.  One guy had lost his Mum a few days earlier after she had only known about her cancer for just a few days.  He stopped to talk to me several times for the best part of an hour across the day.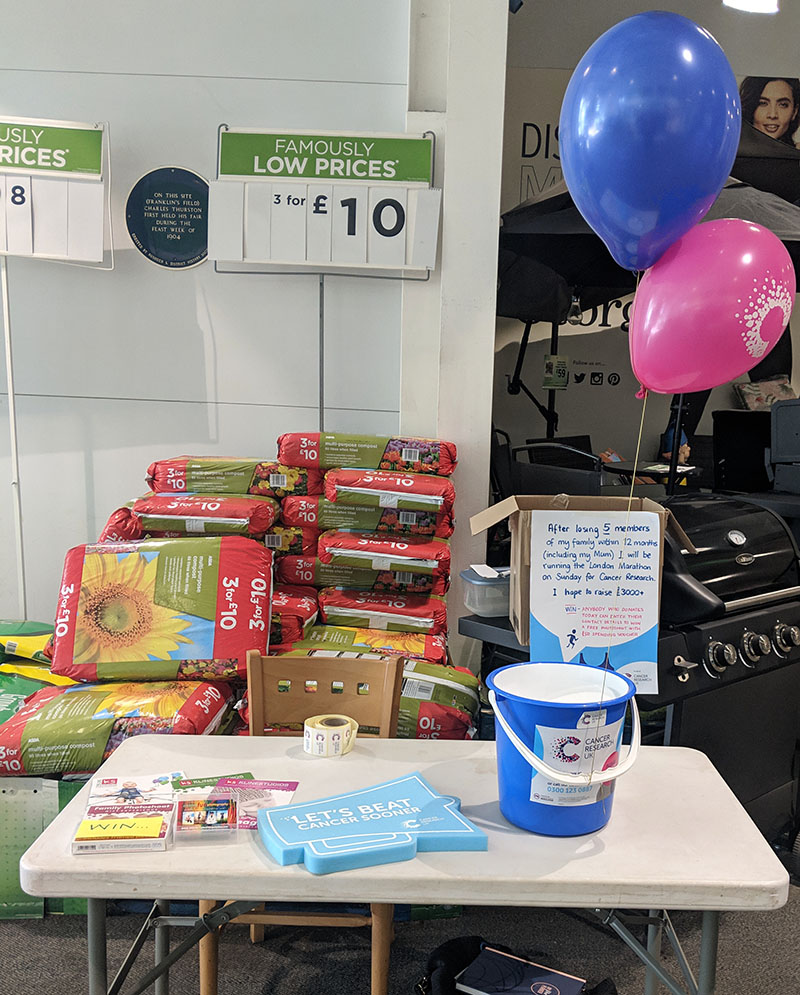 In total, I raised £694.06 from my three bucket shakes in stores.
I also got Dan to place a large multi-box of Cadbury's Creme Eggs in his staff canteen in the build up to Easter.  I bought the eggs with my own money.  Along with my staff discount, they worked out at less than 30p each, but most people donated £1 in return for an egg.  This brought in another nearly £50.
I also hosted a couple of smaller raffles, separate to the large raffle I held at the Ronnie Staton event although the amount I made from these was minimal.
Several people donated to my fundraising page online.  I was again so, so touched by the number of blog readers who donated or sent words of encouragement and raffle prizes for me to use.  I really do love this online community so much!
The total amount of money I've raised so far for Cancer Research since beginning my fundraising is £2,340.88.  It's been a hard slog to get this far, and the pressure of fundraising has stressed me out on more than one occasion but I still want to raise more before the year is out, although there is much less pressure now that I have made the amount asked of me in return for my London Marathon place.  I found the pressure of fundraising incredibly difficult.  Hence the reason my blogging has been limited so far in 2019.  Most of my Fridays (my one childfree day each week) were taken up arranging meetings, printing posters, trying to drum up raffle prizes, advertising my events…  Fundraising really is a full time job if you want to make a decent go of it!  A friend said that if your training plan says 'REST', then you should change that and write in 'FUNDRAISE' instead and I fully agree!
Last November I was assigned a contact from the charity who would be keeping in touch with me up until the marathon.  Unfortunately he went off on long term sick and eventually left the charity.  I only had one check up call after November, although there was always somebody to answer any questions I had at the end of the phone which was nice to know.  I rang up a number of times; to see how to pay in a cheque, to ask about swapping my vest for the race…
Running the London Marathon as a charity runner was a complete different experience to running on a ballot place.  Reading the stories printed on the back of other runner's t-shirts on the day whilst waiting in the pens was very emotional.  Listening to all of the charity cheer stations erupt as a runner came through wearing one of their charity vests was an insane atmosphere to be in.  You couldn't help but smile as the charity supporters became so loud you could no longer hear the hundreds of footsteps pounding the streets of London.  I definitely held my arms up and cheered back at all of the Cancer Research supporters on the cheer stations I spotted out on the course.
After the race I headed over to the post-race Cancer Research reception at The British Academy which was just over the road from the finish line.  (Although up rather a lot of steps!)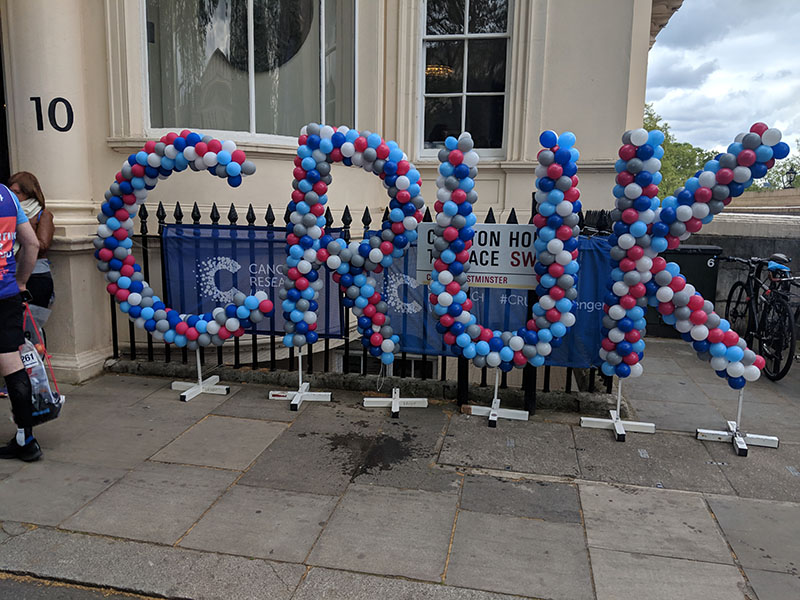 My pass was for myself and two guests, but I didn't have anyone with me on race day, so I just attended alone.
On each runner's entry (through the doors in the picture below) everybody in the grand corridor burst into applause, which was lovely!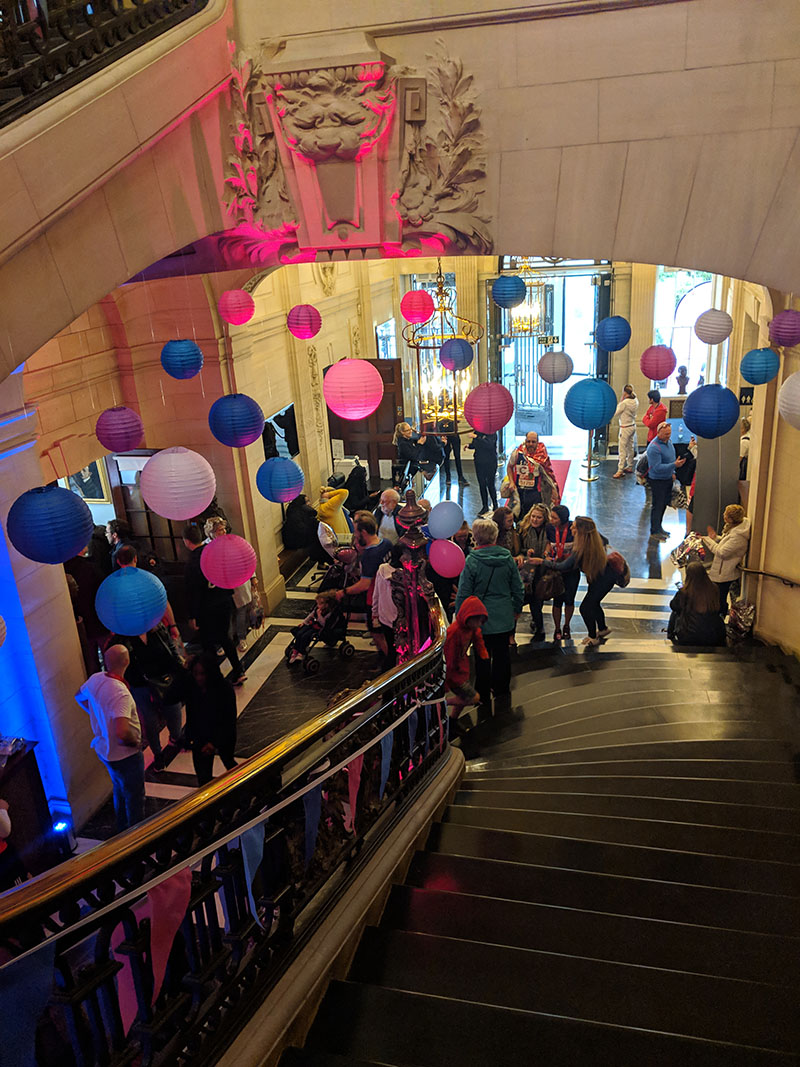 In the room to the left of the picture there was a booking form for a post-race massage and also the opportunity to get your medal engraved.  I signed up to both, leaving my newly claimed medal in the hands of a stranger and checking and double checking the time I wrote down for them to engrave.  Had I really run a 4:39?!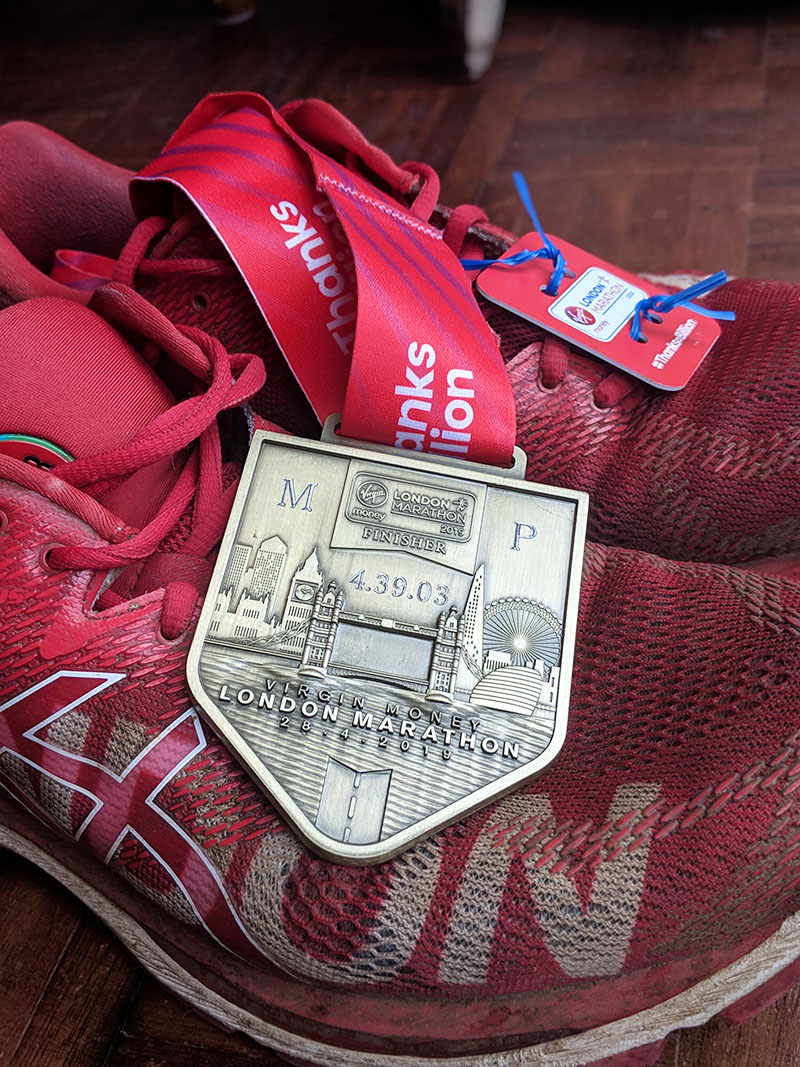 I headed upstairs and had my photograph taken by a volunteer in front of the Cancer Research board…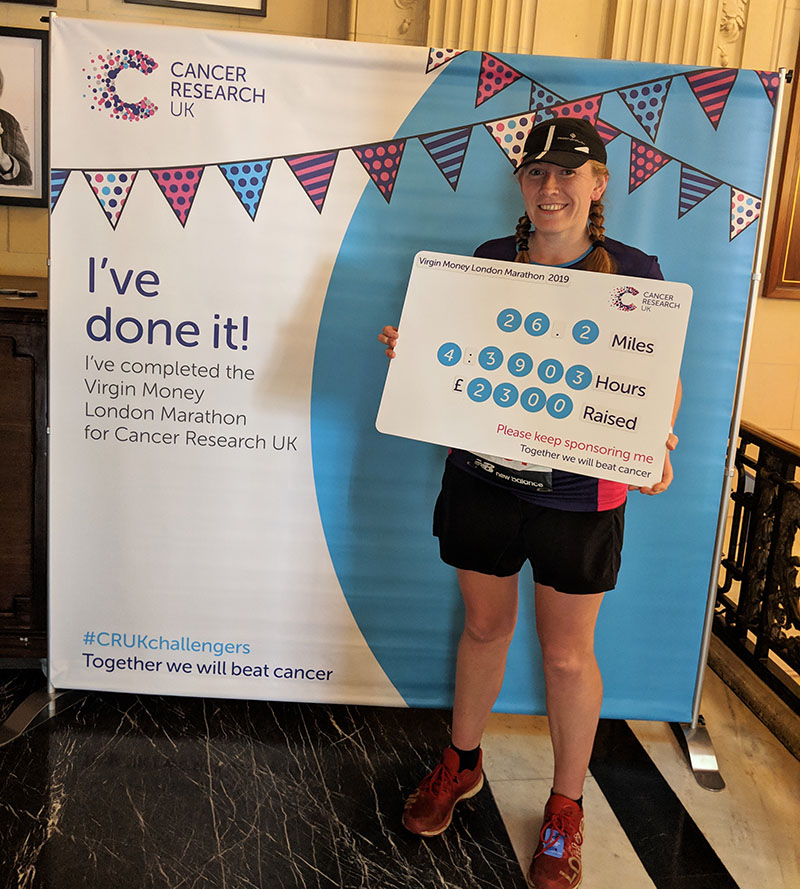 …and then filtered into the room with the food.  There was a great spread in place.  I'd jotted down notes before the race of which restaurants were offering free meals to runners, but I knew I would no longer need to head out for dinner with the spread offered here!  Besides, it was nearly 4pm by now, and I would need to head home at some point!
I only thought to take a picture of my dessert plate…check out the mini Colin the Caterpillar!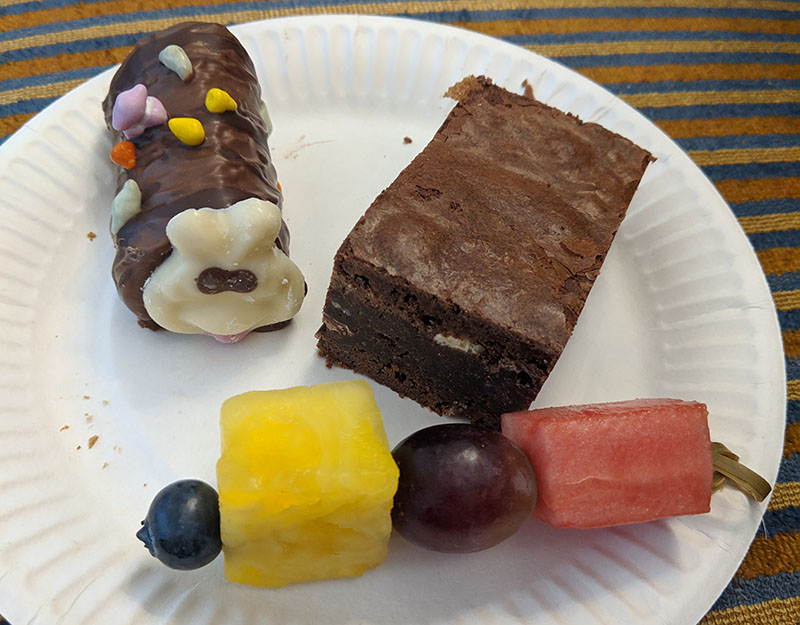 After about an hour or so (I'd used the time to call Dad, Dan and a running friend from club) the buzzer I'd been given began to flash to signal that I needed to head down for my massage and I was led into a large room where 7-8 volunteers were working on the legs of other runners.  I hopped up onto the waiting bed and lay out with my face in the hole.  I'd never had a post-race massage before, and was really looking forward to this experience!
Dee Stringer was my masseuse and my legs have honestly never felt so good after a race!  She worked on the backs of my legs, then the fronts and even got me to take off my socks and trainers for a foot massage (I did check with her to make sure I'd heard her right.  Even I won't touch my feet after a marathon!)  I had no problems with stairs the following day which I fully put down to proper race pacing and the great massage I received.
The trip home was nice and relaxed.  I spent some time talking to one of the retired volunteers who had been helping out on the course and had gotten onto the tube the same time as me.  I love talking to random people about running!
This year, the 39th London Marathon surpassed the £1billion mark raised for charity.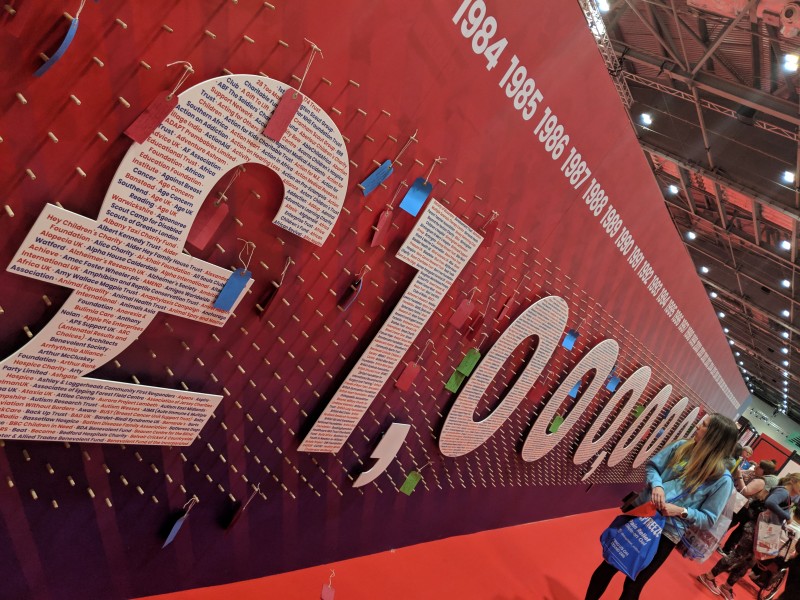 That's a phenomenal amount of money raised for a huge number of fantastic causes and I'm very proud to say that I was a part of that this year, helping to raise money for Cancer Research UK.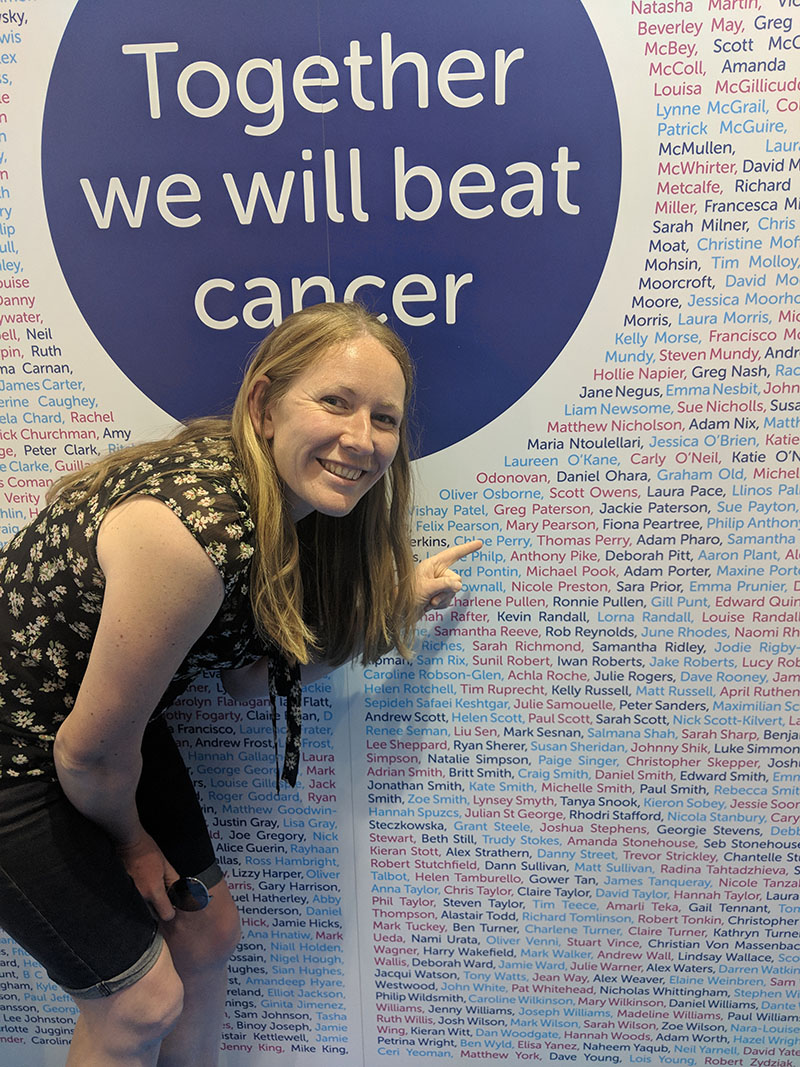 I can always remember as a child the race being on in the living room at home on a Sunday morning in April with my Dad glued to the coverage between cooking bits for our Sunday roast. Never back then did I think I would be running the iconic marathon once, never mind twice!
For anybody trying to increase their chances of running the marathon next year, make sure you fully understand the commitment it takes to fundraise alongside marathon training.  If possible, try and raise as much of the total before marathon training begins after Christmas.  If you leave the bulk of your fundraising until the Spring months not only will you be trying to juggle high mileage alongside event planning, but you will also be competing for funds alongside everybody else running Spring marathons.
The minimum amount that a charity asks you to commit to is there for a reason.  Charities pay for their places.  Charities usually pay around £350 per place, which is much more than the £31 I paid for my ballot entry in 2014.  (The cost to me to run as a charity runner this year was £100.)  The charity is then counting on you raising the funds you have pledged to raise.  Most charities ask for a minimum of £1500 for a place, so have a really hard think about ways you could come up with that cash before agreeing to run for the charity.  Choosing a charity that means something to you or to those you know should be much easier to some extent – you and the people around you will have a determination to achieve your fundraising goal.  Don't rely on donations from friends and family alone, and don't expect everyone you know to donate either.  Unless you are a fundraising superstar I would avoid applying for a charity place just to get a chance to run London Marathon.
Have you ever raised money for charity before?
Do you enjoy a post-race massage?