It's just 26 days now until the Autumn 100.  Another 10 days or so before I start to taper.
I've decided on my strategy for race day – a run/walk strategy, something I've not purposefully used before, but something I've heard and seen nothing but good words about.  I'm planning on starting the race with a 13 minute run, 2 minute walk technique.  Holding onto this as long as possible, then dropping down to a 12/3, 11/4, 10/5 as necessary.  I've spoken to lots of people over the past few weeks about how they chose their run/walk distance/times and I think that sticking to a 15 minute block will work well for me – I don't want to be working out mileage or random minutes when I'm 23 hours into a race, whereas four blocks across the hour should be relatively easy to keep track of.
I've practised 13/2 a few times now and have found that it really helps me to keep my focus when running long runs alone.  Hopefully this will remain the case come race day.  I've been out for a couple of two hour blocks and my overall pace (including both the running and walking sections) has remained below 11 minute miles, so I will need to be aware of slowing the running sections down slightly come race day!

Dan is going to drive me down the morning of the race and then come back and collect me the following day, keeping an eye on the tracker to work out my rough finishing time.
No crew are allowed at Autumn 100.  This isn't a Covid-thing, but an event thing.  Apparently no crew were allowed at last year's event either.  Pacers are also only allowed for the last 25 miles, so from miles 75-100.  I will not be having a pacer this year.  I think I would benefit most from having a pacer during the night – so at mile 50, the point pacers are usually allowed to join on a 100 miler.  But that's not allowed.  After getting attacked last year I'm not the most keen on running alone in the dark, but I'm just going to have to man up, get my head down and run like crazy until morning!  It's one night.  I'm sure I'll be fine.
I managed 51.7 training miles last week, including two complete rest days:
* MON – 3.4 mile buggy run for the nursery pickup (half with a three stone toddler, half without!)
* TUES – 4 mile easy run (AM) and 6.1 mile club run (PM)
* WED – 5.4 mile chatty run with Dan
* THURS – 11.1 miles testing out the run/walk (AM) and 5.5 mile club run (PM) which ended up being a speed session in places as I had to take a much faster group than usual out
* SUN – 5.2 mile chatty run with Dan and Oscar (in the buggy) down to the park for a picnic breakfast, immediately followed by an 11 mile run/walk (13/2)
I'm hoping for similar mileage again this week, although spread out a little more evenly this time!
Oscar is definitely too big for the buggy now – and it's also incredibly tough going on us having to push him – especially when we reach a hill!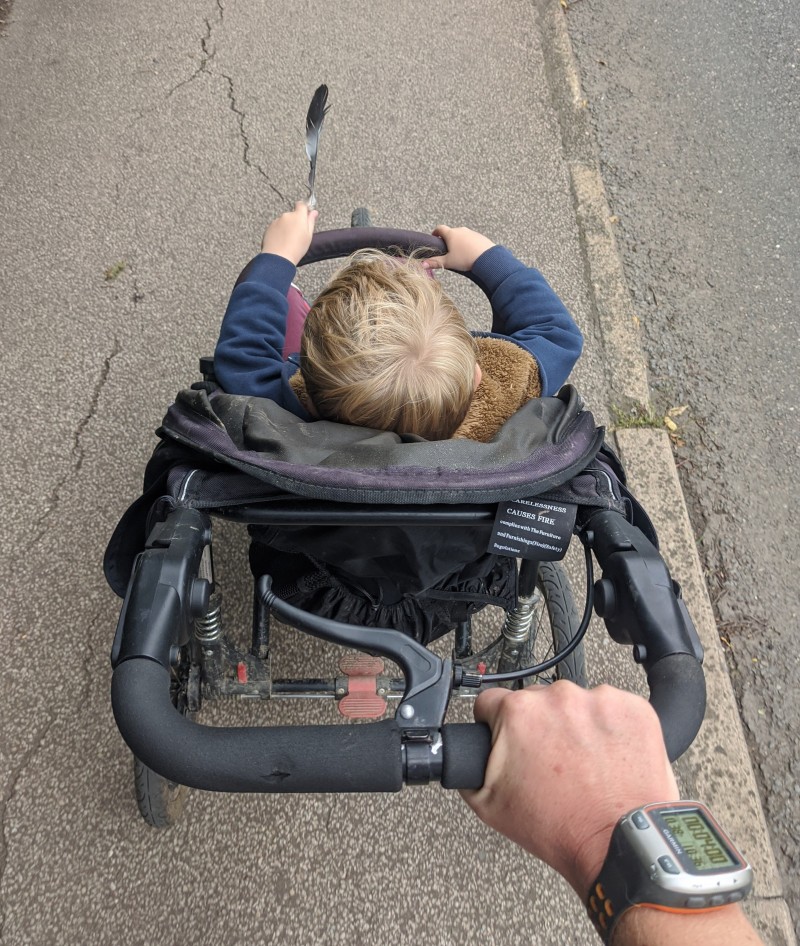 We've run down to Stanwick Lakes for a pancake breakfast a few times now though and I'll be sad when we really cannot squeeze him in for the ride anymore!  Parks were just too busy for comfort over the Summer holiday, but completely empty first thing in the morning.  As long as the pancakes were cooked and we managed to get out first thing, then there is plenty of time for a run down to the playpark, to demolish the pancakes and a good couple of hours of playing before things get too busy!
One of the biggest stressors for me this week has been the possible return of parkrun.  On Monday afternoon our team at Irchester Country parkrun received an email stating that parkrun intended to return before the end of October.  I really miss my weekly parkrun – we've now actually had more weeks away from parkrun than at our event, since starting up last November – and totally agree that there are a whole host of mental health and physical benefits to those who take part or volunteer.  Personally though, I felt that the timeframe to return was too short, and with restrictions still in place regarding gatherings of people I didn't understand how parkrun could return;
a) When not everybody brings along a barcode, so not all runners are known (for tracking and tracing purposes).
b) Taking the temperatures of 500+ runners at every event each week would be impossible.
c) By announcing that Wales and Scotland would not be returning in October, adding immense pressure to events bordering the country line.
d) By relying on landowners giving permission for the events to take place.  Again, if a landowner refused, parkrunners from that event would descend on other local events, increasing numbers further.
e) Without a chip timed start, it would be bedlam on the start line with no social distancing – 2 metres apart?  Some events would see the first runners finishing before all had crossed the start line if that was the case, and runners would be adding 10/15 minutes to their overall time!
f) Asking for enough volunteers each week to put themselves forward in roles such as barcode scanning and finish tokens – where they would come into contact with every single runner at the event.
Personally, I still feel uncomfortable walking around a supermarket, never mind being crammed into a starting pen, coughed on and jostling for a place out on the course.
The following day it was announced that Government restrictions were changing – groups of no more than 6 people were to be together, either inside or outside.  I relaxed slightly, assuming that parkrun's statement would be retracted.  Only it wasn't.  It was then clarified that this new limit didn't apply to parkrun – that parkrun would be allowed to go ahead.
And that's when I began to get abuse.  How was I allowed to start up parkrun again when groups of friends were no longer allowed to meet up together for a run?  Obviously not my decision, but people were clearly feeling frustrated and angry about their time being directed for them by the Government once again.  I went to bed on Thursday evening feeling very sad and unhappy over the amount of angry messages I had received, simply because I volunteer my time as Co-Event Director at a parkrun event.
Luckily(?!) on Friday, the situation was eased for us when Public Health Northamptonshire issued a statement to all parkrun EDs in the county saying that they would not be sanctioning the return of parkrun at the end of October.  I felt like an enormous weight had been lifted from my shoulders!  I would absolutely love to see parkrun return, but when it is safe to do so.  I feel that setting a date 5 weeks away with the current rise in cases, and with children returning to school was reckless.  As much as I would have loved to have run a parkrun on my birthday at the end of October and for Oscar to start joining in once he turns four in a few weeks time, I believe that we shouldn't be looking at a return until at least 2021 now, however sad that may be.
Do you intend to run/volunteer at parkrun next month?  How do you feel about parkrun returning at this point?
Have you tried a run/walk technique during a race before?  How did it go?