I first heard of the Centurion Running Autumn 100 mile race back in 2016.  I was several months pregnant at the time and helping on one of the checkpoints along the South Downs Way 100.  If you are thinking about getting into long distance running I would 100% recommend going along to a few ultra events as a volunteer before taking the plunge and running one yourself.  You learn so much from talking to other runners at events, and by volunteering you get to see an event works from both sides of the table.  In 2016 I already considered myself an ultra runner, having run a number of ultramarathons by this point, including two 70 mile events.  But I had not yet attempted the elusive 100 mile distance and this fact was beginning to become a little niggle I couldn't quiet every time I spoke to someone about my running adventures.
That day in 2016 I was the only volunteer at the checkpoint who had not already gotten a 100 mile event under their belt and so I made the most of quizzing the other volunteers whilst we set up the food station.  All of them had previously run the Autumn 100 and spoke highly of the event and the organisation of it.  The Autumn 100 is designed as a 'crosshair' course.  There is a central checkpoint and four 12.5 mile (ish) tracks head out from this checkpoint in each direction.  You run out to the furthest point of each spoke and then return to base camp before heading out along the next spoke.  This setup appealed to me as I wouldn't need to rely too much on a team of crew out on the course.  I'm very independent when it comes to running and usually prefer to race alone.
The following year I focused on a strong return to running following my pregnancy, and I went on to beat many of my race times from before having had Oscar.  Although having a baby leaves you with very little time for sleep or training, it somehow toughens you up.  The training you do take part in is much more worthwhile – you need to make every run count!  And you become able to push through barriers that once seemed much harder than they originally did once you have a baby in tow!
By 2018 I knew I was ready to tackle my first 100 miler and so signed up to run the South Downs Way 100.  I'd run the 50 mile version of the event twice before; once in 2017 when Oscar was just six months old and again in 2018 – taking more than an hour from my time (although to be fair, I didn't have to stop on route with a breast pump at that second race!)
It wasn't meant to be on the day of the SDW100 and I ended up retiring after 78 miles.  Allowing myself a few weeks of recovery I soon picked up training again to give the 100 mile distance another shot at the Robin Hood 100 in September.  Oscar would nearly be two by this point and I hoped feeding would have much less of an impact.  (It did.  I was no longer breast feeding by then.)  The Robin Hood 100 was the first 100 mile event I completed and I was so happy and proud to cross that finish line in September 2018.  However, despite having told Dan that I only ever wanted to run one 100 mile race, just to tick it off the bucketlist…I already knew I would be back and vowed to strip some time from my 29:48:11.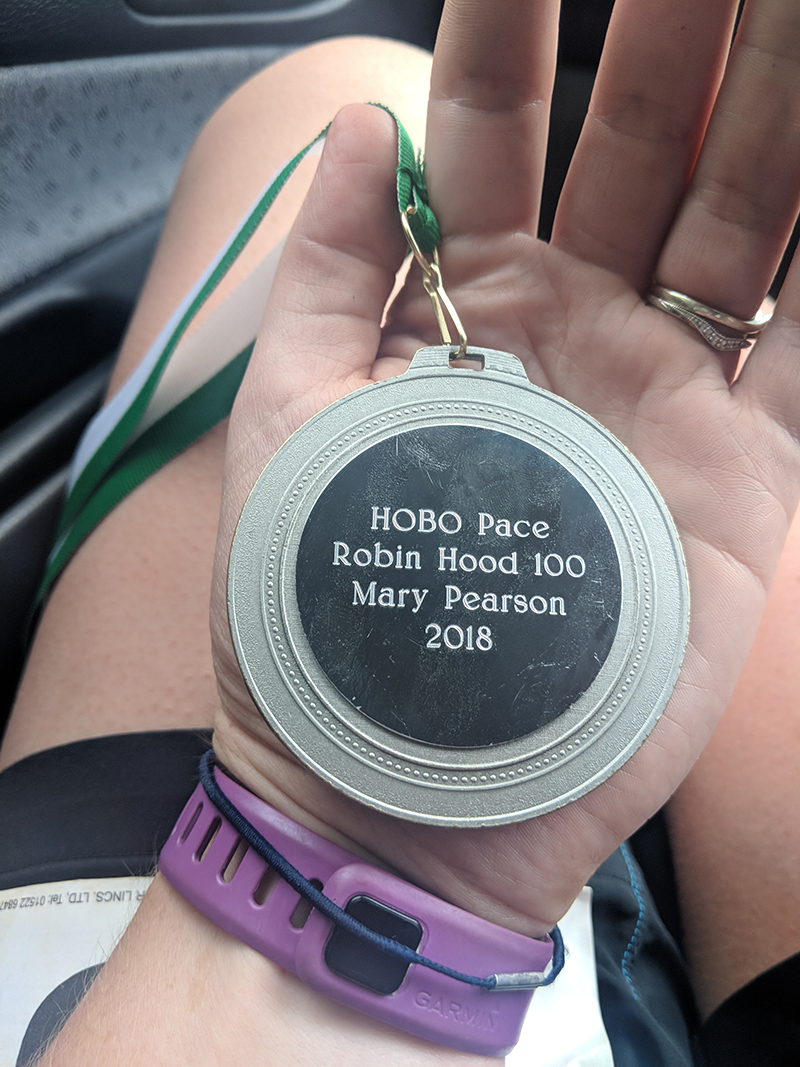 I had a rough 2019, suffering through two miscarriages and knew that I needed to focus on me for a little while before trying again for any more children.  Putting all of my focus into training for a long distance event gave me a sense of purpose and enjoyment and so, remembering the volunteers at SDW100 back in 2016 I decided to sign up to the Autumn 100 in October of 2020.
Training began in the January.  I was at running club during the week, fully involved with the parkrun community on a Saturday morning and running long with friends at a weekend.  I was really enjoying my running again.  I enjoyed discovering new routes, getting lost along muddy footpaths, testing out all the snacks and even climbing over all those stiles along the way!
January, February, March…they all went well.  My endurance improved, my speed improved and I even set a new half marathon PB at the Stafford Half in March.  But that's when the world began to change.  Talk of a new virus which had come over from China had begun to sweep the country by this point and as I stood on the start line at Stafford that morning back in March I nervously looked around me to see runners trying to get a little more space around them, glancing up at anyone who coughed.  Other races had been cancelled for that day and the Stafford Half Marathon Facebook page was filled with messages from runners saying that they would not be taking part.  It was the last time I raced before the country was thrown into Lockdown and all that followed.
Within days I had gone from working a regular job at a local race company, having a secure seasonal job for an exam board and several freelance projects lined up for local small businesses to having no work at all.  I'd only left my job at Tesco at the start of the year in order to focus more on working at the race company and following other freelance projects, but I gave my manager a call and he instantly offered me my old job back on as many nights as I wanted.  I took four nights to begin with but then often also worked a fifth when staffing levels were short.  The start of 2020 had seemed so promising – I had a new job doing something I loved, worked normal daytime hours, we were going to up Oscar's nursery days from one full day to one full day and two half days in preparation for school the following year.  I would have a lot more free time…  Then all of a sudden I found myself back working nights, – more nights than before, and keeping an incredibly active toddler entertained during the days.  There was also that stupid exercise rule where you were only allowed to leave the house once per day for exercise.  My mileage dropped from 50 miles per week to one run each week if I was lucky.  I was exhausted all of the time and in order to stay awake during the day I needed to get outside and let Oscar burn some energy off!  If I didn't use my exercise allowance to take him outside he would not have gotten out.  Things were so hard.  Made even worse by the fact that as a normally very social person I was now also unable to see friends or family.  My Dad lives alone 100 miles away from us.  Since my Mum died I don't think I'd been longer than 2-3 weeks without seeing him.  Times were tough.  I believe though, that however tough working nights whilst having a toddler during the day was, it gave me a sense of purpose and a reason to keep going.  I had no time to stop and think.  I just had to keep doing.  For a while I gave up on any sense of training when it came to running.  I just couldn't realistically run more than 15-20 miles in the week.  There wasn't the time.
But then things did begin to get easier.  Lockdown lifted slightly before the Summer began and the very first weekend we were allowed to travel and stay over elsewhere we made our way down to stay in Norfolk with my Dad.  The lighter nights gave me hope and as the restrictions lifted and races began to go ahead once again I knew I needed to make a decision about Autumn 100.
I'd entered the Stour Valley Path 50k which was due to take place at the start of August and when it was announced that this was definitely still going to go ahead I decided to throw every spare moment I had back into running again.  Even though my running had seriously lacked in mileage during lockdown, I had begun to really focus on my core work following the Joe Wicks plan during this time.  As a result I'd lost a fair bit of weight (unintentionally) but was also so much stronger which made it easy for me to quickly get back to where I had been running-wise.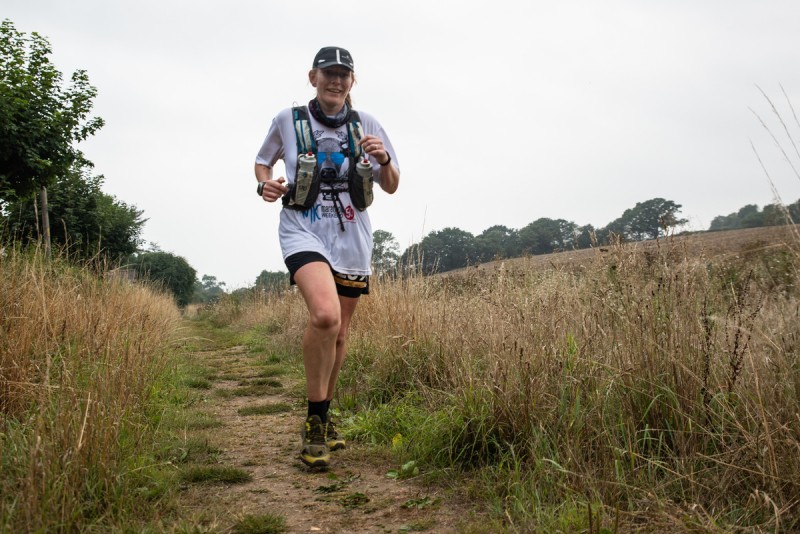 From the moment I decided to train properly for the 100 I made a real go of it.  Running club returned in the September and nursery started up again, allowing me to catch up on some of that much-needed sleep I'd missed out on over recent months.  I handed my notice in to finish a few weeks before race day and drew up a training plan for the following three months.  Mondays would be a rest day, or a jog down with the running buggy to collect Oscar from nursery.  Tuesdays I'd run for a few hours in the morning and then another hour at running club in the evening.  Wednesdays would be another double run day.  Thursdays – as a Tuesday.  Friday I'd run whatever I'd felt like as I would be one or two days into my night shift pattern by then.  Weekends would depend how tired I was but I would usually try to get a mid-length run in during one of the afternoons.  The bulk of my runs were run during the week over 3-4 days, but I made it work for me.  My step count was never under 15,000 steps as my job was fairly manual each evening – lugging heavy cages around the store each night and shifting boxes up onto high shelves.  I like to think that by working night shifts it helped me to understand just how well my body could function on certain amounts of sleep.
Race week rolled round.  My race number didn't arrive until 3pm on the Friday the day before the race.  A cause of anxiety I did not need!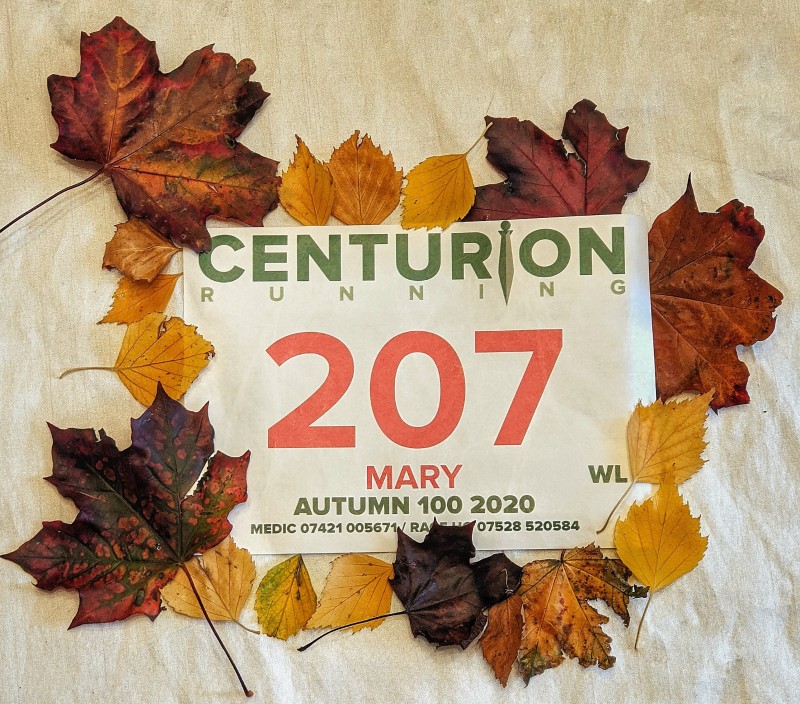 Dan had been ill since the Wednesday and by Friday afternoon my head began to feel fuzzy and my eyes felt itchy.  I hadn't slept properly for days – a combination of Dan being restless and poorly and me being up in the night with Oscar.  I demolished my usual pre-race half a large vegetarian Dominos pizza and was tucked up in bed by 9pm, terrified that I would wake up feeling worse and fail the temperature-gun check the following morning.  Luckily the full night of sleep left me feeling well-rested and raring to go.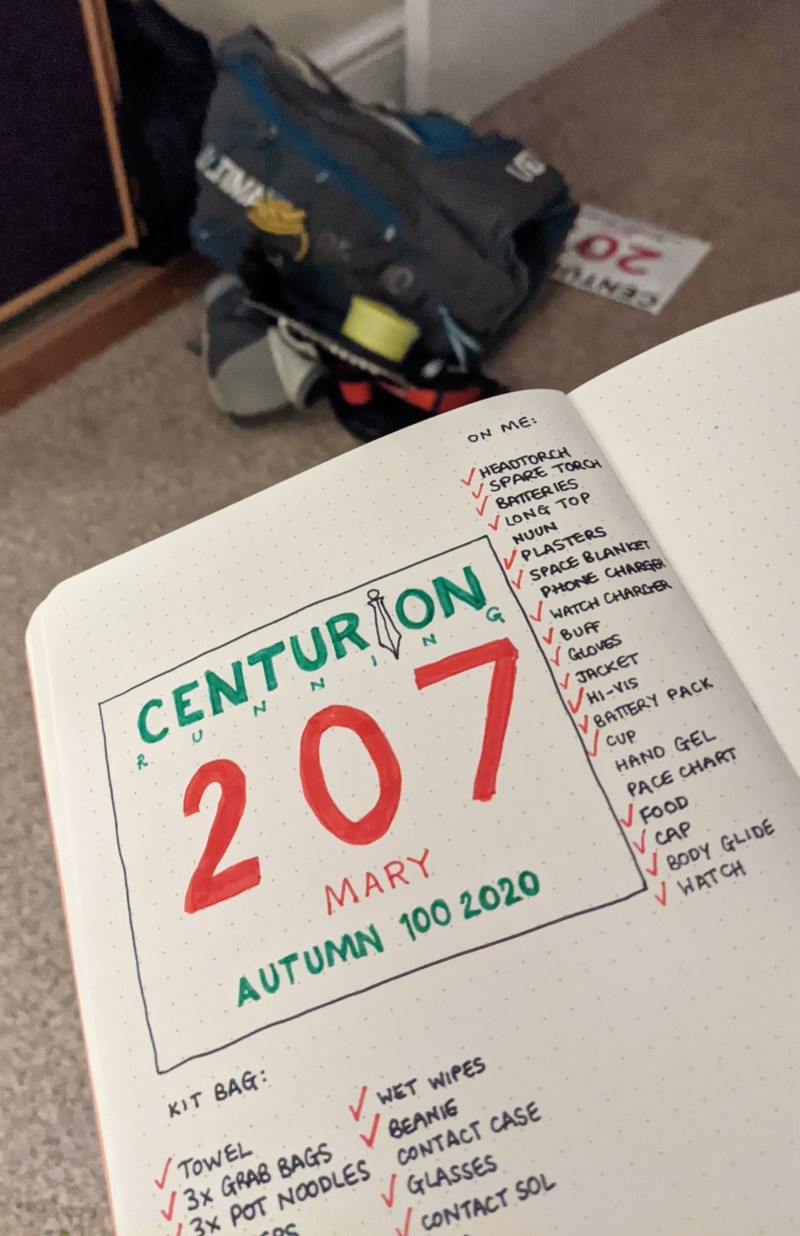 We'd prepared everything the evening before and loaded the car as soon as the alarm rang out the following morning.  Last to be loaded was a very sleepy Oscar – still wrapped up in his pyjamas for the ride down to the start line.  Dan had offered to drive down so I left my contacts out and attempted to doze on the drive down, but it wasn't really happening.  In the end I just shut my eyes and reassured myself with the thought that at least by staying still and quiet I wasn't expending any of the energy I would need for later on that day!
We had been told to work out our own starting window based on predicted finishing times.  With a 4:39 marathon PB I was due to make my way to the start between 8-8:30am, and so planned to kick things off as close to 8am as possible.  Dan and Oscar weren't allowed to join me either to check in my kit or to see me off at the start line.  So they walked me down as close as they could to the hall and we stopped to take a few pictures.
And then I was on my own.  I'm not very good at adulting and hoped I would make it from the hall where I had left my drop bag to the start line without any problems!  Luckily the start line wasn't too far away and I could see another runner heading in that direction not too far ahead of me.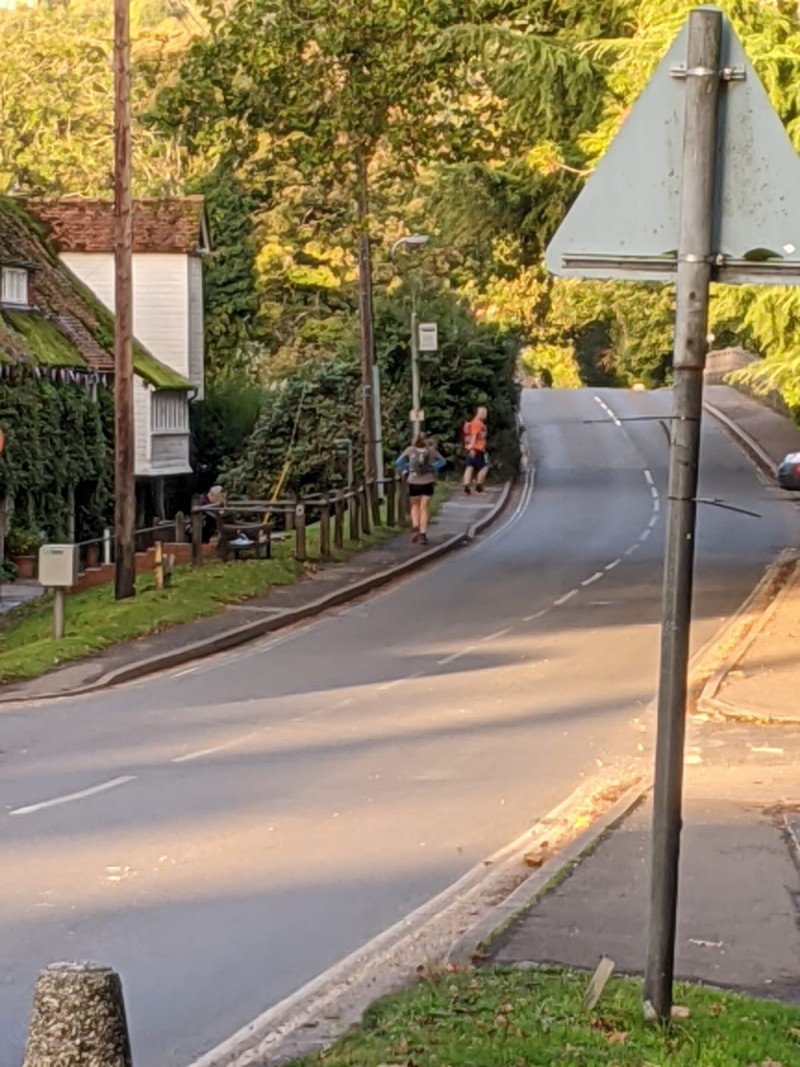 I stopped to take a few pictures from the bridge.  Goring is so pretty.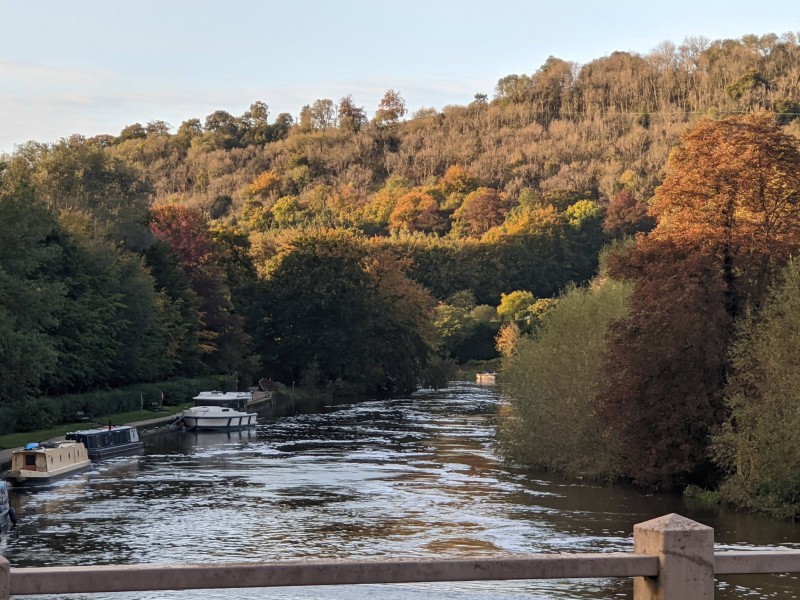 As soon as I turned back to the road again I realised that the man I had been following had completely disappeared!  Luckily I spotted the Centurion sign tied to a post and headed in the direction of where I could now see James Elson stood with a temperature gun.  Once we had been temperature checked we could make our way down to the start line about 30 metres further onto the track and begin our race.  The chap I had been following had already been gunned without problem and stood to the side fiddling with something on his bag.  As soon as the gun had beeped to say that I would be allowed to start the event (huge sigh of relief!) I just wanted to be off, and I had to really resist jogging to get to that start line!
Part two to follow over the next few days…