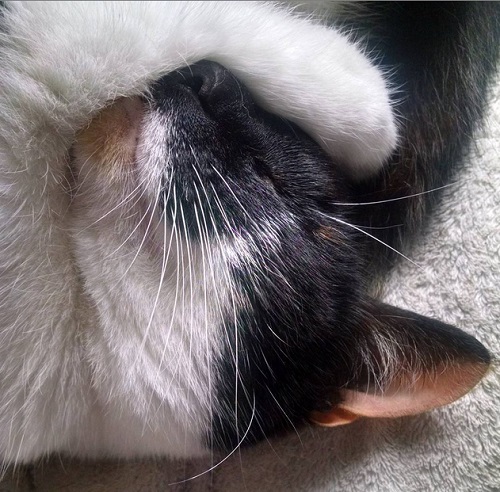 When we first started house hunting again at the start of 2015 it was really, really important to me that we thought about whether or not the house would suit our cat as much as it did Dan and I.
She may be 'just a cat', but Bella is a cat that has become very much a part of our little family with her ginormous personality over the last four years and I would be devastated if anything were to happen to her.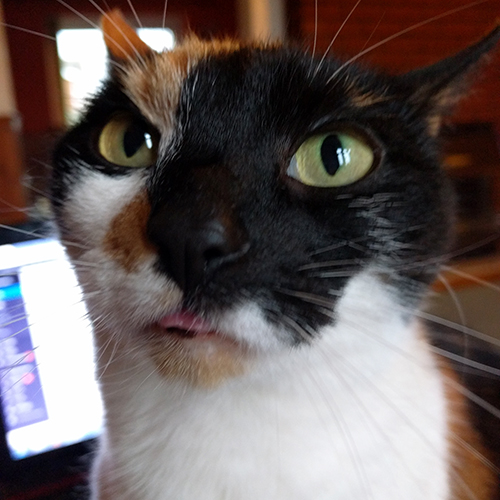 (This photo makes me laugh EVERY-SINGLE-TIME!)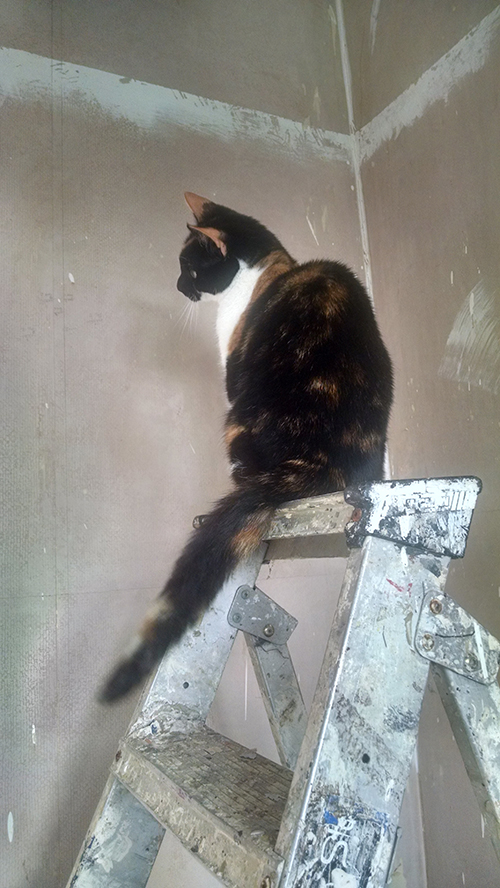 When we first moved house she was very unsettled and it took her a long while to work out what her new routine would be.  We tried to keep things as close to how they had been at the previous house, although we did let her sleep up on the bed with us as a little treat for the first few nights(!)  She's happiest when both Dan and I are together, or near enough together so that she can reach out and touch both of us at once whilst she sleeps.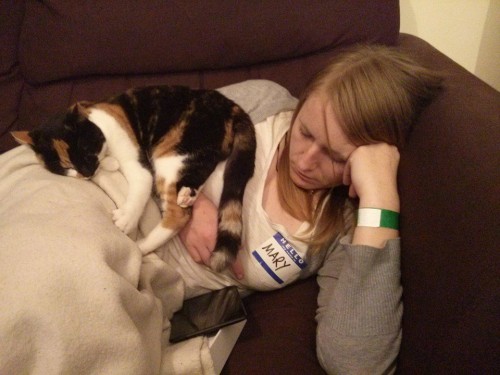 She's properly settled in and happy with her new home now though and there have been quite a few entertaining Bella-antics that have occurred just lately which I want to take note of before I forget…
Glittercat
When we went to a wedding recently we left Bella on her own in the house overnight, having fed her on the Saturday morning before leaving for Manchester, and planning to feed her next on the Sunday afternoon once we got home again.  Bella decided that as we were out, rather than sleep in her usual 'bedroom' of the kitchen/utility room, she would investigate the contents of my wardrobe, curling up inside one of my old dresses which happened to be adorned in a lot of glitter.
Dan and I had each traveled separately to the wedding, and he arrived back on the Sunday before me.  By the time I returned home, Bella had already been released into the garden to stretch her legs.  I couldn't miss her when I headed outside as she was glittering away in the sunlight like Edward from Twilight!
Hobfeind
Advice required: how do I stop the cat from dancing on the hob at night?! She never does it when I'm there! pic.twitter.com/x7jZryr5pv

— Mary P (@ahealthiermoo) August 3, 2016
I really don't know what to do about this.  Just lately, since we started altering the kitchen (taking the floor up and removing the units) I have come down in the mornings to discover Bella's dancing feet all over the hob.  Obviously I don't want our cat to be jumping all over the worksurfaces in the kitchen and I know that she would never dream of doing so when I could see her.  Annoyingly I can't really tell her off when I come down for breakfast, as it could be several hours since she had been up there and she wouldn't be able to associate me telling her off with knowing what she had done wrong.  The only advice I've had so far (jokingly!) was to leave the hob on overnight, but that's pretty expensive and very cruel!  Any other suggestions?
Gladiatorcat
I missed this event, but Dan reliving the story for me made me laugh so hard I struggled to breathe afterwards.  It was almost like I had been there as I could imagine her doing everything that he had told me.
I think I had headed out for a run, and Dan had let Bella out in the back garden for the evening when he heard a loud cat scream.  He rushed out the back with a packet of Dreamies (these things are like cat crack I swear!) to see Bella squaring up to another cat on our next-door-neighbour's roof.  Bella saw the Dreamies that Dan was carrying, turned back to the neighbour's cat, lifted her paw and batted the cat clean off the roof, before leaping down and purring around Dan's leg for treats!
Mouse in the house
Mini drama as the cat just decided to present us with a live mouse in the bedroom! Mouse rescued and husband calmed. — Mary P (@ahealthiermoo) July 29, 2016
I think it was Dan and his panicking that potentially made this event much more dramatic than it needed to be!  I had been upstairs in the office the other night catching up with some blog reading when Dan shrieked out "Mary, come quick.  It's Bella!"  I thought something was wrong so raced downstairs, only to see Bella with a mouse in her mouth being chased around the lounge and then up the stairs by Dan, who was shouting at her.  I took the opposite approach and praised her whilst hunting for something to grab the mouse in.  She dropped the mouse at the bottom of the stairs, which then promptly ran behind a stack of doors and a unit we had taken apart which were leaning against the wall in the dining room.  Bella took guard on one end, with me watching the other.  An old t-shirt in hand to throw over the mouse when it emerged.  Dan just pranced around the room with a box in his hand, making no attempt to help manage the situation!  Eventually the mouse decided I was the safer bet and darted in my direction for me to wrap the t-shirt over the top of it and scoop it up into my hand.  Dreamies came to the rescue again when Dan took Bella off into the kitchen so that I could release the mouse back out into the garden unaided by Bella.
Lucky escape!
Foot monster
On nights like these, Bella is not allowed to stay up in the bedroom with us!
Are you a cat or a dog person?
What antics does your pet get up to?