The week before Christmas is when I really start to feel Christmassy.  The cross-country series my running club runs in holds it's final cross-country race of the year the week before Christmas, and my club always organises a Christmas Eve run around our local country park, finishing with hot drinks and sausage rolls at the cafe.
Everybody gets into the Christmas spirit at the Letchworth cross-country race.  Santa hats, tinsel and then Christmas themed sandwiches and cake at the finish (think ham and mustard, turkey and stuffing, brie and cranberry…!)
After a disappointing first two events of the series where I walked on numerous occasions and didn't run the races I had hoped, I decided to wear my heart rate monitor for this event and to stick to a very reserved 165bpm over the cross-country course in order to remain consistent during my run.  No walking would be a success!
We set off and I managed a strong start as we first ran a lap of the field passing our supporting club members and out at the end onto the farmyard tracks.  I was ahead of runners I knew would probably overtake as we continued.  Several runners from my club went on to overtake me around the 1 mile mark on the course.
As we turned a narrow corner, we passed a chap playing Christmas songs on a brass horn of some sort which picked everybody up ready for hill we knew would soon be coming up.
The course heads out along farmyard tracks.  You run a lollipop shape around a couple of fields and then head back down the lollipop stick again the way the course first headed out.  The front runners always turn back onto the stick of the lollipop just as I'm about to leave it and so I like cheering other club members on here.  It was nice to see a couple of our runners in the top 10 as they turned back for the finish.
There's only really one hill on the course (it's on the stick so you run it twice), but I focused on trusting my heart rate monitor, overtaking several runners who had resorted to walking both times we made the climb.
I felt rather lumbery in style, but satisfied that I was getting the job done without giving in and walking the hills or with crazy varied paces over the 5.5 mile distance.
There's a horrible short, sharp bank to climb with quarter of a mile to go.  Luckily there's usually a marshal on hand to help haul you up, and I took advantage of the hoist out of the hole this year!
Quick smile and a wave to our two photographers on course…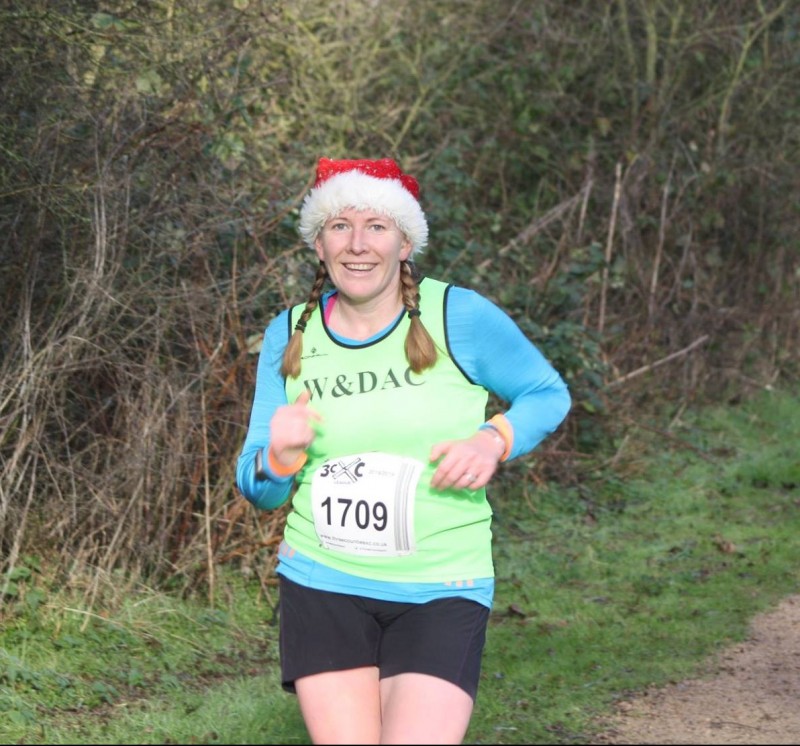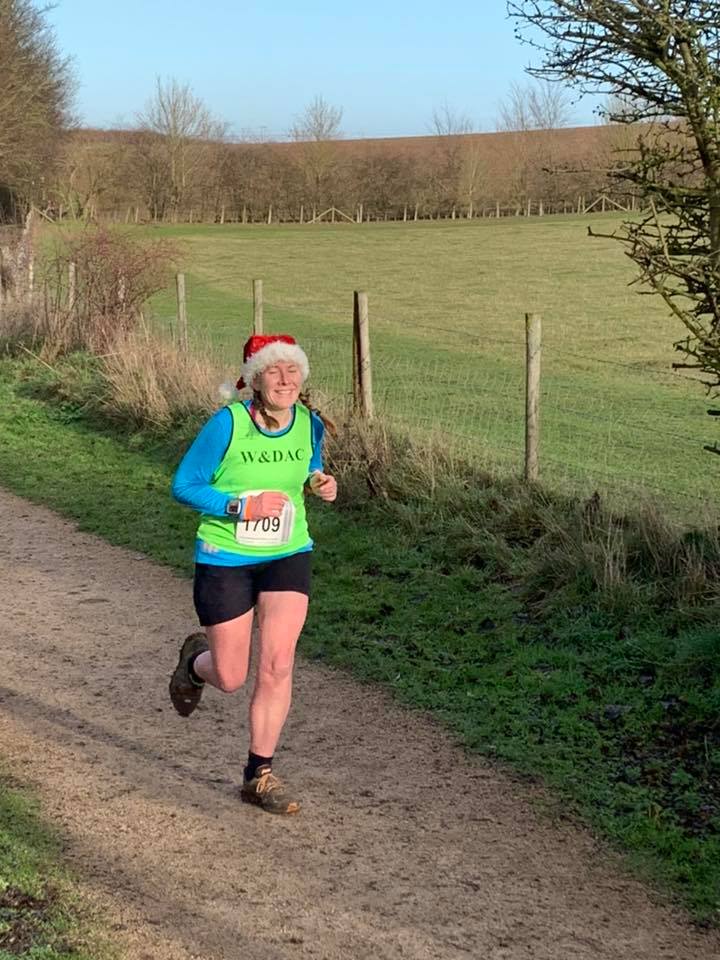 I managed a little kick at the finish and still felt comfortable at the end, so my mission to race smart was successful.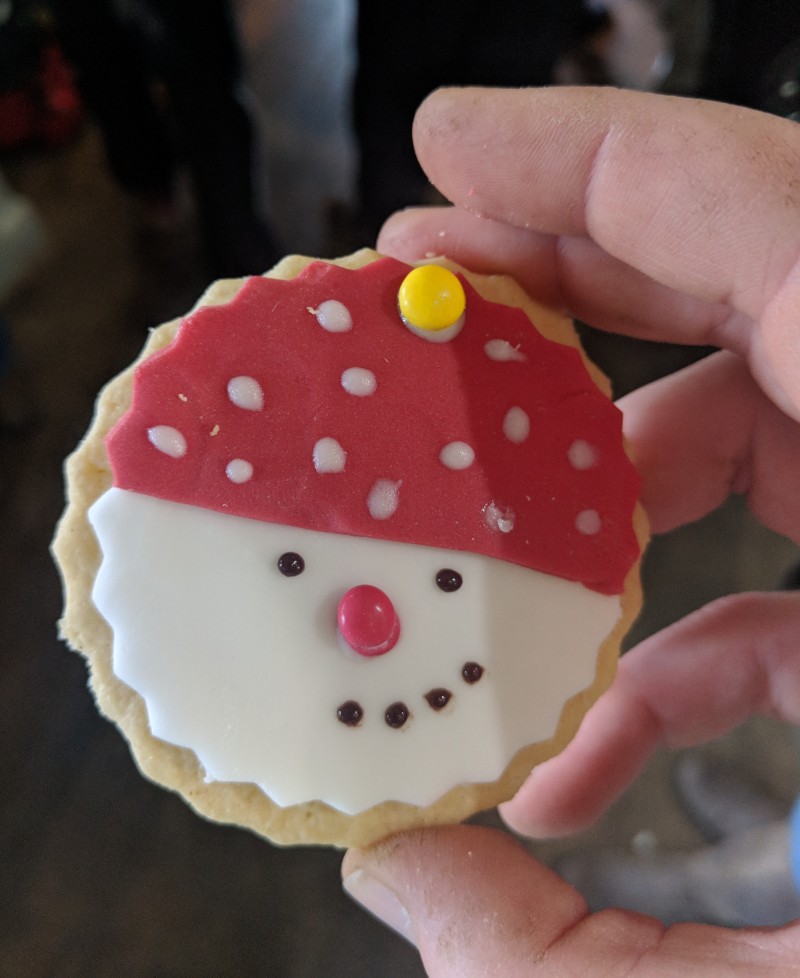 Position: 332/400
Gender position: 107/161
Age category position: 13/16
First Christmassy run done, onto the next with parkrun the following weekend.
I headed to Kettering parkrun for my final parkrun before Christmas.  Although initially unsure how busy it would be (Kettering were holding a pacing event on the 22nd) it didn't actually feel too busy when we were running around.  The initial plan had been for me to run with Oscar in the buggy and for Dan to use a pacer to attempt a new PB, but after loudly banging piles of shoes around downstairs for twenty minutes Dan came to the realisation that he had left his running trainers at work the previous day so would not be able to join in with a parkrun that morning.  Following our frantic search for his shoes, it left me with just enough time to jump into the car and make it to the start line in time for the start of the briefing.
So instead Oscar stayed at home with Dan and I jogged around the course with Laura, who I hadn't run with in a little while so we had a catch up and an easy run round.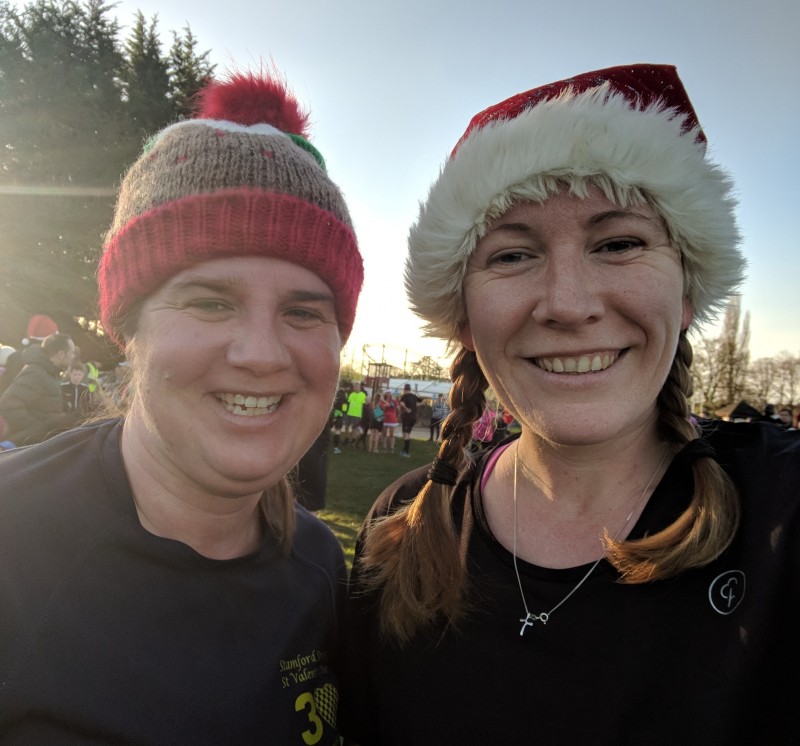 I have this massive fear that one day on the Kettering course I'm going to slip and fall over on the boardwalk and then slide out under the barriers and into the water below!  Hopefully this won't ever become a reality!
Official time: 31:46
Position: 269/432
Gender position: 75/187
Category position: 5/16
The club Christmas Eve run was different this year.  A couple of friends I normally run with couldn't make it this year and I had worked a night shift on the Sunday (the night before), so rushed home at the end of my shift to sneak a quick hour of sleep in before heading over for the run.  I then ended up arriving late and missing the start anyway.
I had a lovely run with a friend and her husband who I managed to catch sight of as Dan dropped me off at the park, but I missed the annual pre-run photo and missed seeing a lot of people before they left for Christmas which was a shame.
Dan met us at the end of the run and Oscar was in a foul mood after a poor night of sleep.  It had taken Dan the length of my entire run to get Oscar to walk not quite as far as the cafe entrance and then we had a battle to get him into his car seat for home again afterwards.  It took approximately half an hour to convince him to stay in his car seat long enough to be buckled in for the journey home!  Not a battle we had planned on facing on Christmas Eve morning!
So frustratingly, the parkrun Dan and I had planned to attend on Christmas Day (Sheringham) had been cancelled a few days earlier.  National Trust had decided that due to the heavy rainfall in the area that week, they wanted to give the ground a little time to recover between runs.  The Sheringham event is fairly close to where my Dad lives…ten minutes away.  (Why oh why was parkrun not a thing when I lived at home?!)  The next nearest event that was being held on Christmas Day was in Norwich, nearly an hour's drive from my Dad's house and in the complete opposite direction to where my Aunt lives (Kings Lynn) who we had promised to pick up mid-morning and bring back to my Dad's for lunch.  So a Christmas Day parkrun was sadly off the cards this year.
Did you take part in any Christmassy runs this year?
Does your parkrun ever get cancelled due to the weather?
Any tips for reasoning with a stroppy two year old to convince them to get into their car seat?!  Haha!