THE PLAN:
| Day | Breakfast | Lunch | Snacks | Dinner | Exercise |
| --- | --- | --- | --- | --- | --- |
| Thursday | Egg and beans on one slice of toast | 2x graze boxes | Apple | Pasta bake with salad | Group five tempo run with running club |
THE ACTUAL…!
BREAKFAST:  – Half a can of baked beans on one scrambled egg on one slice of toast!  I really enjoyed this.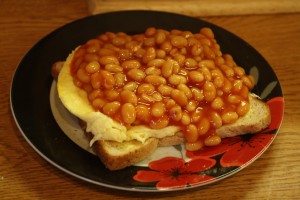 LUNCH:  –  Two Graze boxes was not going to be filling.  However, I've had issues with salads on a run day in the past.  As my year 10s were off this week on work experience (yay!) I ended up with Period 3 and 4 free before lunchtime and decided that I would have a salad that I enjoy so much.  Maria@runningcupcake has suggested some small pasta salads…pasta in tomato sauce or pesto is on the cards for next week!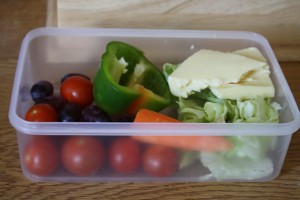 SNACKS:  –  One of the food tech teachers (also a running lover!) made a sample batch to show the year 7s how to cook some sugar biscuits.  I'm on the same floor as the school catering department and she brought me one of the samples to sample!  Yum!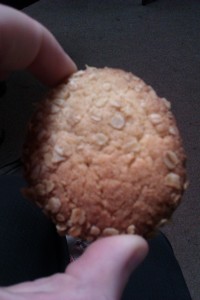 DINNER:  –  Beef and tomato pasta with grapes and lettuce.  This was pretty late as after running club it was the club committee meeting which went on until 9:15ish and then I had to nip and get some nibbles from Tesco on the way home as it was my turn for Treats today.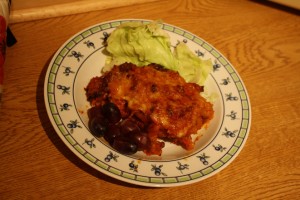 EXERCISE:  –  I ran with Group 5 but it ended up not being a tempo run and instead we ran The Gully.  I WILL go and take pictures of The Gully tomorrow as I need photographic evidence of just how steep this run becomes!  It is a 'gully' carved into the wood and when you reach the end you climb up some hand-made steps to the top of the gully.  It actually takes about 3mins to run to the very top and all steps are of a different height and depth into the earth so you have to pick your knees up really high in order that you don't trip.  It takes about 5m 30s per rep (you then run back down a looooong slope to return to the other end of the gully and complete the rep.
I started off a long way behind the group 5ers for the first rep as I was discussing my best course of action for the night with Rob, the coach.  He suggested that because I have the marathon on Monday I steadily ran each rep and only completed two reps instead of the three the others had had planned for them.  I had caught up with the rest of the group by the time I got to the bottom of the steps.  I overtook a couple on the steps and then powered past the rest on the long slope back.  We had a three minute break before repeating and I again powered past most people without putting a whole lot of effort into the attempt.  I sat the third one out and took my turn guarding the water bottles as Rob ran with the rest of the group.

We completed just over a mile run back to base to run 4.66 miles in total before stretching out and some of us changing ready for the committee meeting.  Rob has earmarked three of the group 5ers to move up to group 4 next week so I shall return to Group 4 on Thursday post marathon with the knowledge that I won't be completely last in the group!
My FRIDAY FOCUS this week has been rubbish.  I was supposed to have been photographing and logging everything I ate but if anything I've had more sneaky half biscuits and squares of chocolate than ever before. RUBBISH!  My Friday Focus is on REPEAT this week!  ALL will be logged!