One of the things I wanted to do towards the end of the Summer holidays was to have a go at batch cooking some meals for the freezer, ready for my return to work in the September and ultimately, my return from having our baby (which at this point I still thought would be halfway through October!)
I've been saying for months, – years – that I need to have a go at batch cooking meals for the fridge and freezer, having seen so many others have such success when it came to saving both time and money.  I knew that when I returned to school in the Autumn term, I would be hitting the ground running in terms of my workload and would need to save as much time as I was able, especially as by this point in my pregnancy I was getting increasingly tired in the evenings.  Towards the end of the Summer holidays, I knew that there was a good chance I would be going in for a Caesarean as well, leaving me useless for several weeks following the birth of the baby.
A few weeks before the end of the Summer I headed to B&M and picked up a set of 15 plastic chinese-food style containers to add to the collection I already had back at home.  I'm gutted I didn't get more at the time, as they seem to have been out of stock ever since, and are so much more expensive in the supermarkets!  I also picked up a few aluminium foil trays that would be able to go in the oven.
One Saturday I sat down with a notepad and my laptop, and sent out a tweet…
Planning on a big batch meal cooking session for post-baby tomorrow. Any suggestions for meals I can freeze?

— Mary P (@ahealthiermoo) August 27, 2016
I got several responses, and then leading on from this I sat down to write out a list of meals I would create the following afternoon, drawing up the shopping list I would need to follow in order to make the planned meals.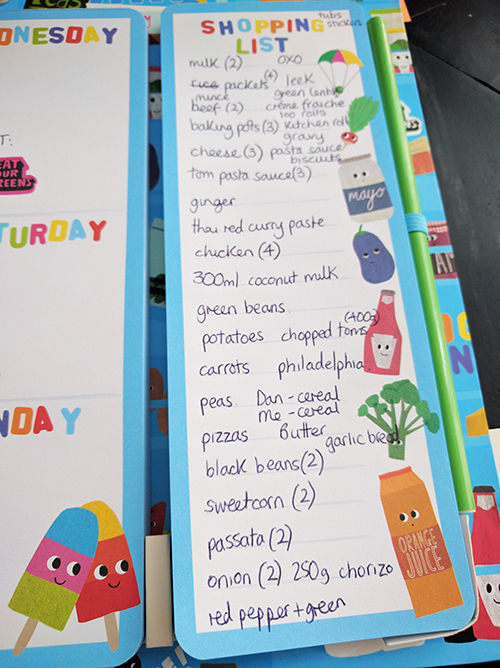 In total, my shop came to just over £100.  Not bad for what I was hoping would potentially last for several weeks of meals. At the beginning of the Summer, Dan had purchased a slightly larger car, (preparing for the practicalities of being a parent!) and I think that this shot makes it look like there is hardly anything in the boot of his car.  When, in actual fact this little lot completely filled a trolley by the time I made it to the checkout!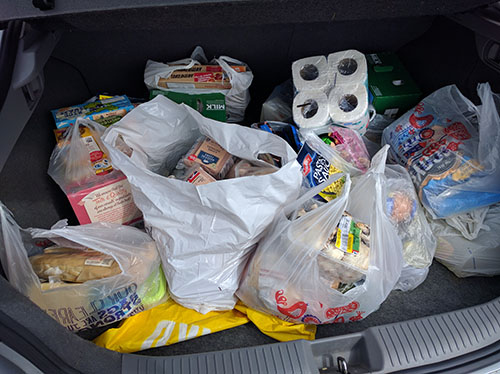 I had set aside all of the following day to cook the freezer meals.  So, the next morning I laid out all of the ingredients on our kitchen worktop.  Please excuse the fact that there are no tiles on the walls in the kitchen here.  (There still isn't on half the kitchen wall!)  And that brown worktop you see the ingredients on?  That is just a loose piece of worktop resting on top of some of the old units!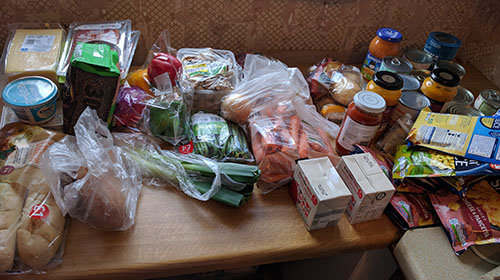 My kitchen is looking much more complete now than it was at this point, but it's still missing plenty of the finishing touches.
On my list to cook that day was cottage pie, lasagne, thai red curry, chicken casserole, chorizo pilaf, fajita mix, lentil and sweet potato curry and chicken cheesy tomato bake.
First on the list of to-dos was to place two chickens on the top shelf of the hot oven, as I would be using chicken as the base for quite a lot of the meals I planned on creating.  Cooking two chickens at the same time meant that I was only using the electricity for half the time it would have taken me to cook them both normally, and the two of them were cooked much quicker than if I had cooked them separately.  Whilst the chickens were cooking I set to work with prepping the veg I intended on using.  I peeled, cut and sliced potatoes, carrots, runner beans, peppers and mushrooms, leaving them all in bowls on the side.  As Dan isn't a fan of many vegetables, the ends of packs that I buy from the supermarkets often get thrown away as I either a) never get through all the veg before it goes bad or b) get fed up of eating the same veg over and over before it goes bad so go off it completely!  With cooking so many meals at one time, it also meant that I was able to include vegetables I like in half the pots, and just the ones which Dan liked in the other half.  So, for example, Dan doesn't like sweetcorn (along with every other veg apart from runner beans, peas and carrots!) so I made sure to cook a separate batch of meals which included sweetcorn.
Although the majority of the meals would be cooked, so just need heating up in the microwave before consuming later in the year, I planned to leave the lasagnes uncooked.  Therefore I layered the ingredients straight into the aluminium trays which would enable me to put them into the oven if I wanted to have them for dinner.
The smell of the chorizo pilaf (a dish new to me, and one suggested by Stephanie) was so good that there were several forkfuls that never made it into the containers!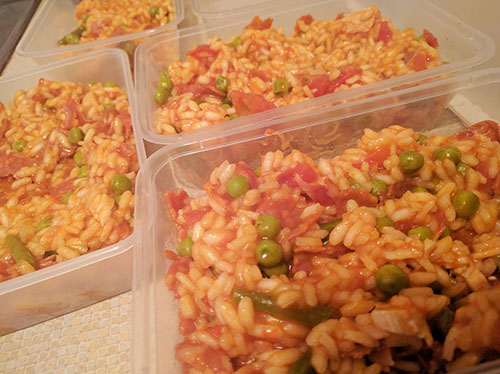 In total, across that Sunday afternoon, and also one Wednesday evening, I made enough meals to have one every single day across a fortnight for both Dan and I, and still I ended up putting uncooked meat back into the freezer that I hadn't gotten round to cooking up to add to a meal.
We haven't been having meals from the freezer every evening, but they have been great to turn to when Oscar has kept us up late the night before or when a trip out takes much longer than expected, leaving us starving by the time we arrive home!  Most of the meals are ready to be consumed within 8 minutes of a blast in the microwave – other than the lasagne, which requires cooking still (about 40 minutes in the oven).
Unfortunately Oscar hasn't been gaining the weight that is expected of him, and at four weeks old today, still weighs just 7lbs 3oz.  The Health Visitor has been round every three days and is monitoring his progress but he dipped right under the 2nd percentile line at one point the other day which was a concern.  He is gaining weight (O's birth weight was 6lbs 13oz, and all newborn babies are expected to lose a little at birth), but is doing so very slowly, so they are just keeping an eye on him at the moment.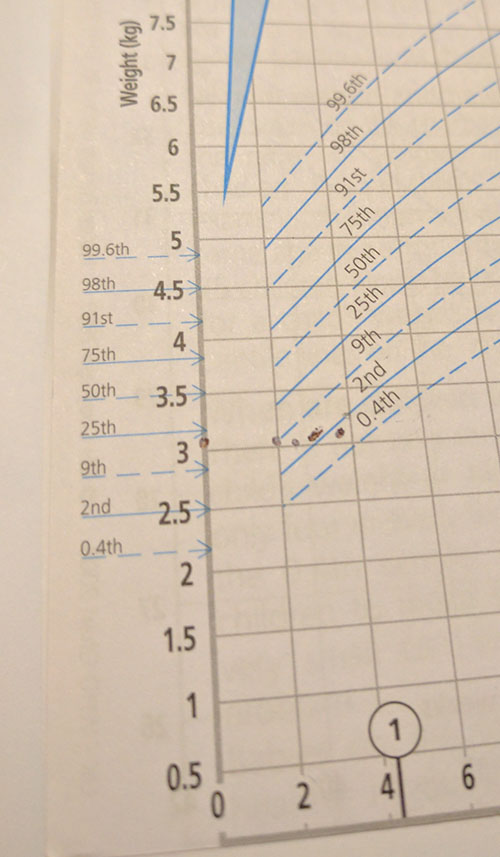 My Dad is convinced that part of the reason O isn't gaining as much as he should is because I'm not eating properly.  (Other than the fact that I seem to no longer be capable of finishing a meal in one sitting, and that I rarely get a chance to eat the food whilst it's hot anymore, which I'm sure are both standard new-Mum problems, I AM still eating!)  For this reason, my Dad decided that when we popped by for a visit on Sunday he was going to present me with ten cottage pies to add to my ever-diminishing freezer stash!  They definitely weren't turned away!  

Do you ever 'batch cook' your meals?
What are your 'go to' meals that you always make during the working week?   Mine are calzones and chicken/sausage casserole with dumplings.