Last Sunday was the Milton Keynes Running Festival.  An event of 20 mile, half marathon, 10k and 5k distance races all starting from the Xscape Centre in Milton Keynes.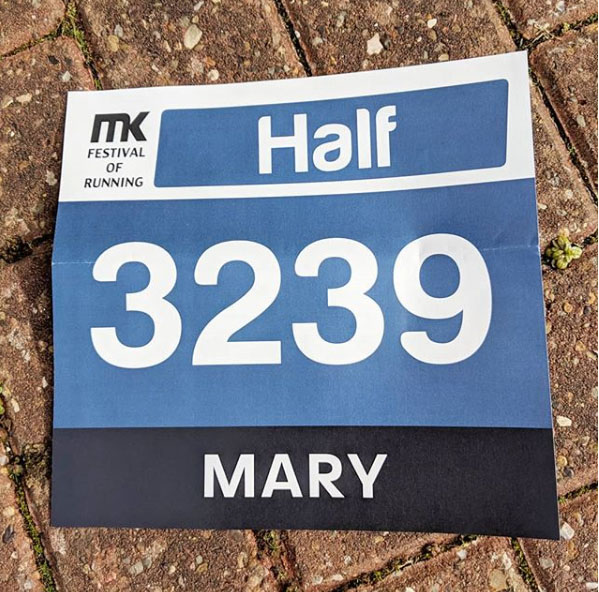 I had entered the event a while back almost on a whim.  I knew I should be halfway into some serious mileage by this point in the build up to the ultras I have coming up for 2018.  I also knew that my half marathon PB is from a very long time ago (December 2013) and was in desperate need of an update.
My training had been going really well since the start of the year, but as always when I intend to race a short distance event I had a few nerves before the start of the race.  A lot of my miles in recent weeks had been treadmill miles due to childcare issues, and I was concerned about transferring my running from a flat, no bumps treadmill to the ups and downs of Milton Keynes redways.  A quick chat on Twitter with some other treadmill runners eased my nerves though, and ultimately I was feeling rather confident with my race plan when I set off for Milton Keynes on Sunday morning.
The plan was to run 9:30mm pace for the first 10 miles, and then if I could, to pick it up to 9mm for the remaining 5k, pushing for those final few miles, finishing somewhere between 2 hours and 2h 5m.  My current PB is 2h 9m 16s.  Just under 10 minute miling which, on paper is so far away from where I feel I actually am at the moment.
I rocked up on my own with a little over an hour before the start, cursing the fact that I hadn't researched cheaper places to park beforehand as I handed over the £8.32 it cost me to park for four hours by the race start.  A positive being that I was in a car park literally right by the race start though, so there really was no chance of me getting lost trying to find my car again after the race!
I placed myself somewhere between the two hour and two hour ten minute pacer on the start line and planned to constantly check my watch during the first few miles to ensure I was running the pace I had set out to race and not get swept away with people running by too quickly or get stuck behind other runners who had set off too slow.
The gun went.  We all started pretty much on time and my first mile went by spot on as planned in 9 minutes and 30 seconds.  Lots of people from behind where I had started were rushing past me but I stuck to my guns and stayed at the pace I had set out to run.  I ran the second mile in 9m 20s.  With much of the mile either flat or at a slight downhill I struggled to slow any further without feeling like I was 'braking' all the time and I didn't want to end up injured, so leant into the downhill, whilst trying to remain light on my feet.
My third mile went by in 9:41 (so still an average pace of 9:30mm).  Milton Keynes is actually a lovely area to run around.  There are lots of parks and green spaces.  You would never know that you were so close to such a large city.  (It's not such a lovely area to drive around though.  All the MK roundabouts look the same to me!)
Mile four – 9m 29s.  I was actually feeling nervously excited by this point.  I began to pass by all those people who had raced off at the start in a hurry to get going and had already burnt out too quickly.  I was definitely going to smash my PB.  I felt so strong and the pace felt so easy.  I knew there were still nine miles to go, but I had never run a race before where the pace I started out at was so conserved and still felt so easy after four miles.
Mile five – still going strong.  The top of my left calf started to feel a little tight and I silently vowed to get the foam roller and compression socks out as soon as I got home that night, trying not to think any more about it.
Within metres of the five mile marker pain shot through the top of my calf and ground me to a complete halt.  I desperately tried to flex my leg before setting off at a jog again only to collapse back into a slump as I realised I could no longer run using that leg.  Glancing at my watch in despair, seeing the average pace creep up I hurriedly took myself to the side of the path where I fully stretched out my left leg, desperate for it to let me run the final miles of the race.
I let a few tears trickle down my face when I realised my leg wasn't going to let me run and a few more fell as I watched my average pace creep up into the 10s.  I rang Dan, upset and angry that the race hadn't gone to plan, and so desperate for him to give me some magic words of advice to get my leg working again.
He didn't have any.  And neither did the running friend I chose to ring to cry to about my bodged race attempt, whilst seeing my watch now display an 11mm average pace.  But they did both calm me down and make me realise that this wasn't my goal race, – that much better any problems rise now, before my goal race so that I could deal with them before they became an issue.
I was limping along the side of the path whilst I tried to ease the pain in my calf.  I wanted to smack every spectator who shouted in an attempt to get me to carry on running (although I do realise they thought they were probably being encouraging) but on the flip side I was so touched by the amount of runners who came past and genuinely asked me if I was OK.  One guy offered me paracetamol, another a spare layer, and several shared words of 'Tough Luck' or something to that effect.
By mile six I realised that I would be silly to try and hobble a further seven miles to the finish so stopped to ask a marshal the quickest way to get to the finish line.  He told me that I could either turn around and go back the way I had come, or continue the way I was going.  I figured that at least if I continued the way I was going then I would get a goodie bag containing food at the finish, so traipsed on.
Next panic: I rang Dan to fret that I wouldn't have enough time on my parking ticket.  I had only gotten four hours from the time I arrived, and with some quick calculations I realised that I would be coming in somewhere around three hours for the half marathon that afternoon.
As Dan was calming me for the second time that morning I overheard a man wearing a 20 mile bib telling a woman that he was hoping to pull at the next marshal point and that he would not be completing the full distance that day.  I ended my conversation with Dan and joined in with the conversation the runners were having, sharing the information that had been given to me by the marshal I had spoken to.  This man (never learnt his name!) lived not too far from me and was honest in saying that he hadn't put in the training to run 20 miles.  He was suffering with a painful stomach and had done too little, too late when it came to trying to fix it.  I fell into step beside him and having someone to chat to made miles 7-10 go by a whole lot quicker than the 45 minutes it took us to walk.
The guy I was walking with hoped to be able to run the final 5k of his race, so once we reached the 10 mile mark we thanked each other, wished each other well and I saw him run off into the distance.  My leg had begun to ease a little by now and I was able to pick up the pace to a faster walk, completing my 11th mile in just over 13 minutes.  It's quite satisfying to know that even if it gets to the point where running is no longer an option during the later miles of my 100 in June, I still have a fairly fast walking stride so won't lose as much time as some by dropping down to a walking pace.
I decided to try and lightly jog the final couple of miles left to the finish, stopping to walk any hills (as these were pretty much impossible without a great deal of discomfort).  (11:10, 11:02)  I passed the guy I had walked with earlier somewhere around mile 12.
The start of the thirteenth mile is on a horrible, horrible uphill slope.  I'd walked it before when traveling between the two Milton Keynes parkruns on the New Year's Day Double.  I made a point of lightly jogging my way up this time though.  On my toes so as not to stretch my calf to breaking point.  I didn't need to prove myself to anybody!
500 metres left until the finish after the horrible hill and my leg was feeling a fair bit loser.  I was gliding past other runners – many of whom were walking by this point.  I knew that my leg wasn't right though and the finish line couldn't come quick enough!
The commentator shouted out my name as I approached the finish which was a nice touch and I crossed the line to collect my goodies.  Rather disappointed to be given just a banana along with my medal though – I don't even like bananas!  (It didn't go to waste…Oscar happily munched on it for dessert later that evening.)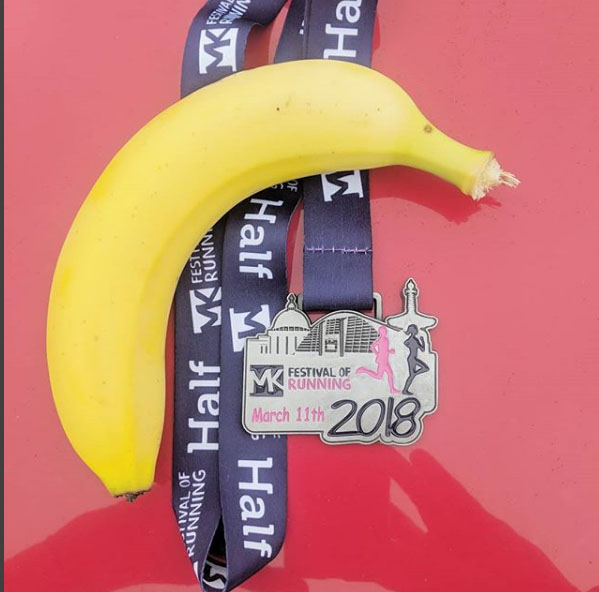 Side note: I find it rather creepy that Strava knows the exact location I took the above picture as shown below in my Strava screenshot…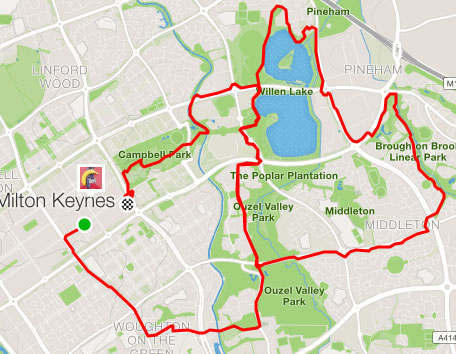 Chip time: 2:50:42
Position: 1387/1436
Gender position: 570/607
Category position (SF): 223/240
I drove home in a grumpy fed-up, feeling-sorry-for-myself state.  Sunday was Mother's Day and the afternoon before Dan, Oscar and I had been down to the churchyard where my Mum was buried to add flowers to her grave.  She would have been the first person I rang on the way home from the race to have a whinge to and provide a guaranteed pick-me-up.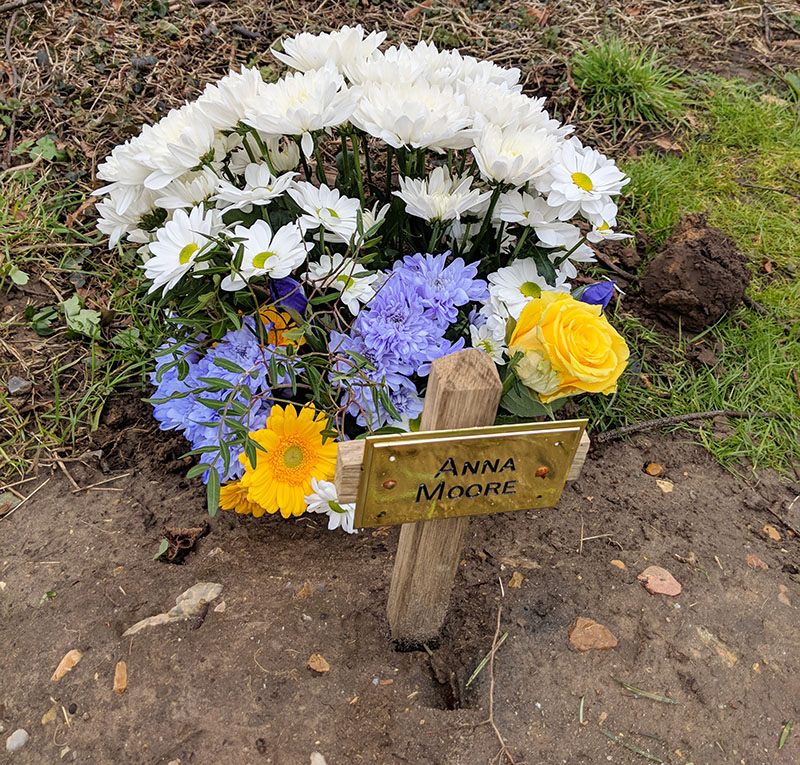 The ground still hasn't settled enough for us to be able to have a headstone fitted, so Mum's grave still displays just a standard wooden name cross.
Oscar insisted on choosing a flower from the bunch I had bought for the grave which he then walked around the graveyard holding, smelling from time to time.  Mum would have loved that he wanted to be a part of it all and, as we left, he placed the flower on top of the mound of earth that marks her grave.  Almost as if he knew that's where he should place it.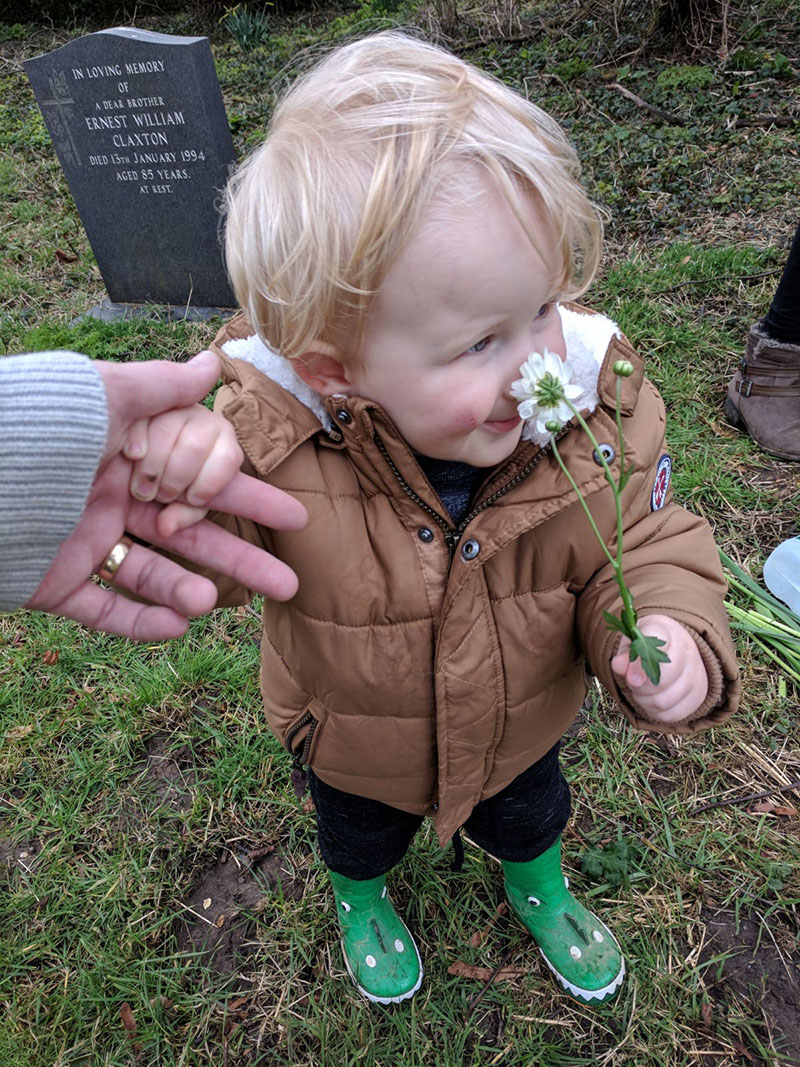 Running wise, I'm OK.  I feared the worst initially, but a four day family holiday with lots of walking followed by a trip to the physio this morning has actually done me the world of good and I feel refreshed both mentally and physically.  I've got some exercises to work on from the physio but essentially I've been given the all-clear to continue running high mileage and high volume, just not to include speedwork or hills for the time being, with a follow-up physio visit scheduled for just before Easter.
Milton Keynes Marathon and South Downs Way 100 remain firmly in the calendar.  As does South Downs Way 50, which is in just 3 weeks time.
Bring it on!
Have you ever pulled from or walked a large portion of a race before?
Did you choose flowers for your Mother on Mother's Day?