I mentioned in a few of my recent posts that I've been travelling back to Norfolk several times a week for the past few months.  Obviously I wouldn't change that for anything, and I am glad that I was able to spend the time with my parents whilst that was still an option and whilst they needed me.  But it has meant that putting enough petrol into my car to drive 200 miles, four times a week for the past ten weeks has wiped out the emergency savings in our bank account rather.
Dan and I sat down and looked at our finances the other week and realised that I needed to start bringing a little more guaranteed money in if we were to continue living in the way which we do.  Although I've been picking up the odd bit of freelance work here and there, because everything has been so up in the air lately I haven't really been able to push anything or commit to too much at one time.
The result of our chat was the agreement that I needed to look at getting a temporary position which would give us a guaranteed side income each week to try and build our savings back up again.
Our little family can survive on Dan's salary, but it would be back to basics for us – no trips to Norfolk, no dinners out (not that we have been out or even seen each other in a very long while anyway!) and no chocolate biscuits in the weekly shop!
The following day I spotted an advert looking for night workers at a big supermarket in Northampton and so applied.  I can't really afford to be too choosy in what I apply for really.  I have Oscar by my side six days a week, and Dan doesn't return home from work until 6:30pm Monday – Friday so it really limits the jobs accessible to me.
I was successful in my application.  The night shift manager actually turned to me in the interview and said that there wasn't much point in him asking me questions, as he had no doubt in my ability and skillset, but it was procedure and he needed to write something on the application in front of him!  So that was a nice boost, even if it is only for a shelf-stacking position essentially.
Last week I went in for a full day induction, thanks to Laura's willingness to babysit Oscar(!) and then I had my first shift the night following Mum's funeral.
I'm contracted to Saturday nights 10pm-7am, but in the run up to Christmas with all the extra deliveries I will also be working the majority of Friday and Sundays.
I expected to feel tired during the shift.  To struggle to stay awake and be lagging by the time morning rolled round and I was still there busy stacking shelves, but I actually felt much breezier than expected.  The store is within a shopping centre and so has no visible windows and therefore I had no real concept of outside life – I guess helping me to stay alert and work hard(!)
I've played the shelf stacking game before – as an eighteen year old desperate for overtime hours at the little supermarket I worked at before university.  Back then six staff worked three hours a night to empty ten cages of food out onto the shop floor.  At my new role, I will have ten cages to myself on the one aisle I am in charge of.  Big difference!
Because of the unsociable hours, the pay is actually on par with the teaching salary I began on in 2010, so I can't grumble at that.  The main downside is being unable to catch up on sleep.  I'm viewing it as part of my training for running the South Downs Way 100 in June.  I think that's the only real way I can look at it at the moment!
I packed my running clothes to take with me last Friday night and after emerging in the bright sunlight of Saturday morning following my first shift, I took the short drive across to Northampton Racecourse, where I changed into my running gear and headed out on a two mile warm up run before joining in with the parkrun.
My 97th parkrun.  I have just three parkruns left to reach my 100th, and with four opportunities to parkrun before the end of the year, it's looking hopeful that I should make the milestone in 2017.
After my warm up (required – it was super cold and I kept my supermarket gloves firmly on my hands during the run!) I jogged round the course to finish in 28:46.
Official time: 28:46
Position: 193/336
Gender position: 43/129
Age category position: 7/16
Dan was heading over to the Wolves game at 11am, so I rushed off home after parkrun to catch 45 minutes sleep before he left me with Oscar for the day.  Luckily, Oscar took a two hour nap that afternoon so I was able to grab a little more sleep, and then Dan returned home from the football a little after 7pm, giving me a further 90 minutes.  It was far from ideal, but it's just a temporary solution.
That night I felt like an old hand on the shop floor and raced through the cages.  At about 5am there came rumblings from the security team that it had been snowing quite heavily outside, and when we emerged onto the staff car park on the roof a couple of hours later we found our cars hidden under several inches of snow!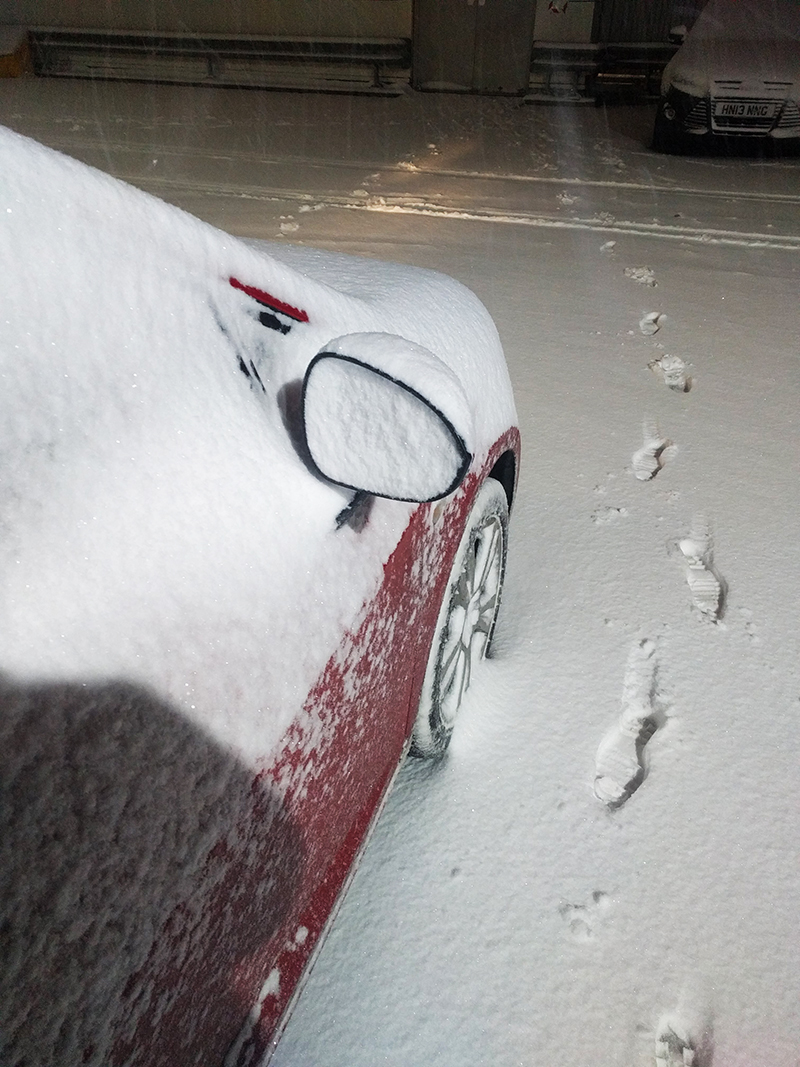 I swept the snow off my car as quickly as I could, starting with my windscreen, but by the time I jumped back into my car again the windscreen was completely covered once more!
The staff car park is rather scary at the best of times.  Placed up high on the roof above the shopping centre, it is accessed by a tight, one lane, winding corkscrew road that spirals steeply to the top.  I had been worried driving up the previous day in good conditions but was terrified driving down it on Sunday morning in the snow and ice.  What ended up happening was my car slipped from one side of the road to the other repeatedly until I reached the bottom.  I had never been so glad to see flat road!
The journey home was somehow even worse though, as it involved not just my unpredictable car, but several other unpredictable cars on the road around me.  I live 18 miles from the supermarket, but those 18 miles took me 90 minutes to drive on Sunday morning, never topping 15mph the whole way back.  I witnessed three crashes and so many cars spin off the road, despite the slow speeds that everybody was travelling at.  At one point, there was a car off the road on the dual carriageway and as I went past (at 10mph!) my car started sliding over towards it.  The car behind tried to overtake me (I'm guessing so that they didn't need to use their brakes) and they started sliding in towards me!  And there was nothing anybody could do!
Luckily, we didn't hit, and both my car and the one that had tried to overtake me were able to continue on our way.  The lorry travelling behind us stopped to help push out the car that had gone off-road and all was well.  It was rather nerve-wracking driving back though.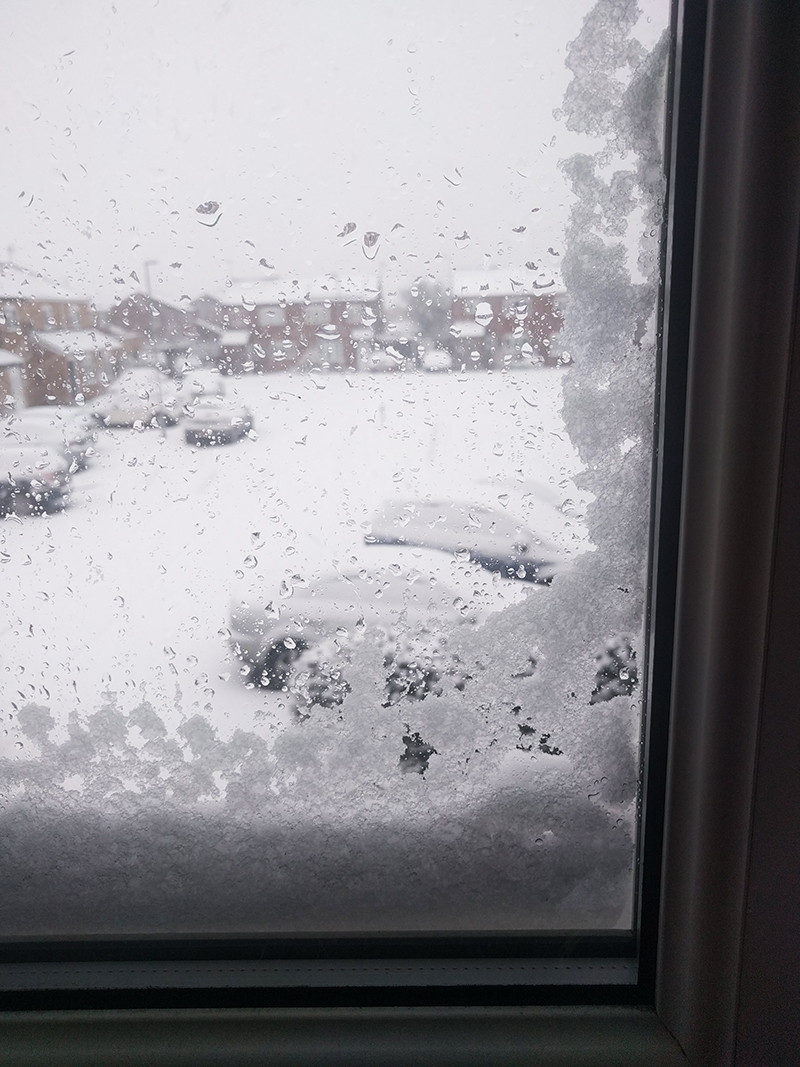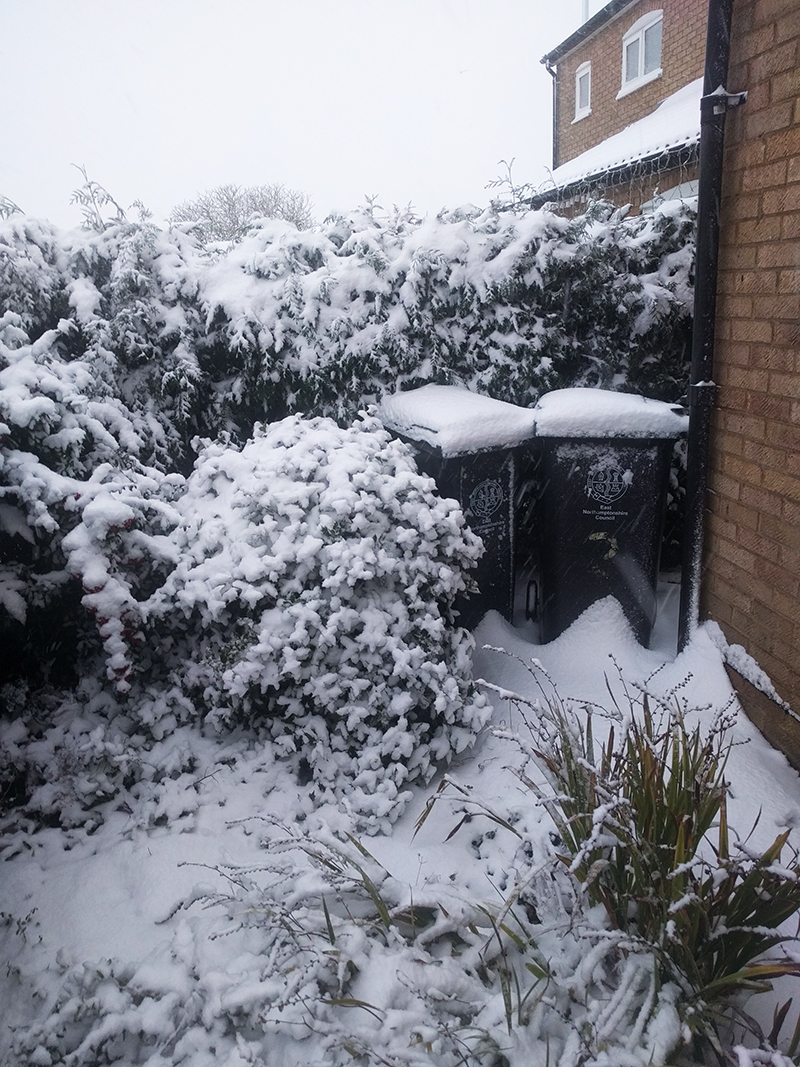 When I got home, I slept until 2pm.  Partly due to working through the night and partly due to being so on edge for my drive home, but it felt like I lost my day.  Dan took Oscar out in the snow for the first time and I missed that.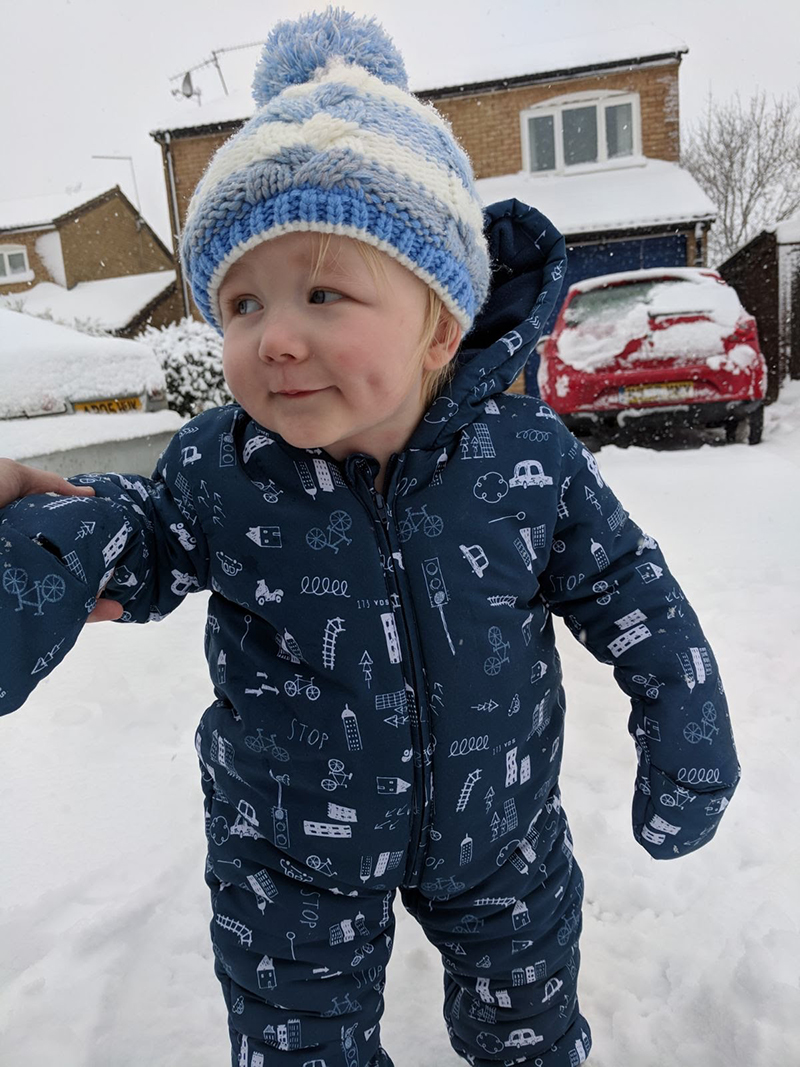 (He apparently loved it and was desperate to go and play snowballs with the big kids!)
The Monday was the toughest, as Dan was back at work, but I got round it, using Oscar's nap times to catch up on a couple of hours here and there.  I'm glad that the Sunday nights won't continue into the New Year, as that would be very draining.
Whilst the snow looked very pretty, it stopped me from running for a few days.  Without access to a treadmill currently, and only able to run with Oscar in the buggy during the day, so unable to run on trail where the going would be less slippy it didn't leave me with a lot of options.  The paths were too slippy first thing in the morning before Oscar woke and again after he had gone down for bed, and I'm too much of a wimp to head out on the trails on my own at night around here.  I was very glad that the majority of the ice had disappeared by last night, leaving me able to head out on a decent run after Oscar went down for bed.  Roll on the Spring!
How are you managing to run with the icy roads?
Have you worked in a supermarket before?
School, (as it has seemed to do a lot just lately) has managed to get in the way of my running and blogging over the past few weeks again.  Although I will be starting my maternity leave at the beginning of October, leaving me less than nine working weeks left before I disappear until June next year, another member of staff within our department has actually handed their notice in and this has meant that timetables and planning and classes have all been up in the year for the 2016-17 calendar for the rest of us within the department.  I've ended up taking on several year 11 classes for next year, many of whom I do not teach at the moment, resulting in hours upon hours of marking their coursework to come over the next few weeks, alongside my existing workload.  And I thought all the coursework marking was over for this year?!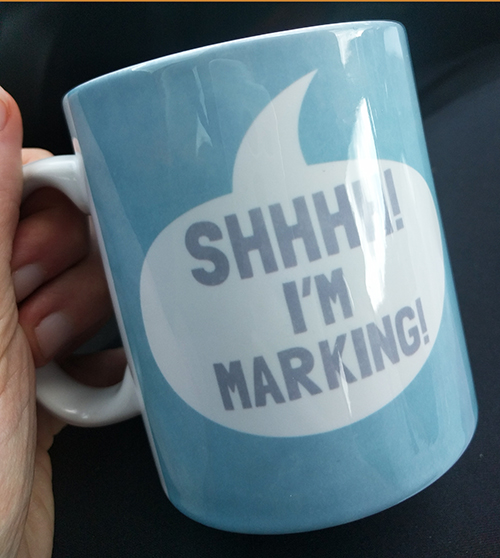 This mug was given to me as a thankyou gift by one of my current year 11 students on the day of her last exam and was very fitting, especially when I actually ended up getting up at 2:30am the following morning to finish marking year 10 folders for a marking scrutiny within the department.  My hard work paid off and I aced the scrutiny with an 'Outstanding' grade.  But I was tired and miserable for the next few days, and not the sharpest for the rest of the week.  Dan cheered me up with a 'Bee Happy' bee from Waitrose.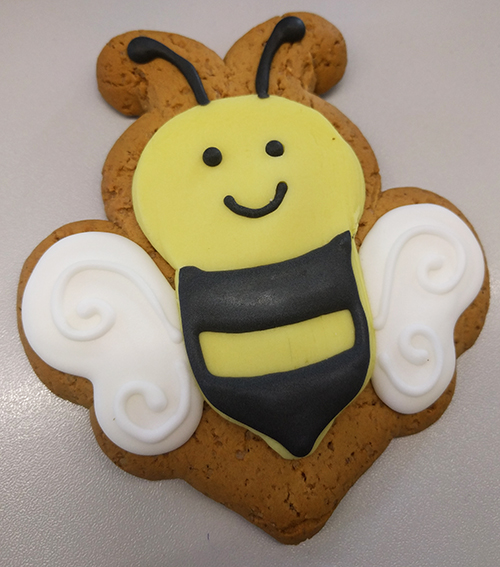 Luckily, this is the half term of trips and with year 8 currently abroad so out of lessons all of this week, and year 10 soon off for a fortnight of work experience fun, my workload should hopefully begin to balance out once more…
And then it will be the glorious long Summer holidays!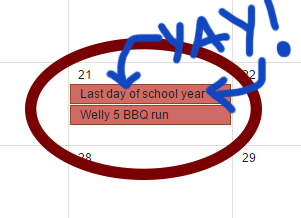 My teaching timetable is much lighter at this time of year, as my six year eleven classes and two year thirteen groups have finished now, and I am lucky(!) in that some days I have now been freed up to mark or plan for three-hour stints without a break.  By the end of the school day though, I have been ready to head home and never look at a computer again.
Dan and I had talked about getting a second car for the Summer, so that I would be able to head out and visit friends/shop/stay sane whilst he was still at work.  With a friend's wedding up near Manchester at the start of July though, and Dan needing to head up in the day on Friday, whilst I would still be at work, we started the great car hunt of 2016 slightly early and managed to find Dan a new car at the weekend.
Dan's priorities were that the car had a large boot for the buggy and space inside for our future children.  How priorities have changed!  He was also rather excited to see that the car had cruise control as well!
Going back to a two-car family means that if I know I will be working on the computer for long portions during the school day I can pre-empt this the night before, arranging to drive myself into work and thus enabling me to leave at 3pm on the dot, instead of having to hang around, forcing work from my tired brain before Dan would be able to collect me at 5, before reaching home at 6pm, after getting stuck in the post-work traffic.  Home by 3:45 means all things running and blogging and brain-break activities can take place, before returning to work in the evenings when my brain is hopefully ready for it again.  I'm super excited to have the option to commute home alone once more, although we will be spending slightly more money on petrol and it will mean two hours less that I see Dan during the day.
Anyway, I've written more than 500 words so far and without a single picture of any delicious Summer food as promised in my blog title!
Here goes…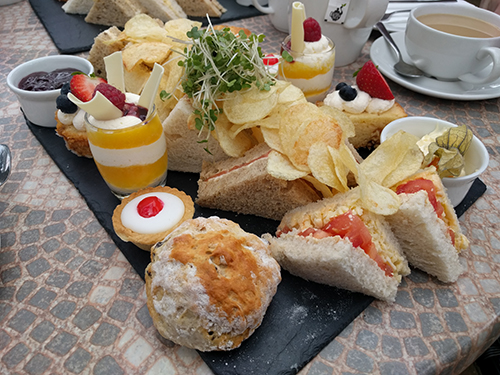 This…was…amazing…!  I've heard lots of fabulous things about the afternoon teas at Beckworth Emporium before, but have never had the opportunity to give one a try.  (Dan won't touch half the stuff on that slate!)  The day after heading down to marshal at South Downs Way 100, I headed out for afternoon tea and a long-overdue catchup with two of my running mates.  Somehow we managed to make this delicious slate (and another, smaller slate for one) of sandwiches, crisps, scones, tarts and cakes last for nearly three hours over our catchup.  It went down very well!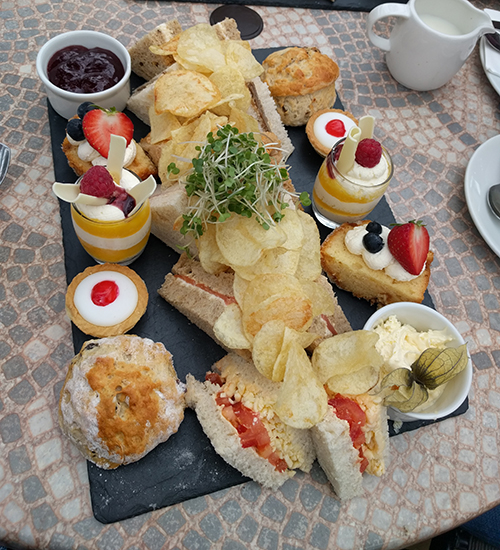 This last weekend was a busy one too.  On the Saturday I headed back down South to Basingstoke.  This time for a friend from Uni's surprise 30th birthday party.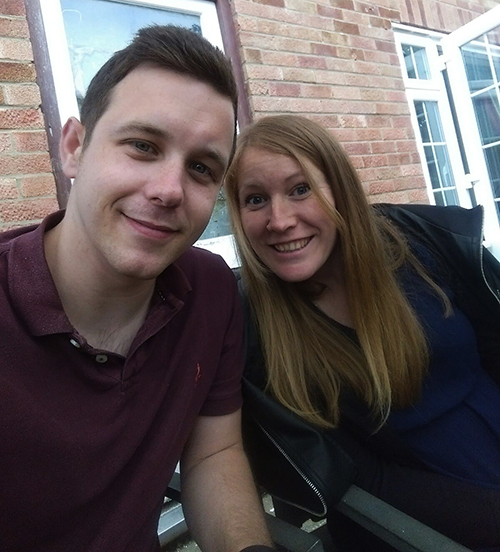 A long way to go, but I hadn't seen him for one reason or another since my wedding nearly two years ago, so it was good to catch up over the birthday BBQ.
Check out this awesome bar that his girlfriend's Dad had knocked up out of the old logshed over the previous couple of days.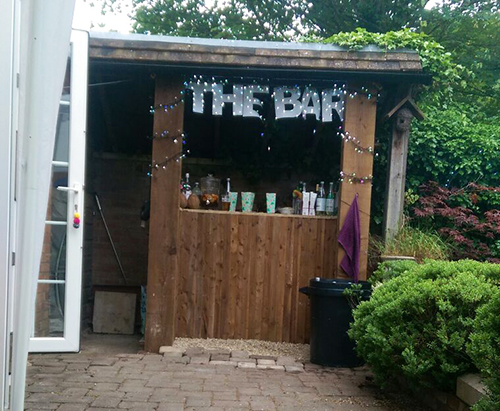 I made Dan take a sneaky picture so that we could recreate it at our house for next Summer…!
Unfortunately I wasn't able to join in with the Pimms drinking, or the cocktail drinking, but I still made the most of the fab cocktail umbrellas that were out for use!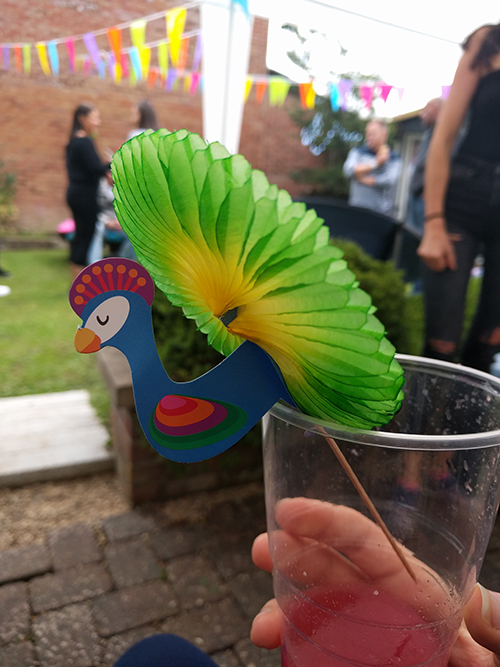 I'm really addicted to Raspberry lemonade at the moment.  This was also probably our first BBQ of the Summer?  I can't remember having been to any so far in 2016 anyway!
We drove back on the Saturday evening, and I headed out for a long-overdue run in the morning.  Trail, out with friends and it was a gorgeous sunny day.  It was the best run I've had in a long while.  

 More to come on that in my running round-up post later in the week though.
On Sunday afternoon we were off to Cambridge for Dan's fancy work do.
His school had hired out Trinity College and welcomed all staff, along with partners and young children to a Summer Celebration.  There was a free bar, party food and a photographer doing the rounds to take group shots of anybody who asked.  For those not local to Cambridge, the Trinity College is in a beautiful setting overlooking the river and apparently is where the original copy of Winnie the Pooh is kept?  My school will give us each half a glass of wine on the last day of term and expect us to sing "We're happy and we know it." (!)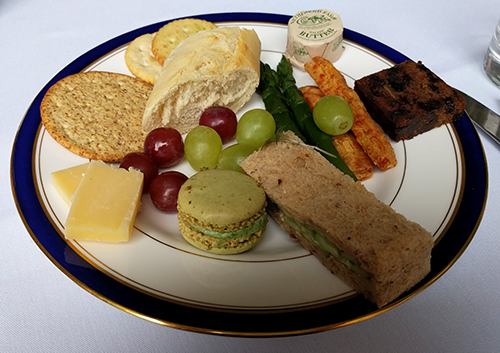 Unfortunately there weren't many sandwiches I could eat at 25 weeks pregnant, as lots contained parma ham or salmon.  I made do with a cucumber sandwich instead, along with a selection of asparagus spears (never been to buffet where there has been asparagus spears as an option before!), cheese straws (these were the tastiest cheese straws I've ever had), bread, grapes, crackers and cheese (had to avoid the brie and blue cheese too.)  I'm not a fan of macaroons but wanted to know what the flavour 'green' tasted like.  (Playdoh if anyone is interested!)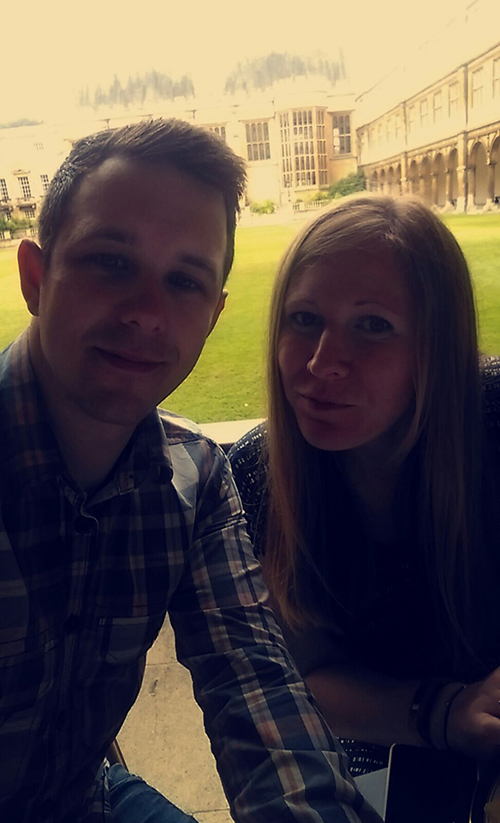 The highlight of the meal was the dessert though.  It's got to be about berries and icecream at this time of year, and this dish of strawberries, blueberries and raspberries was perfect topped with toffee icecream.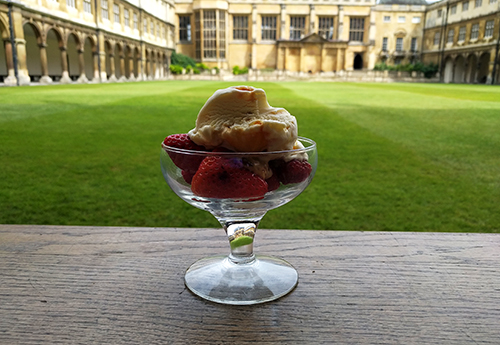 Berries and BBQs…proper British Summer food!
What do you consider to be British Summer food?
Have you been to any BBQs yet this Summer?
Because I will be a new year 7 form tutor from September I was involved in all of the year 6 induction activities taking place at my school last week.  On Thursday morning I met my new form and we filled out some paper activities, giving me a chance to speak to each new member of the form individually.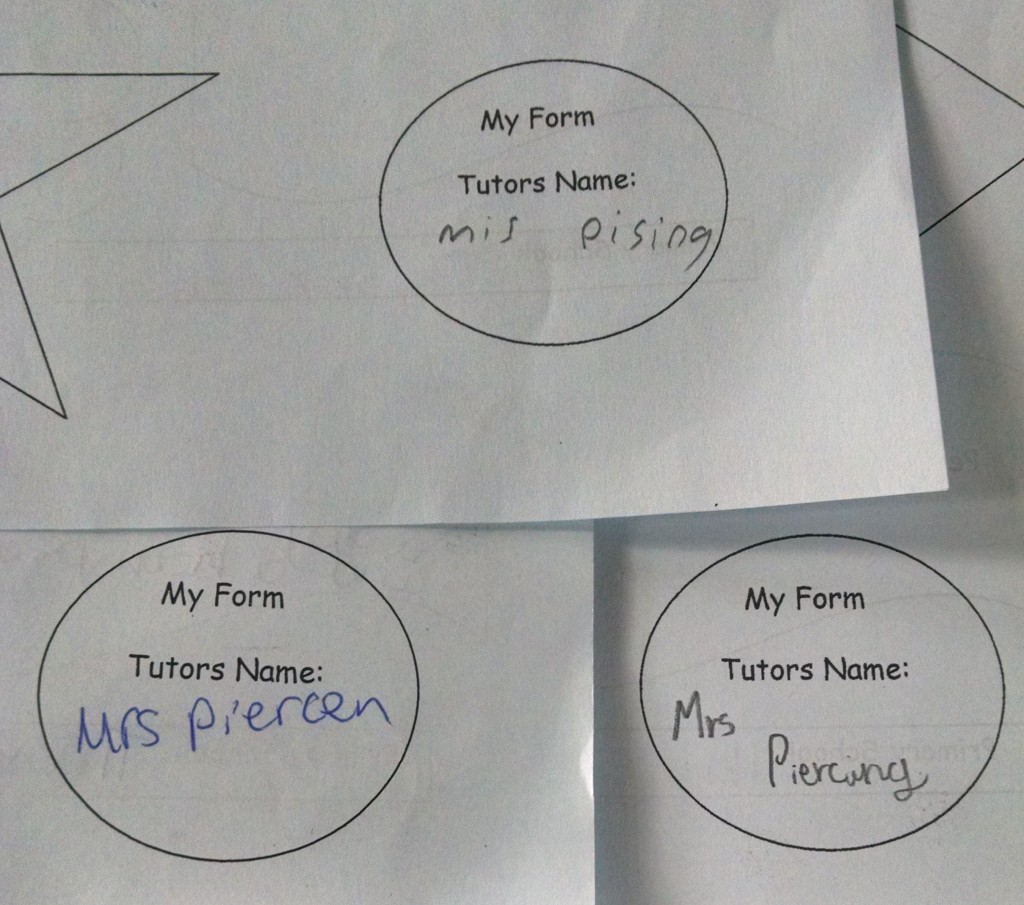 …and also correct them on the spelling of my name!  Not sure I'm a fan of any of these variations…especially the top one!
In the afternoon the students returned to me after a day of lessons and we took a little tour of the school before finishing at the bus station for them all to be collected.  Parents returned to school three hours later for a brief greet from the head and then, along with the other form tutors, was let loose with the parents of our form to answer their questions and inform them of what would happen in September.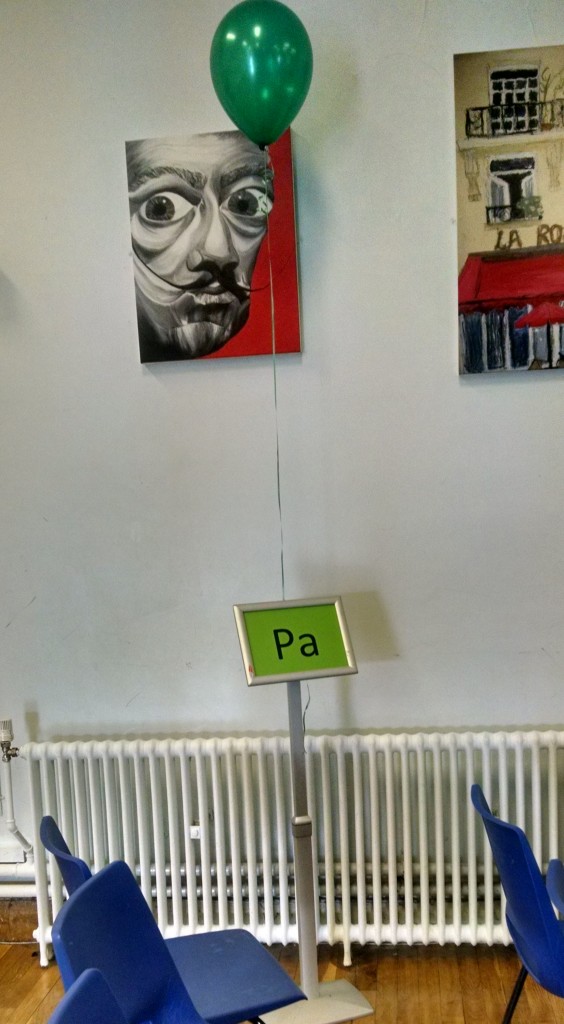 I hope the painting next to my green balloon isn't meant to symbolise me or anything.  I'd like to think I don't come across like that! 😛
The real fun was the year 6 sports day on the Friday though.  I arrived at the school track at 9am on Friday morning to see a sea of green t-shirts (my form colour) headed in my direction.  Our form took turns at target throw, 70m, javelin, long jump, shuttle runs, 200m, high jump and 400m relay running.  Breaking only for lunch and some 'rest' that was scheduled into our timetable.  For this we stretched out under the trees in what little shade we could find and had a good get-to-know-each-other chat.
It was really good to get to know the students outside of the classroom environment and we had started to build a bit of a team bond by the end of the day which was lovely.
Obviously, I joined in with the activities where I could, recruiting those students unable to take part (fasting or injured) to take pictures and help with scores so that I could help with the team too.  😀
There was an odd number of students to run the 6x10m shuttle runs, so I offered my services to run alongside the final student so that he would not be left out there on his own.  I was enjoying cruising alongside him until I stopped at my fourth shuttlerun, thinking I had already run six!  It's running, – I swear I lose my ability to count when I run!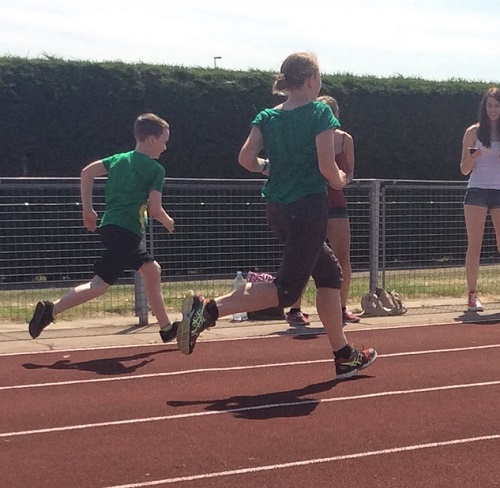 Quite a few of the students were very nervous about taking part in the 200m run.  At least six of them came to me individually and asked if they could sit it out.  I told them that I didn't mind if they ended up walking it but that I would love to see them all giving it a go and that I would run alongside anyone who wanted. (no-one took me up on the offer though.  

 )  One by one they ALL had a go, and there were no walkers at all – each and every one of them ran until the very end.  I told them how proud I was!
The final event was a form 400m relay and I felt awful being able to choose only eight students from the thirteen that wanted to take part.  It was lovely to see some volunteers that had previously been nervous about running the 200m though!  It was at this point that I was also roped into the staff 400m relay along with another female member of staff and two males.
I've never run relay before and as I stood nervously in my spot at the 100m mark I hoped I would recognise the teacher I was supposed to be running on from.  And the baton…What if I dropped the baton?!  It soon became clear though that we weren't competing against other staff teams…we were competing against the top four form teams!  The teacher handing over to me was really out in front from the students as he approached.  I backed off my line a little so that we would be able to run a few steps together on handover of the baton.  (I've seen the Fast Girls movie!)  I'm afraid though, despite running as fast as I could manage in my three-quarter trousers and without a running bra the kids gained on me and I lost most of our team's lead by the time I reached the 200m mark.  The teacher I was handing over to was a fair way past the handover line and as it turned out was less of a sprinter than me so our team lost miserably, but lots of fun was had, and the kids loved it!
I've definitely cleared up any doubts I had about being a long distance runner, – ultras are still the distance for me!
I had lathered loads of suncream on my face, neck, arms and legs during sports day but had missed the top of my back.  The new green t-shirt I was wearing must have had a lower cut back than I am used to and I got quite badly burnt in the afternoon which gave me a lot of grief in the evening.  I was shattered by the time I got home!
I still managed to fit in a sneaky 5 miler after work though!  AND I finally sorted out my Strava account so that it shows more accurate readings of my runs.
My highest placing in anything running-related came on Saturday.  I was sixth lady at Corby parkrun.
Corby doesn't have a massive turn out of runners – with just 83 people running on Saturday – but I was the 40th over the finish line and the 6th lady of 29.  That was a good feeling!
My run itself was a little slower than the only previous time I have run Corby parkrun.  The morning was hot and humid even at 9am and having not thought about breakfast before it was too late my stomach was growling the whole way round the course.
I had no huge expectations for the run as I had initially planned on pacing a friend round a sub 31minute parkrun on the much flatter Northampton parkrun course, hence why I had headed out on a 5 mile run in the heat late on Friday night.  As the parkrun began I felt a little weak but soon got into a rhythm.  I used to get very nervous before every parkrun but I feel that I have taken the pressure off just lately.  I'm not aiming for a 5k PB at the moment (although it would be nice to get one at some point!) – I'm running to increase the number of parkruns I have completed, to get a good start to the weekend and to catch up with friends!  Saturday was my 27th parkrun.  There is a good chance I will complete my 50th not far from the end of the year the way things are going at the moment and I'm looking forward to getting one of the fabulous 50 parkrun t-shirts!
Isn't it always the way that when you are looking good, on form and flying, there is never a photographer there.  But, the one time you fail to do anything with your hair, all you can think about is breakfast and you turn up in mismatched running trainers there are three out on the course!  There's a reason I chose not to tag the pictures from parkrun on Facebook this week!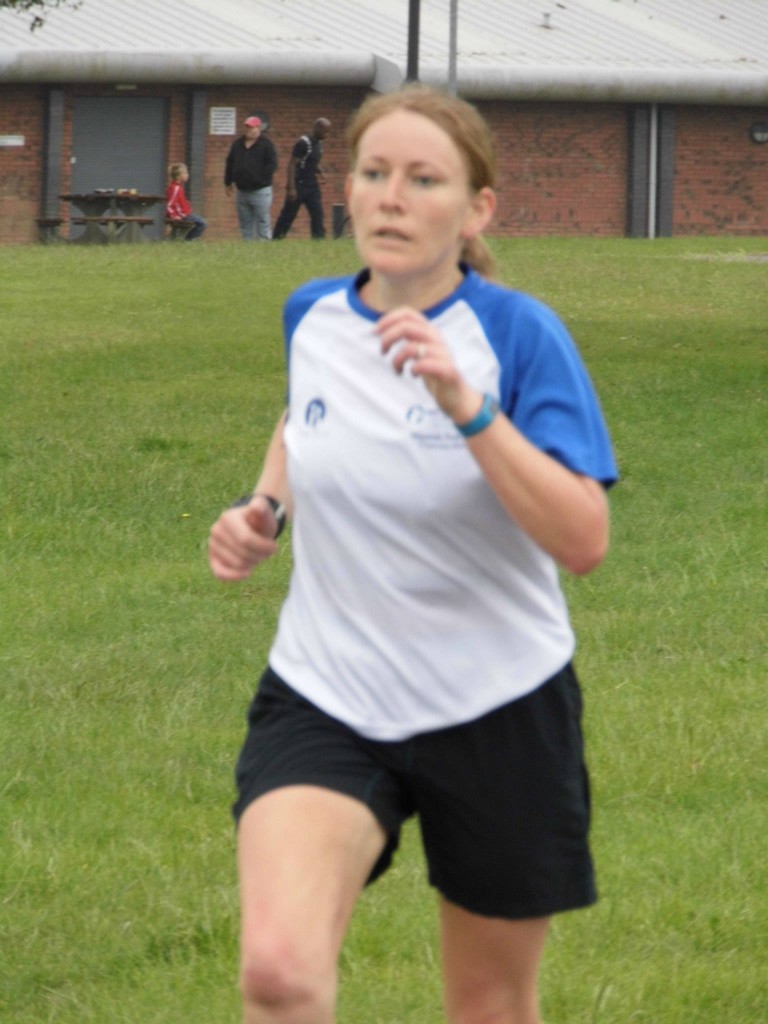 Yes, you read that correctly.  I got out of the car on Saturday morning all ready to go for a quick warm up and realised I HAD PUT ONE ROAD SHOE ON AND ALSO ONE TRAIL SHOE ON!  Very, very special indeed!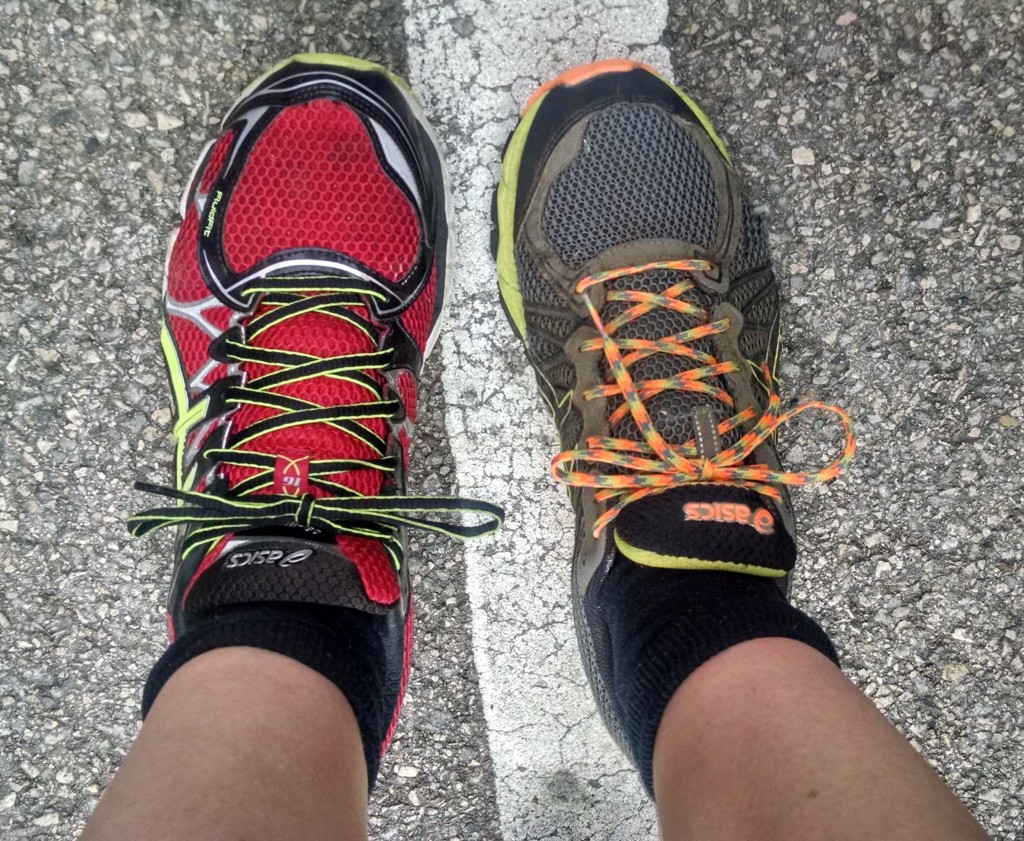 I had been in debate over whether to wear road shoes or trails.  In the end, I settled on trails (apparently only in my head!) as there had been a heavy rain that morning, and a large section of the course is run on grass.  I don't feel so stable in road shoes when I run off-road and much prefer to wear them for faster road racing instead.
For a few moments after I got out of the car I was rather upset, thinking that I was going to have to abandon my run, but luckily, I hadn't removed my old trail shoes from the boot of my car since the Winter and so I threw a pair of old shoes on instead.
I had a relatively good run with splits at 8:29, 9:10, 9:47 and 7:26mm for the 0.18m nubbin.  The first mile of the Corby course is flat, hence the much faster mile time.  You then run two large laps of the park, taking in two short, sharp hills on each lap for miles two and three, hence the slower times.
My heart rate stayed fairly steady at 165-170bpm the whole time, so my effort levels were consistent and I finished in 28:51.  Dan finished just five places later in 29:57.  It seems that everyone was about 20seconds slower than their normal times, I guess due to the humidity on the morning.  I was definitely ready for breakfast by the end!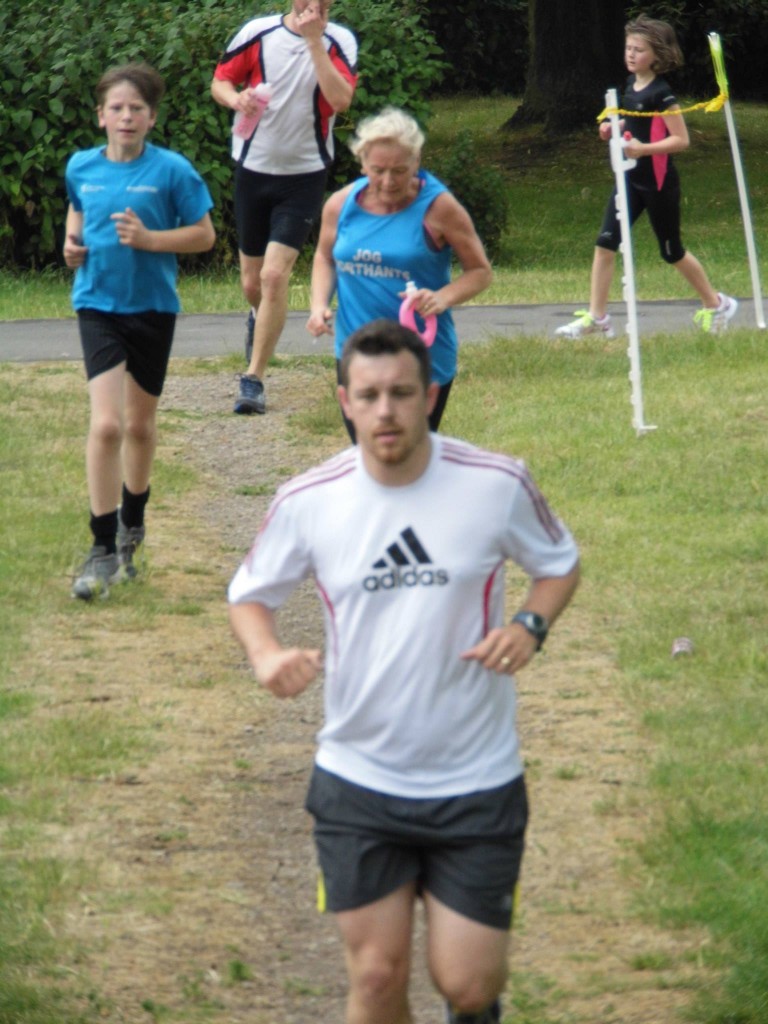 After a quick brunch, Dan and I headed out to town to shop around for some essentials for our new house.  We really need a new fridge as our current one has been leaking for quite some time.  We're using the move on Monday as an opportunity to bump off our old fridge and bring a new one to the new house.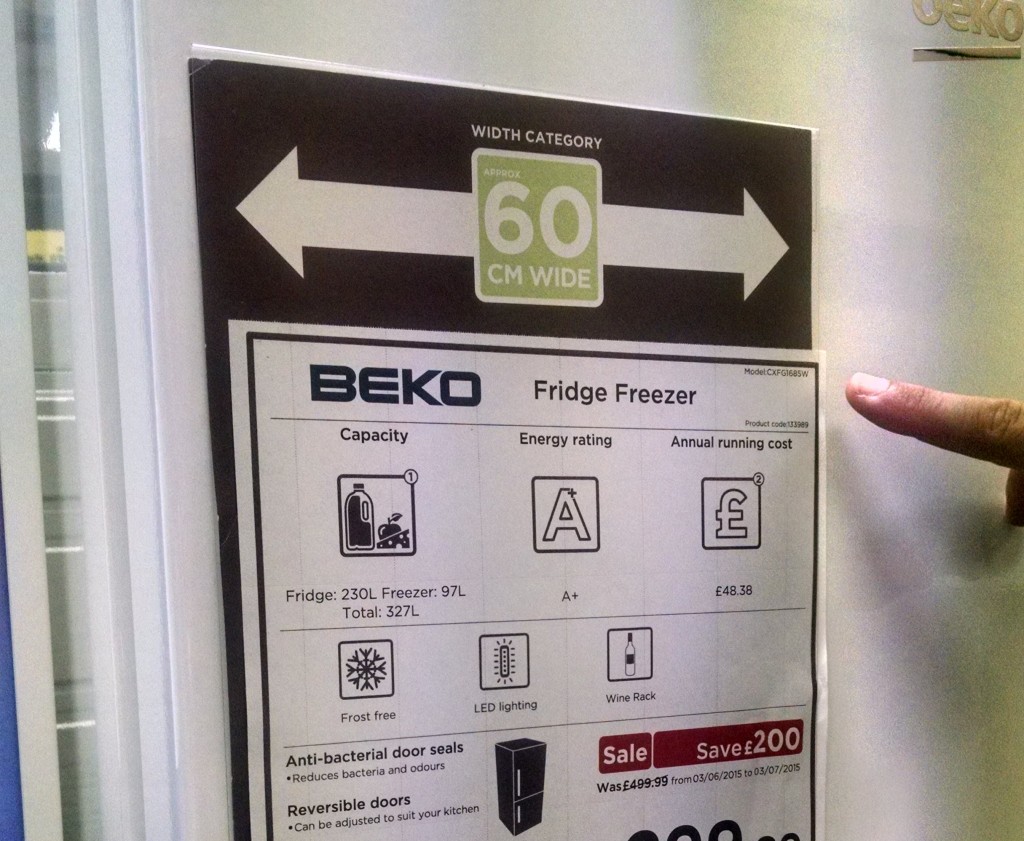 I could stand this shopping around as we did need a new fridge, but when Dan wanted to look round all the rest of the furniture shops in town I got bored very quickly!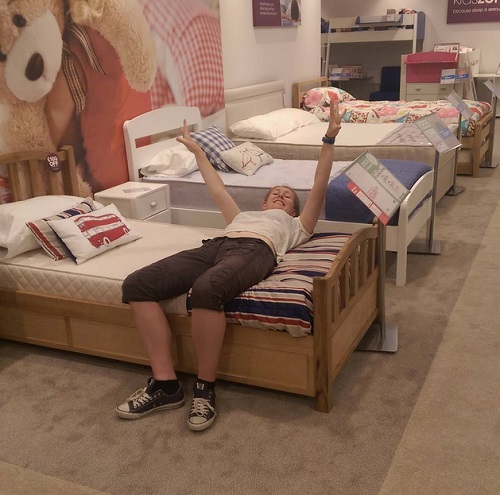 I'm not a big shopper at all!
Have you taken part in any sports days since being at school yourself?
How many runners attend your local parkrun?
Do you like shopping or find it a chore?
My toe has gone from being a little twingy, but me insisting that it gets on with things, to me forgetting I ever injured it in the space of a week.  So, I have gone from an extreme four week taper, to fitting several runs in this week and now I'm back onto the taper again!  My runs have been strong this week which has helped to regain some of my confidence for the upcoming Milton Keynes marathon on Monday.
This Monday I headed out on a 3.6 mile run with Dan after work.  We took things pretty slow and Dan needed to stretch at the two mile turn around point.  It felt good to be out at a chatty run pace again.
This week started off pretty manic.  I had an email last week to say that I had been selected to interview on Tuesday for an internal position at school following an application I had made earlier in the week.  I absolutely hate interviews and when it comes to questions requiring me to big myself up I really struggle as I find it sounds so false.  Dan was a massive help over the weekend, – between us we made a list of about ten questions that might come up during the interview and I wrote and learnt versions of model answers to each one before spending a long while practicing responses to them while Dan mock-interviewed me.  Alongside the formal interview I had 30 minutes of tasks to complete which went well.  I didn't think I would get the position as I have only been in my job fulltime since January but I was proud to think that I had been invited for interview following my application letter.  My feedback the following day was good – I had lost out purely because the successful candidate had already been in the role whilst working in a different school.  Probably one of the better interviews I have had!
Tuesday evening I headed out on my own to test out a new trail route.  Although I am eager to get back to club now that I am running again, my group were only planning on running 3-4 easy miles as so many of the runners had either just run London marathon or will be running Milton Keynes this coming weekend.  I had been asked to come up with a 6-7 mile trail route from the town I live in for next week so I set out on my own with the intention of exploring any footpath signs I ran past.  I had intended on running at about 11mm pace over the fields but about four miles into my run my leg disappeared from beneath me and before I knew what was happening the front of my left leg bashed against the top of a badger sett hole and my right knee crashed to the ground.
Left shin – scraped: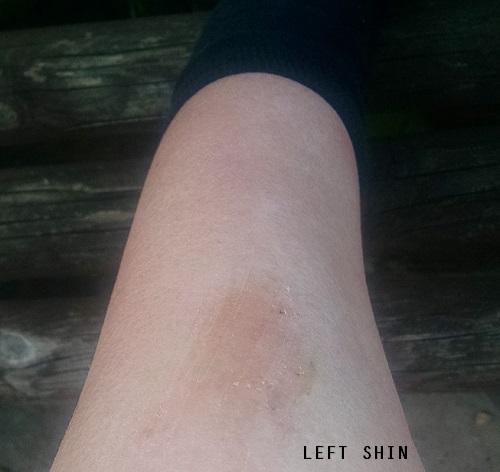 Right knee – bleeding: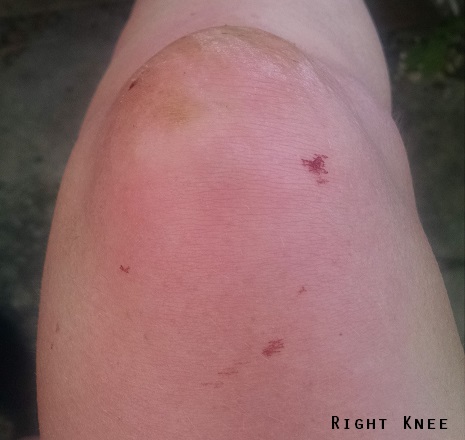 Excellent.  Who would be a runner?!  Things could be much worse though, I'll get over it.  I walked the remainder of that field.  The grass was high and the holes were well hidden.  When I arrived back out onto the road again I picked up the pace a bit into the 9:xxmm to head home.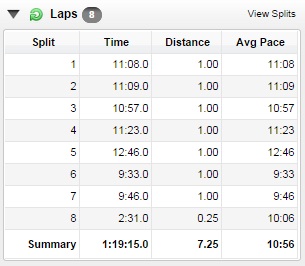 Last night I was shattered but desperate to head back out on a trail run with club.  There were eight of us that met in the car park in Grendon at 7pm.  Within half a mile we got cornered by some cows with their young on the bridge. We turned around and tried the route in reverse but as we were seven miles into the run with less than a mile to go we realised the cows still hadn't left the bridge we were due to cross.  We snuck (incredibly quickly) along the back of the field they were in and leapt a fence at the other end, only to discover that we had landed ourselves in another field with cows in!  Kev headed alongside the fence near to them and kept them distracted whilst us girls sped round the back, unnoticed.  Several minutes later and we spotted one of the guys running full pelt towards us and safety as the other guys jogged casually behind shouting out "They're coming! RUN!"  No cows were in sight, but it was funny to watch!
We're all a little bit nervous around cows after one of our club members was attacked a few years ago.
Top interview techniques?
Do you run/walk through cow fields or avoid them where possible?!