A little while back I was contacted by Decathlon to see if I would like to test out some of their Summer wear from Kalenji. Kalenji was not a brand I had heard of before, but on mentioning it to a few clubmates, I realised that the majority of people I spoke to recognised the name or had purchased items in the past.
I was sent out the Kalenji Eliofeel Tank Top (£9.99), a pair of Kalenji Kiprun Kanergy Short Tights (£19.99) and a pair of Newfeel Propulse Walk 400 trainers (£39.99).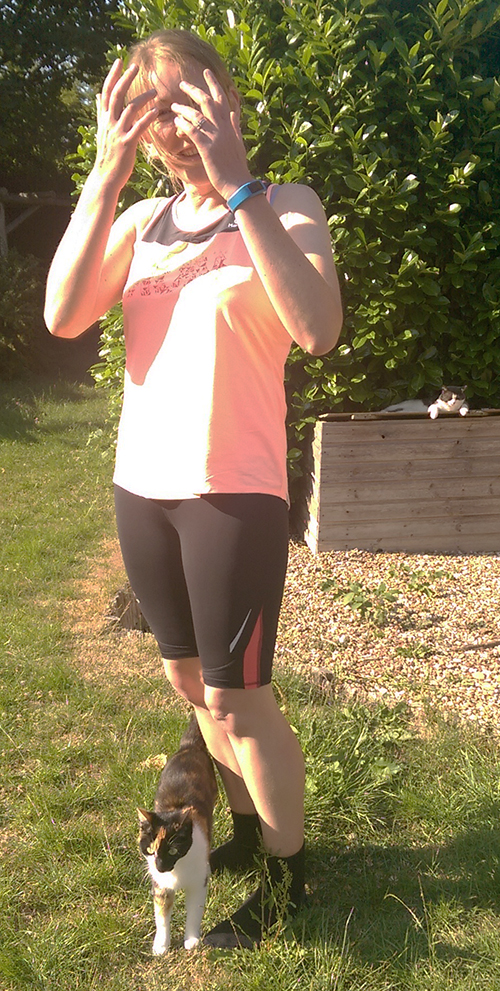 Now I struggle, as in really struggle when it comes to taking pictures of myself or looking relatively normal in pictures others take of me.  I end up taking hundreds of photos and still never getting it quite right.  Dan offered to take some photos of me in my new kit, although probably regretted it afterwards as I'm one of the least photogenic people out there and we tried lots of shots (most of which Bella was determined to get into!) in various poses. (I can't pose at all!)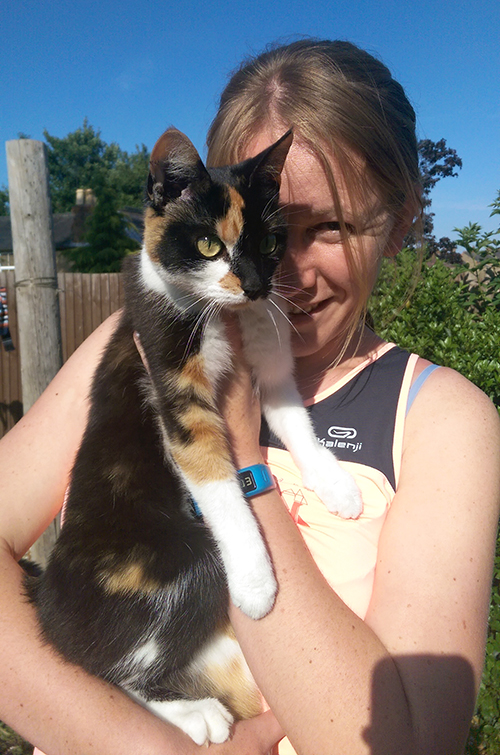 It was a welcome distraction when Bella decided to come and investigate what we were up to though.
I've been after a photo to head my new blog design (did you notice the change by the way?!) so yesterday Dan and I headed out to the trails and got a little snap happy with the kit again.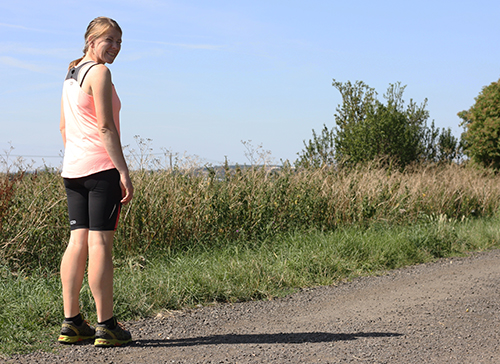 Much better this time!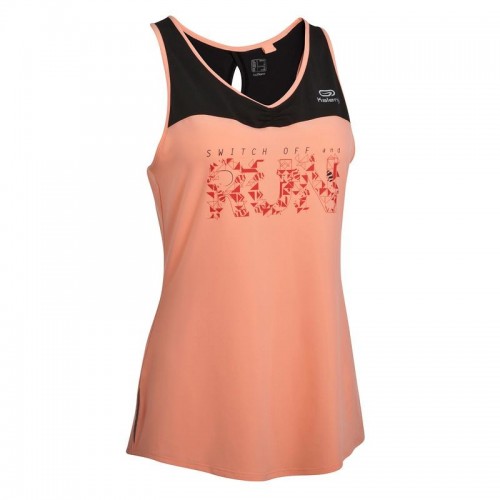 I fell in love with the tank top straight away.  Most of my running clothes are fairly plain and boring.  I'm not a massive fan of clothes with slogans or sayings on, especially for day-to-day wear but the simple 'RUN' emblazoned across the front of the tank was a nice change from my normal selection of tops.  The fit of the top was really nice and flattering.  As someone whose stomach probably isn't as toned as it could be, it is important to me that any top I wear whilst running doesn't 'hug' my tummy.  In the past I've often had problems with tops riding up whilst out on a run, but that wasn't the case at all with this one.  I do really like running in tank tops and feel much cooler (heat wise!) when I do so.
I have been wearing the tank top for core work and short easy runs over the past couple of weeks but last night I headed out wearing it on a 7 mile trail run.  It was a warm night and the tank was lovely and breathable but I did get a little bit of a sweaty patch on the belly of the top.  It wasn't an issue. I only really noticed as I adjusted my heart rate monitor and don't think anyone else I was out with noticed.  Also, sweat means I was working hard, right?!  😉
I was a little dubious about trying the shorts on when they first arrived.  I absolutely adore my Ronhill loose-fitting shorts, and own three pairs of the same in various colours.  Other than the depths of Winter, I live in these shorts whilst out running.  They are mid-length, baggy and very loose around my stomach and legs.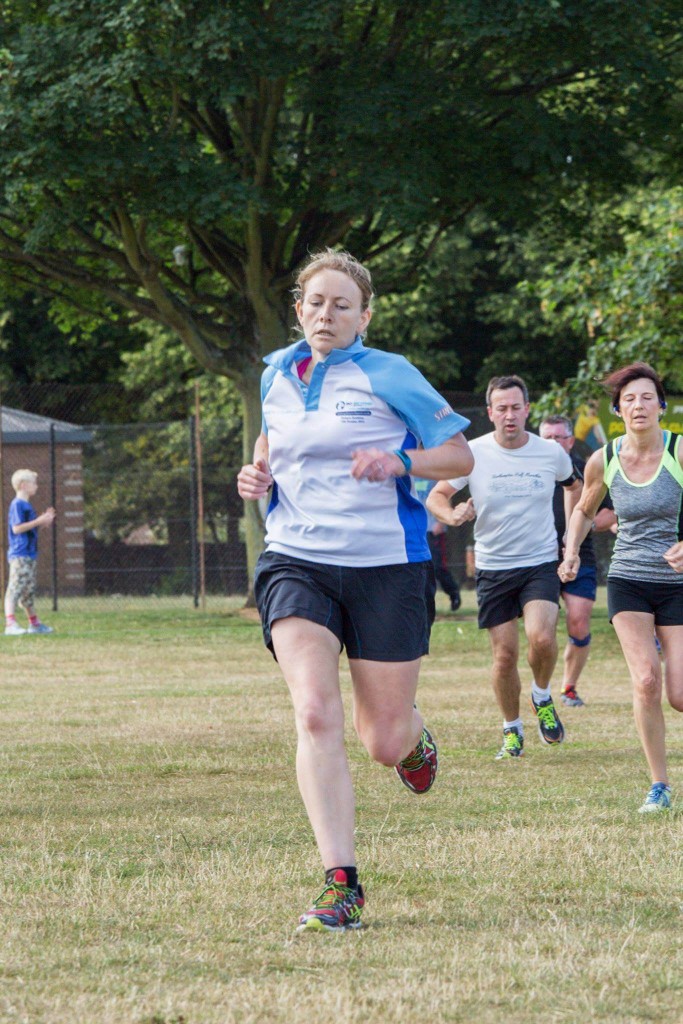 The Kalenji shorts were completely opposite.  They were tighter fitting, much longer and had a large coloured panel which went over my stomach.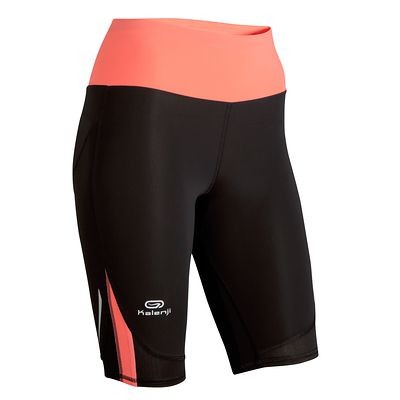 But I pulled them out of the box and up over my bum anyway.  And then fell in love with them.  Again, just like the top they were incredibly flattering.  The shorts are actually compression shorts and 'enhance venous return and reduce microtrauma to muscle tissue as a result of impact during running'.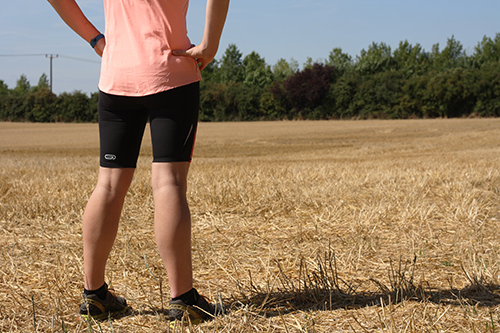 The coloured panel was comfortable over my stomach, and was a nice feature.  There was also a zip in the back.  Always useful when you need to lock the house up before heading out on a run!
The trainers are designed to be walking trainers and just lately I have been doing a lot of walking!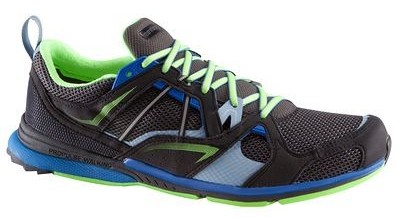 I live in Converse most of the time outside of running.  I'm not a dress-it-up-with-shoes kinda gal and find Converse super comfy for day-to-day tasks.  I do quite a lot of walking though, and now that we are down to just one car (RIP Dan's car) I have been making more trips than normal to the now much further away (20 minutes) shop for various bits and pieces during the week.  Converse aren't the most supportive of shoes so I tend to wear my running trainers for longer jaunts out to town.  I'm never sure if walking miles in trainers count towards the recommended 500 miles of use you should get out of them before changing your trainers, so these are coming in handy for all those little trips.
I liked that when I put both running items on they matched.  I hardly ever co-ordinate my workout outfits, so it was lovely to not have to really think about it and just throw them on together.
All I had to do then was head out and enjoy my run!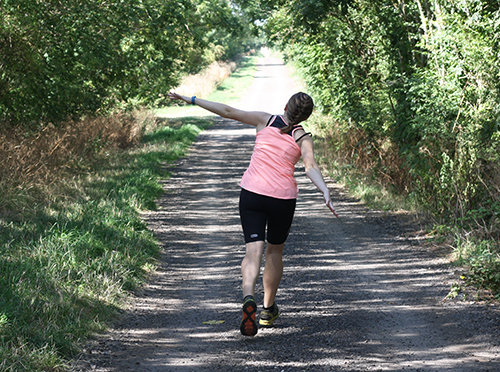 Do you own any items from Kalenji?
I've asked before, but just how do you manage to take photos of yourself?!
What do you think of the new blog layout? If there is anything that doesn't work on your phone/tablet/etc, please let me know!