Checkpoint 5 – the END:
The Cat & Fiddle pub at Checkpoint 5 had been at mile 27.6 miles, and chatting to someone new helped the next 1.4 miles to Checkpoint 6, a self checkpoint go really quickly.  We were headed uphill, through fields and over stiles, but at much less of an incline than previous hills had been at.
The sweeper (a different one) caught us up whilst the four of us were clipping here, wanting to remove the checkpoint and continue with the route.  This checkpoint spot came back to haunt me though…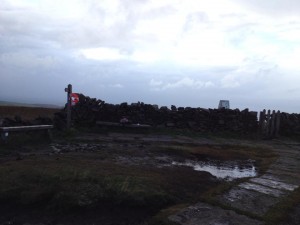 (Picture taken from DtD Facebook page).
As the Sweeper passed he told us unless we ran the whole way from there to the following checkpoint (approx 5 miles) we would not make it before cut-off as there was only just over an hour to make it there.  The boys took off almost immediately and Vicky and I also began to jog on, although soon slowed our jog as we came across large slabs laid onto the ground.  This was labelled as a 'fast four mile section' of the route.  The slabs were very uneven, wet and muddy though and by this point the wind had gotten up, blowing us both across the path repeatedly.  No more than 200 metres onto the slabs, the fog seemed to lower around us and we dropped to a power-walk, for large portions of the route not being able to see further than our feet.  I did not enjoy this section.  I'm not sure if it was knowing I was only going to make it as far as the next checkpoint or the not being able to see where I was going, or the utter isolation we both felt, despite travelling one behind the other for several miles – not being able to hear what the other was saying.  I lost all GPS signal on my handheld so my Garmin was useless by this point.  We guessed that they organisers wouldn't lead us off from the path without obvious markings though.
Eventually we hit a road, and in the distance we could see a town lit up at the bottom of a hill.  This lifted our spirits and further down the hill ahead I thought I could spot the headtorches of the boys.  I headed right along the road to look for a path and Vicky headed left.  I spotted a footpath over a stile and shouted to Vicky who also shouted that she could see tape ahead.  The stile on her side of the road (the side we had just come from) clearly had the race tape wrapped all around it.  It must have been the right way, but it felt so wrong, climbing back up along the hill we had just come along slightly further round.  Vicky led off this time, although the fog was still horrific and after running into fences a few times I came across another large path of slabs so we lept onto this and I led the way again.  We ran for what felt like forever.  It was incredibly cold now and I was really looking forward to getting down out of the wind.  All we could do was follow the path infront of us.  It was too foggy to make out any landmarks and the Garmin was still not registering where we were.  We followed the path for about 70 minutes, attempting less and less to make conversation over the wind as we got colder and colder.  Eventually, the path stopped and we came into a clearing.  The fog had also lifted.  But I recognised the clearing.  It was where the last self-check point had been!  We had left there two hours ago!  My heart dropped but we quickly made a plan, knowing that we couldn't keep still in the wind for very long.  We knew there was no chance of making the next checkpoint before cut-off now and if we attempted to head back across the windy slabs again there was a good chance we could get lost again.  We also knew that we were within two miles of the last manned checkpoint, the Cat & Fiddle pub.  Even if the marshals had packed up by the time we arrived (strong possiblity) we would be able to let the team know where we were.  Reluctantly we continued back the way we had come hours before.  All reflective tape had since been removed and we didn't make it quite the same way back onto the road this time, instead coming out not far from what looked to be a large barn.  I ran nearer, hoping for a name on the barn so that we could get directions to the pub over the phone.  It turned out that it was a Tearoom, and when I rang Richard to say that we had gotten ourselves severely lost and returned in a circle, he told me that it was just 300-400 metres up hill on the road to reach the pub, where we would be more sheltered until a lift could pick us up.
It took us about 15 minutes (much further than 400 metres!) to reach the pub and crawl onto a step at the side.  The next 35 minutes we gradually got colder and colder, tireder and tireder and for the first time that night I could feel my stomach growling.  Eventually, after our heads shooting up every minute at every passing car, a minivan arrived and we both bundled into the back where I promptly fell asleep after a brief chat with the driver about the winning men who had just come in as she had left to collect us.  The winning time was 9 hours and 20 minutes.  An average of just over 10 minute miles!  Super speedy over that terrain!
We were about a 25minute drive from the hotel and I woke as we were were heading through the streets of Castleton again, to see the first lady and a couple of the lead men heading up towards the finish.  Still running strong!  As we got out of the minivan my legs crumpled underneath me and my walk up to the finish was incredibly slow – my legs had really stiffened up.  As we arrived two men ran through the finish and one promptly threw up on the floor infront of the line.  It was another 45 minutes until breakfast would be served and all I really wanted by that point was bed.  I had been shivering uncontrollably since sitting on the step by the pub.  Vicky had no where to stay after the race, so knowing that we had two spare top bunks in our room I offered one up for her.  We tried to not make any noise heading in but our lights woke a startled Sarah, who told us that she had had to pull out at Checkpoint one following waterproof issues with her coat.  I had intentions to shower, but at the end of the day we were both too tired so caught up on the race gossip from Sarah whilst changing into fresh hoodies and jeans and leaping under the covers of our beds making plans for breakfast the following morning.  It was already after 4:30am.  In my tired state I questionned if we would be allowed breakfast which the others found hilarious. They reassured me that we would not be denied breakfast just because we did not complete the race and I slept soundly through until just before 8am when the others stirred for food.
Walking was something I found I had to ease myself into but the breakfast was worth it when we arrived.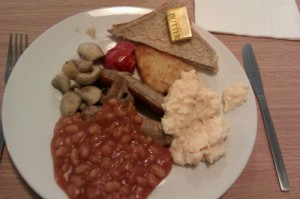 When I checked out though, the large picture behind the desk I felt taunted me from the night before.  There were the slabs…going off into the distance…with no end in sight!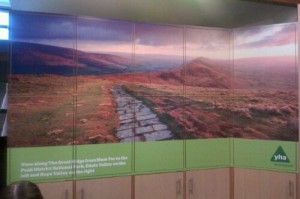 The following day was a write-off.  I began my blogging extravaganza and Chris, the editor of Women's Running rang me for a telephone interview about the race.  I also got this lovely email from the race organiser.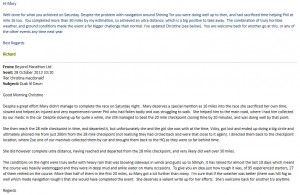 I have the first 6.62 miles of Garmin data stored on my watch, but I must have hit the button whilst climbing over a stile at this point, as it wasn't until 7-8 miles later when I realised my watch had stopped and I started it again to record another 22.76 miles of data.  Very frustrating.  Although not as frustrating as not finishing!  But I have already declared that I shall be back in 2014 to complete my unfinished business!