I'm working 10pm-7am every Friday night for the next month so any chances to fit in some parkrun tourism are going to be few and far between over the next few weeks. Last weekend was the last Wolves game of the season though, meaning that I should hopefully be able to fit in some more local parkruns again as there is no longer a need to rush back from work to nap before Dan travels back for the football on a Saturday lunchtime.
I had been dreading last weekend. Dan had prewarned me that he would need to leave early for the Wolves game on Saturday, as it was due to be a big turnout for the last game of the season. He would also be home later than usual, – after 8pm.  Cutting into my nap times at both ends of the day!
I try to sleep for an hour or so before getting ready for work to try and get me through the night, which does help somewhat, and can usually manage 2-3 hours of sleep the following morning before taking over with Oscar, but working weekend nightshifts is still far from an ideal situation at the moment.  (Especially as it's stopping me from booking some of the races I want to enter at the moment too!)
I rocked up to work at 10pm on Friday night as usual. After my hour long nap before work on the first nightshift of the week I always struggle to get out of bed. It takes me a little while to fall asleep on Friday evenings as I will have usually slept normally the night before. When my alarm goes off at 8:40 I always end up snoozing it for five minutes and end up having to really drag myself out of bed when that second alarm cries out.
My manager was late in this week. When he arrived I nodded my head in his direction and carried on working the cream aisle which I tend to work on a Friday night. He made his way over and whispered "You're not supposed to be in tonight!"  I was so sure I was and as we headed down to the office to check the rota I scrolled through the photos on my phone and found the picture I'd taken the previous month showing my hours.  I WAS due to work that night!  However I wasn't on the main rota displayed in the office.
My manager said I was welcome to stay and work but that the department was already fairly well staffed for that night so I offered to go home, trading the inconvenience of me coming in for a shift I didn't work for next Sunday off from work, as I'd forgotten to book off the night before Milton Keynes Marathon, which could have been interesting!  As it is, I'm still working Friday and Saturday night next weekend, then traveling to Norfolk for the christening of a friend's baby on the Sunday afternoon.  Then returning to Northants on Sunday evening as I need to be in Milton Keynes by 9am on Monday to have my photo taken as one of the Milton Keynes Marathon ambassadors. (Why is my life always so busy and manic?!)
But, not working on Friday night this weekend meant that at least I would be able to fit in some tourism before the craziness of the next few weeks hits.  I had spoken to Laura earlier on the Friday who had mentioned that she was going to the fairly new Luton parkrun course to tick off some more parkrun tourism the following day.  After clocking out from work and before heading home I quickly typed 'Luton parkrun' into Google and saved the details for the following day, dropping Laura a quick message to say that I was no longer working and would join her at the Luton event.
I actually ended up not getting to bed until 11:30pm.  Oscar has had a bit of a cold this week and then woke at about 4am for half an hour or so, just wanting a cuddle.  He went back to bed without issue and was still sleeping when my alarm went a little later at 6:45am.
As I'm so used to doing now I took my running clothes downstairs and changed in the kitchen, messaging Laura to say I was on my way.
The Luton Wardown parkrun course is about an hour away from me but having not been there before, and not being the best at following directions I wanted to leave plenty of time to get there.  I arrived with lots of time to spare, hopping out of my car just after 8:30am.  I messaged Laura to let her know that I had arrived first.  (This NEVER happens!  I'm usually the one legging it over to the start line just in time to cross the line as someone is shouting 'GO'!)  Laura replied to say that her satnav had broken so she had had to stop and pull up the directions on her phone but would be there shortly.
I found the toilets (nicest toilets I've been to at a parkrun before) and decided to run a warmup mile whilst I waited for Laura to arrive as the weather was pretty miserable – wet and chilly.
Following all the other runners I headed down towards the start, keeping an eye out for Laura on my way.  Still no sign of her.  I really hoped she'd managed to find it OK.  The briefing didn't begin until 9am and I pushed my way through the group to try and spot Laura in the crowds.  Still couldn't see her!
The briefing lasted a little while as there were several runners completing milestone parkruns and there was also information given about #runforMatt – an organised 0.6 miles following the parkrun to make up the mileage to 3.7 miles – the distance Matt Campbell had been from the finish line when he died at the London Marathon the previous weekend.  Everyone cheered for the 156th event and then we made our way down to the start line.
I'd spotted on the Luton Wardown Facebook page that the last Saturday of each month was their official pacer parkrun event and they had a large number of Pacers advertised for the run between 23-36 minutes. I had been feeling rather weary all week so decided to slot myself between the 29 and 30 minute pacers and just run a comfortable pace throughout.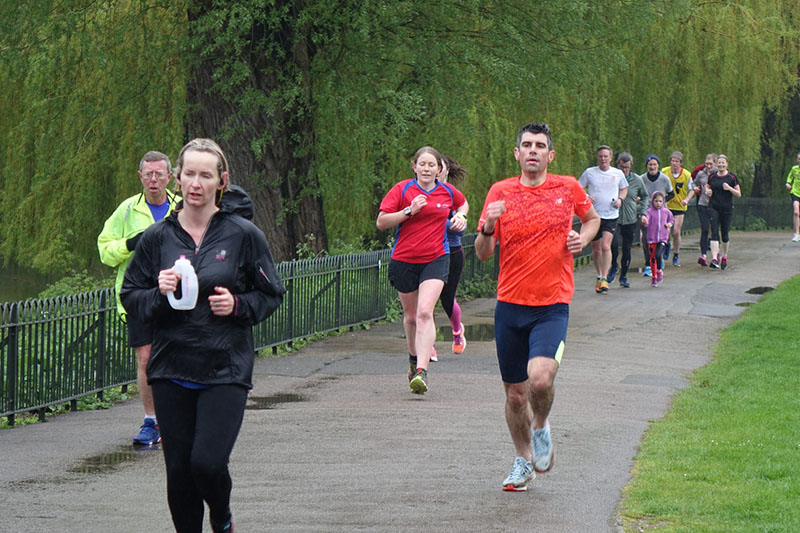 (Photo from the Luton Wardown Facebook page)
It wasn't until I was a mile in to the run that it clicked that the Race Director had mentioned it being the 156th event that day.  I remembered that Laura had said the parkrun event she had been going to this weekend had only been running for a few months and suddenly realised that there must be two parkruns in Luton and that Laura must have gone to the other one!  Whoops!  (In actual fact she had gone to Houghton Hall, just 3.9 miles up the road!)
The Luton Wardown course is three and a bit laps, with a quite long, gradual hill up a muddy slope which you run up four times in total.  It definitely isn't a PB course!  On my second lap the guy in first place (wearing a London marathon t-shirt from the previous weekend) lapped me. I think seven runners lapped me before I began my final lap. I also began lapping people on my second lap as well.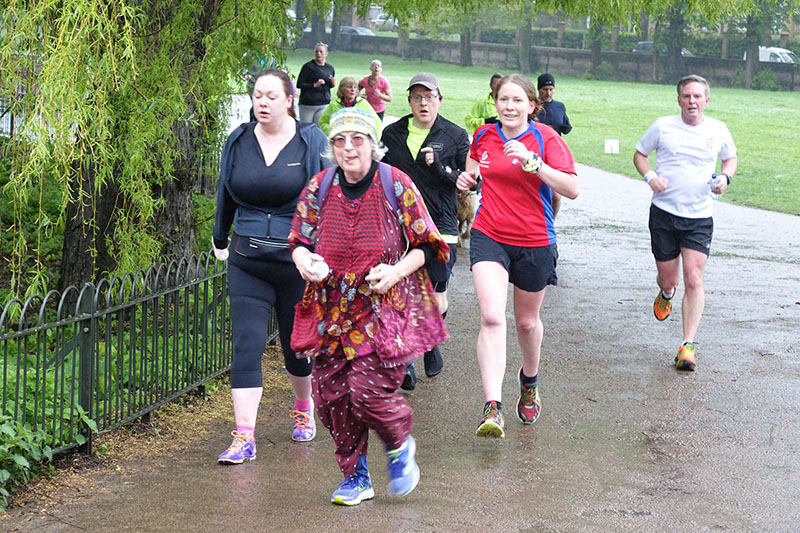 (Photo from the Luton Wardown Facebook page)
I'm not a massive fan of several-lap courses but it is nice knowing where the hills are going to pop up and where to expect marshals/support on the way round.
The 29 minute pacer was still far into the distance as I completed my third lap. I glanced down at my watch to see that I would still finish a fair way under 29 minutes, but gave a final kick anyway.
Official time: 28:42
Position: 119/284
Gender position: 20/121
Age category position: 3/11
The weather had remained fairly miserable throughout. That horrible kind of drizzly rain where you end up feeling soaked despite barely noticing the rain coming down at the time.
This was my 107th parkrun and 23rd different course. I was hoping for another tick at Stopwatch Bingo but it wasn't to be!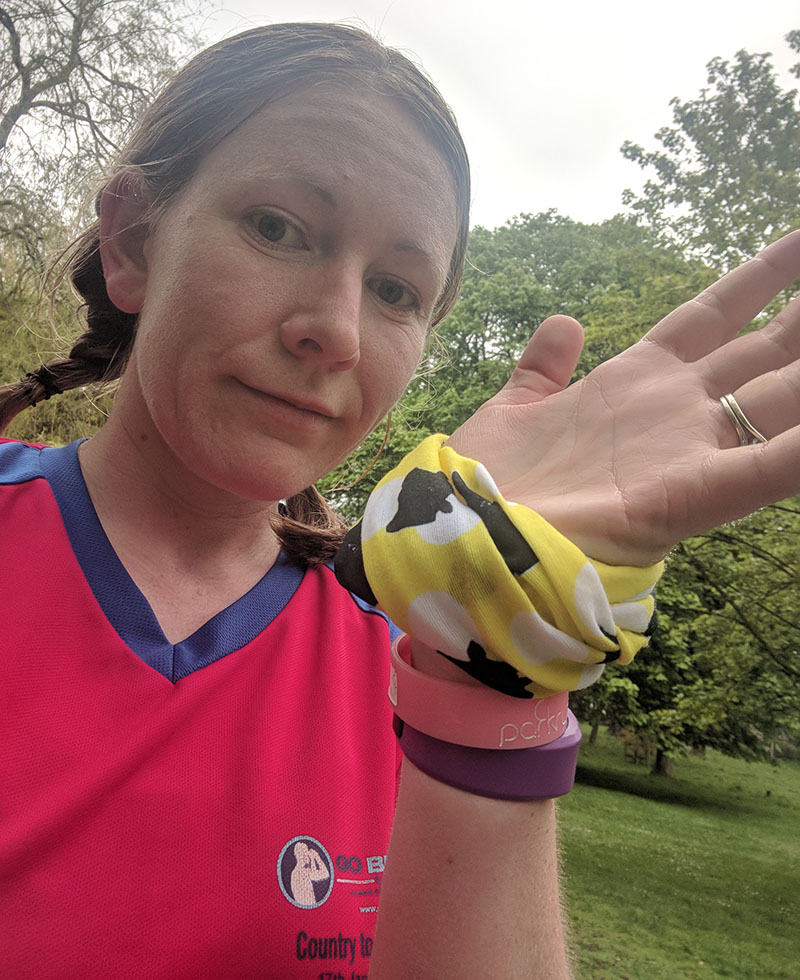 My cow cowl had arrived earlier in the week though, so I made sure to wrap it around my wrist to indicate that I was a tourist.  I didn't spot any others out there on the day, but I'm looking forward to spotting some more tourists at events now that I have my cowl too.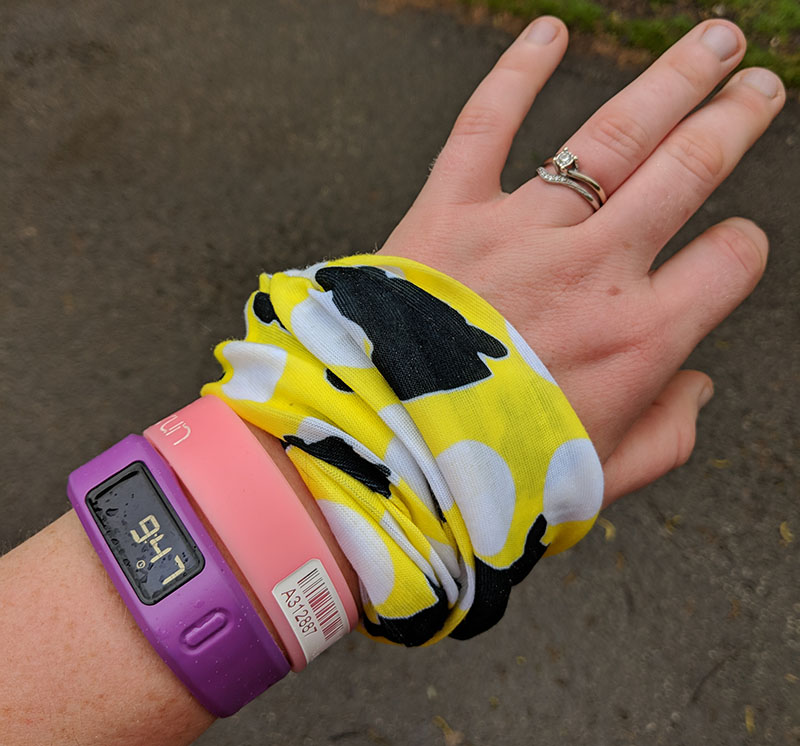 If you have a cow cowl, how do you wear yours?
Have you ever (not) met someone at the wrong location before?!
Did you take part in the #runforMatt 3.7 miles at the weekend?