If you missed the first part of my London Marathon recap, you can find it HERE.
I took five gels with me for the marathon.  My favourites to race road events with are the Salted Caramel GU gels.  I'm pretty sure I could knock those back all day!  In my early days of marathon running I would use just one gel on a marathon, or get by without, using just Lucozade Sport or jelly babies to fuel me round.  A few years back, after failing to achieve a sub 5 once again at Mablethorpe Marathon I was talking to another runner from my club who said she used to be the same; hardly ever took gels on board.  Her long distance running began to improve drastically when she started taking 5-6 gels during a race.  Two weeks later I ran Chelmsford Marathon, and although I didn't take on board as many gels as she had advised, I did substantially increase the amount I was taking, and really thought through my tactics and timings for nutrition before race day.  That was the race I finally went sub 5 at.  Now I always make sure to take on board plenty during the race.
I prefer to take my gels a half at a time, along with a few swigs of water.  It's what seems to work for me.  I took my first half a gel at about mile 5-6 and took on four in total during the race.  Water stations were every two miles and I took a half a gel at most stations from this point.
The first Lucozade station was at mile 7 and the road for the following 100 metres was stickier than the floor at Zanzibar, a shoddy nightclub in my uni town.  You could hear your trainers peeling up from the floor with every step.  It was horrible!
Somehow at mile 8 I spotted a member of my running club stood on the pavement alongside the barrier.  I shouted as loud as I could and finally got their attention for them to shout back as I ran past.
My first twelve miles went by what seemed very quickly.  I was so busy reading the backs of people's vests and scanning the crowds for supporters I knew.  I knew of several members from my running club who had intended on coming down to support runners on the day, and several more who I knew through social media or the blogging world.  Some had told me where they were hoping to be, but by the time I was out on the course I'm afraid I had forgotten most of what people had told me but I was finding it quite exhilarating scanning the crowds anyway.
Mile splits for the first twelve: 10:05, 10:04, 9:52, 9:55, 10:01, 9:56, 10:00, 9:49, 10:01, 10:09, 9:54, 10:10.
All much faster than the 10:18mm pace I had intended, but I still felt good so I wasn't too concerned.  They say you should be able to run to the halfway point feeling good and like you could do it all over again, and I definitely felt like I could.  I was religiously checking the times on my Pace Band against my watch each time I went underneath a mile marker arch, and by this point I was more than a minute up on a 4:30 finish time.  I think the furthest I had ever run before non-stop, without any walk breaks was 16 miles-ish so I was pretty sure that at some point my pace would drop, but I figured even if I began run-walking from 20 miles, if I was able to hold my current pace until then I would still be on for a new PB.
We turned a corner and all of a sudden the bridge was in front of us.  For some reason – and completely unexpected, I found myself tearing up and a little lump rise in my throat.  I quickly glanced down to recompose myself.  I felt so emotional running onto the bridge.  On both sides were charity supporters, with large banners strewn along the edge.  A camera panned down from up high as I reached the far side and, along with the guy next to me we automatically raised our arms high in the sky and pasted on beaming smiles!  We laughed about it as we turned right off the bridge.  He said that his children had better have been watching the TV at that point!  I'm not sure that our shot made it onto the TV, but I have a lovely set of photos across the bridge in the online photo gallery from the official photographers.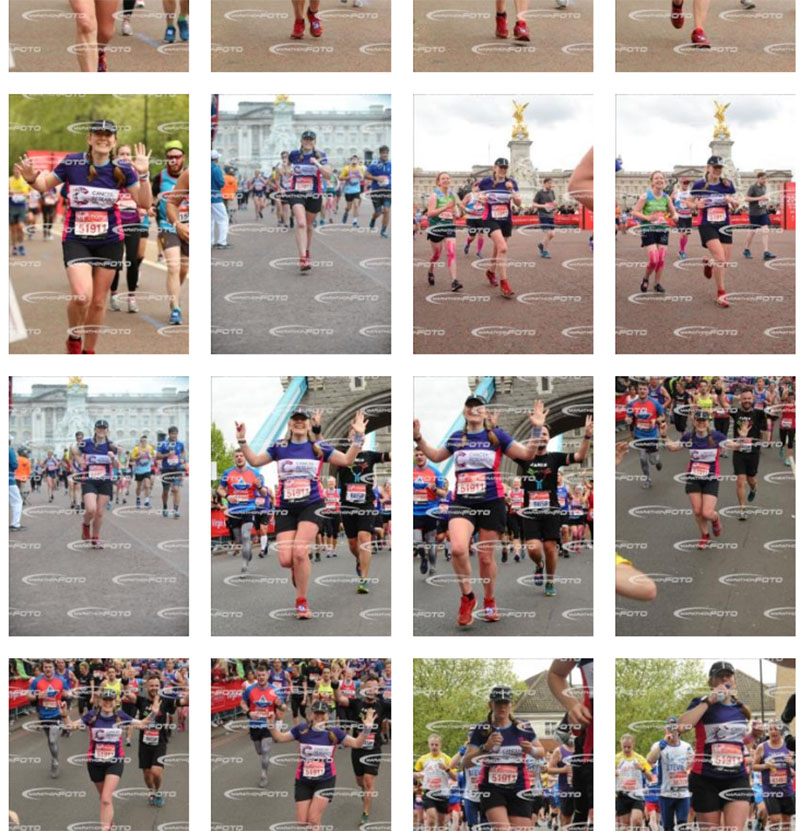 (I intend on asking for some of the official photos for my birthday, so will post them on the blog properly then.)
On the right as you turn off the bridge is where I usually watch the marathon when I go down as a spectator.  2018 was the first year in a long while when I didn't head down to support on the day.  Both Kev and Tom, who I had watched with for several years in the past were unable to make the date and so I headed out for a long run with a friend early in the morning followed by pancakes and race tracking on the TV for the rest of the morning.  Sunday mornings done right!
Whenever I'd traveled down in the past I'd always bumped into other runners from our club supporting in a similar area so I really scanned the crowd here, desperately trying not to miss anybody who was out trying to spot me.  It can be almost impossible trying to spot runners sometimes, especially when (like me on the day) they're not in club colours!  I didn't see anybody I knew though.  It's amazing how having only run the course once before I could still remember every turn on the route.
The cheer stations were all great out on route, but especially the Dementia Revolution cheer stations.  Each one went on for so long, and spanned across both sides of the road.  If you found yourself running alongside a Dementia Revolution runner through one of these stations you couldn't help but be picked up yourself!
I spotted a couple of the Cancer Research UK cheer stations, and it was nice to be able to raise my arms up towards them as I came through, receiving great support from people I'd never met before.
As I crossed the halfway mark I glanced down to see 2:13:41 on my watch.  A time I would probably have been happy to take for a half marathon at the moment, and also perfect numbers on my watch to still aim for a sub 4:30 marathon!  I had no idea how I was getting away with such consistent, easy running still!
One of the next water stations (I can't remember which one, maybe mile 14/16?) I struggled to get across to the station before it finished.  Everybody was darting across to grab a bottle and it became a bit chaotic with choppy strides from everyone.  I ducked in to grab a bottle from the last volunteer and shouted out "Sorry!" to the female runner I'd had to cut in front of.  I wasn't close, I didn't 'cut them up' as such.  They then extended their stride coming out of the station, moved back behind me and forcibly pushed into my back, making me shoot forward.  It really caught me off-guard!  Luckily they disappeared and I didn't see them again.
Miles 13-20 went as follows: 10:15, 10:01, 9:49, 10:56, 10:07, 10:18, 10:44, 9:40.
(I think the first tunnel is at mile 18, hence the 10:44?)
I knew by now that I would PB.  Even if I ran walk the final few miles, they wouldn't be slow enough that I would be risking my PB and I could feel the grin spreading across my face.  I was starting to feel hungry by this point.  Really, really hungry, but there wasn't a lot I could do about it.
By mile 21.5 I knew I needed to try and find some food.  I made my first walk break and raided a bucket of jelly babies that had been thrust towards me, choosing all of the yellow ones to nibble on for the final few miles.  (Yellow is the best flavour by far.)  My stomach was rumbling so loudly I feared that other runners would start turning and looking at me!
At mile 22(ish) I saw Ruth, and then Jenny not long after.  And then a little further up the road I saw a group of guys from my running club and even further up another runner from my club.  (These may all be in totally the wrong order of when I spotted them, but they were all fairly close together and in the perfect location for keeping me going!)  Not that there was any risk in me stopping at any point now, but this is the section of the race that everybody says is the hardest, not much to look at and with everyone now ready for it to be the end!
Going into the tunnel was eerie.  I passed lots of people walking under here.  Of course, it's the perfect place to fit in a sneaky walk, – I'm almost certain I walked it myself last time – but I made sure to jog through to the end.
For a stats geek like me it was so annoying having the tunnels mess with my Garmin.  Both times my watch continued to add time, but not mileage as I ran the 0.2ish miles through the tunnel.  I really needed to rely on my pace band against the mile markers now to judge roughly where I was time-wise.
Since that first walk, I took a couple more until the end.  My legs were fine, my chest was fine.  I was still breathing well, but I was absolutely starving!  I knew I wouldn't have much energy left in the tank by the end and that was most likely down to the fact that I hadn't been able to keep any food in me the night before.  I never hit the wall though.  I probably could have pushed through, but the knowledge that I would PB now was enough for me and I was buzzing!
London Marathon were making a real effort to become more eco-friendly this year.  Lucozade stations were a mix of bottles, compostable cups and also a seaweed edible and biodegradable pouch containing Lucozade at mile 23.  Initially, I hadn't intended on using one of the pouches.  (Don't try on race day anything you haven't had a chance to try in training!)  But my body really fancied some energy drink at that point, and I figured I could always just try biting into the pouch rather than eating the whole thing, or just throw the seaweed part away/spit it out if it really was truly awful.  In the end though I found it really handy to be able to carry the pouch, – much easier than keeping hold of a bottle.  The pouch was very similar in look and feel to a washing capsule pod.  I bit into it and managed to consume the liquid without getting covered, much easier than I thought.
Seven drinks stations were also removed from the course this year, to prevent wastage and all clothes discarded at the start of the race were donated or reused.  You can find a big list of all of the ways London Marathon are trying to become more environmentally friendly HERE.  I think it's fantastic that even larger races have begun to put so much effort into making running more eco-friendly.
I had a little walk and soaked up the sights before the final few turns, picking my running back up at 25.5 miles again.  It was amazing running past the 600 metre to go sign, where I usually head to watch runners finish.  And then to make that final famous turn towards the finish.  I pulled past several people at this point.  Again, there were charities along each side of The Mall.  One guy just in front of me stopped dead to wave at his charity and take a bow.  I almost crashed straight into him.  I didn't expect anyone to stop along this part!
Miles 21-26.2: 10:43, 11:43, 10:49, 11:13, 13:50, 11:57, (Nubbin 0.67m): 10:30mm.
As soon as I crossed the finish line I pulled my phone out from my Flipbelt.  I already had a text from the marathon containing my finishing time, and one of my friends had already messaged to congratulate me on my PB.  I'd only been over the line a matter of seconds, so it was lovely to know that people had been tracking me throughout my race from home.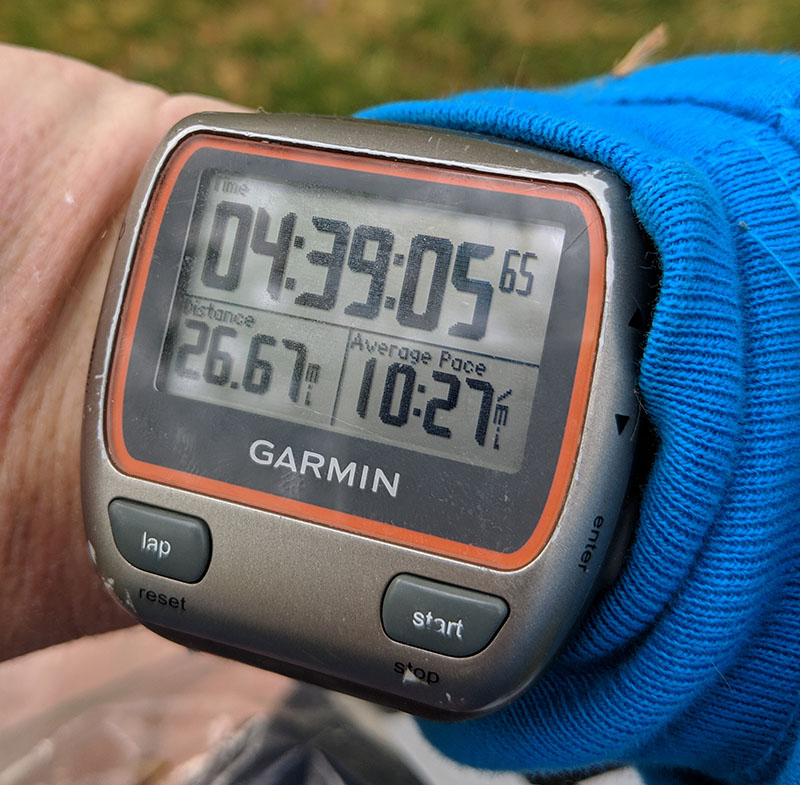 I grabbed an official to get him to tell me who had won the race and was told Kipchoge, but not in a world record time.  He couldn't tell me about any of the brits though.  Last time I'd run at London, there was a board at the finish displaying the top 5 male and female runners for everyone else out running that day, which I thought was a nice touch.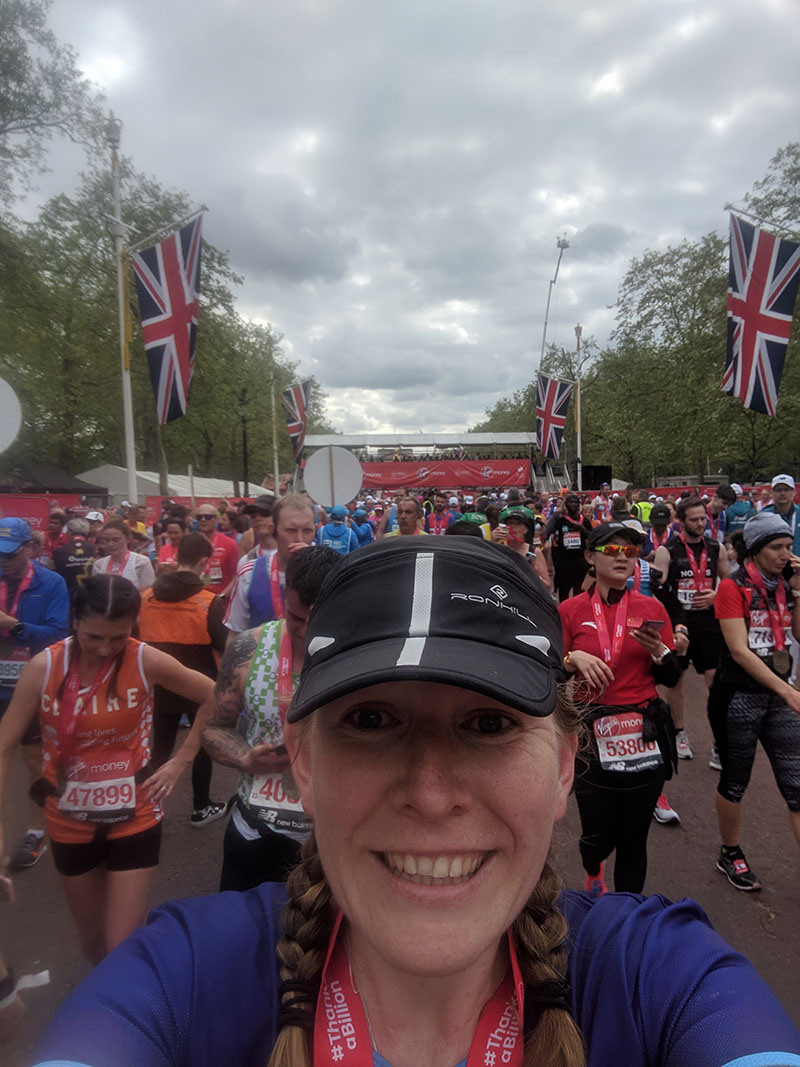 It's always nice looking back at stats after you've run a race you're happy with.  Running a marathon should be like the tides in the sea…you let all the runners go out at the beginning, making sure to run a nice and steady start.  Then, during the second half you should let the tide come back towards you, passing everyone as you go!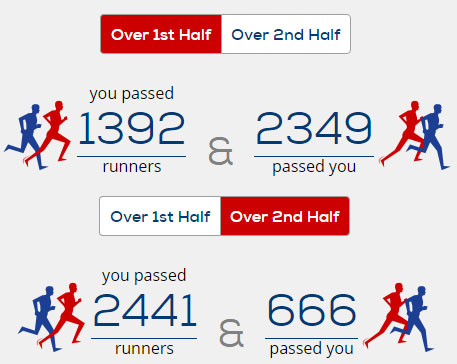 I had my photo taken by the official photographer and moved along to collect my bag from bag drop.  Obviously my bag ended up being right at the very end of the enormous bag collection area.  I munched away on my race finisher apple along the way.  I made my way out to the tree where WDAC usually meet after London, only I must have been too slow, because I couldn't spot anyone around.  I sat for maybe ten minutes in case anybody came by, but then decided to make my way to the Cancer Research UK after party.  I'll write about that in a separate blog post though.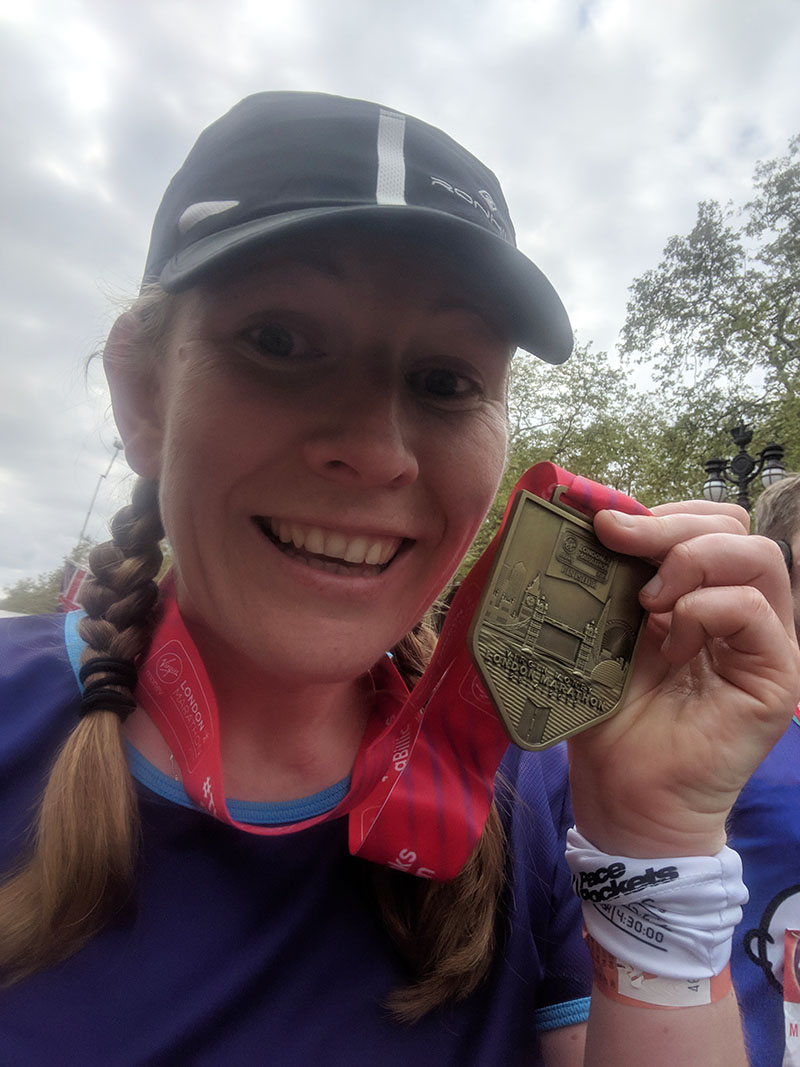 I was running this marathon in memory of my Mum, raising money for Cancer Research UK.  My fundraising page is still open for anyone who wishes to donate.
Official time: 4:39:03 (** New PB by 15m 5s**)
Finishing position: 25006/42438
Gender position: 8079/17737
Age category position: 4235/9373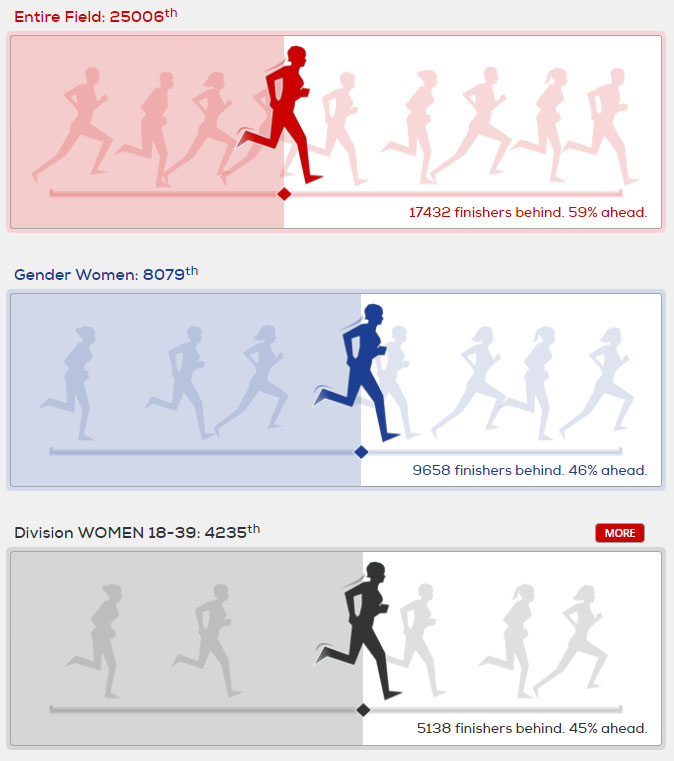 Ultimately I was so chuffed with how well my race had gone.  I had run so consistently up until mile 21.5 when I'd taken my first walk.  I never hit 'the wall'.  I felt good throughout (other than super hungry!)  When speaking to Dan that evening he told me that he thought the tracker had broken for a while when my predicted times never altered each time I crossed over another timing mat.  Apparently the prediction had shown 4:27ish for the longest time!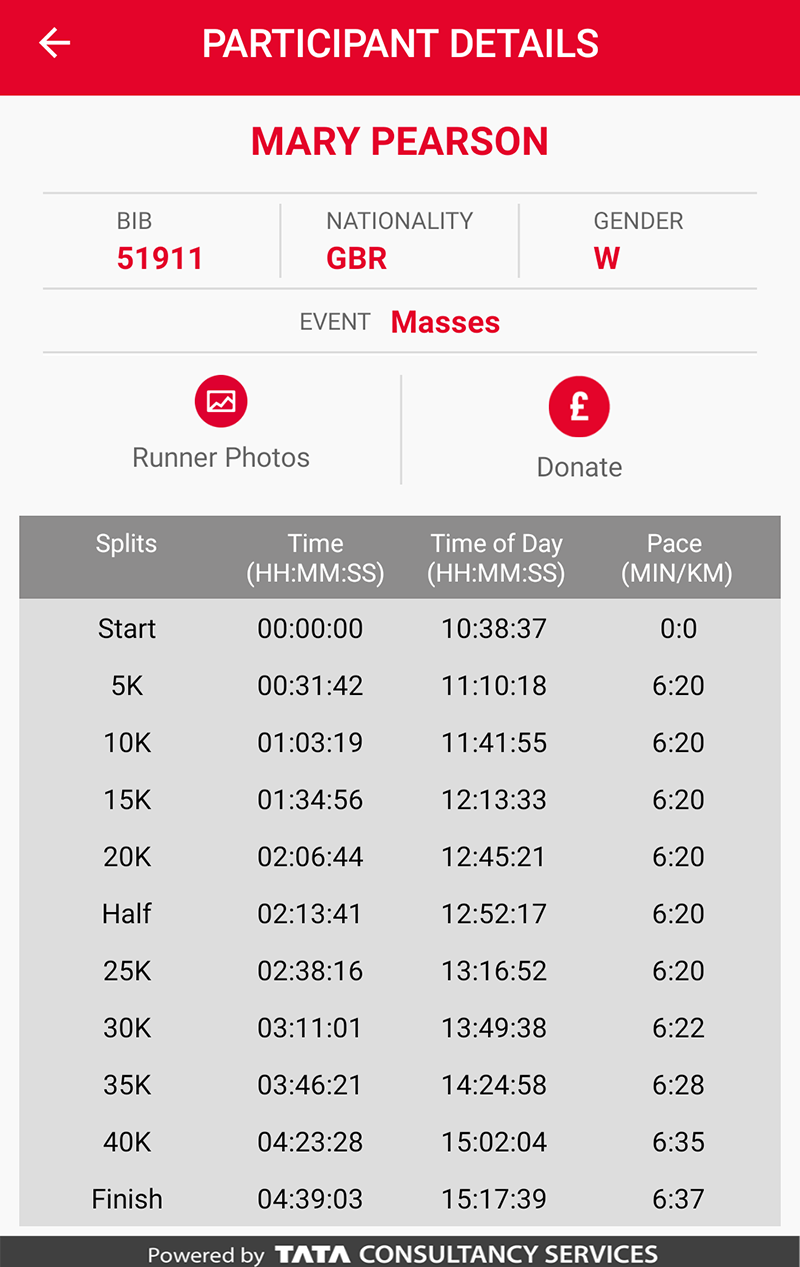 I trained using the Hanson's Marathon Method, a book I researched and read numerous recaps on before deciding to purchase myself.  I do intend on writing a full recap of my own about how I found the training, but essentially – I loved it and it worked for me!  I'd definitely recommend it if you like the idea of running 5-6 days each week and capping your longest run at 16 miles.
What was your favourite PB moment?
Have you ever been so hungry in a race you've struggled?
Have you tried the Lucozade seaweed pouches? What did you think?