I really, truly did not expect to PB last weekend.  Although I'd been running regularly and consistently since the start of the year, I hadn't had the smoothest of training cycles.  I was attacked on one of my tempo runs back in February (resulting in feeling uneasy training outside for quite a while, resorting to the treadmill for several of my runs instead), had been hit hard by the flu for a week and also been diagnosed as anaemic with just over a month to go until race day.  I didn't have huge hopes for my marathon time, but still intended on giving London my absolute best shot and with the intention of working hard for a new PB.
That would be a big enough ask in itself.  It had taken me ten attempts before I finally dipped under the 5 hour mark for the first time at Chelmsford marathon in 2015 and my PB of 4:54:08 was still standing, despite London now being my 17th marathon.
The week before race day also wasn't ideal.  Oscar came down with Slapped Cheek, leaving him rather unsettled and creeping into bed with us every night, happily starfishing away between Dan and I – leaving us with limited room to sleep ourselves.
I also spent the day with a collection bucket in ASDA that Friday whilst Oscar started off at nursery, before being sent home ill in the afternoon.  He seemed fine to me, stayed up late riding his bike and chasing my charity balloons around the lounge before finally succumbing to sleep that evening.
The next morning I woke and didn't feel the best.  I felt achy, sluggish and my stomach hurt.  I made the decision not to jog around parkrun the morning before the marathon, but Dan changed my mind at the last minute and so off I trotted, pushing Oscar round in his buggy.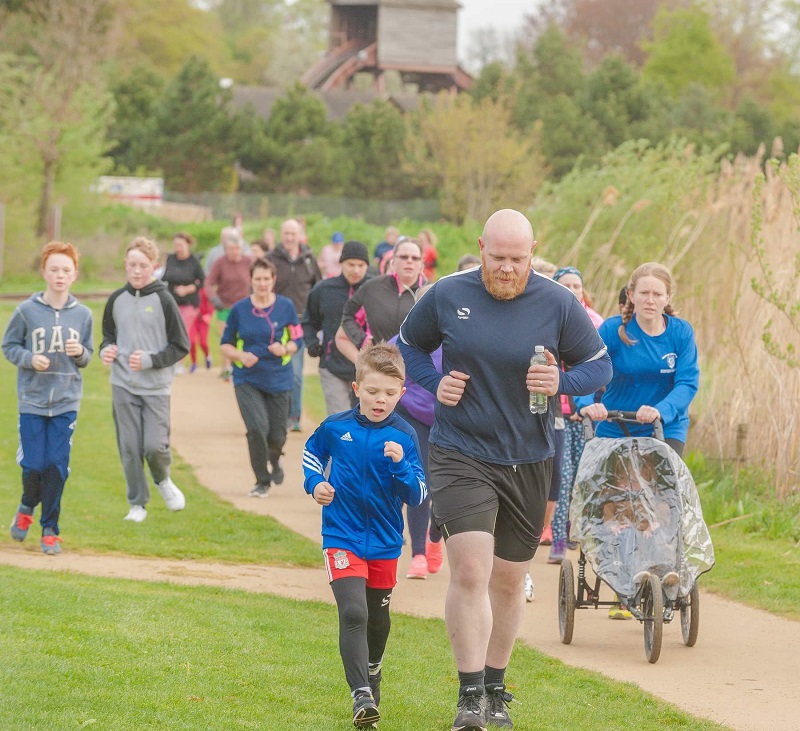 (Photo by John Woods)
A little later that afternoon I struggled to eat my lunch.  My stomach pains began to increase and after my traditional pre-marathon pizza dinner I headed straight upstairs to the bathroom where I spent most of the evening.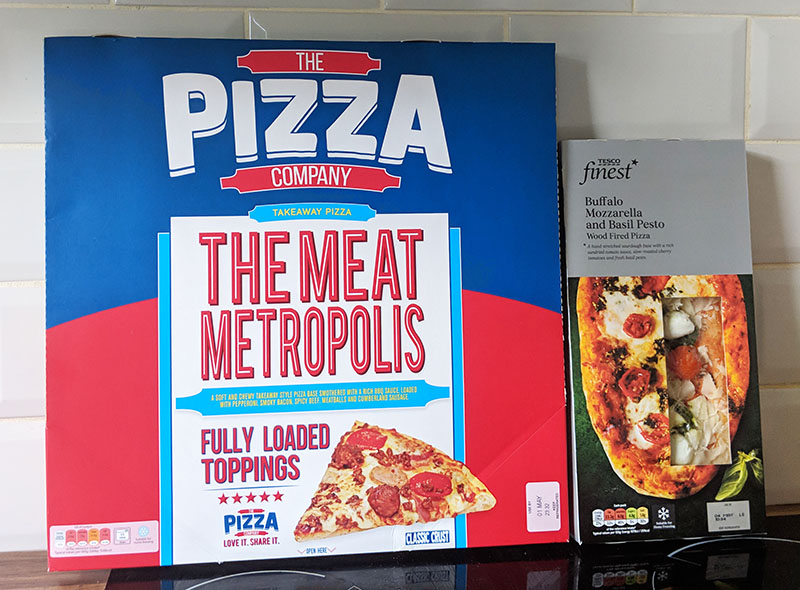 (One huge meat pizza for Dan, one regular sized vegetarian option for me…you'd never know which one of us was planning on running a marathon the following day!)
Luckily I'd already planned my travel arrangements to get to the race earlier that day, but by now I had been so ill that I worried I would make the start line at all.  I panic messaged my friends Laura and Steph, who reassured me that two Imodium before bed and another in the morning would be my best option.  I was already feeling hungry, but daren't eat any more that evening.  I headed to bed around 9pm, but was up again by 11 and back to the bathroom.  I felt miserable and incredibly sorry for myself.  There weren't tears, but had I woken feeling the same as I'd felt the previous night, then there most certainly would have been!  This time I also mixed up a pint of Strawberry Lemonade nuun to take to bed with me to try and help rehydrate ready for the race the following day.  After an incredibly hot weekend the week before, the conditions were forecast to be pretty perfect for running at London and I was grateful that I also wouldn't need to worry about losing excess sweat out on the race course.
Thankfully, when my alarm went at 4:30am on Sunday morning I was feeling much better.  I did feel like I'd been poorly the day before; rather drained and pretty knackered from not enough sleep, but much, much better than I had on Saturday night.  I was going to London!
I decided to top up my now very empty stomach with a bowl of chocolatey cereal before heading out of the door.  I had packed my usual race-day bagel with peanut butter in my bag ready to have two hours before the start of the race, but knew I needed something extra inside me now as well.  The higher in calories, the better!  I nervously ate the small bowl of cereal, fully expecting to have to rush upstairs straight after finishing it, but although my tummy still ached, I didn't feel like my body needed to reject the food.  Winning!
The drive down to Edgware was much easier than expected, and I then stalked another runner wearing their London Marathon bag in order to find my way to the station.  (This is the real reason London Marathon insist on giving runners all the same bags I'm sure, not for security reasons!  That, and so that everyone can have a good laugh looking at your underwear stashed in the see-through bags!)
Free travel on all trains heading into and out of London on race day is a very nice touch for the runners.  London travel confuses me at the best of times, more so when traveling alone and so it was nice to know that if I got on the wrong train I would be able to just jump off at the next station, turn around and come back again for free!
There were several runners heading on my first train and when I got off and looked for my connection it was made really easy by the huge banners depicting 'RED START'/'BLUE START'/'GREEN START' in the station.  I made my way up the escalator next to the Red Start banner after grabbing a cereal bar from the huge luggage crates filled with goodies for marathon runners.  There was fruit, cereal bars, crisps, milk…loads of options for people to fill their bags with for pre and post-race.  Another great touch!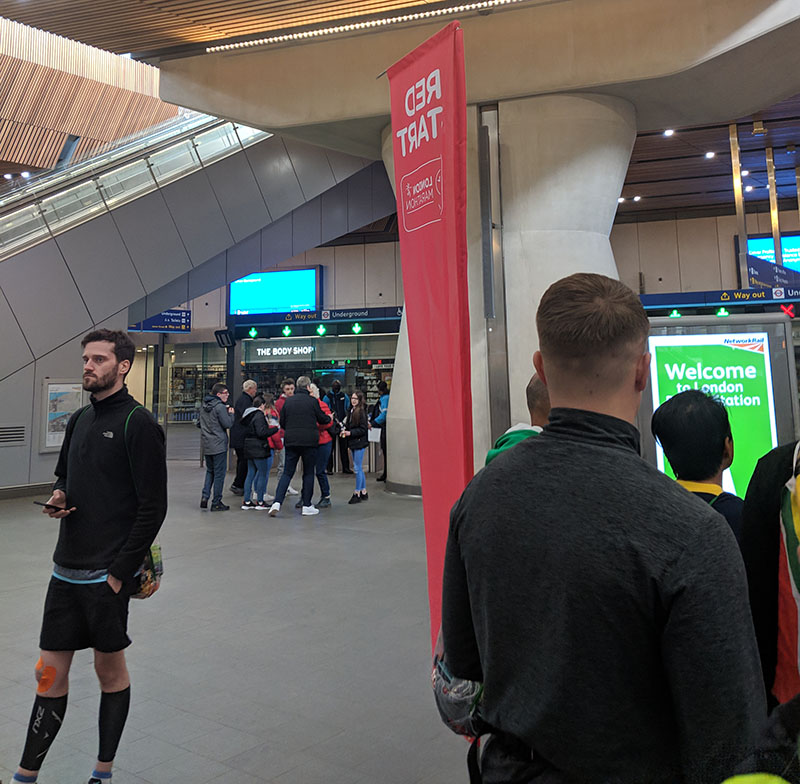 The platform here was crazy.  Everybody on it was wearing running shoes and wearing their official bag drop bag.  I arrived as it was announced over the tannoy for all runners to move down to the end of the platform to give everybody the best chance of getting on the train.  Turned out though that the train didn't travel as far as the end of the platform so I missed out on that first connection.  I witnessed runners desperately trying to squeeze other runners further into the carriages so that they could also jump on board.  I felt claustrophobic just watching them all pressed up against the windows as the train sped off.  Holding on to wait for a second train four minutes later and thus managing to snag a seat was definitely worth it!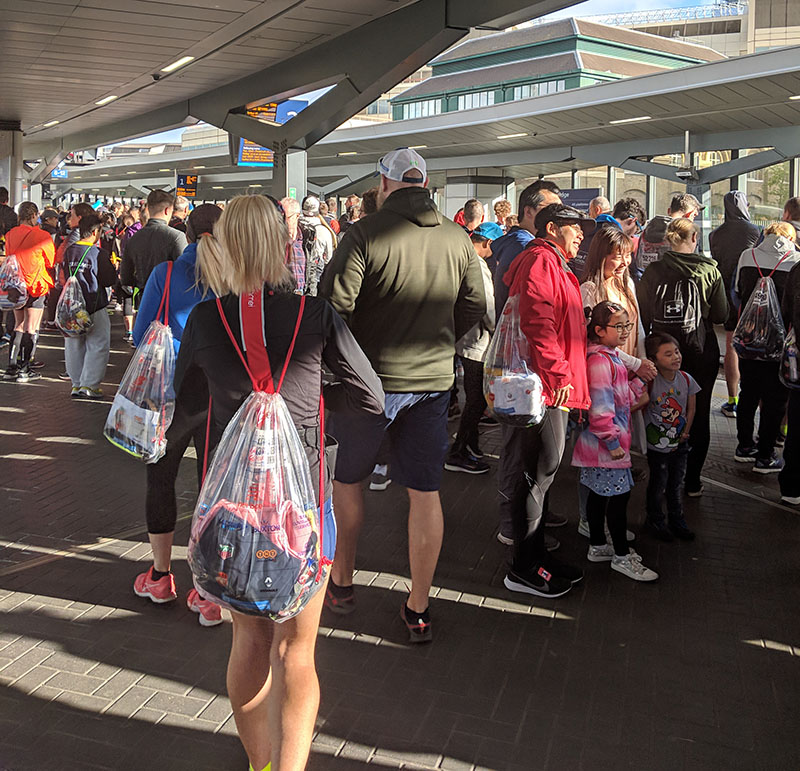 Obviously there was no confusion on where to go on reaching the next station.  Everybody piled off the train and began the walk towards the red start.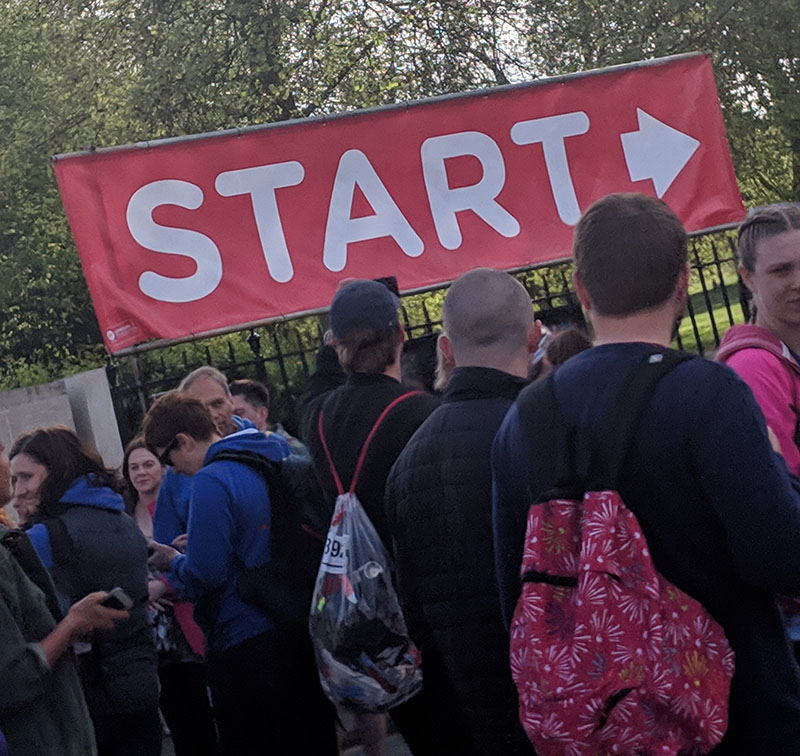 Charity runners are at a big disadvantage at London Marathon – There was a mountain to climb to reach the start area!  I remember the walk from the station to the blue start being totally flat when I ran on a club ballot place back in 2014!  I felt absolutely wiped out by the time I got to the top and was already sweating!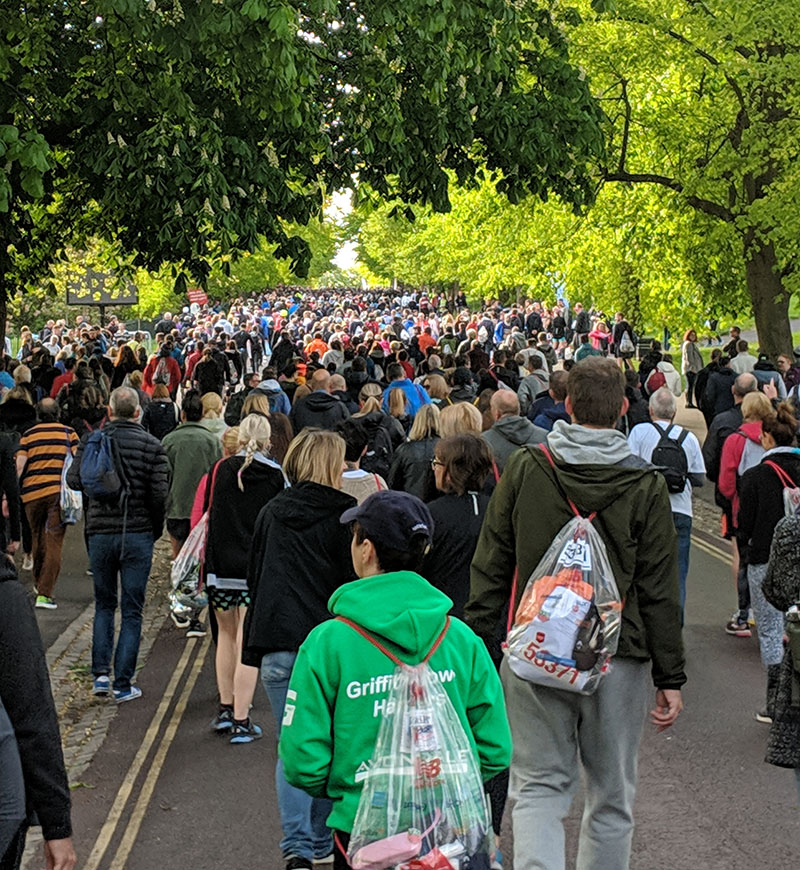 Lots of charities had banners on either side of the path up the hill and runners were splitting off to both sides to meet with the other runners from their charity.  I didn't spot the Cancer Research UK banner, although was later told that it was right near the bottom of the hill.  I wasn't walking down and back up that beast again!  I did spot the Institute of Cancer Research banner though, and bumped into my friend Lindsay and her boyfriend.  Lindsay was having twelve inches cut off her hair at the halfway point for charity.  I stopped and spoke to them briefly before getting my number checked and making my way through to the Red Start area.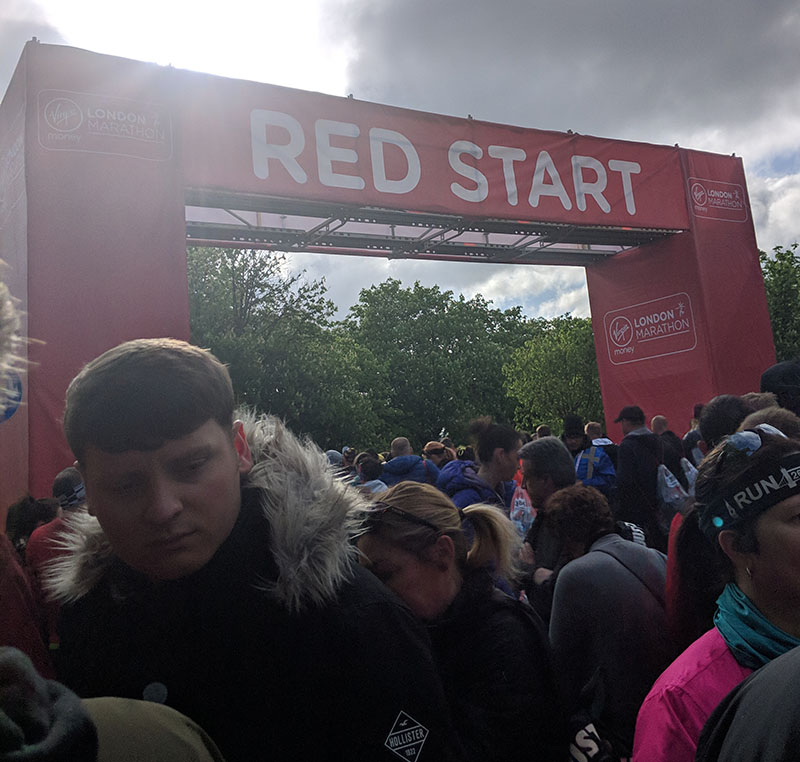 Several members of my club were running for charity and we had hoped to meet for a pre-race photo although my phone network was no longer responding and only a couple of runners managed to meet up before the start. (I'm guessing because there were so many runners posting pre-race pictures of themselves on social media!)
After circling the Buxton water stand where I thought we were due to meet for several minutes I realised there were two Buxton stands at opposite ends of the start area and so I headed to the changing tent instead to strip out of my tracksuit trousers, organise my gels and cover my arms and legs in Body Glide.  (Thanks by the way to everybody who recommended Body Glide on Instagram after my last minute vest-rubbing dilemma the weekend before.)
A quick trip to the loo, a final Imodium taken just to be sure and it was time to hand in my bag at the bag drop area and make my way to the starting pens.  I had been placed in pen 3, but with the 4:30 pacers being in pen 5 according to the London Marathon website, I dropped down into pen 4, with the intention of crossing the line from the back of the pen, nearer to where the 4:30 runners were.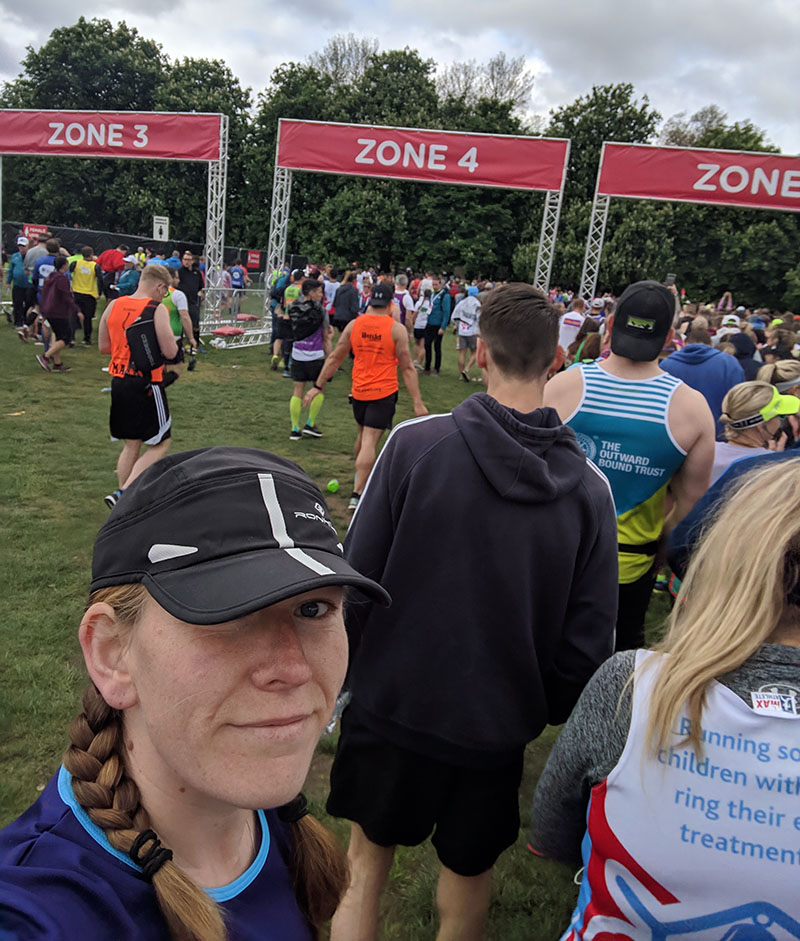 I started talking to the other runners stood around me whilst we were waiting for the race to start.    Whilst we were grateful for the cooler weather, it was very chilly standing around and we'd all removed our top layers to place in the bag drop by now, so were eager to get going.  We could see the TV coverage on the big screen and it was so exciting to watch the elite men start, knowing they were would be out on the course somewhere in-front of us and that we would soon be moving along into position to start our own race.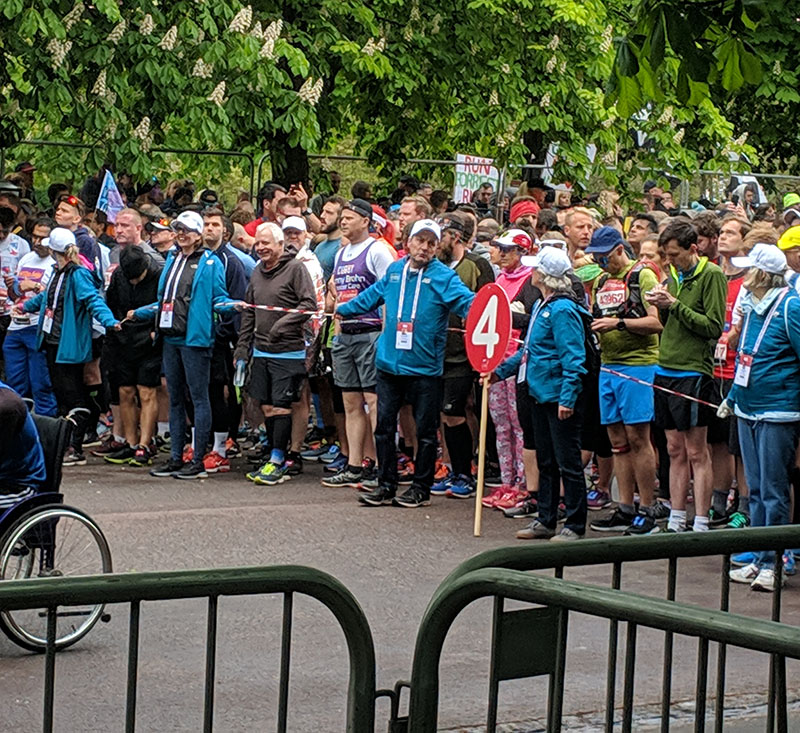 The line started moving almost immediately after we watched the elites take off on the screen and we found ourselves winding along the taped path and out onto the wide road behind the pen 4 barrier tape.  On the way I managed to spot a crash of rhinos!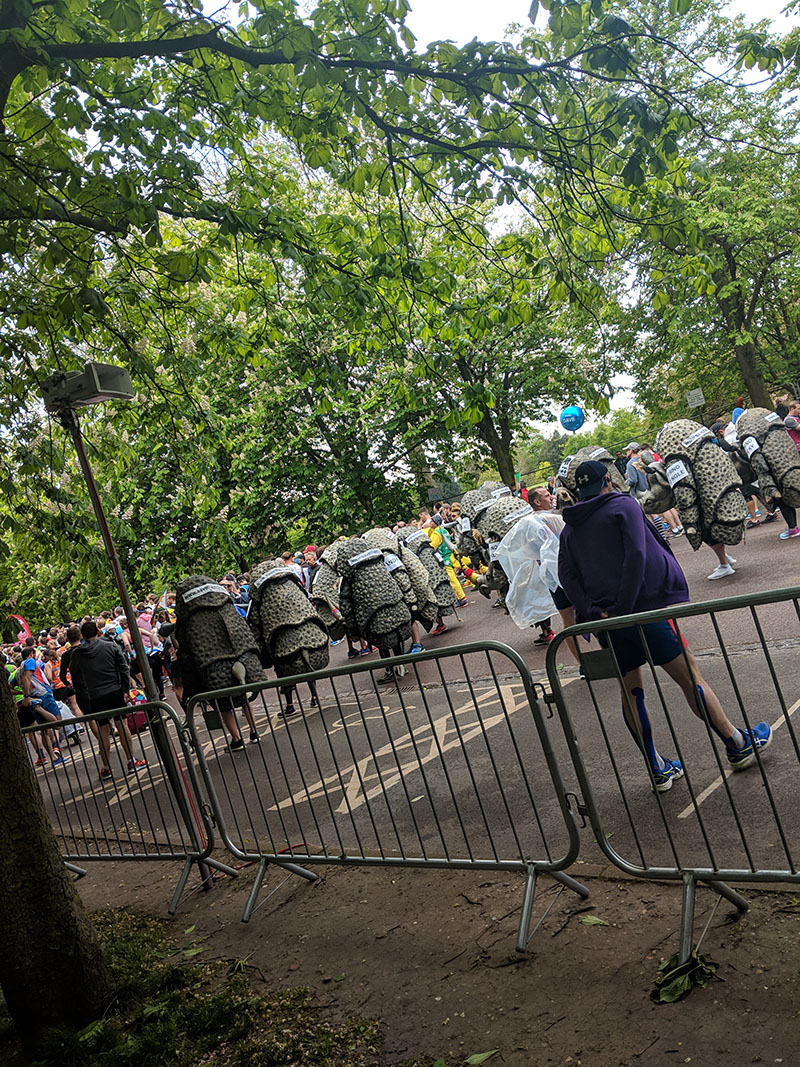 We also weaved past a sole industrial bin, and it seemed every single male had to stop and pee alongside it.  It was pretty disgusting and stunk!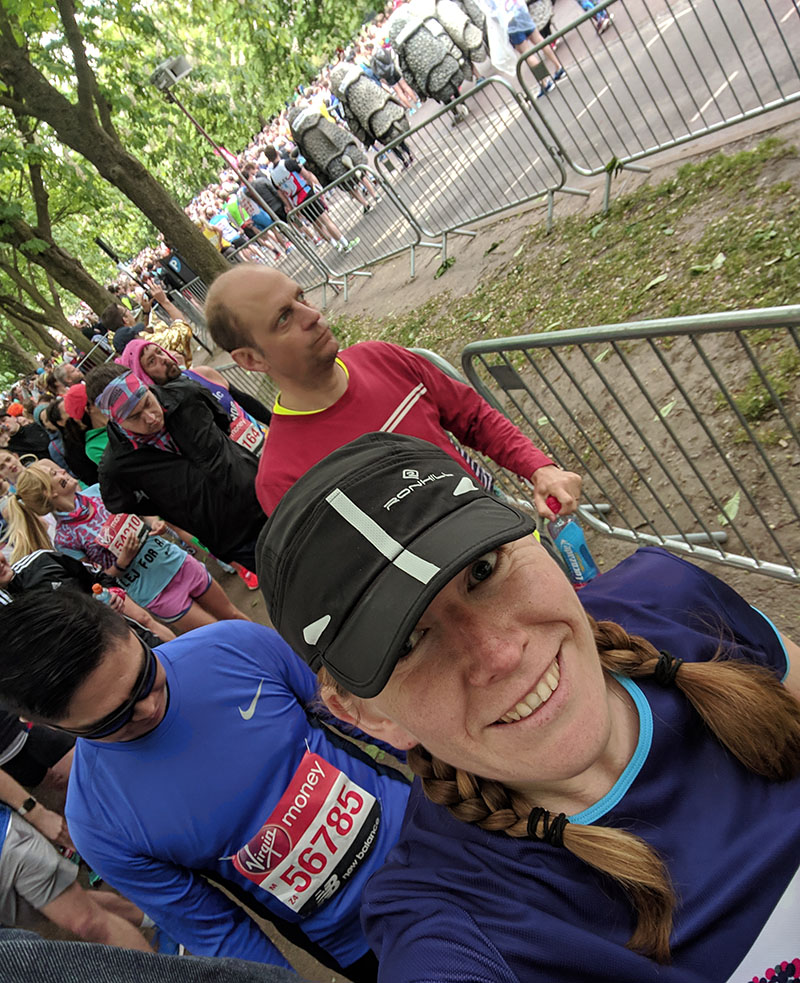 Once on the road I kept making my way further back until I was at the very back of pen 4 and the marshals holding the pen 5 tape came behind me, bringing with them the runners from pen 5 and the 4h 30m pacers for the red start.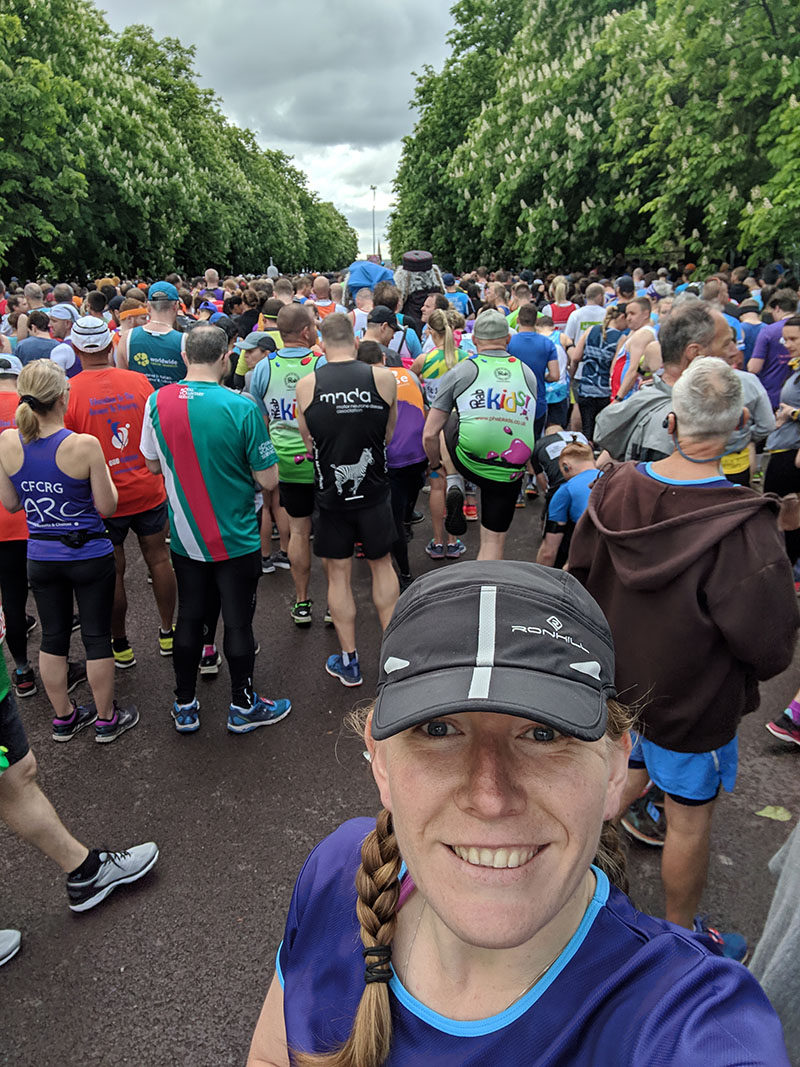 (This shot is with me at the back of the pen and the camera looking forward towards the start line.)
I didn't intend on sticking with the pacers rigidly, but had hoped to use them as a rough guide to keep on track with my running without having to think too much into it.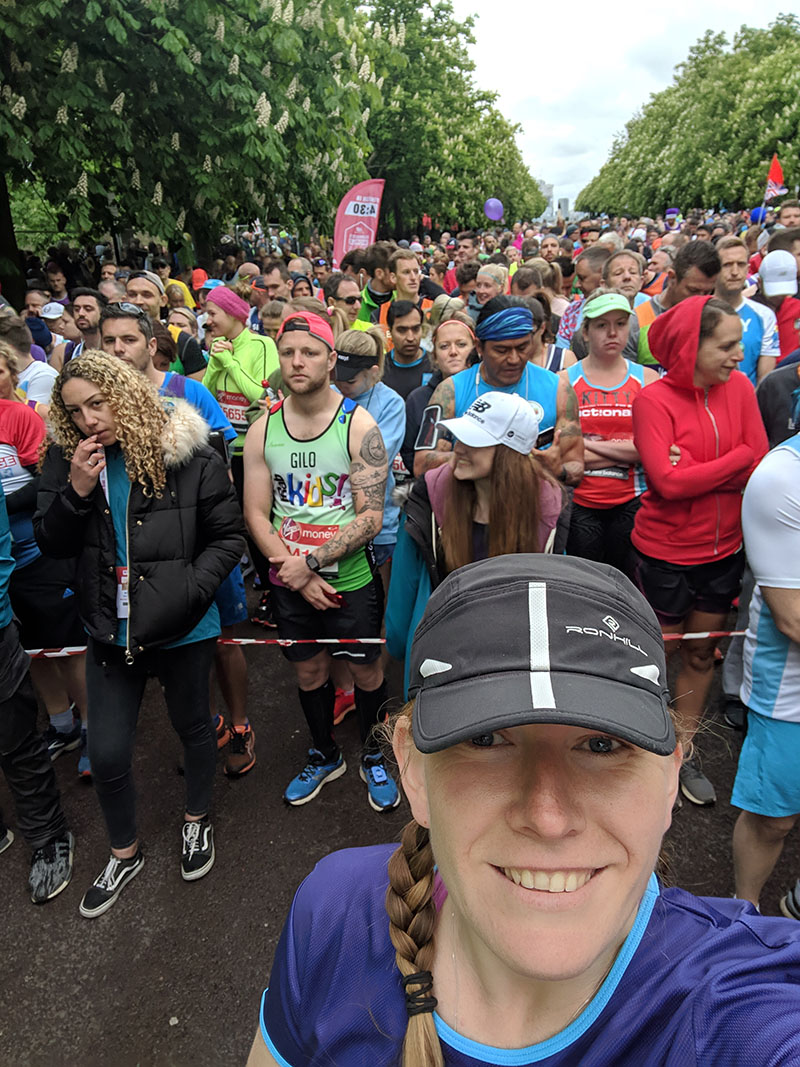 (This shot is facing back towards Pen 5 behind me.  You can see the 4:30 red pacer flag.)
We had what felt like a fairly long walk up the road until we reached the famous turn towards the start line that is always shown on TV.  From here we could see the actual start line and broke into a jog just a few metres before crossing it.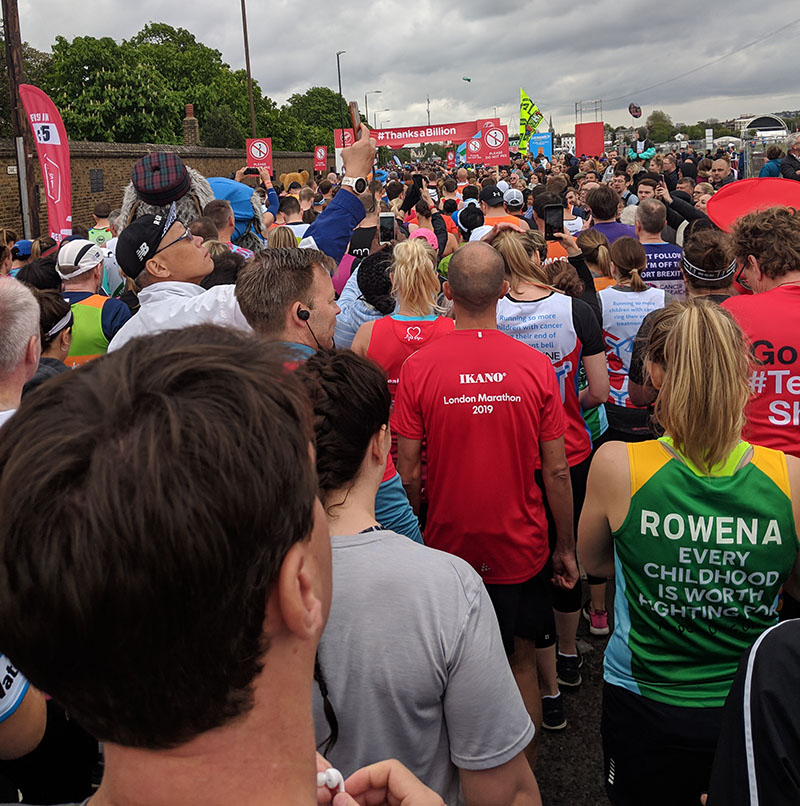 The street was lined with support for the runners pouring out to start their marathon journey and the first mile shot past very quickly.  I had intended on trying to stick between 10:10 and 10:20 minute miling.  (A consistent 10:18mm pace would see me cross the finish line in 4:30.)  I was pretty sure that I wouldn't be crossing the finish line in under 4 hours 30 minutes at London having been so ill the day before but wanted to stick to the race plan as much as possible rather than try and change things at the last minute.  If I was to crash and burn then so be it, but at least I would have tried my best!
I ended up running the first mile in 10m 05s, and tried to slow myself down for mile two.  I didn't do a very good job of slowing myself down though, running mile two in 10m 04s!  As I passed underneath the arch of balloons declaring that runners had now run two miles I glanced down at the 4h30m Pace Pockets pacing band on my wrist and realised I was only a couple of seconds under the 20m 36s I needed to be at for mile two.  With the twisty-turny course of London and the insane numbers of runners out on the street it is impossible to run just 26.2 miles, so as things felt so, so comfortable (I was running at what felt like a chatty pace to me) I decided to continue running in the metronomic pace I had adopted for the past two miles, despite it being slightly faster than I thought I was capable of.
My main memories of those first few miles were the hills!  How did I never realise quite how hilly London was?!  For sure the red start had more hills than blue did.  As we came down one hill there were also two horses peeking over a high wall down at us!  I wonder how long they were there for, as I've seen several people mention them on social media this week!
The merge between the starts was fairly smooth.  When I ran in the blue start last time I remember this being incredibly busy and stressful with the crowd having to pull me along at the pace it was moving at, but there was none of that when merging from the red start and we wove neatly into the ballot runner stream.
Having missed Cutty Sark in 2014 (No idea how!) I made sure to look out for it this year and did manage to spot the massive ship as we ran round it!  Haha!
As always, I'm going to split my recap into two, so that's the end of part one.  I hope to get part two up over the next couple of days while it's still fresh in my mind, so watch this space!
* Place names may be totally incorrect.  I am hopeless when it comes to navigating around London and no longer have the sheet of paper Dan used to jot directions down on for me!
What's your travel sense like in London?!
Do you follow pacers or use a pace band when running for a target time?