When I was younger I can remember hiding my clothes when I stayed round friend's houses, and I would definitely never leave a hanger on show which displayed my size clearly for all to see.
At the age of sixteen I bought a pair of size 14 jeans which I still have to this day, although they are now much too big for me.  I hated them, the style didn't really suit me at all and I could only just do them up but they were the first pair of size fourteen jeans that I had been able to do up in an incredibly long while.  As a teenager I was always in size sixteen or above despite being active (regularly walking, biking and horse riding 15+ hours a week).  I did wear a lot of baggy clothes to hide my size but essentially I was a size sixteen.
I have now been a size twelve for about nine years.  A size ten for a little while, occasionally buying size fourteens, but I have not really altered a huge amount in my adult life.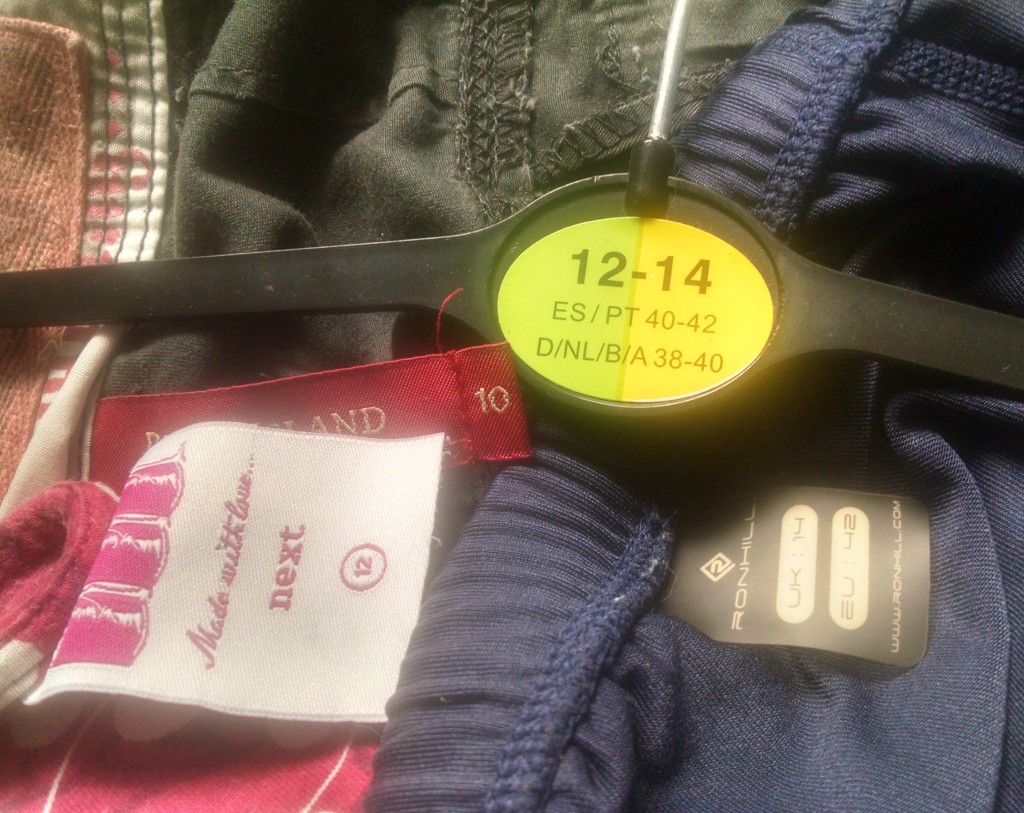 Last night my friend purchased a size 20 bridesmaid dress for me for her wedding next year.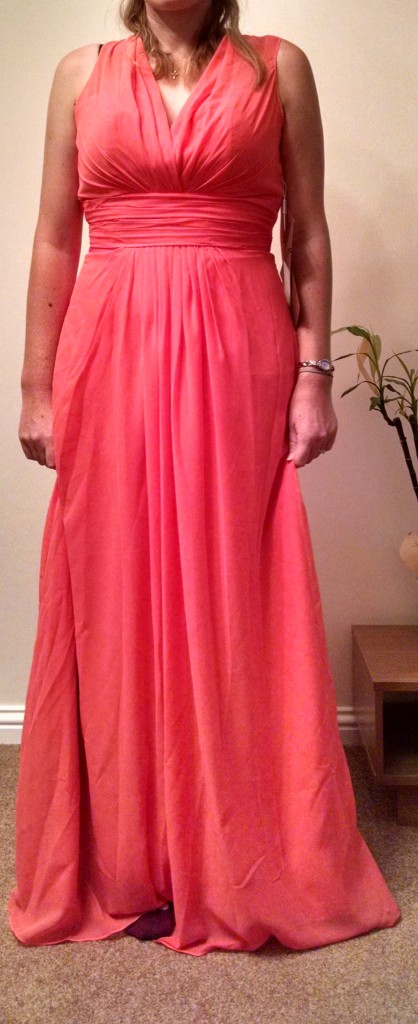 Now I know I'm not a UK size 20.  In fact, the majority of my clothes are a UK size 12, with a few shorts and jeans in a size 10.  It's usually my boobs that let me down though, as was the case last night whilst I was trying on what we thought at the time was a size 12 dress.  The sizing everywhere else was just right (although the dress did need to come up a little bit in length).  The dress fitted me fine everywhere, except for around my boobs where the zip was a good couple of inches away from doing up.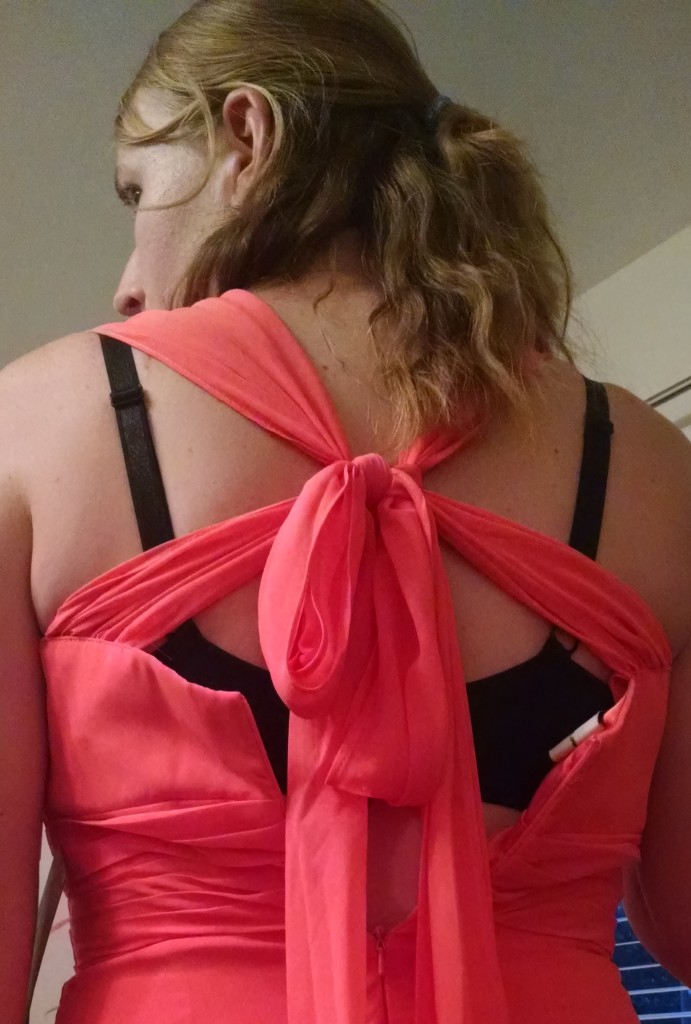 Vicki, the Bride-to-be had ordered three slightly different coral dresses in a size 12 as two of her four bridesmaids are a size 12 and she wanted to see which dresses looked nicest on, with the idea of returning two of the dresses and then ordering them in the correct size for the other three bridesmaids.  As Vicki measured me up to determine which size to order for me she discovered that the size 12 dresses she thought she had ordered originally were in fact a U.S. size 12 (UK size 16).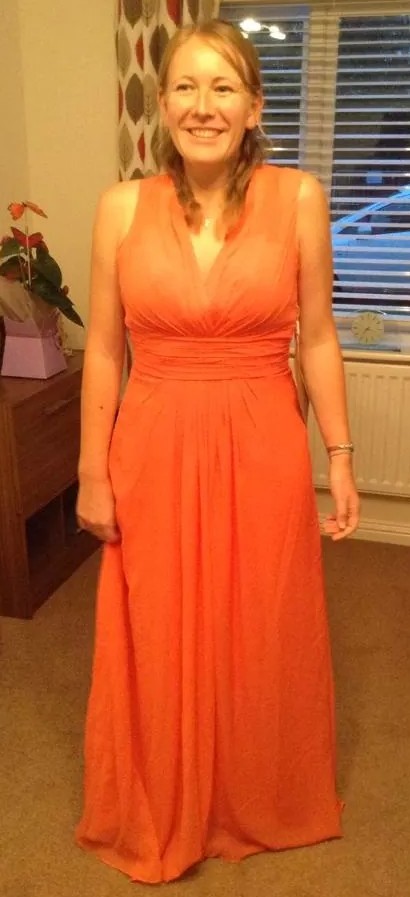 If this had been five years ago I would have been absolutely mortified.  A size 16 not doing up on me?  Having to buy a size 20 dress?  I'll have to cut the labels out…no one must know!  I know that I am not a size 20.  The sizes on the Chinese dresses were way out of whack.  I wore a size 14 wedding dress that was if anything, slightly too large at my wedding a month ago and I'm happy in my own skin right now.
I can honestly say I've not weighed myself since the day I left home to get married at the start of August.  Weighing myself is something which I have always done on a weekly basis since I was thirteen years old.  I know I'm relatively healthy – I exercise six days a week and eat foods that are good for me the majority of the time.  Would it really matter if I was a size 20?  It's just a number.
I love this picture (source) showing a variety of women athletes all currently at their physical peak in their chosen sports.

It really does show that one size certainly does not fit all and not to be ashamed of your height, weight or size.
When I went wedding dress shopping with a friend a little while back she measured up as a size 22 for the dress that she wanted to buy.  She begged the shop assistant to order it in a size 18, promising to lose weight before her wedding but they stuck to their guns and reminded her that it would be a lot easier to take in a dress than to try and add material on if she was unable to reach her target.  At the end of the day, how many people are going to see the size printed on the label in your clothes?  Surely it's much better to be comfy and feel confident than be restricted in your movement but be able to say you're wearing a smaller size.  I have friends of all shapes and sizes and some of my much more fashionable friends may be slightly larger but have learnt what works for them.  We're all different and that's how it's meant to be.  Life would certainly be pretty boring if we were all Barbie look-alikes!
All that being said, any suggestions on tightening up my chest area?  Buying shirts is a proper pain!  I always have to go up a few sizes for my boobs but then they look baggy and silly around my arms and waist.