I mentioned in a few of my recent posts that I've been travelling back to Norfolk several times a week for the past few months.  Obviously I wouldn't change that for anything, and I am glad that I was able to spend the time with my parents whilst that was still an option and whilst they needed me.  But it has meant that putting enough petrol into my car to drive 200 miles, four times a week for the past ten weeks has wiped out the emergency savings in our bank account rather.
Dan and I sat down and looked at our finances the other week and realised that I needed to start bringing a little more guaranteed money in if we were to continue living in the way which we do.  Although I've been picking up the odd bit of freelance work here and there, because everything has been so up in the air lately I haven't really been able to push anything or commit to too much at one time.
The result of our chat was the agreement that I needed to look at getting a temporary position which would give us a guaranteed side income each week to try and build our savings back up again.
Our little family can survive on Dan's salary, but it would be back to basics for us – no trips to Norfolk, no dinners out (not that we have been out or even seen each other in a very long while anyway!) and no chocolate biscuits in the weekly shop!
The following day I spotted an advert looking for night workers at a big supermarket in Northampton and so applied.  I can't really afford to be too choosy in what I apply for really.  I have Oscar by my side six days a week, and Dan doesn't return home from work until 6:30pm Monday – Friday so it really limits the jobs accessible to me.
I was successful in my application.  The night shift manager actually turned to me in the interview and said that there wasn't much point in him asking me questions, as he had no doubt in my ability and skillset, but it was procedure and he needed to write something on the application in front of him!  So that was a nice boost, even if it is only for a shelf-stacking position essentially.
Last week I went in for a full day induction, thanks to Laura's willingness to babysit Oscar(!) and then I had my first shift the night following Mum's funeral.
I'm contracted to Saturday nights 10pm-7am, but in the run up to Christmas with all the extra deliveries I will also be working the majority of Friday and Sundays.
I expected to feel tired during the shift.  To struggle to stay awake and be lagging by the time morning rolled round and I was still there busy stacking shelves, but I actually felt much breezier than expected.  The store is within a shopping centre and so has no visible windows and therefore I had no real concept of outside life – I guess helping me to stay alert and work hard(!)
I've played the shelf stacking game before – as an eighteen year old desperate for overtime hours at the little supermarket I worked at before university.  Back then six staff worked three hours a night to empty ten cages of food out onto the shop floor.  At my new role, I will have ten cages to myself on the one aisle I am in charge of.  Big difference!
Because of the unsociable hours, the pay is actually on par with the teaching salary I began on in 2010, so I can't grumble at that.  The main downside is being unable to catch up on sleep.  I'm viewing it as part of my training for running the South Downs Way 100 in June.  I think that's the only real way I can look at it at the moment!
I packed my running clothes to take with me last Friday night and after emerging in the bright sunlight of Saturday morning following my first shift, I took the short drive across to Northampton Racecourse, where I changed into my running gear and headed out on a two mile warm up run before joining in with the parkrun.
My 97th parkrun.  I have just three parkruns left to reach my 100th, and with four opportunities to parkrun before the end of the year, it's looking hopeful that I should make the milestone in 2017.
After my warm up (required – it was super cold and I kept my supermarket gloves firmly on my hands during the run!) I jogged round the course to finish in 28:46.
Official time: 28:46
Position: 193/336
Gender position: 43/129
Age category position: 7/16
Dan was heading over to the Wolves game at 11am, so I rushed off home after parkrun to catch 45 minutes sleep before he left me with Oscar for the day.  Luckily, Oscar took a two hour nap that afternoon so I was able to grab a little more sleep, and then Dan returned home from the football a little after 7pm, giving me a further 90 minutes.  It was far from ideal, but it's just a temporary solution.
That night I felt like an old hand on the shop floor and raced through the cages.  At about 5am there came rumblings from the security team that it had been snowing quite heavily outside, and when we emerged onto the staff car park on the roof a couple of hours later we found our cars hidden under several inches of snow!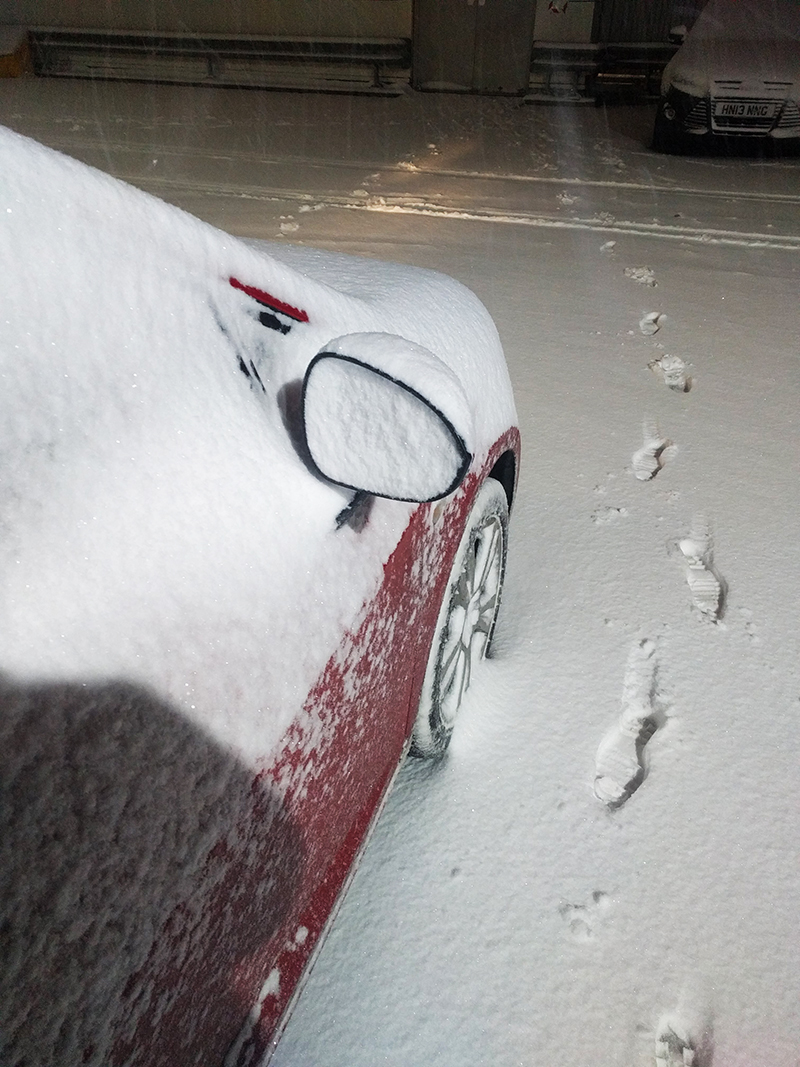 I swept the snow off my car as quickly as I could, starting with my windscreen, but by the time I jumped back into my car again the windscreen was completely covered once more!
The staff car park is rather scary at the best of times.  Placed up high on the roof above the shopping centre, it is accessed by a tight, one lane, winding corkscrew road that spirals steeply to the top.  I had been worried driving up the previous day in good conditions but was terrified driving down it on Sunday morning in the snow and ice.  What ended up happening was my car slipped from one side of the road to the other repeatedly until I reached the bottom.  I had never been so glad to see flat road!
The journey home was somehow even worse though, as it involved not just my unpredictable car, but several other unpredictable cars on the road around me.  I live 18 miles from the supermarket, but those 18 miles took me 90 minutes to drive on Sunday morning, never topping 15mph the whole way back.  I witnessed three crashes and so many cars spin off the road, despite the slow speeds that everybody was travelling at.  At one point, there was a car off the road on the dual carriageway and as I went past (at 10mph!) my car started sliding over towards it.  The car behind tried to overtake me (I'm guessing so that they didn't need to use their brakes) and they started sliding in towards me!  And there was nothing anybody could do!
Luckily, we didn't hit, and both my car and the one that had tried to overtake me were able to continue on our way.  The lorry travelling behind us stopped to help push out the car that had gone off-road and all was well.  It was rather nerve-wracking driving back though.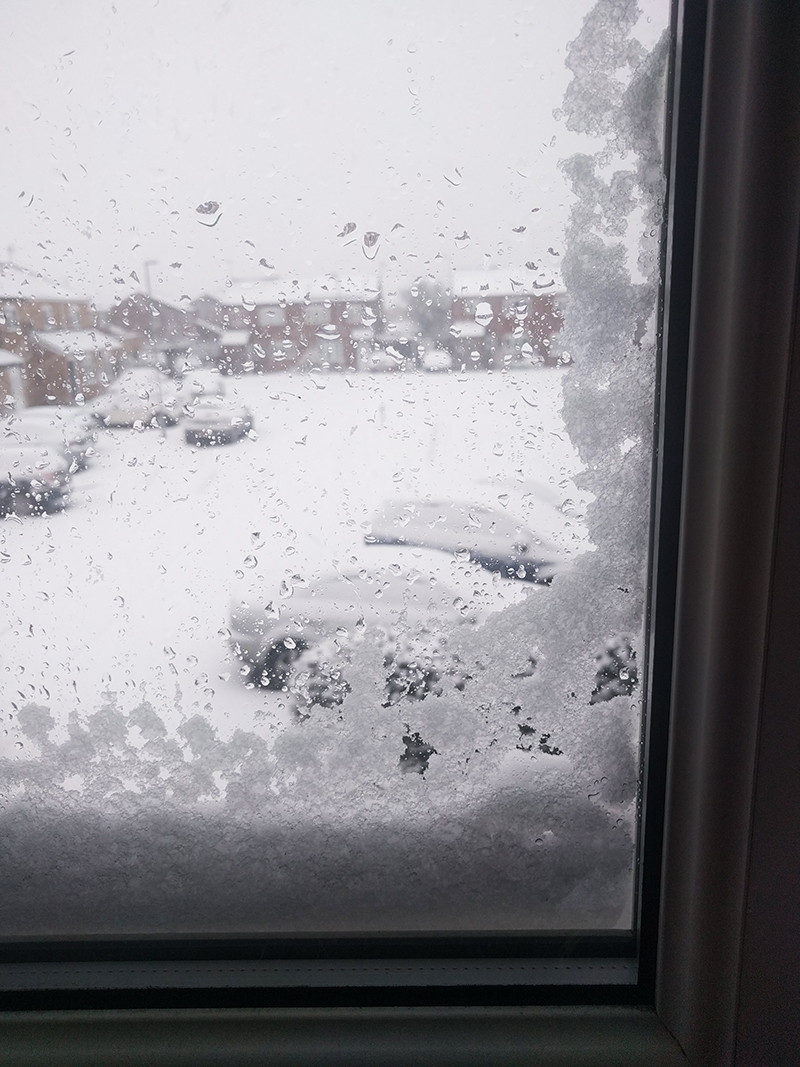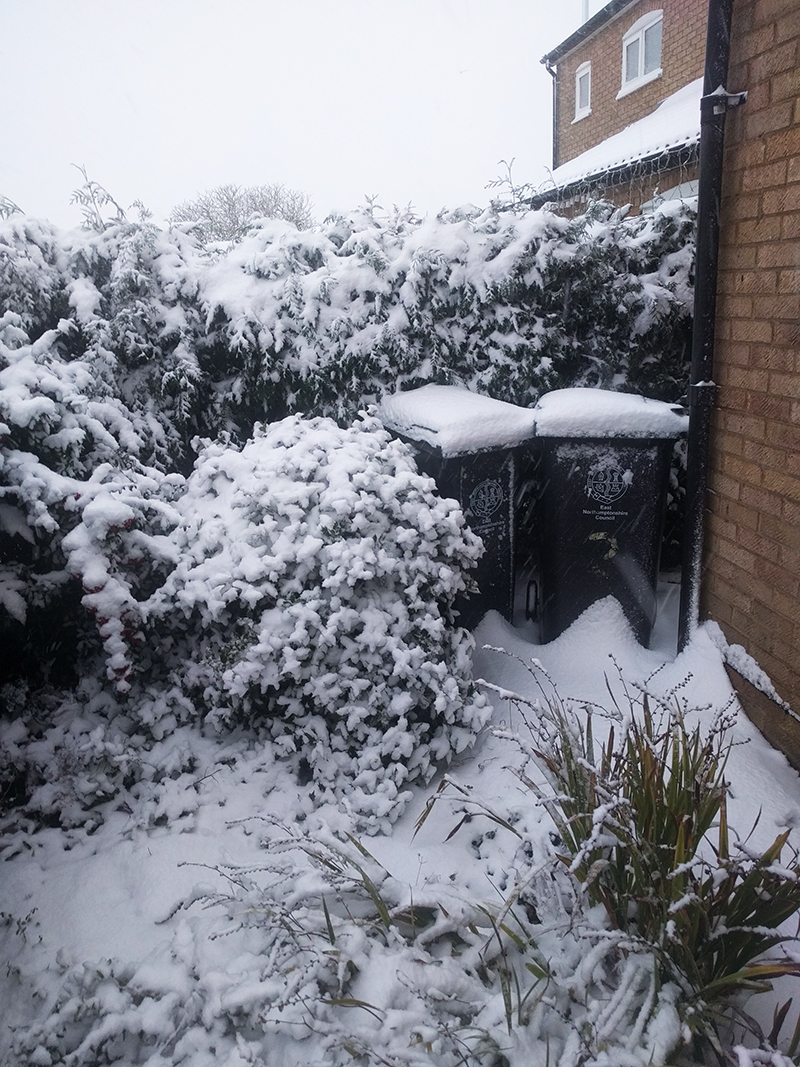 When I got home, I slept until 2pm.  Partly due to working through the night and partly due to being so on edge for my drive home, but it felt like I lost my day.  Dan took Oscar out in the snow for the first time and I missed that.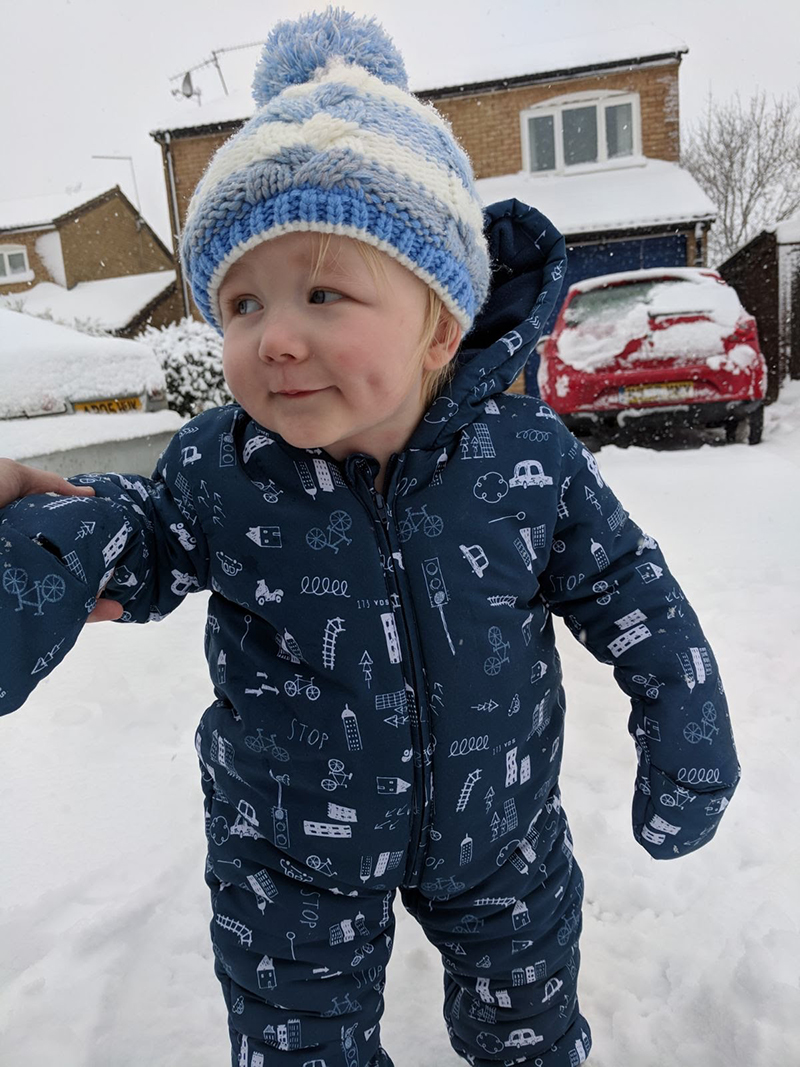 (He apparently loved it and was desperate to go and play snowballs with the big kids!)
The Monday was the toughest, as Dan was back at work, but I got round it, using Oscar's nap times to catch up on a couple of hours here and there.  I'm glad that the Sunday nights won't continue into the New Year, as that would be very draining.
Whilst the snow looked very pretty, it stopped me from running for a few days.  Without access to a treadmill currently, and only able to run with Oscar in the buggy during the day, so unable to run on trail where the going would be less slippy it didn't leave me with a lot of options.  The paths were too slippy first thing in the morning before Oscar woke and again after he had gone down for bed, and I'm too much of a wimp to head out on the trails on my own at night around here.  I was very glad that the majority of the ice had disappeared by last night, leaving me able to head out on a decent run after Oscar went down for bed.  Roll on the Spring!
How are you managing to run with the icy roads?
Have you worked in a supermarket before?
Incase you were wondering, that stands for Personal Distance With Out Walking Best!
Maria texted and cancelled on me this morning.  Of course I wasn't going to let a few inches of snow put me off so layered up and headed out at 10am anyway after a breakfast of a toasted bagel with organic peanut butter.  (Can you tell that I didn't pick up the pre-sliced bagels in my shop this week?!)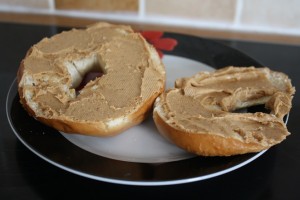 I had planned four circuits of a five mile route nearby (boring!) because of the weather, but the roads weren't too bad.  It wasn't even that cold anymore, and the roads had mainly turned to puddles.  There was still plenty of snow at the edges though and in the fields.  This meant an impromptu change of plan and I did a 10 out and back to a nearby town I've driven through lots but never run to before.  I really, really enjoyed my run this morning.  I took a sachet of jelly beans but didn't eat any, and just took a large water bottle with me – no Lucozade today.  Stats as follows…
Mile 1: 12:13 (including a slidy route up the hill to the top of my road and a warmup)
Mile 2: 11:28
Mile 3: 11:17
Mile 4: 11:17
Mile 5: 11:08
Mile 6: 10:54
Mile 7: 10:50
Mile 8: 10:50
Mile 9: 10:29
Mile 10: 10:44
Mile 11: 10:32
Mile 12: 10:32
Mile 13: 11:02  (BIG hill here!)
Mile 14: 10:46
Mile 15: 10:55
Mile 16: 10:51
Mile 17: 10:23
Mile 18: 10:50  (Here only one side of the road was usable because of the snow drifts…up to 1ft high on the left hand side of the road where it had blown across the field.)
Mile 19: 10:38
Mile 20: 10:49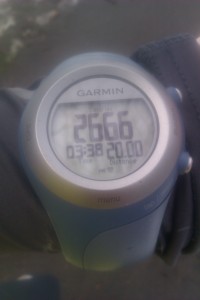 I decided to change the display settings on my Garmin today.  I normally have my Average pace bottom left, time big and distance bottom right but today I thought I would display calories nice and big.  AS IF I BURNT OFF 2666 CALORIES?!!!  Crazy!  I walked about half a mile as a cool down and then did some stretches before heading inside.  I grabbed a quick plum to hold me over until I could make lunch.  Never tasted better or more juicy!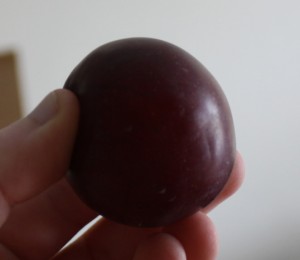 Lunch was AMAZING!  We still had two wraps left over so I grabbed one and basically threw EVERYTHING from the fridge inside!  It contained…sugar snap peas, mini corns, lettuce, cherry tomatoes, grapes, grated cheese and even some of the blueberries I defrosted for yesterday's pancakes.  I did really struggle to hold it all together but it was definitely worth it for this!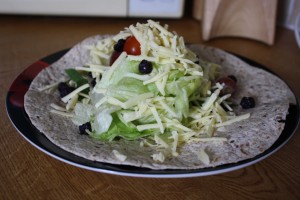 After lunch I grabbed a quick (or not so quick) bath (check out my wrinkly fingers!) and munched on some broken biscuits from the broken biscuit box we picked up at the weekend.  Am I the only one that goes this wrinkly?!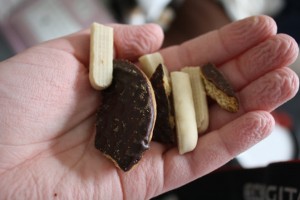 After my snack I worked solidly on my to-do-list (mainly school related, but also client website related) until making a casserole for tea – one potato, one sweet potato, a handful of frozen carrots and one of peas with some cheesy dumplings in two stock cubes made up.  Split between me and Dan.  I licked the plate clean!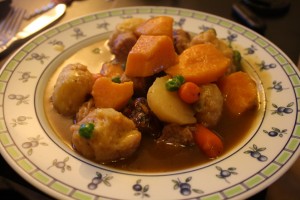 That was three hours ago, and since then I have STILL been working – mainly writing out cover lessons for Tuesday.  It actually takes longer to write the cover than teach the lesson normally. 

There, blog complete, break over, back to work. 

So last night we braved the heavy snow to head to Cambridge for the first wedding of the seven we have invitations for over the next two years!
This couple actually got married in New York secretly, came back and announced it, so this was the reception part back in England.  Helen is a friend from school.
I wasn't sure what the food would be like, so grabbed a quick snack a couple of hours before we left…  A tasty graze honeycomb flapjack.  This was a little sweeter than I thought, but it kept my belly happy until we arrived at the wedding.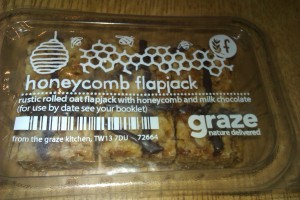 The stupid satnav, sent us the wrong way, so it took us about 90 mins to travel the 45 min journey.  I was not impressed!
Food was served pretty much as soon as we arrived.  There was nothing fruity at all.  At our wedding, I am going to make sure there are lots of healthy options!  This is my plate…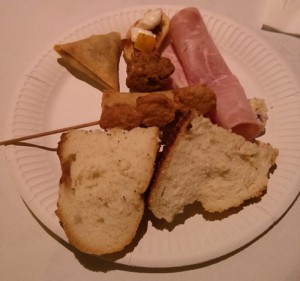 I had a slice of ham, two small slices of bread, a chicken satay stick, a vegetable samosas, vegetable spring roll, onion baji and a cracker with brie and pepper on.  I also had a glass of champagne on arrival and a friend's husband brought us each over a cupcake when they were reserved for dessert, but I forgot to photograph these.  I probably burnt all of this food off by dancing as they had an awesome band!  It was also crazily hot in the hall where the reception was held.  I am always cold, but the sweat was pouring off us all last night!
We left about 10pm and were diverted off the A1 as it was shut for maintenance.  Not the best plan Cambridgeshire County Council have had as it then took us nearly two hours to get home due to how slippery the back roads were by this point and we passed three accidents on the way back!  There was a car facing the wrong way on a sliproad that had spun, an abandoned car teetering on the edge of a ditch and another accident that we passed just after it had happened where the car had skidded into a road sign.  I stayed in second gear most of the way home and only slipped on the road a couple of times, but nothing major.
Ignore the horrific face I am pulling, but I bought a new coat yesterday.  I didn't need it, but I love it!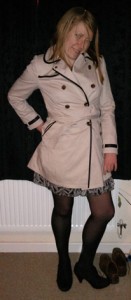 This week I haven't been so hot on keeping up with my 30 Day Shred plan.  Tuesday I was too tired after club, so planned to get up early and complete an extra shred before leaving for my course.  This didn't happen as the school server kept going down and it took ages for my cover lessons to send through.  On Thursday I was again, exhausted after club, so missed it and on Friday we returned freezing from the circus and with over 100 reports to finalise. This meant that I was three days behind.  Yesterday I decided that I would complete the last Level 1 shred and go straight into Level 2 to make up one of the days.  I found Level one reasonably easy and could keep up with the harder versions of the moves throughout.  Level two and I'm modifying the moves.  This got hard!  I woke up this morning and I can feel my back has had a workout!  This is good though.  Whenever I put on weight, it always seems to head to my back and leave me with flabby bits around my bra line.  Fingers crossed it leaves me more defined in 20 days time!
Now about to do a little bit of schoolwork before lighting the fire and heading out to go meet Maria for our 20 mile trail run.  It is still snowing here and our back garden is about four inches deep now…we shall see how I get on…!
This morning I had promised Dan pancakes for breakfast.  The aim was to make American style pancakes, but our frying pan is pretty large so they still ended up being quite thin and English style.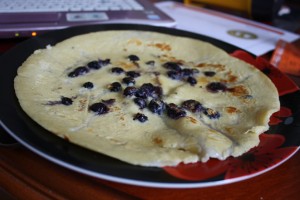 Dan had treacle on his and I used some frozen blueberries that have been sat in the freezer for months and I've just been too lazy to use in my cooking.  They had been in so long that was a big block of ice on top of them.  Oops!
So, Bedford Harriers have cancelled the race for tomorrow now due to the weather…

I have new plans though to run 20 miles close to Pitsford with another club runner who was planning on running Oakley tomorrow.  She's in a group below me so I'm hoping that it will help me keep me pace steady and I can run the 20 miles without walk breaks.  Not long till the marathon now!  Just 6 weeks to go!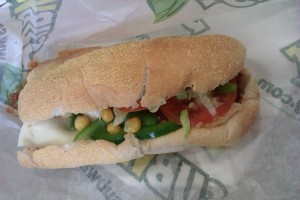 We picked up a Subway for lunch earlier in town this morning.  It always has to be the meatball marinara with lettuce, tomato, sweetcorn and peppers for me!  Dan forgot I don't have cheese so I had to pick this off when I got it, but it was just what I needed in the snow this morning!  I treated myself to some Davina workout weights as well.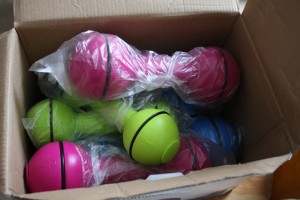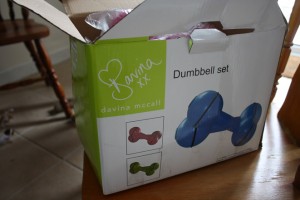 My 30 Day Shred workouts have seen me use Pasta sauce pots for the last two weeks so I'm hoping actual weights will be easier (and there's less fear of me smashing them and covering myself in tasty tomato sauce!)