Last Saturday was my friend Laura's 100th parkrun.  I had been given the Friday and Saturday night off from work that week in order to not be overtired for the Oakley 20 race that I had booked in on Sunday, so decided that I would volunteer at parkrun instead to support my friend.
Since working night shifts I've found it difficult to fit in a parkrun on a Saturday morning.  It involves changing in the back of my car, hanging around from 7am until 9am (or getting a few extra miles in before parkrun first), then rushing home to collect Oscar from Dan so that he can travel to Wolverhampton for the football at lunchtime.  The sensible head that rarely surfaces in me knows that it makes much more sense to head straight home following my night shift so that I can get a couple of hours sleep before Dan leaves and I am left in charge of an energetic toddler on my own for the day(!) so this is what I've been doing lately.  (Although I can't wait until I can finish working nights and get back to parkrunning every week again!)
One of the volunteer roles I have always wanted to have a go at is barcode scanning.  It's something a bit different to marshaling, which I have done so much of in the past.  I want to try out several different volunteer roles this year, and so when I spotted that there was still space for a barcode scanner last week, I put my name forward.  Last year, with a new baby I ended up not volunteering at all for parkrun.  I know when I first signed up to the event several years ago it was suggested that every parkrunner volunteered three times per year in order that the events could go ahead, so I felt a little bad that I was unable to help out as much as I would like.  This year I'm hoping to top up my list of volunteering roles and give something back again for all the support I received in being able to get out each week when I had a young baby.
To date I have volunteered in the following roles; marshal (twice), tail walker, pacer, photographer (twice) and now also barcode scanner.
It was a ridiculously cold day last Saturday, with The Beast from the East V2 on it's way to Northamptonshire later that evening.  I wore my duvet(!) (a thick Superdry coat) over the top of several layers, along with stone jeans and a pair of gloves.  My body didn't feel too cold with all of the layers on, but my fingers did start to lose feeling after a little while.
Why did I pick the coldest Saturday ever to marshal at parkrun?! ‍♀️ So glad I remembered to pack my gloves!#loveparkrun pic.twitter.com/BlDzcS95W4

— Mary P (@ahealthiermoo) March 17, 2018
As well as running her 100th event that morning Laura had also volunteered to give the 1st timer briefing.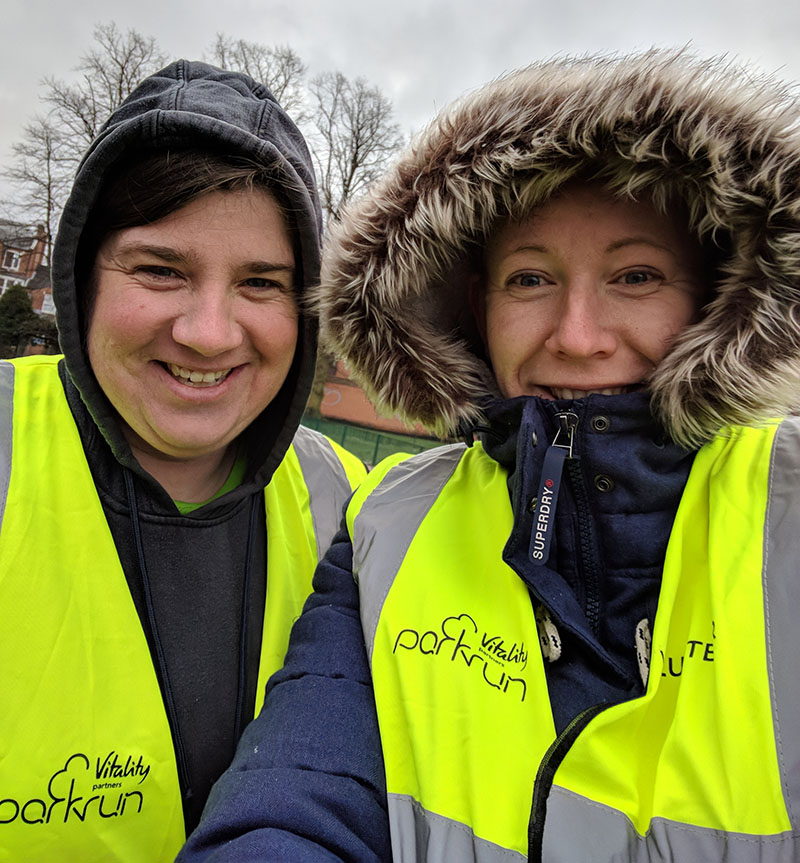 I was rather glad that I could keep my layers on after the briefing and clapped rather vigorously once the runners set off in order to try and keep my hands nice and warm.
I collected my barcode scanner and bucket, and appreciated being mistaken for one of the several Duke of Edinburgh students who had also volunteered that week.  So glad that I can still pass as someone 18 years younger than I actually am(!)
The first runner stormed through the finish after 17 minutes but problems with a dodgy printer meant that his barcode wouldn't scan so we had to get his number jotted down the old fashioned way with pen and paper instead.  There were four of us on barcode scanning duty and so things were a little slow for me to begin with, but soon runners began flooding my way and I really enjoyed being able to chat to each one and congratulate them on their run as I scanned their barcodes.  Laura came through in just over 30 minutes and went to collect the tub of sweets she'd brought along to celebrate her 100th event.  She passed me a mini pack of Haribo Fangtastics and I continued to scan barcodes but I was very conscious that I was losing the feeling completely in my fingers.  I have Raynaud's syndrome, losing the feeling in the tips of my fingers on both hands during the Winter months.  This isn't normally an issue when I run as I find my hands heat up very quickly as I gain pace, but outside of running I find it hard to get them warm again.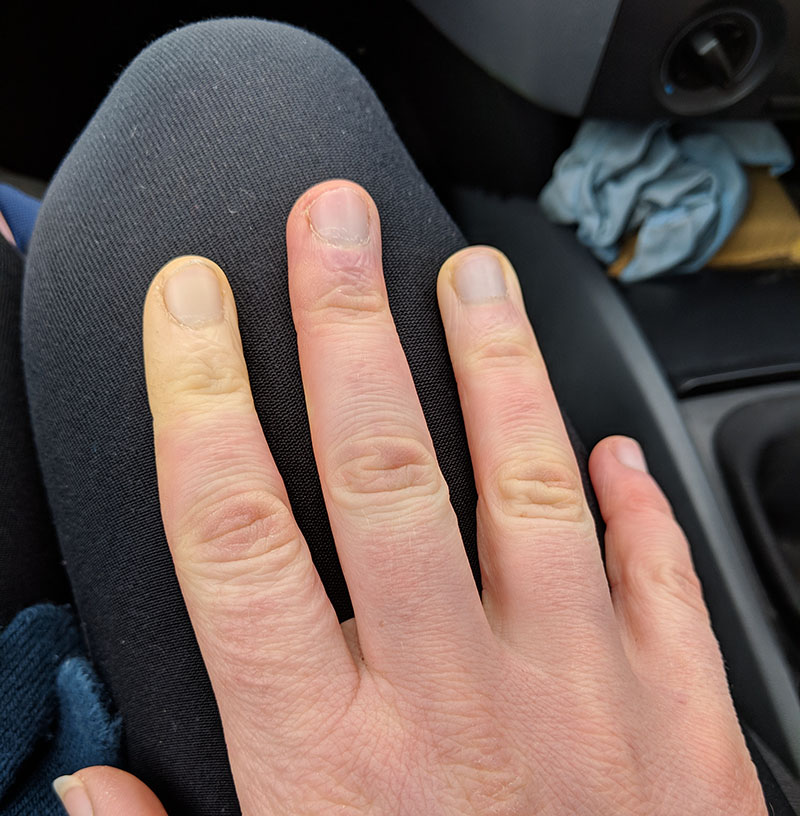 (This is a picture of my right hand an hour after finishing marshaling duties – you can see that the tip of my index finger is still bright white!)
I bunched up the fingers of my left hand inside my glove to try and keep them warm which definitely helped, but I was unable to do the same with my right hand as, being right-handed I was using this hand to operate the scanner.
I started to feel a bit light-headed.  When I was younger I was diagnosed with vasovagal syncope.  This basically means that I am prone to collapsing from triggers which are usually within my control.  If I worry myself over something or think about something I don't like for a period of time, my body reacts by passing out.  I also pass out by if I am stood still for a long period of time as my blood will settle and not pump around the body very efficiently.  Combine the two factors and it's a guaranteed blackout for me!  Dan and I went to see Stereophonics several years ago and things were fine until I realised that I had stood for quite a long while in the middle of a bunch of other fans with no way of getting out to sit down should I need to!
I couldn't get how cold I was out of my head and began to worry that I had been stood still for too long, so I started to become restless and began tapping my feet.  I ripped into my packet of sweets, partly to try and distract myself from my thoughts and partly to up the sugar in my system.  I grabbed Laura and told her that I felt really nauseous and a little dizzy and said I needed to rest against the closest tree for a little while, but Laura must have seen the blood drain from my face and suggested she help me to the nearby bench instead.  As she helped guide me towards the bench I started to begin losing my sight – with tunnel vision and under-the-water echoy sounds, launching towards the side of the bench before I collapsed and cursing myself for wearing light coloured jeans on a day when it was actually muddy and there was a good chance that I might not make it to the bench!  I grasped onto the side of the bench and Laura called out for help.  Somehow a couple of other runners/marshals helped me onto the bench where I managed to lay out and slowly my vision and hearing returned to normal.
Several parkrunners stopped by to check that I was OK and see if there was anything that they could do to help.  Lovely people offered me lifts home and to help get me to my car and all along all I could think about was how much I was letting everyone down by not being able to finish the final 5 minutes of scanning and helping to clear away after the event!  The Run Director's wife turned out to be a nurse so she came over and I tried to sit up.  I had intended on getting straight up and then heading back to my car but in actual fact it took me rather longer than I thought to adjust to just sitting up and so she told me that I wasn't to drive home, but to call Dan to collect me instead, and then she insisted on walking me to Magee's for a hot drink whilst I waited.  I couldn't stop apologising.  Everybody was so lovely.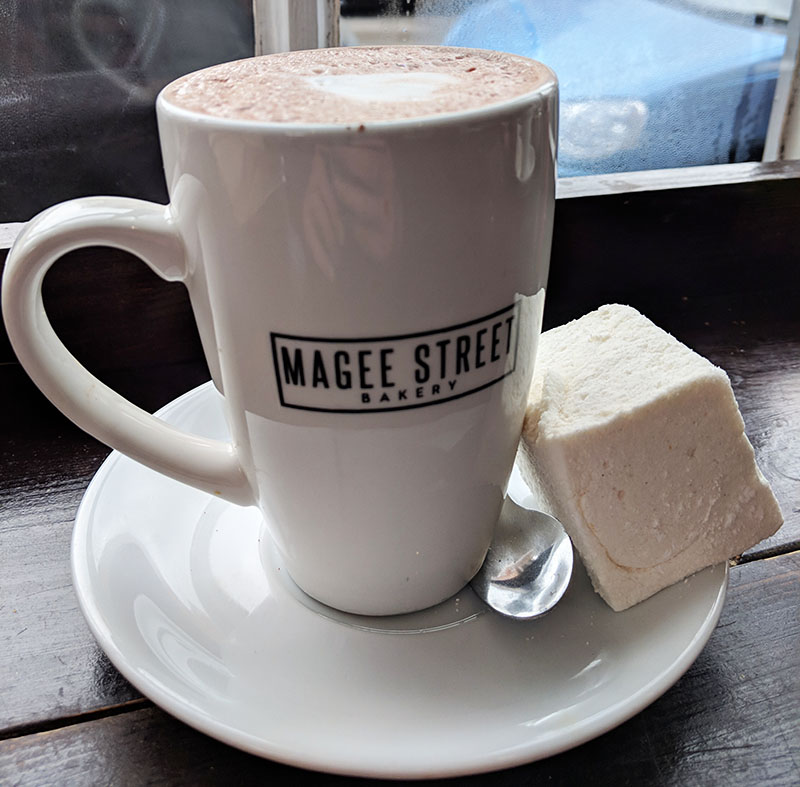 After my lie down and a hot chocolate from Magee's I felt a fair bit better but I did take it easy the rest of the day and was very grateful that I was not due to work that evening.
It's rubbish feeling rubbish!
What is your favourite parkrun volunteering role?
Do you suffer with Raynaud's?  It seems to be more and more common now.
Have you ever passed out before?