So last night we braved the heavy snow to head to Cambridge for the first wedding of the seven we have invitations for over the next two years!
This couple actually got married in New York secretly, came back and announced it, so this was the reception part back in England.  Helen is a friend from school.
I wasn't sure what the food would be like, so grabbed a quick snack a couple of hours before we left…  A tasty graze honeycomb flapjack.  This was a little sweeter than I thought, but it kept my belly happy until we arrived at the wedding.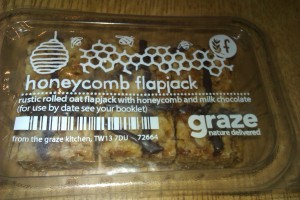 The stupid satnav, sent us the wrong way, so it took us about 90 mins to travel the 45 min journey.  I was not impressed!
Food was served pretty much as soon as we arrived.  There was nothing fruity at all.  At our wedding, I am going to make sure there are lots of healthy options!  This is my plate…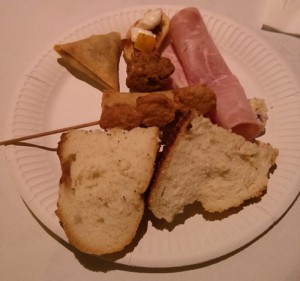 I had a slice of ham, two small slices of bread, a chicken satay stick, a vegetable samosas, vegetable spring roll, onion baji and a cracker with brie and pepper on.  I also had a glass of champagne on arrival and a friend's husband brought us each over a cupcake when they were reserved for dessert, but I forgot to photograph these.  I probably burnt all of this food off by dancing as they had an awesome band!  It was also crazily hot in the hall where the reception was held.  I am always cold, but the sweat was pouring off us all last night!
We left about 10pm and were diverted off the A1 as it was shut for maintenance.  Not the best plan Cambridgeshire County Council have had as it then took us nearly two hours to get home due to how slippery the back roads were by this point and we passed three accidents on the way back!  There was a car facing the wrong way on a sliproad that had spun, an abandoned car teetering on the edge of a ditch and another accident that we passed just after it had happened where the car had skidded into a road sign.  I stayed in second gear most of the way home and only slipped on the road a couple of times, but nothing major.
Ignore the horrific face I am pulling, but I bought a new coat yesterday.  I didn't need it, but I love it!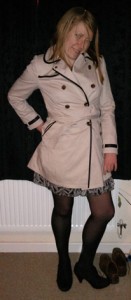 This week I haven't been so hot on keeping up with my 30 Day Shred plan.  Tuesday I was too tired after club, so planned to get up early and complete an extra shred before leaving for my course.  This didn't happen as the school server kept going down and it took ages for my cover lessons to send through.  On Thursday I was again, exhausted after club, so missed it and on Friday we returned freezing from the circus and with over 100 reports to finalise. This meant that I was three days behind.  Yesterday I decided that I would complete the last Level 1 shred and go straight into Level 2 to make up one of the days.  I found Level one reasonably easy and could keep up with the harder versions of the moves throughout.  Level two and I'm modifying the moves.  This got hard!  I woke up this morning and I can feel my back has had a workout!  This is good though.  Whenever I put on weight, it always seems to head to my back and leave me with flabby bits around my bra line.  Fingers crossed it leaves me more defined in 20 days time!
Now about to do a little bit of schoolwork before lighting the fire and heading out to go meet Maria for our 20 mile trail run.  It is still snowing here and our back garden is about four inches deep now…we shall see how I get on…!