This week I have been getting used to a few changes around here.
Just after Easter I accepted a job at a new school, where I would be working just three days a week. That wasn't the only difference between my old job and the one I accepted…
| Old school: | New school: |
| --- | --- |
| 2000 students | 84 students |
| Year 7-13 (Ages 11-18) | Year R-12 (Ages 4-17) |
| Five other ICT teachers | I am the sole ICT teacher |
| State school | Private school |
| Working 5 days a week | Working Wed-Fri |
| Four technicians working at the school | I am also the sole technician at the school |
| Full schemes of work for years 7-13 | No schemes of work for years 5-12 |
| Class sizes of 30+ | Class sizes of between 1 and 11 students |
| Teaching 500 students a week | Teaching 33 students a week |
| 400+ staff, mainly full time | 17 staff, all but three part-time |
So, as you can see, there are quite a few changes that I need to get used to over the next few weeks!  The schools are nothing alike!  As posted on Twitter earlier in the week, it has been a long while since I was in an assembly where students put up their hands to ask to 'go for a wee-wee'!!!
I am somewhat of a perfectionist when it comes to everything I do and marking and planning for 500 kids a week has left me feeling rather stressed this year.  Don't get me wrong; I know there will still be plenty of stress from other areas whilst working in my new school, but I think I will feel much happier and more confident that I am delivering a better service to the kids I teach.
Working part time will enable me to visit my Mum more, who is battling with cancer at the moment.  It will also give me time to perfect plans for my upcoming wedding and Dan and I are hoping to set up a joint business over the coming months, which will be easier to do whilst only contracted to work three days a week.  I feel like I have been spread too thinly over the past year and have not been able to complete everything the way I would like to have done.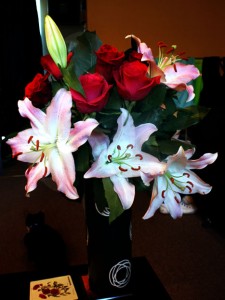 I started my new school on Tuesday this week as there was a staff training day scheduled and I wanted to know a few faces before beginning my teaching week the following day.  Everybody was incredibly friendly and helpful.  When I returned home, Dan had bought me a bunch of my favourite flowers…roses and lillies.  He's a keeper!
I have finally been running again this week too.  YAY!!!  Phoebe sent through my schedule for Mon-Thurs, asking me to update her after that so that she can tweak my training as necessary.
When I ran my 30min easy on Monday I felt like my legs were all over the place…they weren't sure where to be at all and I must have looked a little like Phoebe Buffay's version of running without meaning to!  I could feel that my right side was a little weaker than my left still, so made sure to stretch lots when I returned home.
Tuesday I headed out for a 45 minute easy run and, although my leg felt stronger, towards the end of the run it still began to feel a little weaker once more.  My pace was much slower and I began preparing myself for a PW at Bristol half next week.
Wednesday and I headed out of the door only to bump into a friend from club who had literally just begun her 10mile run of the evening.  We tweaked her route so that I could join her for the first 30 minutes before completing the last 15 minutes on my own as I made my way back home.  Running with somebody again was great, and when she left I realised that I was no longer conscious of my running position – it felt natural again, and I had automatically picked up the pace back to my regular rhythm (although some of this might be to do with me legging it through a field of cows, after having heard lots of cow/runner horror stories recently!)  I hadn't noticed the weakness in my right side once.
Thursday and a 90 minute run with 4x6min threshold blocks towards the end.  My body was tired by this point.  I had been at school for three days, taking in lots of new information.  I'd been in bed early the previous two nights, not feeling great and had been off my food again, so was probably not fuelled properly to run for 90 mins by the time I got out there.  I started out really slowly and despite being completely energyless by the time I returned home, LOVED being able to run for 90 minutes again!  (Although yes, I do know that my 50mile race coming up is likely to be about nine times as long as that!)  I did feel my right side during the final half hour of my run, so stopped to stretch it out on the run.  Phoebe has suggested that during my upcoming longer runs I stop briefly to stretch every 20 minutes into the run to prevent the weakness from the beginning.  It just feels great to be running again!