What's the worst thing you could do whilst unable to run?  Make the 'Runner of the Year' video for your running club! And then watch the ones you made the year before filled with inspirational stories from their 2012 achievements.
It just makes you want to get out and RUN!
So, to combat my lack of running I have begun making a list of races I'm planning on running during the first half of next year…
January 2014:
Dunstable XC – 12th January.  The final race in our club cross-country season.
Folksworth 15 – 19th January.  Lovely course, well marshalled.  Two laps which I thought I would hate but it's served me well the past two years.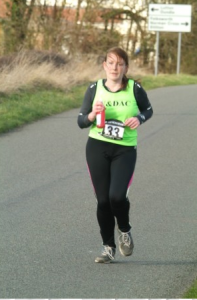 February 2014:
Wellingborough MT (10k) – 2nd February.  These races are raved about by our club runners but I've not tried them yet, despite only being a few miles from my house.  They come in 5k/10k/15k options.
Wellingborough MT (15k) – 16th February.  As above.
March 2014:
Ashby 20 – 9th March.  I've not run this race before, but again, heard great things from club runners, and it fits with my training schedule for London to run 20 miles on this day.
Oakley 20 – 23rd March.  I ran this race in 2012 and it's a lovely route – lot of tiny hills which is what I like on a course.  Beautiful scenery.  Unfortunately it was cancelled this year due to the late heavy snow we had.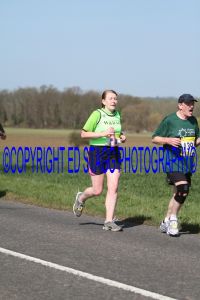 April 2014:
London marathon ** – 13th April.  Cannot WAIT to experience London!  It'll be my first time, and several club runners are running it next year.
May 2014:
Conti Lightning Run ** – 4th May.  Talked into this one by friends at club.  12 hours non-stop running.  Yes, I am a solo entrant…  :S  !!!
June 2014:
Shires and Spires 35m – 1st June.  A lovely course and a great introduction to ultra running.  Run by Go Beyond and checkpoints manned by our club runners.
Colworth marathon challenge (5m) – 20th June.  I've wanted to run this since my first Spring of running (2012) but always been too exhausted to try after completing a marathon the month before.  This year I'm determined to make it, no matter how slow!  It's three races over three days which in total make up a marathon.  You camp out overnight between each race.
Colworth marathon challenge (8.1m) – 21st June.
Colworth marathon challenge (half) – 22nd June.
July 2014:
August 2014:
Grim Reaper Ultra (40m) – 1st August. Four laps of a ten mile flat course.  The medal is beautiful.  I went to support last year having initially signed up before winning a place on Operation Ultra.  This is only a week before my wedding so there is a possibility I will end up supporting again, but fingers crossed Dan will say I can run it!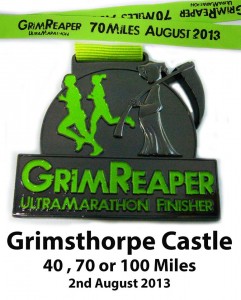 I'm sure this list will be added to by the time 2014 gets here.  I haven't entered many of the above races yet as I'm waiting to see what happens with my foot first…Fingers crossed though…
My 'A' goal for the first half of the year is obviously London.  The two 20 milers won't be 'raced' but rather, run as training runs (until the sprint finish of course!)  Depending on how quick I recover from my current injury, I would like to get a new 10k PB in as well at the start of the year.  My current PB of 58m 35s was achieved at the end of 2011, just after I joined the club and I would like to think I can beat that now, but I haven't raced any 10ks since that date.  My 5k PB that I achieved earlier this year stands at 26m 55s.
** = Race already entered.