Yesterday was my last day of school before the Summer holidays began.  Woop woop!  At 11:55am the teachers all gathered the students outside the front of the school building in their form groups and counted down from 10 to 1 before (as tradition) the youngest child in the school (just turned three) rang the school bell for the last time this year.
Yesterday turned into another incredibly busy day.  All morning I cleared and tidied my classroom ready for the final bell.  Once we were released for the Summer I packed my belongings into the car (this took longer than planned as despite being a lovely sunny day yesterday it was also incredibly windy and my bits kept blowing everywhere!) then I headed home to collect the box full of wedding pieces I'd been putting aside in the lounge to take back to my parents next time I headed that way.  This time there were the table numbers and their holders, the child packs and cake knife.
After letting Bells out to roll around in the sun I then continued my drive through to Fakenham, Norfolk to pick up my bridesmaid dresses from Hollie, my Maid of Honour.  Her little boy Tom has chicken pox at the moment and my brother hasn't had it yet, despite getting to 26 years old, so we sat outside on the drive for a catchup whilst Tom played in the porch.
The bridesmaid dresses were all slightly too big and long for my bridesmaids when I got them so Hollie's sister-in-law pinned them into place for us so that my future Mother-In-Law could alter them.  (That's a journey to Wolverhampton for us today!)
From Hollie's, it was on to my parents where I could dump my wedding box in their spare room and slob out into a chair while tea was served.
My parents had lots to show me whilst I was back.  I've mentioned before that they are growing all of the flowers for the wedding but with just five weeks to go now they are all really starting to look the part!  Their garden has become a beautiful array of yellow, white and orange.  This is one tiny little section of the flowers they are growing…!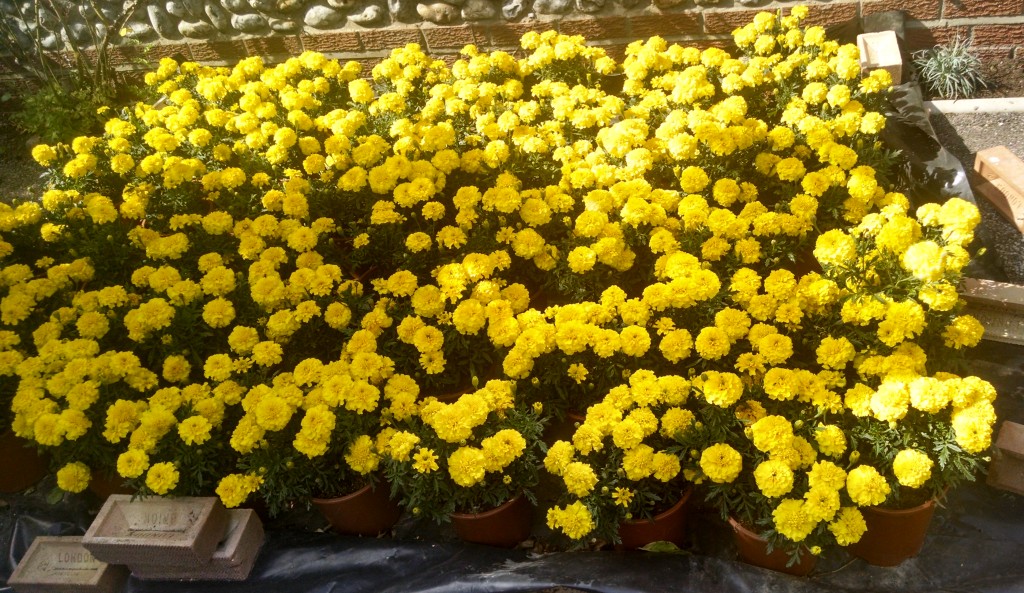 On Thursday evening my Mum had picked one of each type of flower and foliage that she plans on using in bouquets and arrangements for the wedding.  The idea was to see how well they held up in the heat and for how long they lasted once picked.  All were still going strong by Friday night.

Despite saying I wanted to get away early as I was already pretty tired, I was still being shown things at 7pm and then my Dad convinced me to take the dog out for a walk with them.  Back by 8.  NOT the early leaving time I had planned!  Never mind though.  It is the holidays at least!
I'd planned to drop by my friend Zoë's new house in Docking, West Norfolk on the way home, so arrived close to 8:30pm.  After an hour there I realised that it had begun to get dark and I'd planned to stop off somewhere on the way home to get 6-7 miles running in, as Saturday was going to be another busy day and I was concerned I wouldn't be able to fit in my scheduled run.  (Plus, new place to run = more Conquersize zones!)
I quickly got changed in Zoë's bathroom, whilst she took a photo of a map on my phone of the surrounding area.  There appeared to be lots of foothpaths.  Excellent!  Much nicer than stopping off in Kings Lynn and running past the drunks falling out of the pubs on a Friday night.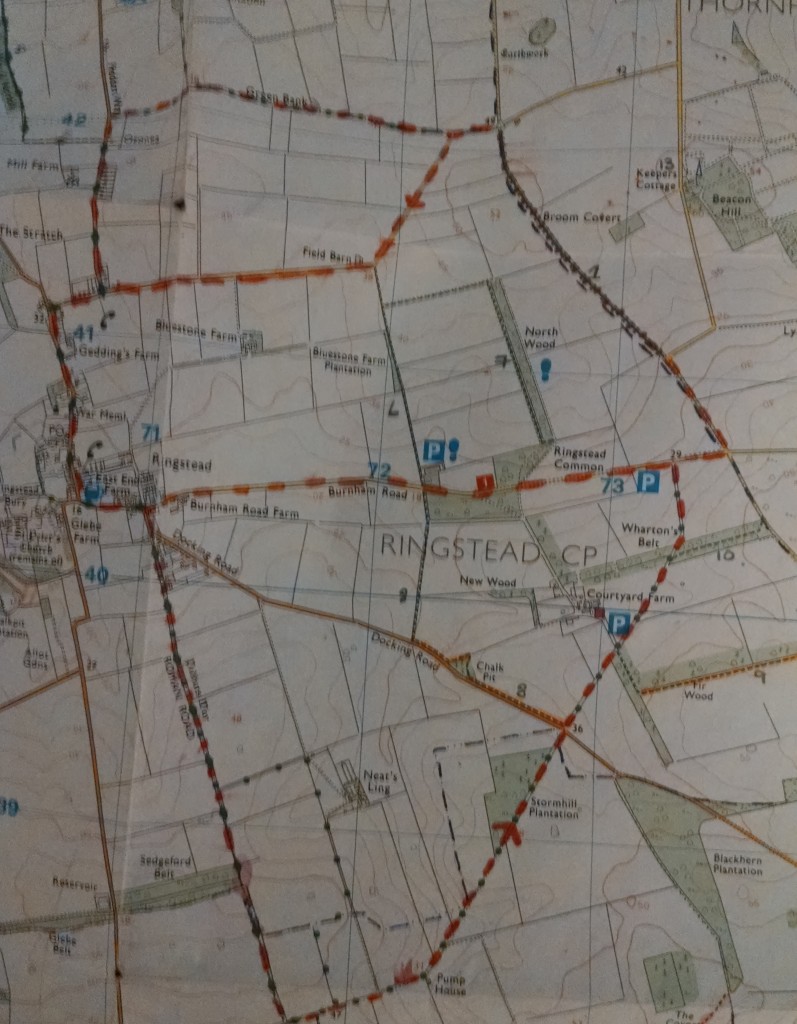 So, 9:40pm ish and I set off, leaving my car outside Zoë's house.  The run felt easy.  I needed to stretch my legs out after a tough speed session the night before and I had loads to think about from my busy day.  I ran past a bustling pub in Docking and I could hear live music coming from the inside.  Unfortunately that was about all I remembered from the start of my run…I just got into 'the zone' and the first couple of miles soon beeped out at me from my watch.  I took a track I presumed to be the way Zo had marked out for me on the map.  Turns out that when I got to the other end there was a large sign clearly declaring NO PUBLIC RIGHT OF WAY.  Oops.  There definitely hadn't been one from the end I started at.  This meant I could no longer retrace my steps if I got lost and it was then beginning to get dark.
It was at this point that I realised I was breaking all the cardinal running rules.  My running clothes had no reflective strips on them, I had come out without a headtorch, despite how dark it now was, I was carrying no form of ID or money and the battery on my phone was ready to die at any second.  I was in a place I'd never been before and had not been paying a great deal of attention to the route I was running in order to find my way back again.
As I came off the private track I turned right and headed into a very dark wood.  My head was imagining all sorts of horrid scenarios by this point and I lept back when I saw what I thought were three bison crossing the field in front of me.  Turns out I watched one too many "Dangerous wildlife" videos on YouTube the night before and the three bison were actually three mini hedges!  I'm not ashamed to admit I picked the pace up when I was running through the wood and everytime I looked down at my Garmin, my pace started with a 7:xx.  Surprising what a bit of adrenaline can do for your speed!  Although running in the countryside is beautiful and incredibly quiet – meaning you don't often have to jump onto the verge to make way for cars, it's also without very many houses or signs of civilisation.  When you're freaking out as much as I was by this point all you want to see is a house with a light on!
I was getting accustomed to the sound of the verge rustling with baby rabbits but when a much bigger rustle came, whilst about 4 miles into my run, I was terrified there were humans in the hedge about to jump out and 'get me'.  My rational brain seemed to have disappeared by this point and it wasn't until five deer and the stag shot out of the hedge and bounded away through the field that my heart rate started to return to normal.
I got back eventually.  My tactic had been to continue turning right at every road and when I returned near enough to my starting point I could see and hear the pub that I had passed at the beginning of my run and I allowed myself to slow down.
Pretty stupid of me, and something I definitely won't be doing again.  Next time I'll settle for running past the drunks under streetlights in a busy town or running out with others with my headtorch on.
Have you ever headed out on your own and not really considered your safety?