Long time no blog – reading or writing of.  Life is busy.  I'm on two days and counting…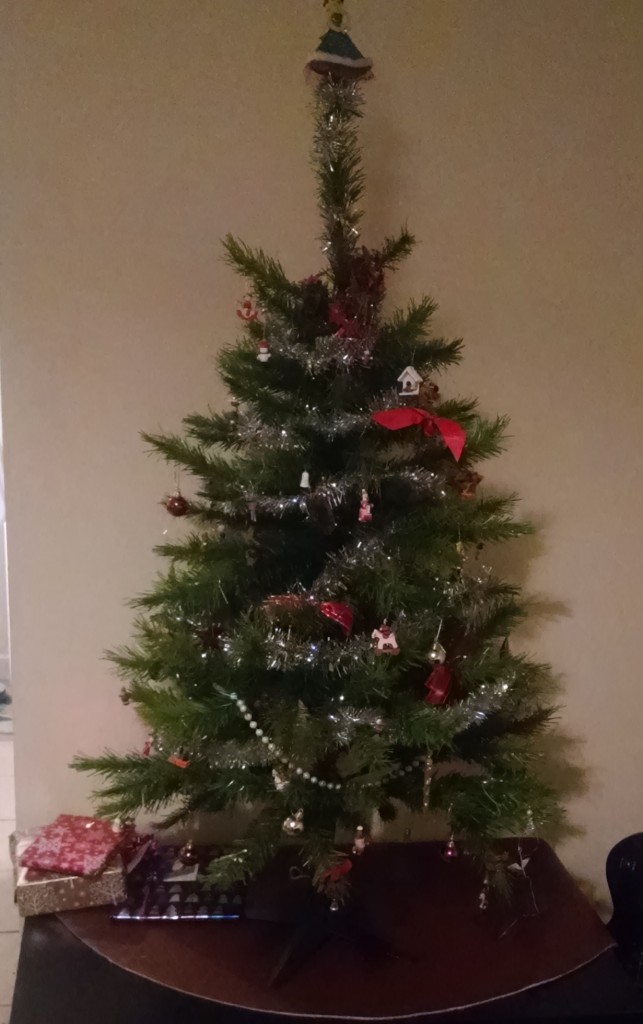 I genuinely didn't think we were going to get our Christmas decorations up this year but on Sunday evening, Dan and I got to work.
What surprised me even more was that when I headed downstairs for breakfast yesterday morning the tree wasn't laying on it's side with a selection of Christmas decorations batted across the room by Bella.  Every single year she has shown us just how anti-Christmas she is by either carrying decorations around the room in her mouth or bashing them all off the tree.
Last night when I returned from work I had another surprise as my Gower CTS marathon medal had arrived in the post.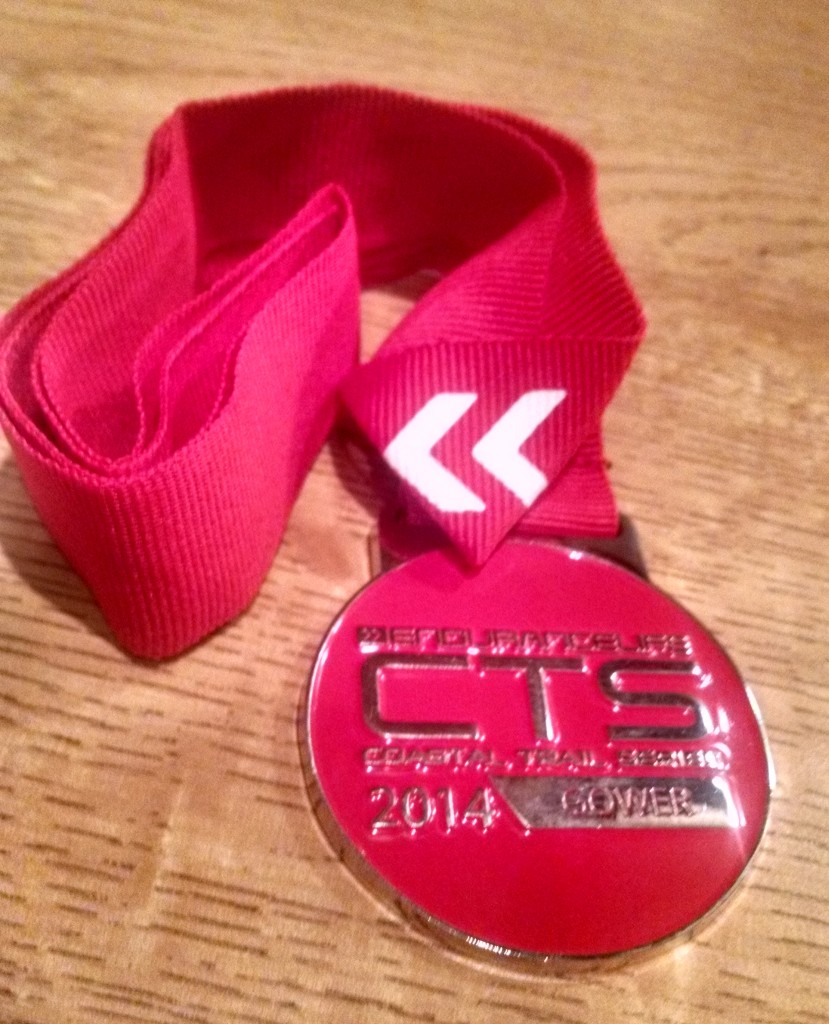 As a group we are hoping to make the South Devon CTS marathon in February (yet to be booked) as we loved the Gower event last month.  It was a little disappointing to receive medals in the post for Gower though, as we had been told it was a 'sold-out event' – therefore there should be the correct number of medals available at the finish line!  It also doesn't declare distance on the medal – with the same medal used for all distances (10k / half / marathon / ultra).  I wasn't too worried by this, but for some members of our group, this was their first marathon and they felt like the medal should declare the distance.
This past Friday night was our annual running club Christmas do and presentations evening.  I was incredibly touched to be nominated seven times with the following comments…
* Mary has had a very successful year, with the completion of her first 70 mile race being the highlight (well possibly her marriage too!!) Anyone who knows Mary, knew how important it was for her to complete that particular race, and we were all behind her and willing her on whether that was at the race, or from a laptop.
Not only is Mary dedicated to her training, she also works hard for the club behind the scenes.
Mary, congratulations on a massive year, which you took on with determination, succeeded with style and most importantly you did it all with a big smile! Very well done.
* She has run some very hard Trail & Ultra events during 2014, she tries so hard and is an inspiration to many of our club members. Also for all her efforts to the clubs website.
* Mary has shown amazing determination this year in her running. Her strength in completing her ultras has been impressive, all with a huge smile on her face!  She also does so much for the club behind the scenes.
* From a lettuce leaf to a twiglet to 70 miles
* Queen of speed !
* Mary has worked hard all year to achieve 70 miles at the Grim Reaper while still competing in shorter club target races. And also doing a lot of work for the club in the background.
* Mary always amazes me with her new achievements. She wears her green vest with pride and always manages a smile no matter how much she is hurting. Her incredible achievement at the Grim Reaper 70 miles and Conti 70km in the year she got married was excellent. As a committed runner and committee member she is a true asset to the club and inspiring young lady. Well done Mary, you rock!
I didn't win the Female Runner's Runner of the Year award that club runners each got a vote for.  (You can see the male and female nomination videos I put together by clicking on these links…)  I did, however receive the Runner of the Year for Group 5 award, awarded by the group coaches!  (Excuse the poor shot – taken in the middle of the night after at least one bottle of wine and no sleep!)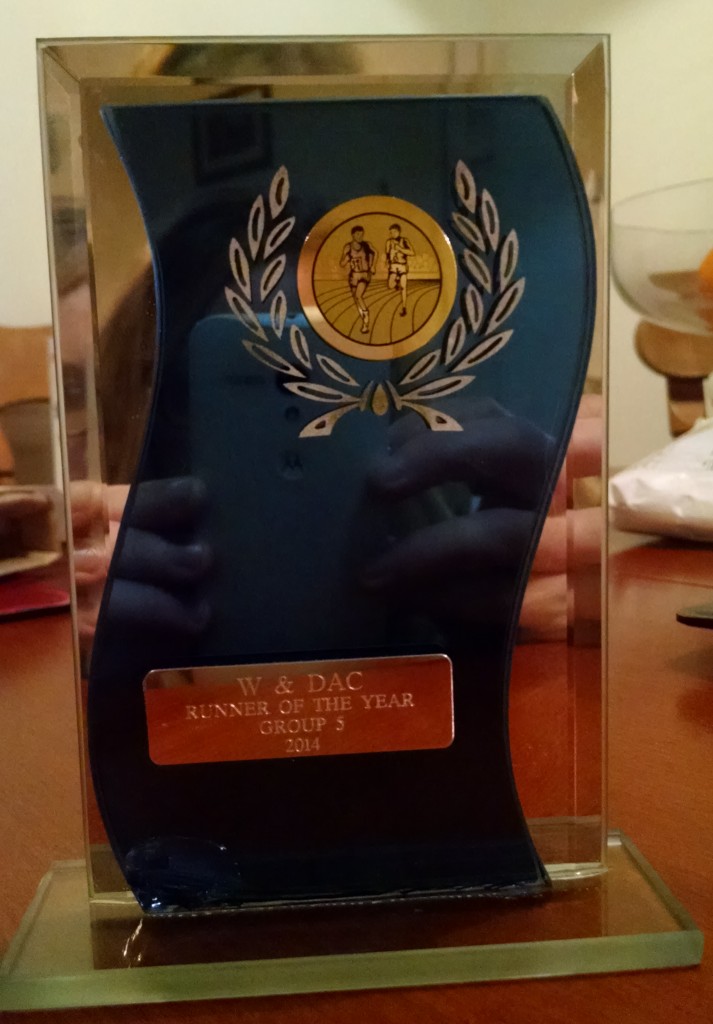 I am one of the two website editors for my running club, so when it comes to awards night I usually find myself crouched at the front of the room snapping pics of each category winner as they are presented their award.  That was where I found myself again this year.
Starting with the slower groups, the Group 6 Runner of the Year was announced, and then my coach headed to the front to announce the Group 5 award.  Last week he had sent me a message on Facebook asking if there was a way to pull off all of the races from the website that runners had raced in this year.  Because we hold race results in a simple database, that was an easy task and I sent him back a message letting him know how to find the results.
On Friday, as Mat began talking he told of searching through the races run by Group 5 runners on the website and that when he had gotten to the winner of the award he stopped and took in just how many races they had run this year.  Twenty-five.  That they had run 3x 10ks, 3x marathons, including one trail marathon…(at this point I realised it might well be me.  I turned to the guy sat on the table behind and slung my camera at him, asking if he would take a photo for me.  Then I realised my name hadn't actually been called yet…what if it wasn't me?!)  They had run a 35 mile race…and a 7o mile race… (OK, now I knew it was me!)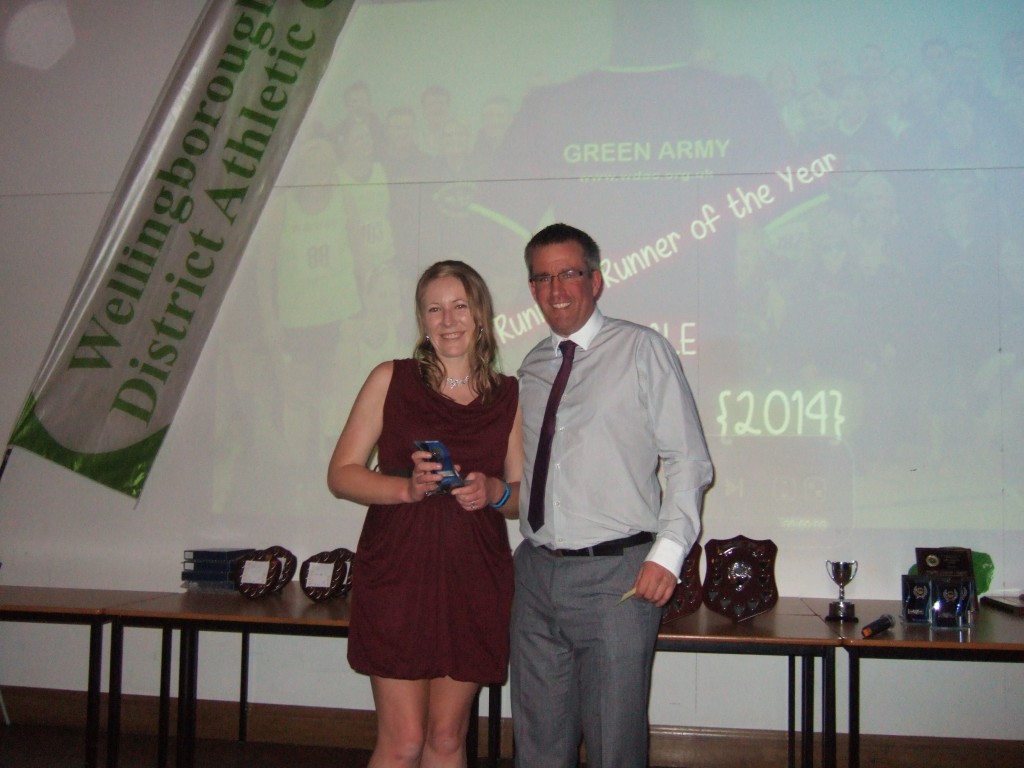 I don't think this is a very flattering photo.  I love this dress but it doesn't look that great in this shot!  I don't think any other pictures of me from the night exist though.  

Have you ever won any trophies before?  This was my first!