Weeks five and six of Jantastic (the first two in the month of February) and I am still spot on target, although I admit, one of the two available jokers has been played…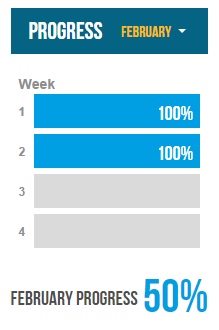 Week 1:  The aim was for five runs and a long run of 27 miles.
Monday – Easy run out with Dan including fartleks between lamposts – 3.44m
Tuesday – Rest day
Wednesday – Easy run out with Hayley – 6.31m
Thursday – Group 4 club tempo run.  The aim was for 1m at tempo pace, then 1m steady – repeat x3.  In reality it was pretty icy on the paths towards the end though, so the pace slowed somewhat in the second half to ensure we all stayed on our feet, and not our faces.
Friday – Rest day, as traveling down to South Devon for the marathon
Saturday – South Devon marathon – 27.57m
Sunday – Rest day.  I had intended on running an easy couple of miles when we returned home but with a longer than planned trip back followed by a mad rush to Peterborough to sort out some hen do planning for one of my friends getting married over Easter, it had gone 10:30pm by the time I returned home and with a 5:15am start for work Monday morning, that run never happened.
So, with one run short for the week, a joker was played!
The drive home last Sunday was a bit of a drama.  In the morning, as we were packing away our things from the cottage to the car we all left a drawstring bag in the side of the room until someone asked "Whose is that?!"  We each thought it had belonged to someone else.  When the guys had finished the marathon the day before, one of the guys had been on the phone so the other had collected their bags from the drop-tent.  It was a genuine mistake, but we had come home with a bag that didn't belong to any of us.  All we could do was pack it away in the car with our things in the hope that when we messaged the race organisers on returning to Northants someone would have let them know that their bag had gone missing.
The very long drive home begun.  We were looking at around 5.5hours to get back to Wellingborough so after a while we sat back, got comfortable and began to catch up on the weekend through Facebook.  As I did this, I noticed a plee on the Endurancelife Facebook page from the evening before…

We gave Gareth a call to let him know that we had picked his bag up by mistake and so that he was not worrying over where it was.  It turned out though that the bag had contained his car keys and his wallet.  He had been unable to drive home the night before, and with no money on him had had to travel by taxi for several hours back to London so that he could pick up his spare set of car keys before returning via train/taxi to the race start line in South Devon that morning.  He was still en route.  Even though it had been a genuine mistake, we felt awful.  We rerouted our journey to go via part of the way he would then return home after picking up his car and persuaded the manager at a service station Travelodge to look after his bag until he could arrive (he was still several hours behind us).  There wasn't a lot more that we could do unfortunately.  A perfect example of why car keys and cash (along with phones) should always be carried on you during a run though.
Since the race I've also spotted a couple of videos that have appeared on the Endurancelife Facebook page.
You can really see at about 3:20 on that video just how tough some of the terrain was and how close we were to the edge of the cliff at points!  Now you know why my marathon time begins with a 6:xx:xx!
I'm not in either of the videos that I've noticed, but it was interesting to watch the course again through less-tired eyes!
Week 2:  The aim was for five runs and a long run of 14 miles.
Monday – Rest day following the marathon over the weekend.
Tuesday – Fartlek session with Group 6 at club.  I had intended on running in the group below mine for the speed session at club but when I couldn't spot them on the night, ran with the group two below the one I normally run with.  It was nice to have a change and my legs appreciated not having to sprint full pelt across Wellingborough for the session.  3.32m
Wednesday – Trail run with friends from club.  The mud wasn't too bad this week as we haven't had a huge amount of rain just lately.  5.42m
Thursday – Easy run out with Dan.  3.08m
Friday – 10 mile mix of road and trail running with friends after work in the evening.  The group was quicker than I would normally run it but one of the other runners struggled with the distance towards the end so we pulled back the pace a little.  I felt very strong though.
Saturday – I had intended on going to Peterborough parkrun to help pace Dan round a sub 30m 5k but a pain in my hip meant we spent an extra 30m sleeping in instead.
Sunday – Good old Jantastic.  I'm sure I would have been too lazy to head out on a 14 mile run after returning from my parents' at lunchtime otherwise, but I headed out and really enjoyed an easy zone 2 run.  The furthest I've been on the road for a very long time, so it gave me a lot of confidence in the lead up to the marathon.  I'm not worrying about speed at the moment, but instead concentrating on getting my running consistent over long distances (this doesn't happen over trail!)  I am certain with all the speedwork and quicker running I have been doing just lately that I will be able to pick my speed up once I'm back consistently running 20m+ on the roads again.  I picked up the last couple of miles on the way back during this run as I still felt strong.  It's always better to finish with quicker miles than to start with them.
We were back in Norfolk yesterday for the football (My Mum is a big Norwich fan, and they were playing Wolves, who Dan is long time fan of) and I spotted snowdrops out everywhere in my Mum's garden.  Spring really is on the way now!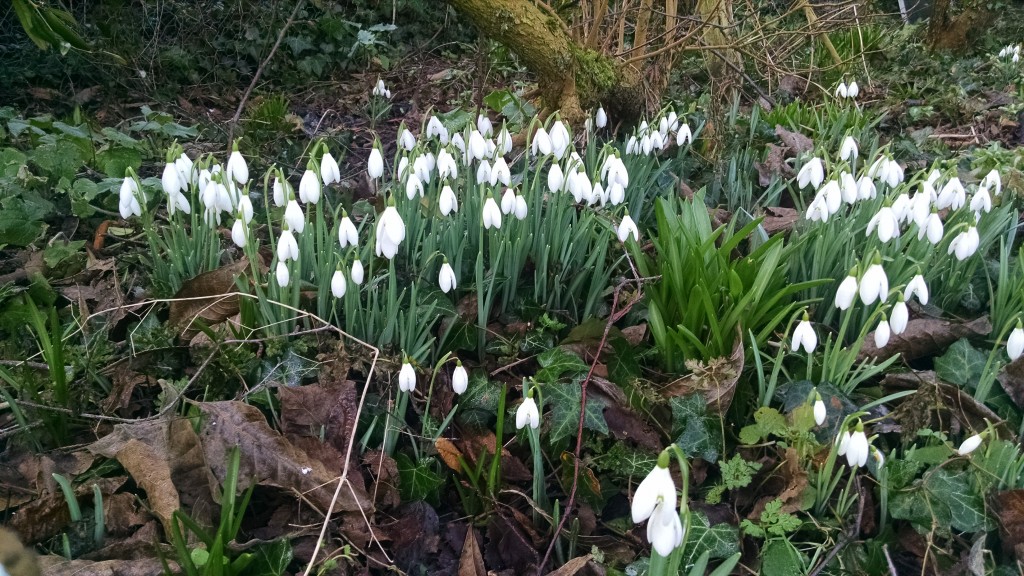 It is half term this week and I have been looking forward to having a week off to catch up since starting my new job full time in January.  It has been a lot to keep up with and the house admin and blog amongst other things have fallen to the side a little.  Today I have written out a busy, but hopefully satisfying to-do-list which, although it includes things like changing my name on the house deeds, viewing two properties, marking all year eight homework and paying the house insurance, it also includes things like getting my hair cut and catching up on a few blogs!
What do you get caught up with during a week off work?